~ continued from page 1 ~ 
There's great views of Mykonos sights and scenery in DJ Tanja LaCroix's new single, Sleepless in Mykonos.  Tanja performed two gigs on the island this month, both at Kalua at Paraga beach. She was the club's featured DJ on July 14, and she joined Mahmut Orhan to play for Kalua's annual White Party on July 19. 
2019 event calendars and DJ lineups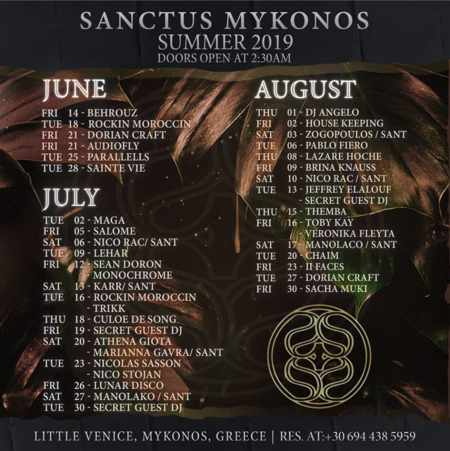 This is the party and DJ calendar for the new Sanctus Mykonos private after hours club, situated in Little Venice. Since it was released, the club has scheduled its closing party for August 22 instead of the 30th as indicated.

This is the July party and DJ lineup for Blue Marlin Ibiza Mykonos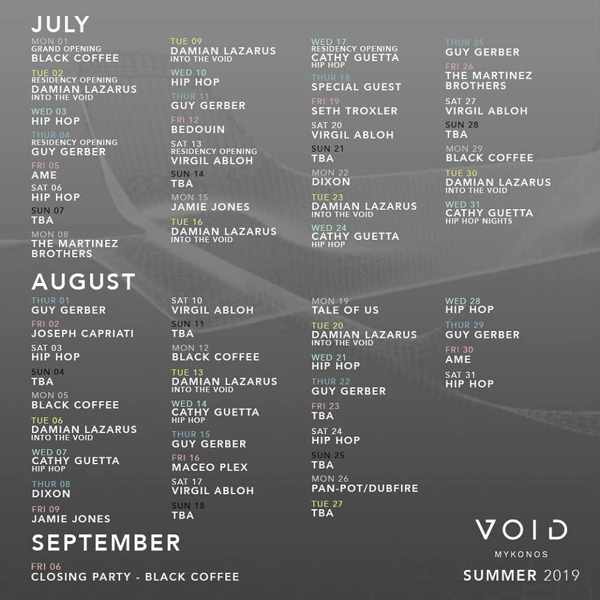 Void has just released its DJ schedule for the summer — with a few Sunday acts still to be announced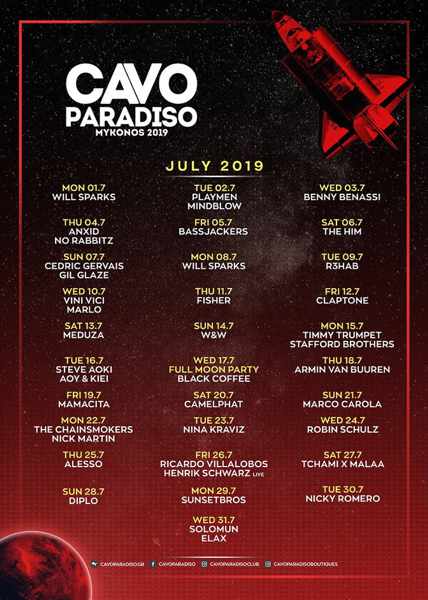 Cavo Paradiso's July DJ lineup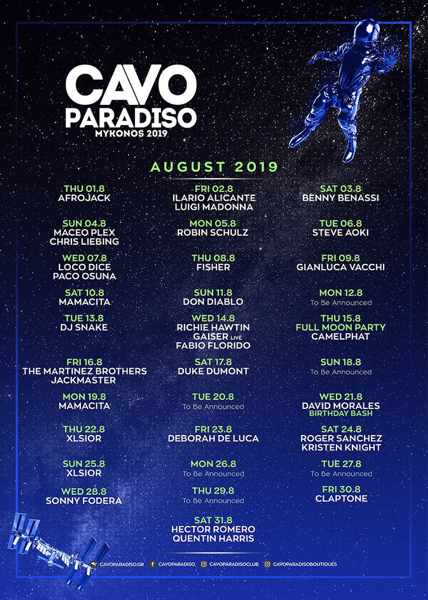 Cavo Paradiso's August DJ schedule
This is the summer schedule of party events at Toy Room Club
Daily beach parties
Super Paradise Beach Club holds its infamous anything goes beach parties every day starting at 4.30 p.m.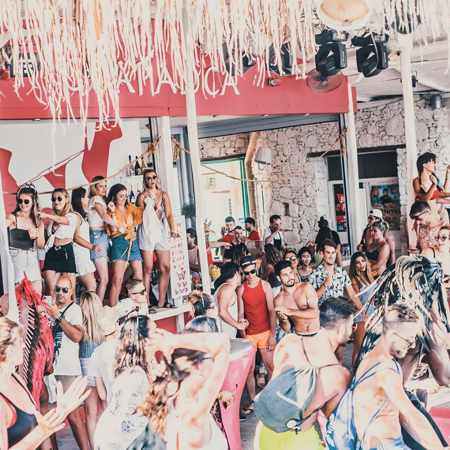 Guapaloca Bar at Paradise Beach throws daily beach parties starting at 4 p.m., and night parties starting at 10 p.m.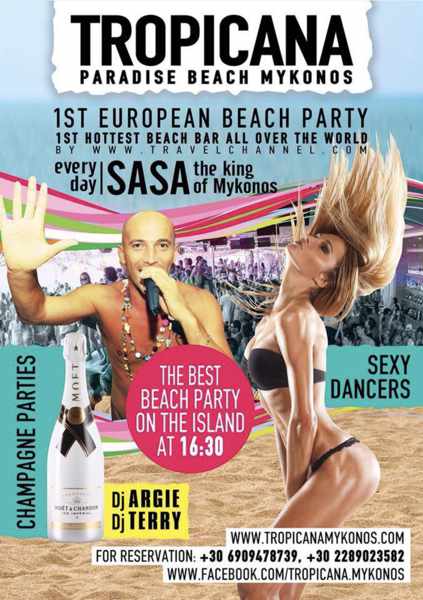 There's a beach party every day starting at 4:30 p.m. at Tropicana
Regular & weekly events
This is the DJ lineup for the BASE Dubai parties taking place at Ftelia beach club on Mondays during July and August

On Mondays this summer, Hippie Fish presents Delos Sunset Tales, with music by DJ Dim Pap and Hippie Fish's resident DJ, Mar3s1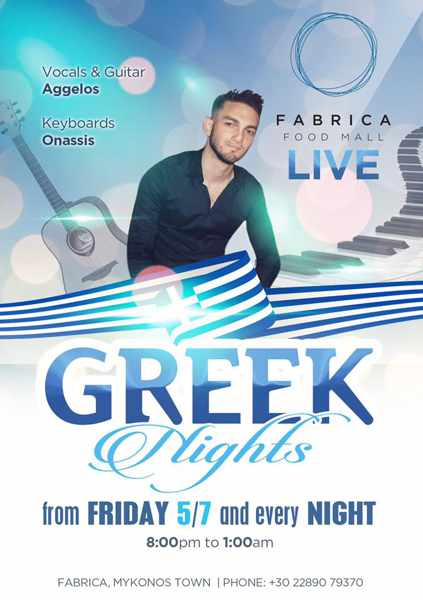 Starting on Friday July 5, Fabrica Food Mall will present live Greek music every night from 8 p.m. to 1 a.m. The Greek Nights will feature vocals and guitar by Aggelos and keyboards by Onassis.

Mykonos Boat Club is hosting 5-hour sunset party cruises from Mykonos to nearly Rhenia island three times weekly until the end of September — on Thursdays, Saturdays and Sundays, departing from the Old Port at Mykonos Town at 4 p.m.  The cruises include an open bar, DJ music, food and swimming and snorkeling, and cost €89 per person (premium and VIP upgrades are available). The boat can accommodate large groups. Full details and booking links can be found on the Mykonos Boat Club website  and on the club's Facebook page.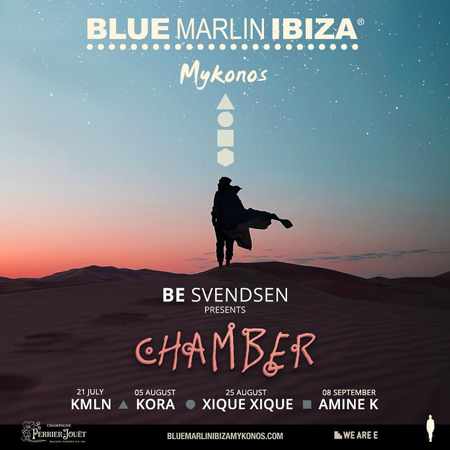 Be Svendsen will be presenting Chamber — a series of four special events being held in July, August and September at the new Blue Marlin Ibiza club on Mykonos. "In four unique events, Be Svendsen will be joined by an array of electronic music talents, taking guests through a magical journey beyond time and space," the club says.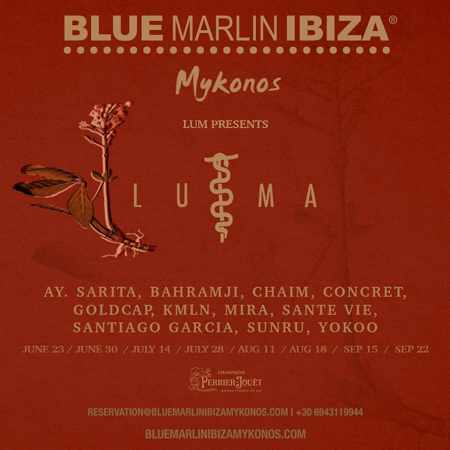 LUMA is another series of music events taking place this summer at the new Blue Marlin Ibiza club on Mykonos.  The events are presented by LUM, and take place on dates in June, July, August and September. The club says "LUMA will explore the influences of ancient and contemporary civilizations with electronic beats, jungle sounds, and traditional instruments."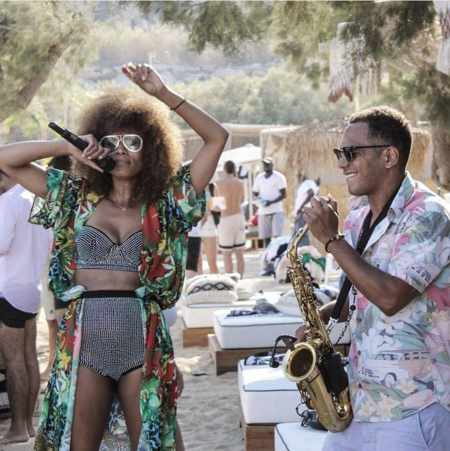 Singer Shaya Hansen and saxophonist Tiago Astori are back at Kalua this summer. Tiago entertains daily while Shaya performs every day except Mondays.  You'll find them at the beach club after 4 p.m.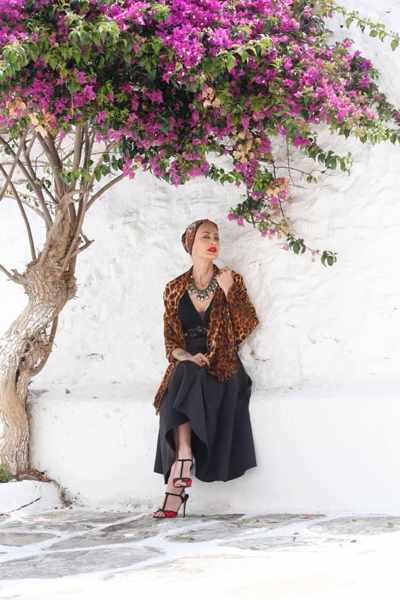 Songstress Kelly Kaltsi entertains at Narghile Bar/Sale e Pepe restaurant at 10 p.m. every evening from Monday to Friday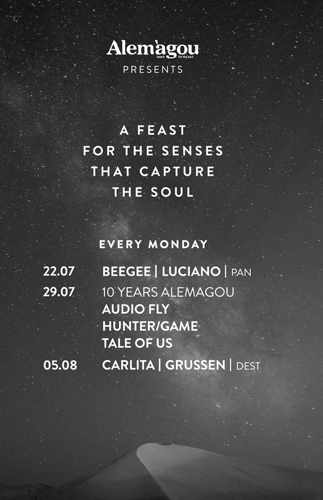 On Mondays during July and August, Alemagou will present "A Feast for the Senses" — a series of special music events featuring appearances by various guest artists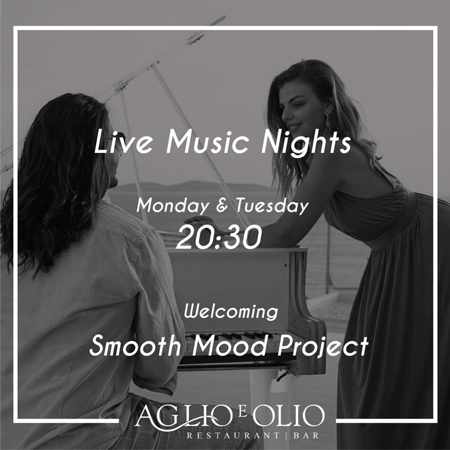 Smooth Mood Project will entertain each Monday and Tuesday at Aglio e Olio Restaurant Bar in Mykonos Town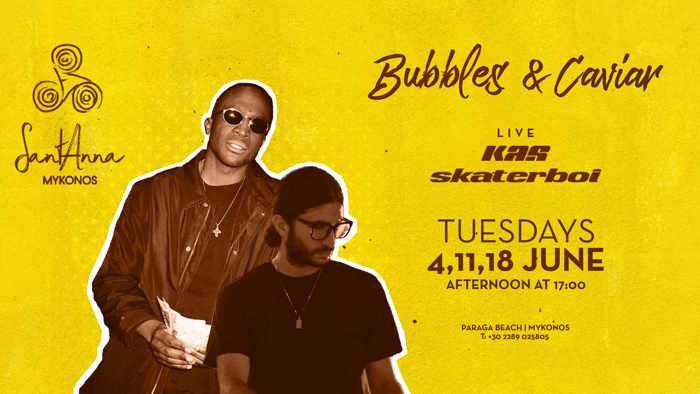 DJs KAS and Skaterboi play for the weekly Bubbles and Caviar parties at SantAnna on Tuesday June 4, 11 and 18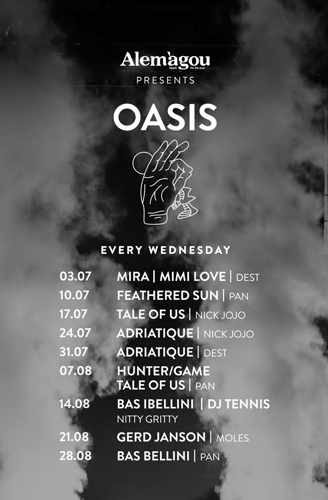 On Wednesdays during July and August, Alemagou presents its Oasis music program — "A journey to experience with your whole selves: Senses, Souls and Emotions."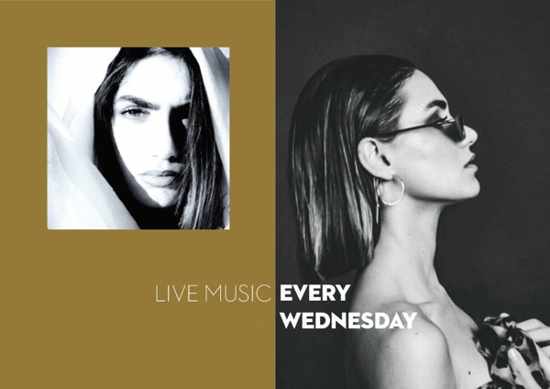 Musician Antonia Kaouri brings her "multi shades of music act with keyboard, saxophone, drums and vocals" to Kensho Psarou every Wednesday at 9 p.m.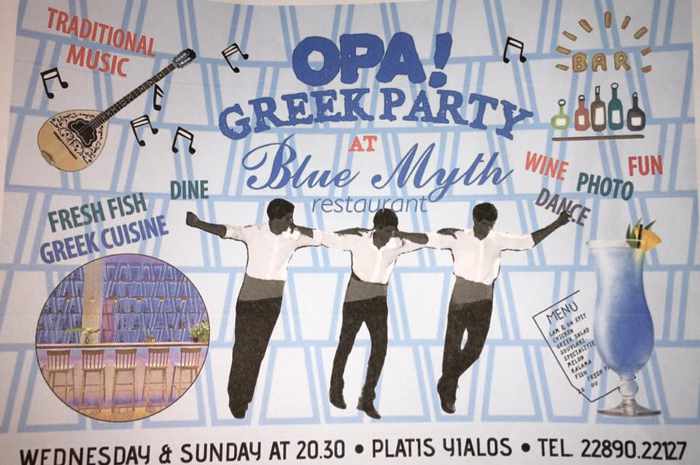 Blue Myth Restaurant at Platis Gialos holds its lively Opa! Greek Party every Wednesday and Sunday evening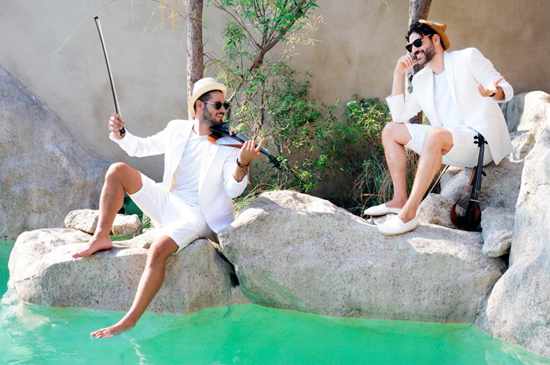 Duo Violins will appear for live performances at Kensho Psarou every Thursday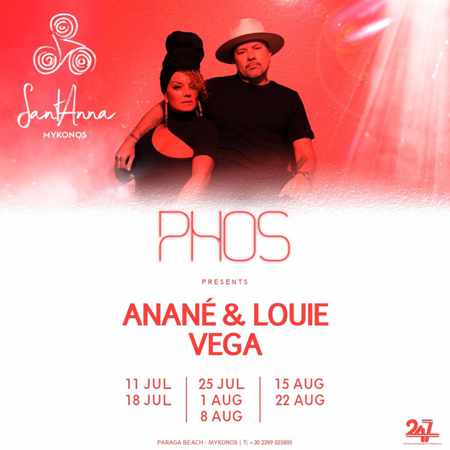 Every Thursday from July 11 to August 22, Anané and Louie Vega will bring their dance and live music show to SantAnna

On Thursdays, Junior Rush is on the decks for the Stay Deep at the Beach party at Blue Marlin Ibiza Mykonos

Every Thursday from June 27 to September 13, the Jazz the 2 duo of Mihalis Zeis and Naya Douka will entertain with live shows at Miramar Cocktail Restaurant at Casa del Mar. Their performances begin at 8 p.m.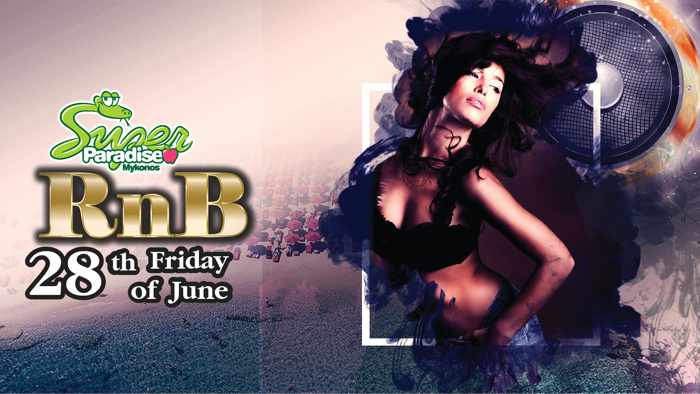 Super Paradise beach club throws an RnB party every Friday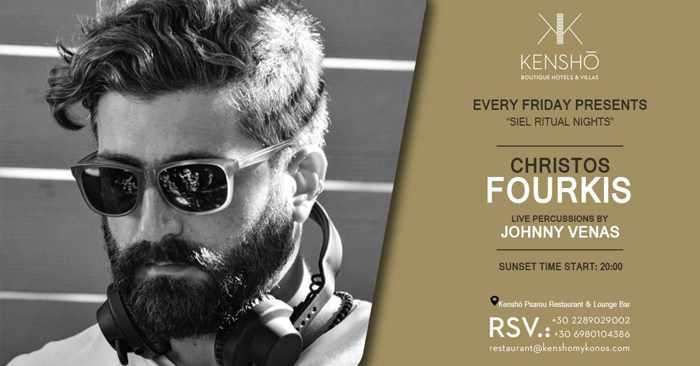 Every Friday evening beginning on June 28, Greek DJ Christos Fourkis will bring his unique Afro-House sounds to Kensho Psarou, joined by percussionist Johnny Venas. The shows start at 8 p.m.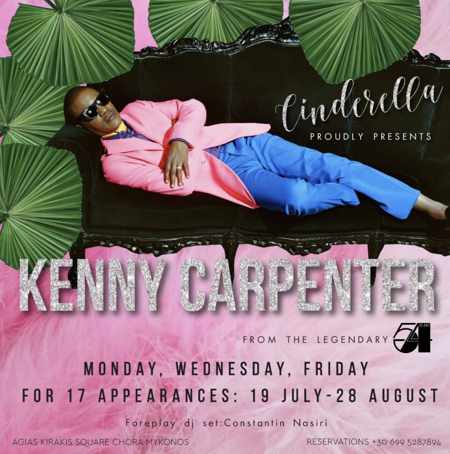 Starting on Friday July 19, DJ Kenny Carpenter (from the legendary Studio 54 nightclub in New York) will play at Cinderella on Mondays, Wednesdays and Fridays during July and August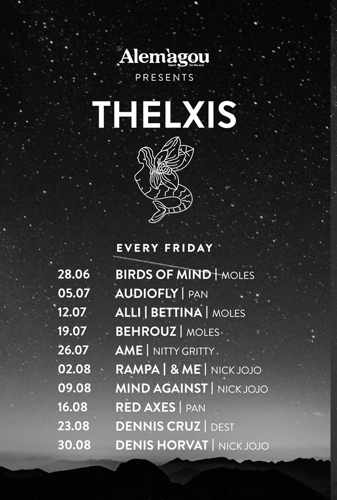 This is the entertainment lineup for the weekly Thelxis music program at Alemagou, held each Friday from June 28 to August 30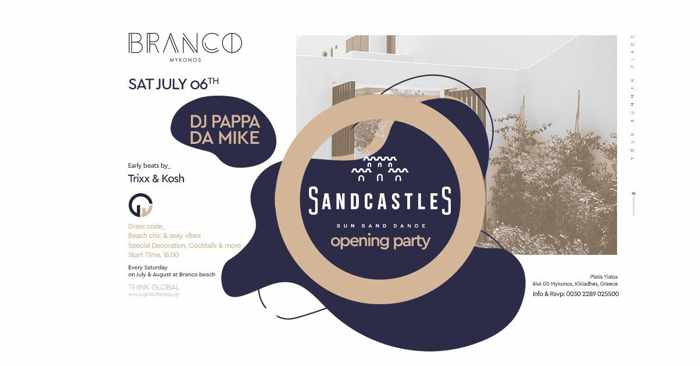 Every Saturday during July and August, Branco will present SandCastles, a new beach party concept featuring "music from the Afro, Soulful, Tech & Deep House music scene."  DJ Pappa and Da Mike will be resident DJs for the series, and will host guest DJs from Greece and abroad.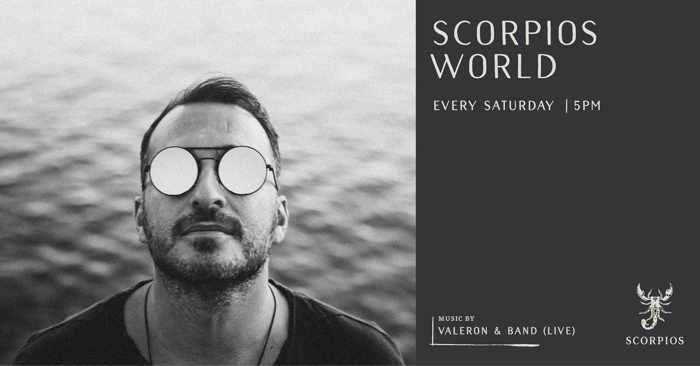 Valeron and his band entertain for the Scorpios World event every Saturday at Scorpios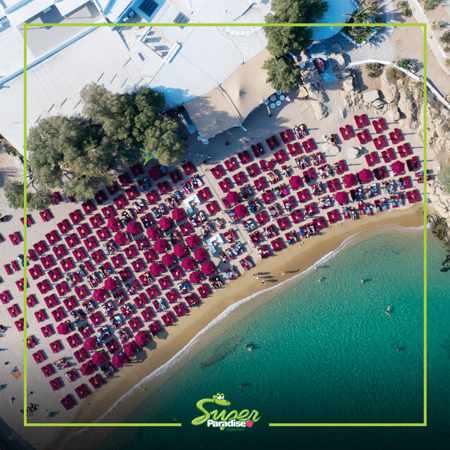 Every Sunday, Super Paradise Beach Club throws its famous Super Sundays Greek Vibes party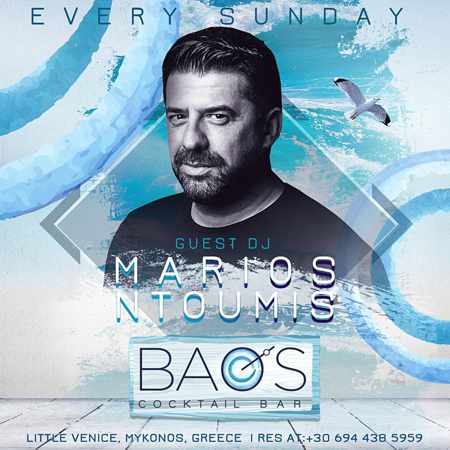 Every Sunday starting on June 30, DJ Marios Ntoumis will take over the decks for the weekly Sunday Experience Party at Bao's Cocktail Bar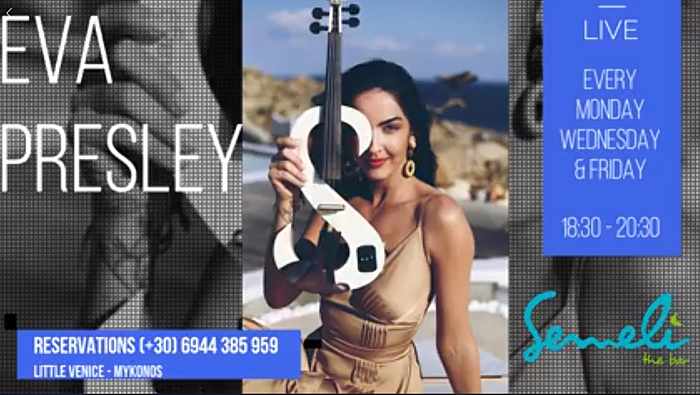 Electric violinist Eva Presley will will serenade sunset-viewing guests at Semeli Bar every  Monday, Wednesday and Friday from 6:30 to 8:30 p.m. She will perform at Bao's Cocktail Bar during the same time periods every Tuesday, Thursday and Saturday.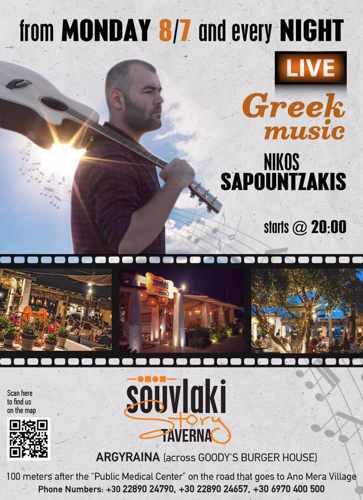 Starting on Monday July 8, Souvlaki Story Taverna will present live Greek music by Nikos Sapountzakis every evening starting at 8 p.m.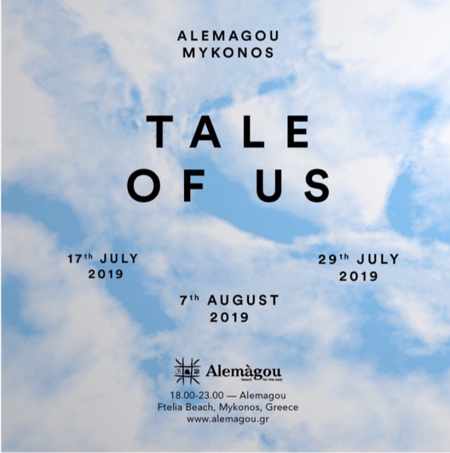 Tale of Us will make 3 appearances at Alemagou this summer — on July 17, July 29 and August 7. If you can't catch them at Alemagou on any of those dates, you'll have another chance when the duo hits Void club on August 19.
Major annual events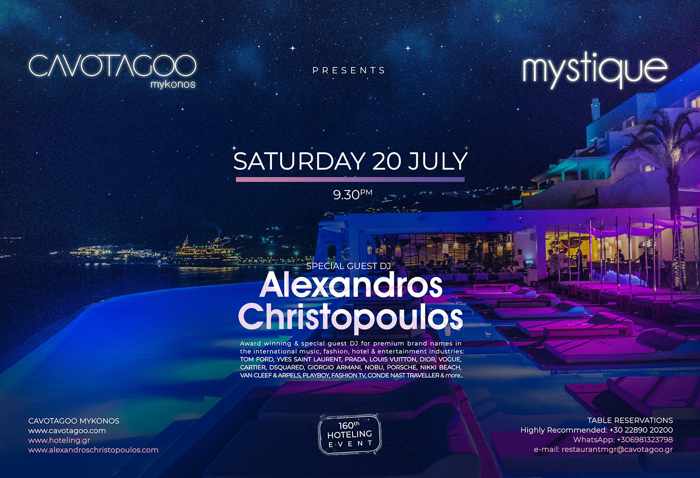 On Saturday July 20, Alexandros Christopoulos presents his annual Mykonos Mystique party at Cavo Tagoo. The hugely popular event begins at 9 p.m. and takes place on the terrace next to the hotel's iconic sunset-view infinity pool.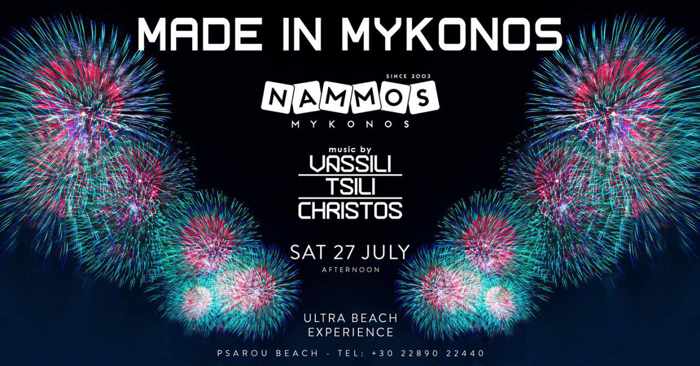 On Saturday July 27, Nammos presents the annual Made in Mykonos party with music by Vassili Tsili Christos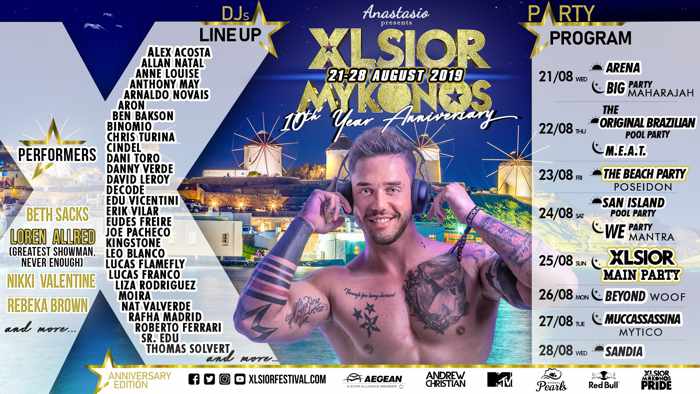 The island's biggest annual music extravaganza, XLSIOR Mykonos, celebrates its 10th anniversary this summer. The festival takes place August 21 to 28 and features a full week of beach, pool and nightclub parties with music by top DJs from around the world.
To see a list of parties and events that have already taken place, please click on the link below to turn to page 3.
CONTINUED ON PAGE 3