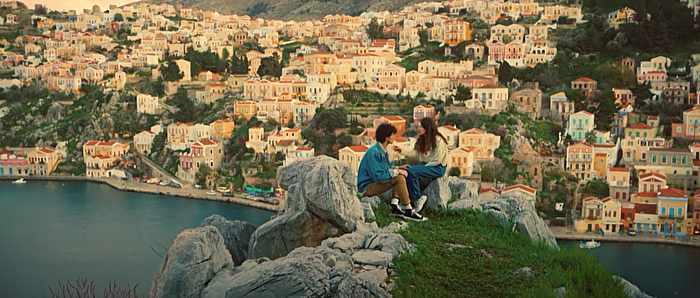 The colourful neoclassical mansions of Gialos port on Symi island provide a  dramatic backdrop for singer Amanda Tenfjord and actor Nicolas Melachrinidis, seen in two screenshots from the music video for Die Together
Scenery to die for: The official music video for Die Together, Greece's entry in the 2022  Eurovision Song Contest, has us wishing we could hop on a boat and sail to Symi.
The island's port town, Gialos,  plays a supporting role in the video, which stars singer Amanda Georgiadis Tenfjord and actor Nicolas Melachrinidis. But for us, the picturesque harbour and the Gialos hillsides lined with colourful neoclassical mansions were total scene-stealers, capturing our attention far more than the music and the video's two performers. 
Don't read us wrong — we do like Amanda Tenfjord's song. But the video's background scenery is what really wows us. Watching the 3-minute film, we can't help but imagine how breathtaking it must be to sail into Gialos and see the impressive surroundings in person. We hope we get that opportunity sometime.
The Eurovision Song Contest gets underway May 10 in Turin, Italy.
You can view the Die Together video below. To see more of Symi, scroll past the video to find direct links to several articles and island travel guides we have collected, as well as to a few Instagram accounts that feature wonderful photos of Symi sights and scenery.
Symi travel guides and articles:
♦ A travel guide to the Greek island of Symi by House & Garden;
♦ Sparkling Symi is the best Greek island you've never heard of  by Jennifer McIver Brocious from the travel blog Around the World in 30 Days;
♦ Symi Greece Island & Beach Guide: How to explore the tiny paradise by the travel blog Nothing Familiar;
♦ Symi island, one hidden gem that you should visit! by Secret Greece;
♦ Symi: The island of colours by Mysterious Greece;
♦ Symi: Small island with beautiful port by Feel Greece;
♦ The Muncipality of Symi website has a Visitor section with information about tourism, sights and activities.
Instagram accounts that spotlight Symi sights, scenery, landscapes and attractions:
♦ @symitv