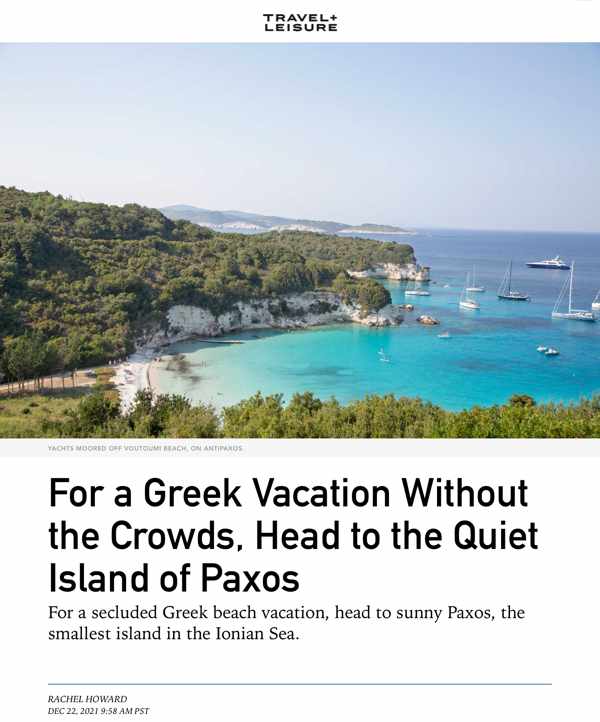 The headline touting a quiet island with no crowds is what initially piqued our curiosity when we noticed the Travel + Leisure magazine article For a Greek vacation without the crowds, head to the quiet island of Paxos, published December 22 2021.
What stoked our interest in Paxos even more were vivid descriptions of the island in writer Rachel Howard's trip report, illustrated with blissful scenes captured by photographer Loulou d'Aki. The two had travelled to the little "green speck" in the Ionian Sea during last year's travel season.
Rachel certainly paints a pretty portrait of Paxos as she cites its ample attractions: Verdant landscapes lush with pine forests and olive tree groves; craggy coastlines carved with cliffs, sea caves, secluded coves and quiet beaches; charming villages and scenic harbours; quaint tavernas serving delicious Greek cuisine and seafood. And, best of all, "no ritzy boutiques or champagne bars, no fancy resorts, and scarcely any hotels."
It sounded like a Greek island paradise we would love — until Rachel noted that the same features so alluring to us also happen to be highly coveted by "the European aristocrats and upper-crust Brits who are stealthily building palatial pads camouflaged by the hills, hovering on the edges of plunging cliffs, or poised on pristine coves with private moorings and speedboats for exploring the turquoise coastline."
And the two luxury properties she stayed at — the Aperghis Estate villas to begin with, followed by "the most sensational estate on the island," the ultra-exclusive Paxos PTR rental villa owned by architect Patrizia Peracchio of Milan — aren't the types of accommodations we would feel comfortable booking for just the two of us.
But if we were travelling with family or friends and needed a holiday hideaway offering style, space and privacy for a large group, either of those luxe lodgings would probably be perfect — and the rental rates of up to $27,000 (U.S.) per week much more affordable.
While a big group holiday isn't likely in the cards for us in the near term, it was still fun and interesting to read Rachel's report and daydream of a trip to Paxos sometime. 
Could Paxos perhaps be the perfect place for you?
As an aside: The Paxos PTR estate that Rachel wrote about was mentioned in another travel article last year, The Greek islands holidays to book for summer. In that piece, published in April by The Times of London, Susan D'Arcy said "Paxos is villa heaven but even so, Paxos PST is the one that stands out, an architect-designed one-off with Instagrammable green marble pool and lovely gardens." 
For specific details and rental rates, you'll have to request details from Five Star Greece, which manages the property.  In the meantime, you can see aerial views of the estate's spectacular clifftop location in the video below:
Drone views of the stunning clifftop perch for the Paxos PST and PTR villa properties are shown in this short clip by Greece Villa Videos. The camera doesn't begin changing position until around the 30-second mark, so we suggest fast-forwarding to that point to begin watching the film.