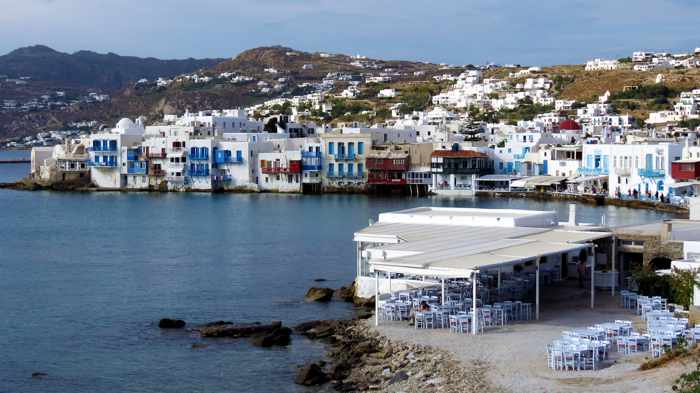 A view of the Little Venice seafront of Mykonos Town
— Updated on June 19 2022 —
The Island of the Winds: Much like the dry Meltemi winds that blast the island every summer, the winds of change blow strongly on Mykonos, bringing a flurry of brand-new hotels, restaurants, bars and shops for each fresh travel season.
This cycle of constant change and renewal is an integral part of what makes Mykonos so vibrant, exciting and enthralling — it ensures there are always plenty of new places popping up where visitors can explore and enjoy the latest Greek and international trends in design, decor, fashion, food, drink and entertainment.
Here are snapshots of many of the notable changes and newcomers that Mykonos visitors will discover during the 2022 travel season.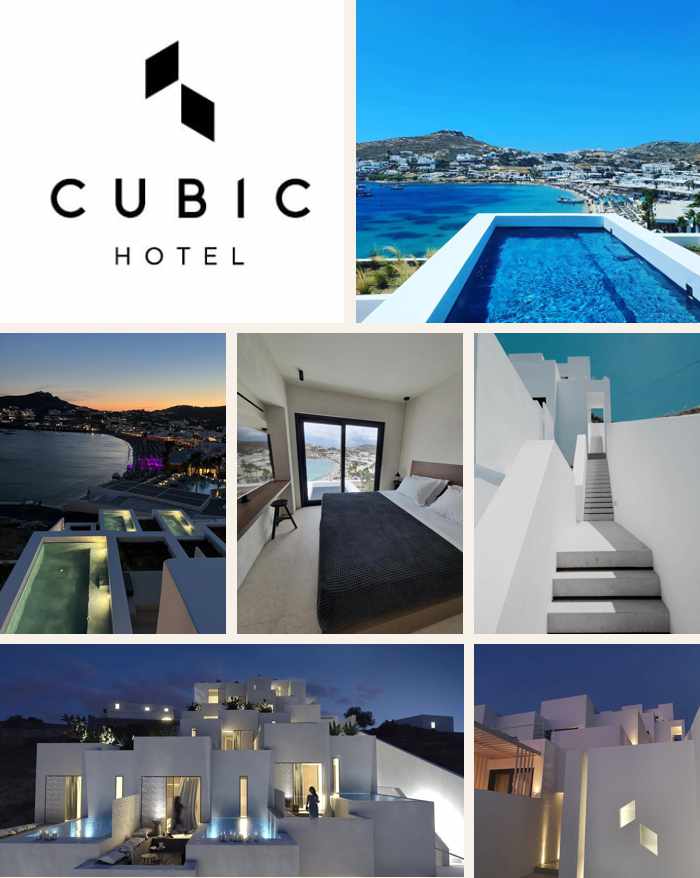 Opening July 13 at Ornos beach, Cubic Hotel is an adults-only boutique property consisting of just 11 rooms and suites with private pools. Each of the luxury  accommodations "has been designed in a contemporary manner, blending cubic style with multiple dimensions and traditional Cycladic architecture with modern twists," the hotel website says.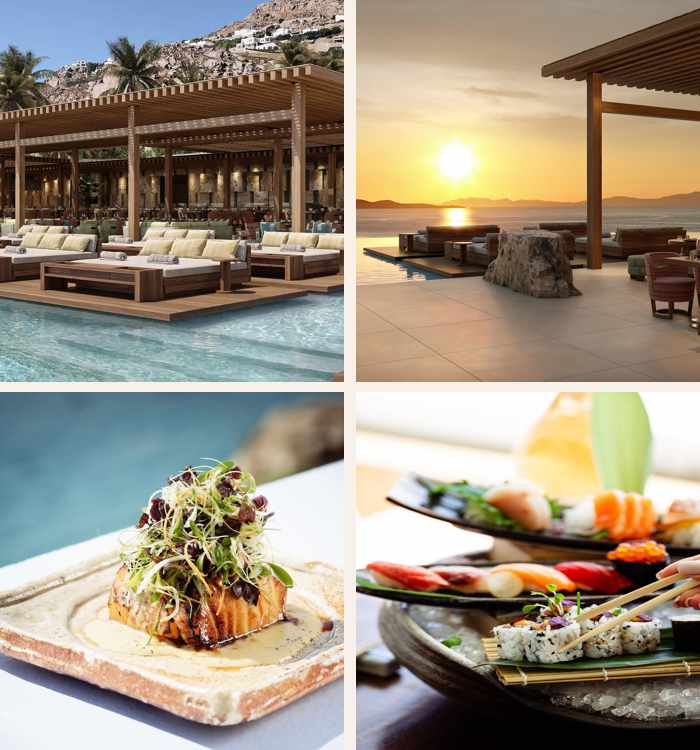 After two years as a seasonal pop-up situated in the ultra-luxe Cavo Tagoo Hotel, the Japanese restaurant Zuma Mykonos has a new home all its own. The opening of the new premises — carved into the face of a rugged rock cliff a short distance down the coastal road from Cavo Tagoo — marks the debut of "a first of its kind lifestyle concept" by the high-end international restaurant chain, which is celebrating its 20th anniversary this year. "This creative, multi-purpose destination is a new concept within the [Zuma restaurant] portfolio featuring a restaurant, lounge and bar, sleek infinity pool, day beds and resident DJ. Zuma Mykonos is set to be the first of many other similar venues unveiled in international destinations in the years to come, as Zuma enters a new era," the Zuma website explains.  Zuma Mykonos officially opens for dinner service on July 14, while its spectacular sea- and sunset-view infinity swimming pool will open on July 18.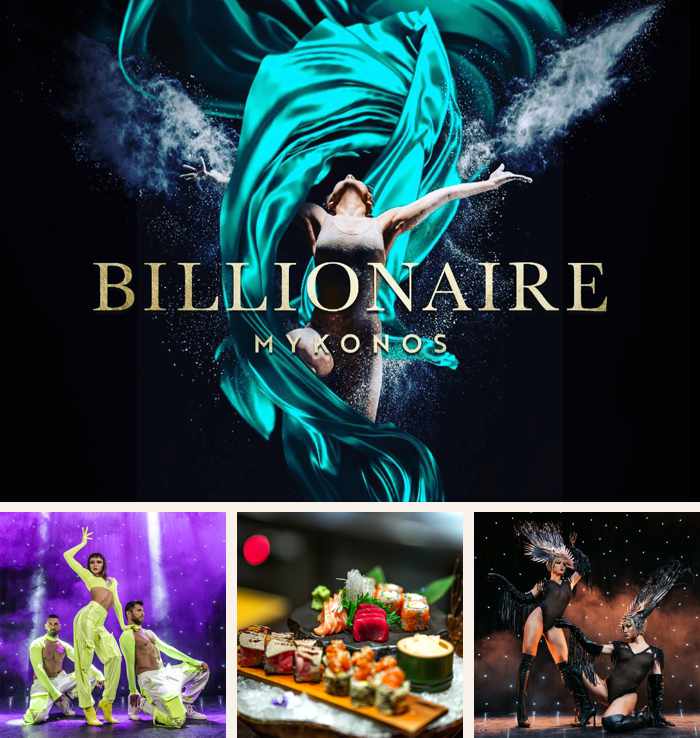 Italian celebrity entrepreneur Flavio Briatore is bringing his exclusive Billionaire lifestyle club to Mykonos this summer. Self-described as famous for its "extraordinary artistic performances with a superb dining experience," as well as a "thrilling" late-night after party,  Billionaire Mykonos will operate in an elegant former mansion near the small Agia Anna harbour beach in Mykonos Town (in the premises formerly occupied by the Hondos Center fashion retail shop). Billionaire Mykonos hasn't announced its official opening date, but it is expected to open its doors as soon as July 15, and has been heavily promoting a "coming soon" campaign on social media.  Billionaire Mykonos made news headlines in Greece in July when it cancelled online reservations for tables of four persons or less, explaining in an email to affected customers that the venue has been designed to "accommodate groups of 6,8,10 and 12 people or more"  only. Rumours had been circulating that the club would require a minimum spend of €50,000 per table, but news reports said the minimum spend in the restaurant will be €300 per person on food alone — with alcoholic drinks not included in that amount.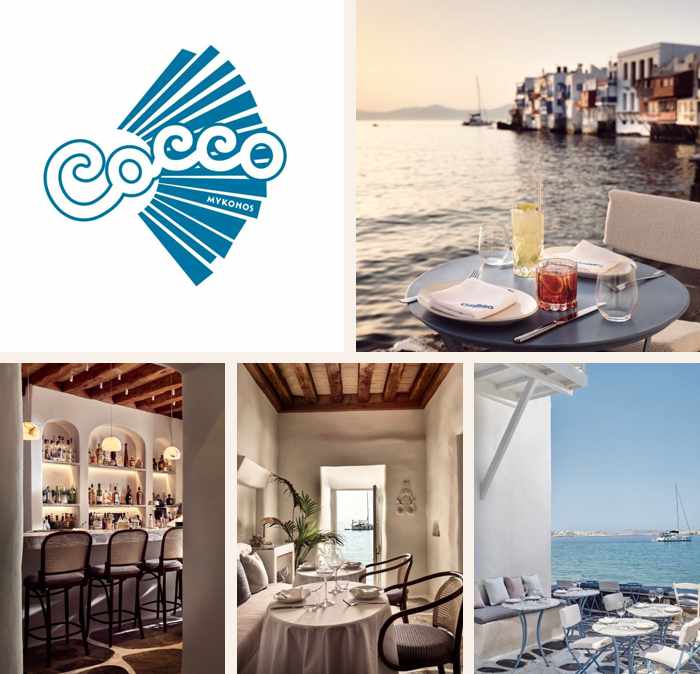 Doors opened in early July at Cocco Mykonos, a small Italian bistro situated at the Little Venice seafront of Mykonos Town. A project of the Belvedere Hotel, Cocco occupies cozy, intimate spaces in an historic 200-year-old building on the waterfront.  Cocco's menu "offers small yet inspired bites for a leisurely drink, while refreshing salads alongside delectable raw and marinated meat and fish dishes will ground a dreamy evening in earthly delights. Light-as-a-cloud pizzas, straight from our wood-fired oven, classic antipasti and rich pasta dishes will round out an unforgettable Italian experience," the restaurant's website says. Cocco's hours of operation are 6 p.m. to 2 a.m.
A stroll down Ag. Anargiron street near Little Venice will lead you to a tiny new cocktail and coffee joint, Bar & Co, which opened in early July. It's a friendly spot to grab a coffee beverage or a hand-crafted cocktail to enjoy either at the bar, or "on the go."  Besides classic cocktails, Bar & Co serves beer, shots and drinks.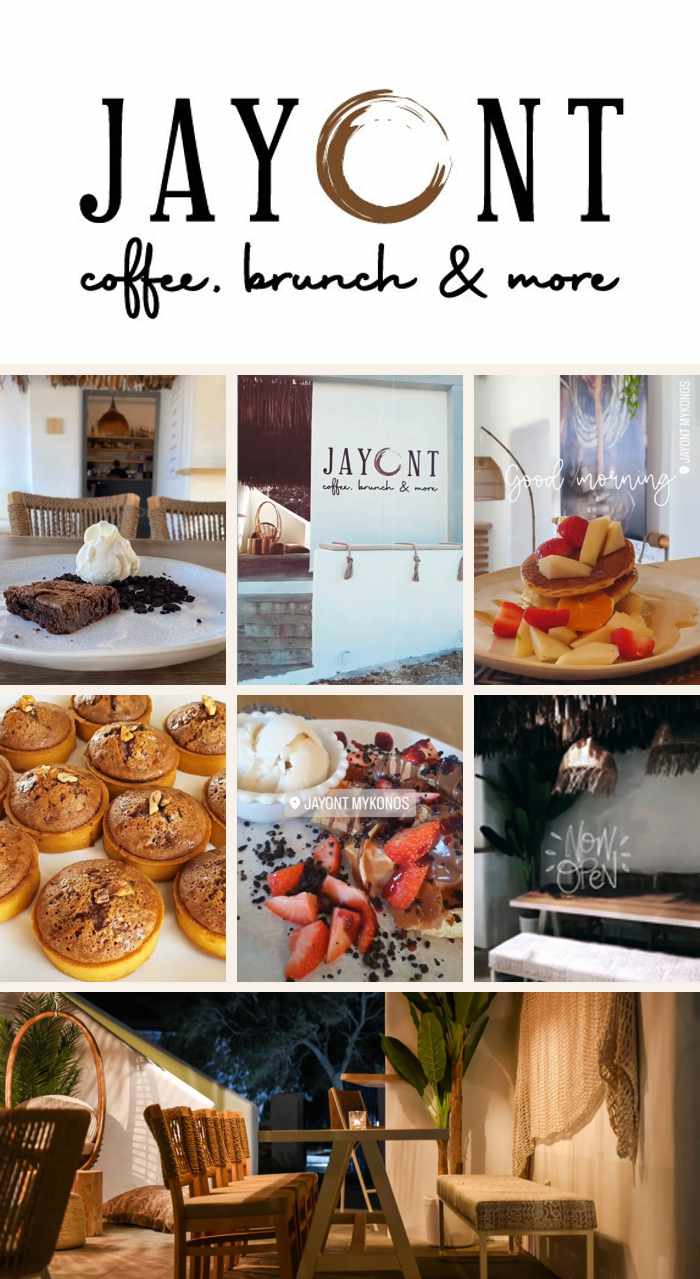 Jayont coffee brunch & more is a new dining spot in Ano Mera village, situated steps from the historic Panagia Tourliani Monastery.  Jayont specializes in coffees and  breakfast/brunch fare, but is open til late at night for dining and cocktails.  Menu items are available for take-away, so it's a convenient place to pick up drinks and snacks while on the way to Elia, Agrari, Kalafatis or Kalo Livadi beaches.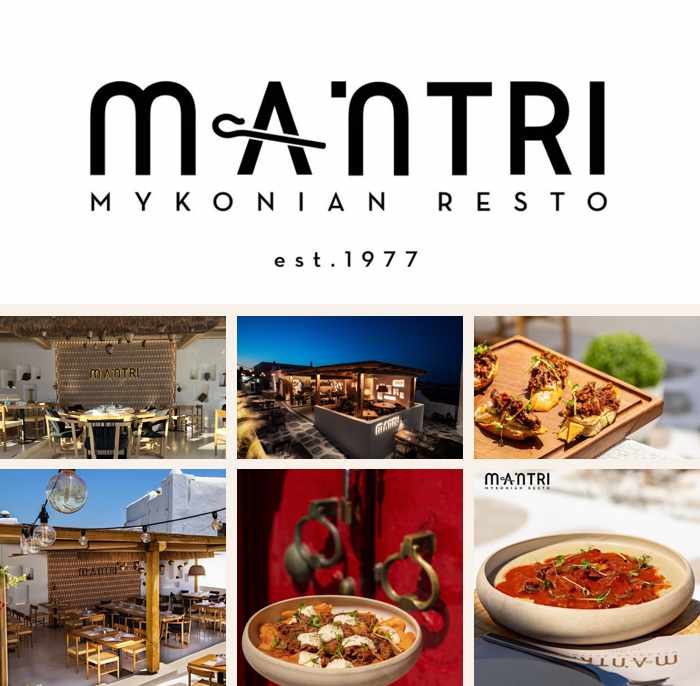 Mantri Mykonian Resto is another newcomer situated near Panagia Tourliani monastery in Ano Mera village. If the name seems familiar, perhaps it's because it's the new Mykonos sibling of the Mantri restaurant that has been operating in the Athens suburb of Glyfada since 1977.  Mantri offers a Mediterranean menu highlighting quality meat and charcoal barbecue dishes, as well as slow-cooked Greek dishes.  The menu, with prices, can be viewed on the restaurant's website. Mantri Mykonian Resto is open daily from 12:30 p.m. to midnight.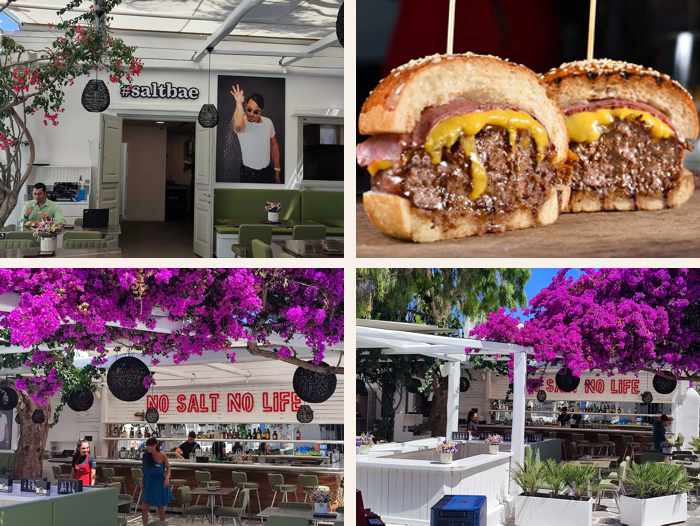 Regular Mykonos visitors will notice a big change at Goumenio Square in Mykonos Town this summer. The popular meat and meze restaurant Familia is gone — its prized location has been acquired by celebrity chef Nusret Gokce and transformed into one of his high-end Saltbae Burger joints. (Gokce brought his world-famous Nusret steakhouse to Mykonos in 2019, and is still packing that place with big-spending customers every night). The Saltbae burger restaurant and bar opened in mid-June, serving a variety of burgers and steak sandwiches at prices starting at €30 and up, along with Oreo, marshmallow and "crazy baklava" shakes costing €19 and €25 respectively.  The restaurant's signature dish,  the Gold Burger, is a juicy Wagyu Saltbae burger covered in edible 24K gold and smothered in freshly melted cheddar cheese. It is served with seasoned fries and sells for only €150.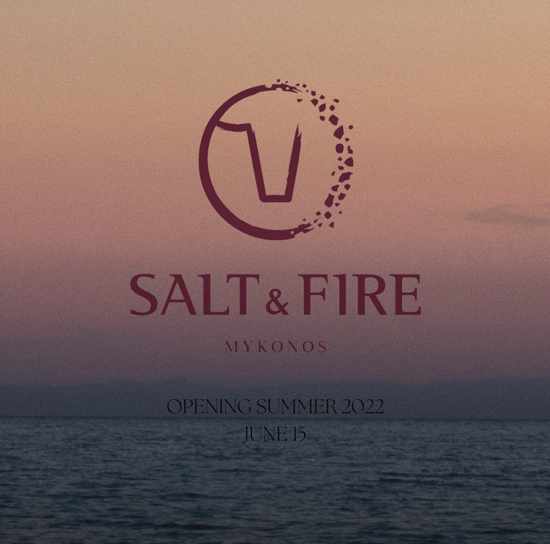 Salt & Fire Steakhouse claims it will offer "the most exclusive dining experience in Mykonos" when it opens June 15 at the Charisma Hotel and Wellness Suites in the island's Plintri area (near Super Paradise beach). Situated on the patio beside the hotel's sea view pool, Salt & Fire will have only a handful of tables at which a small number of guests can enjoy Black Angus and Wagyu steaks grilled to perfection over the restaurant's signature wood fire. (The menu also includes a simple but superb selection of salads, starters, sides and desserts).  Salt & Fire Mykonos is a summer venture of the popular Salt & Fire restaurant established in 2019 in the Agios Ioannis area of Nicosia, on Cyprus.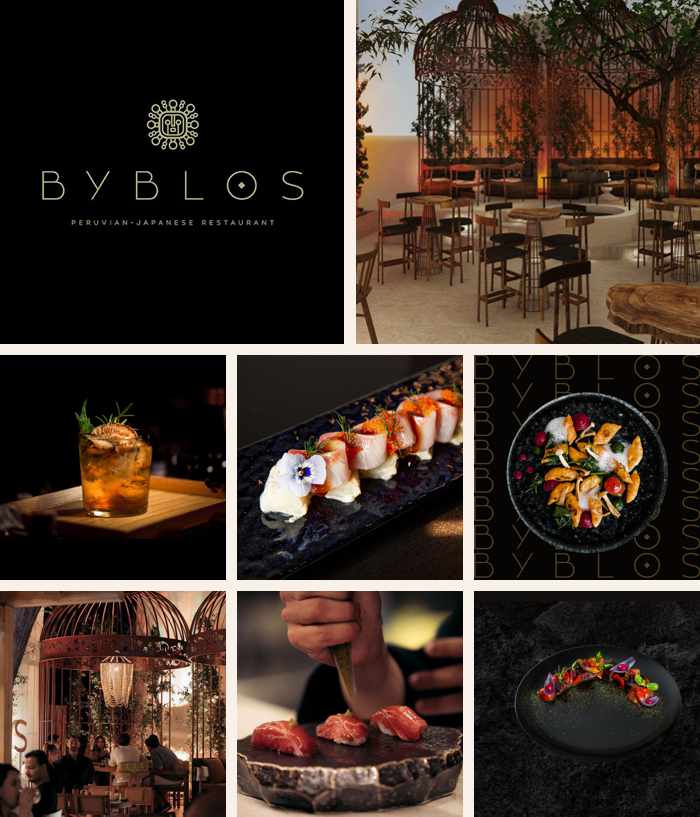 Friday June 10 was the grand opening day for Byblos, an opulent new fine dining and late-night party restaurant "that plays by its own rules blending flavours, sips, music and vibes." Byblos specializes in "elevated Peruvian-Japanese gastronomy," exquisite cocktails, wine and sake. In an opening day announcement on its social media pages, Byblos said "Our talented executive chef Thanos S Stasinos & our expert sommelier Nikolas Giannopoulos will be your guides in this exotic world of exquisite taste." Byblos is located at 1 Delou street in Mykonos Town.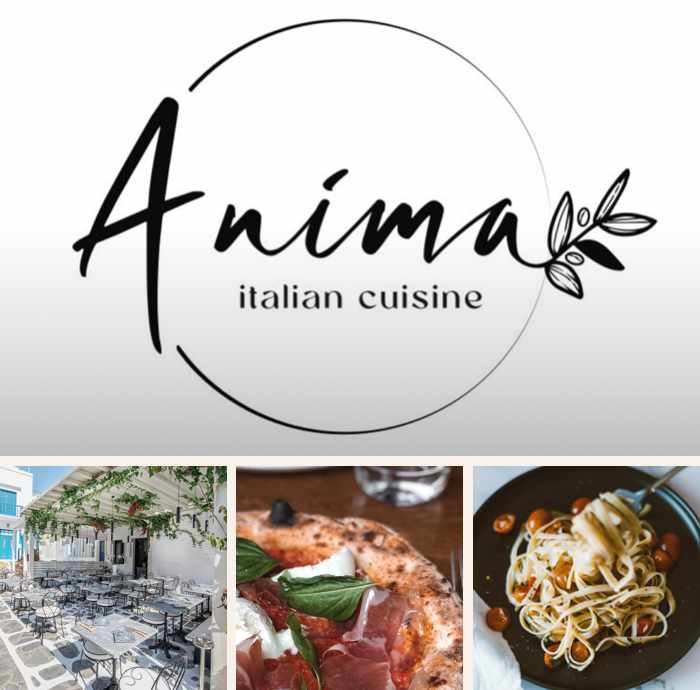 "Specialized in authentic Italian cuisine," Anima Restaurant is a new arrival at Goumenio Square in Mykonos Town. It opened on June 2.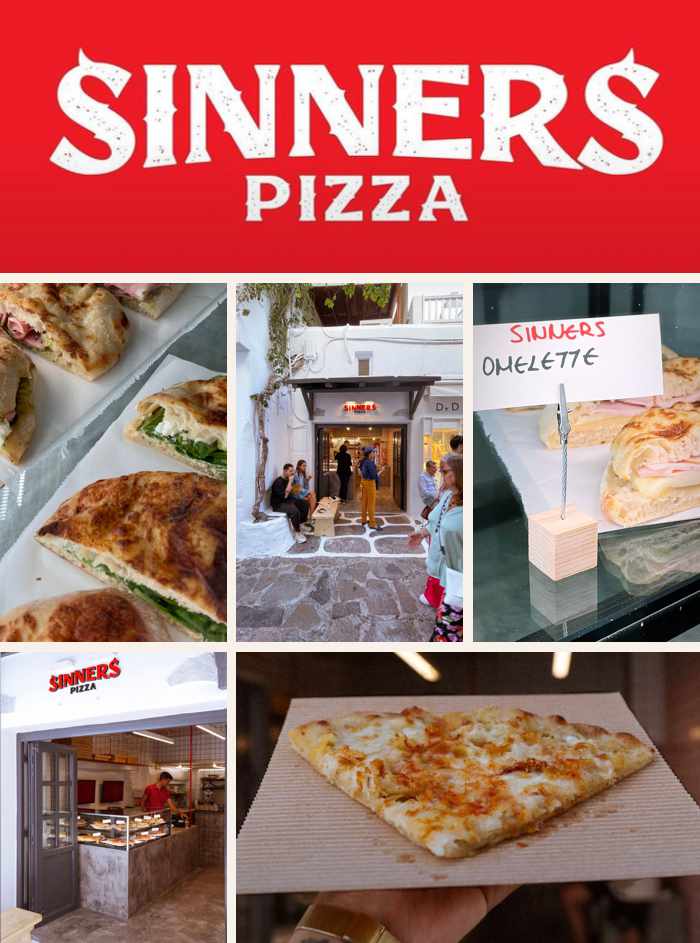 Sinners Pizza opened in early June on Polikandrioti Street, serving a variety of take-away pizzas (whole and by the slice), paninis, and beverages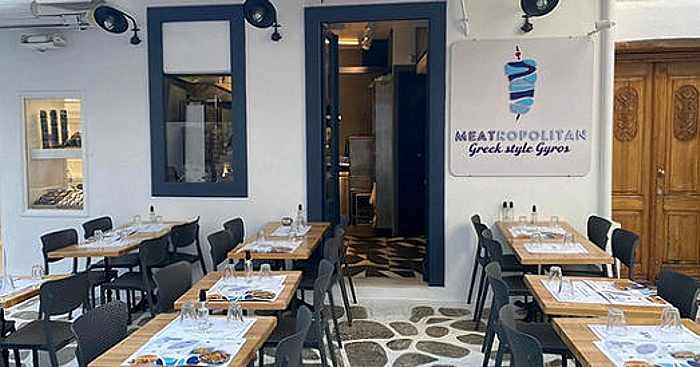 With a menu aimed to satisfy even the hungriest meat lovers, Meatropolitan Greek Style Gyros specializes in souvlaki and gyros, but also serves  burgers, chicken, sandwiches and more. It also has falafel items for vegan visitors. The restaurant opened in late April on Enoplon Dinameon street in Mykonos Town.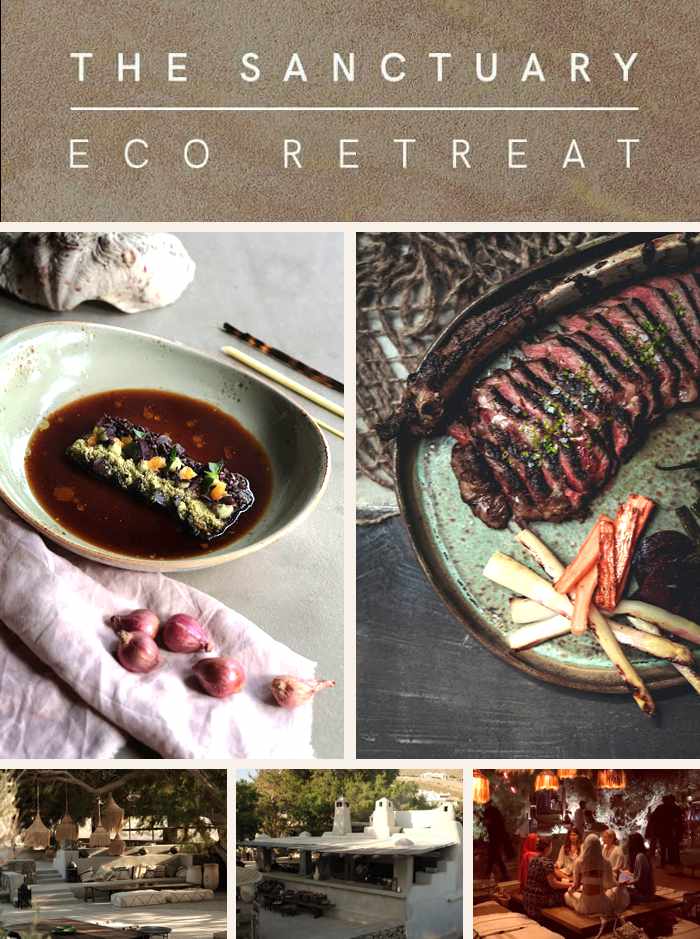 The Sanctuary Mykonos is a soul-soothing retreat, restaurant, and open-air music and events venue that opens its gates on June 2. Situated in the remains of an old fishing settlement near the eastern end of Ftelia beach, The Sanctuary Mykonos is set to make a distinctive mark on the island's outdoor lifestyle and entertainment scene with unique curated music events, family-friendly gatherings, and ritualistic programs providing personal well-being and spiritual nourishment. Facilities include a bar, lounge and restaurant, where guests can enjoy a "social and soulful dining experience" choosing from a menu featuring Mediterranean, fusion and sushi dishes. Besides nightly dancing under the stars to curated DJ and live music performanes, The Sanctuary will host body- and soul-nurturing rituals including yoga kundalini, chanting and mindfulness meditation, shamanic drums, sound healing, fire rituals, moon rituals, tarot readings and more.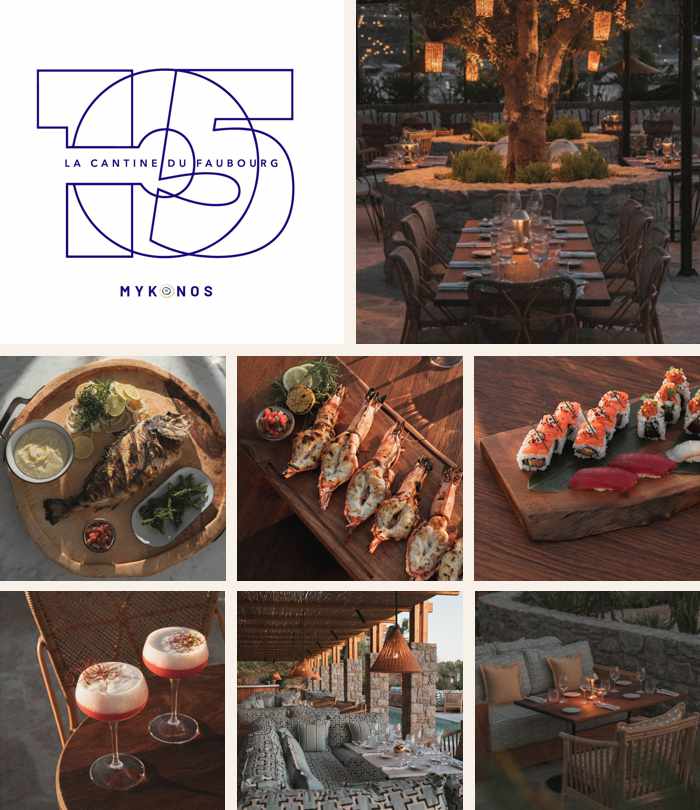 A much-talked-about newcomer to Ornos beach this summer, the seaview restaurant and bar La Cantine du Faubourg bills itself as "Mykonos's new luxury playground."  An outdoor restaurant featuring Parisian cuisine and French social flair, it's designed to be a must-visit lifestyle destination, built on four guiding principles: "sound, music, image, and food. Cultural venue meets dining destination, meeting spot or late-night hideout, La Cantine du Faubourg is whatever its guests want it to be, and more," says an introduction on the venue's website. Opening day was June 26.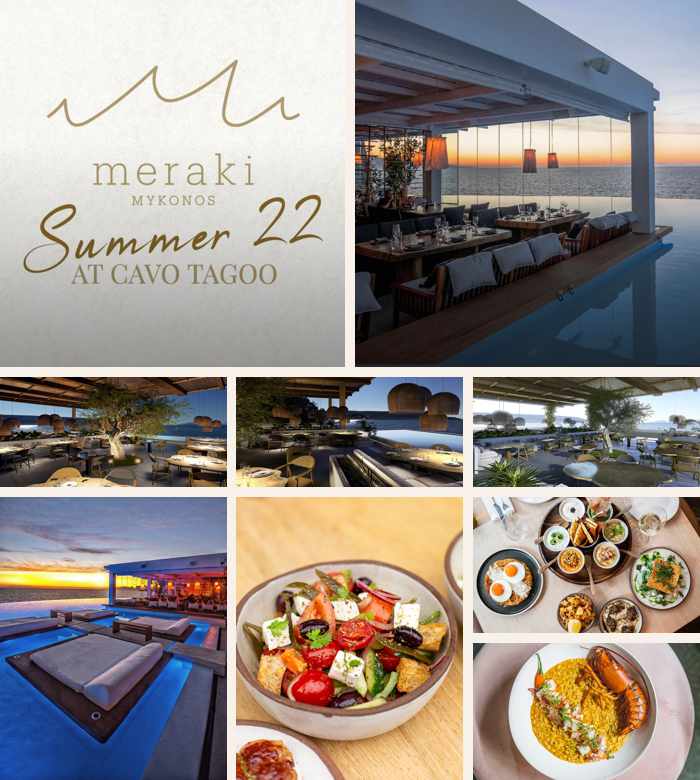 For the summer of 2022, the 5-star Cavo Tagoo Hotel  in Mykonos Town is hosting a new fine dining restaurant — Meraki — in the prized sea- and sunset-view spot next to its Instagram-famous infinity pool. (In 2020 and 2021, the coveted space had been occupied by a summer "pop up" of the Japanese- and Asian-fusion restaurant chain, Zuma.)  Meraki Mykonos is the fourth and newest member of the Meraki group of high-end restaurants and bars specializing in Modern Greek and Mediterranean cuisine (the others are located in London, Riyadh and Puerto Cervo).   Meraki Mykonos opened on May 6.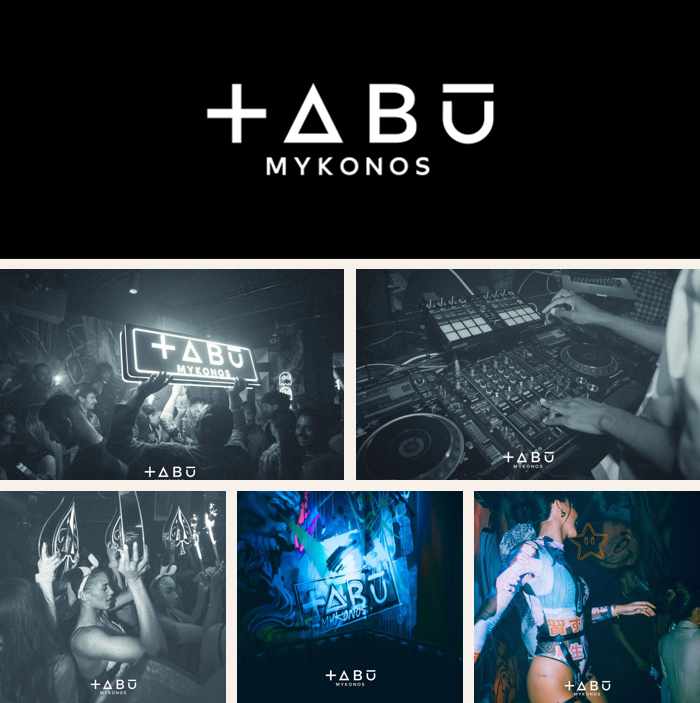 Tabu Mykonos is a new concept nightclub that will offer guests "a different kind of ambience inspired by Japanese culture." A summer project of the Tabu London club in Mayfair, it will be located on the Mykonos Town harbourside restaurant strip, at Promenade (which last year hosted a nightclub called Shiba).  Tabu Mykonos is scheduled to open on June 1.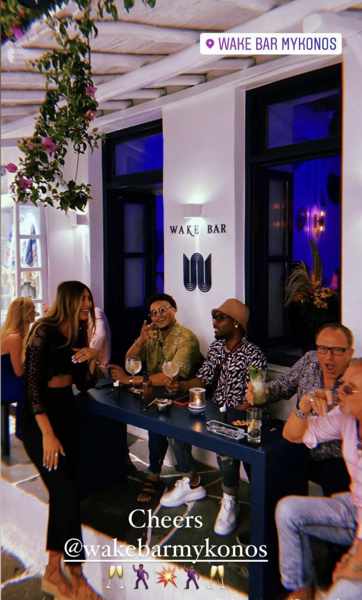 May 13 was opening day for Wake Bar, an "exquisite" new venue that Kalua beach club has created on Enoplon Dinameon Street in Mykonos Town.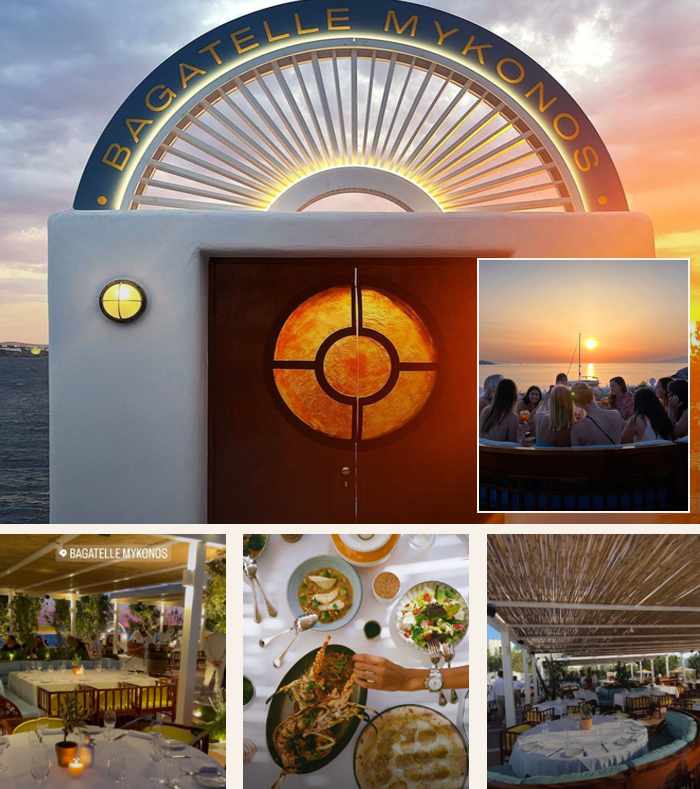 After several years of planning and development, the Bagatelle brand of luxury restaurants and beach clubs has brought its southern France-style "joie de vivre and epicurean spirit" to Mykonos this summer.  The long-awaited Bagatelle Mykonos is located on the Mykonos Town seaside a short walk from Fabrika Square (between the Mykonos Theoxenia Hotel and the Poseidon Hotel). Opening day was May 24.
June 1 was opening day for Ftelia Pacha Mykonos, an 'open beach experience" restaurant, bar and music entertainment venue at Ftelia beach (situated on the premises of the former Ftelia Beach Club, a short-lived seaside project of the Interni group of restaurants and hotels in Greece).  Ftelia Pacha is the third and newest property to be opened on Mykonos by The Destino Pacha hospitality group, which last year debuted the Destino Pacha Mykonos Hotel near Agios Stefanos beach, followed by the Lio Mykonos restaurant and live cabaret club in Mykonos Town. The arrival of the Ftelia beach club — which boasts a summer calendar packed with parties featuring performances by top international DJs — has positioned Destino Pacha as one of the island's leading lifestyle and entertainment venue operators.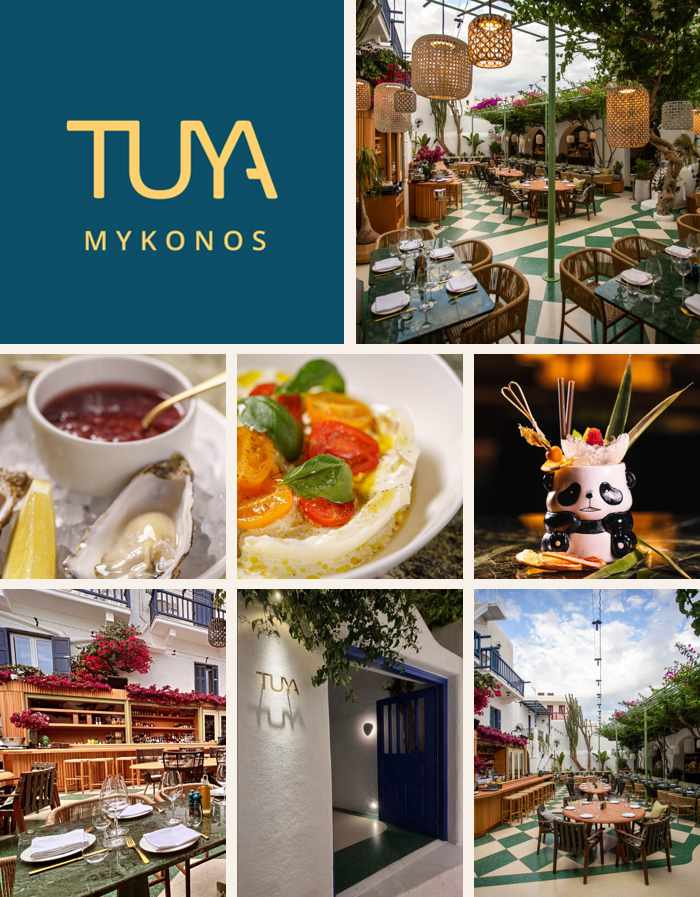 Tuya Mykonos, a fine dining restaurant featuring a menu of French Riviera Cuisine, opened June 10 on Kalogera Street in Mykonos Town. It's the third Tuya restaurant to open in Europe — the chain's other locations are in Bucharest and Vienna, with a fourth Tuya set to open this fall in Milan.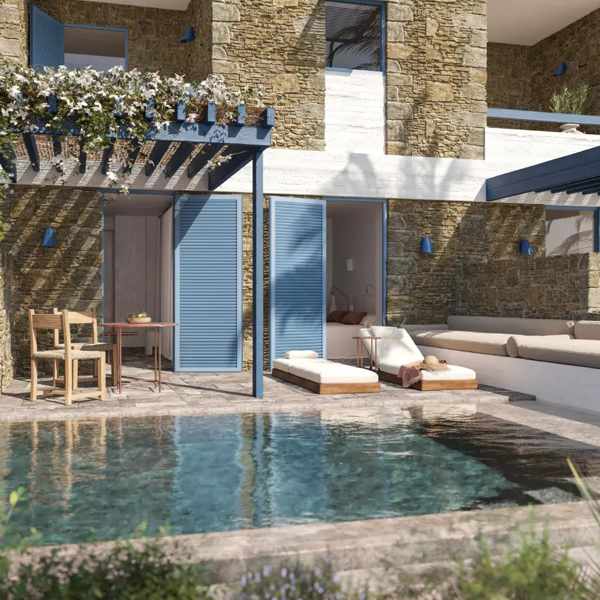 Mykonos Theoxenia, one of the island's most iconic and historic hotels, has been undertaking an extensive and "daring" renovation this year.  "The mythic Mykonos Theoxenia reinvents itself to realign with its timeless heritage and the essence of ultimate hospitality," the hotel website says. Located near the landmark row of six windmills in Mykonos Town, the Theoxenia is expected to start its 2022 season in July.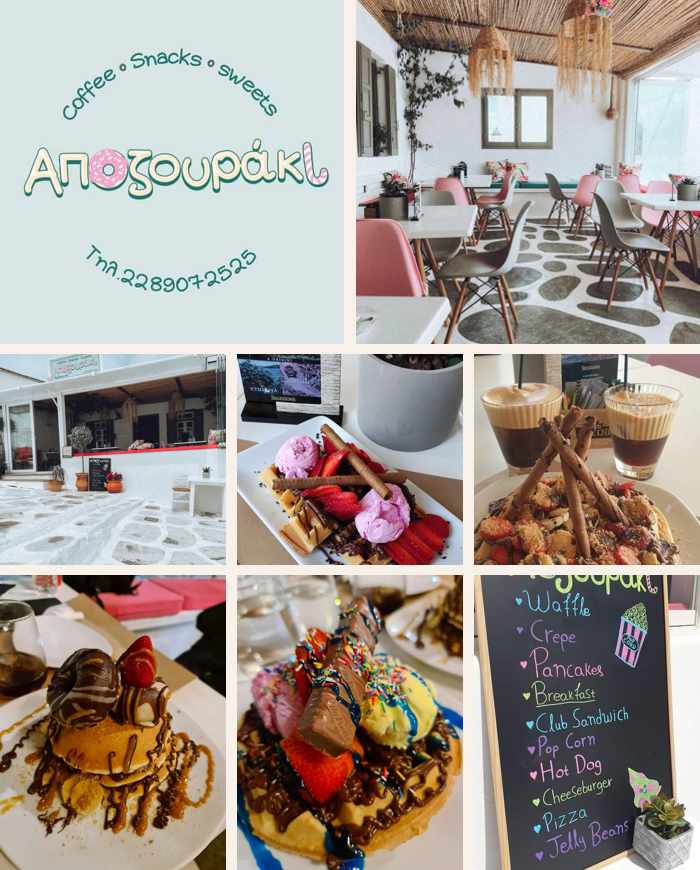 Apozouraki is a new cafe which opened April 27 in Ano Mera. It sells a variety of coffees and other drinks, along with breakfast items like crepes, waffles and pancakes, as well as sandwiches, hot dogs, burgers, pizza, spinach pies and other light fare, plus donuts, jelly beans, candies and other sweet treats.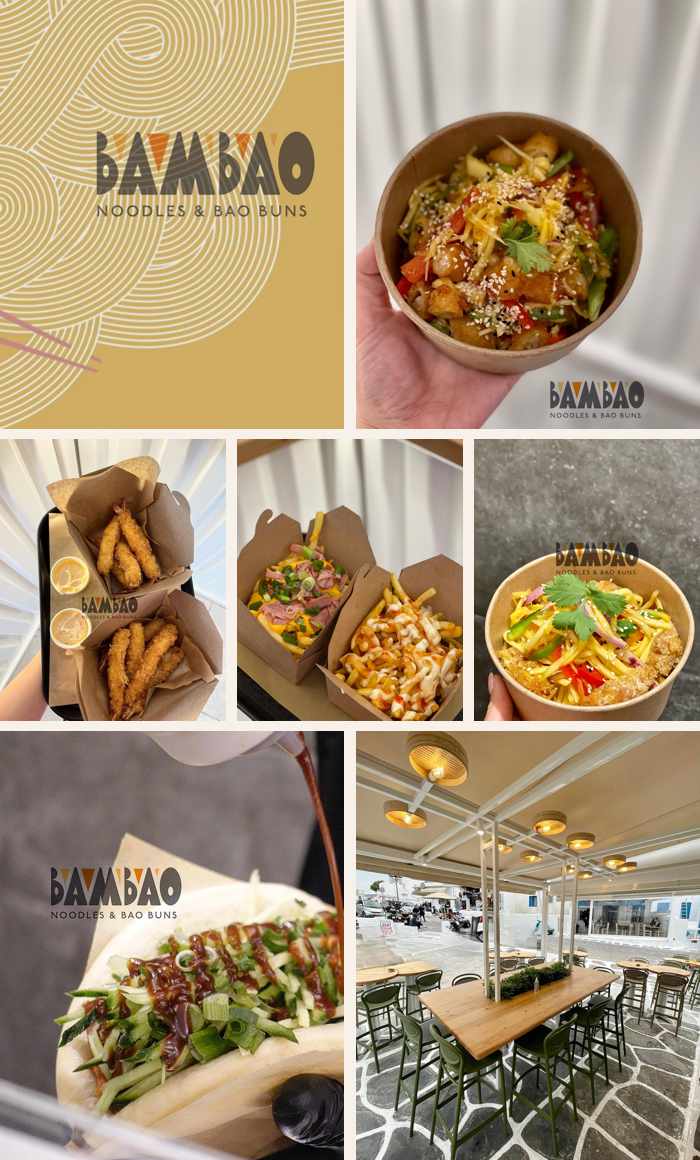 Bambao Noodles & Bao Buns opened April 29 in the Fabrika area of Mykonos Town. It's an all-day, casual Asian fusion eatery serving up bao buns, noodles, chicken buckets, and more.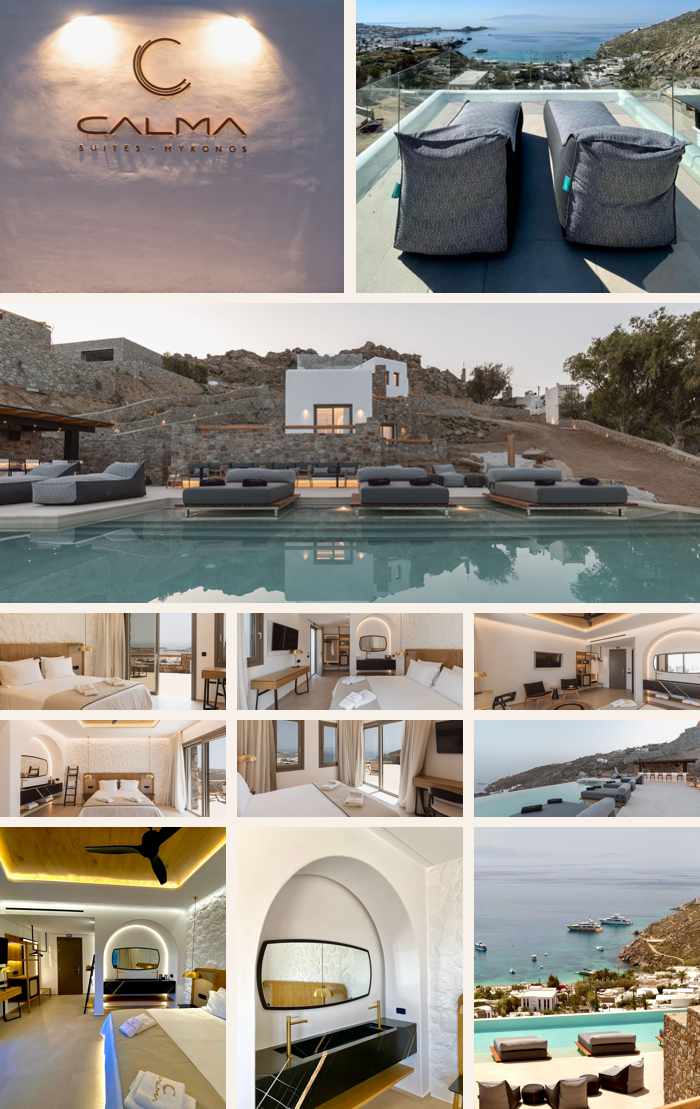 Opened on June 1, Mykonos Calma Suites is a collection of deluxe luxury rooms and suites situated on the hillside overlooking chic Psarou beach, with wonderful views of Psarou and Platis Gialos bays and Naxos island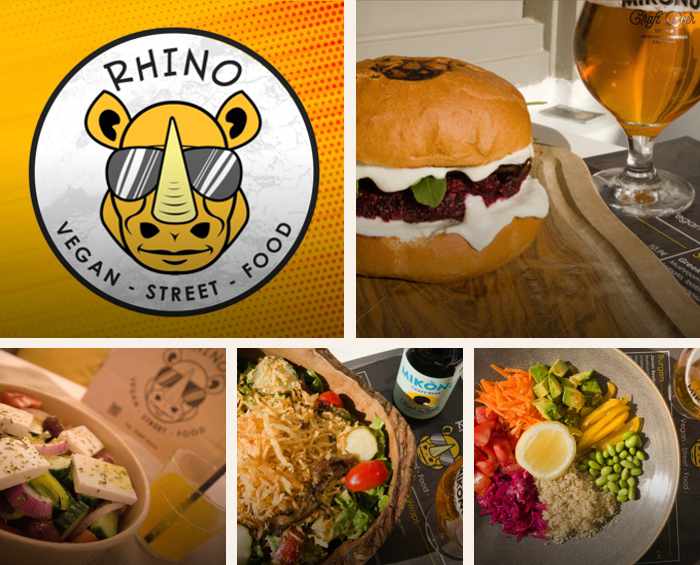 April 15 was grand opening day for Rhino Vegan Street Food, located at 3 Riga Feraiou street in the heart of Mykonos Town.  Rhino's goal is to promote sustainable and healthy eating; and as the shop says on its social media pages, "We hope to show people that a vegan lifestyle can be lived casually and effortlessly, and it can taste great too!"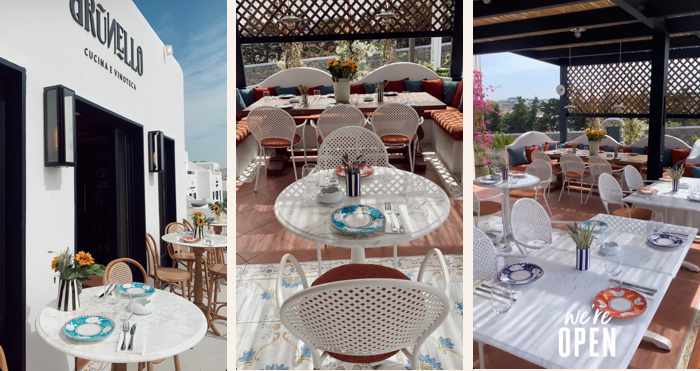 Brunello Cucina e Vinoteca will bring "a little bite of Italy" to its restaurant location in the Mykonos My Mall in Ano Vrisi. It opened in May.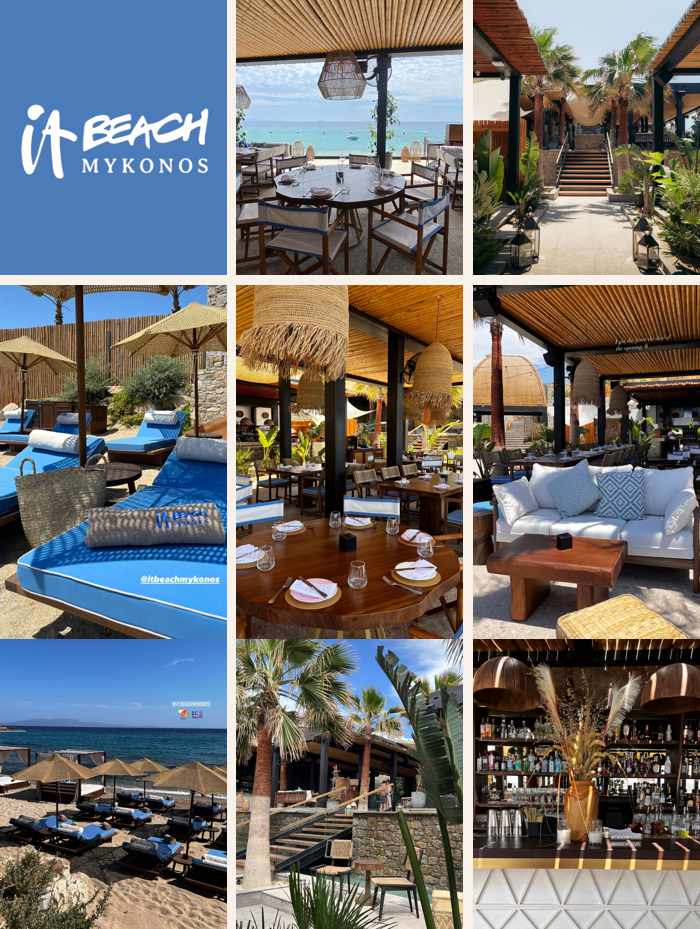 In 2021, the IT Restaurants Group opened IT Mykonos, a party restaurant in the Drafaki district on the edge of Mykonos Town. This year the chain has shifted its focus to Paradise beach, where its new IT Beach Mykonos open fire restaurant, bar and beach club opened on June 10, bringing yet another trendy spot to dine and party to the island's most famous beach.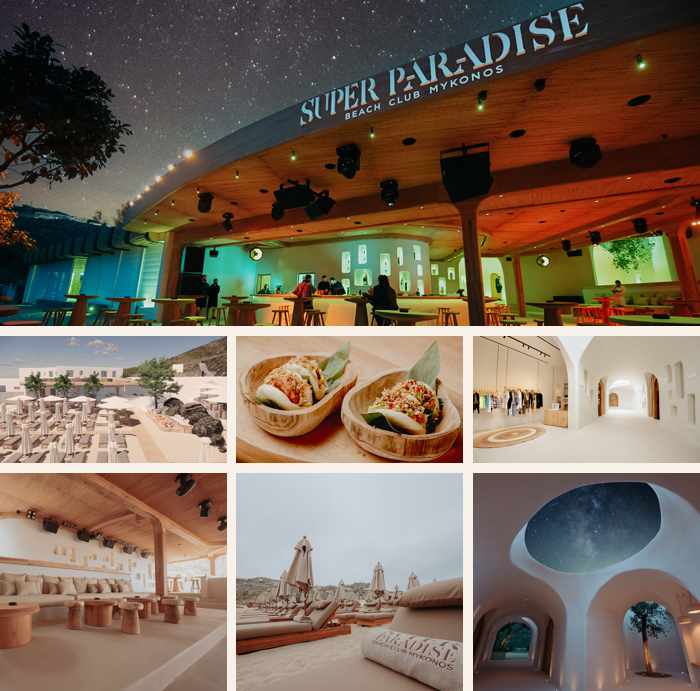 For 2022, Super Paradise Beach Club has undergone a massive transformation that was unveiled on its season opening day, May 1.  The club has been totally redesigned and reimagined into a sophisticated new space, with natural materials, wood, stone and earth tones that reflect a timeless Mykonos aesthetic and a bohemian-chic upmarket style and atmosphere.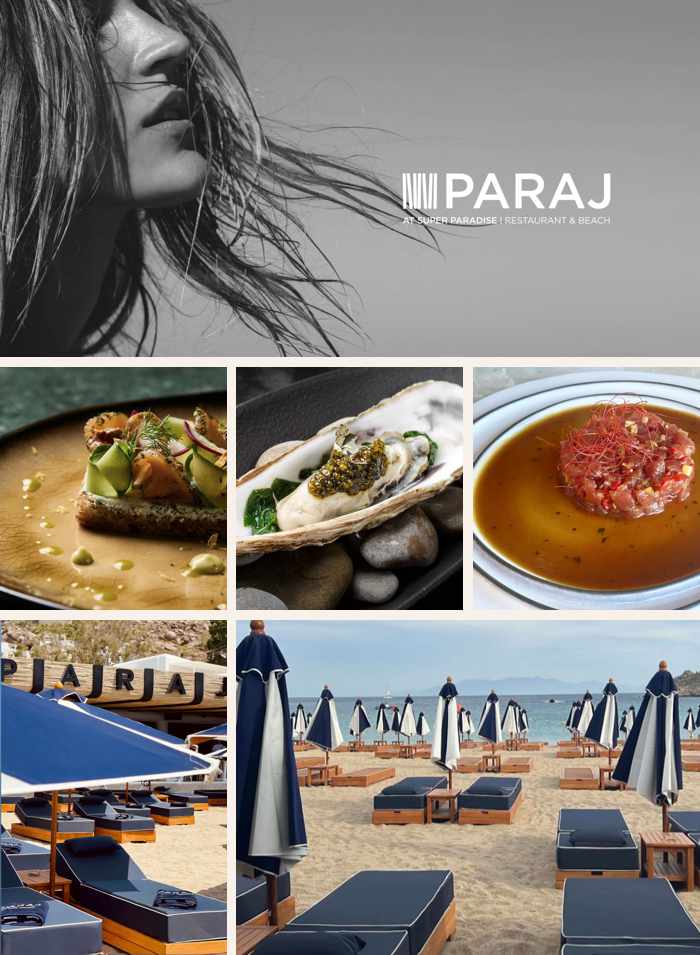 A new arrival at Super Paradise this summer is Paraj, an upscale beach venue featuring a fine dining Mediterranean restaurant, a bar, a boutique and a beach club. It's located right beside Super Paradise club, and is operated by the same owners.  Opening day was May 7.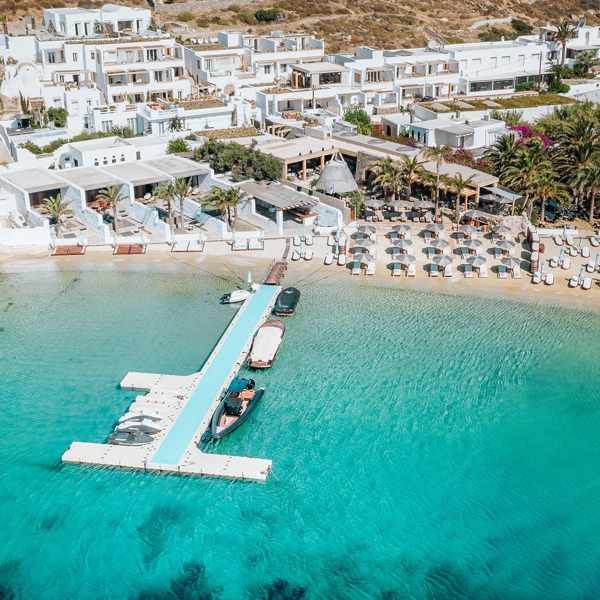 Formerly known as Kensho Psarou, the luxury hotel, villa, restaurant, bar and spa complex at Psarou beach has a new owner, and is now called N Hotel Mykonos.  The 31-suite, 5-star property had received extensive praise from hotel, design, travel and lifestyle publications around the world, and those accolades appear destined to continue for N Hotel, whose website is now taking bookings from May 15 onwards.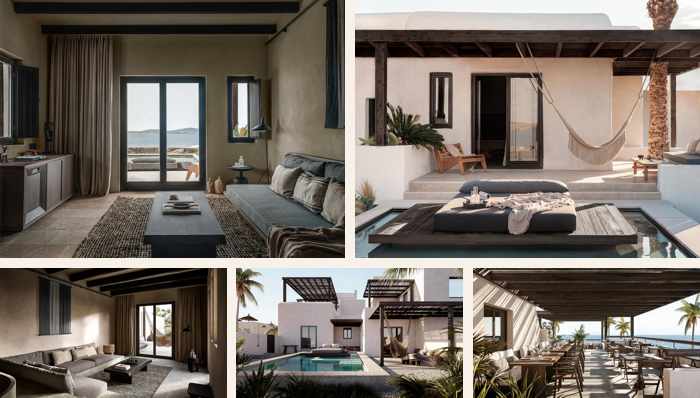 The Casa Cook hotel collection is expanding to Mykonos this year. In June, it will open Casa Cook Mykonos, an "intimate boutique retreat" with 26 luxury rooms and suites on a "village-like" property. Located on the Aleomandra peninsula south of Ornos and Agios Ioannis, the hotel has views towards Delos island.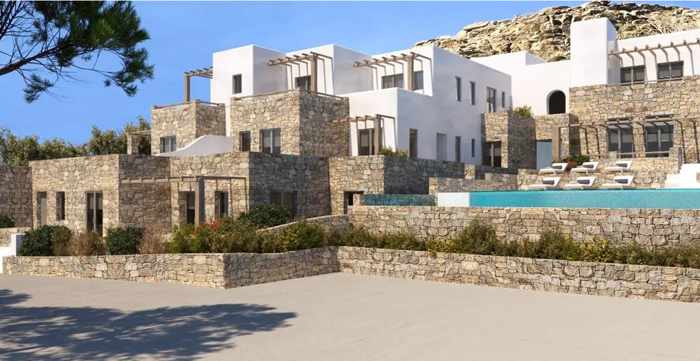 May 1 was opening day for the brand-new Arocaria Hotel in Pigados (an area that's walking distance to Mykonos Town, Tourlos beach, the New Port, and Agios Stefanos beach). Arocaria has 16 rooms and suites, some with their own pools, and its amenities include a main swimming pool, bar, restaurant and spa.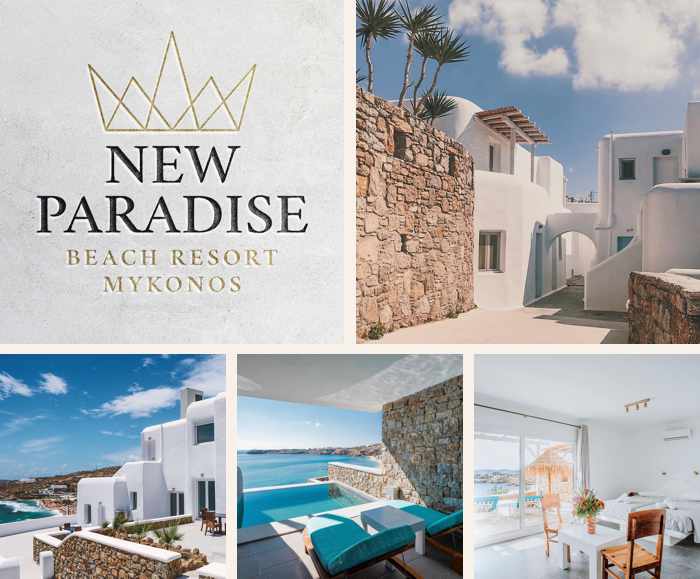 A new resort opened at Paradise Beach in late June. The aptly-named New Paradise Beach Resort boasts a beachfront pool venue, seaview rooms with plunge pools, and a restaurant and bar.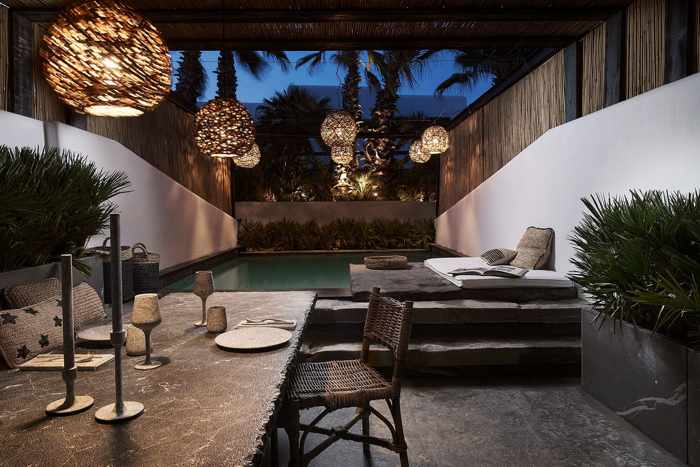 O by Myconian Collection is a luxury beachfront hotel with 63 rooms and suites set to open at Ornos on June 22.  It's the 11th property of the Myconian Collection, a chain of 5-star hotels owned and operated by the Daktylides family of Mykonos (some of their other hotels and resorts on the island include the Myconian Ambassador, Imperial, Avaton, Panoptis Escape, Utopia and Myconian Villa Collection).  Myconian O's facilities will include a spa, the Oasis pool and its beach & pool bar, Obar, and the Baloo fine dining restaurant.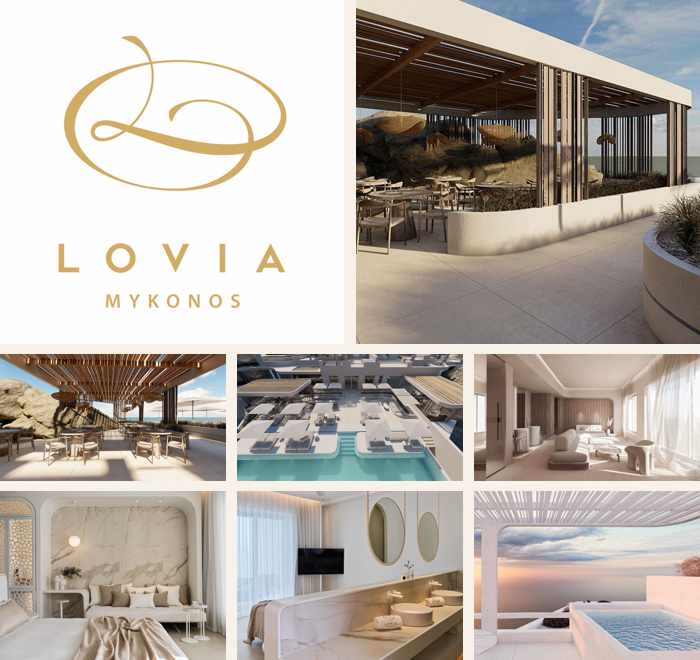 Lovia Mykonos is a new luxury hotel expected to open in July. Located on a hillside overlooking Mykonos Town, the hotel will boast 21 rooms and suites with private infinity pools and hot tubs, a  spa, gym, billiard hall and open-air cinema.  Facilities include a Mediterranean restaurant and bar, a pool bar, and a breakfast area.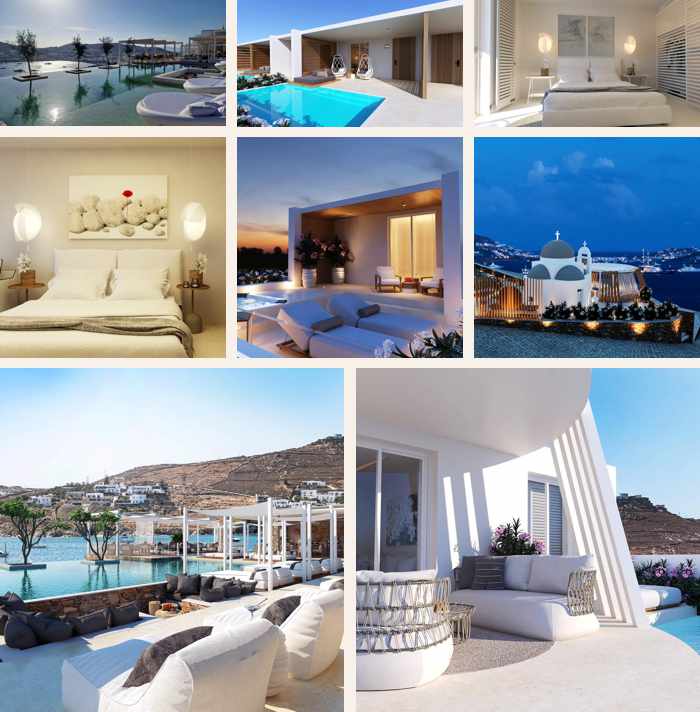 Originally slated to open last summer, the 5-star Once in Mykonos Luxury Resort at Ornos finally opened its doors on June 10.  Featuring 59 sumptuous rooms and suites, a spa, Infinity Bar & Restaurant, and its own private chapel, Once in Mykonos is the new incarnation of what was once a palatial private villa owned by a prominent businessman who hosted glamorous parties for "artists, intellectuals and influential people from all over the world."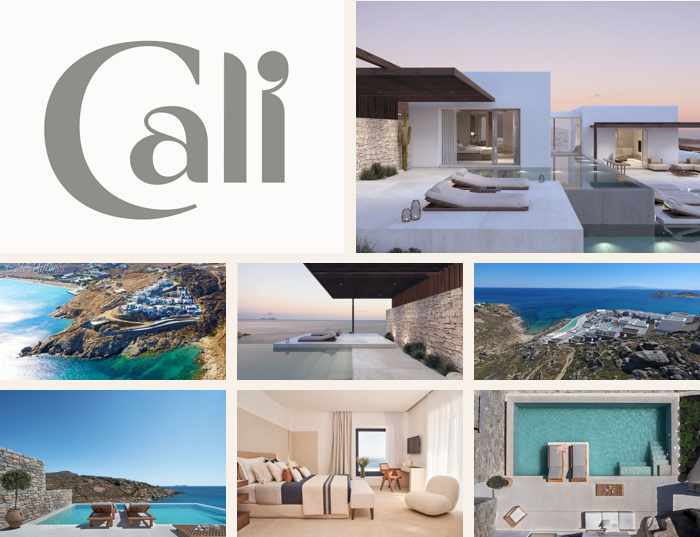 Opening this summer on a coastal clifftop near Kalafatis beach, Cali Mykonos is a boutique resort comprised of 40 villas (each with its own private pool), a Mediterranean restaurant and a 110-meter infinity swimming pool. Cali was profiled in an exclusive sneak peak article in Travel + Leisure magazine in the spring, and subsequently was included in lists of the year's most anticipated new hotel openings published by such high-profile international travel and lifestyle publications as Conde Nast Traveller, Vogue, Luxury Travel Magazine, Forbes, Fodor's Travel, The Telegraph, Robb Report and more (links to all of the articles can be found in posts on the Cali Mykonos Facebook page). Cali is expected to open in July, and its website's online reservation page is accepting bookings from July 1 onwards.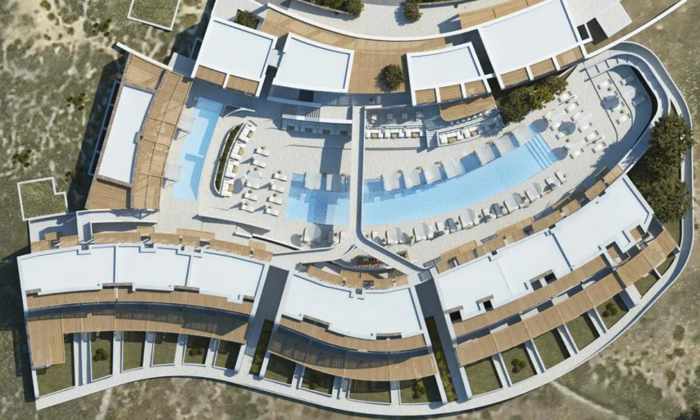 Yi Hotel is a 5-star boutique hotel scheduled to open this year in the Livadakia district near Elia beach