About me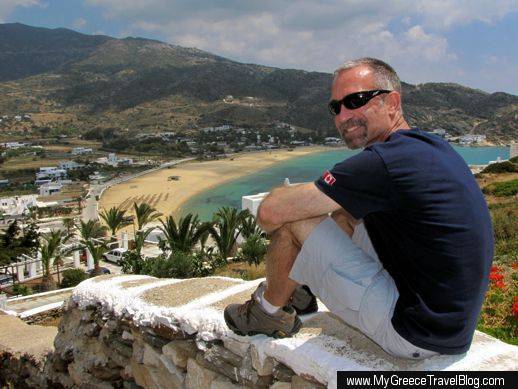 Donny B on a hillside above Mylopotas beach on Ios
I love travelling to Greece, and I also enjoy sharing tips and advice based upon my personal experiences visiting this beautiful and charming Mediterranean country. I have posted albums with more than 25,000 photographs of Greece in the mygreecetravelblog photostream on Flickr.com, and I am an active contributor to the Greece travel forum on TripAdvisor.com, where I'm a Destination Expert for Mykonos.
I created this blog as a hobby project to share my tremendous passion and enthusiasm for Greece. The blog content features trip reports, photos and advice based on my personal experiences visiting Greece, as well as photos, videos and information about some of the myriad places I haven't yet been to but would love to visit if I get the chance someday. I hope my blog can encourage and inspire others to discover this amazing and enchanting destination, which offers a wealth of attractions  and activities for people of all ages and backgrounds.
Besides regularly publishing photos and articles on this blog, I post and share a wide variety of content on the My Greece Travel Blog Facebook page, which anyone can view even if they don't have Facebook accounts. The news feed on my Facebook page includes photos of scenic places all over Greece, as well as links to  travel-related news and events and links to helpful trip planning sources. I share material on the Facebook page practically every day, so there's always something new and interesting to see.
Please note that I am not a travel agent or travel consultant, and do not offer personal travel planning services either for free or for compensation. If you need assistance planning a trip to Greece, please contact a travel agent or consider posting questions in the travel forums on various online travel websites, including TripAdvisor.com.
For general comments and inquiries, you can reach me by email at: mygreecetravelblog@gmail.com