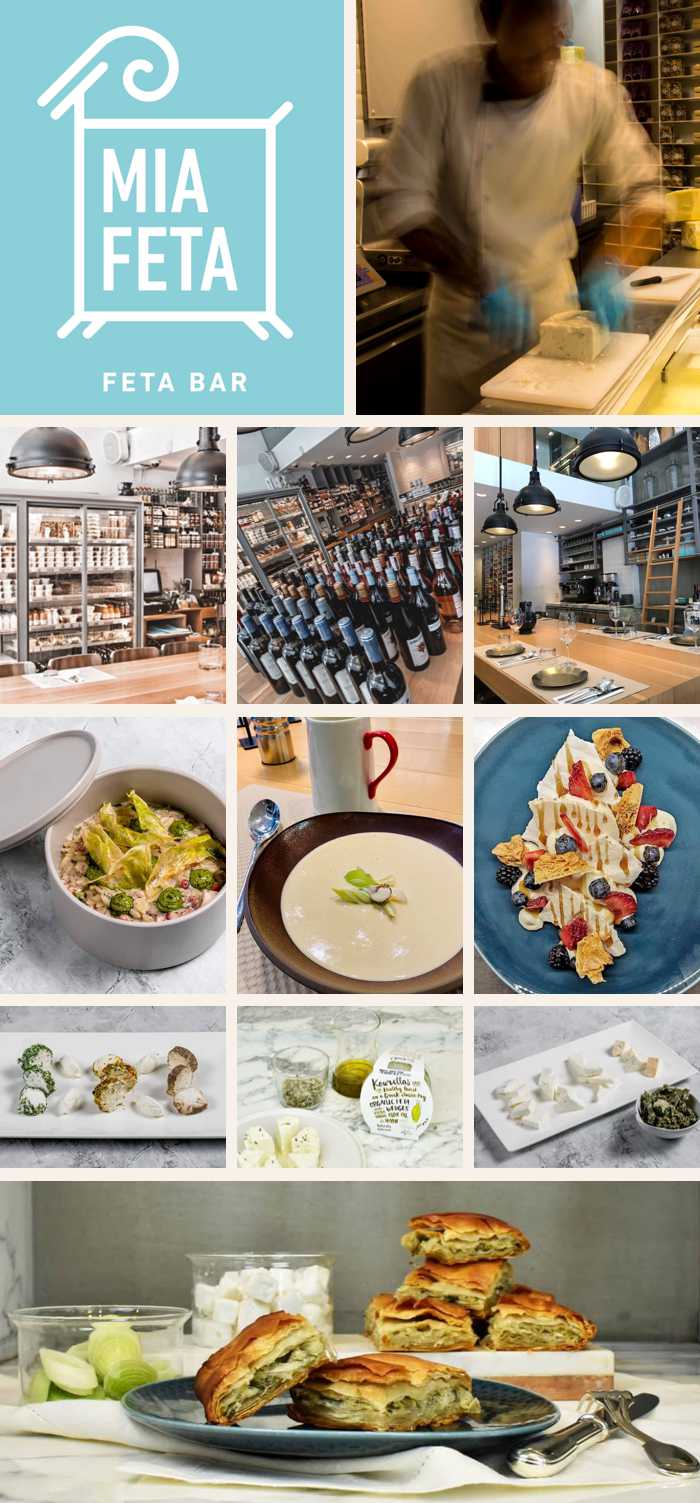 Mia Feta and some of its many dishes and products are seen in a collage of images from social media pages for the Thessaloniki restaurant and retail shop
"Nettle risotto with feta mousse, truffled feta ravioli, feta panacotta with bee pollen and tomato jam. Who knew feta wasn't just for Greek salad?" — the Mia Feta website
Feta fanatics: We absolutely LOVE feta. It's our favourite cheese, and it seems we just can't eat enough of it during our trips to Greece. 
Want to see big smiles instantly appear on our faces? Just watch when restaurant or taverna staff serve us a crunchy Greek salad topped with a thick slab of delicious, creamy feta!
We love feta when it's baked into food, too — savoury spinach and cheese pies, or stuffed peppers and eggplants — and enjoy it as a component of bean, briams or vegetable dishes (called ladera in Greece).  It's great on its own, as well, or with bread that's been toasted and brushed with olive oil and a dusting of oregano. Fried feta with a sesame crust and honey drizzle is heavenly, while a watermelon salad with feta is a refreshing cool treat on a hot sunny day.
So you can bet your bottom Euro that, when we finally get to Thessaloniki for the first time, we're going to make a beeline for Mia Feta, which bills itself as "the world's first feta bar."
 Mia Feta recently celebrated its 8th anniversary of business as the flagship store of Kourellas, a family dairy that has been operating in Greneva, a town in the mountainous western Macedonia region of Greece, since 1960. Not only is Mia Feta a farm-to-table restaurant and bar, it's also a retail food shop that sells the Kourellas line of dairy products as well as Greek wines and artisanal gourmet food items — such as cold-pressed olive oils, jams and spreads, olives, hand-made pastas, herbs and beverages — from producers around the country. And while feta is its signature product and namesake, it isn't Mia Feta's only cheese specialty — the restaurant and shop both offer a range of creative dishes and innovative products made with other cheeses, including anevato, anthotyro, graviera, kefalograviera, kefalotyri, kasseri and moschotyri.
Mia Feta is open daily for breakfast/brunch, lunch and dinner.
For breakfast and brunch, there's a yogurt bar that features a variety of toppings such as fruits, nuts, seeds and sauces, while customers can choose from a menu selection of cheese pies and tarts, omelets and other egg dishes, sandwiches, coffee, tea and more.
The all-day menu lists a range of hot and cold dishes: soups; salads; cheese, vegetable and meat appetizers; mains like burgers, pastas, risotto, sausages and chicken; an extensive variety of cheeses (besides feta); a cheese fondue; cold cut plates; light bites and sharing plates; and desserts.
We would particularly love to try their chickpea and lentil salad with beetroot humus, feta, red pepper, sun-dried tomato, lime, bacon and kale; the Santorini fava beans with mushrooms, wild greens and crumbled smoked feta cheese;  and the cheese variety plate featuring feta, anevato, kessari, kefalograviera, and moschotyri cheese with tomato and oregano. Among others!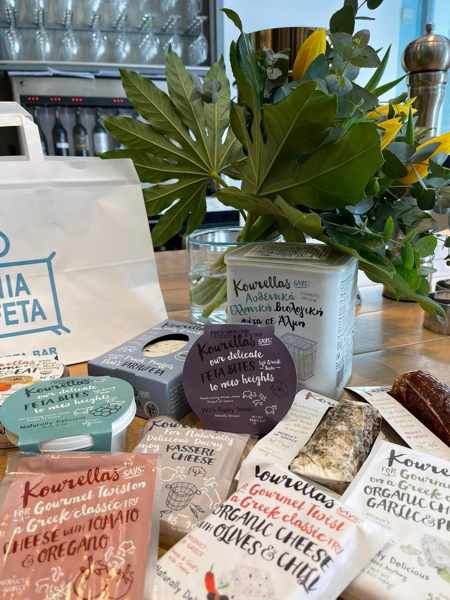 An image from Mia Feta's Facebook page shows a few of the specialty food products available in the shop and its online retail store
For  anyone who can't make it to the feta bar in person, products can be ordered online, through the e-shop on the Mia Feta website. Delivery is available throughout Greece and by DHL courier to anywhere in the world.
If you're interested in reading more, have a look at the following:
♦ The Travel.gr Greece experience website profiled Mia Feta in its November 7 2021 article Three superb Thessaloniki delicatessens and a feta bar;
♦ In the post A feta bar in Thessaloniki, published on the Madame Ginger food, cooking and recipe website,  writer Eleonora Kanaki called Mia Feta "one of the best places in Thessaloniki" to eat drink and shop. 
♦ The Insights Greece travel, culture, design and style website wrote about Mia Feta in the article Thessaloniki: Home to world's first feta bar
And for extensive information about feta, see the Greek Gastronomy Guide tribute to feta.
_________________________
Mia Feta Feta Bar is located at 14 Pavlou Mela Street in Thessaloniki (Tel: +302310221120).
Web: Mia Feta Feta Bar
Instagram: @miafeta_fetabar
Facebook: @miafetafetabar