Tasting Table's mouthwatering profile of noteworthy places to eat and drink in Athens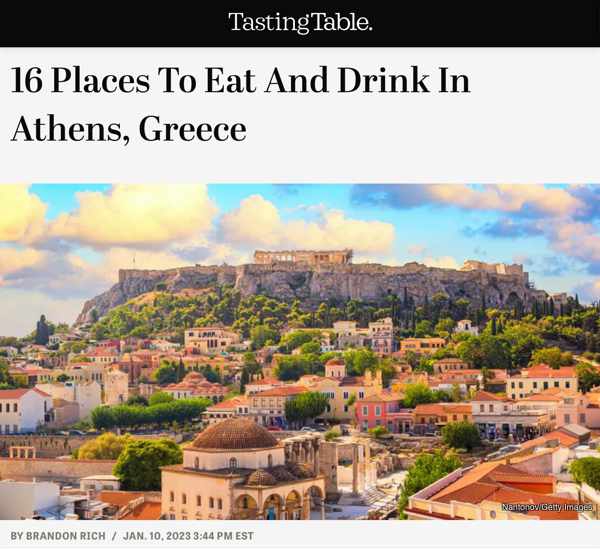 This article from Tasting Table will whet your appetite for places to get a great drink, snack or meal during your trip to Athens 
Tastes of Athens:  We don't yet know if we'll be spending any time in Athens on our next trip to Greece, but I have already bookmarked a timely Tasting Table article (pictured above) to help us decide where to enjoy a coffee, drink, snack or meal if we do manage to visit the city.
16 Places to eat and drink in Athens, Greece popped up while I was scrolling through news stories on my phone during a break at the gym.  Thankfully, I didn't have time to read it then, since writer Brandon Rich's food and beverage recommendations would have left me feeling ravenous the rest of the day.
His profile includes two cocktail bars that have been named among the world's best, and two restaurants on the Michelin Guide's Bib Gourmand listing. I instantly recognized the names of three of the four establishments, plus one of several Greek tavernas that Rich writes about. I wasn't familiar with any of the other eateries — probably because, as Rich points out, "some of the best places you can eat and drink in Athens are still flying under the radar."
His article spotlights bakeries and cafes, traditional tavernas and fine dining establishments, souvlaki joints and street food shops, describing signature drinks and dishes and must-try meals and beverages. The easy-to-read piece also provides links to websites for each venue, so you can obtain addresses and contact details, and read more about each place.