Regular DJ shows, parties and live music events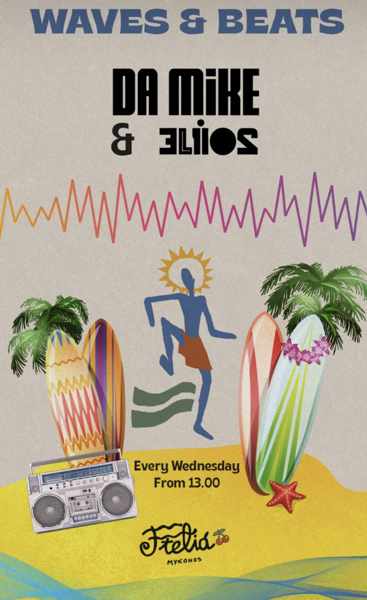 On Wednesday afternoons, Ftelia beach club will be holding Waves & Beats, a party featuring music by Da Mike and Elios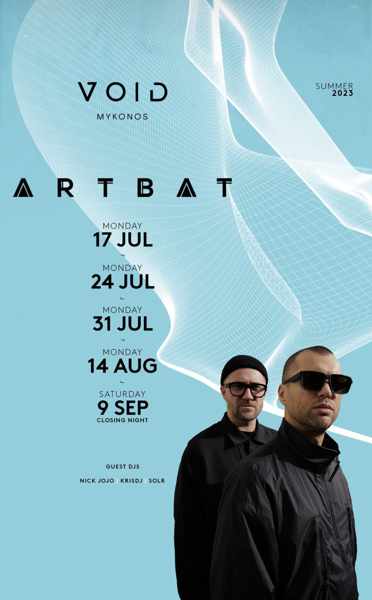 This is the schedule for ARTBAT's five appearances at VOID this summer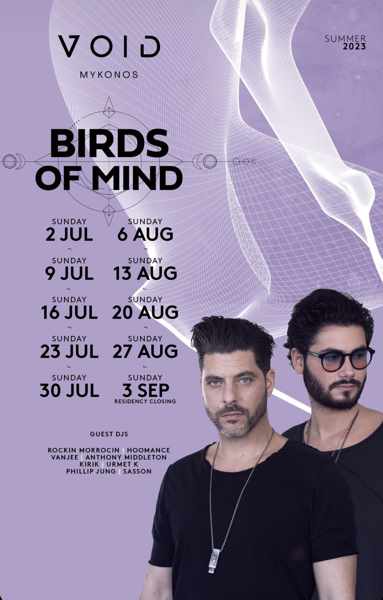 Above are the dates that Birds of Mind will be performing at VOID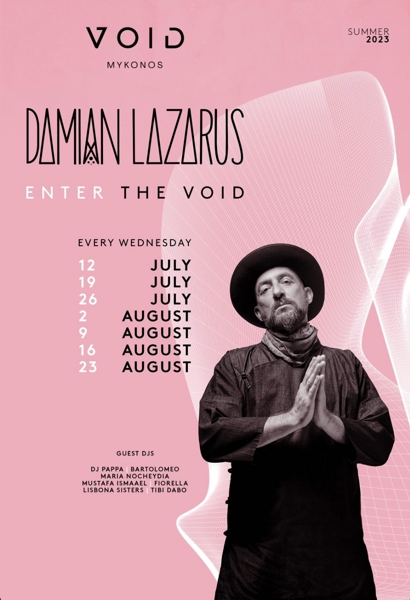 Damian Lazarus will perform at VOID seven times this summer — three nights in July and four in August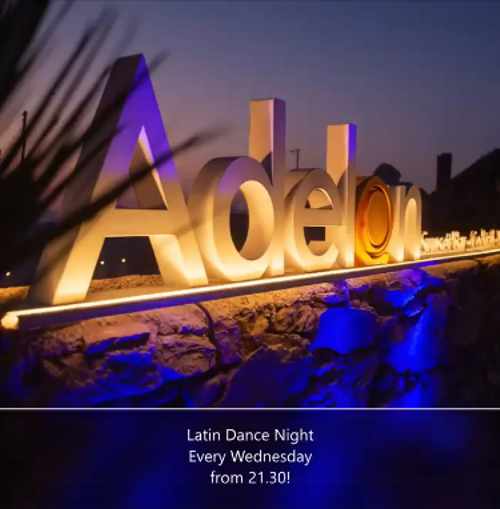 Adelon Sunset Bar hosts a Latin Dance Night every Wednesday starting at 9.30 p.m.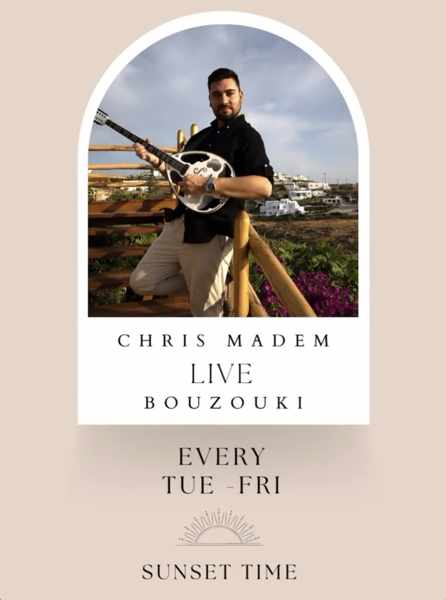 Every evening from Tuesday through Friday, The Garden of Mykonos Seaview Lounge presents live bouzouki entertainment by musician/DJ Chris Madem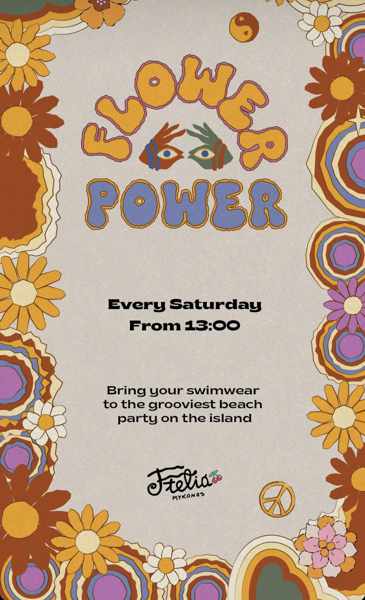 Every Saturday afternoon, Ftelia beach club hosts its Flower Power beach party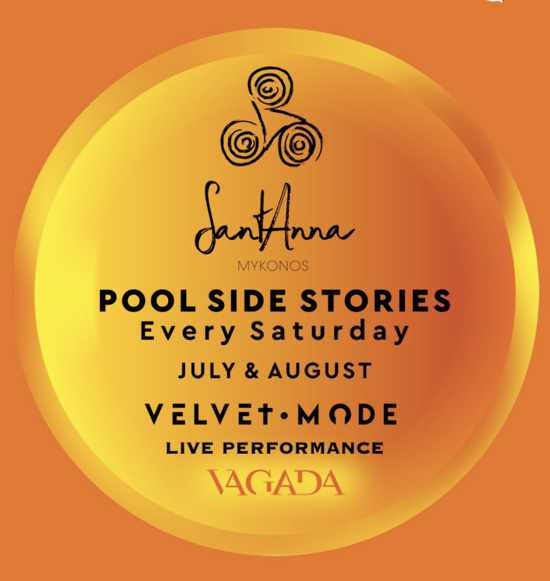 Every Saturday, SantAnna beach club presents Pool Side Stories featuring music by Velvet Mode and a live performance by artist Vagada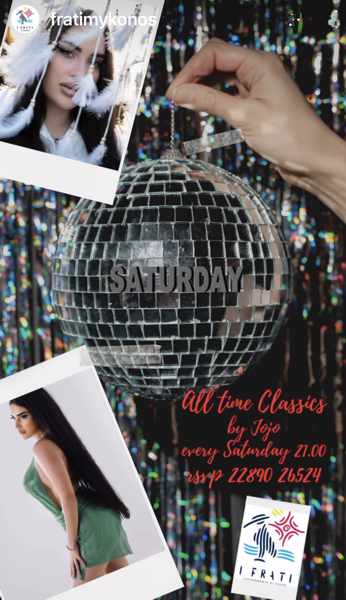 Singer Jojo Karan entertains each Saturday evening at I Frati restaurant in Mykonos Town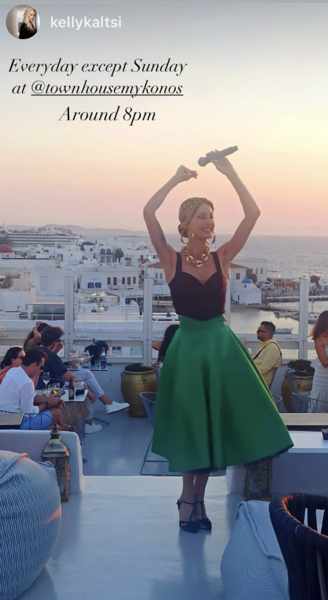 Singer Kelly Kaltsi entertains daily (except Sundays) at the sunset-view Skybar at The TownHouse Mykonos hotel. The shows start around 8 p.m.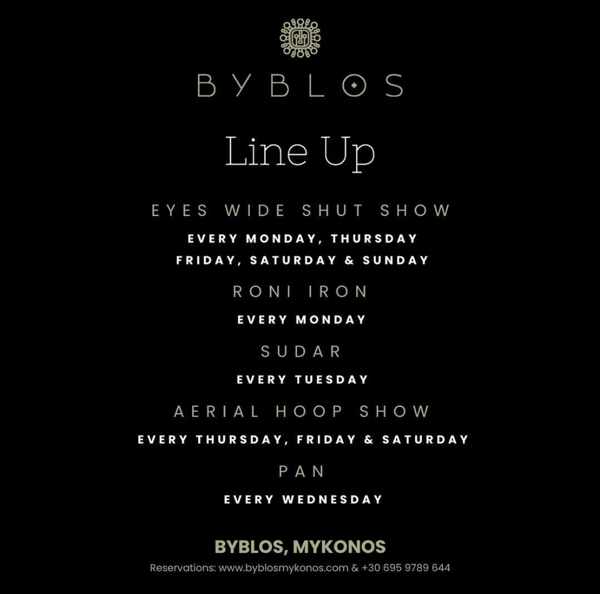 This is the lineup of DJ shows and live entertainment performances that will be presented at Byblos during the summer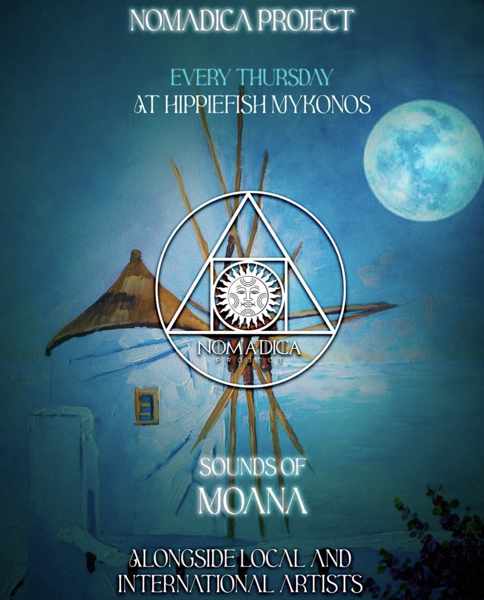 Every Thursday beginning June 29, Hippie Fish beach club will host Nomadica Project, a series of party events featuring music by Cece Moana along with a variety of international and local guest DJs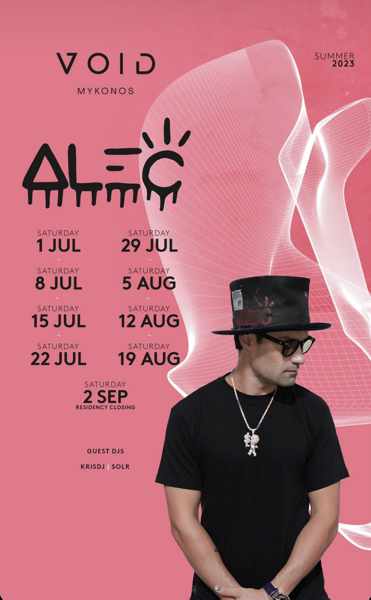 Above are the dates on which Alec Monopoly will be guest DJ at VOID this summer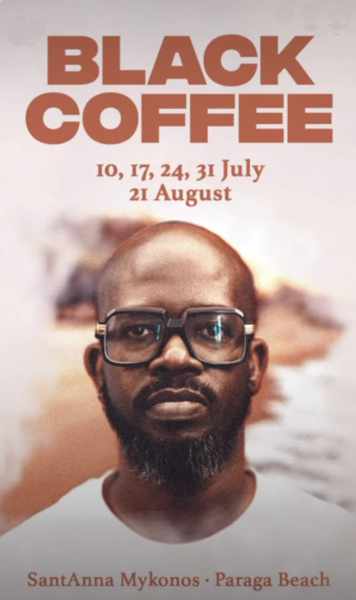 DJ Black Coffee will be performing at SantAnna beach club on five Mondays this summer: July 10, 17, 24 and 31 as well as on August 21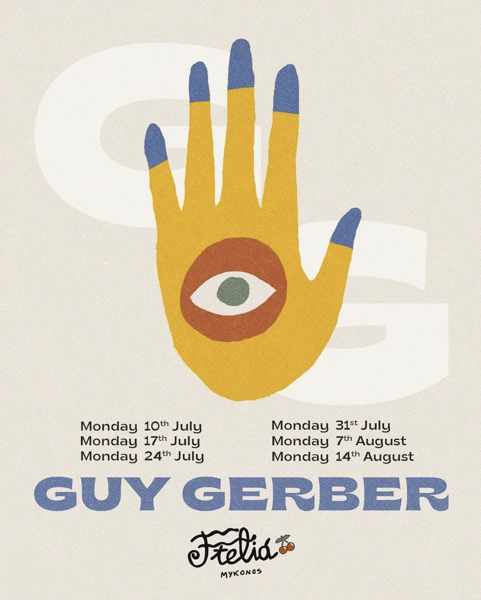 Starting on July 10,  Guy Gerber will appear for a special guest DJ set at Ftelia beach club every Monday until August 14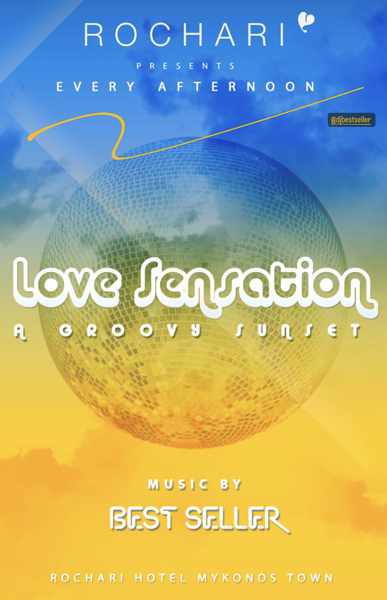 Every afternoon this summer, Rochari Hotel in Mykonos Town presents Love Sensation — A Groovy Sunset, with music by DJ Best Seller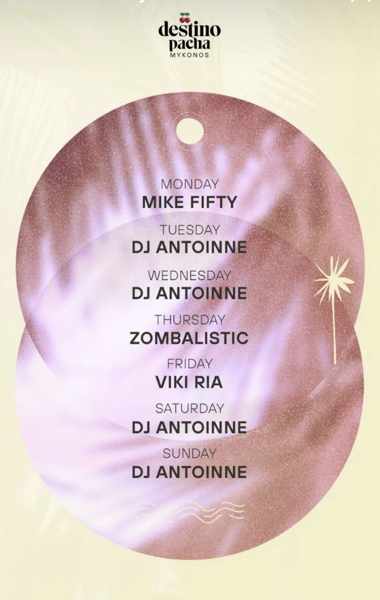 This is the weekly DJ schedule for the afternoon poolside parties at Destino Pacha Mykonos Hotel at Agios Stefanos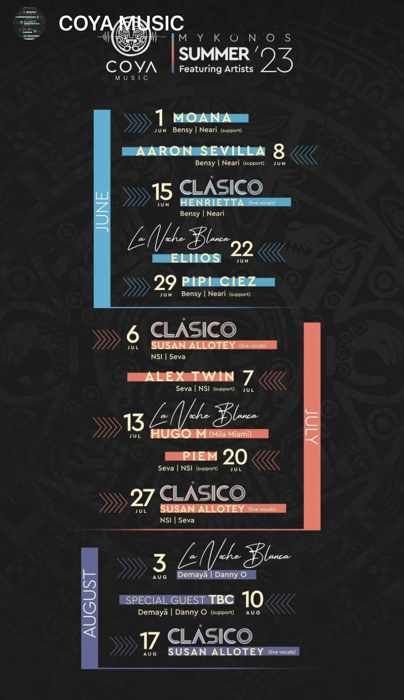 Starting June 1, COYA Mykonos will present special live entertainment events on the dates shown above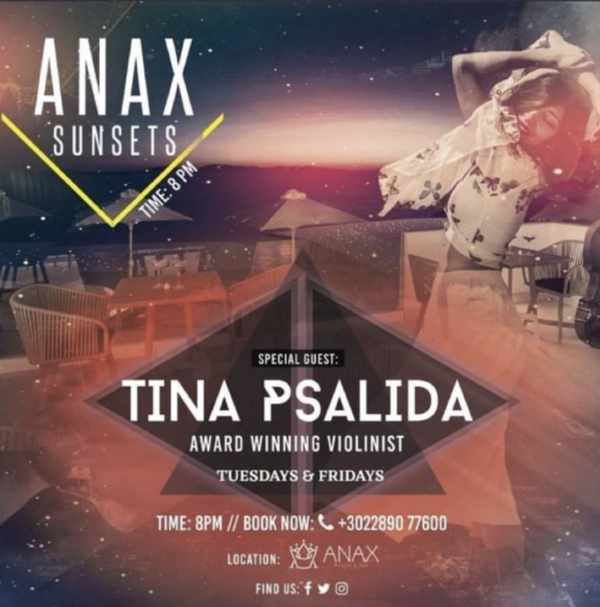 Again this summer, Anax Resort & Spa at Agios Ioannis is hosting its Anax Sunsets event every Tuesday and Friday at 8 p.m., with live music entertainment by violinist Tina Psalida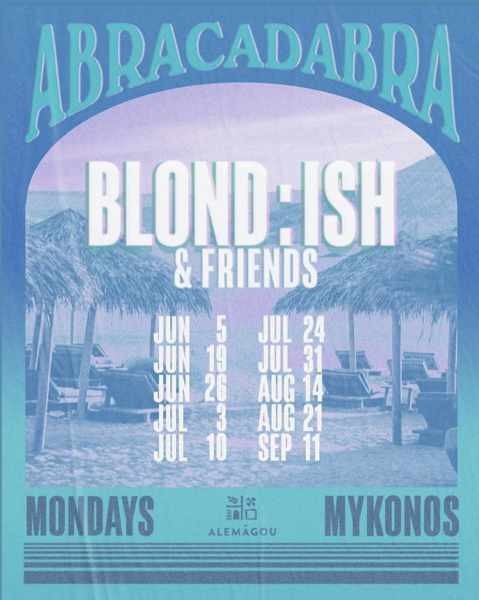 Starting on June 5, DJ Blond:ish will be performing most Mondays this summer at Alemagou beach club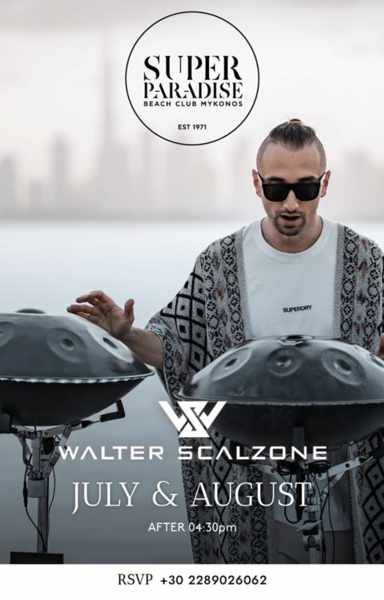 During July and August, percussionist Walter Scalzone will return for regular entertainment performances at Super Paradise Beach Club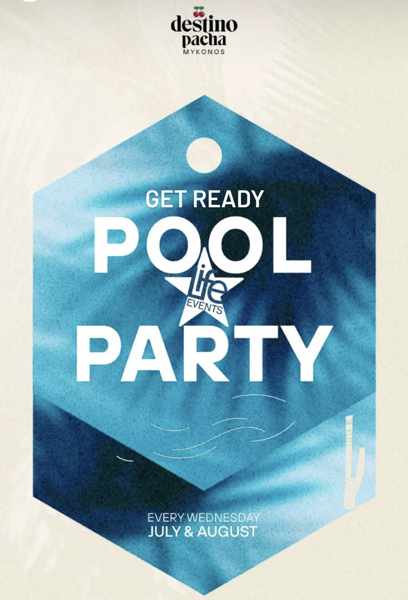 Every Wednesday during July and August, Destino Pacha Mykonos Hotel at Agios Stefanos will host a pool party by Life Events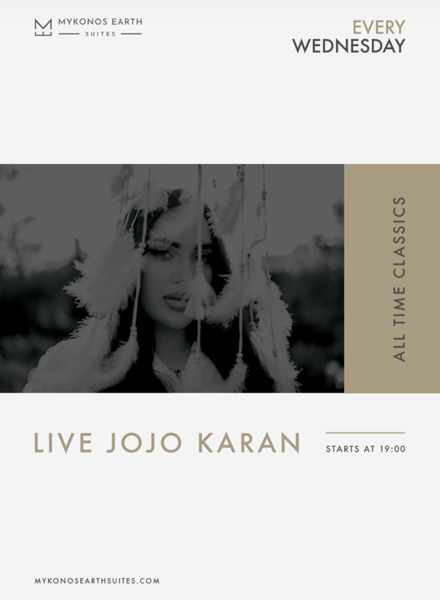 On Wednesday evenings, vocalist Jojo Karan will sing at the Mykonos Earth Suites hotel at Megali Ammos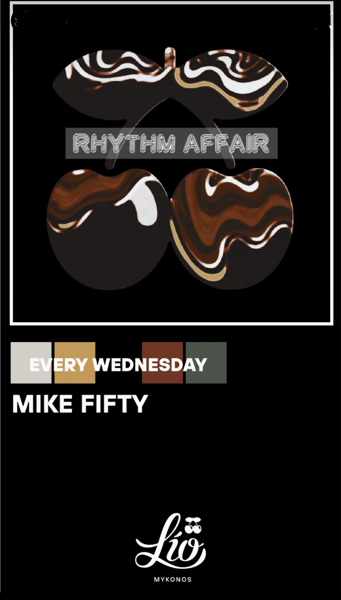 On Wednesdays, DJ Mike Fifty plays for the Rhythm Affair events at Lio Mykonos cabaret restaurant and nightclub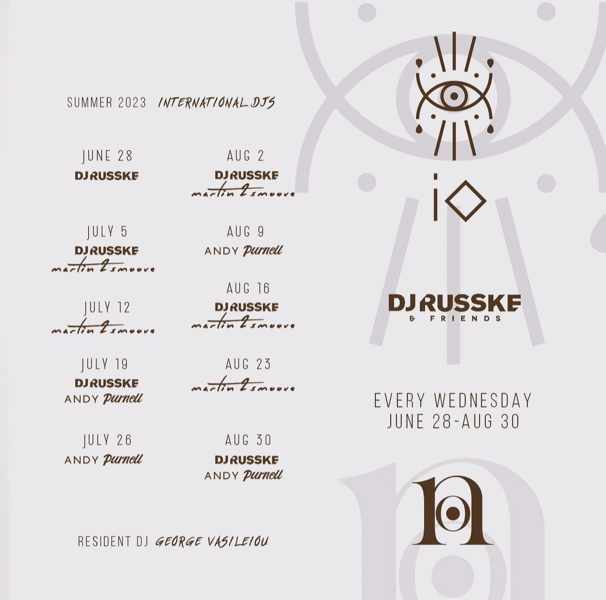 Every Wednesday from June 28 to August 30, Noia club at Paradise beach will host the I/O Wednesdays parties, featuring music by DJ Russke and Friends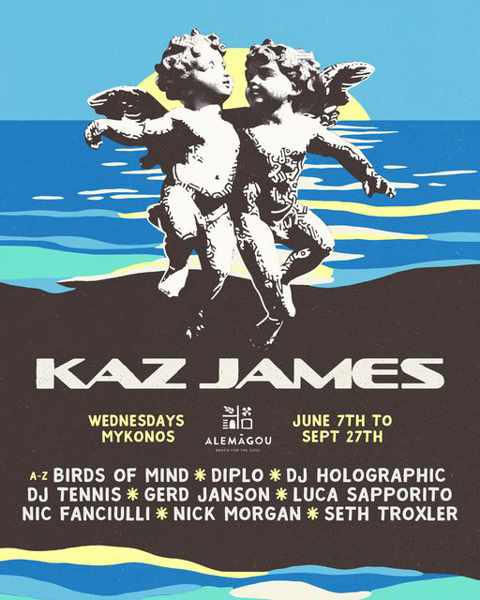 Every Wednesday this summer, Alemagou beach club will host DJ Kaz James and his invited special guests for a weekly party event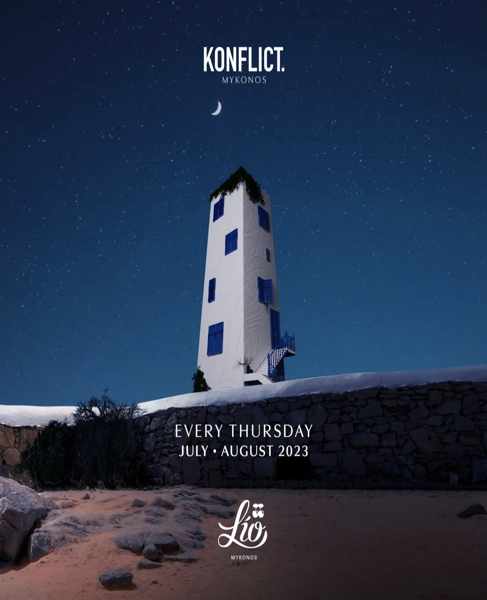 DJ Konflict. will be performing at Lio cabaret restaurant and lounge every Thursday night during July and August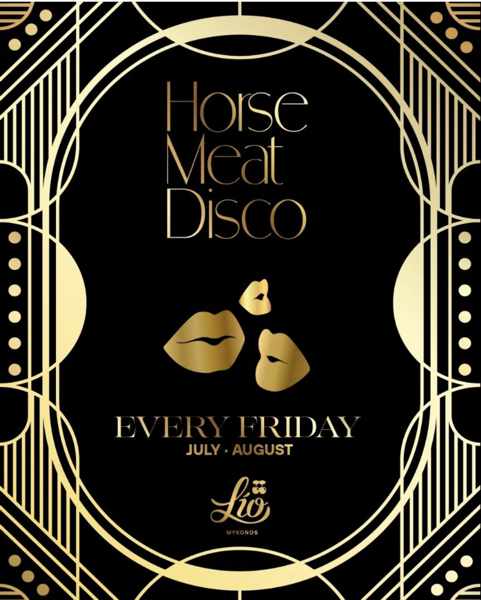 Every Friday night during July and August, Horse Meat Disco will entertain at Lio Mykonos cabaret restaurant and nightclub
Starting June 9, the innovative live instruments and electronic music band NORMA will be performing every Friday night at JackieO Yacht Club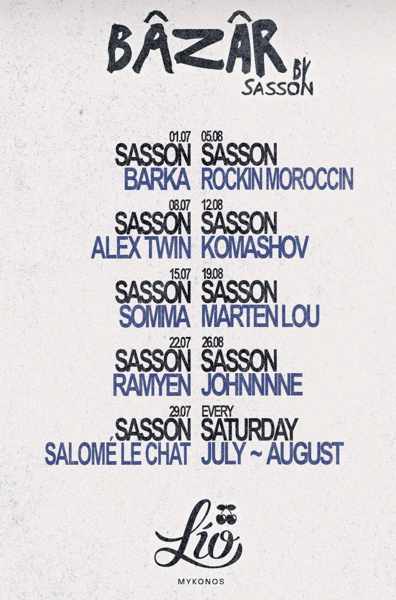 Every Saturday night during July and August, Lio cabaret restaurant and nightclub will present Bazar by Sasson, featuring DJ Nicola Sasson and the special invited guests shown on the calendar above
Beginning on June 10, DJ Xenia Ghali will play at JackieO Yacht Club every Saturday night this summer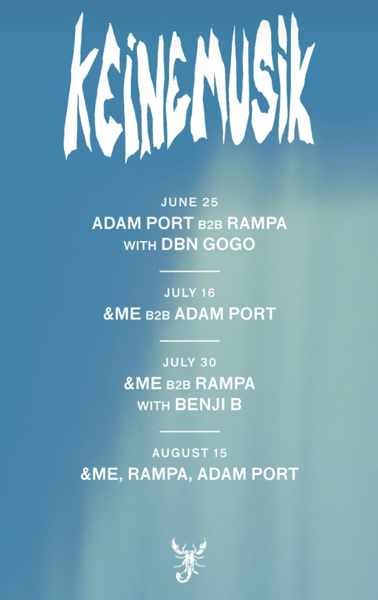 This the calendar of the four Keinemusik events being held at Scorpios beach club this summer
These are the dates that DJ duo Adriatique will perform at Ftelia beach club this summer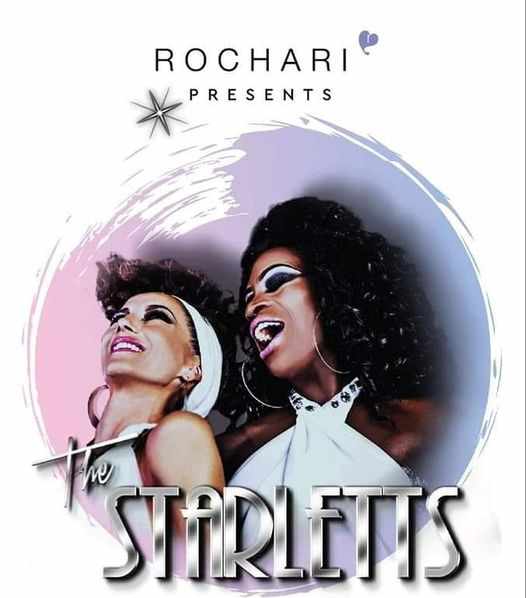 Every Tuesday and Saturday evening this summer, starting at 7 p.m., the singing duo The Starletts will entertain at Rochari Hotel in Mykonos Town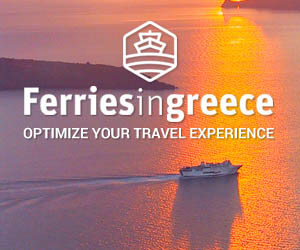 Are you planning to do some Greek island hopping this summer? July and August are the peak travel months in Greece, and seats on inter-island ferries are filling up fast.  If you haven't already booked your ferry tickets, click on the image above to arrange your transportation now!
 Greek Night parties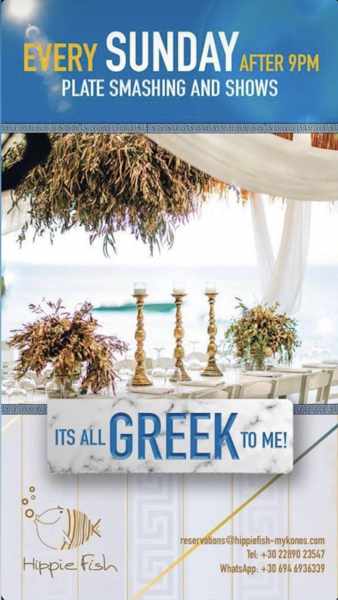 The popular Sunday Greek Night parties at Hippie Fish beach club resumed on May 28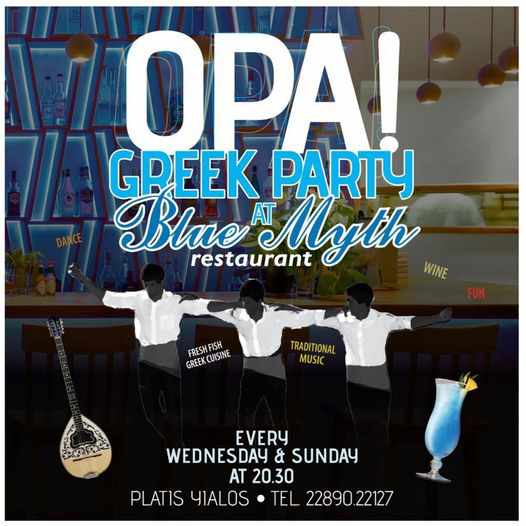 The popular Greek Party nights resume May 28 at Blue Myth restaurant at Platis Gialos beach. The events take place every Wednesday and Sunday night starting at 8:30 p.m.  Reservations are strongly recommended.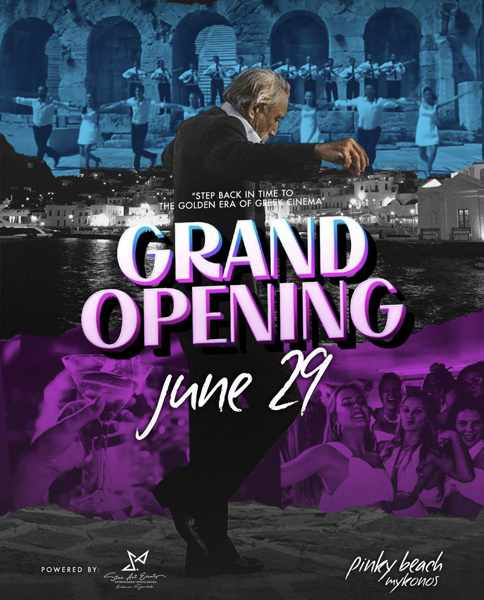 Starting on June 29, Pinky Beach club will hold a Greek Night every Thursday, featuring a special dinner with live entertainment. The Greek Nights originally were set to begin earlier in June, but the grand opening date has been revised a couple of times since the event was first announced.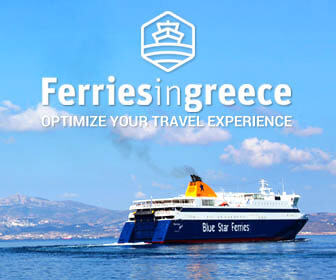 Please click on the link below to see July party and event announcements on page 3.
CONTINUED ON PAGE 3