Keep an eye on this post to find out when your favourite Mykonos bars, beach clubs, nightclubs, hotels and restaurants will open for the 2021 tourist season. This listing will be updated regularly. Updated several times on Saturday May 15.
There are great views of Mykonos Town and many of the island's popular beach areas in this 10-minute drone video by jani bani, released on April 17.
Scenes from Tropicana Beach Club and other places on Mykonos are featured in this video by John Moschovakis, released May 7 to promote the club's 2021 season opening on May 20
Doors open: Here's a preview of opening dates for Mykonos venues, along with places that are busy preparing for the upcoming travel season.
Restaurants that have been open since winter and/or early spring for delivery and takeaway include:
♦ Amethystos
♦ Cantina at the Mykonos New Port
♦ Pikanti Gonia
♦ Oregano Cook & Grill
♦ Maizevelo
♦ Lovemeze
♦ Local BBQ & Souvlaki
♦ Obati
♦ Crepaland
♦ Blu Blu Lounge
♦ Pita Wrap & Pizza
♦ MJ Cafe
♦ El Burro
♦ Rustic Grill
♦ Souvlaki Story
♦ La Rosticceria
♦ Αυλή Μύκονος
♦ Souvlaki Mykonos – Cantina Street Food
♦ Central Cafe
♦ Raya
♦ Captain's
♦ Yialos
♦ Kazarma
♦ Teo's House
♦ N'ice Cream Mykonos
♦ Pelican
Most of the above-mentioned establishments will open their outdoor dining patios in May, pursuant to Greek government rules easing the Covid-19 lockdown and permitting restaurants to open for outdoor dining only starting on May 3.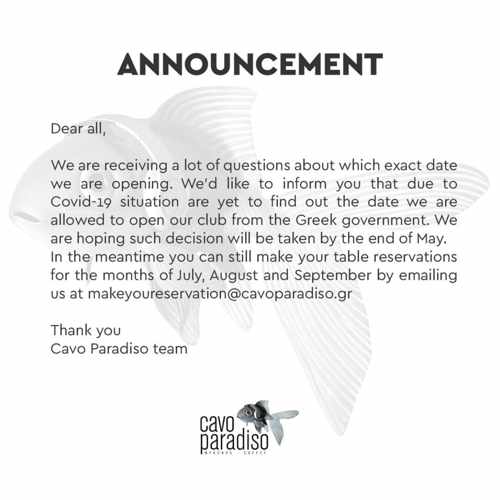 Cavo Paradiso club circulated this announcement April 17 on its social media accounts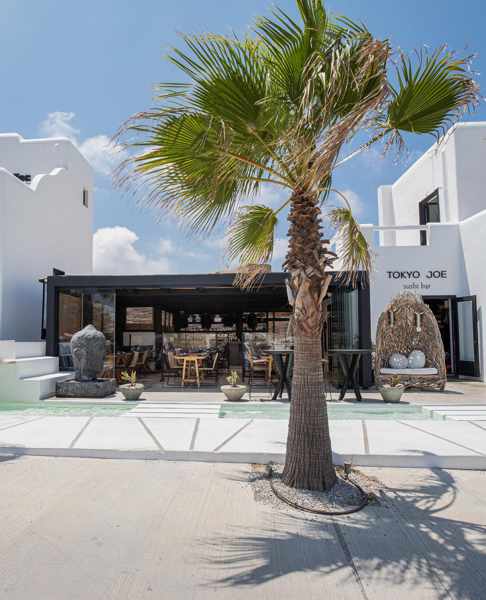 Friday April 9 was opening date for Tokyo Joe sushi bar — for food and beverage takeout and delivery. On May 3 it opened its patio for outdoor dining.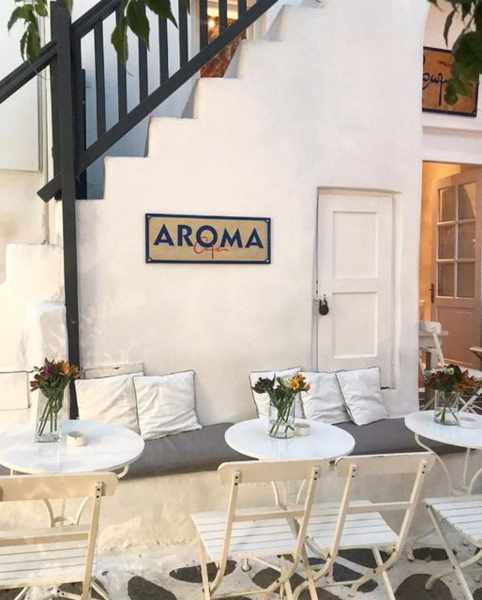 Aroma cafe-bar opened on Wednesday April 14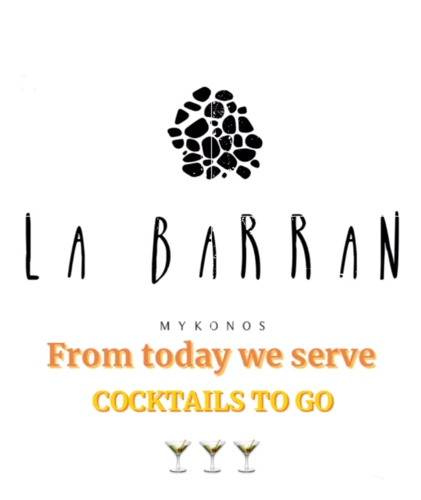 Starting on Saturday April 22, the new La Barran bar in Mykonos Town will be open to serve cocktails for take-away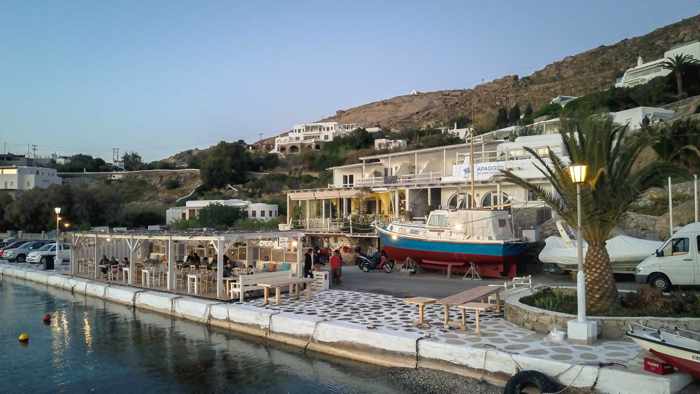 Apaggio seafood and Greek restaurant at Ornos opened May 3
Galleraki Bar at the Little Venice seafront of Mykonos Town started its season on May 3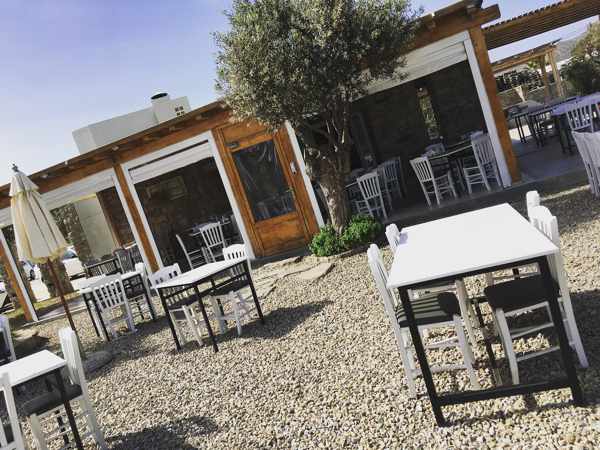 Friano Greek Tavern opened for outdoor dining on May 3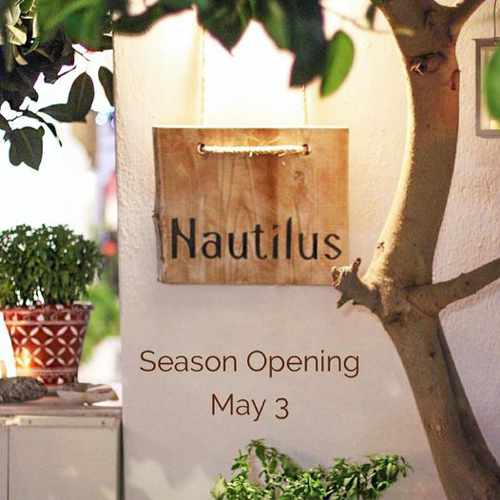 Nautilus restaurant returns on Monday May 3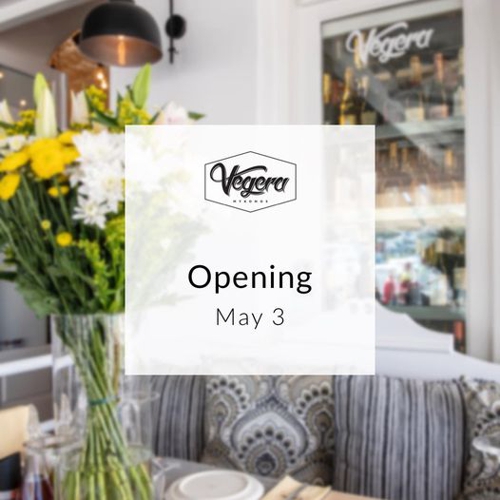 Vegera restaurant opens its doors on Monday May 3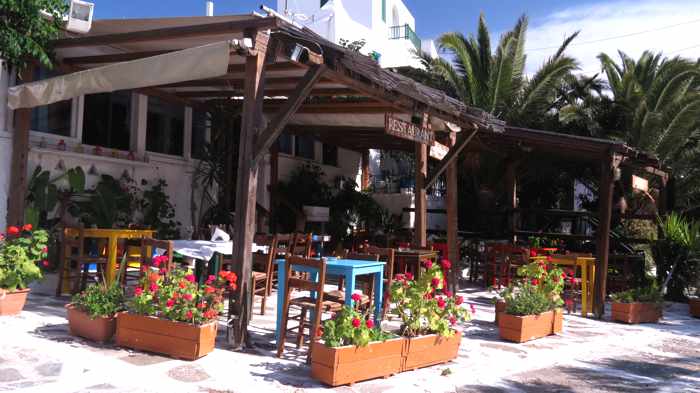 Maria's Traditional Mykonian Restaurant opens for its 46th season on Monday May 3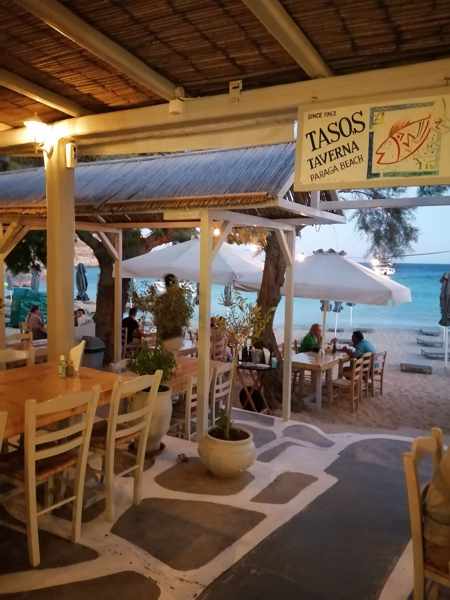 Tasos Taverna  opens Monday May 3 for its 59th year of operations at Paraga beach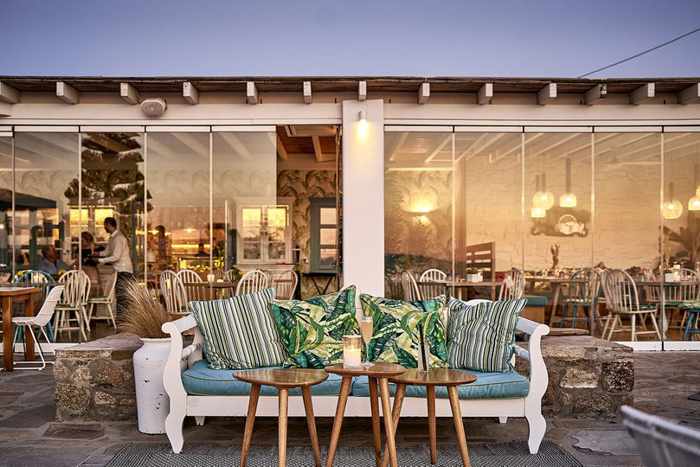 Liberty Breakfast Room is back on Monday May 3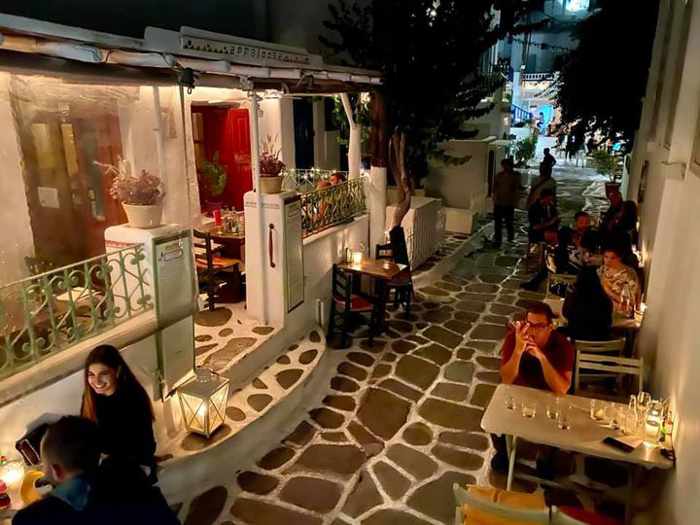 On Monday May 3, Appaloosa Restaurant & Bar opened for outdoor dining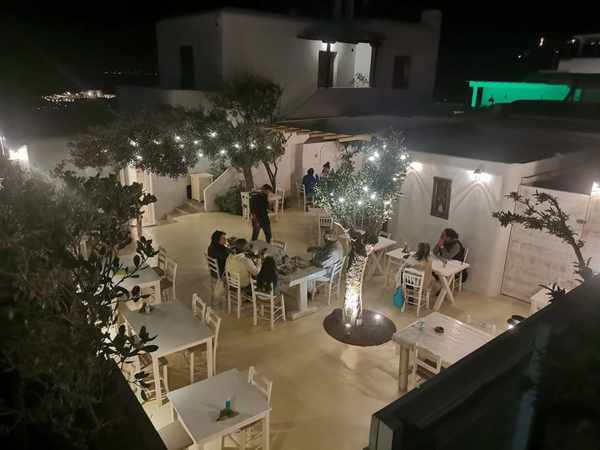 On May 4, Limnios Taverna at Agios Stefanos announced that it has opened for outdoor dining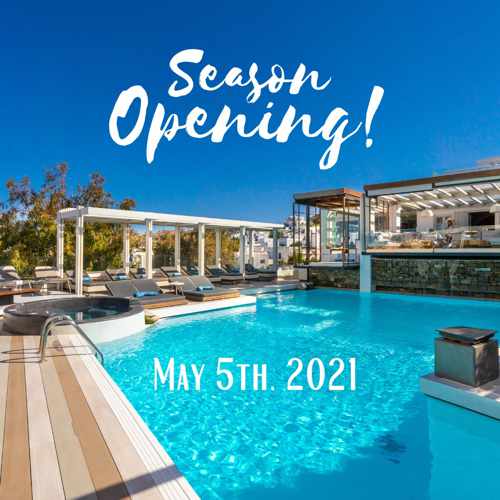 Semeli Hotel in Mykonos Town opens its doors on Wednesday May 5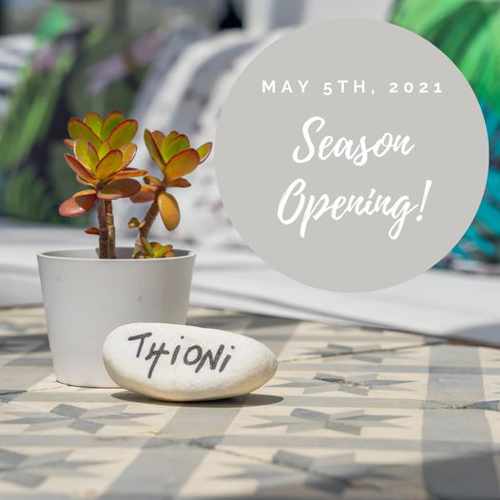 Thioni Restaurant in Mykonos Town returns on Wednesday May 5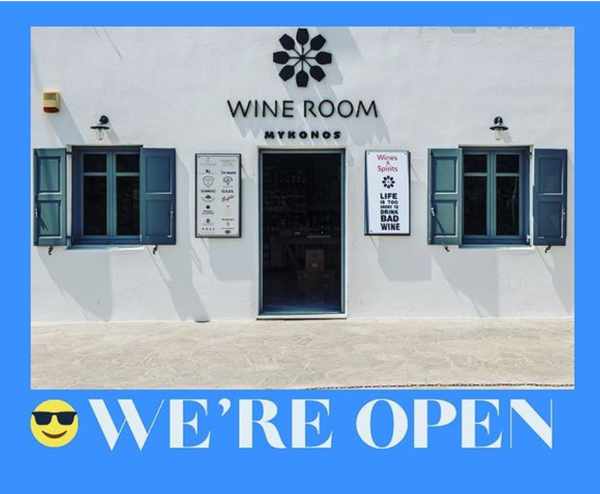 The wine, champagne and spirits shop Wine Room Mykonos opened on May 5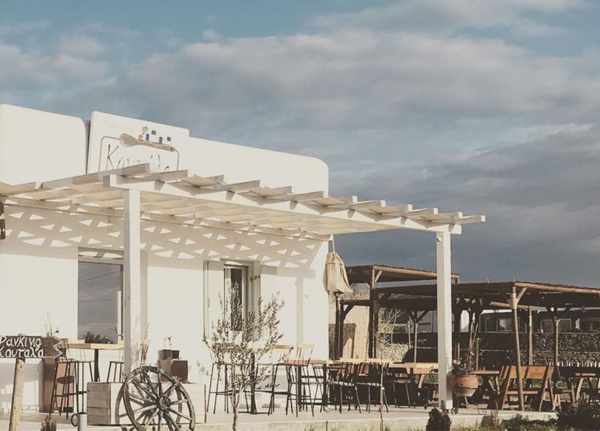 Koutala Greek restaurant launched its season on May 5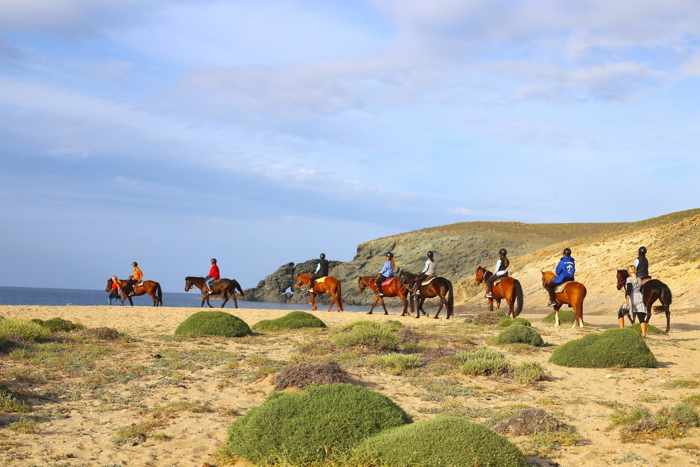 Mykonos Horseland announced on May 5 that it's now open for another season of horse riding tours on the island
The Wild Hotel at Agia Anna/Kalafatis opens on May 8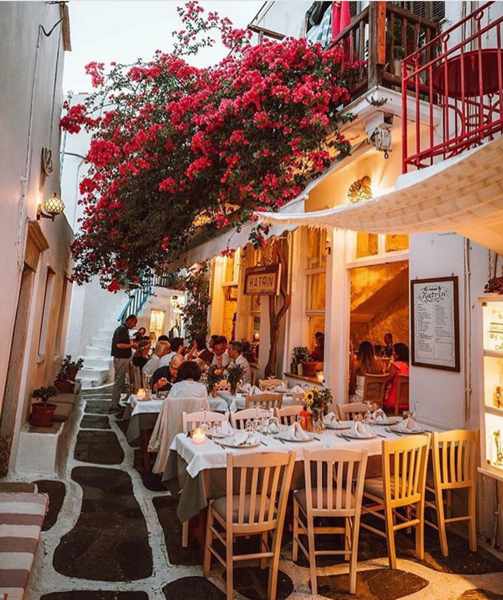 Saturday May 8 is opening day for Katrin (La Maison de Katrin), an icon of haute cuisine in Mykonos since 1971 — and one of the island's most-photographed locations on Instagram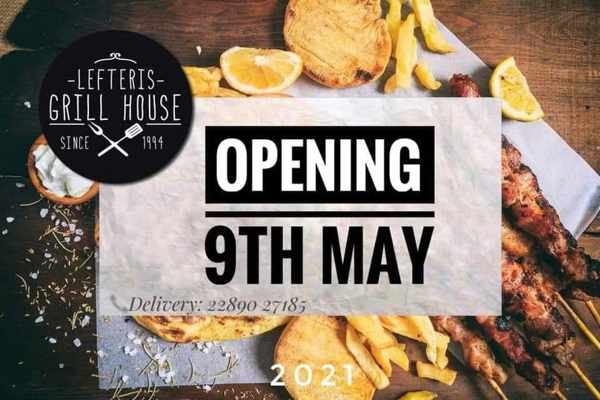 Sunday May 9 is opening day for Lefteris Grillhouse at Ornos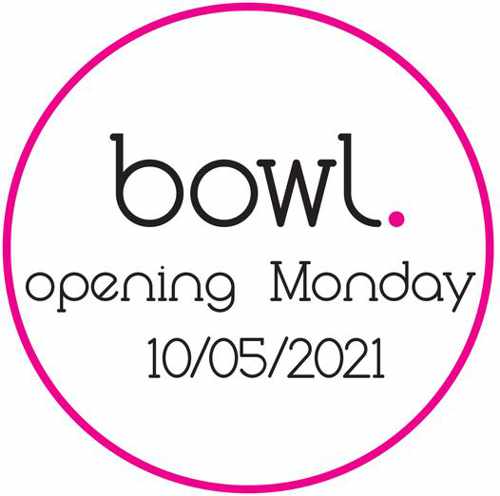 Bowl, the vegan-friendly health food restaurant at Ornos, will open May 10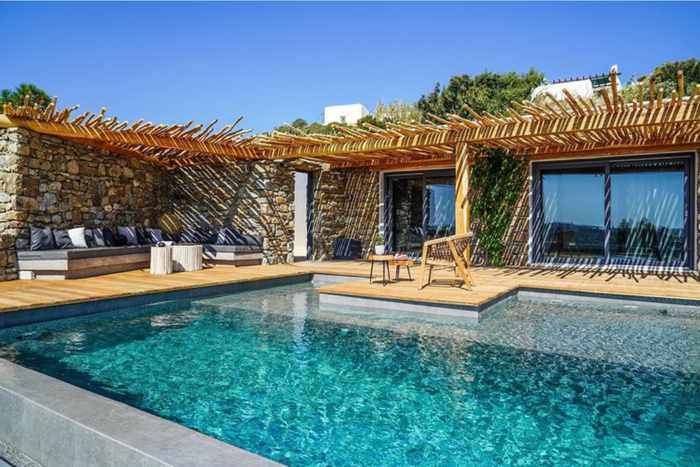 Ikies of Mykonos hotel welcomes guests starting Monday May 10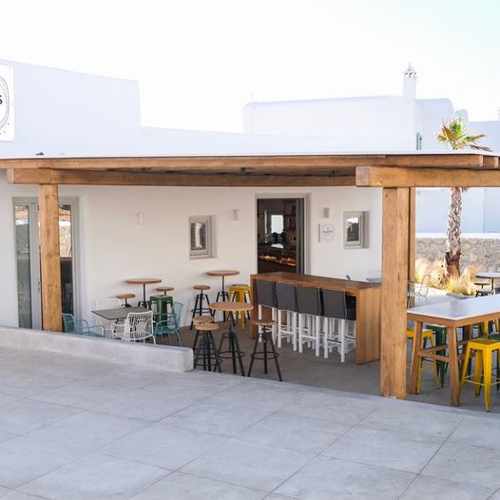 Monday May 10 is opening day for Platis Bakery at the Argo Hotel at Platis Gialos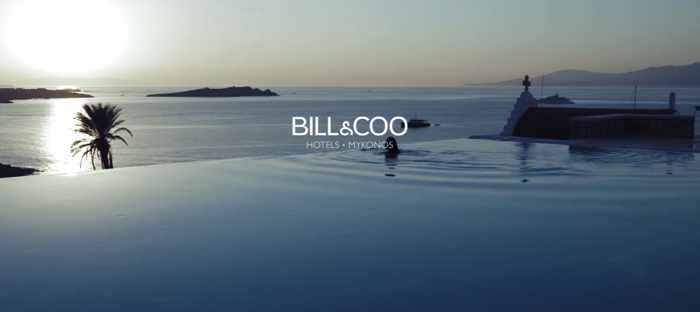 The two Bill & Coo 5-star hotels on Mykonos — the Bill & Coo Suites and Lounge in Mykonos Town, and Bill & Coo Coast Suites at Agios Ioannis beach — will open on Monday May 10
The Manor House Mykonos restaurant opened on May 11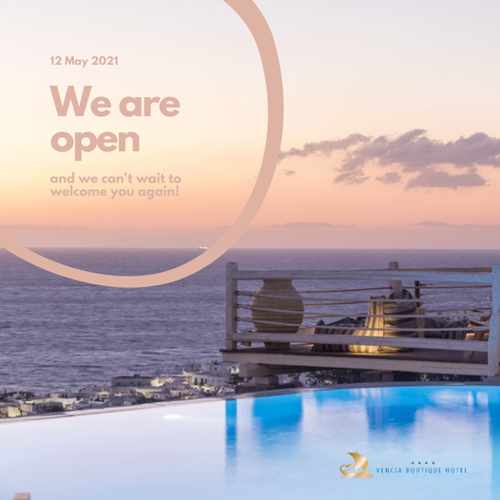 May 12 is opening day for Vencia Boutique Hotel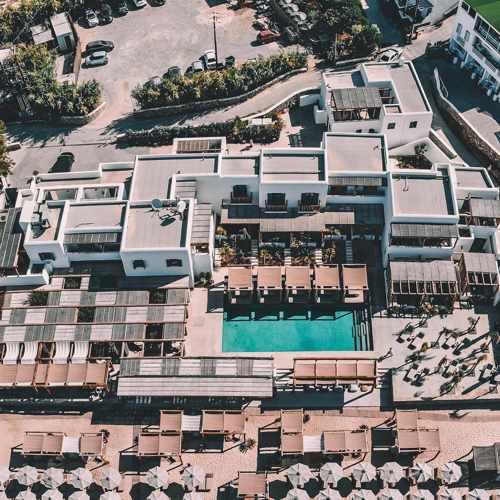 Branco Mykonos resort, the beachfront hotel and restaurant at Platis Gialos, opens on May 12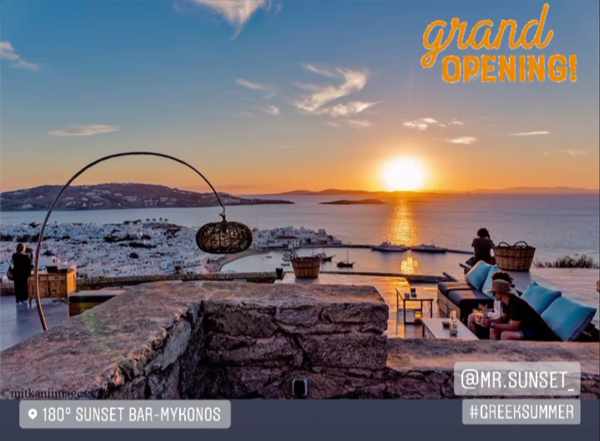 180 Sunset Bar is not only the top sunset-viewing cocktail lounge on Mykonos, it's also one of the most Instagrammable places on the entire island.  After having to change its opening date a couple of times because of inclement weather, it finally launched its season on Wednesday May 12.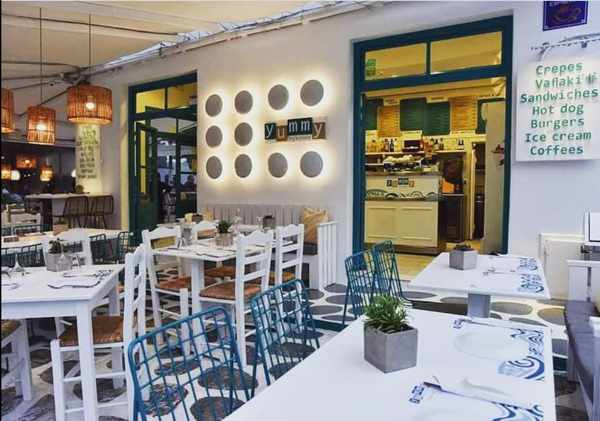 YummyMykonos is set for its May 13 opening
  Alemagou beach club  opened its restaurant, bar and beach on Friday May 14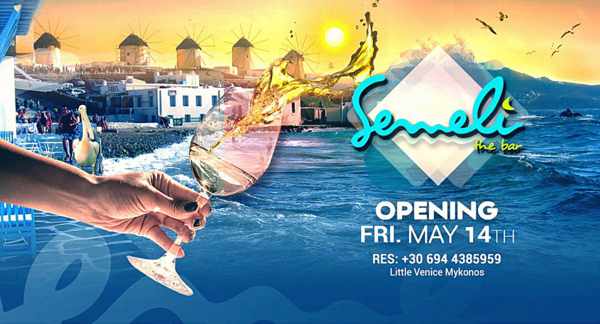 Semeli Bar at Little Venice is back on May 14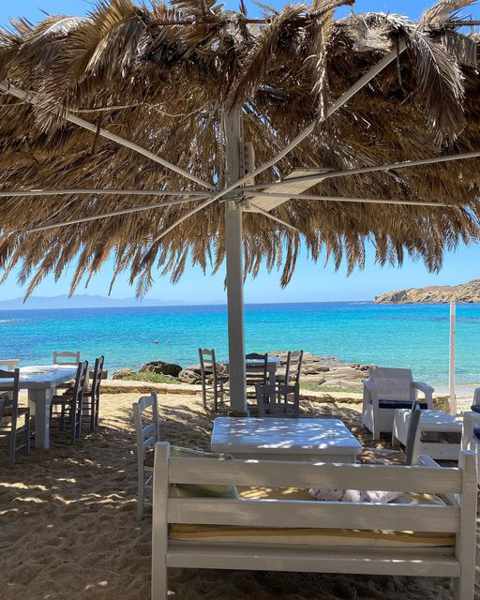 May 14 is opening day for Cafe Paraga at Paraga beach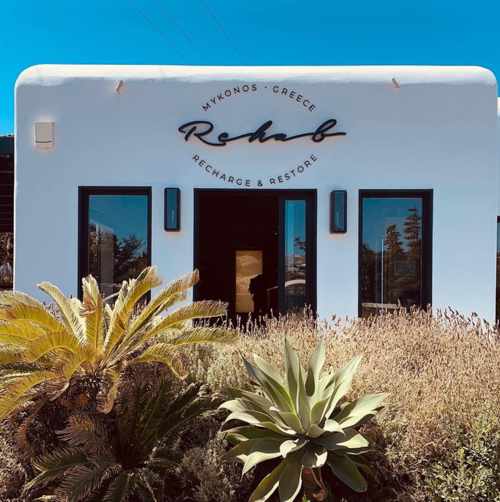 Rehab restaurant and juice bar opens on May 14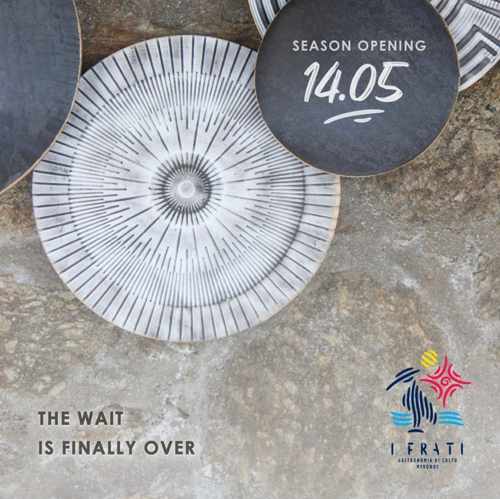 May 14 is opening day for I Frati restaurant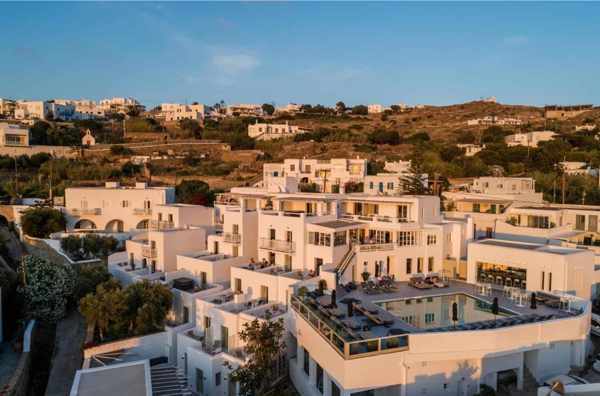 Rochari Hotel in Mykonos Town kicks off its season on May 14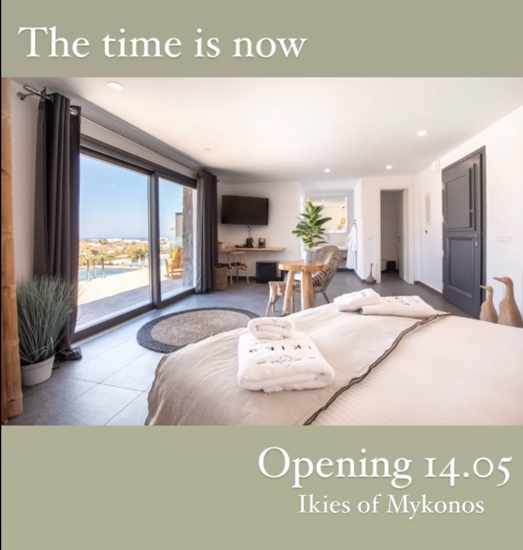 The Ikies of Mykonos luxury suite and villa complex opens May 14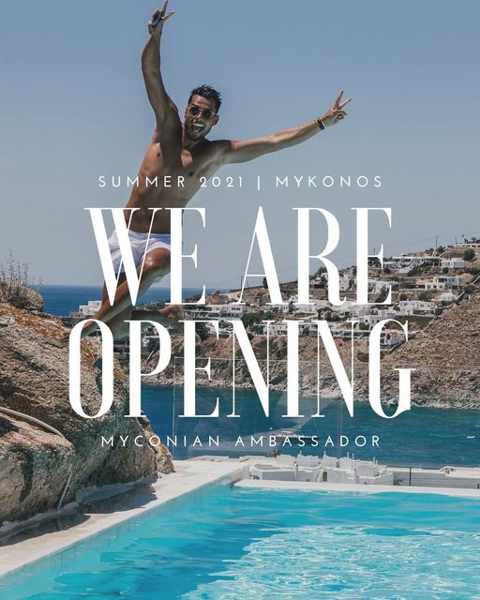 On May 14, the Myconian Ambassador Hotel at Platis Gialos beach opens its doors
nice n easy restaurant returns to the Little Venice seafront of Mykonos Town on May 15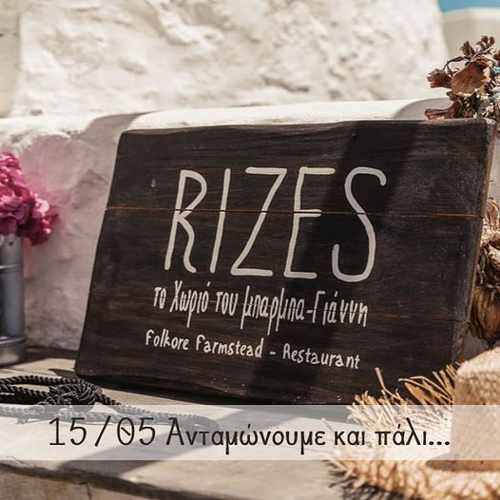 Rizes Folklore Farmstead welcomes visitors starting on May 15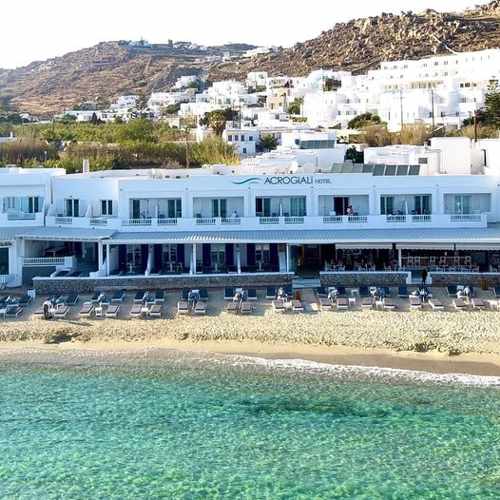 Acrogiali Beach Hotel at Platis Gialos opens its doors on May 15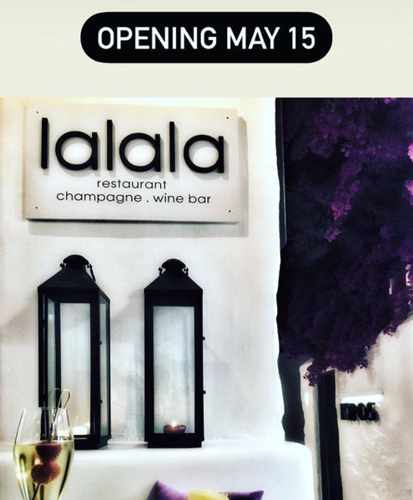 lalala restaurant and bar starts its season on May 15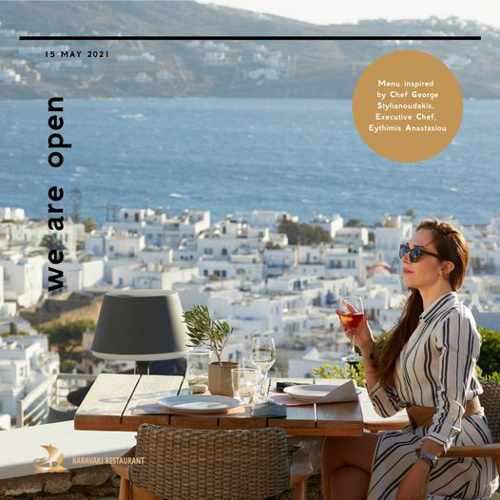 Karavaki restaurant at the Vencia Hotel returns on May 15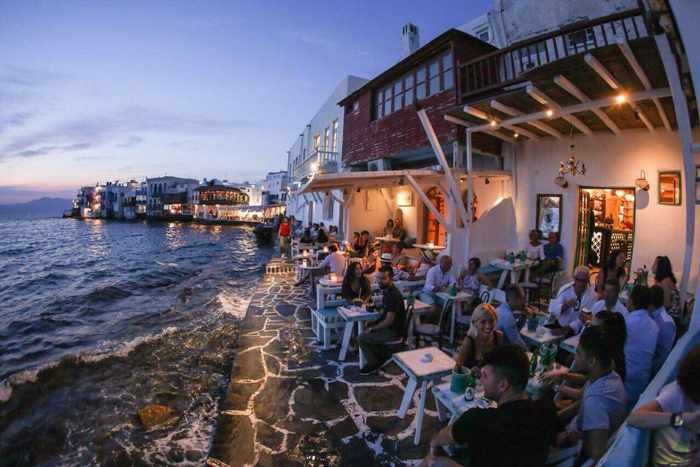 May 15 is opening day for Negrita Bar on the Little Venice seafront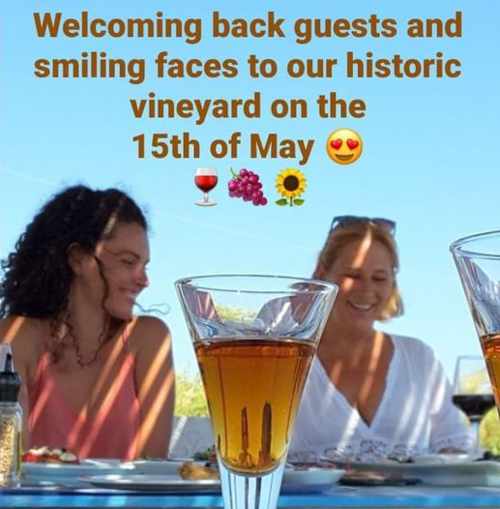 Mykonos VIOMA Organic Farm & Vineyard reopens on May 15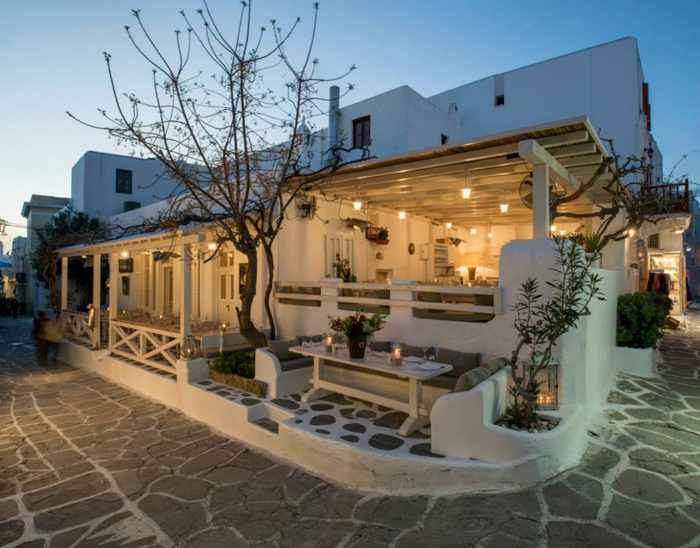 M-eating restaurant is back for another summer starting May 15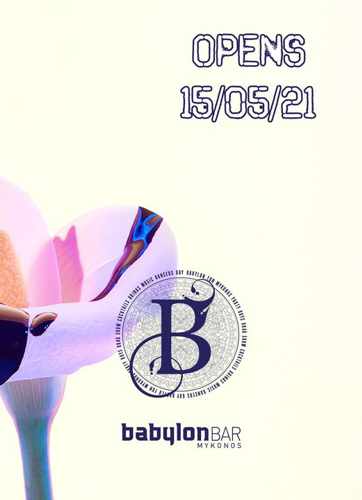 Babylon Bar is back on May 15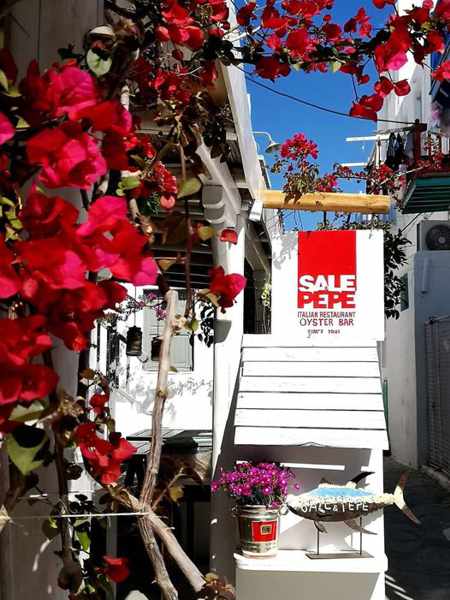 Sale e Pepe Italian restaurant and oyster bar opens May 15 for its 30th season in Mykonos Town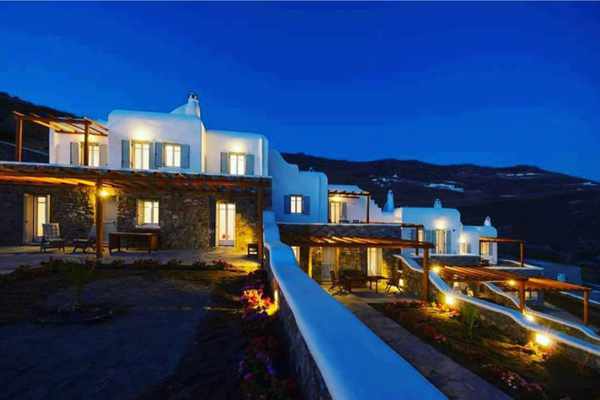 4z Mykonos Villas at Ftelia begin welcoming back guests starting May 15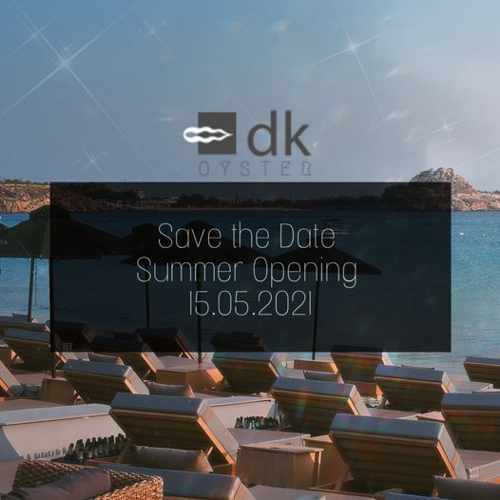 May 15 is opening day for the infamous DK Oyster restaurant and bar at Platis Gialos beach. The place made international headlines in the spring of 2019 after an American tourist wrote an online review complaining about  "rip off" prices charged for a lunch he had with friends.  (The article Calamari made of gold on Keep Talking Greece was one of dozens that reported on the incident.) His was just one of hundreds of scathing reviews posted on TripAdvisor, where customers regularly complain about what they feel are misleading business practices.  

Pinky Beach, seen in an aerial photo from its website, has planned a Sunday May 16 re-opening for its restaurant, bar and sunbeds at Agia Anna/Paraga beach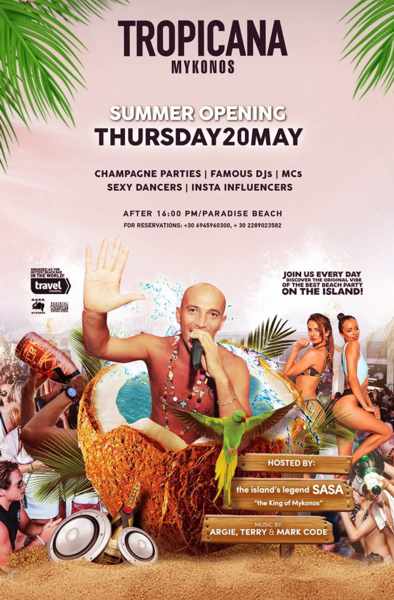 Tropicana beach club will open its doors on Thursday May 20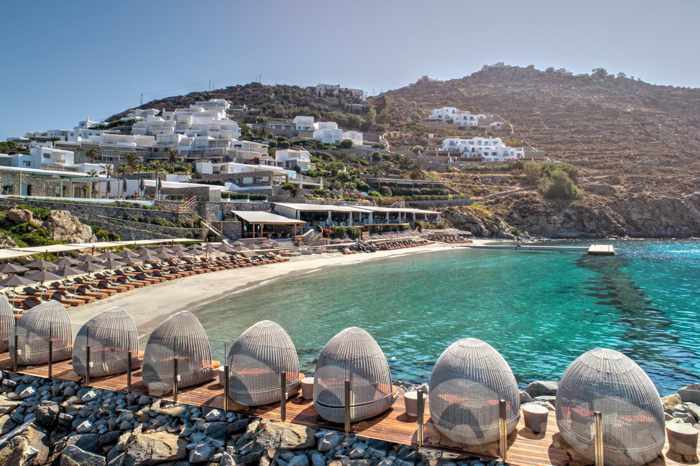 May 20 is opening day for the 5-star Santa Marina, a Luxury Collection Resort at Ornos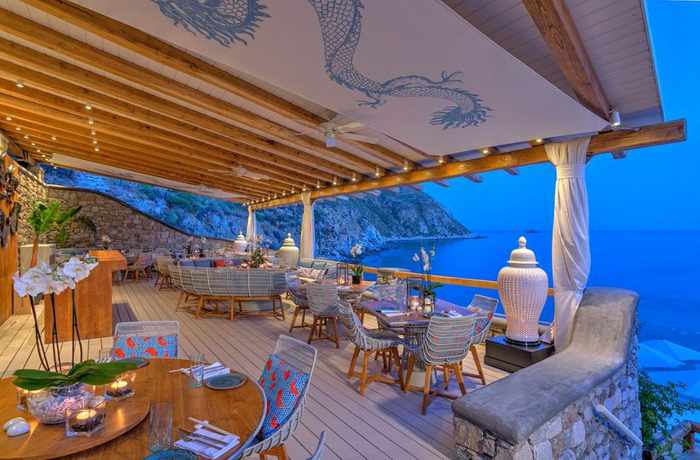 Thursday May 20 is opening day for the Buddha-Bar Beach  restaurant and cocktail bar at the Santa Marina Resort at Ornos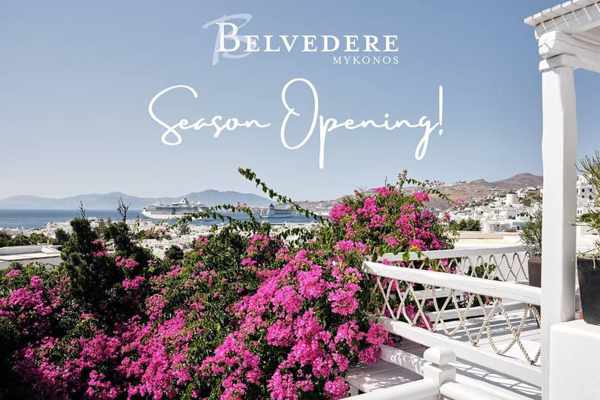 Belvedere Hotel starts its season on May 20, while the Belvedere Hilltop Rooms & Suites will open June 11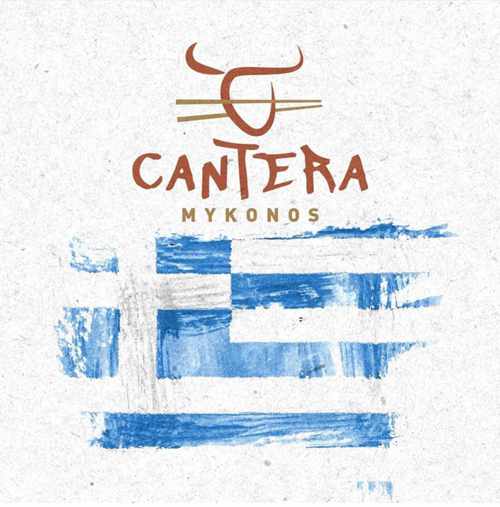 June 15 will be opening day for the brand-new Cantera Mykonos, a meat sushi restaurant situated at the Little Venice seafront of Mykonos Town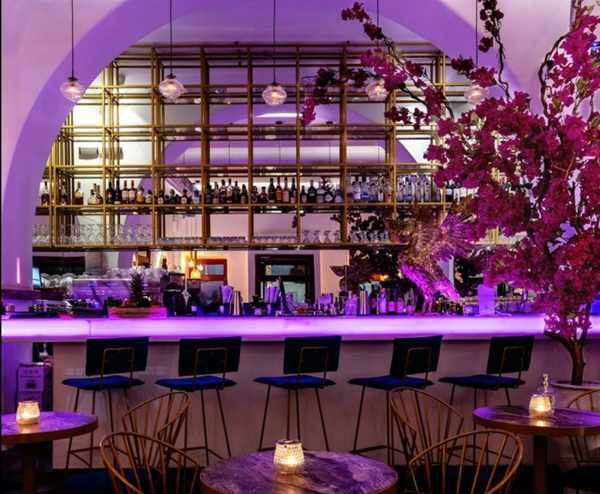 54 Cocktail Bar & Sunset Lounge will open on Friday May 21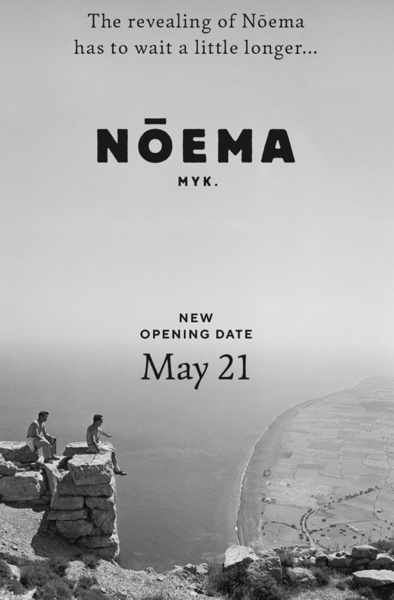 Nōema restaurant (which is profiled in our recent post What's New on Mykonos for 2021) has pushed back its opening  by one week — to Friday May 21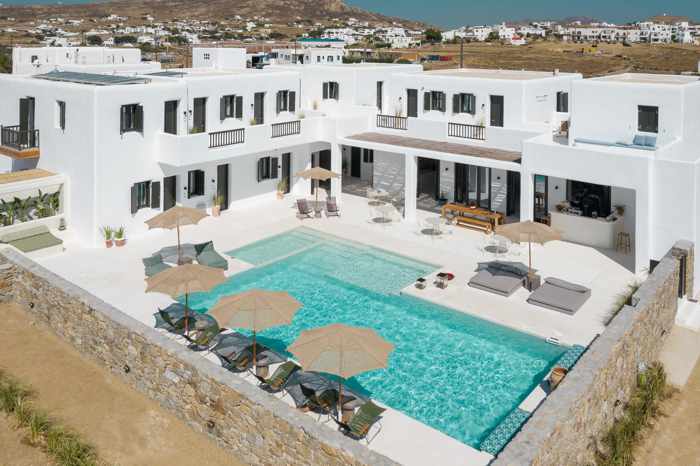 On Friday May 21, Koukoumi Hotel opens for its second season. Koukoumi made headlines last year as the first vegan hotel to open in Greece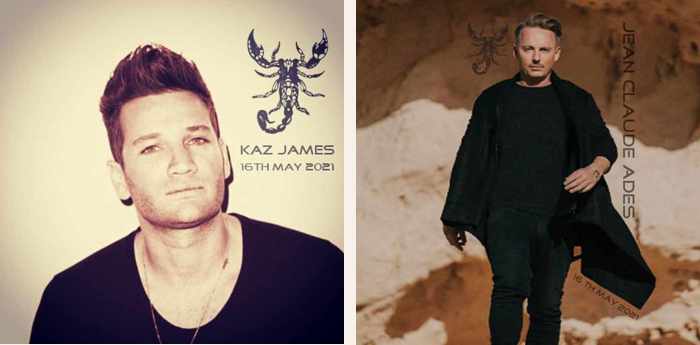 Kaz James and Jean Claude Ades will host the season opening event at Scorpios beach club on Sunday May 23. The opening originally was scheduled for May 16 but the club announced May 5 that it was pushing that date back by a week.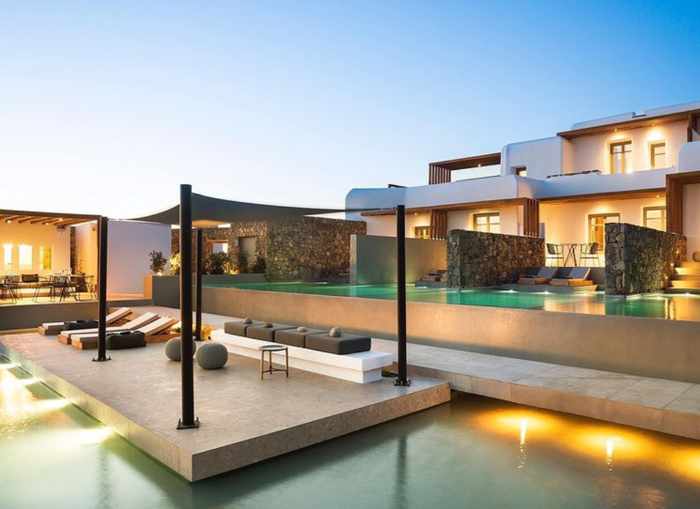 Mykonos Soul Suites at Agios Stefanos opens on Tuesday May 25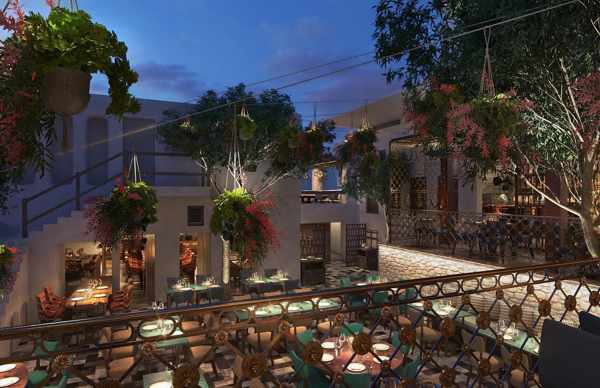 It was the most popular and talked-about restaurant on Mykonos last year, and COYA will return for a second highly-anticipated season on May 26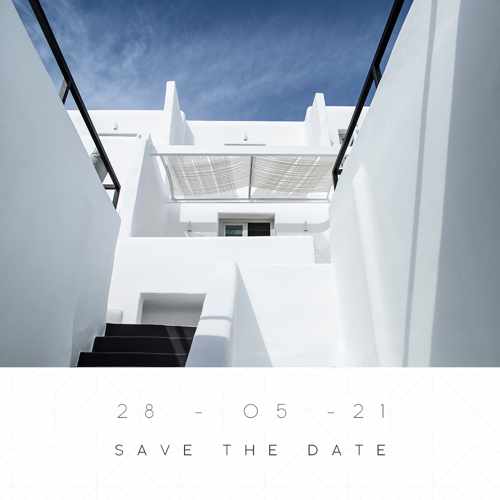 Nimbus Mykonos hotel at Agios Stefanos will open on May 28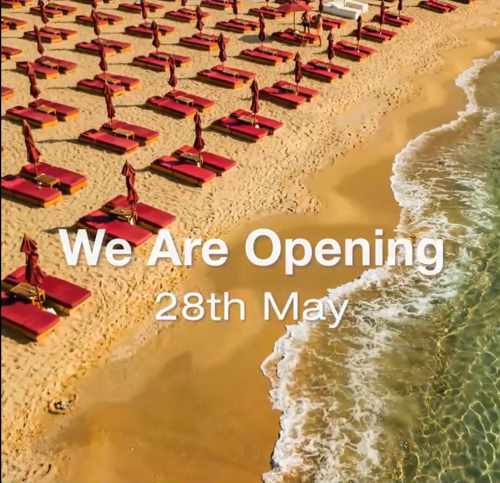 Super Paradise beach club opens on Friday May 28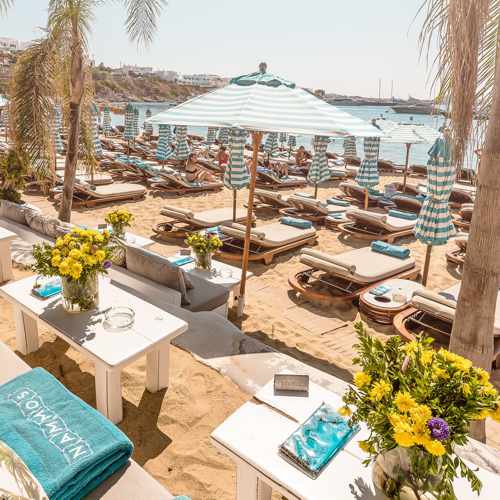 May 28 is opening day for the world-famous Nammos restaurant, bar and beach club at Psarou beach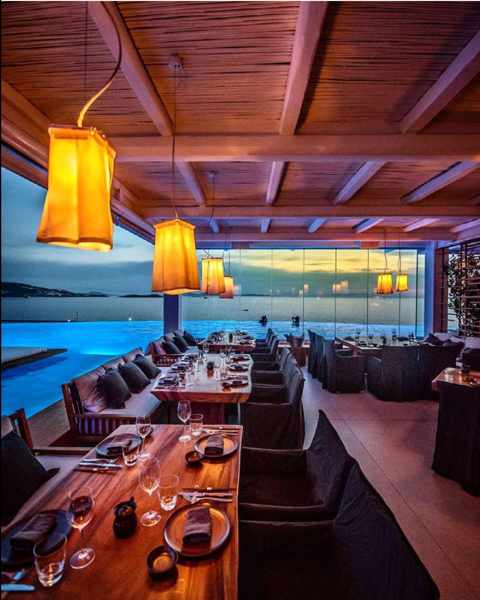 The contemporary Japanese izakaya restaurant Zuma returns to Mykonos this summer with its second consecutive seasonal pop-up at the 5-star Cavo Tagoo Hotel in Mykonos Town. Opening day is set for Friday May 28.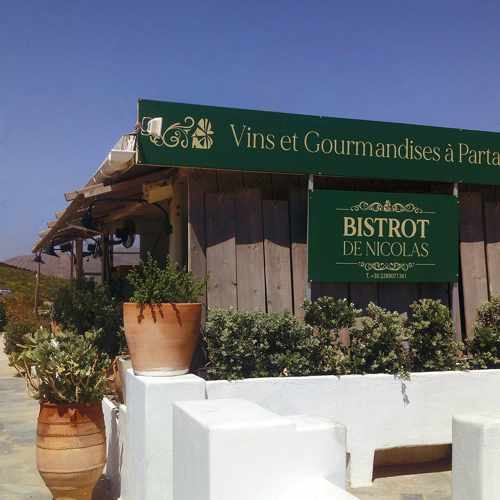 Bistrot de Nicolas has announced on social media that it expects to open at "the beginning of June."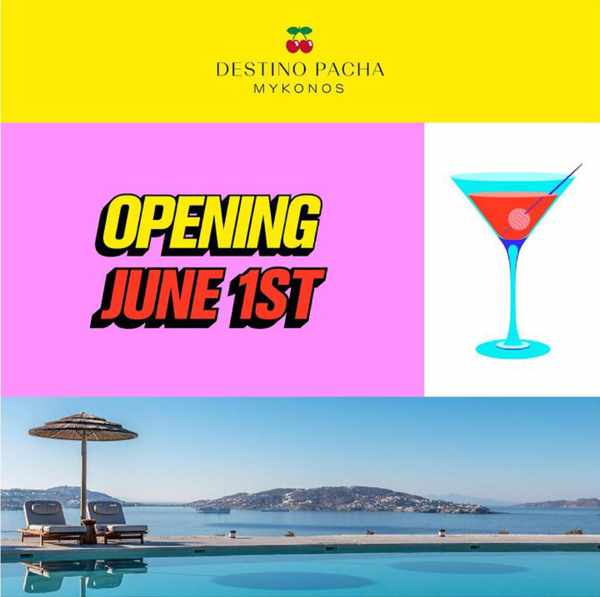 The 5-star Destino Pacha Mykonos luxury hotel is scheduled to open Tuesday June 1 on a clifftop overlooking Agios Stefanos beach (in the premises previously operated as Oniro Mykonos — A  Shanti Collection Resort).  Like its "sister" hotel in Ibiza, the Destino Pacha Mykonos promises "the ultimate adult playground where life is celebrated from sunrise to sunset and beyond."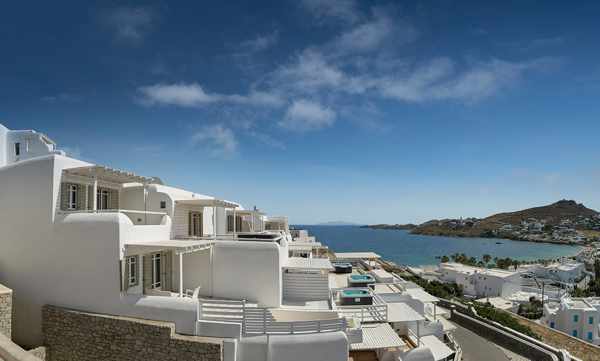 Deliades Hotel at Ornos will open on June 1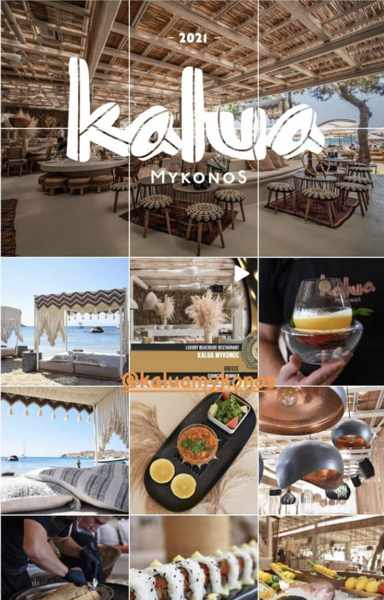 Kalua restaurant and beach bar at Paraga beach will open on June 4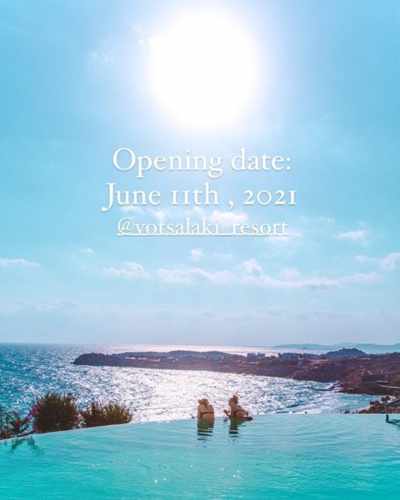 Votsalaki Boutique Resort at Paradise Beach will open on June 11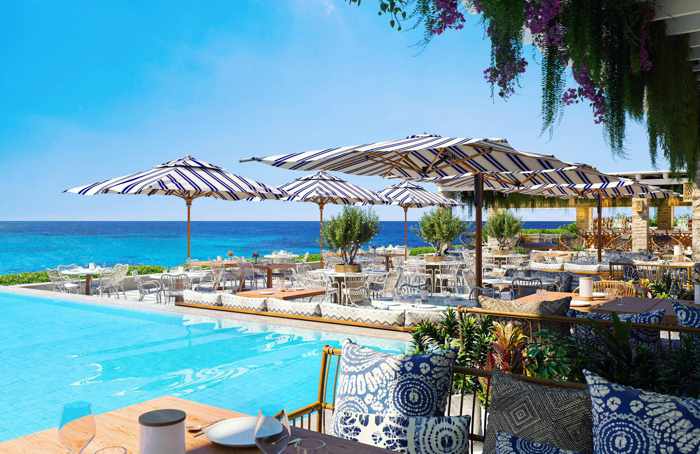 Wednesday June 16 is the anticipated opening date for Mykonos Social, the newest project of Michelin-starred restaurateur Jason Atherton. Situated in the Santa Marina Mykonos luxury resort at Ornos, Mykonos Social will offer a Mediterranean and Greek cuisine menu created by Atherton and overseen by executive chef Kostas Papathanasiou.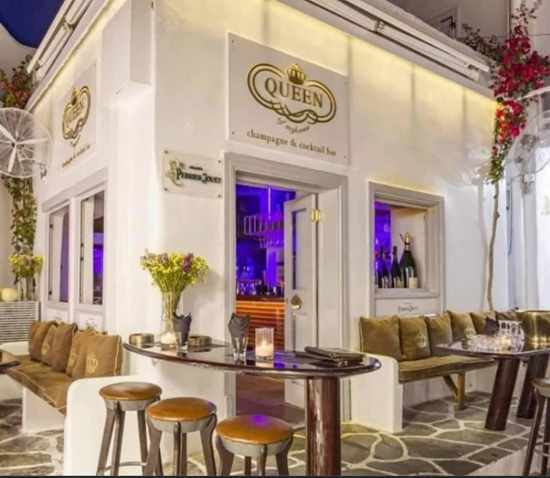 Queen of Mykonos champagne & cocktail bar has announced it will be opening in June. The specific opening day has not yet been revealed.
Venues gearing up for summer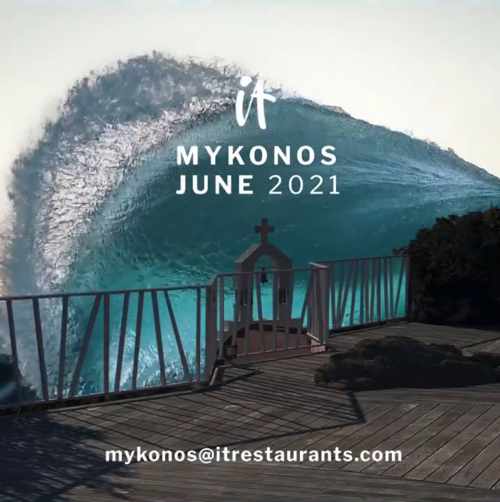 The new IT Mykonos restaurant and lounge, located in the Drafaki district on the edge of Mykonos Town, expects to open sometime in June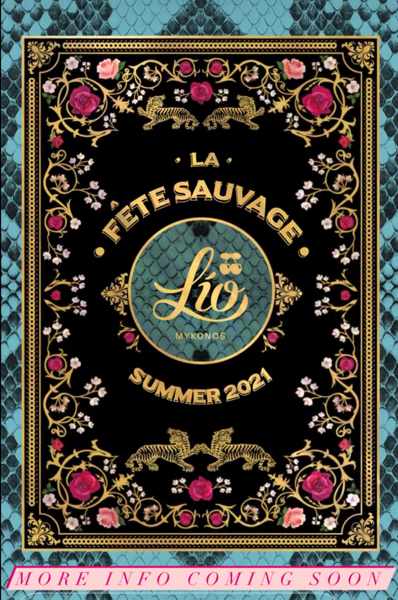 The brand-new Lio Mykonos cabaret restaurant and nightclub expects to provide information about its opening date soon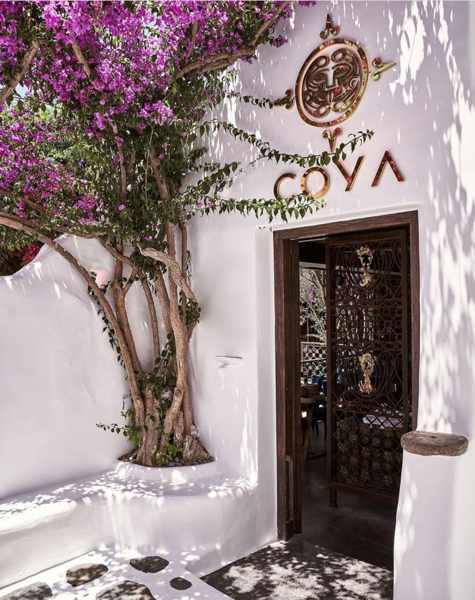 COYA was the hottest new restaurant on Mykonos last year, and it will be back for its second season in May. The precise opening day has not yet been announced.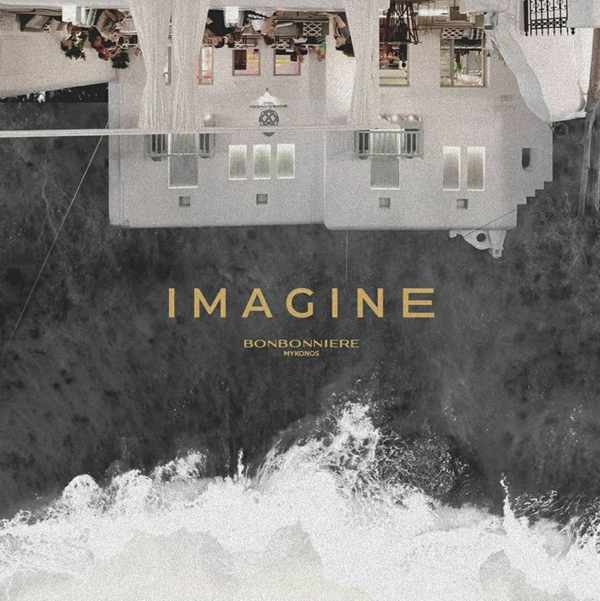 Bonbonniere will be back this summer. In promotional posts on social media, the nightclub says: "Imagine your dream summer….Now get ready to live it."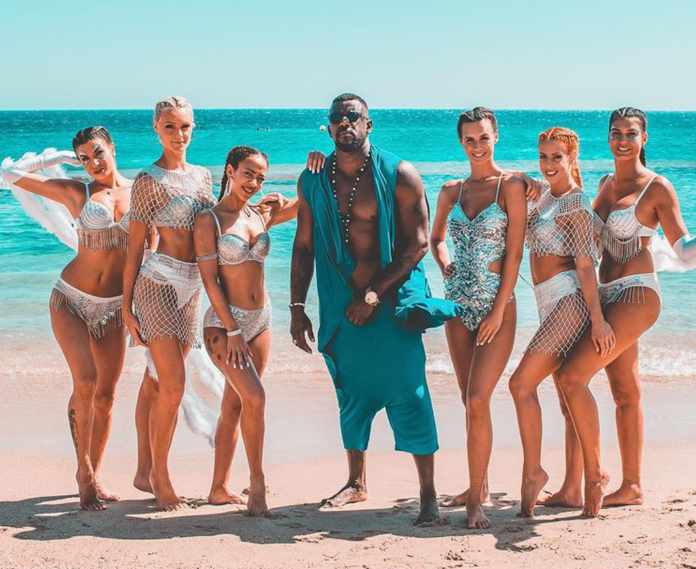 Guapaloca Bar shared this photo of its entertainment team on social media with the caption: "Our summer events are on the way!"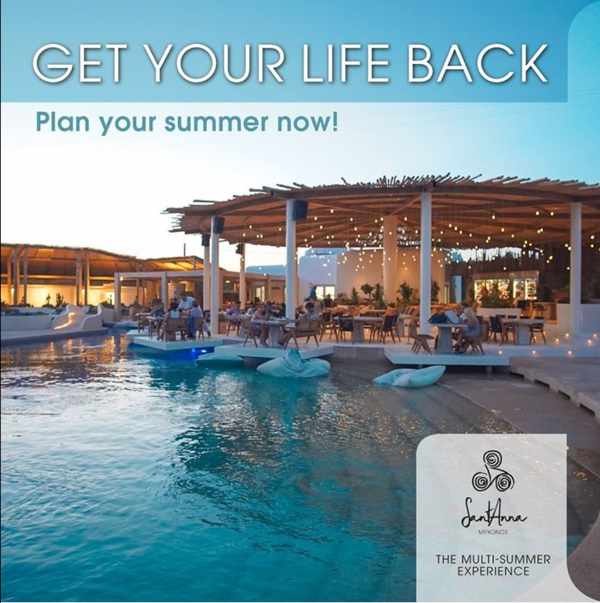 In its social media campaign for the 2021 season, SantAnna beach club invites travellers to "get your life back" and start planning your holidays now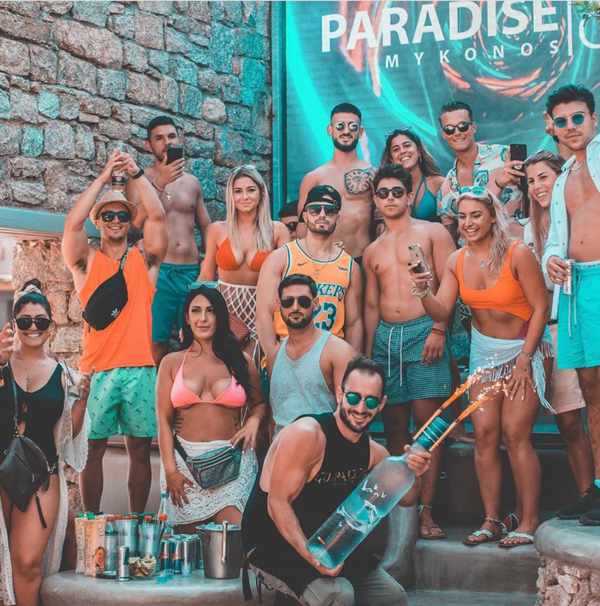 Paradise Beach Club shared this photo on social media along with the caption: "Counting the days for the party of all parties!"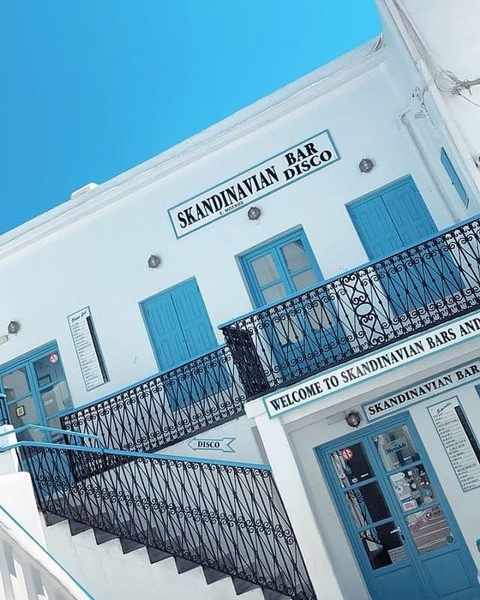 Skandinavian Bar has launched a new website as it prepares for its summer opening
Liasti beach club at Lia beach also is preparing for another summer season. It shared this post on social media on May 15.
On May 14, Solymar beach restaurant posted on social media that it is busy preparing to open for the summer — and will announce its opening date soon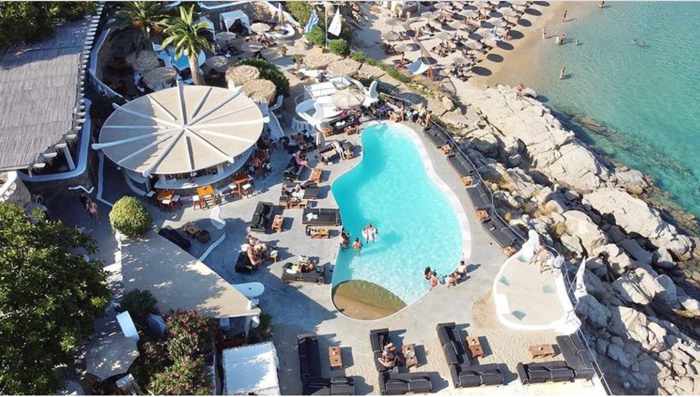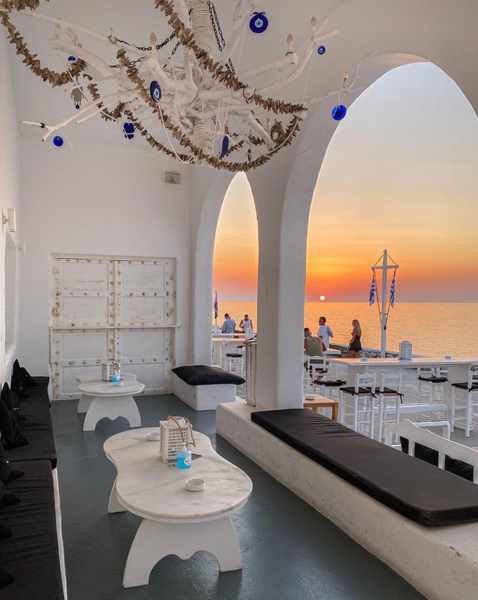 JackieO Beach Club at Super Paradise (top) and JackieO Bar on the seafront of Mykonos Town will both be returning this summer and are expecting to open at the end of May
More opening announcements coming soon!