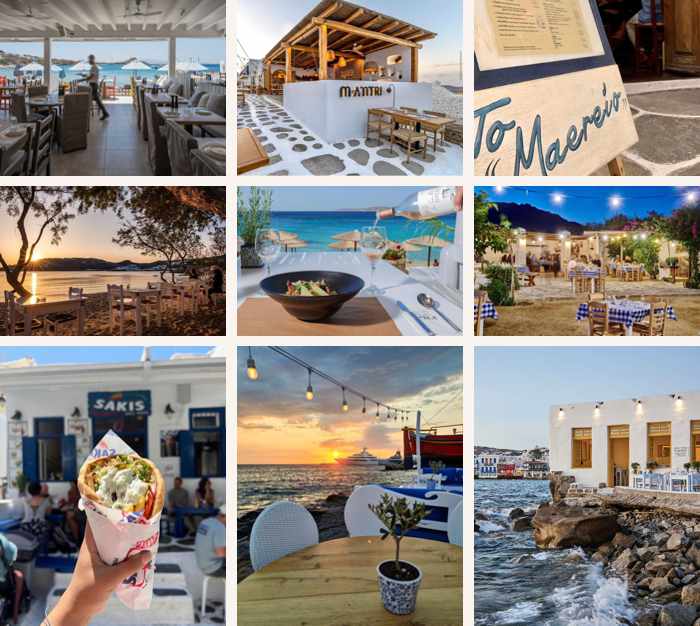 Some of the most popular restaurants on Mykonos, including a few of our personal favourites, are seen in images from their social media pages: Top row (left to right) Avli tou Thodori, Mantri and To Maereio. Middle row:  Nikolas Taverna, Pili and Rizes Folklore Farmstead. Bottom row: Sakis Grill House; Baboulas and Sea Satin Market.
Welcome to our 2023 guide to restaurant opening dates on Mykonos.
Keep scrolling down this page to see which places — including a number of exciting and much-anticipated newcomers to Mykonos — opened their doors during  June and July.
On page 2, we profile dining spots that started their seasons during April and May.
Restaurants and tavernas that opened in January, February and March are listed on page 3.
July openings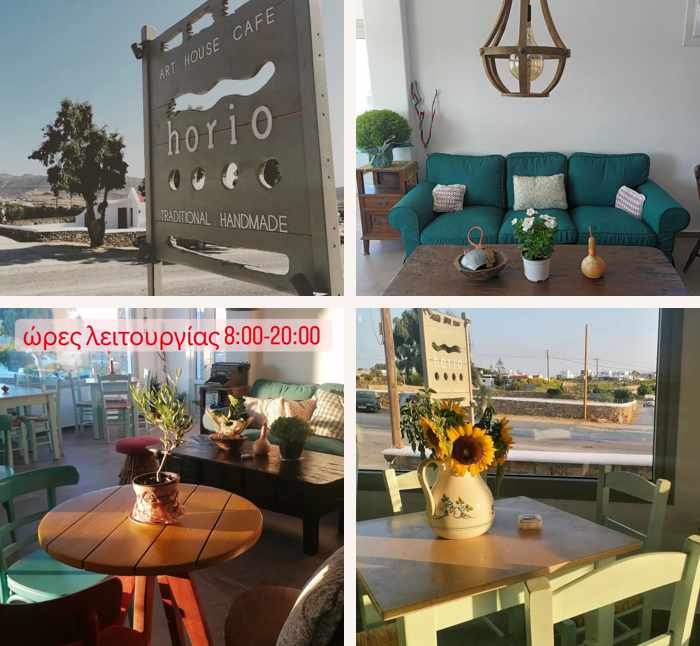 A new arrival for this summer, Horio Art House cafe opened July 16. It serves coffees, lemonade and other beverages, fresh-daily home-made treats like traditional onion pie, as well as sweets, cheesecake and other desserts. The cafe also sells a large selection of handmade art and craft items, ideal for gifts or Mykonos holiday souvenirs. Horio is open daily from 8 a.m. to 8 p.m.
Dalu Skygarden Cafe has opened in a new outdoor space at Kastro Panigiraki (which also happens to be the location of the island's most famous open-air cocktail lounge, 180 Sunset Bar).  A breakfast, brunch and coffee spot with a fantastic view, Dalu Cafe is open daily from 9 a.m. to 2 p.m.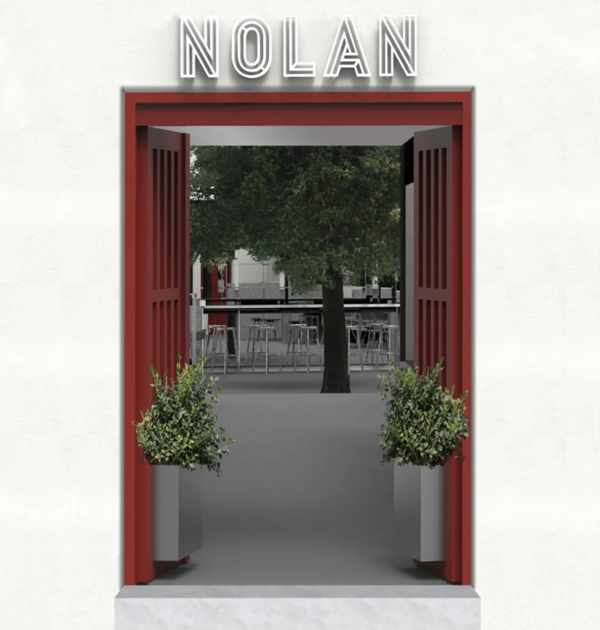 The popular comfort food restaurant Nolan near Syntagma Square in Athens is closing its doors temporarily and moving to Mykonos for the summer. Nolan is described by Michelin Guide as "a contemporary bistro" that "creates contemporary Greek-focused cooking with plenty of Asian influences, and enticing dishes that are fresh, colourful and perfect for sharing." Nolan decided to do something different this summer while it undertakes renovations of its Athens premises, and it seized the opportunity to move its operations to Mykonos for July and August. Nolan Mykonos will set up shop at 25 Kalogera Street in Matogianni area of Mykonos Town, in the space that previously had been had been home to the Ceresio7 Mykonos restaurant. Nolan Mykonos is currently accepting online reservations for the period of July 18 to September 10. In mid-September, Nolan will return to its freshly-updated digs in Athens.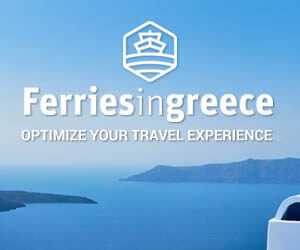 Are you planning to do some Greek island hopping this summer? July and August are the peak travel months in Greece, and seats on inter-island ferries are filling up fast.  If you haven't already booked your ferry tickets, click on the image above to arrange your transportation now!
June openings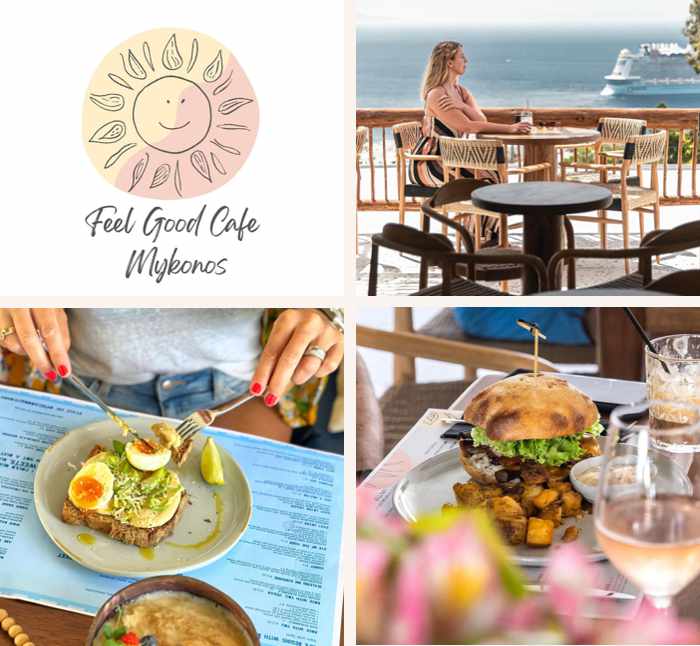 A new arrival this season, Feel Good Cafe describes itself as a "conscious eatery" serving plant-based breakfast items, healthy superfoods, acai, bowls, coffees and "sunset mocktails." The cafe also serves up a superb sea view from its patio. Open daily from 7 a.m. to 10 p.m., Feel Good Cafe is situated on the peripheral road above Mykonos Town, opposite the Jumbo Toy Store near the roundabout.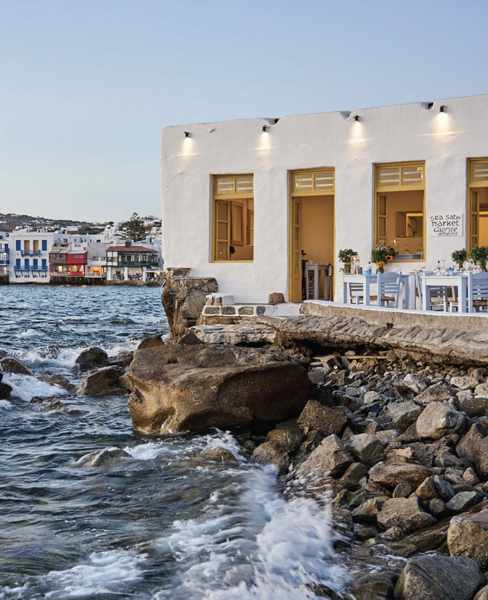 One of the island's most famous restaurants, Sea Satin Market by Caprice of Mykonos, was acquired by new owners this year, and it reopened for the 2023 season on June 16. It's still in the same coastal location –beneath the iconic row of Mykonos windmills near the Little Venice seafront of Chora.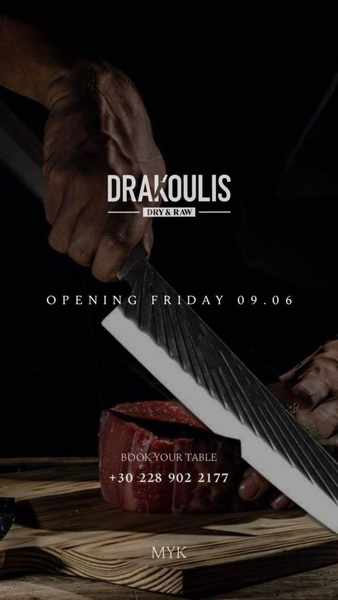 June 9 was opening day for Drakoulis Dry & Raw Mykonos, the first island member of the fine dining restaurant project of Drakoulis Butcheries (the others are located in the Kifissia, Kolonaki and Voula neighbourhoods of Athens). "Offering a meat experience unlike any other, Dry & Raw welcomes guests to enjoy a fusion of Mediterranean flavours and Japanese cooking with some of the best cuts of meat from around the world chosen with the help of our butchers to meet your tastes and wants," says the company website. "Drakoulis Restaurants offer a signature 360 meat experience in an upbeat state-of-the-art environment that transforms by night with electronic music vibes." You'll find Dry & Raw at Agia Kirikia Square in Mykonos Town.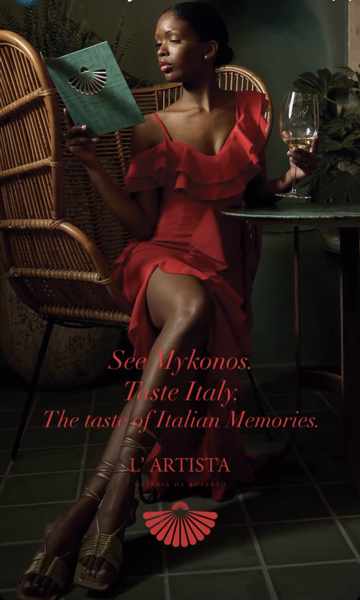 June 9 was grand opening day for L' Artista, Osteria  Da Roberto, a new Italian restaurant "where comfort food meets fine dining." L' Artista is situated mere steps from Agia Anna beach at the Old Port harbourside of Mykonos Town.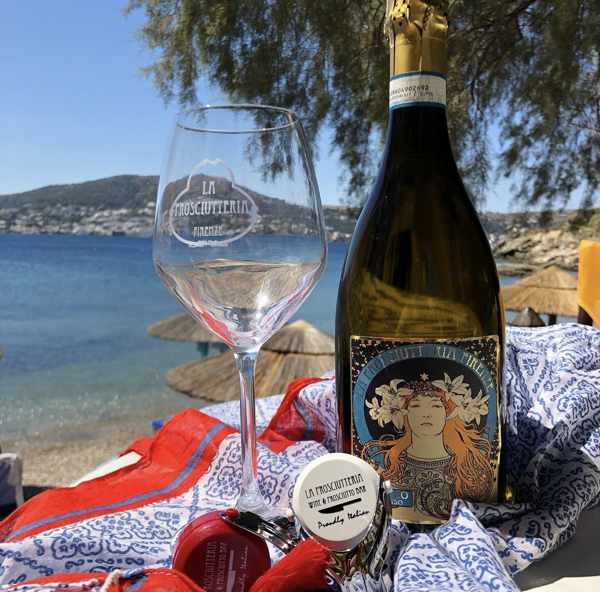 La Prosciutteria has arrived on the Island of the Winds this summer. Situated in the Mykonos Mediterraneo restaurant and bar complex at Lakka Square, it celebrated its arrival with an official opening party on June 7.

June 1 was opening day for the new Baladaya Mykonos, a "modern Greek tavern" at Paradise beach.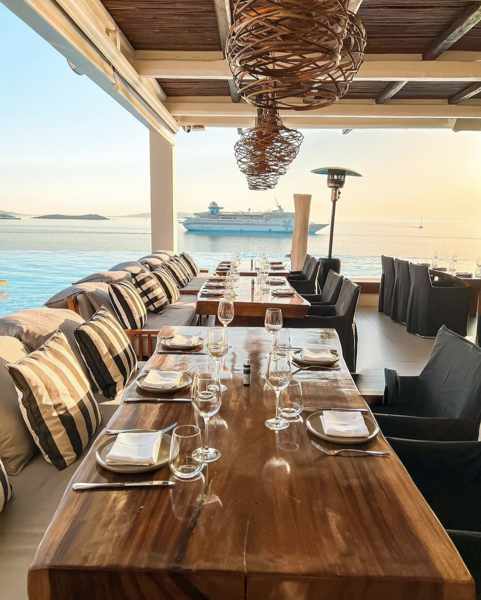 June 1 was opening day for Meraki Mykonos, the fine dining Greek cuisine restaurant and infinity pool bar at the Cavo Tagoo Hotel in Mykonos Town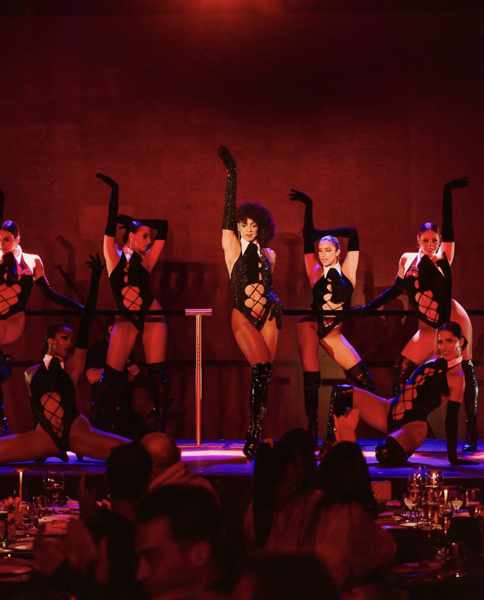 The cabaret restaurant and nightclub Lio Mykonos opened June 1 with a new entertainment extravaganza, "Delicatessen"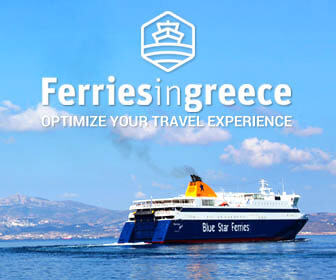 Please click on the link below to turn to page 2, where you can see the restaurants that opened during April and May of this year.
CONTINUED ON PAGE 2