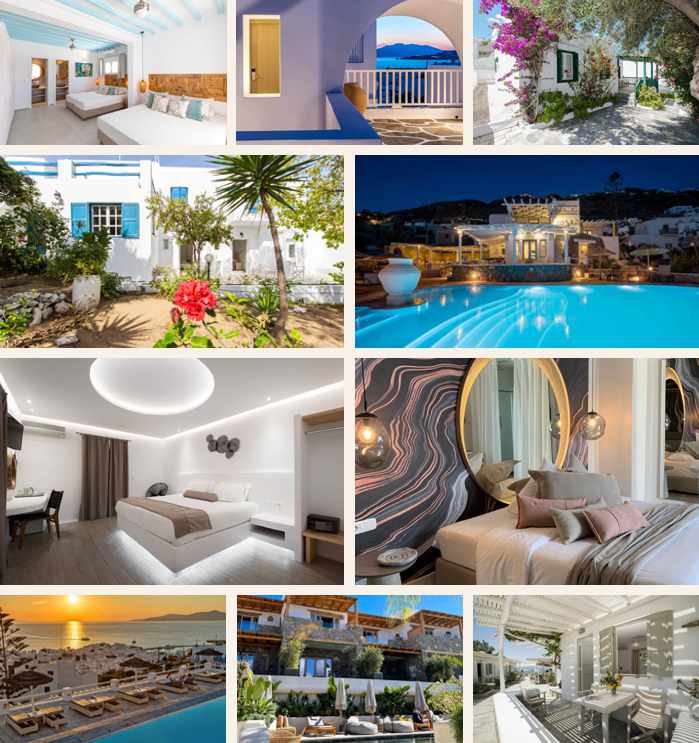 Photos showing just a few of the myriad accommodations available on Mykonos, from top row (left to right): Villa Konstantin; Rochari Hotel; Mykonos Charming House; Katerina Studios; Olia Hotel; Hotel Tagoo; Amazon Mykonos; Hotel Alkyon; Habitat Mykonos; Agia Anna Studios.
Where to stay: For some people, Mykonos can be an overwhelming place to visit in summer. Though it's a fairly small island, it can seem as busy, bustling, and bursting with energy as any big city.  Selecting a place to stay on Mykonos can be equally intimidating, since there are so many options — everything from airbnbs, rental rooms, studios and apartments, to villas, holiday houses, hotels, full-service luxury resorts, posh suites, and exclusive vacation retreats. 
Repeat Mykonos visitors have their favourite places to stay, or are familiar with alternatives should they wish to try somewhere new. But for people planning a first-ever holiday on Mykonos, the range of choices can leave their heads spinning.
If you're going to the island this year for the first time, we hope you can use this post as a starting point to assist your search for the holiday accommodations that best suit your tastes and travel budget. We can't show you all the possible places to stay on Mykonos, since there are thousands, at all price ranges. Instead, we have collected photos of many of the island's most popular lodgings and the spots we personally like, so you can simply scroll through the top options without having to click your way through multiple online booking sites or look up individual hotel or vacation rental websites. We have provided a link to the website or an official social media page for each place pictured, though, so if you see something that strikes your fancy, you can click for detailed information and photos. 
And here's a tip to keep in mind when you do find a place that interests you: book direct either through their website's online reservation system, or by calling or emailing the property. Most Mykonos hotels offer discounts or extras if you book direct with them instead of through a third-party reservation site.
On this page, we have posted snapshot profiles of some of the island's most dreamy and impressive places to stay, including premier 5-star hotels and resorts and other outstanding or unique accommodations. If you're going to Mykonos to celebrate a wedding, honeymoon, anniversary or other special occasion, one of these properties might be perfect for you, especially if you've got an urge to splurge or pamper yourself in special surroundings.
Page 2 spotlights many of the island's perennially popular hotels and resorts, along with some new arrivals; while
Page 3 shows a variety of rental apartments, rooms, studios, suites and holiday houses.
This post is still a work in progress … we will be adding more properties regularly, so check back for updates.
 Premier luxury hotels & accommodations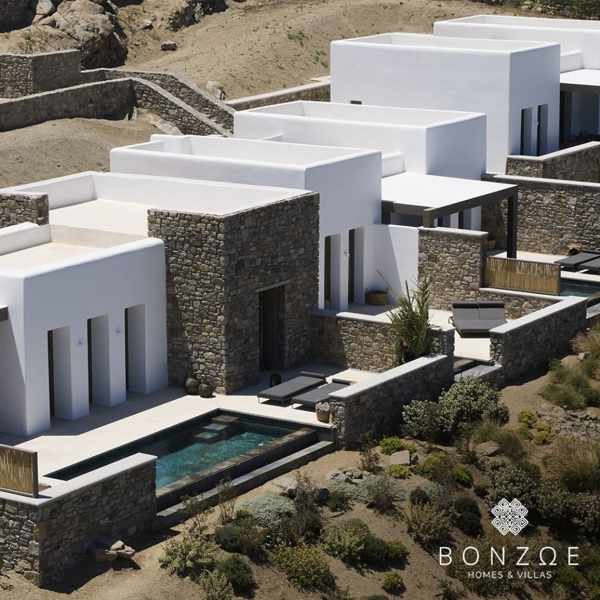 Designed to give its guests a luxurious "home away from home" experience, Bonzoe Homes & Villas is a collection of 1-, 2- and 3-bedroom villas and homes that opened last year near Megali Ammos beach on the outskirts of Mykonos Town.  Each of the accommodations has a sea view, and boasts a private heated pool. Bonzoe began its season this year on April 1.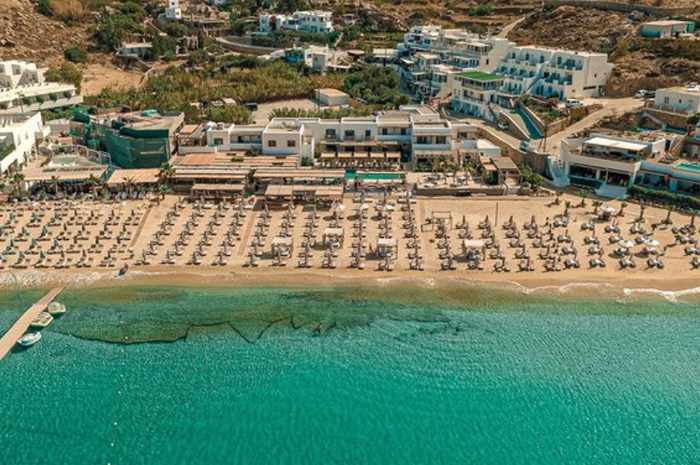 April 7 was season opening day for Branco Mykonos, a 5-star beachfront hotel and resort at Platis Gialos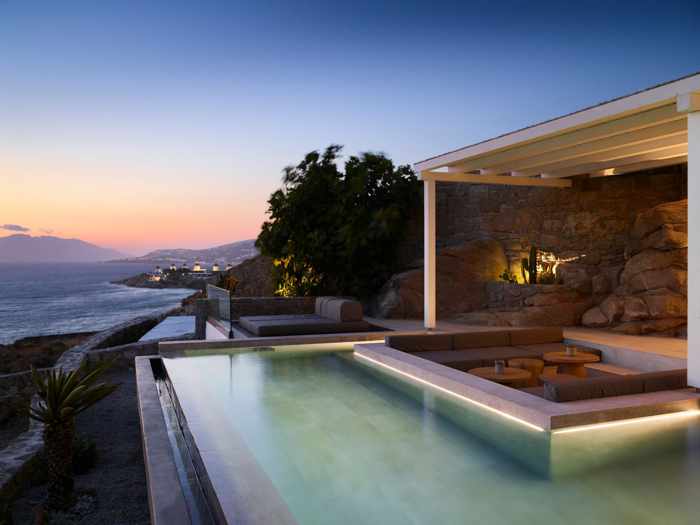 April 8 was season opening day for Bill & Coo Suites and Lounge, situated on the hillside above Megali Ammos beach on the edge of Mykonos Town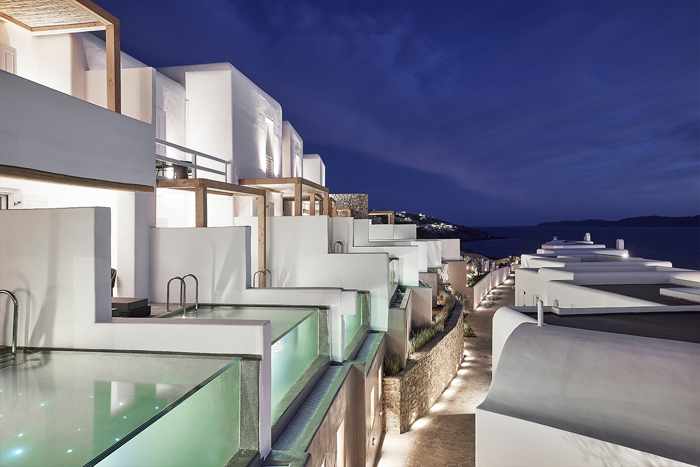 The opulent Amazon Mykonos Resort & Spa at Agios Ioannis opens on April 14
The Wild Hotel by Interni, seen in a cinematic video by Vasilis Barahanos, is a stunning retreat of 40 rooms, suites and villas perched on a cliff above a private beach at Loulos near Kalafatis.  The hotel, which boasts a seaview swimming pool and restaurant, has been profiled in and praised by numerous international design, fashion, hotel and lifestyle publications.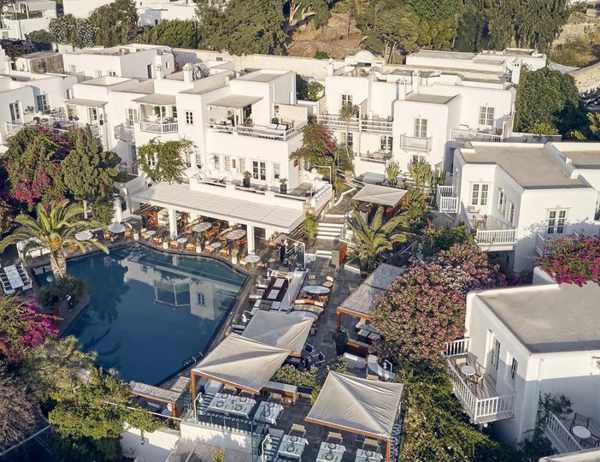 April 20 is opening day for the iconic Belvedere Hotel in Mykonos Town. "Framed by a verdant garden, the Belvedere Hotel is a universe of transformation: 35 luxury rooms, 9 suites and 1 Mansion unlock endless possibilities, played out against the turquoise backdrop of a mesmerising pool," says the website for the legendary 5-star hotel.

It was the most-talked-about new hotel on Mykonos in 2021, receiving rave reviews from design, lifestyle and travel publications around the world. It's now being recommended as one of the top hotels to experience in Greece during 2022. Kalesma Mykonos will open its doors this year on April 21.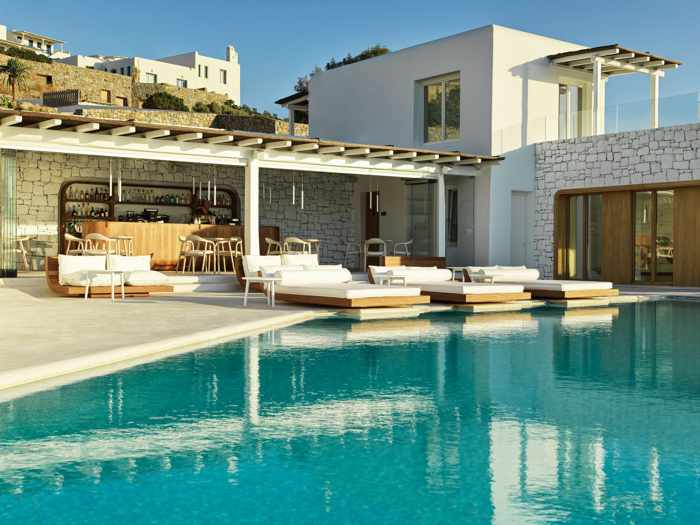 Mykonos Earth Suites has been getting lots of attention this year from hotel and design publications, and it recently won gold  in the Adult-Only Hotel category at the Greek Hotel of the Year Awards 2022.  Situated above Megali Ammos beach, Mykonos Earth starts its season on April 28.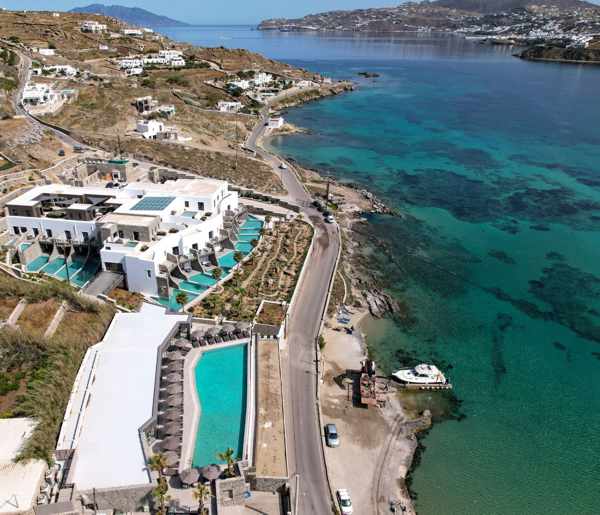 New to the island last year, the 5-star Aeonic Suites & Spa near Korfos beach recently was awarded the Silver honour in the All-Suite Hotel category at the Greek Hotel of the Year Awards 2022. Aeonic will start its season on April 29. 

April 29 is opening day for Saint John Hotel Villas & Spa, one of the biggest luxury beach resort complexes on Mykonos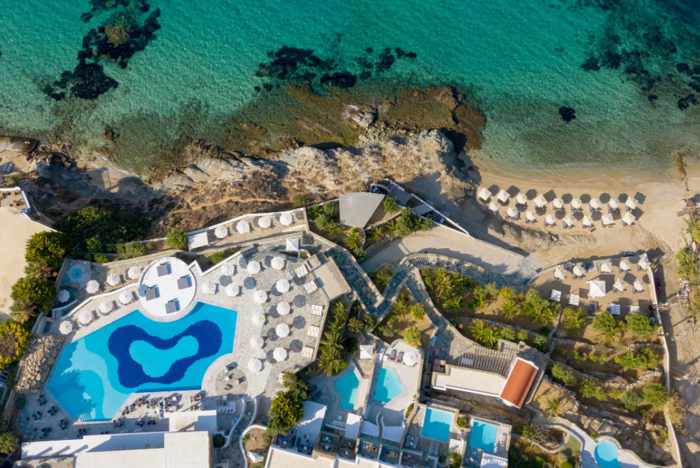 May 1 is opening day for Mykonos Grand Hotel & Resort at Agios Ioannis. One of the island's premier 5-star resorts for two decades, the Grand boasts luxury rooms and suites, the award-winning Althea Spa Retreat, Nama Restaurant, a wine cellar and several bars, a fitness center, tennis court, 500 sq meter saltwater swimming pool, and a beachfront area reserved exclusively for its guests.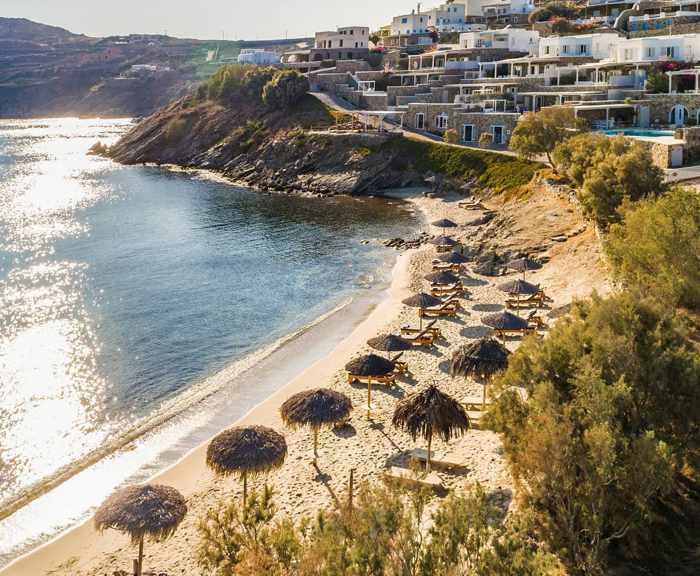 Situated on the Aleomandra peninsula in southwest Mykonos, Casa del Mar Mykonos Seaside Resort is a complex of 11 spacious, luxury villas. The property includes a spa and wellness center, a gym, and the fine dining  Miramar Cocktail Restaurant. Casa del Mar also boasts easy access to what it describes as "semi-private" Glyfadi beach, a secluded sandy cove visited mainly by families staying at the luxury hotels and villas in the immediate area. Casa del Mar's opening day this year was May 2.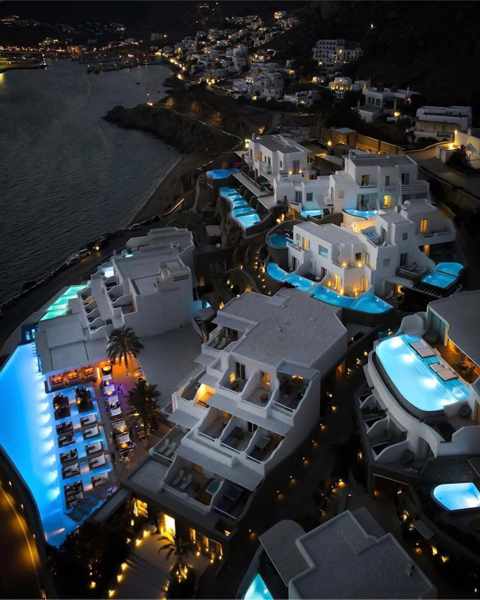 Popular for its huge sea- and sunset-view infinity swimming pool and bar, and its luxurious cave-style suites with private pools, Cavo Tagoo is the most famous Mykonos hotel on Instagram and social media influencers' sites. It starts its 2022 season on May 6.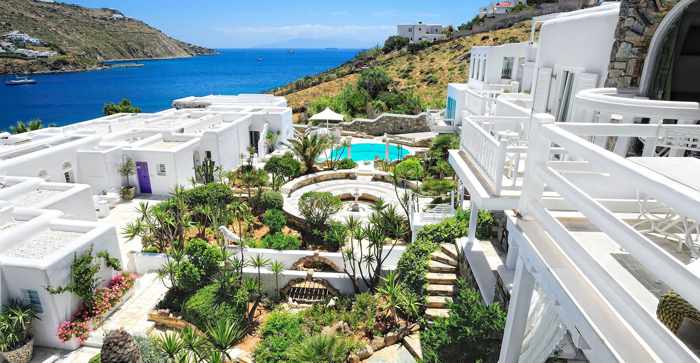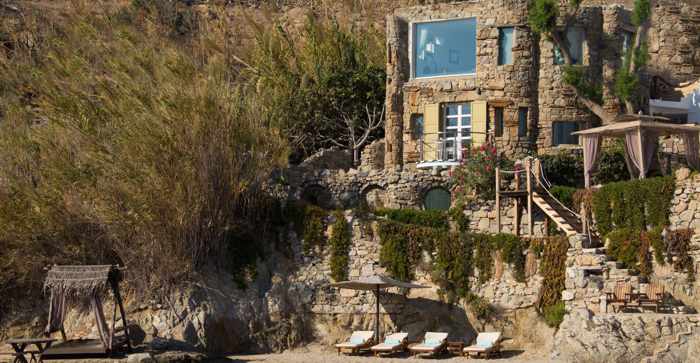 May 6 is opening day for the Kivotos Mykonos luxury suites, villas and spa/wellness hotel at Ornos (top) and its unique waterfront Noah's Villa with private pool and beach (bottom)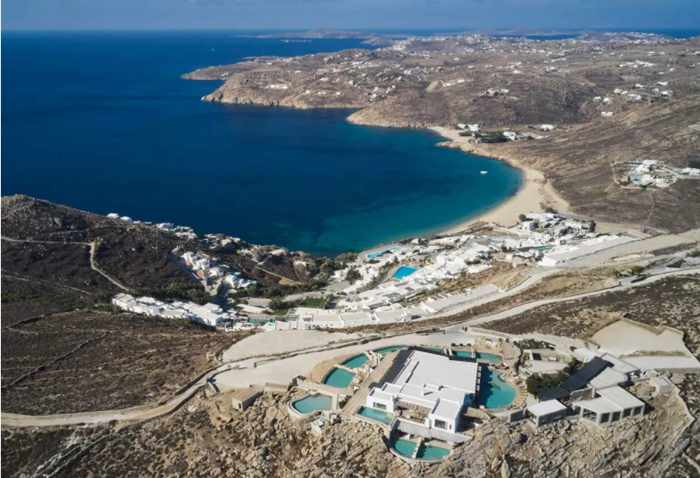 May 10 is first day of the season for Panoptis Escape, an exclusive luxury villa retreat perched on a mountaintop overlooking Elia beach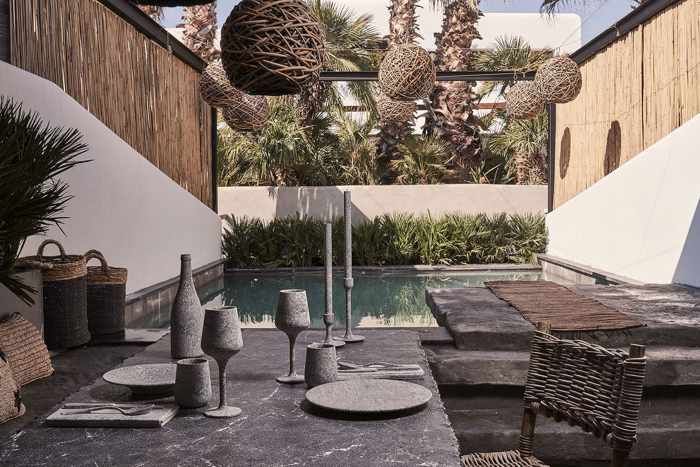 O by Myconian Collection is a luxury beachfront hotel with 63 rooms and suites opening at Ornos on May 10.  It's the 11th property of the Myconian Collection, a chain of 5-star hotels owned and operated by the Daktylides family of Mykonos (some of their other hotels and resorts on the island include the Myconian Ambassador, Imperial, Avaton, Panoptis Escape, Utopia and Myconian Villa Collection).  Myconian O's facilities will include a spa, the Oasis pool and its beach & pool bar, Obar, and the Baloo fine dining restaurant.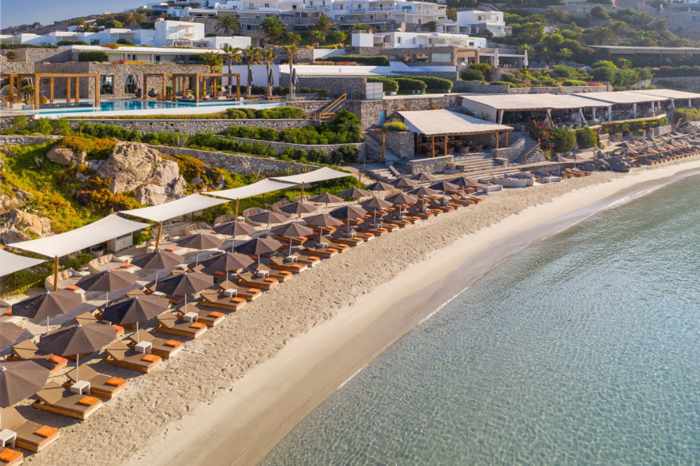 May 6 is opening day for the Santa Marina Resort, a 5-star complex of rooms, suites, villas, spa, restaurants and a private beach on Ornos Bay. The resort is home to two of the island's signature dining spots, the Buddha-Bar Beach Mykonos and Michelin-starred chef Jason Atherton's first restaurant in the Mediterranean, Mykonos Social.
Great scenery from Mykonos abounds in this promotional video for the 5-star Mykonos Riviera Hotel & Spa, located at Tourlos above the New Port. The Riviera will start its season on May 9.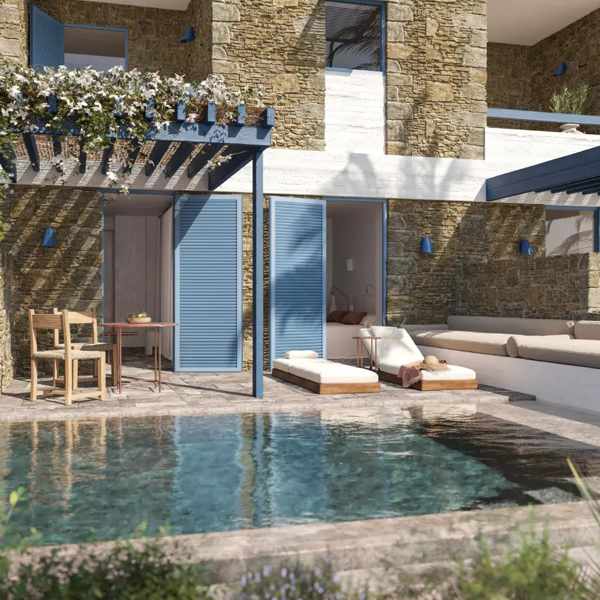 One of the island's most iconic and historic hotels, Mykonos Theoxenia, has been undergoing an extensive and "daring" renovation this year.  The hotel website describes the transformation as follows: "The mythic Mykonos Theoxenia reinvents itself to realign with its timeless heritage and the essence of ultimate hospitality." Located near the landmark row of windmills in Mykonos Town, the Theoxenia is expected to start its 2022 season in July.
CONTINUED ON PAGE 2