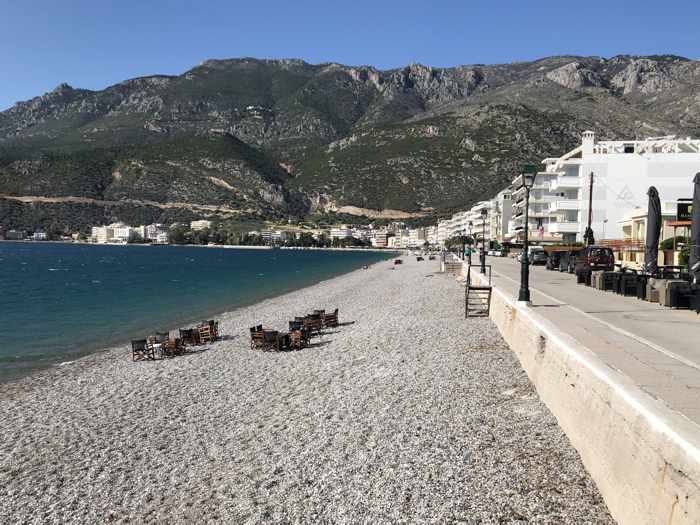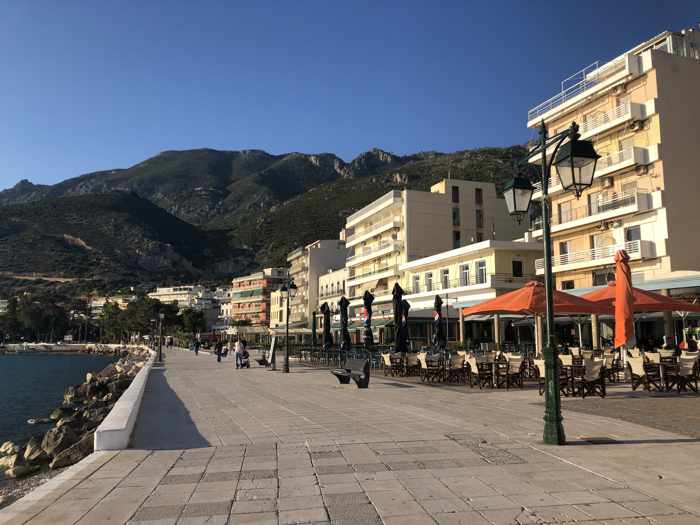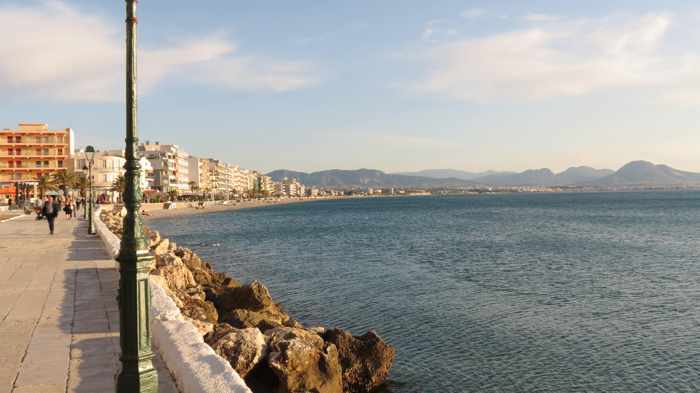 With its exceptionally long beachfront and lovely pedestrian promenade, plus expansive views of mountains and the Gulf of Corinth, the small city of Loutraki proved to be an ideal place for us to shake off jet lag at the beginning of our trip to Greece in May 2022.
How we discovered that the coastal city of Loutraki is a great base for travellers planning to explore the Corinth and Peloponnese regions of Greece
Somewhere out of Athens: While we were thrilled to be going back to Greece for our first trip in three years, we were almost dreading our flight to Athens in May. Local news reports kept showing long, queues of frustrated passengers waiting at understaffed check-in counters and security checkpoints in Toronto's Pearson Airport, which was making international headlines for its record-high rates of flight delays and cancellations.
As if getting to the airport more than three hours before departure wasn't bad enough, we certainly weren't looking forward to the 9.5-hour overnight flight in cramped economy class seats, either. Though we were fully vaxxed with Covid shots, we wondered how we would manage wearing face masks and sitting mere inches from other people for such a long time. (Masking would be mandatory from the moment we walked into the Toronto terminal until the second we stepped out of Athens International Airport).
And then, of course, we would have to cope with jet lag fatigue and lethargy as we adjusted to the 7-hour time difference for a few days after arrival.
With so many unpleasant hurdles to overcome just to get off the ground and across the Atlantic, we didn't want to stay in busy, bustling Athens at the beginning of our holiday. We simply weren't ready to deal with crowds, noise and traffic congestion, and would have to find somewhere less frenetic. But where could we ease into vacation mode and shake off the jet lag before our scheduled flight to Karpathos island three days later?
Ideally, it would be a place on the seaside with great scenery (bonus points for mountain and sunset views); parks or walking paths; a wide selection of restaurants and cafes close to our hotel; and interesting historic sites or scenic outdoor areas we could visit on short daytrips. The Athens Riviera ticked most of the boxes, but we had already stayed in Glyfada, Voula and Sounion numerous times, and wanted to experience something different. 
Loutraki came to mind, and seemed even more appealing when I did some research. When I mentioned it to an Athens friend who knows our travel style and preferences quite well, she agreed that Loutraki would be a good choice. What's more, she could join us for those three days, even picking us up at Athens airport and driving us back there for our island flight. That settled it — we were going to Loutraki!
This 5-minute video from Visit Loutraki shows aerial views of the city, and profiles some of the highlight attractions in the mountains and coastal areas nearby
A small city with about 12,000 residents, Loutraki is located in the Peloponnese, on the southeastern coast of the Gulf of Corinth. It's just over an hour (80 miles) from Athens, so it would be a relatively short and tolerable trip from the airport following our long flight. It looked inviting in pictures and videos, and sounded good in descriptions on travel blogs and websites. Once we got there, however, it was even better than we had expected.
To our delight, Loutraki offered a lot for us to love:
♦ a coastal location boasting miles of waterfront, much of it lined with beaches and pedestrian walkways
♦ impressive views of mountains and the gleaming waters of the Gulf of Corinth
♦ dozens of restaurants, cafes and bars for all budgets
♦ extensive options for hotel and private rental accommodations, 
♦ close proximity to important historic sites and amazing natural attractions to visit on short outings or daytrips, and
♦ lots of other places and things to see and do, including a renowned thermal spa and a casino.
Best of all, it was a perfect place us to overcome jet lag, since the seaside paths and daytrips to nearby historic sites enabled us to take long walks in fresh air and sunshine — something travel experts strongly recommend for adjusting to new time zones.
There was really only one thing we didn't like, and that was our schedule — with only two full days and three nights at our disposal, our visit ended quickly, and we couldn't  see and do as much in Loutraki as we would have liked.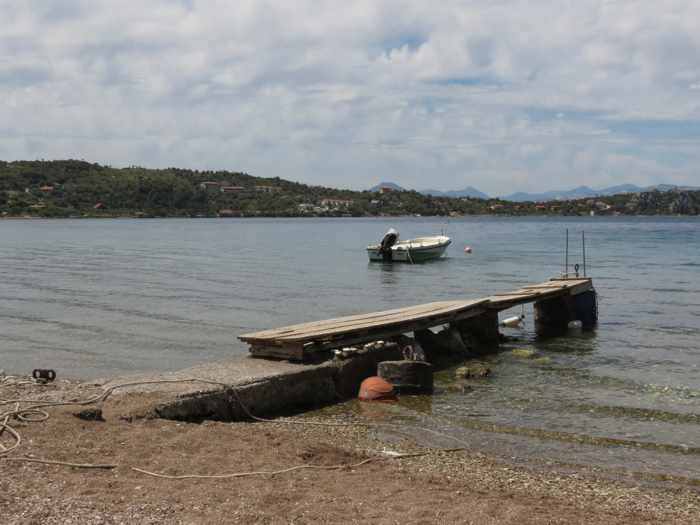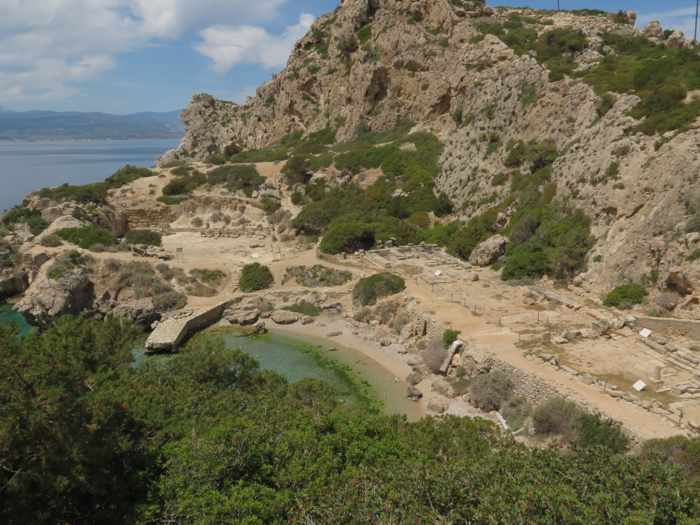 On our first full day in Loutraki, we drove to see one of the area's most popular natural attractions,  Vouliagmeni Lake (upper photo),  along with the beautiful archaeological and historic site nearby, the Heraion of Perachora (the Sanctuary of the Goddess Hera)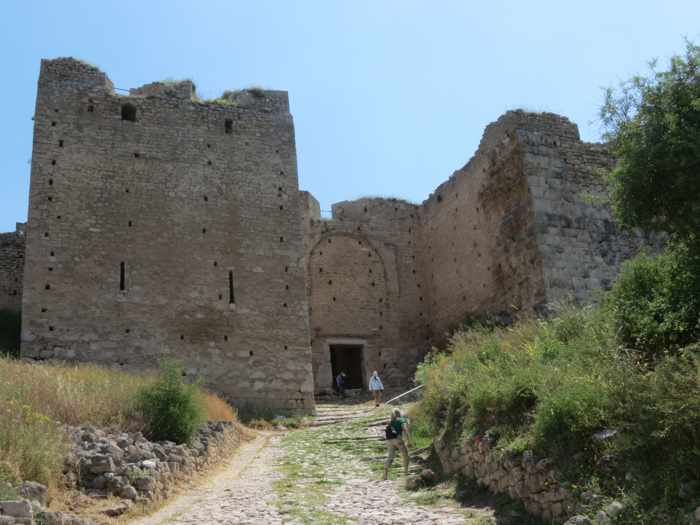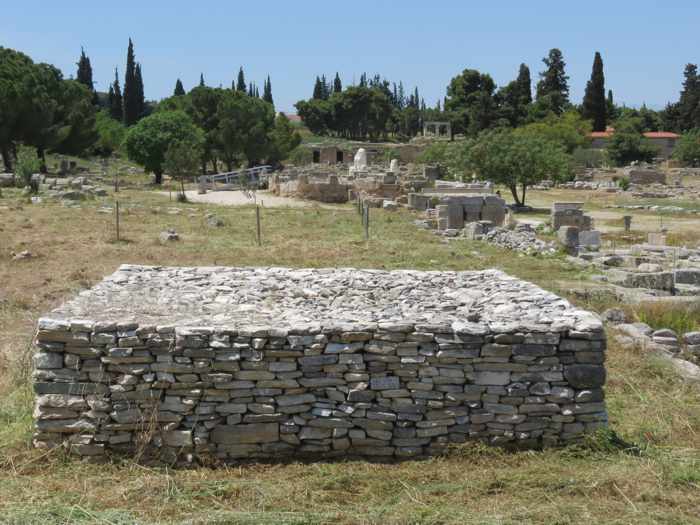 On our second full day, we wandered around the massive Acrocorinth Castle (upper photo) and the archaeological site of Ancient Corinth
If you're interested in learning more about Loutraki as a holiday or daytrip destination, check out Visit Loutraki, the official web portal for the Loutraki Tourism Organization.  The website is packed with information about accommodations, dining, nightlife, sports and other activities, religious and historic sites, nearby beaches and much more.  There's also a Visit Loutraki page on Facebook, and more than 1,590 photos on the Instagram profile @visitloutraki.
To see a series of photos from our time in Loutraki, please click on the link below to continue reading on page 2.
CONTINUED ON PAGE 2