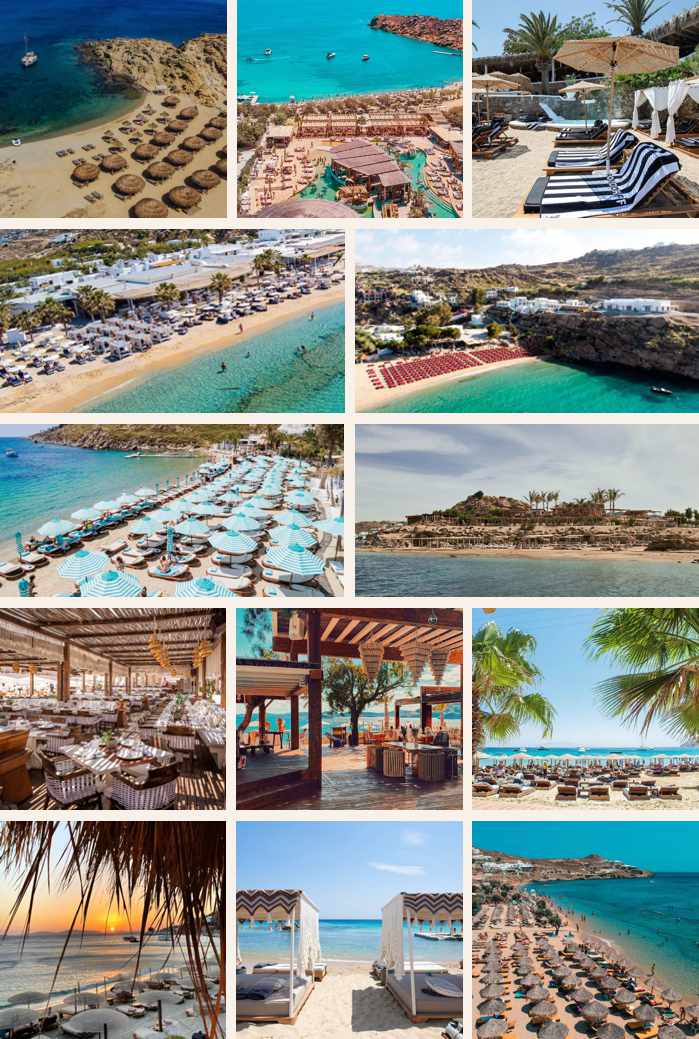 Some of the top beach clubs on Mykonos include, from top left: Alemagou; SantAnna; JackieO' Beach; Tropicana; Super Paradise beach club; Nammos; Scorpios; Principote Mykonos; Pinky Beach; Solymar; Hippie Fish; Kalua; and Paradise beach club.
— Updated on May 26 —
The beaches beckon: Judging by the messages we've been receiving, and the posts we've been seeing on social media, substantially more people are heading to Mykonos for holidays a lot earlier this year than in the travel boom years preceding the pandemic — most likely to make up for vacation opportunities lost during Covid lockdowns and restrictions.
The island welcomed a trickle of tourists in February, and the flow of visitors rose steadily during March.  Advance bookings indicate that April arrivals could set a record. It's a sharp contrast to pre-Covid times, when May 1 was traditionally considered the beginning of the travel season and few people considered going to Mykonos before then.
While most of the off-season and early spring travellers realize Mykonos is primarily a summer destination, and expect things to be fairly quiet during their visits, many have still been asking: Which beach clubs will be open?
It's a question we find surprising, since it suggests many people just aren't aware that Mykonos and the rest of Greece get blustery weather and cold temperatures in winter — and sometimes even snow (see our posts The powdery white Mykonos  beaches few tourists ever see and After the Elpis snowstorm if you don't believe us). And though the temperature tends to warm up during April, early spring isn't the best time to visit if beach activities like sunbathing and swimming are priorities. (August and September are the best months for that.)
For anyone going to Mykonos after mid-April, though, the good news is they might get to spend some time at a beach club or bar, if the weather is decent. Paradise beach club opens on April 12, Principote on April 20, Alemagou on the 21st, Nammos on the 29th, and Tropicana — also at Paradise beach — is starting its season on April 30. At Super Paradise beach, a brand-new spot, Paraj, is aiming to open by the end of April, too. Four other venues — JackieO' Beach, Pinky Beach, Scorpios and SantAnna — have announced opening dates ranging from May 6 to 16. We expect more will be opening by mid-May, if not sooner, especially if tourist traffic continues to increase significantly.
To see which beach clubs and bars are opening and when, keep scrolling through this post. We have compiled this list of opening dates,  and will be adding venues as soon as they reveal when they plan to start their seasons. So check back for updates. We also have highlighted some new beach clubs that are expected to open this summer. Once they announce their official openings, we'll update this post with that information.
To see opening dates for bars and nightclubs that aren't located at beaches, check our separate post Mykonos bar and club openings in 2022.
New beach clubs opening this year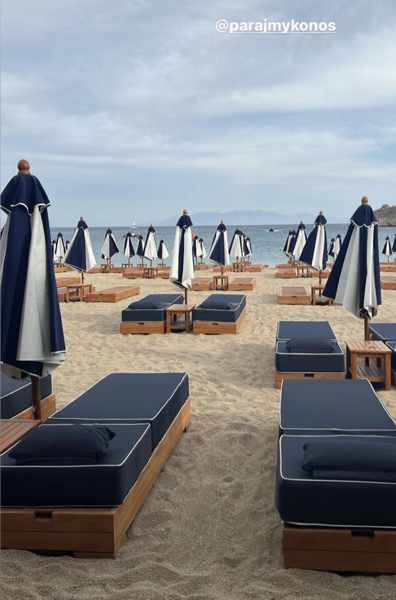 Paraj is a chic new arrival at Super Paradise beach. Paraj includes a bar, a Mediterranean-Greek fine dining restaurant, and a fashion boutique. Opening day was May 7.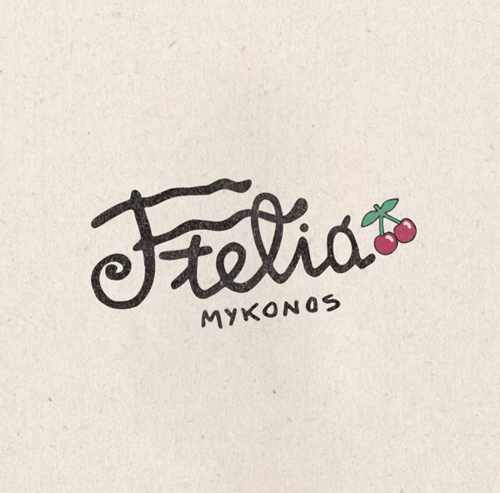 Ftelia is a new restaurant, bar, lounge and beach venue opening June 1 at Ftelia beach. It's the latest project of The Destino Pacha group, which last year opened  the Destino Pacha Mykonos Hotel near Agios Stefanos beach, and the Lio Mykonos live cabaret restaurant in Mykonos Town.  Offering an "open beach experience," Ftelia beach club will offer daily entertainment by top-tier international DJs from June 10 to September 18.
Beach bar & club opening dates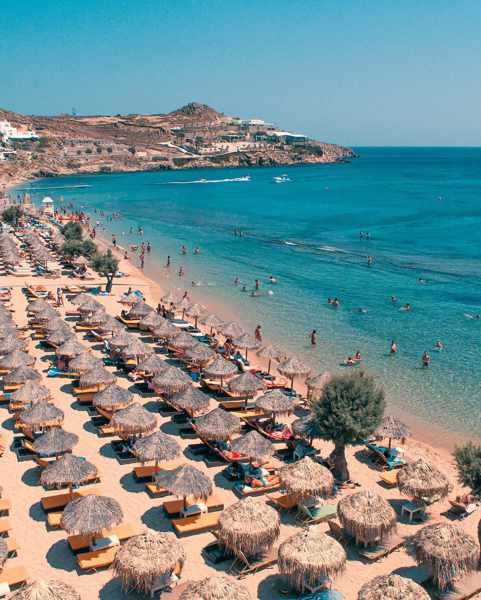 Paradise Beach Club opened on April 9
Principote club at Panormos beach opened on April 20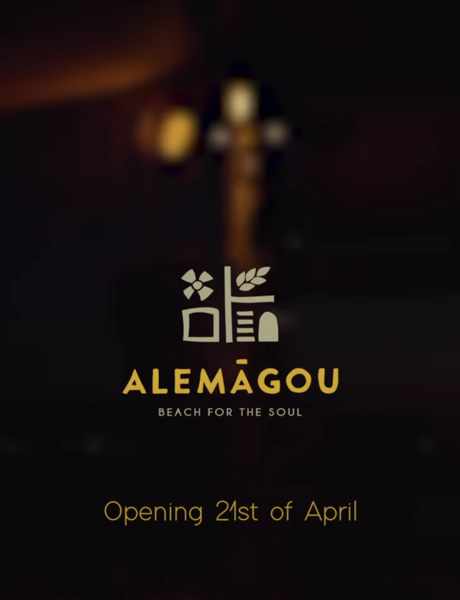 Alemagou beach club at Ftelia started its season on April 21
April 29 was opening day for Paraga Cafe at Paraga beach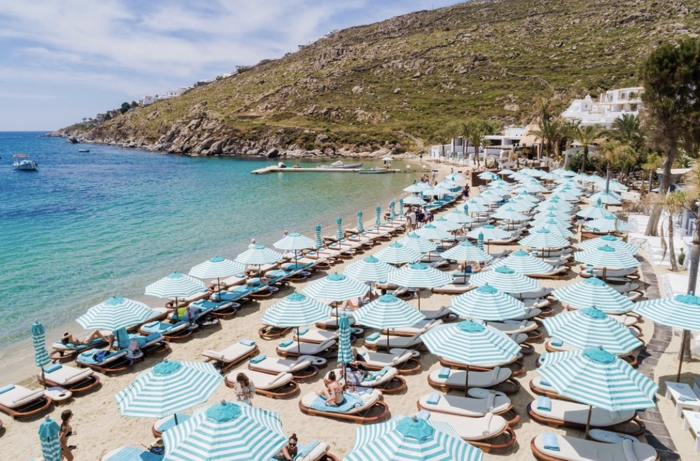 The world-famous Nammos beach club returned on April 29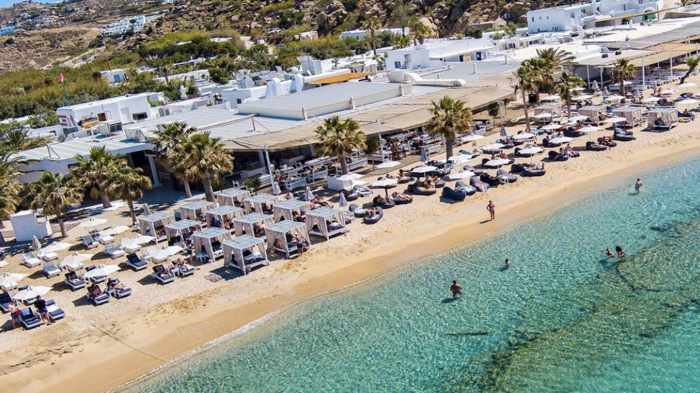 April 30 was opening day for Tropicana beach club & restaurant at Paradise beach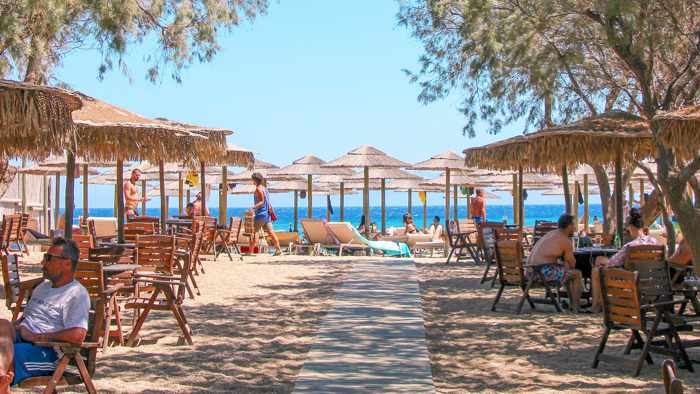 May 1 was opening day for Agrari Beach Bar at Agrari beach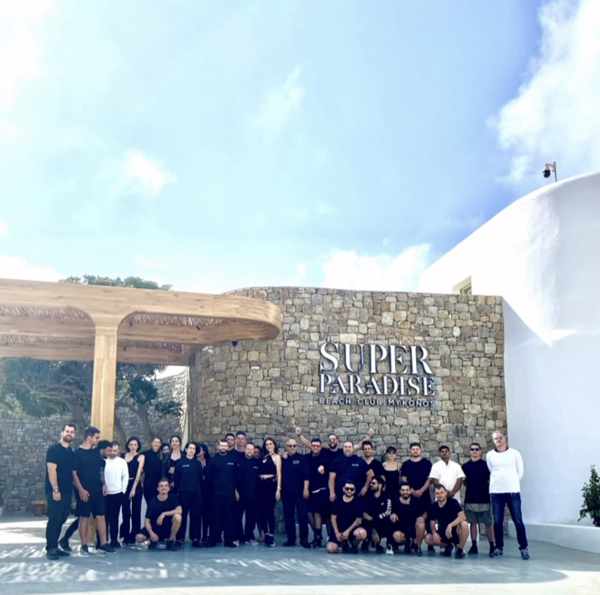 May 1 was  opening day for the freshly "renewed" Super Paradise Beach Club, which has been completely redesigned and rebuilt for the 2022 season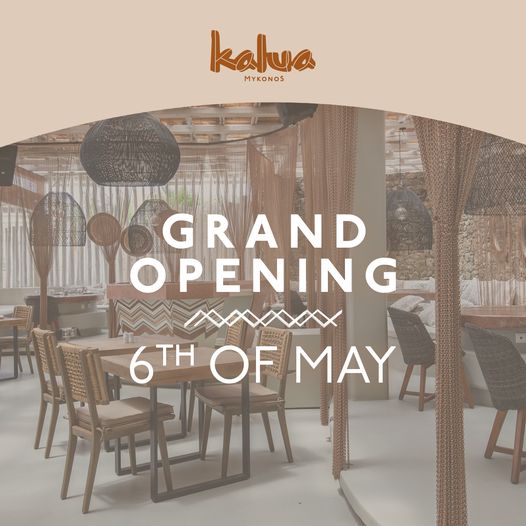 May 6 was opening day for Kalua restaurant and bar at Paraga beach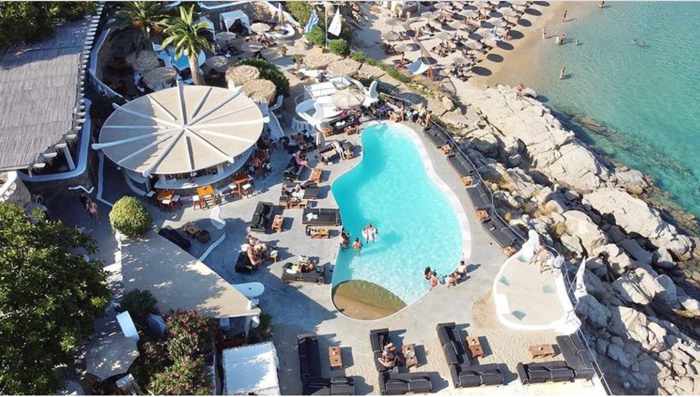 Friday May 6 was season opening day for JackieO' Beach Club at Super Paradise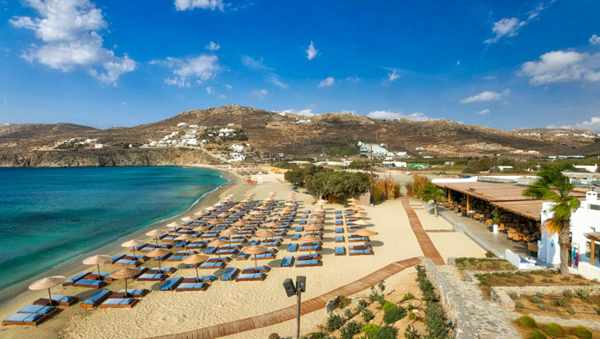 Solymar at Kalo Livadi opened on May 7

Scorpios started its season on May 8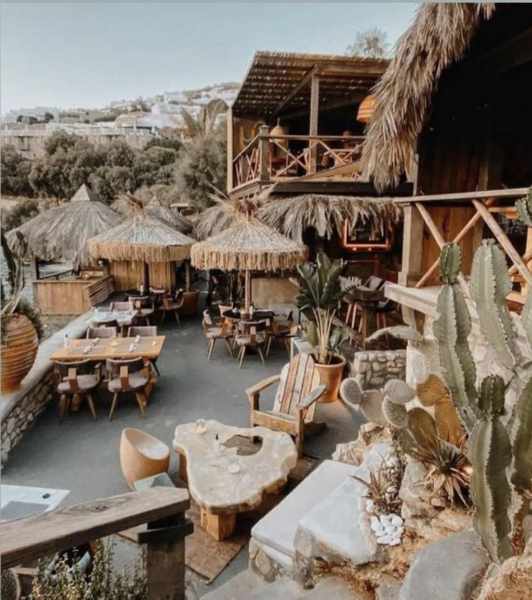 Tiki Mykonos, the waterfront bar and restaurant at Smy Mykonos Suites & Villas (formerly the Greco Philia Hotel) at Elia beach, opened in early May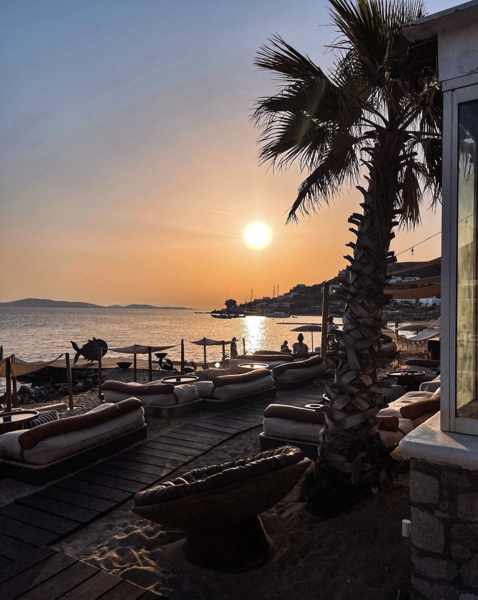 Hippie Fish restaurant and beach club at Agios Ioannis beach opened on Tuesday May 10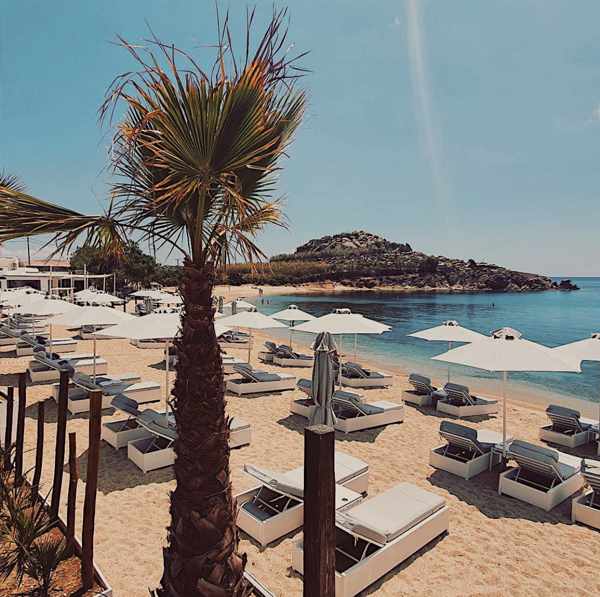 Pinky Beach restaurant and beach club at Agia Anna-Paraga beach opened May 12
SantAnna beach club at Paraga beach opened on Monday May 16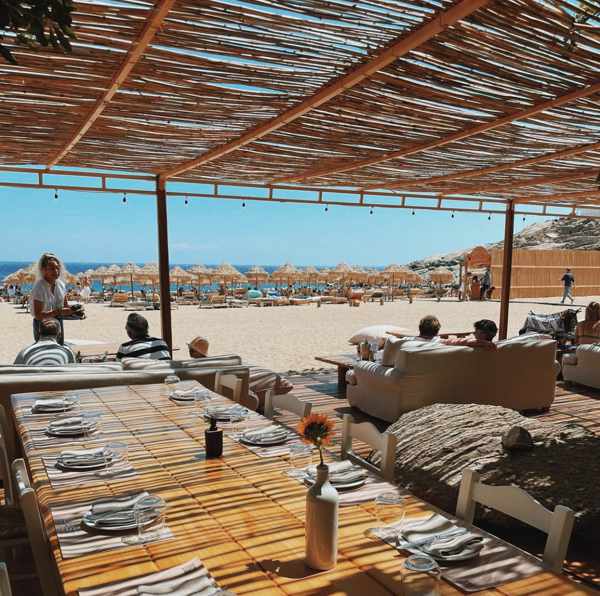 Liasti restaurant, bar and beach club at Lia beach opened May 18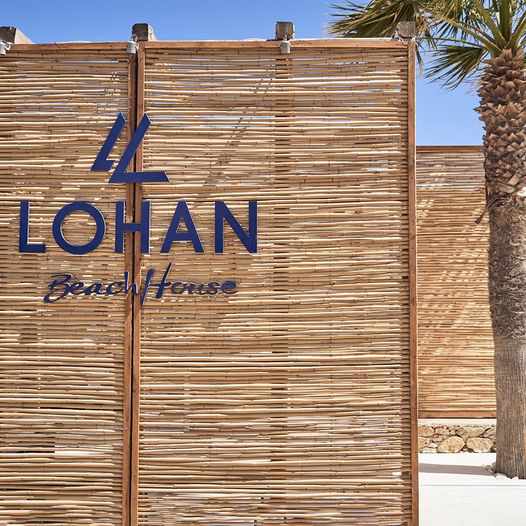 May 26 was opening day for Lohan Beach House at Kalo Livadi
Kalua beach club presents DJ Tanja La Croix on Friday May 27
This is the Friday May 27 DJ lineup at Alemagou beach club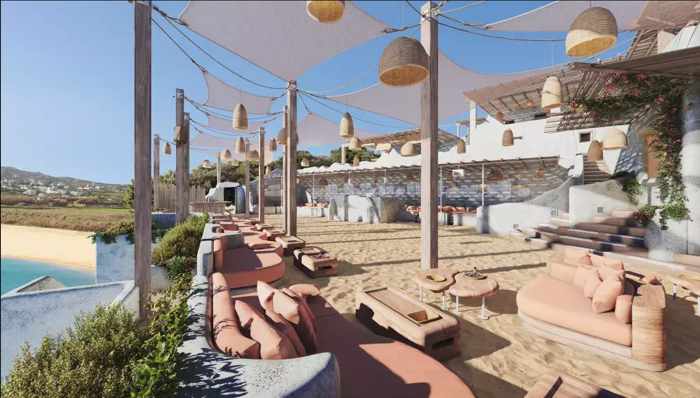 June 1 is opening day for the brand-new Ftelia restaurant, bar, lounge and beach venue at Ftelia beach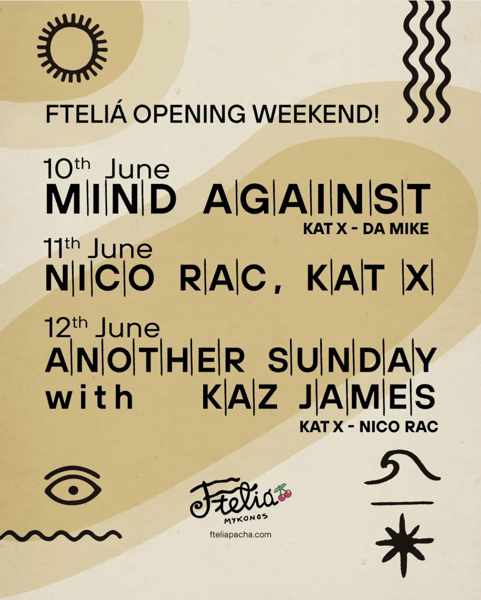 This is the DJ lineup for the June 10 to 12 opening weekend of the new Ftelia club at Ftelia beach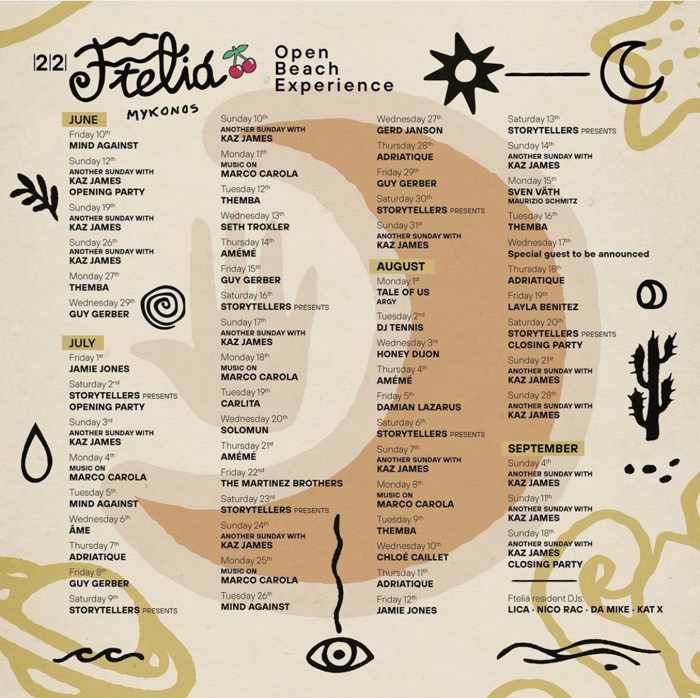 And this is the full summer DJ entertainment schedule for Ftelia beach club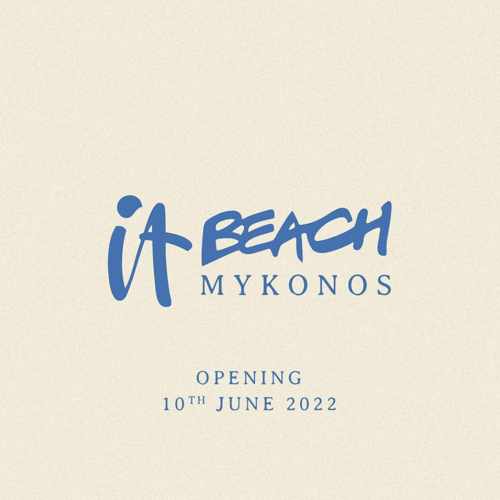 Friday June 10 is opening day for the new IT Beach Mykonos restaurant, bar and beach club at Paradise beach. The "open fire" beach restaurant was designed in collaboration with Chef Alexandros Gkoutsi.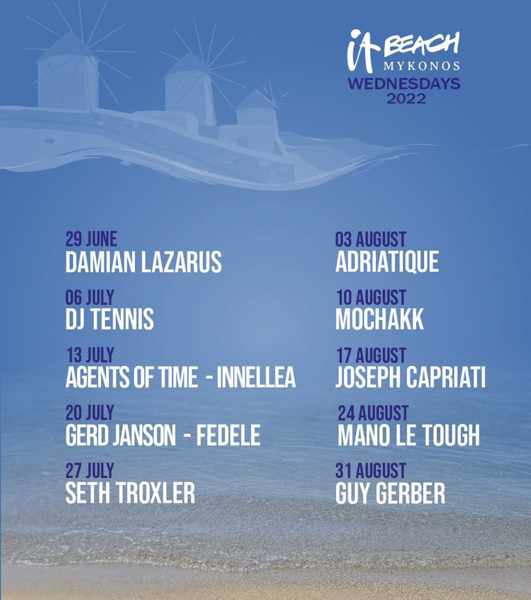 IT Beach Mykonos restaurant and bar at Paradise beach has released this roster of DJs that will be performing at the club's Wednesday parties during June, July and August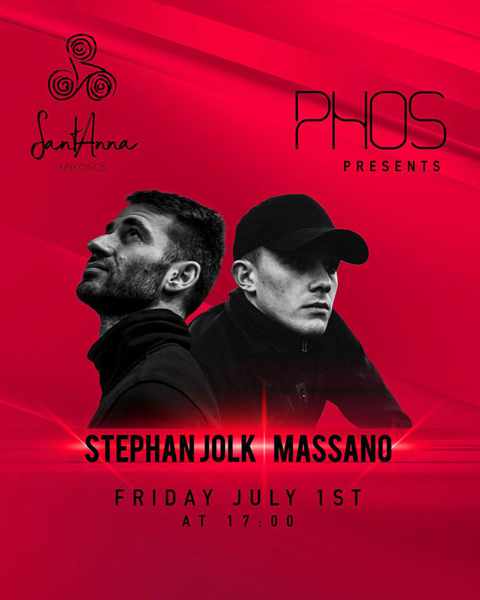 Stephan Jolk and Massano bring their minimal techno beats to SantAnna beach club on Friday July 1
Bordello Mykonos returns for its second season of parties featuring dinner, live entertainment shows and DJ sets. Aimed at the large legion of Italians who holiday on Mykonos each summer, the Bordello parties take place at Pinky Beach Club.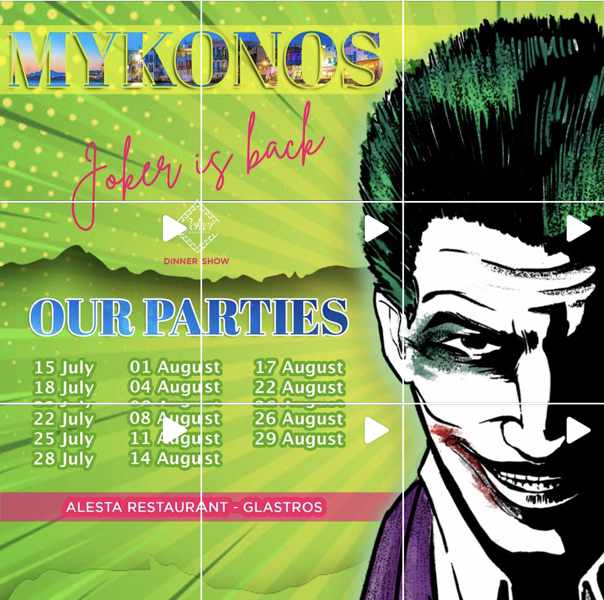 Also back for a second consecutive season are the Joker Mykonos dinner show and DJ parties.  Also geared primarily for Italian visitors to Mykonos, the events take place at Alesta restaurant (on the road to Platis Gialos beach).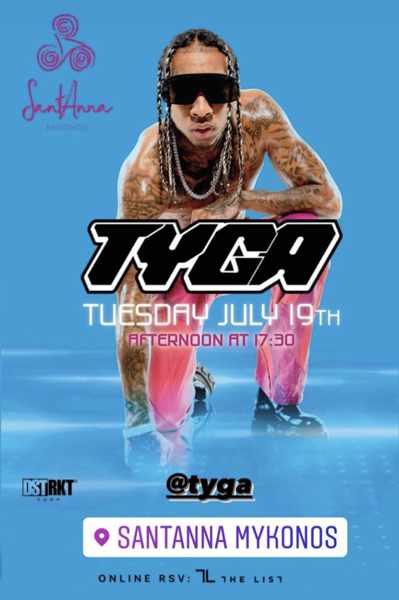 Tyga will perform at SantAnna on Tuesday July 19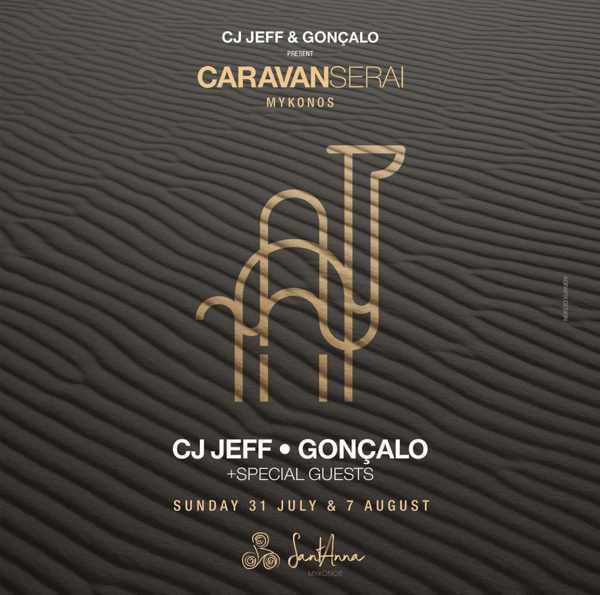 Caravan Serai will be hosting special party events at SantAnna beach club on July 31 and August 7, featuring music by CJ Jeff, Gonçalo and other international DJs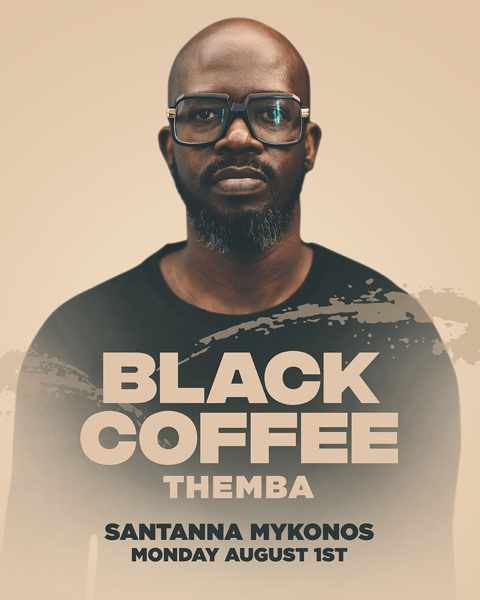 DJs Black Coffee and Themba will be spinning at SantAnna on August 1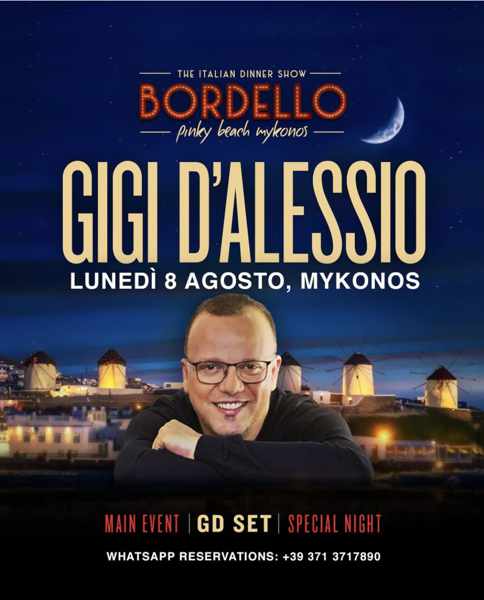 Italian singer-songwriter Gigi D'Alessio will perform for the Bordello Mykonos dinner show and party on August 8