Here's our at-glance roundup of regular DJ shows, parties and live music events scheduled to take place on Mykonos this summer on each day of the week.
Keep scrolling to see summer event calendars for major clubs including Alemagou, Cavo Paradiso, Ftelia Pacha, Sanctus, SantAnna, Super Paradise, The Sanctuary, Tropicana and Void.
For listings of special one-time-only DJ or singer appearances, parties and other events, see our separate posts:
♦ Mykonos bar and nightclub openings and events in 2022
♦ Mykonos beach bar and club openings and events in 2022.
This week's DJ lineups at major clubs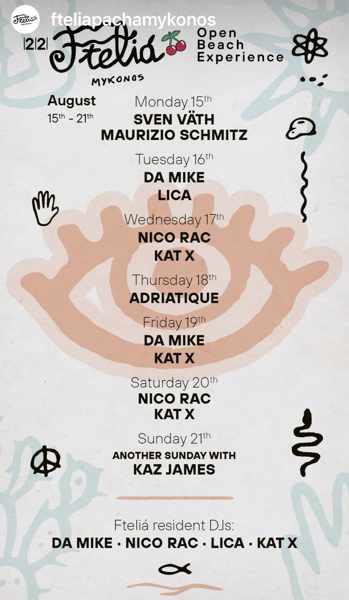 These are the music acts appearing at Ftelia from August 15 to 21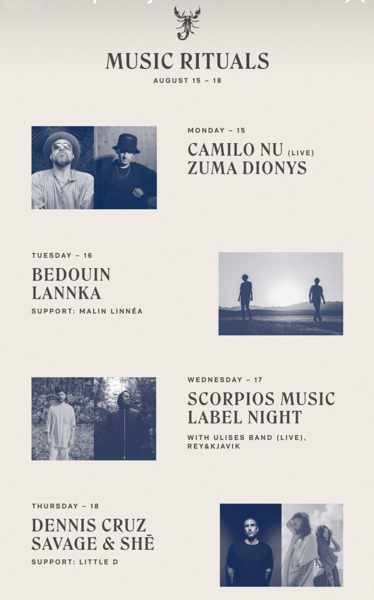 These are the acts appearing at Scorpios August 15 to 18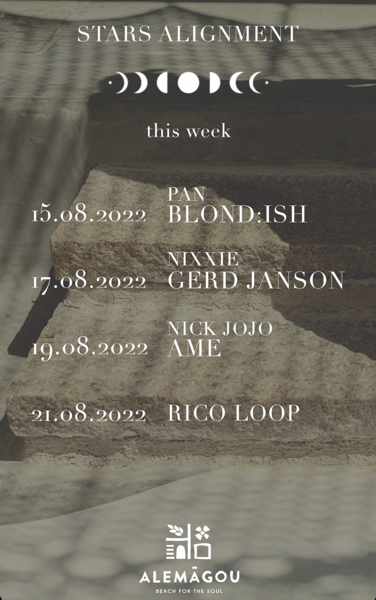 This is Alemagou's DJ lineup for August 15 to 21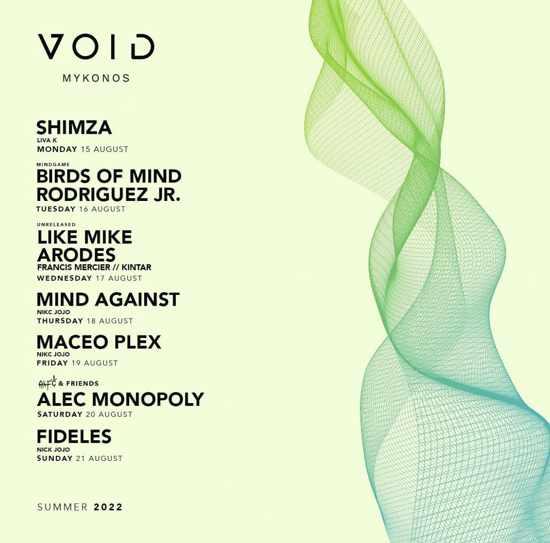 This is the August 15 to 21 schedule of DJs appearing at Void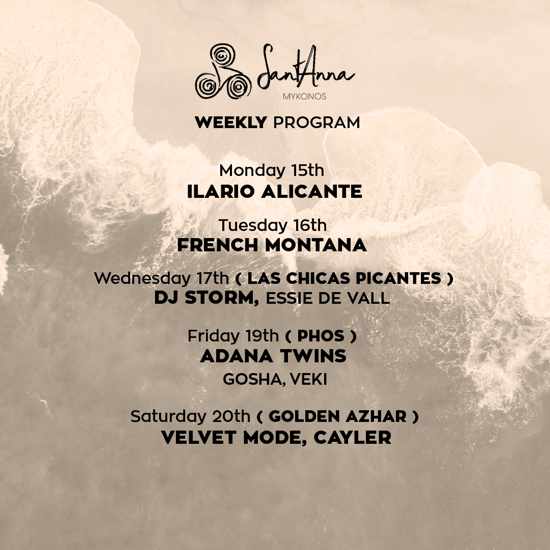 This is the August 15 to 20 entertainment program at SantAnna 
Regular scheduled events
— Every day —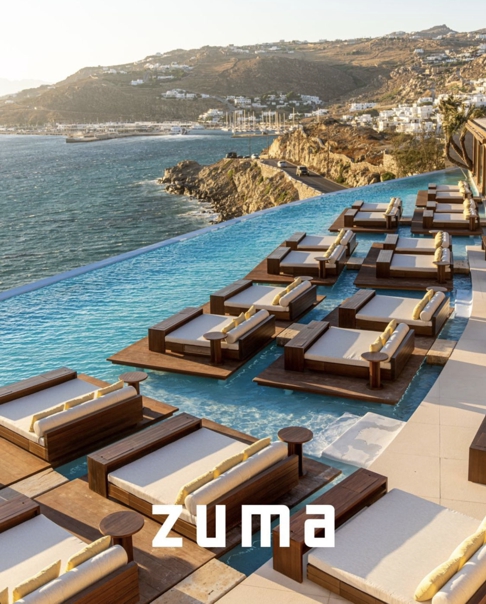 Every day throughout the afternoon and evening, resident DJs Anthony and Queen G will provide music entertainment at the brand-new Zuma Mykonos sea- and sunset-view infinity pool and restaurant complex on the northern edge of Mykonos Town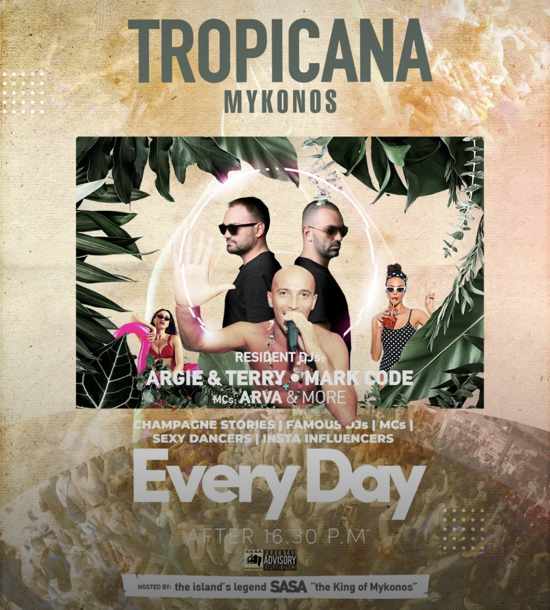 Beach parties take place every day at Tropicana club at Paradise beach, starting at 4:30 p.m.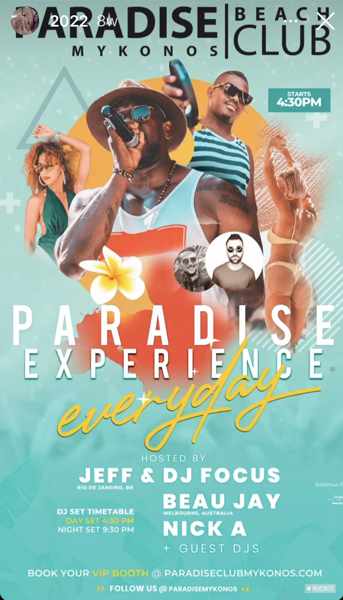 The legendary Paradise Beach Club also throws daily parties starting at 4.30 p.m.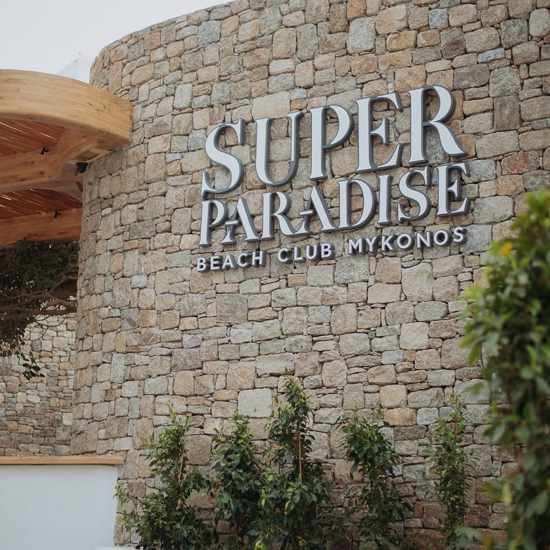 Parties with DJs and live music entertainment start every day after 4 p.m. at Super Paradise Beach Club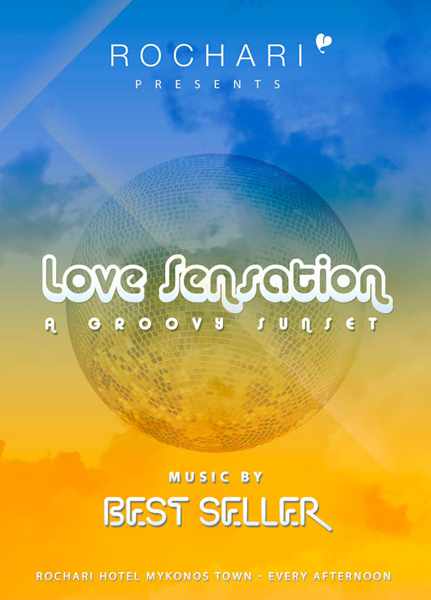 Every afternoon, Rochari Hotel in Mykonos Town presents "Love Sensation: A Groovy Sunset," with music by DJ Best Seller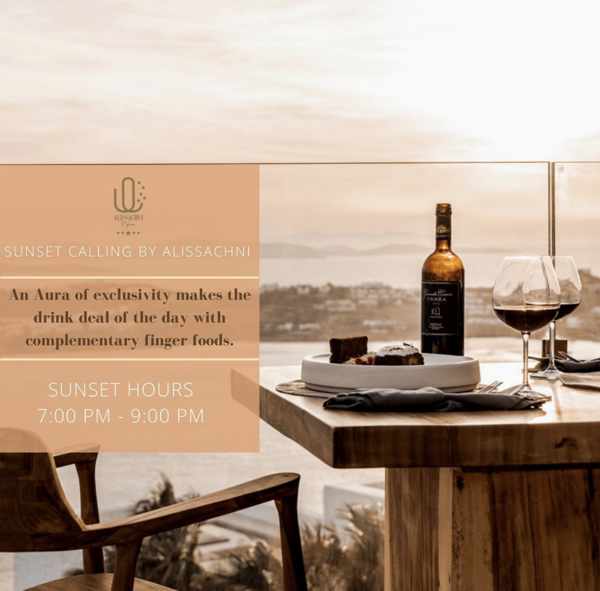 Every day from 7 to 9 p.m., the Alissachni Mykonos luxury boutique hotel in Agios Lazaros hosts a special Sunset Calling cocktail event, featuring amazing sunset views, signature drinks and finger foods.  RSVP to: + 30 22890 24669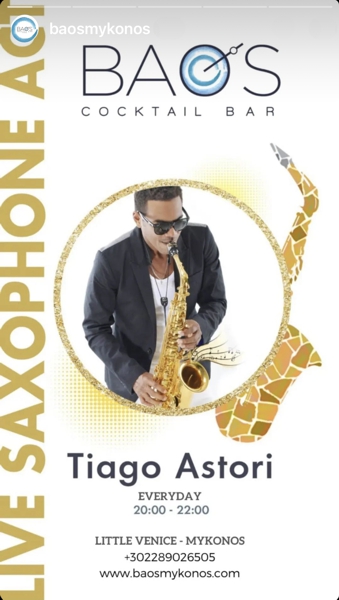 Saxophonist Tiago Astori will entertain at Bao's Cocktail Bar each evening from 8 to 10 p.m.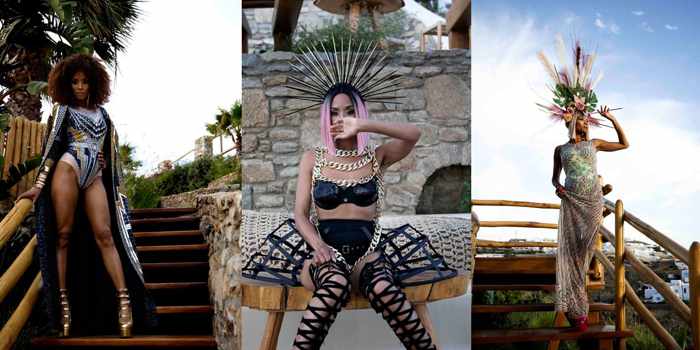 Daily during July and August, singer/entertainer Shaya Hansen will perform a special "otherwordly" live sunset show at The Garden of Mykonos.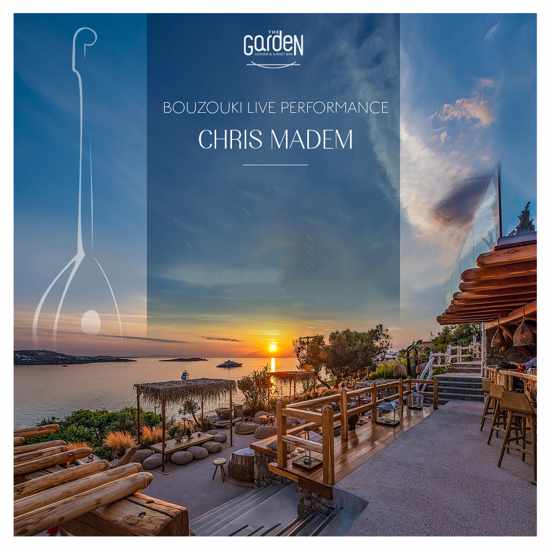 The daily sunset shows at The Garden of Mykonos during July and August also will feature live bouzouki music entertainment by Chris Madem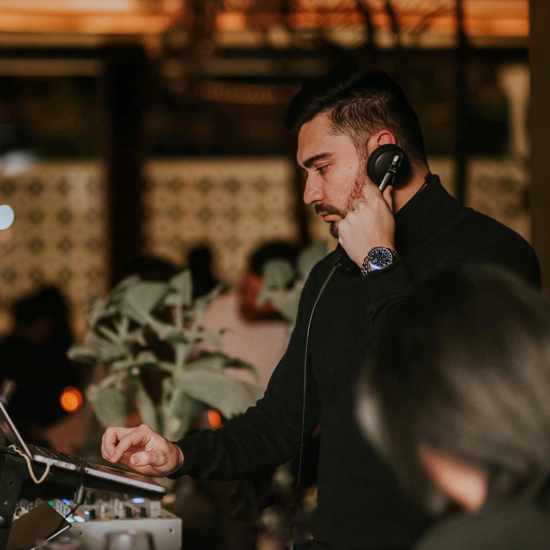 Besides his daily live music performances at The Garden, during July Chris Madem will play a DJ set at Solymar every afternoon at 2 p.m., and he will entertain during the live show at Interni every night starting at 12:30 a.m.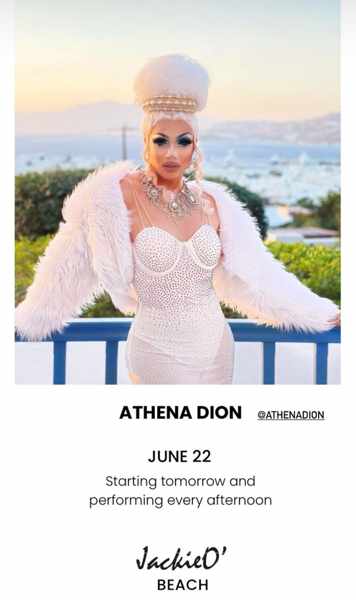 Every day at 7 p.m., Athena Dion and a troupe of other drag queens will perform for the popular poolside music and drag show at JackieO' Beach Club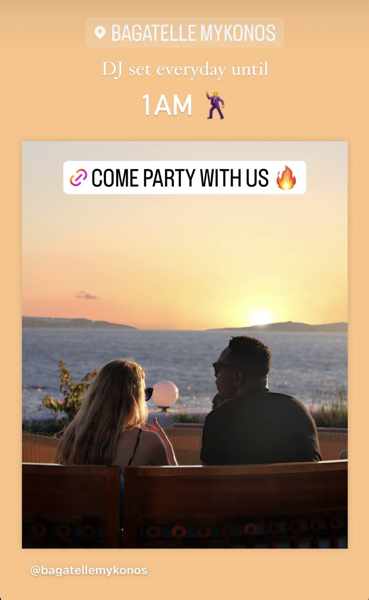 Every day this summer, the new Bagatelle Mykonos offers DJ entertainment until 1 a.m. and a special "sunset package" for its daily Sunset Hour, which is held from 6 to 9 p.m.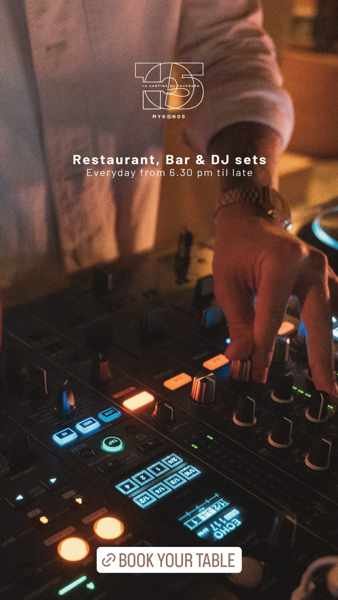 The brand-new La Cantine du Faubourg Mykonos at Ornos presents DJ sets every night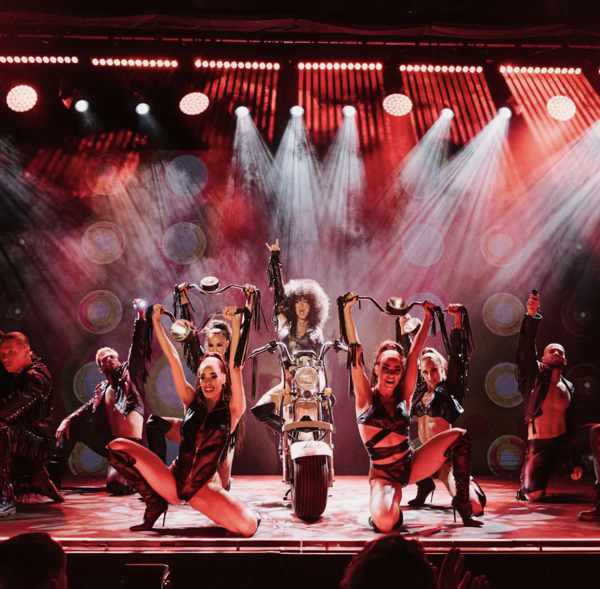 Every night this summer, the Lio Mykonos restaurant and late night club presents Simply the Best, an interactive entertainment spectacle featuring live music, dance and acrobatic performances
— Monday —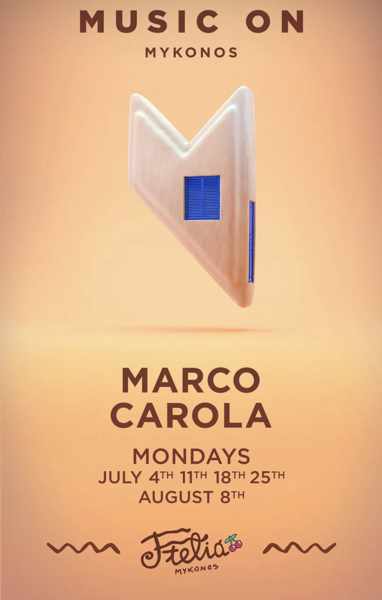 Every Monday from July 4 to August 8, Ftelia will host DJ Marco Carola for his Music on Mykonos series of parties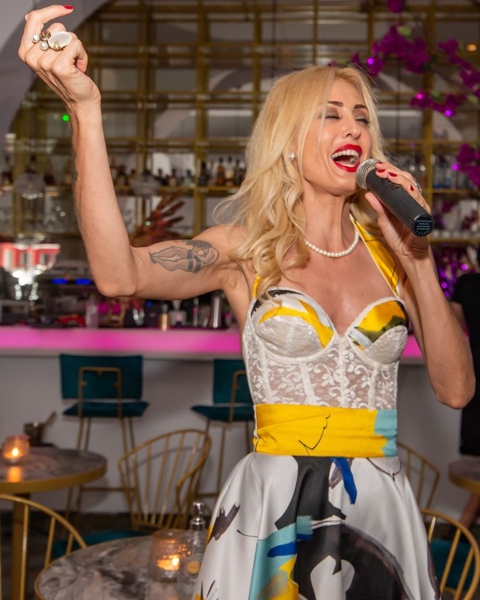 On Mondays there are two opportunities to catch a live performance by popular vocalist Kelly Kaltsi.  At 7 p.m., she sings at the Rochari Hotel's sunset bar, then at 10 p.m. Kelly performs at 54 Cocktail Lounge at the Town House Hotel overlooking Manto Square.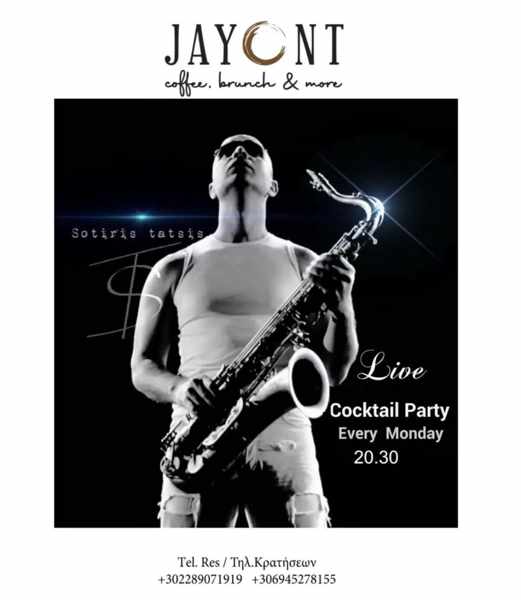 On Monday evenings, Jayont Coffee, Brunch and More in Ano Mera throws a cocktail party with live music entertainment by Sotiris Tatsis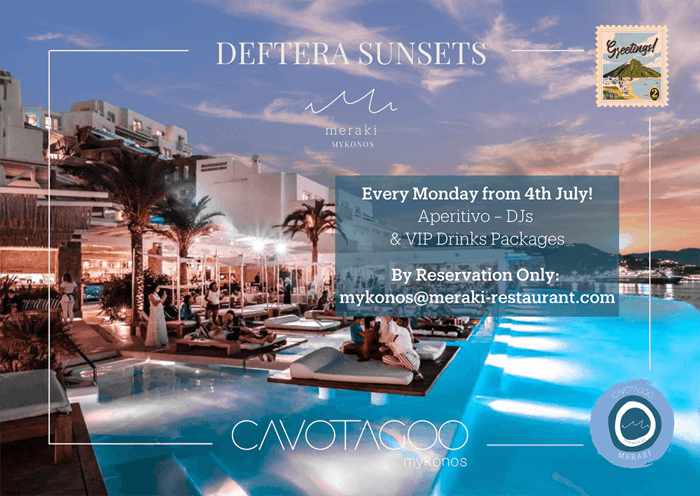 Every Monday, the poolside Meraki Mykonos restaurant at Cavo Tagoo hotel hosts Monday Sunsets, a weekly party with DJ entertainment, sunset vibes, and VIP drinks packages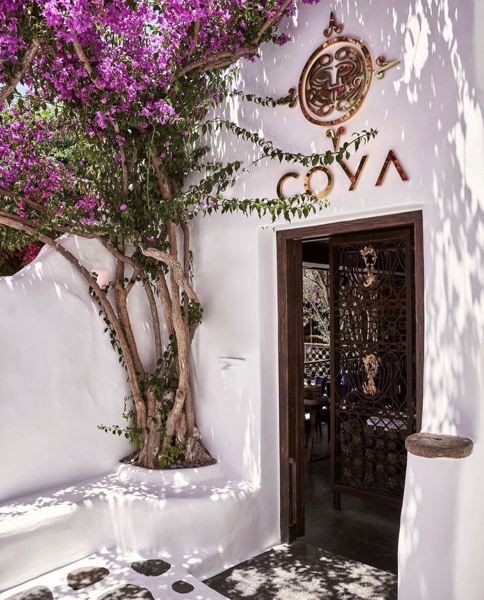 Every Monday night, from 9 p.m. until late, COYA Mykonos presents Ritual, a DJ music event spotlighting artists, sounds and vibes from the COYA Music record label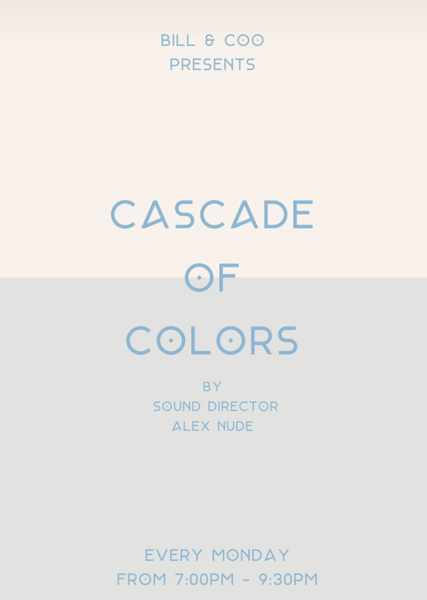 On Mondays, the 5-star Bill &Coo Suites and Lounge will present Cascade of Colors, a sunset-time cocktails event with music directed by DJ Alex Nude. Guests must RSVP the hotel to attend these events.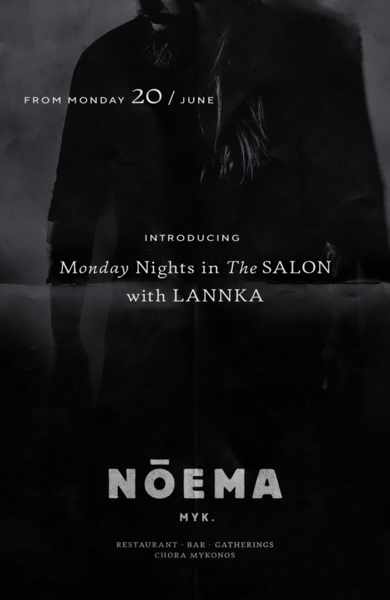 Each Monday starting on June 20, Noema restaurant and lounge will present "Monday Nights in the Salon" with music by DJ Lannka
— Tuesday —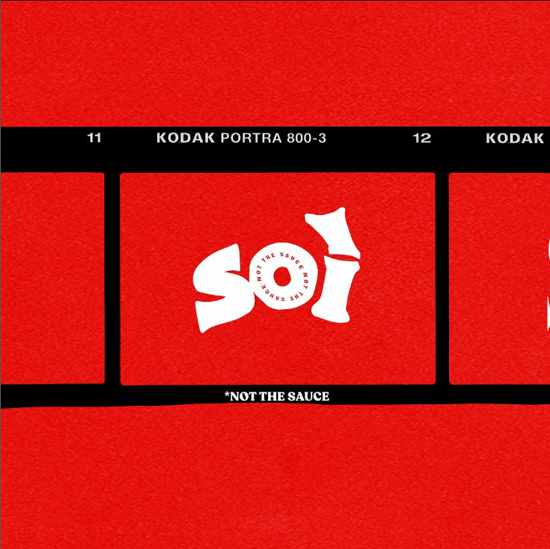 DJ Joe Maglia and his friends play for the twice-weekly  Soi *not the sauce parties held every Tuesday night at Hippie Fish beach club at Agios Ioannis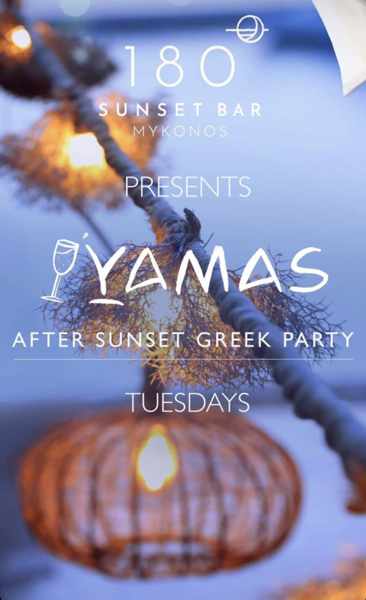 On Tuesday nights, 180 Sunset Bar presents Yamas, an after-sunset Greek party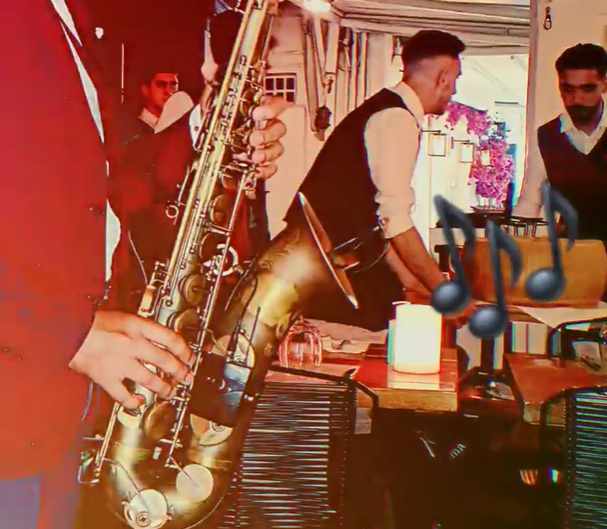 On Tuesday nights, Kazarma restaurant presents live jazz music entertainment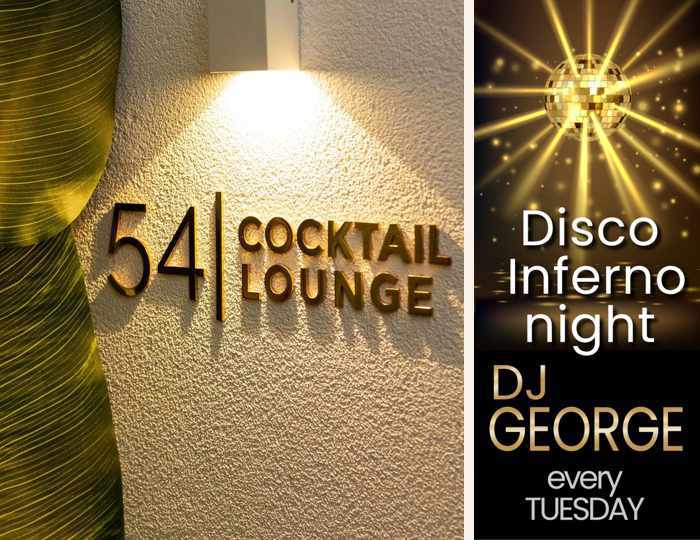 DJ George plays for the Disco Inferno Night, held every Tuesday at 54 Cocktail Lounge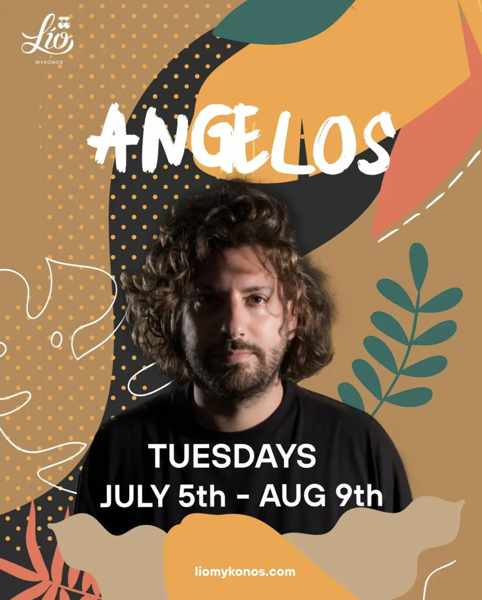 Each Tuesday night from July 5 to August 9, Angelos will play  DJ set at Lio Mykonos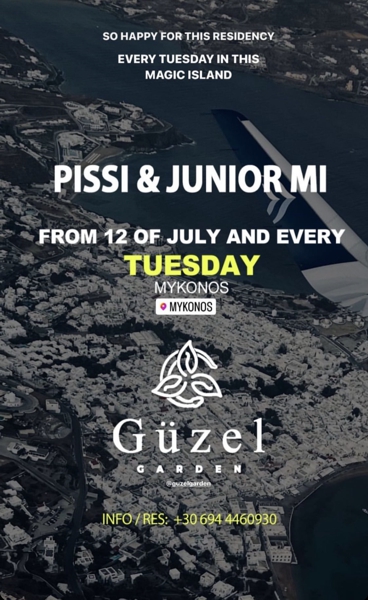 Every Tuesday night starting on July 12, Pissi and Junior Mi will play a summer DJ residency at Guzel Garden at Agias Kyriakis Square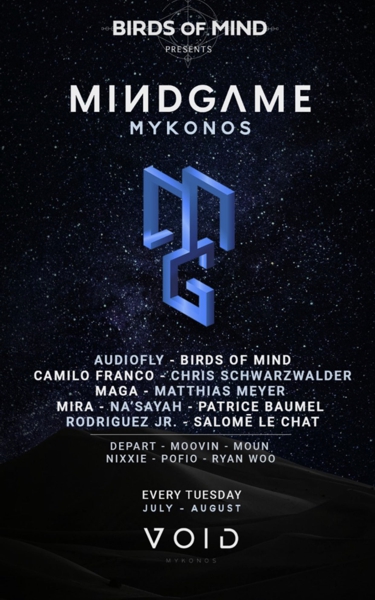 At Void club every Tuesday during July and August, Birds of Mind will present Mind Game — a series of special performances by top DJs and artists from Mind Game Records. First feature act of the series will be Audiofly on July 5.
— Wednesday —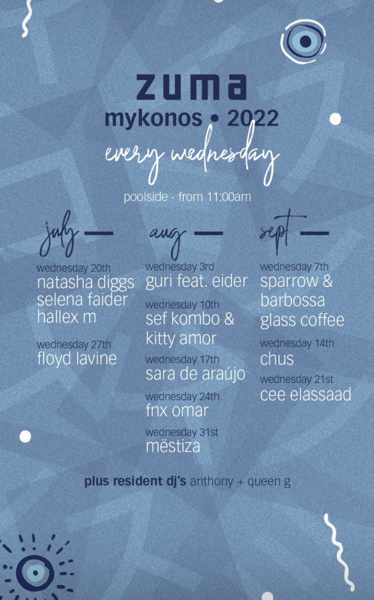 Every Wednesday, Zuma Mykonos hosts a party at its spectacular new infinity pool, with music by international guest DJs and its own resident DJs, Anthony and Queen G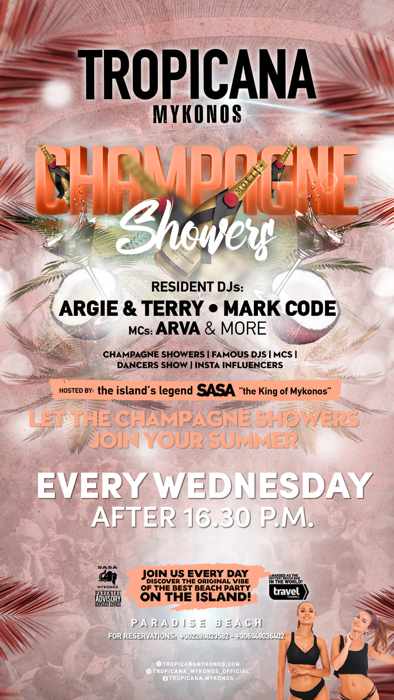 Tropicana beach club at Paradise beach throws champagne showers parties every Wednesday after 4:30 p.m.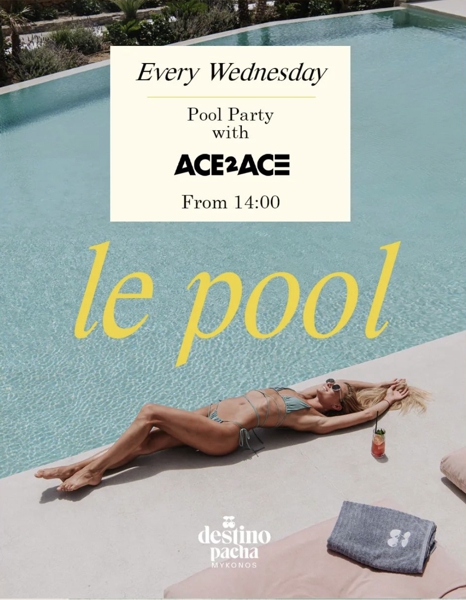 Every Wednesday at 2 p.m. Destino Pacha Mykonos throws a pool party with music by Ace2Ace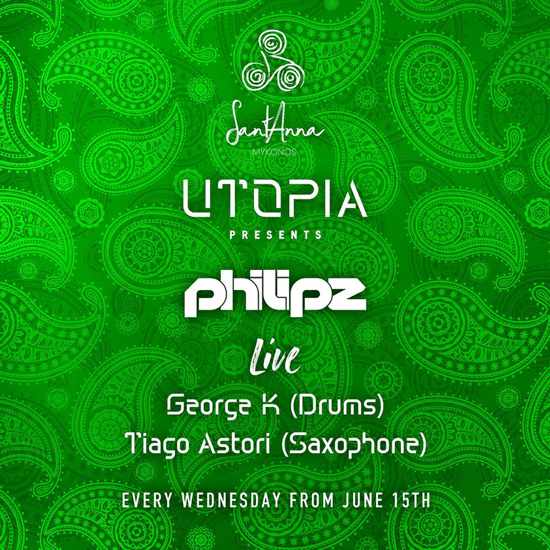 Every Wednesday  SantAnna beach club at Paraga hosts the Utopia party featuring music by DJ Philip Z with live performances by George K on drums and Tiago Astori on Saxophone
Blue Myth Restaurant at Platis Gialos beach throws a Greek Party every Wednesday night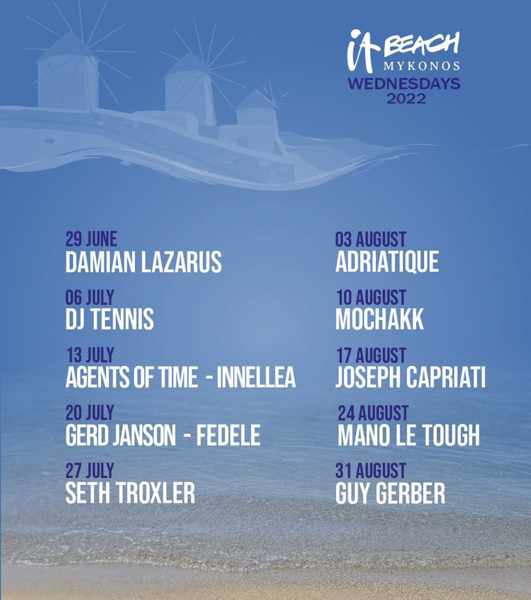 Starting on June 29, the brand-new IT Beach Mykonos restaurant and bar at Paradise beach host a series of parties that take place every Wednesday until the end of August, with a roster of international DJs on the decks.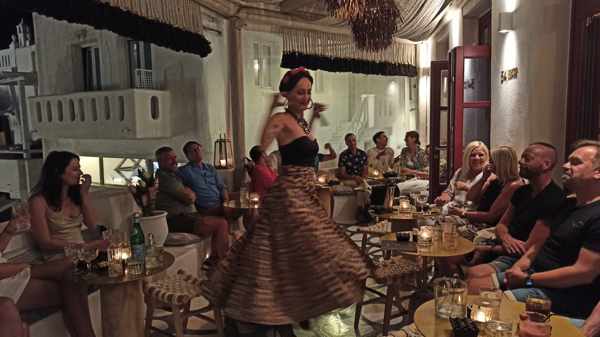 Just as she does on Mondays, vocalist Kelly Kaltsi gives two live performances every Wednesday — first at Rochari Hotel at 7 p.m., then at 54 Cocktail Lounge at 10 p.m.
.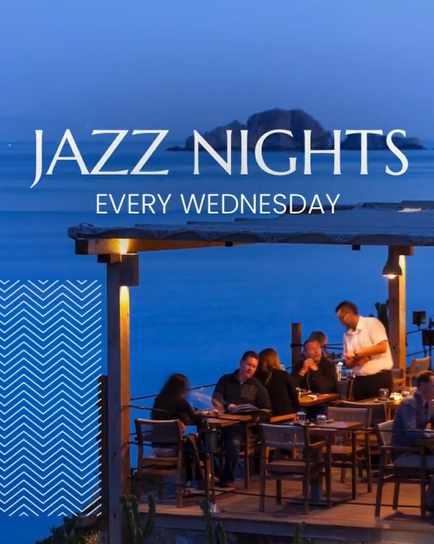 Every Wednesday night, Casa del Mar Resort in the Aleomandra area of southwest Mykonos will host live  jazz entertainment at its seaview Miramar Cocktail Restaurant.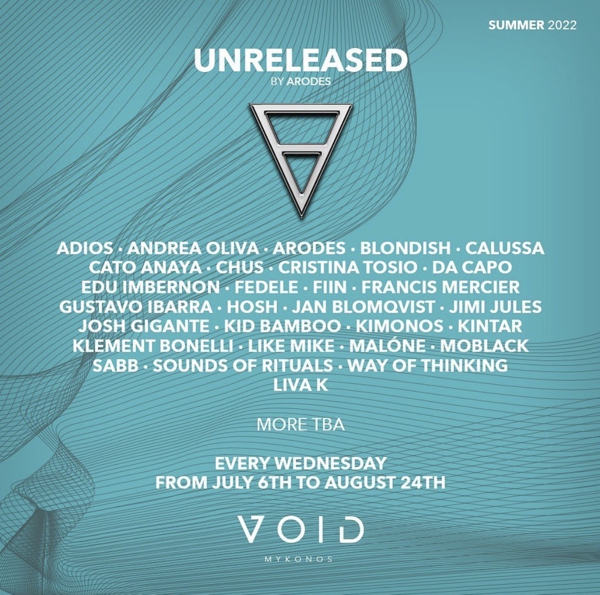 Every Wednesday from July 6 to August 24, Void club will present UNRELEASED by @arodes_ofc with sets by special guest DJs
— Thursday —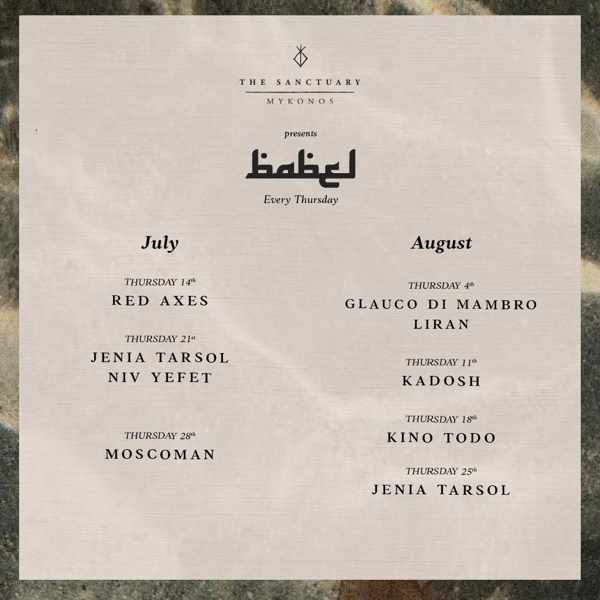 Every Thursday during July and August, The Sanctuary will present Babel, a series of events featuring the performers shown above.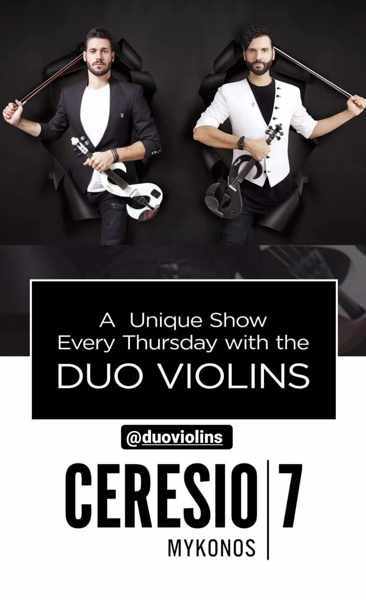 DuoViolins bring their unique live shows to Mykonos this summer with performances every Thursday night at Ceresio7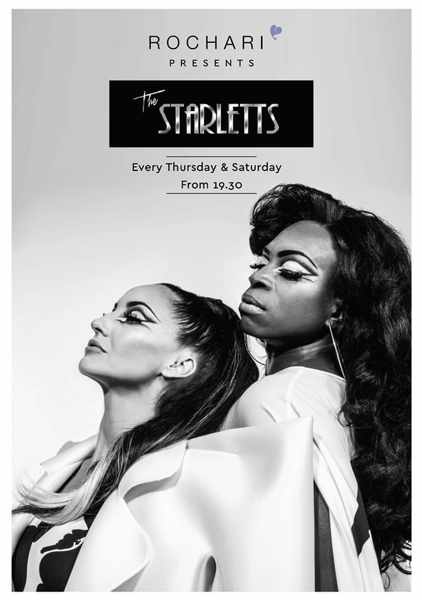 Singing duo The Starletts will perform at Rochari hotel's sunset bar every Thursday evening at 7:30 p.m.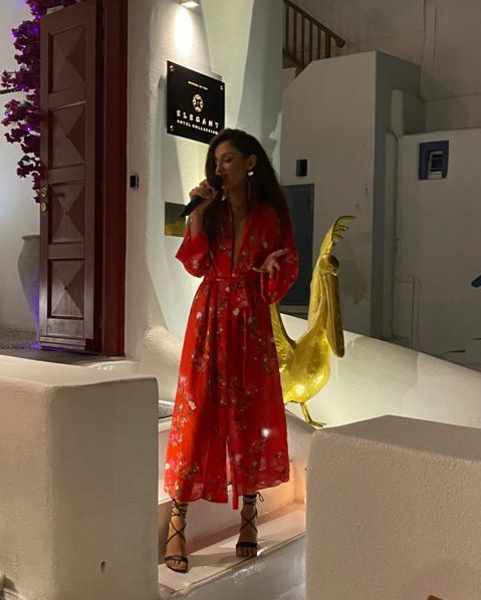 Vocalist Sarah Harrar performs at 54 Cocktail Lounge every Thursday at 10 p.m.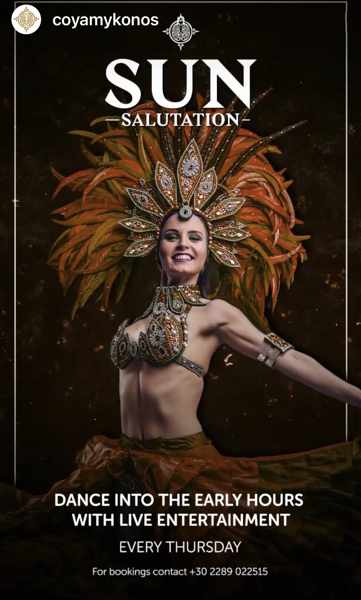 Every Thursday night, COYA Mykonos presents Sun Salutation, a celebration featuring music, live entertainment and dancing "into the early hours"
— Friday —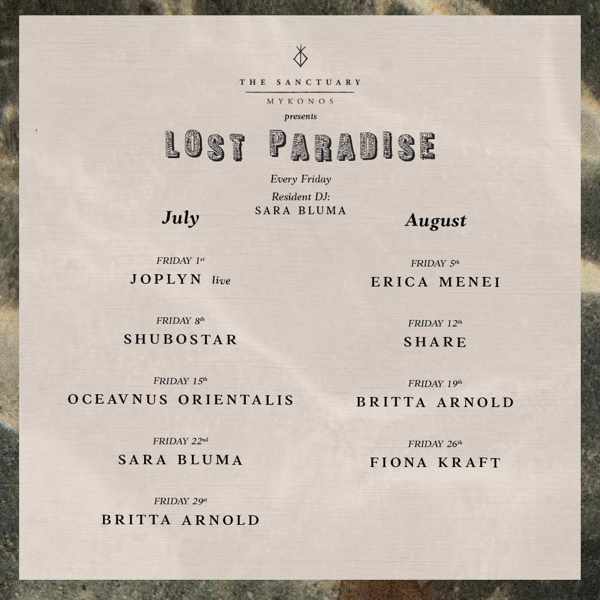 This is the schedule of acts that will appear for the Lost Paradise series of events being held every Friday at The Sanctuary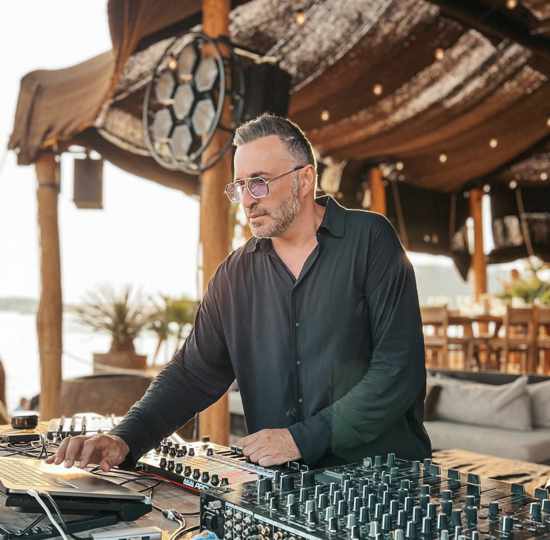 DJ / musician Valeron will perform every Friday night at Noema 
— Saturday —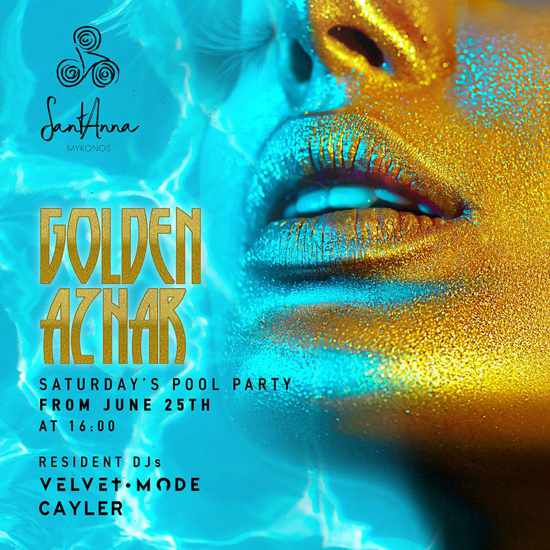 On June 25, SantAnna beach club will kick off Golden Azhar, a weekly series of pool parties featuring music by the club's resident DJs, Velvet Mode and Cayler. The parties will take place every Saturday starting at 4 p.m.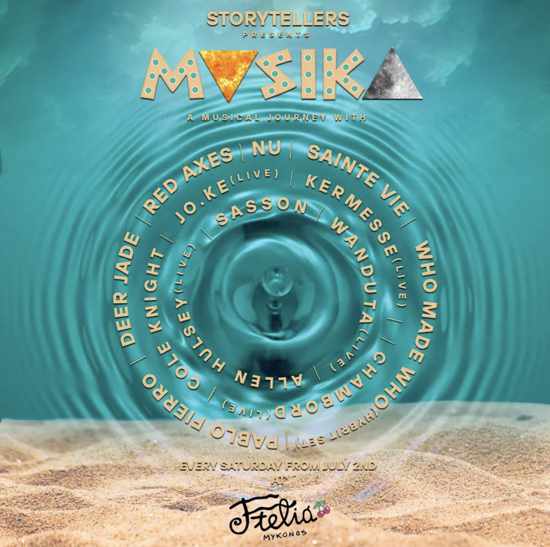 Every Saturday starting July 2, Ftelia Pacha will host MUSIKA, "an immersive musical experience" presented by Storytellers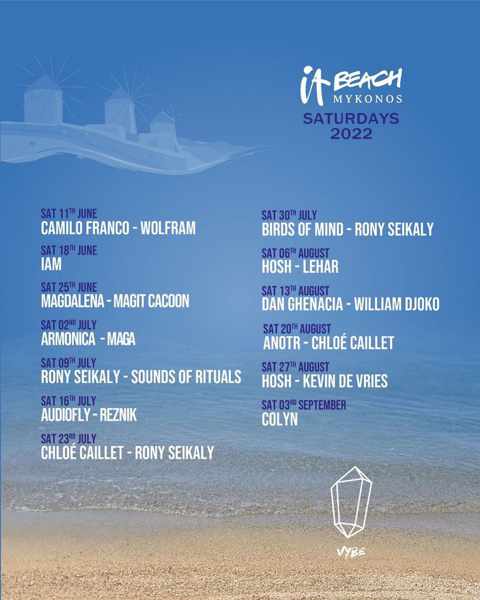 This is the DJ performance calendar for the parties that ITBeach Mykonos will hold on Saturdays from late June to early September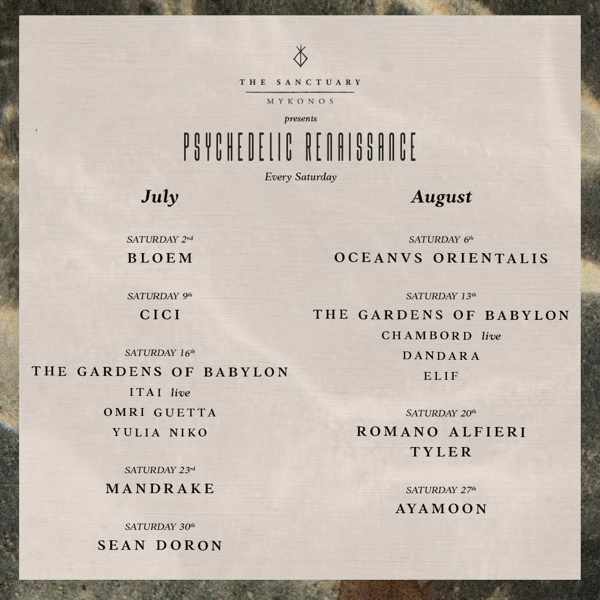 This is the schedule of acts appearing for the Psychedelic Renaissance series of events being held every Saturday at The Sanctuary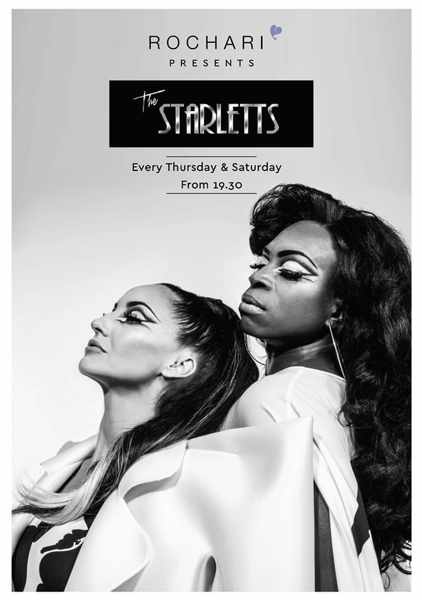 Singing duo The Starletts will perform at Rochari hotel's sunset bar every Saturday evening at 7:30 p.m.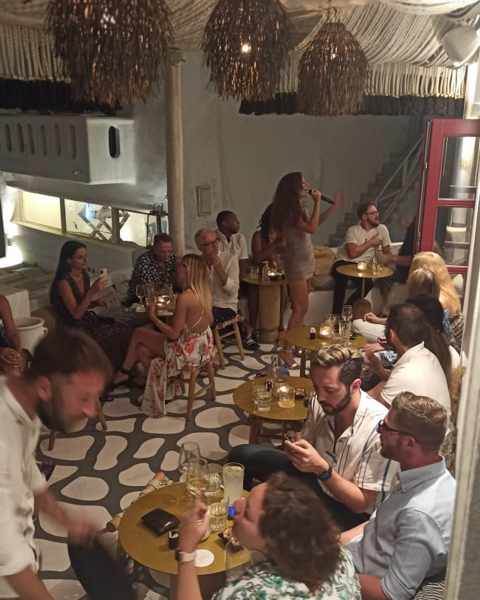 Singer Sarah Harrar entertains at 54 Cocktail Lounge every Saturday at 10 p.m.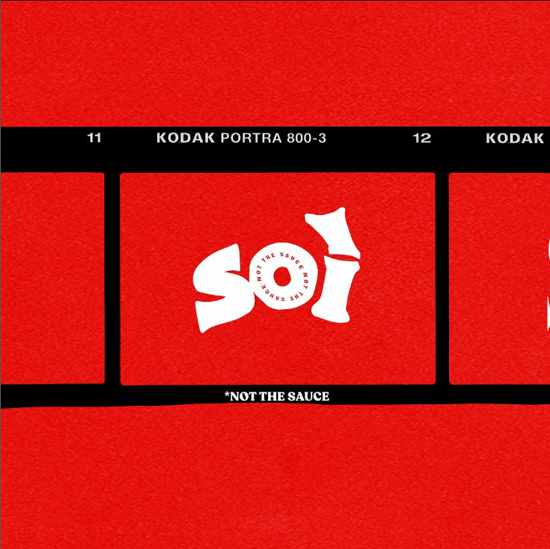 Every Saturday night, DJ Gregory is on the decks for the twice-weekly Soi * not the sauce party at Hippie Fish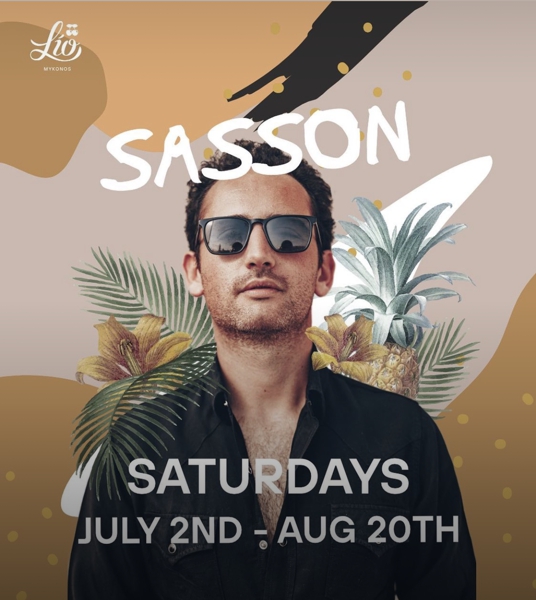 Every Saturday from July 2 to August 20, DJ Nicolas Sasson will perform at Lio cabaret restaurant in Mykonos Town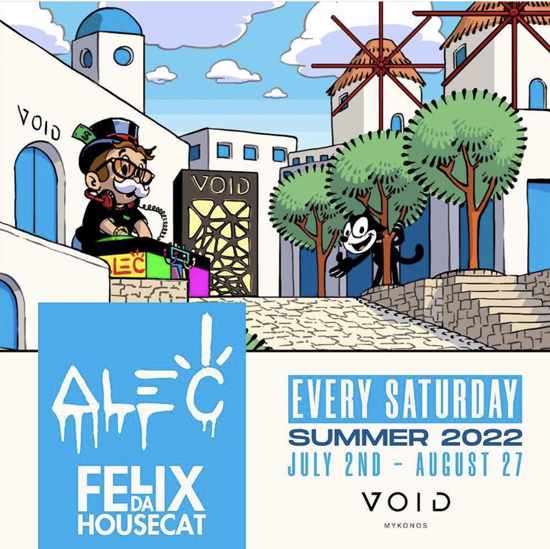 Alec Monopoly and Felix Da Housecat will be at Void every Saturday from July 2 to August 27
— Sunday —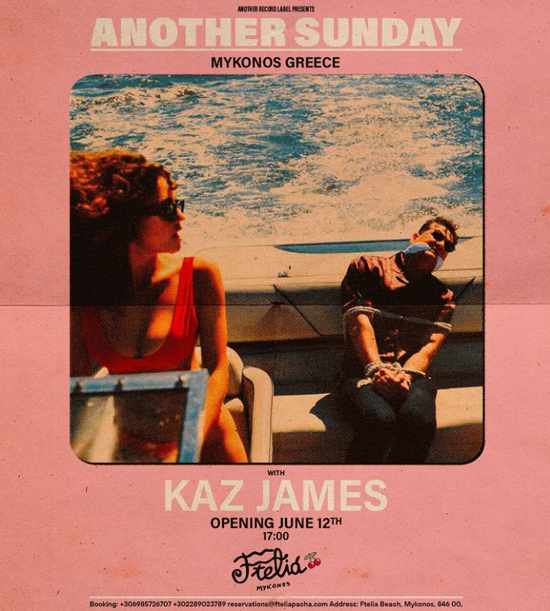 Kaz James will kick off his "Another Sunday" summer residency at the new Ftelia Pacha Mykonos beach club with an opening party on June 12. It will be the first of his 13 scheduled Sunday shows at the club for 2022.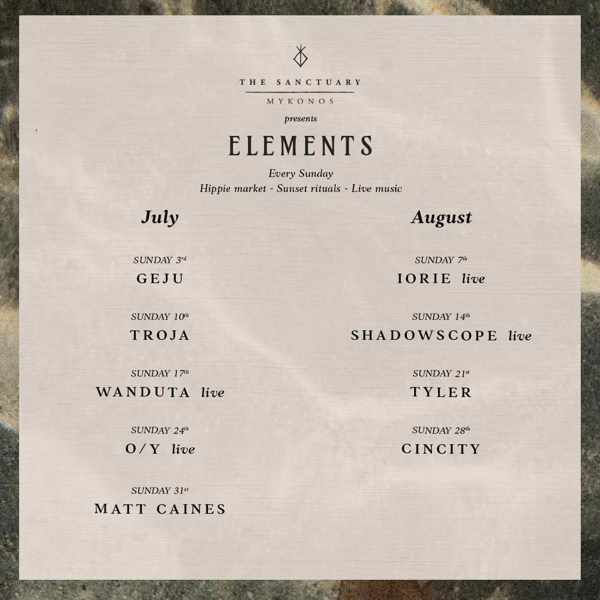 This is the performer lineup for the Elements events held every Sunday at The Sanctuary
Blue Myth Restaurant at Platis Gialos beach throws a Greek Party every Sunday night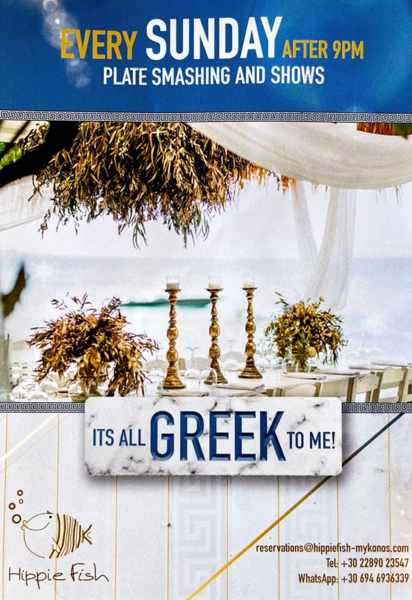 Hippie Fish beach club at Agios Ioannis throws a Greek Night party every Sunday at 9 p.m.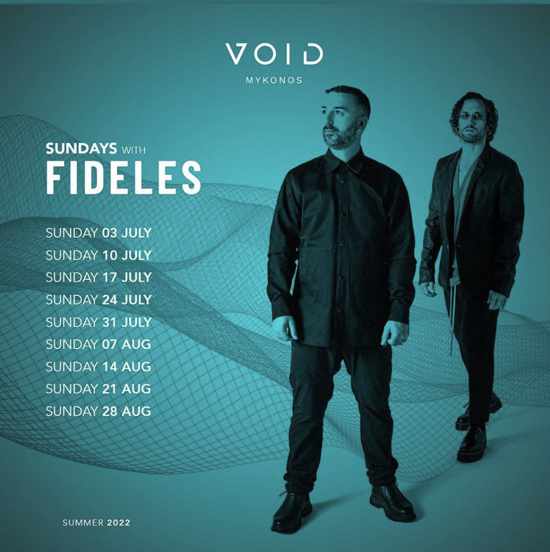 Fideles will perform at Void every Sunday 
–Multi-day DJ shows or live music performances —
Percussionist Walter Scalzone will perform at Super Paradise Beach Club during many of its daily afternoon beach parties this summer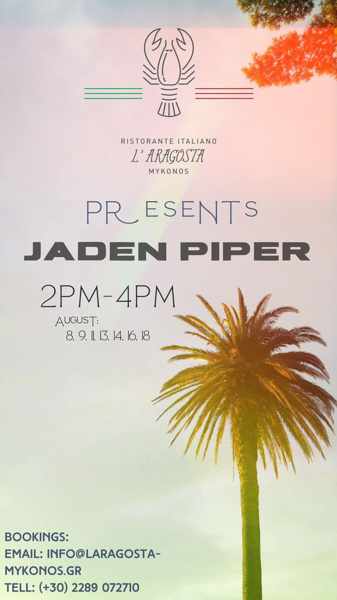 On seven afternoons in August, L'Aragosta Ristorante Italiano near Kalafatis beach will present music entertainment by DJ Jaden Piper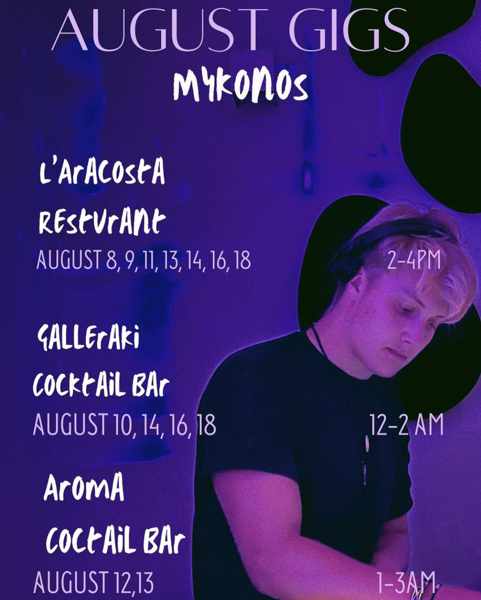 Inaddition to his appearances at L'Aragosta restaurant (as noted above), DJ Jaden Piper also will be playing at Galleraki Bar in Little Venice and at Aroma Bar in Mykonos Town on the dates indicated on the image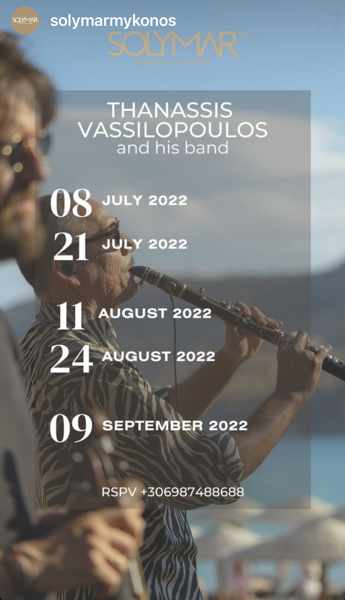 Thanassis Vassilopoulos and his band will perform at Solymar on eight dates between July 8 and September 9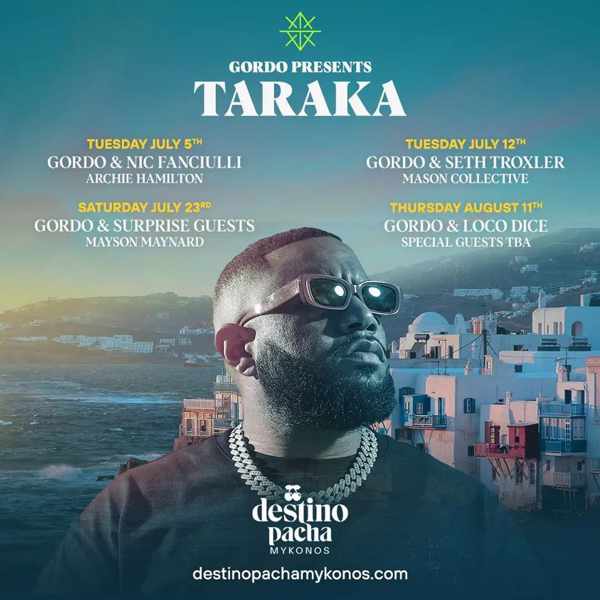 DJ/Producer GORDO brings his Taraka brand to Mykonos for a 4-event residency at Destino Pacha hotel on July 5, 12 and 23, and August 11.  On those dates, GORDO will be joined in the DJ booth by such top fellow DJs as Nic Fanciulli, Seth Troxler, Loco Dice and others.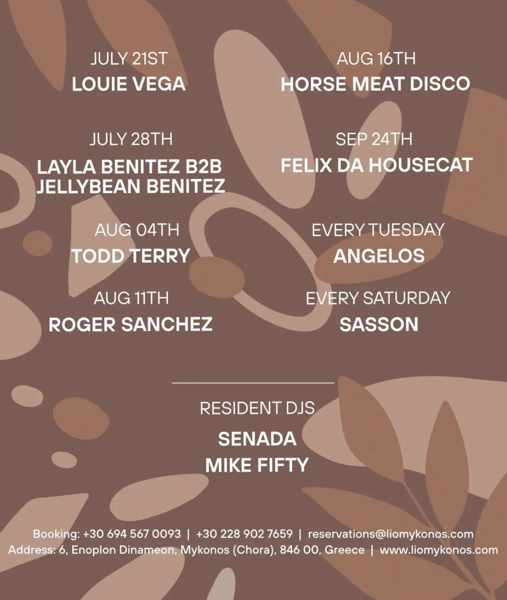 This is the calendar of guest DJ appearances at Lio Mykonos this summer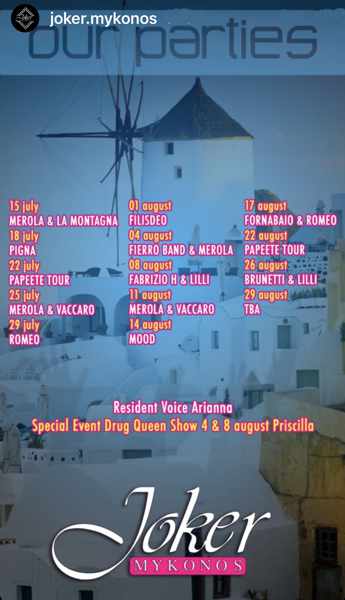 Starting on July 15, the Joker Mykonos dinner show and DJ parties return for a second summer.  Geared and marketed primarily to Italian visitors to Mykonos, the events take place at Alesta restaurant (on the road to Platis Gialos beach).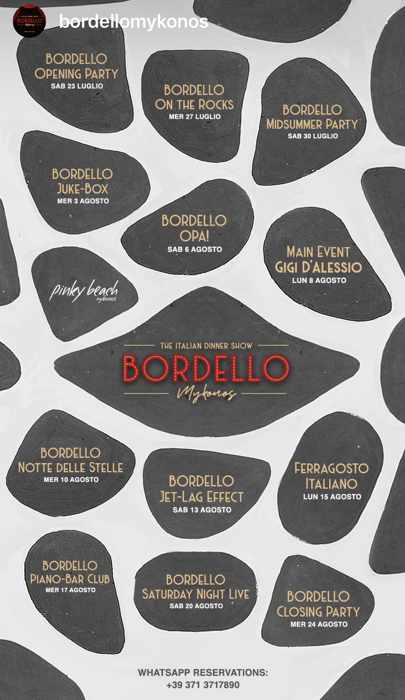 For the second season in a row, Pinky Beach club at Agia Anna – Paraga beach will host the Bordello Mykonos series of parties featuring dinner, live entertainment shows and DJ sets. The events are geared primarily to the large legion of Italian visitors s who flock to Mykonos for their holidays each summer.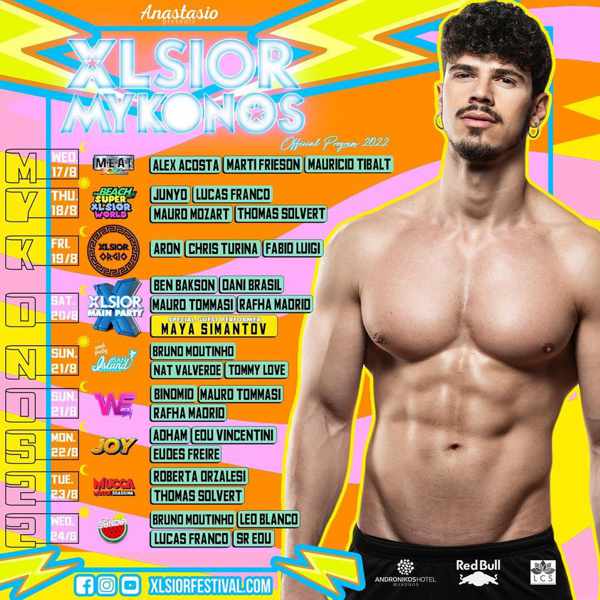 This is the DJ and event schedule for the 2022 XLSIOR Festival, taking place from August 17 to 24 at venues all around the island
Club calendars for DJ shows & party events
Opia above Mykonos Town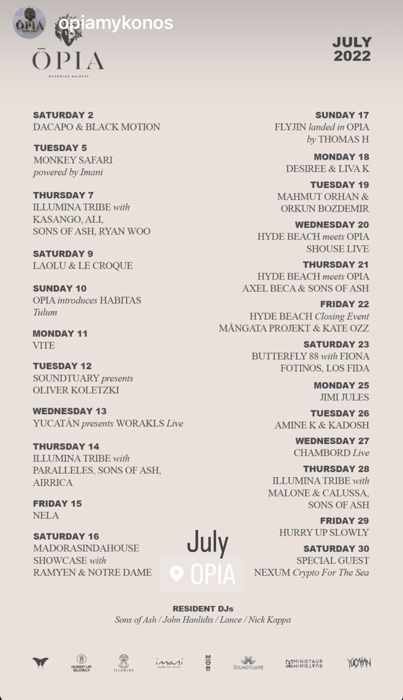 Opia is a brand-new open-air nightclub situated near the Bonis windmill on the hillside overlooking Mykonos Town.  It held its first party on July 2. This is its DJ events calendar for July.
Alemagou beach club at Ftelia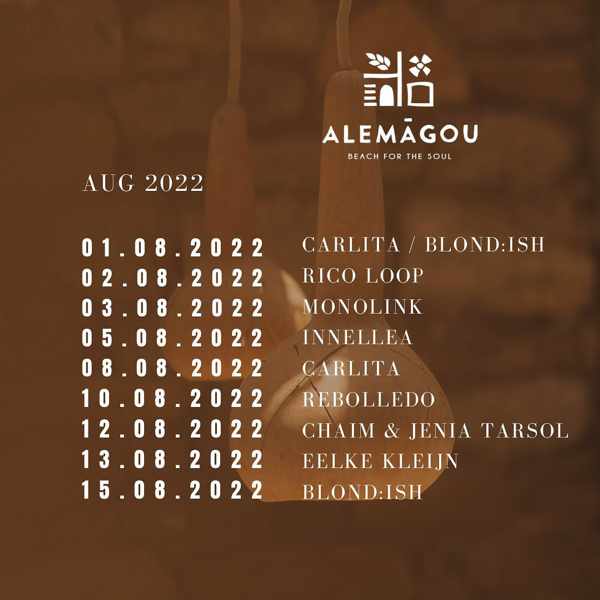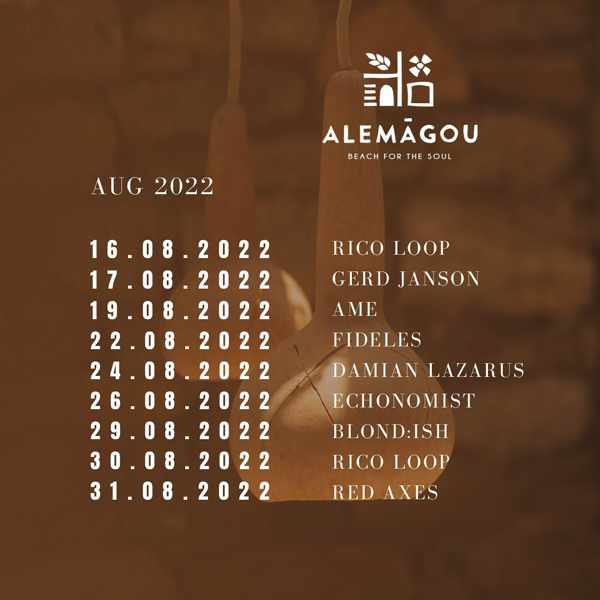 This is the August DJ schedule for Alemagou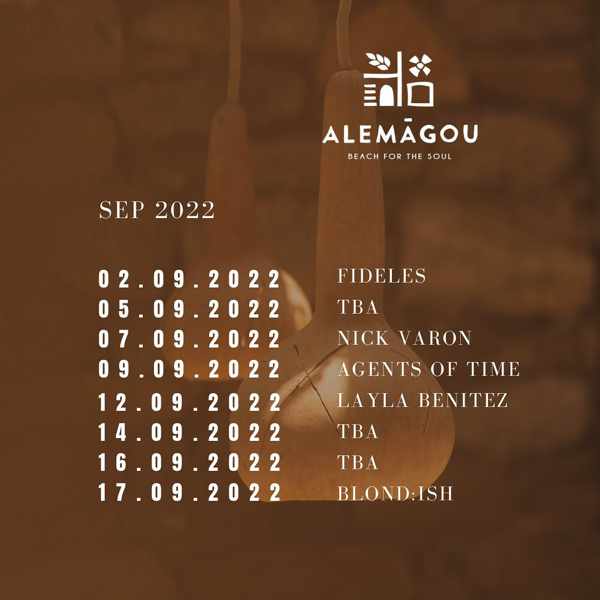 And this is Alemagou's DJ schedule for September
Cavo Paradiso club at Paradise Beach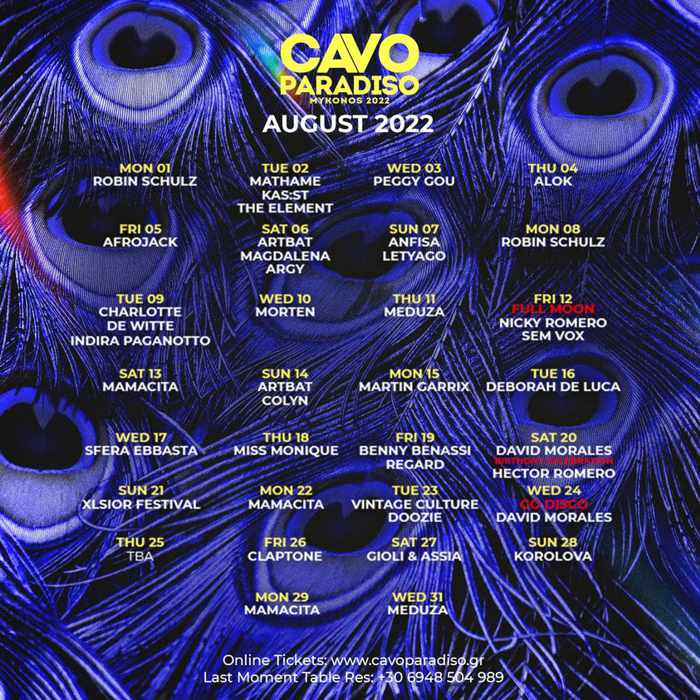 Here is the August DJ lineup for Cavo Paradiso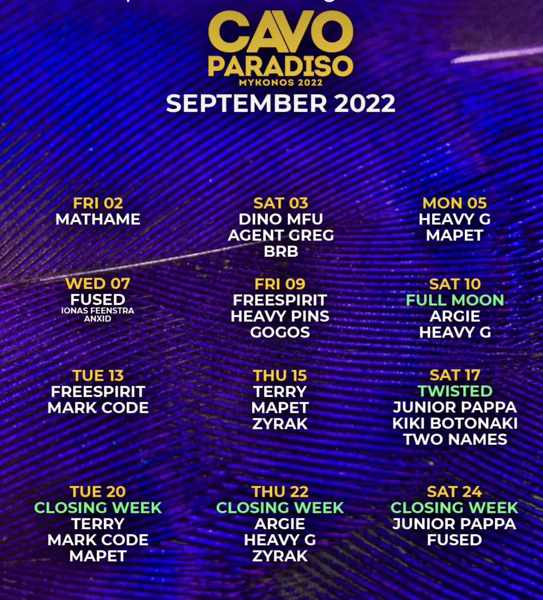 This is Cavo Paradiso's DJ lineup for September, including its three closing week parties 
Ftelia Pacha Mykonos at Ftelia beach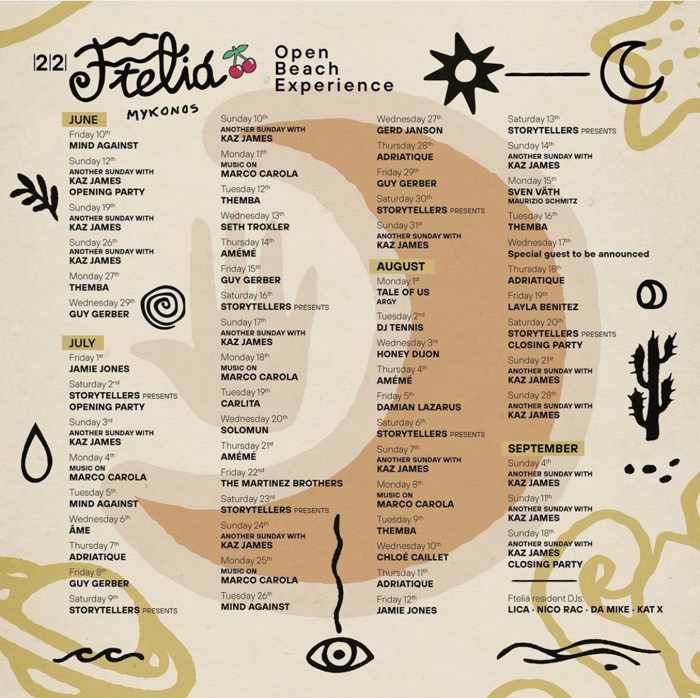 This is the main summer DJ entertainment schedule for Ftelia Pacha Mykonos, a new-for-2022 restaurant, bar and club at Ftelia beach
Nōema in Mykonos Town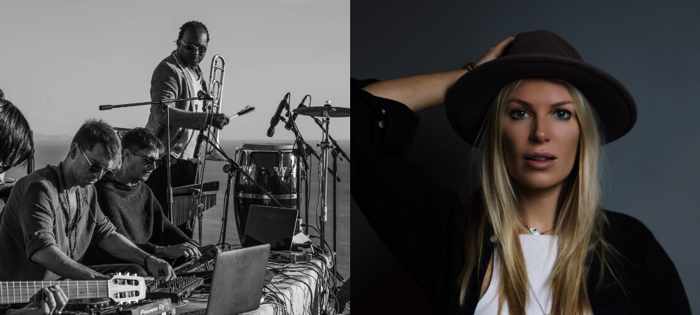 PAAX(Tulum) Band + Malin Linnea are among the dozens of DJs, bands and musicians that will perform at Noema restaurant and bar in Mykonos Town this summer. Other featured music acts, to name but  a few, will include Uji, Little D, Jc Ananda, Camilo Nu, Oxhala, Islandma, Ulises Band, Chris IDH and Arkadyan. Click here to see the full entertainment program on the Noema website.
Sanctus club in Mykonos Town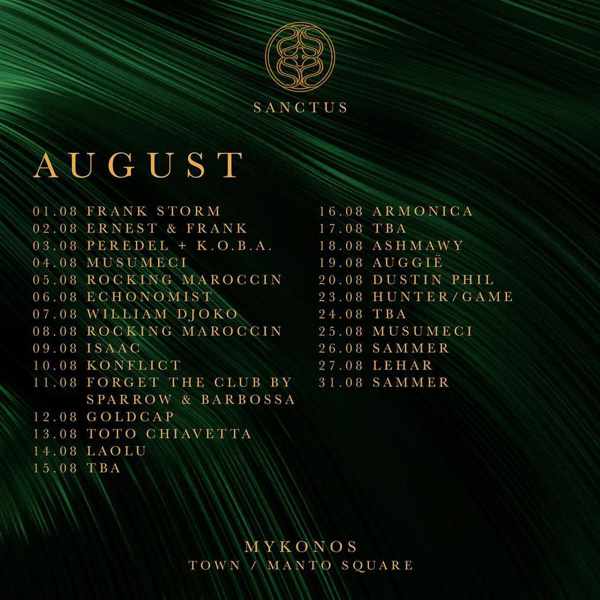 This is Sanctus club's DJ schedule for August
SantAnna Beach Club at Paraga beach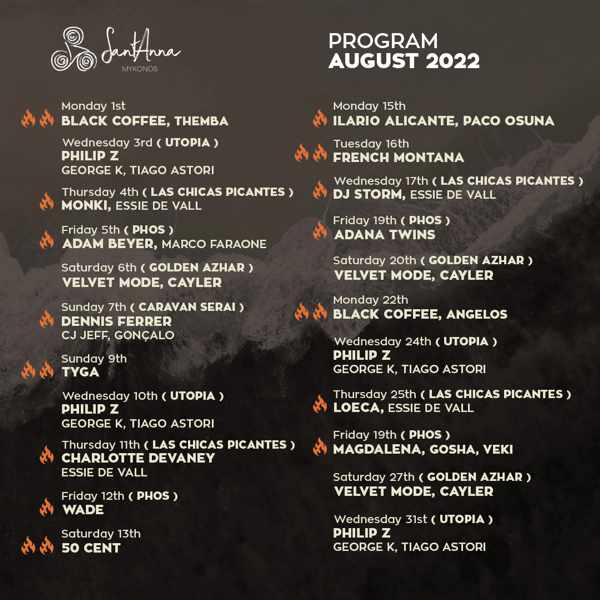 Here is the August entertainment program for SantAnna
Scorpios at Paraga beach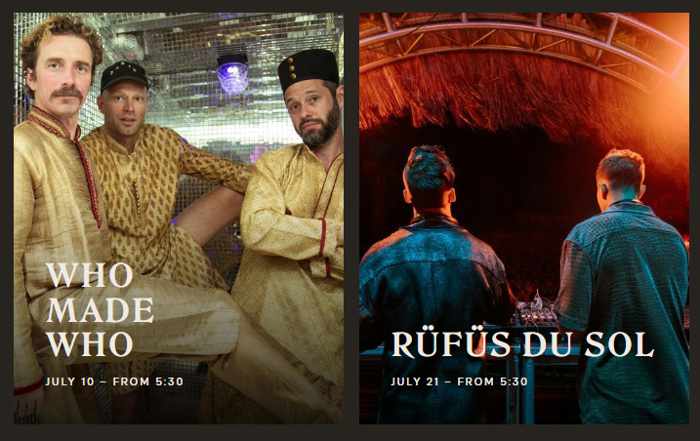 Famous around the world for its daily entertainment program of DJ and live music performances and rituals, Scorpios presents a diverse roster of innovative international artists including WhoMadeWho, Rufus du Sol, Bedouin, Armen Miran, Eduardo Castillo, Shkoon, Satori, Holed Coin and many more. Click here to see the complete summer 2022 music program on the Scorpios website.
Super Paradise Beach Club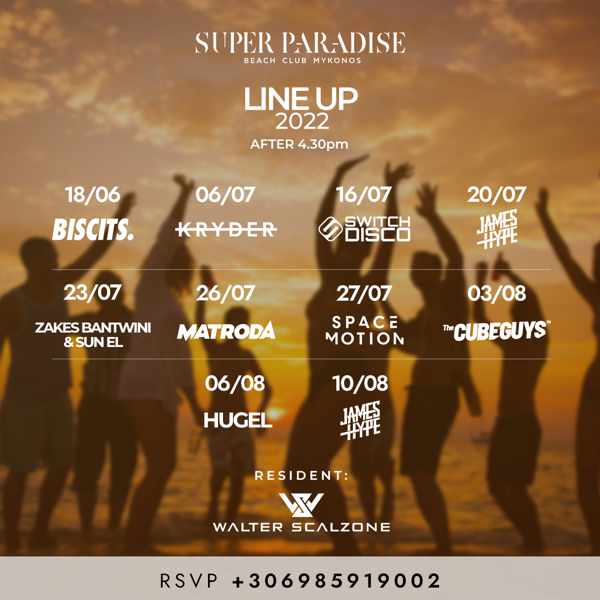 This is a calendar of special party events to be held this summer at Super Paradise Beach Club (located at Super Paradise beach, of course). More special events are expected to be announced soon.
The Sanctuary Mykonos at Ftelia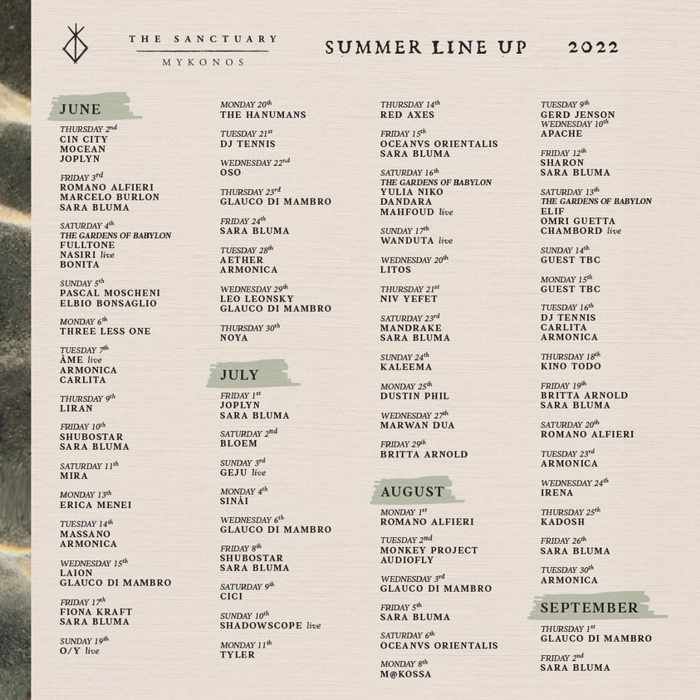 This is the general summer events schedule for The Sanctuary Mykonos, a new restaurant, entertainment and spiritual rituals venue near Ftelia beach
Tropicana beach club at Paradise beach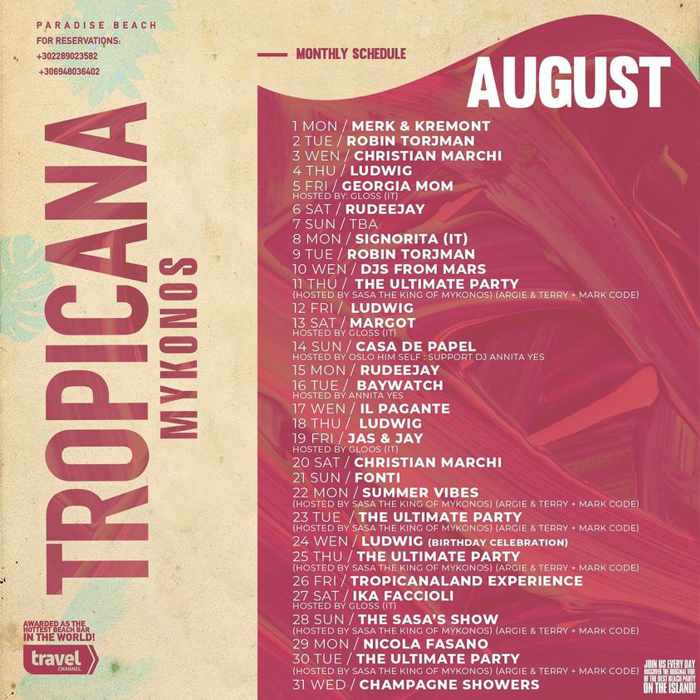 The August events calendar for Tropicana
Void club in Mykonos Town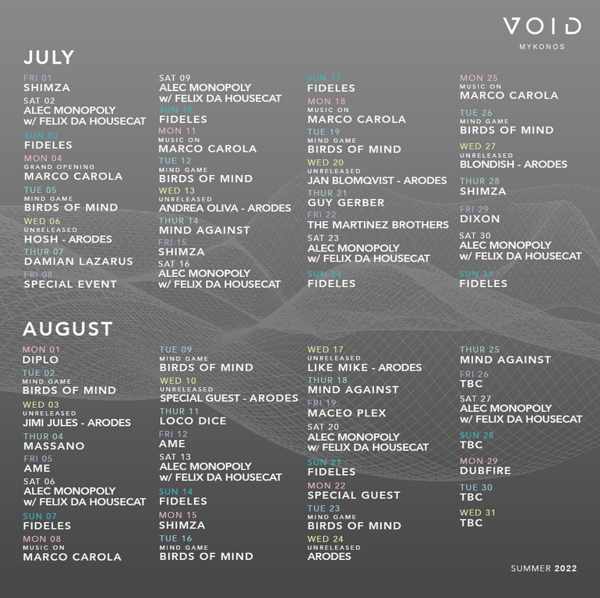 Void has issued this calendar of DJ appearances at the club during July and August