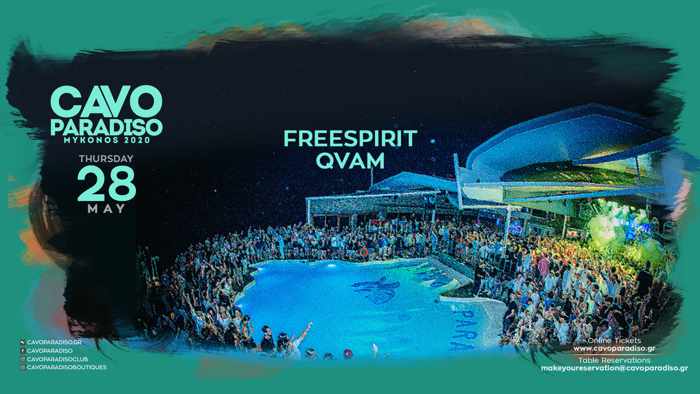 On Thursday May 28, Cavo Paradiso presents a Facebook livestream show by DJs Freespirit and QVAM.  Use this link to register in advance for easy access to the show: http://jebegmc.ml/live.php?artist=Freespirit+&+QVAM&venue=Mykonos,+Kikladhes,+Greece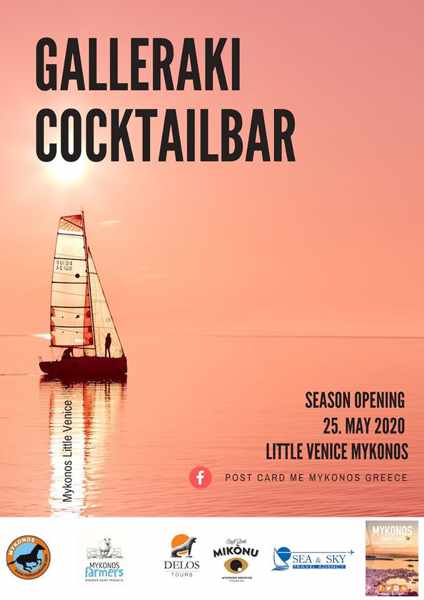 Galleraki starts its summer on Monday May 25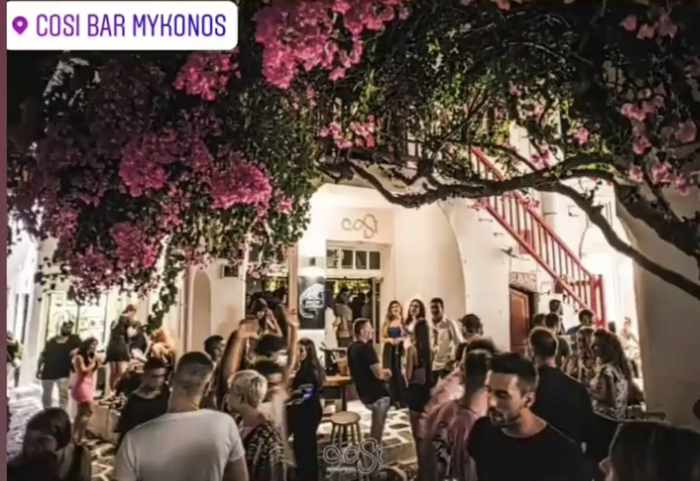 Cosi Bar opens its doors for the summer on Monday May 25
Nammos returns on Thursday May 28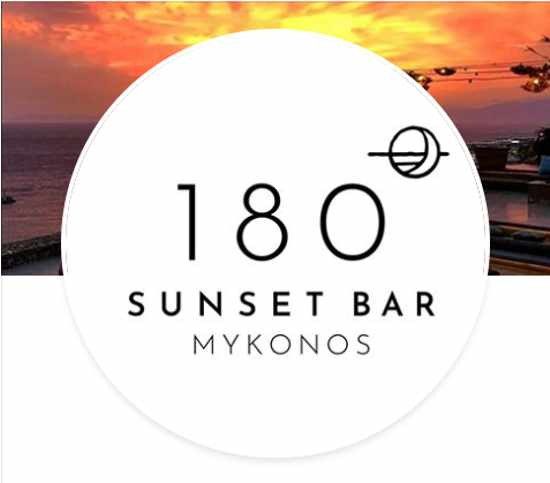 May 29 is the official season opening day for 180º Sunset Bar
Beach parties resume at Tropicana on Sunday June 14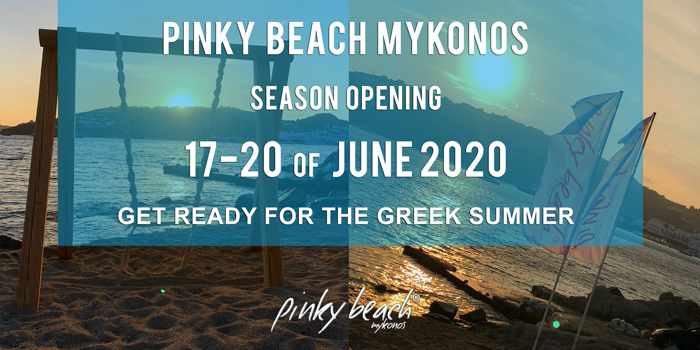 Pinky Beach is expecting to start its season during the period of June 17 to 20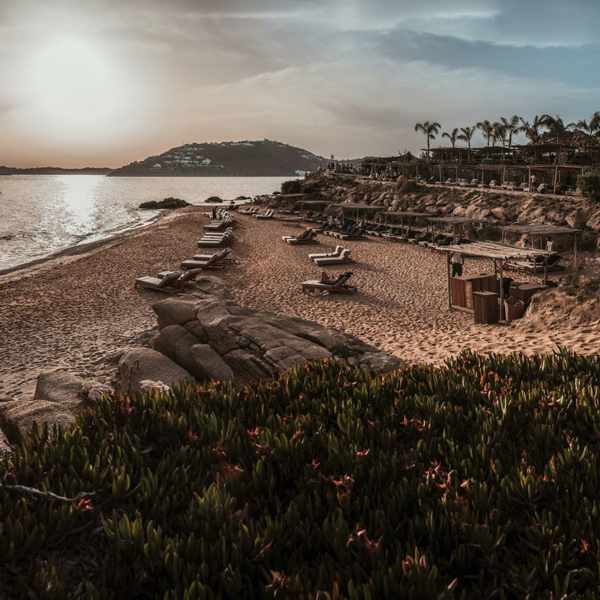 Scorpios has announced that it has tentative plans to open in July  — "at least for our local community if international travel is still restricted."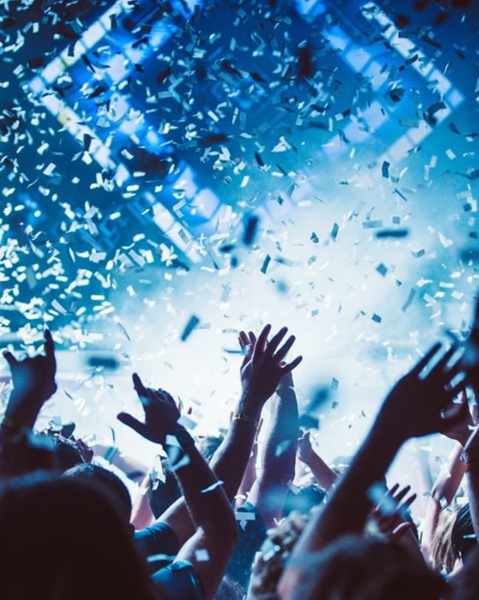 Cavo Paradiso has shared this party photo on social media, with the caption: "We will be dancing together again!" Exactly when has not yet been announced, though. The club was supposed to hold its opening party on Saturday May 9 but that event, along with the rest of its parties scheduled for May, had to be cancelled because of Greece's lockdown to foreign travellers during the Covid-19 pandemic. At present, Boris Brejcha and Steve Aoki are still set to appear in July, while The Chainsmokers are still on the roster for August. Cavo says it will not make any further summer DJ lineup announcements "until the end of May or until there's a clearer picture" of what's happening with this year's travel season in light of the pandemic.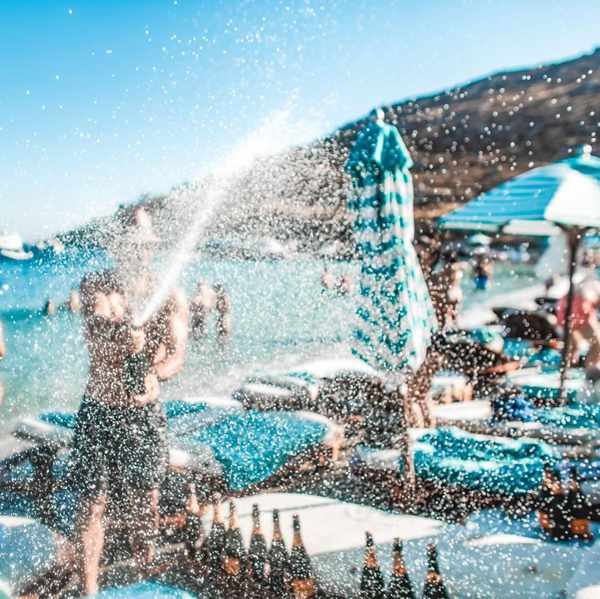 Nammos beach club has been posting this champagne spray photo on social media, saying "Stay forever young and #togethersoon …. we will wash away our troubles!!" Nammos hasn't announced exactly when it will open for the summer, but since it is now accepting reservations for dates starting July 1,  its famous champagne parties may resume as early as that month. There's still time for you to shop for a water-resistant mask!
Saturday July 25 is the day DJ Vassili TsiliChristos is supposed to bring his annual Made in Mykonos party to Nammos at Psarou beach.  It's the biggest single-night party to take place on Mykonos each summer. The official aftermovie from the 2019 event (above) shows what it's all about.
Friday May 22 update: What will the 2020 summer party scene on Mykonos look like?
That's the question on everyone's minds as the island's bars, clubs, shops, restaurants, hotels and service businesses prepare to open, now that Greece has begun easing the lockdown that had been put in place to control the spread of Covid-19.
The country permitted beaches to reopen in mid-May, but under strict rules regarding social distancing, the number of people allowed on the beach, and a ban on serving alcohol on the beach.
On May 25, ferry travel to Greek islands will resume, but under strict passenger limits to allow for social distancing. Passengers will have their temperatures checked, and must fill out health questionnaires before being allowed to board the ship.
On June 1, hotels that operate year-round will be permitted to re-open, as will camping facilities.
On June 15, seasonal hotels and accommodations will be allowed to resume operations.
Also on June 15, Athens International Airport will be re-opened to flights from countries considered to have good epidemiological results from their Covid-19 control measures. Those 19 countries are:
Cyprus
Israel
China
Japan
Australia
Norway
Denmark
Austria
Bulgaria
Serbia
Romania
Albania
North Macedonia
Bosnia and Herzegovia
Croatia
Poland
Hungary
Slovakia
Czech Republic
On July 1, regional Greek airports — including Mykonos airport — will be reopened to international flights.
On July 15, the government will add more countries to the list of those whose tourists will be allowed into Greece. It is not yet known which countries may be included in that group.
So far there has been no indication of rules the government may impose upon bars, nightclubs and beach clubs to require appropriate social distancing and infection control. So no-one yet knows what sorts of party atmosphere — and specifically crowd control — may be in store for visitors to Mykonos this summer.
Also unknown is how long the travel season will continue this year. People are wondering if the Mykonos party season will be extended into October, but it's too early to tell if that will happen. Many businesses aren't yet sure about their precise opening dates yet because they are awaiting further information on rules that may apply to their operations. So they can't even begin to think about when they might close.
Although many hotels have advertised and announced on social media that they are now accepting bookings for summer holidays, we recommend you don't make a reservation unless you're coming from a country that is included on the admissibility list. And don't make a booking unless you can cancel your reservation without a penalty if it turns out you can't get to Greece after all.
We will post information about club and party opening announcements once further details have been released.
The annual XLSIOR Mykonos Festival is still scheduled take place August 19 to 26. It's one of the biggest annual gay festivals in the world, and the biggest multi-day party event to take place on Mykonos each summer. Above is the official aftermovie for XLSIOR's 10th anniversary celebrations in 2019.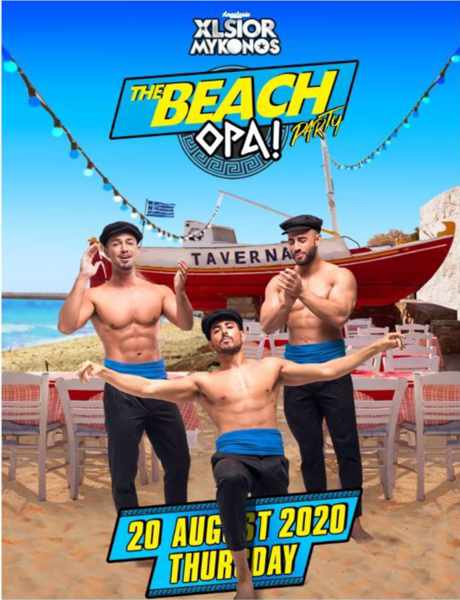 XLSIOR Festival usually doesn't announce its party lineup until August, but in mid-February it released this image to promote the highlight of its 2020 program, the XLSIOR Beach Party.This event has been set for Thursday August 20 and will feature "a totally different concept that will blow your mind and get you dancing in the rhythm of the summer," organizers say. 
Related articles:
♦  Mykonos parties, live music events & DJ shows during 2019
♦  What's new on Mykonos for 2019
Please click on the link below to turn to page 2 and see events scheduled for winter 2020 as well as events tentatively scheduled for July and August.
CONTINUED ON PAGE 2