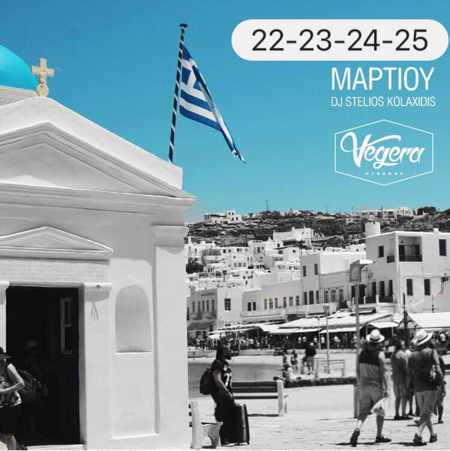 Monday March 25 is Greek Independence Day, and Vegera is celebrating with a weekend of parties featuring music by DJ Stelios Kolaxidis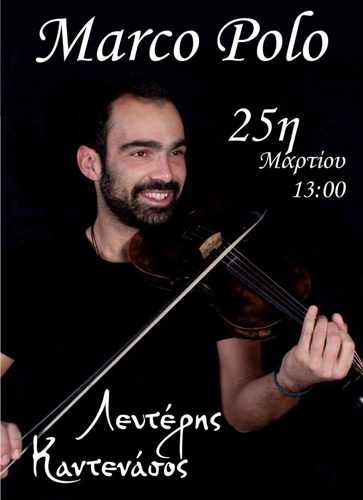 Marco Polo Taverna presents an afternoon of live Greek music entertainment by Lefteris Kantenasos on Monday March 25, starting at 1 p.m.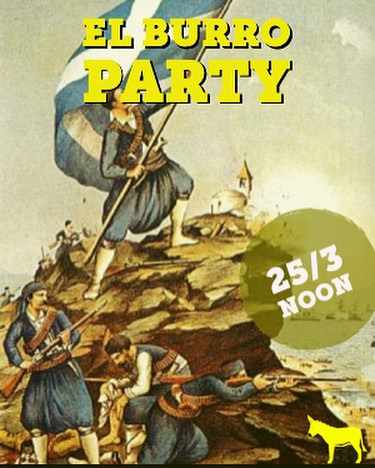 El Burro celebrates Greek Independence Day with its "Revolution" party on Monday March 25, starting at noon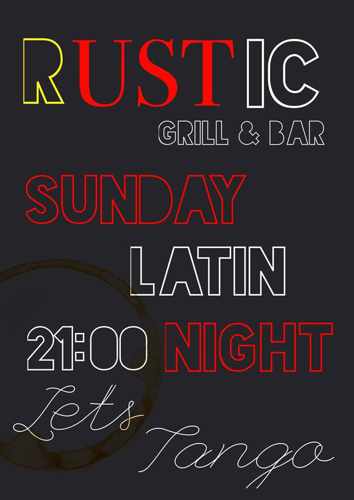 It's tango time at Rustic Grill, which is holding a Latin Night on Sunday March 24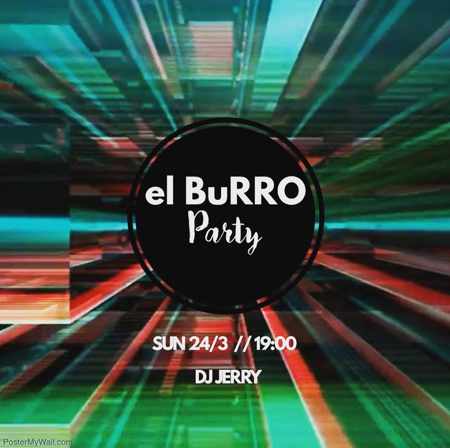 DJ Terry will be on the decks for the party at El Burro on Sunday March 24
~ updated on Sunday March 24 ~ 
What's happening: Summer is still several months off, but readers already have started asking me for information about Mykonos bar and club opening dates, party and DJ schedules, and other events.
The island's 2019  party season will unfold in much the same way as previous years: bars and clubs in Mykonos Town, and at some beaches, will gradually begin to open towards the end of April.  Greek Easter is Sunday April 28 this year, so the period from April 26 to 29 will be the busiest time on Mykonos for that particular month. Many places will aim to open in time for the long holiday weekend, so the bars will buzzing with a lively Easter party vibe.
Most town bars and beach clubs will open during May, and almost everything will be up and running by early June (though each year there are a few new clubs that get a late start and don't open until early to mid-July). 
May and June are low season, so the party scene then is fairly low-key — especially in May. The partying revs up each week as more and more tourists arrive on the island, however, and by late June the crowds will be bigger and the bars and clubs will be absolutely bustling.
Peak party season is July and August, with August being the wildest and busiest time by far. If you're looking for frenzied, wall-to-wall crowds, appearances by the world's top DJs, and non-stop partying from afternoon until dawn the next day, be sure to book your Mykonos holiday for either of those two months. 
Partying continues through September, but the pace of activity slows each week as the summer crowds gradually dissipate and the island's bigger clubs start winding down and shutting their doors. September is nonetheless  a great time to visit Mykonos for a more relaxed, chill atmosphere, fewer crowds and congestion, and some sizzling season closing parties. Last year, Void held its closing bash on September 7,  with Guzel and Toy Room Club following suit on September 8. Club 4711, Sueno Pool Bar and The Garden Seaview Lounge all held their closing parties on September 15, while Cavo Paradiso threw its final event on September 25. Babylon, @54, Queen of Mykonos,and Astra celebrated the end of their season on September 29, while JackieO' Beach, Scorpios and Moni clubs closed their doors on September 30.
A good variety of smaller bars and clubs will remain open into October,  but most beach clubs and town bars will be shuttered by the middle of the month.  During the first 10 days of October last year, closing parties took place at Nammos, Semeli Bar, JackieO' Town Bar, Alemagou, Kaula, Scarpa, Skandinavian Bar, Lohan Beach House and Bao's Cocktail Bar. Super Paradise beach club and 180° Sunset Bar closed on October 20, while the final parties at Paradise beach took place on October 21. Partying after October was limited to a handful of small bars that stay open year-round for the local residents.
If you're travelling to Mykonos on a budget this year, plan to make your hotel or room reservations very soon — Mykonos is one of the most expensive places to visit in Greece, and the majority of cheap and mid-priced accommodations will be fully booked by spring. The only hostel in Mykonos Town, MyCocoon, is already accepting reservations for May 1 and onwards, while one of the top beach accommodations for budget travellers, Paraga Beach Hostel & Camping, will begin taking bookings through its website on January 15. 
I will be updating this post whenever bars and clubs have announced their opening dates and events, so check back from time to time during the winter to see what's new.
In the meantime, if you want to get an idea of what the party scene was like during specific months last year, have a look at my Mykonos party posts for 2018:
♦ for information about bar openings and early spring parties in 2018, click here.
♦ for a list of events that took place in May and June of 2018, click here.
♦ click here to see what happened during July 2018, and
♦ click here for a schedule of events that were held during August and right through the autumn.
Paradise Beach Club is promising a "massive summer" with special parties and guest DJs as it celebrates its 50th anniversary season in 2019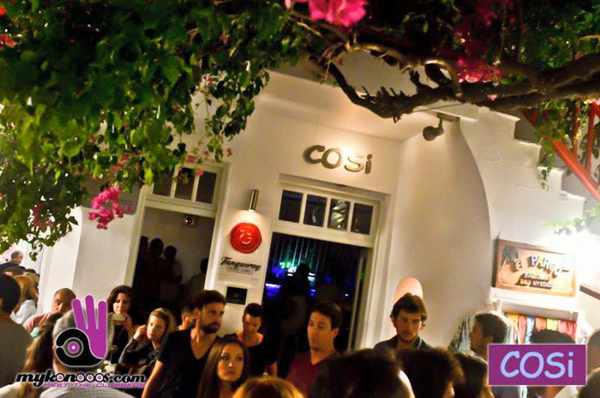 Summer starts at Cosi Cafe-Bar on Friday March 22
Kuzina holds its 2019 grand opening on Friday March 22 
Friday April 19 is opening day for Semeli Bar on the Little Venice seafront of Mykonos Town


Parties will resume in April at Guapaloca bar at Paradise beach, and at Maracuja, its sunset-view sister club on the Mykonos Town seafront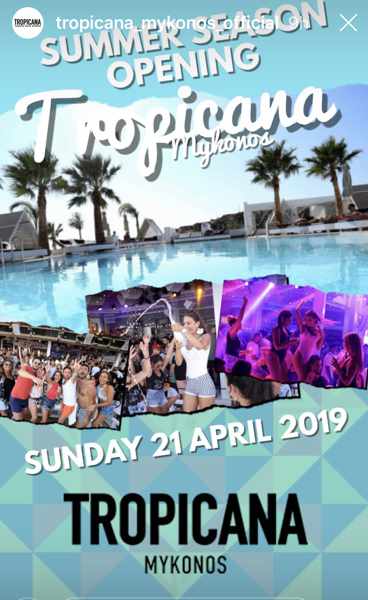 Tropicana bar at Paradise beach plans to start its season on Sunday April 21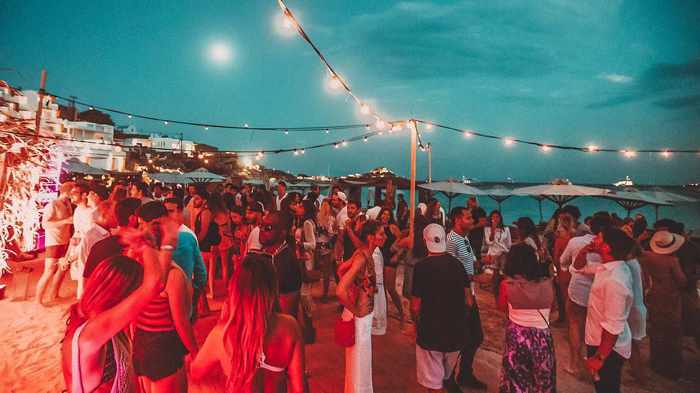 The Branco Mykonos hotel at Platis Gialos opens on April 22 and is promising another slate of exciting beach parties and events for this summer
The Nammos restaurant and beach bar complex will kick off its summer dining and party season on Thursday April 25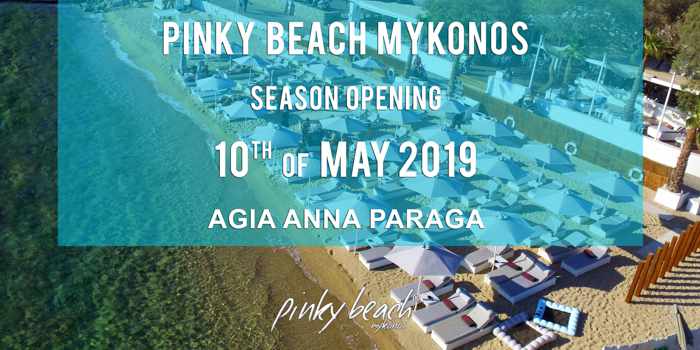 The Pinky Beach/Aqua Restaurant venue at Agia Anna Paraga beach has pushed its opening to Friday May 10, two weeks later than its previously-announced launch date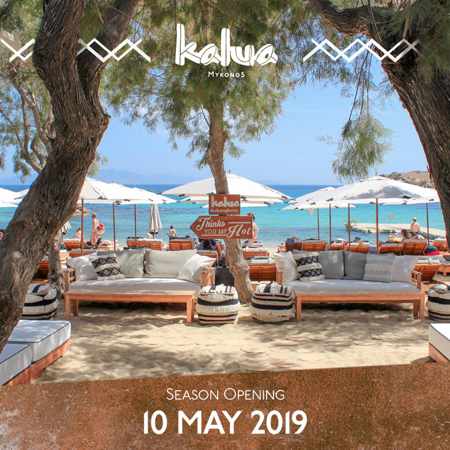 Kalua starts its season on Friday May 10

The Scorpios restaurant and beach bar complex at Paraga beach has scheduled its season opening for Sunday May 12 
SantAnna reopens at Paraga beach on Friday May 17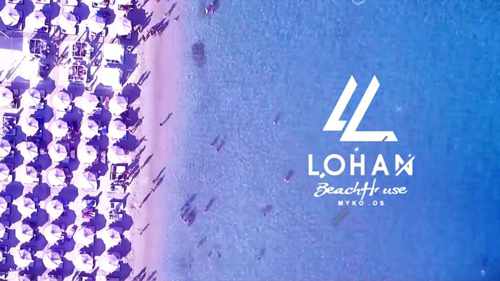 Lohan Beach House also starts its season on Friday May 17
One of the island's most popular annual events is the Made in Mykonos party headlined by DJ Vassili TsiliChristos at the world-famous Nammos beach club. This year's party takes place on Saturday July 27.
XLSIOR Mykonos, the island's internationally-renowned gay festival, will celebrate its 10th anniversary in 2019. This year's festival will take place August 21 through 28 with daytime and night events  being held each day at various beach venues and at clubs in Mykonos Town.  XLSIOR is the biggest annual party event on Mykonos, drawing tens of thousands of participants each summer, and is often referred to as "Mykonos Pride Week" as a result.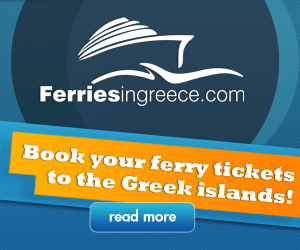 To see a listing of events that have already taken place during 2019, please click on the link below.
CONTINUED ON PAGE 2