Events added daily. Latest updates:  August 13
As part of a new suite of measures aimed at containing the spread of a possible second wave of Covid-19, the Greek government on August 10 ordered that bars and restaurants in Mykonos, Santorini, and a number of other popular tourist destinations must close from midnight to 7 a.m. every day. The order takes effect starting on Tuesday August 11 and continues until Sunday August 23.
So far, two clubs — Sanctus and Toy Room — have announced they are closing for the season, while Negrita Bar has closed temporarily until August 27. Skandinavian Bar, JackieO' Town Bar, Queen of Mykonos, Toro Loco, and Lola are among those that have changed their hours of operation to comply with the government-mandated curfew period. Cavo Paradiso has changed its DJ performance times and made some alterations to its DJ lineup, and will make announcements if further changes must be made.  Other Mykonos bars and clubs have not yet announced how this regulation will impact their event schedules but it's safe to assume all are complying with the midnight closure regulation to avoid steep fines and shutdown penalties for non-compliance.
This post will be updated with any changes that bars and clubs announce for their operations and event calendars.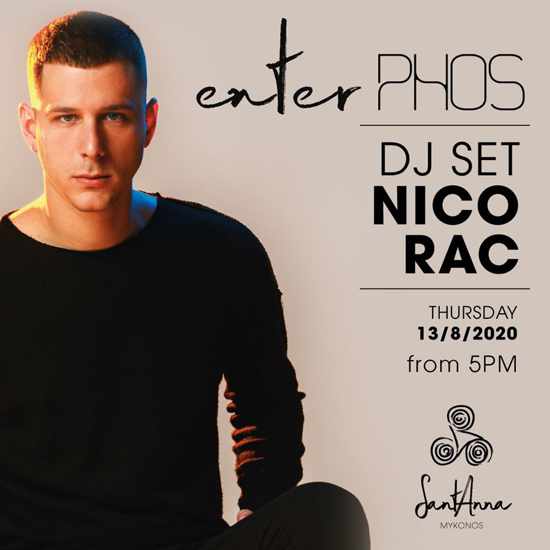 Nico Rac plays for the Phos event at SantAnna on Thursday August 8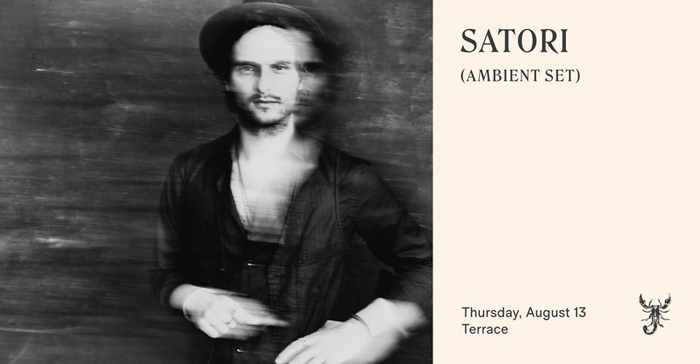 Satori will play an ambient set for the Sunset Ritual at Scorpios on Thursday August 13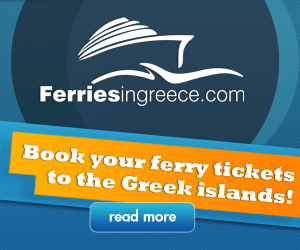 Xenia Ghali plays for SantAnna's Funky Fridays event on Friday August 14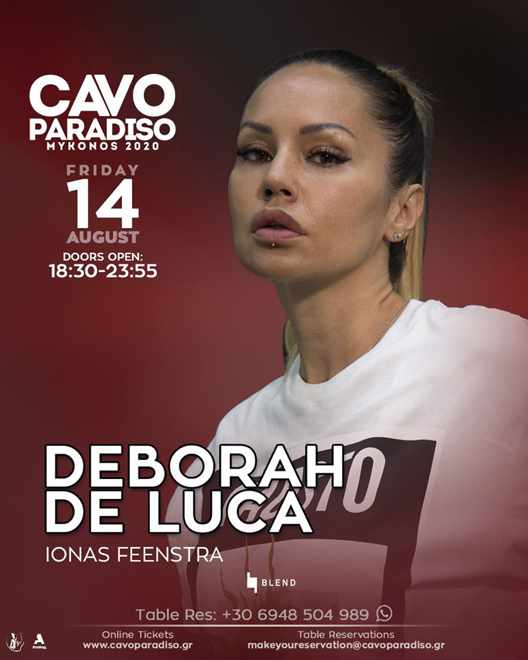 Deborah De Luca headlines the sunset session at Cavo Paradiso on Friday August 14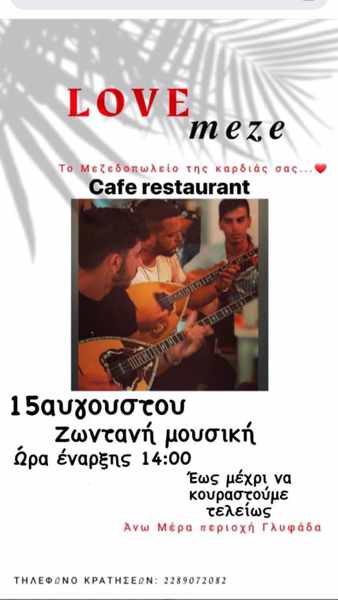 Lovemeze will offer live Greek music entertainment during the afternoon on Saturday August 15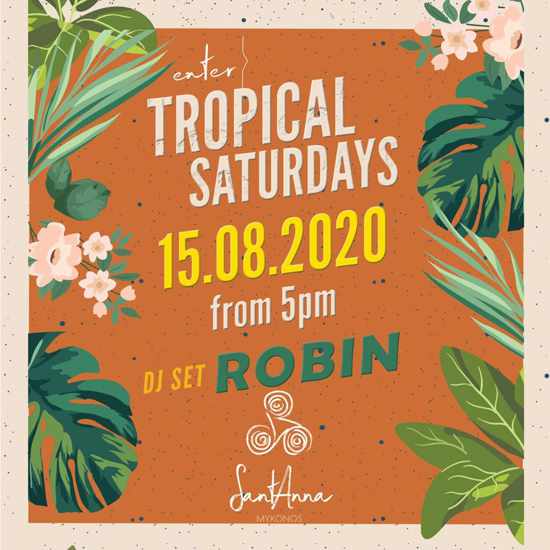 DJ Robin will play for the Tropical Saturdays event at SantAnna on August 15
ARTBAT will be on the decks at Cavo Paradiso on Saturday August 15 — note the new show time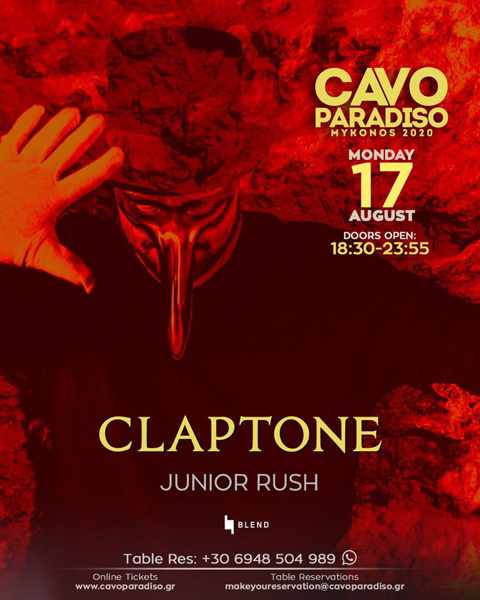 Claptone will be on the decks for the sunset party at Cavo Paradiso on Monday August 17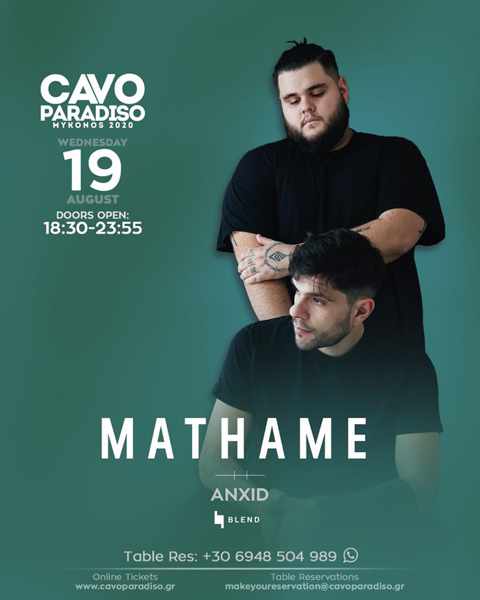 Mathame is the feature DJ act for Cavo Paradiso's sunset party on Wednesday August 19
On Friday August 21 David Morales celebrates his birthday, as usual, on the decks at Cavo Paradiso 
ARTBAT pays a return visit to Cavo Paradiso on Saturday August 22
Detlef will be on the decks at Cavo Paradiso on Wednesday August 26
Covid-19 safety measures and announcements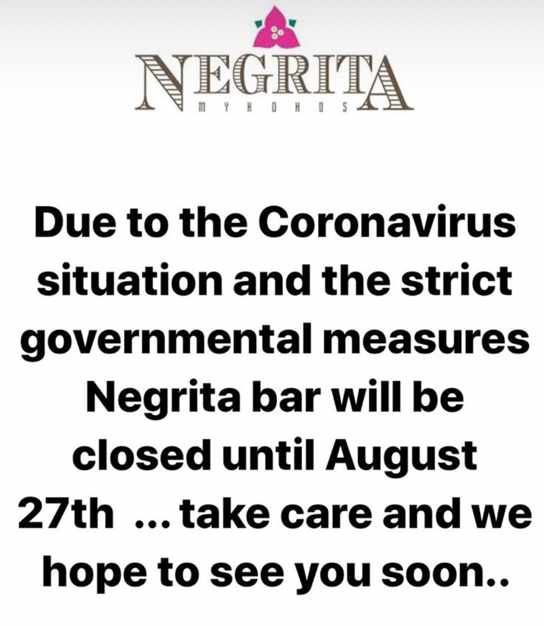 Negrita Bar on the Little Venice seafront posted this notice to social media on Thursday August 13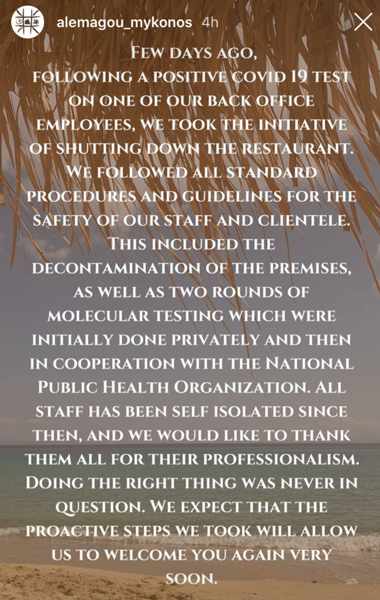 Alemagou shared this  message on its Instagram account on August 9  as an update to a previous notice explaining why the club is temporarily closed. On August 6, Greek media reported that 6 more of Alemagou's staff have since tested positive for the coronavirus, so the club must stay closed while all employees complete an isolation period.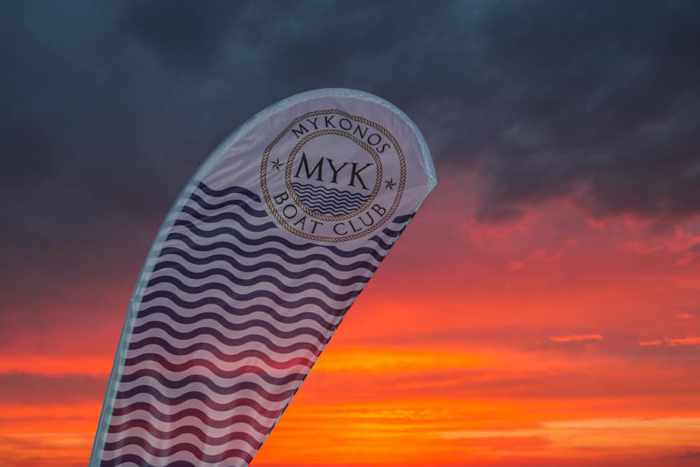 Mykonos Boat Club has announced that its sunset party cruises have been discontinued until further notice, due to the new Covid-19 control restrictions put in place in early August by the Greek government. As an alternative, the company is offering "Hola Rhenia" all-inclusive day tours to Rhenia island.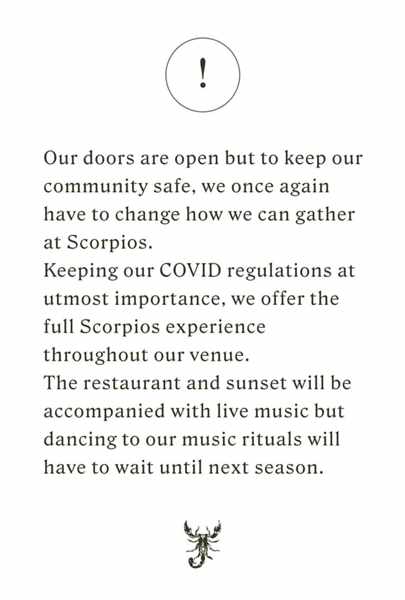 In the wake of new Covid-19 control regulations implemented by the Greek government in early August, Scorpios has announced that dancing will not be permitted on its premises for the rest of the summer season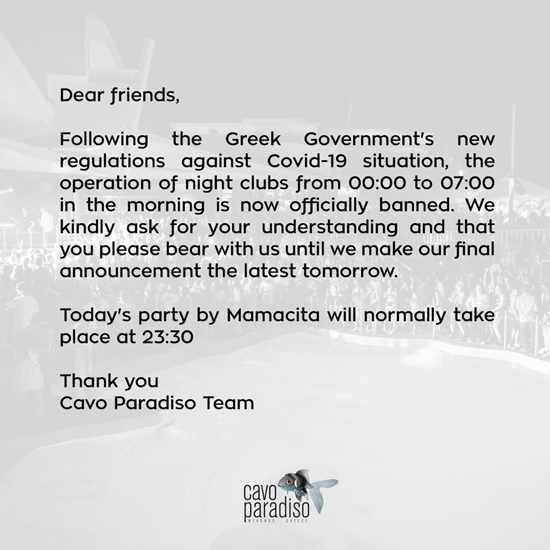 Cavo Paradiso posted this notice to its social media accounts on August 10 in reaction to the Greek government's new restrictions on bar and restaurant hours of operation.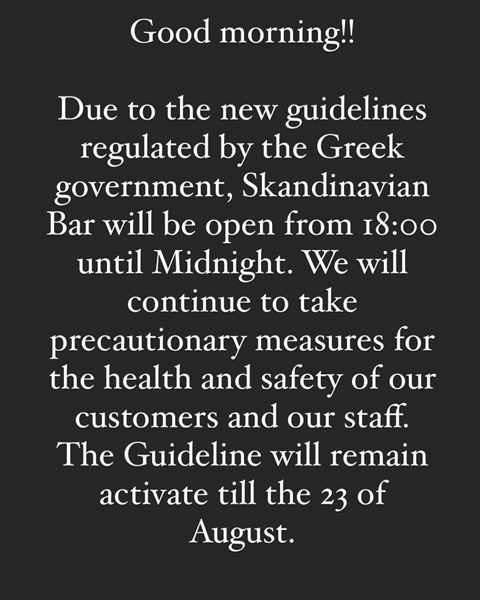 Skandinavian Bar issued this notice about its new hours of operation beginning on Tuesday August 11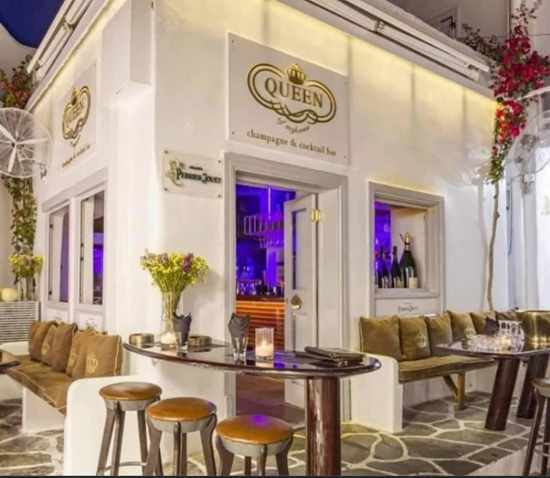 Queen of Mykonos has new hours of operation: from 8 p.m. until midnight. Reservations are recommended because of the limited number of available tables.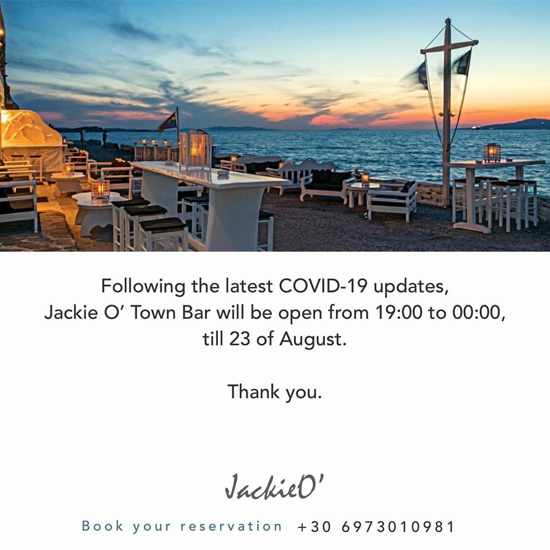 JackieO' Town Bar has changed its hours of operation for the August curfew period imposed by the Greek government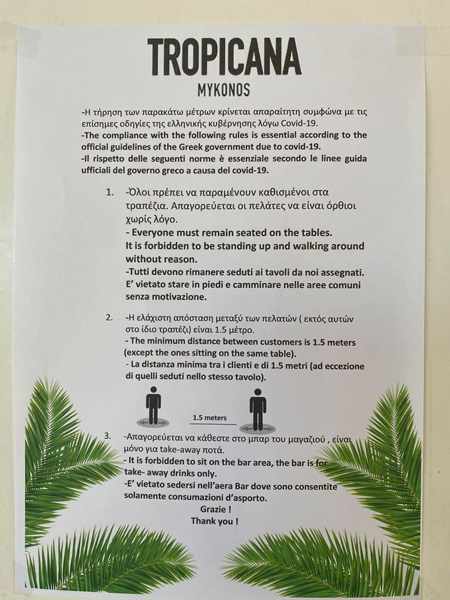 Tropicana has announced the safety measures it has implemented in the club in the wake of new Greek government regulations for Covid-19 control
Tropicana released this short video on August 10 to affirm its commitment to keeping its employees and guests as safe as possible during the challenging summer of Covid-19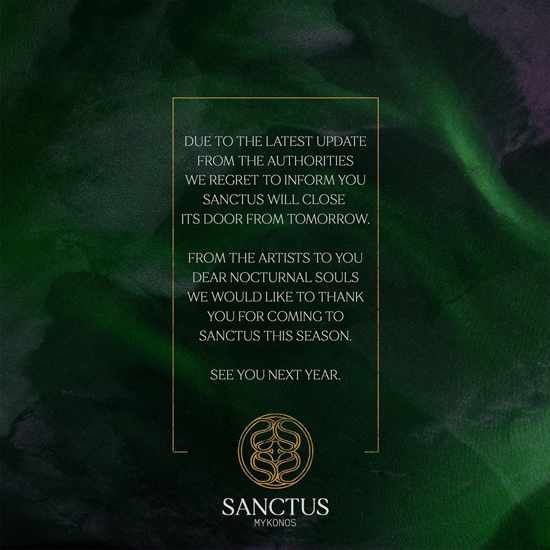 Sanctus posted this notice on Monday August 10 to announce it has decided to close for the season. Its last event took place  on August 10 and featured music by Brina Knauss. 
Regular and scheduled events this summer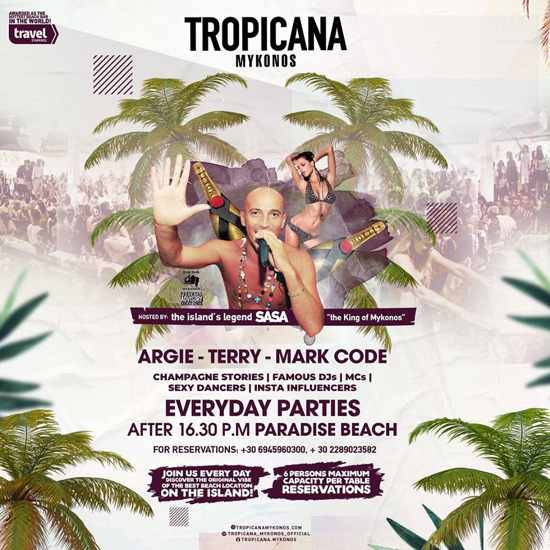 Once again this summer, Tropicana holds beach parties starting at 4:30 p.m. every day, with host Sasa and music by DJs Argie, Terry and Mark Code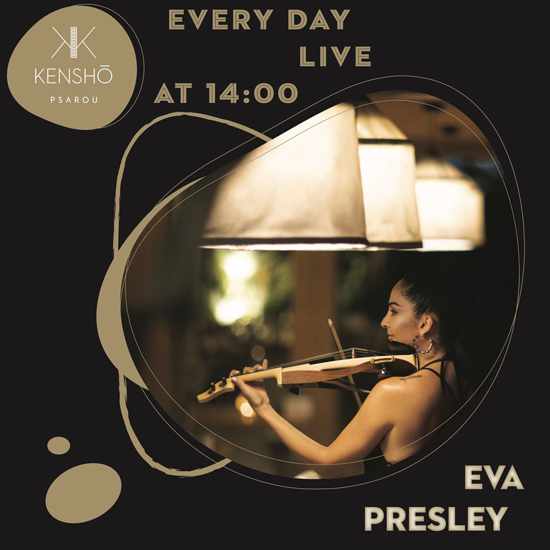 Violinist Eva Presley entertains every afternoon at Kensho Psarou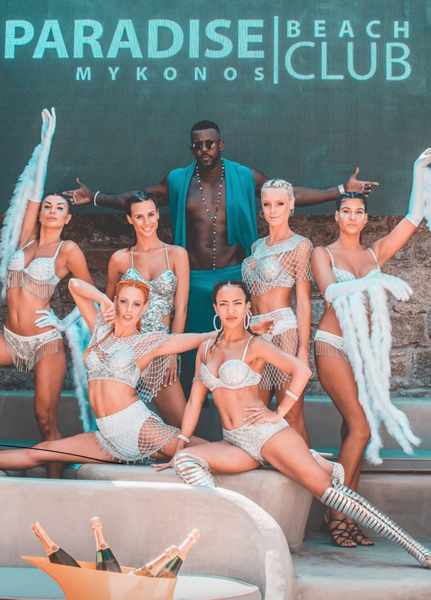 Paradise Club will hold daily events throughout the summer, with DJ sets beginning at 5 p.m. and host Jeff leading the party at Guapaloca Bar.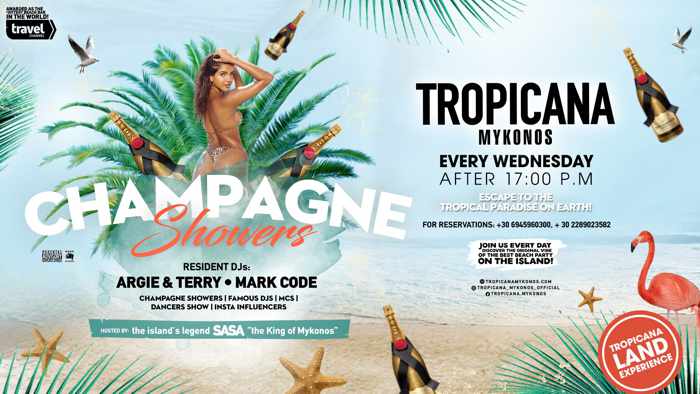 Tropicana will throw its famous champagne shower parties every Wednesday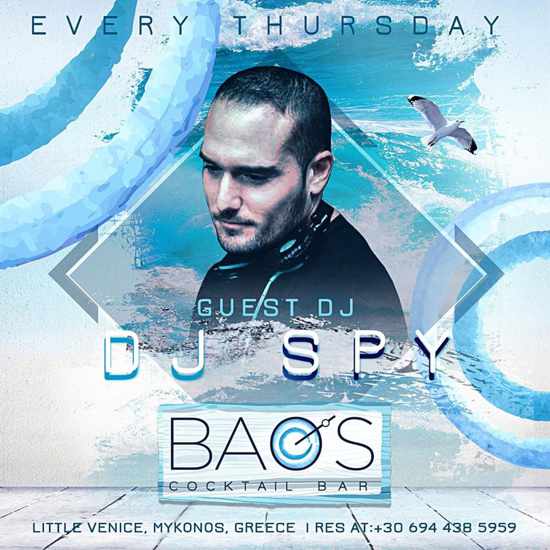 Bao's Cocktail Bar presents DJ Spy every Thursday this summer
On Friday nights this summer, Kensho Psarou presents live musical entertainment by vocalist Rosanna Mailan and violinist Eva Presley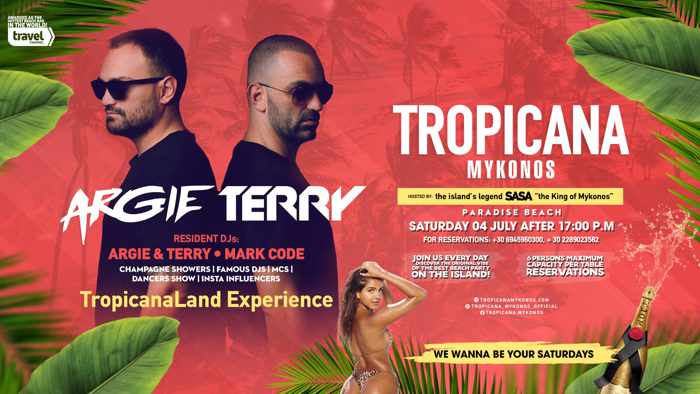 Starting July 4, DJs Argie & Terry will play for the TropicanaLand Experience parties every Saturday at Tropicana
Again this summer, DJ Vasilis Koutonias will be on the decks every Sunday at Super Paradise beach club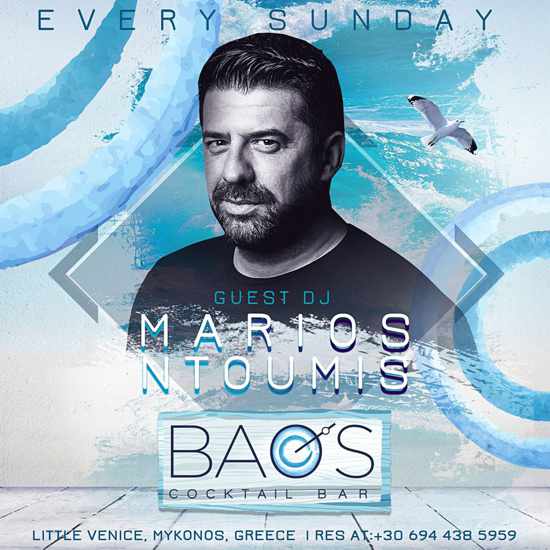 DJ Marios Ntoumis will be on the decks at Bao's every Sunday this summer
DJ Stelios Kolaxidis plays at Cosi on Wednesdays and Sundays
The Phly Boyz bring their "uptempo musical vibes and jazzy feel" to Nammos this summer, appearing from July 2 to 24, August 13 to 28, and September 13 to 22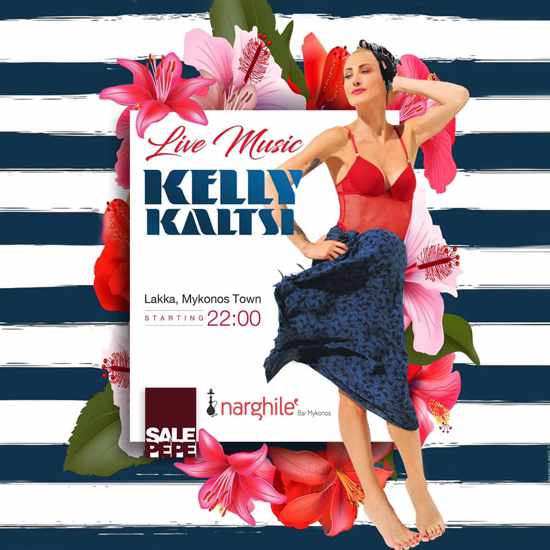 Popular local singer Kelly Kaltsi will be entertaining regularly at Sale e Pepe restaurant/Narghile Bar. Check with the venues for upcoming performance dates.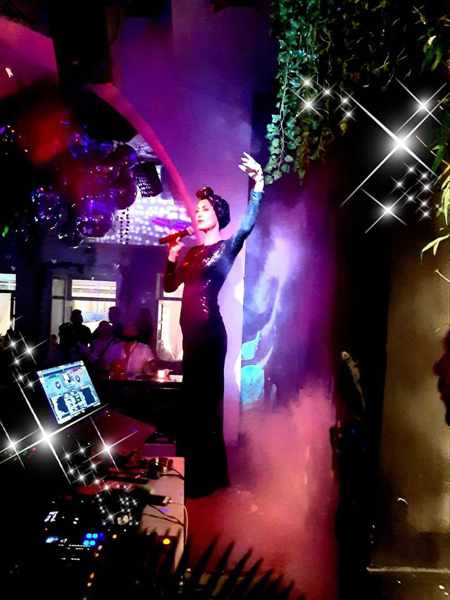 Kelly Kaltsi also sings at 54 Cocktail Bar & Sunset Lounge every Wednesday and Saturday
XLSIOR Festival Cancelled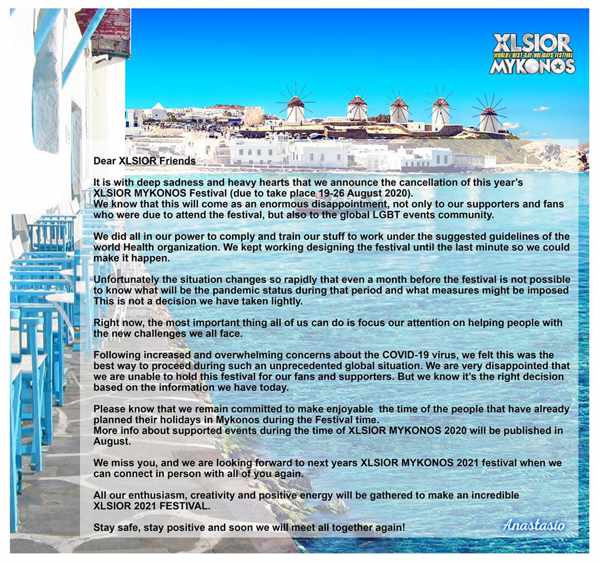 The  XLSIOR Mykonos Festival, originally scheduled take place August 19 to 26, has officially been cancelled, for reasons explained in this July 15 notice from event organizers. XLSIOR is one of the world's biggest annual gay festivals, and for the past 10 years has been the biggest multi-day party event to take place on Mykonos each summer.  
Related articles:
♦  Mykonos parties, live music events & DJ shows during 2019
♦  What's new on Mykonos for 2019
Please click on the link below to turn to page 2 where you can see club openings and events that have already taken place this year.
CONTINUED ON PAGE 2