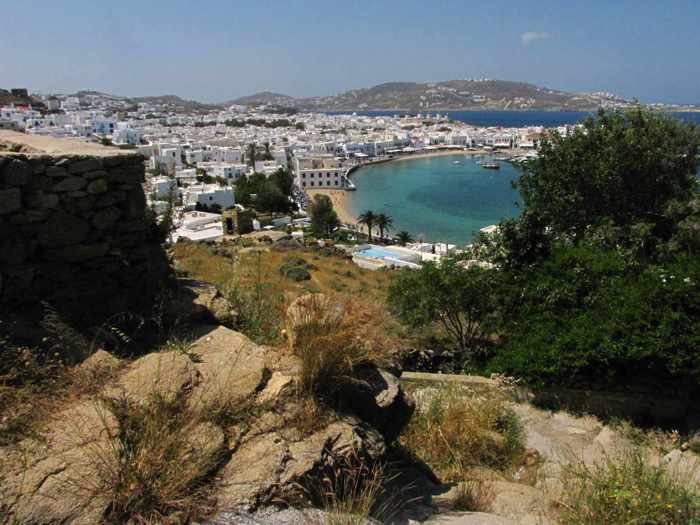 A hilltop view of Mykonos Town
Wondering what parties and events are being held on Mykonos for the 2023 tourist season? Curious to find out what's new on the island this year? Or to learn when restaurants, bars, nightclubs, beachclubs, hotels and resorts are opening for the season? Here's our annual round-up of events, announcements and openings for The Island of the Winds!
Keep scrolling down this page to see information about regularly-scheduled DJ and entertainment performances, pool parties, Greek Night events, open air movies, cultural exhibitions and food festivals. This page also profiles new hotel, restaurant and bar arrivals on the island.
Further event information is presented on separate pages of this post:
Page 2 provides season opening details for restaurants and cafes;
Page 3 shows opening dates for bars, nightclubs, beach clubs and party cruises;
Page 4 is a list of parties, DJ shows and other entertainment events that have been officially announced for June through September;
Page 5 profiles opening dates for hotels, resorts and other accommodations; and
Page 6 is a list of events that have already taken place, in case you're interested in seeing what has happened on Mykonos so far this year.
These listings are updated daily, whenever event or opening day announcements are issued.
Regular DJ shows and parties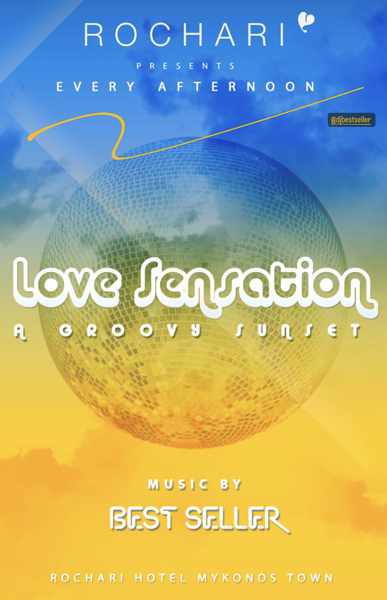 Every afternoon this summer, Rochari Hotel in Mykonos Town presents Love Sensation — A Groovy Sunset, with music by DJ Best Seller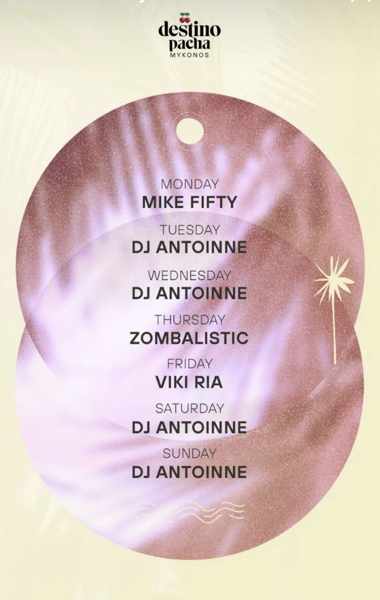 This is the weekly DJ schedule for the afternoon poolside parties at Destino Pacha Mykonos Hotel at Agios Stefanos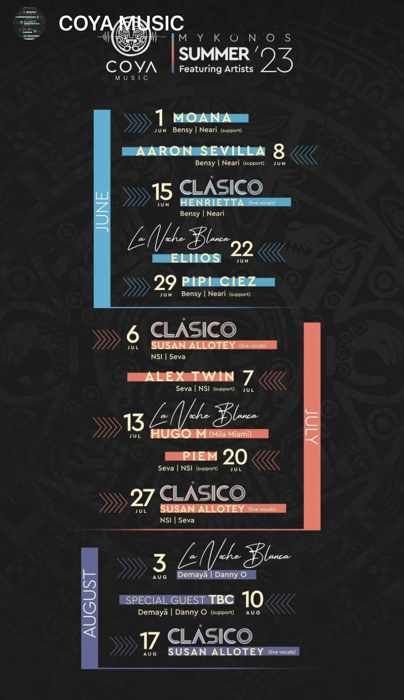 Starting June 1, COYA Mykonos will present special live entertainment events on the dates shown above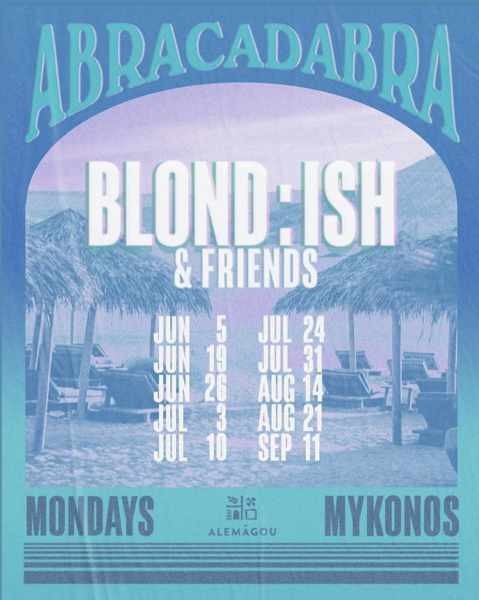 Starting on June 5, DJ Blond:ish will be performing almost every Monday this summer at Alemagou beach club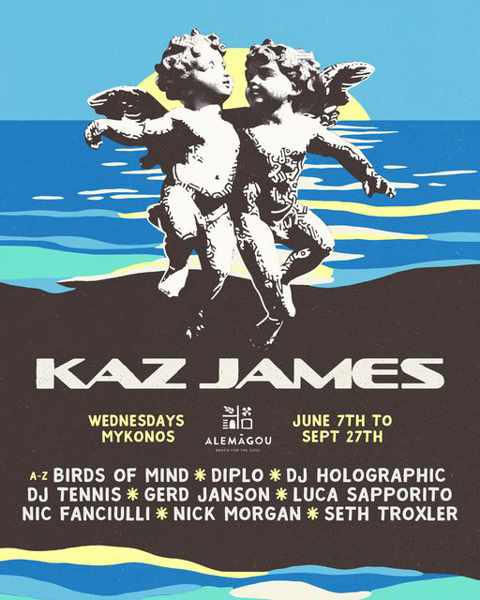 Starting with an opening party on June 7 and continuing every Wednesday this summer, Alemagou beach club will host DJ Kaz James and his invited special guests for a weekly party event
Starting June 9, the innovative live instruments and electronic music band NORMA will be performing every Friday night at JackieO Yacht Club
Beginning on June 10, DJ Xenia Ghali will play at JackieO Yacht Club every Saturday night this summer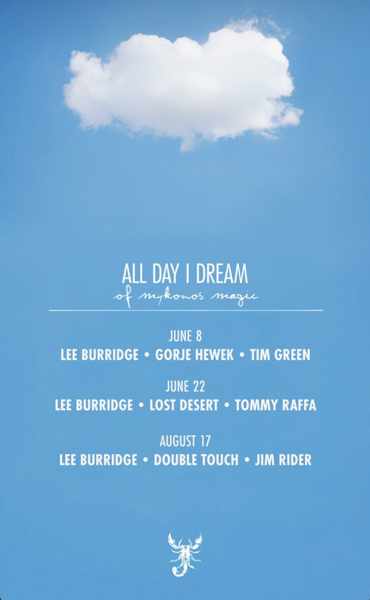 The  All Day I Dream summer tour will make three stops on Mykonos this summer, with performances at Scorpios beach club on June 8, June 22 and on August 17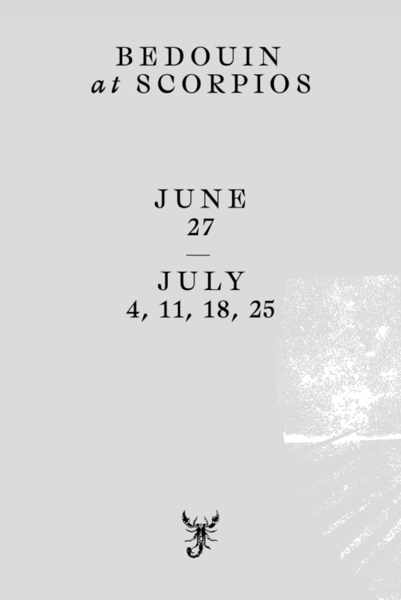 These are the dates this summer that DJ duo Bedouin will be performing at Scorpios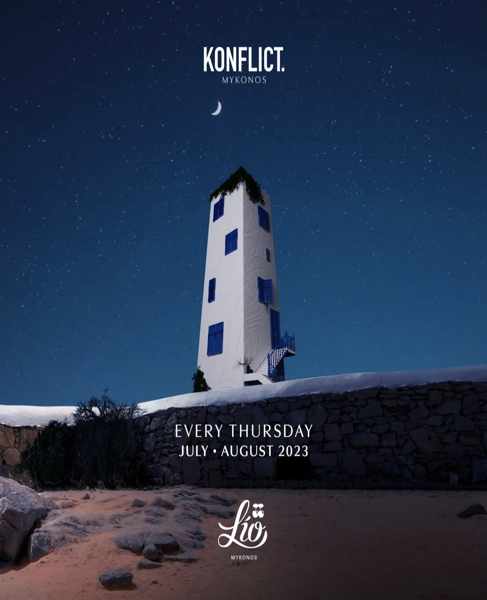 DJ Konflict. will be performing at Lio cabaret restaurant and lounge every Thursday night during July and August
Every Friday during July and August, Destino Pacha Mykonos Hotel at Agios Stefano will host a pool party by Life Events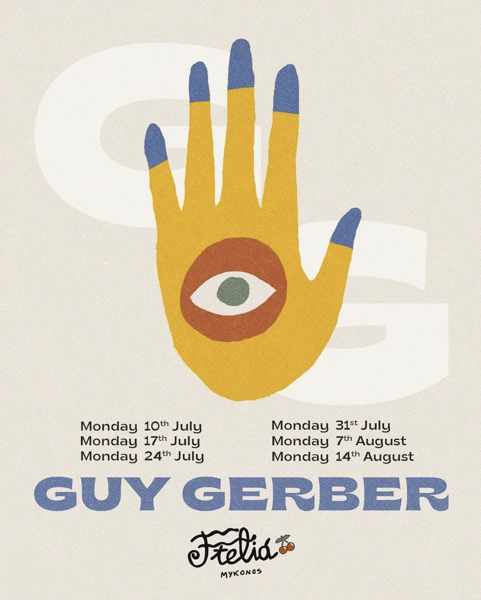 Starting on July 10,  Guy Gerber will appear for a special guest DJ set at Ftelia beach club every Monday until August 14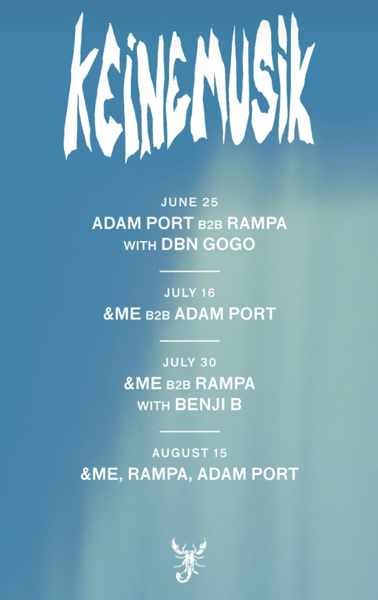 This the calendar of summer 2023 Keinemusik events at Scorpios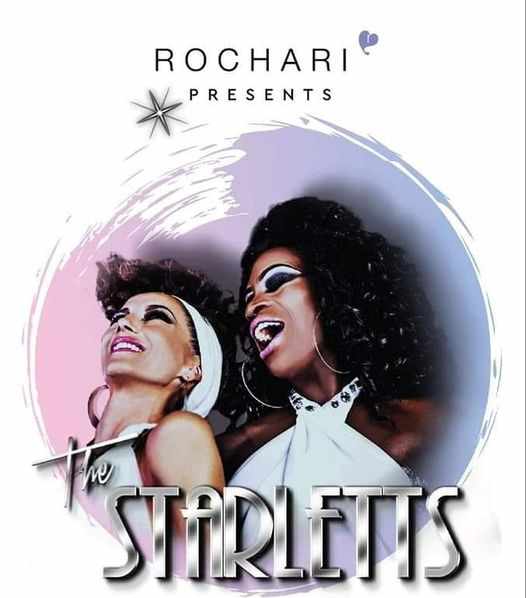 Every Tuesday and Saturday evening this summer, starting at 7 p.m., the singing duo The Starletts will entertain at Rochari Hotel in Mykonos Town
 Greek Night parties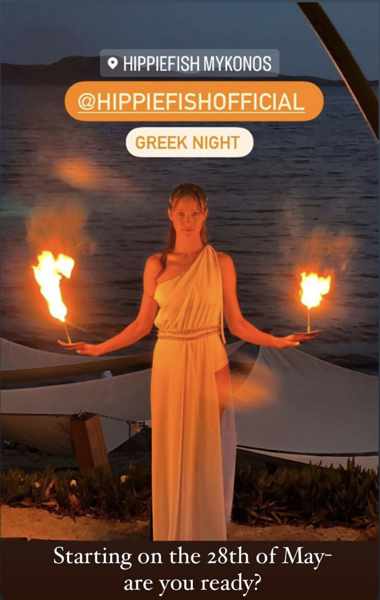 The popular Sunday Greek Night parties at Hippie Fish beach club resume on May 28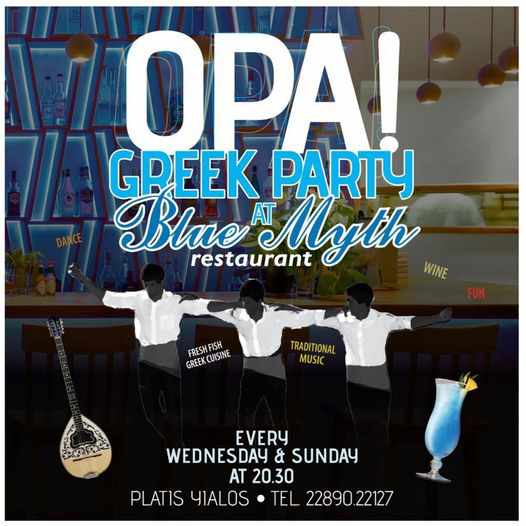 The popular Greek Party nights resume May 28 at Blue Myth restaurant at Platis Gialos beach. The events take place every Wednesday and Sunday night starting at 8:30 p.m.  Reservations are strongly recommended.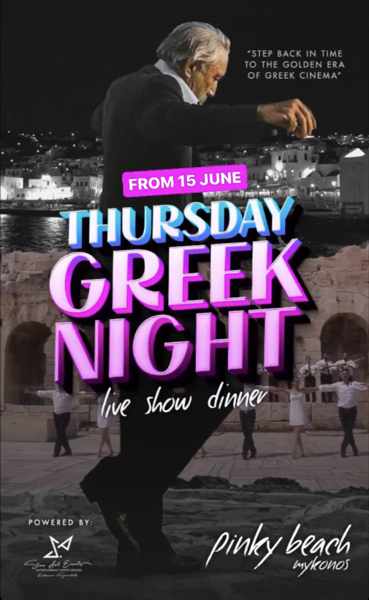 Starting on June 15, Pinky Beach club will be holding a weekly Greek Night every Thursday, featuring a dinner with live entertainment
Arts, Culture & Food Events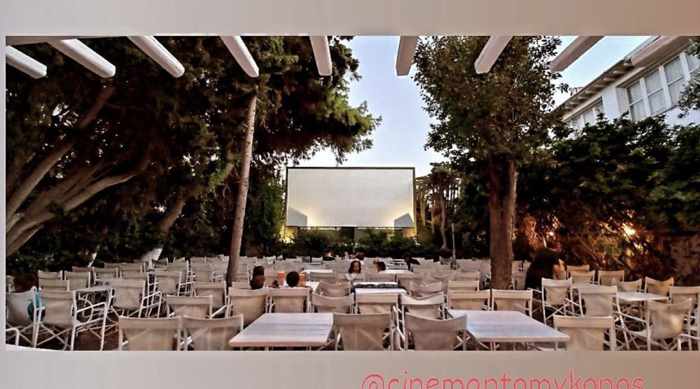 May 19 is season opening day for Cine Manto, the open-air cinema tucked in a hidden garden oasis in the heart of Mykonos Town.  The cinema plays first-release movies in their original versions, usually in English, starting at 9 p.m. daily.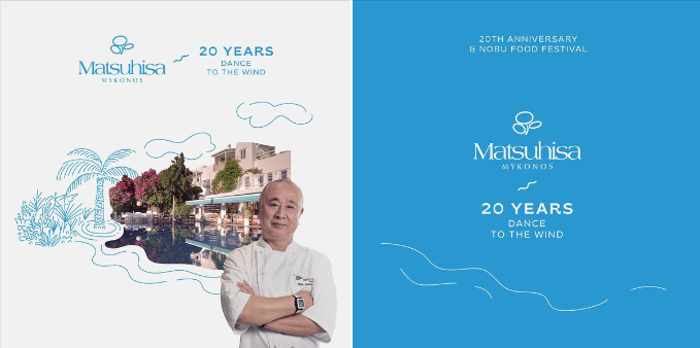 The Matsuhisa Mykonos "new style" Japanese fine dining restaurant at the Belvedere Hotel celebrates its 20th anniversary this year, and will hold its annual Nobu Festival from June 27 to July 2. The Festival offers an exclusive culinary experience with Chef Nobu Matsuhisa and guest sushi masters, and this year will also celebrate the grand opening of the restaurant's Omakase Bar. 
What's new on Mykonos for 2023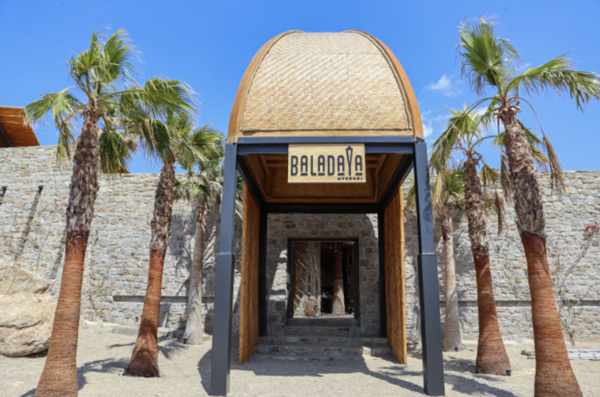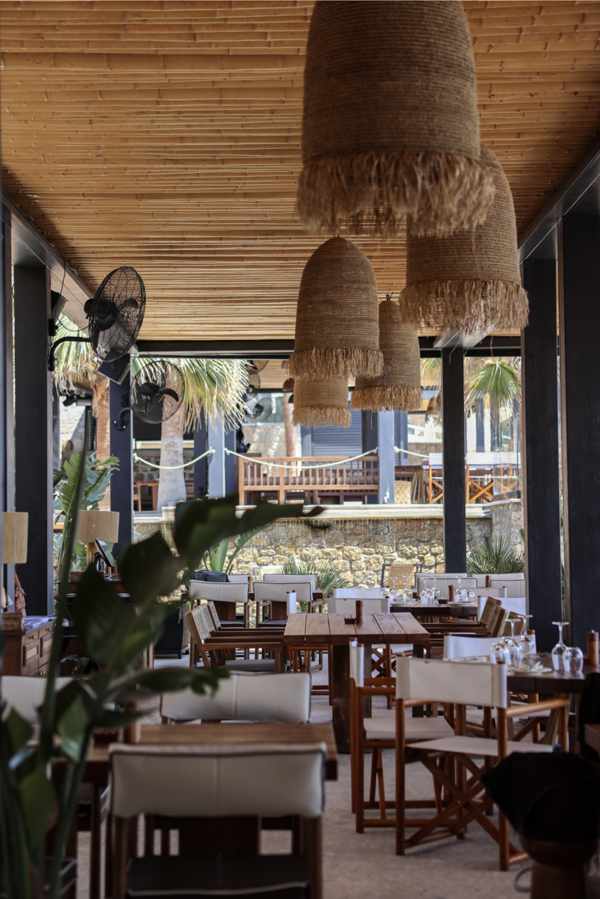 The beginning of June saw the opening of Badalaya Mykonos on Paradise beach (in the premises occupied last year by itbeach mykonos). Described as "a modern Greek tavern … where tradition meet innovation," Badalaya features a menu created by Chef George Stylianouda. The restaurant menu includes a wide range of meat, seafood and Greek dishes, as well as salads and sharing plates. The menu for the restaurant's beachfront sunbeds includes burgers, sandwiches and salads. Both menus can be viewed on the Badalaya Mykonos website.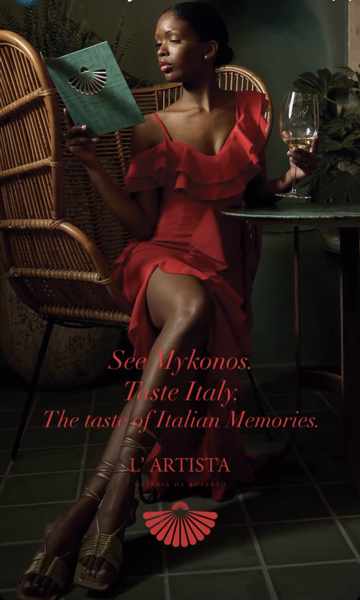 June 9 is grand opening day for L' Artista, Osteria  Da Roberto, a new Italian restaurant "where comfort food meets fine dining." L' Artista is situated mere steps from Agia Anna beach at the Old Port harbourside of Mykonos Town, in the premises occupied last year by the short-lived Billionaire Mykonos restaurant and nightclub.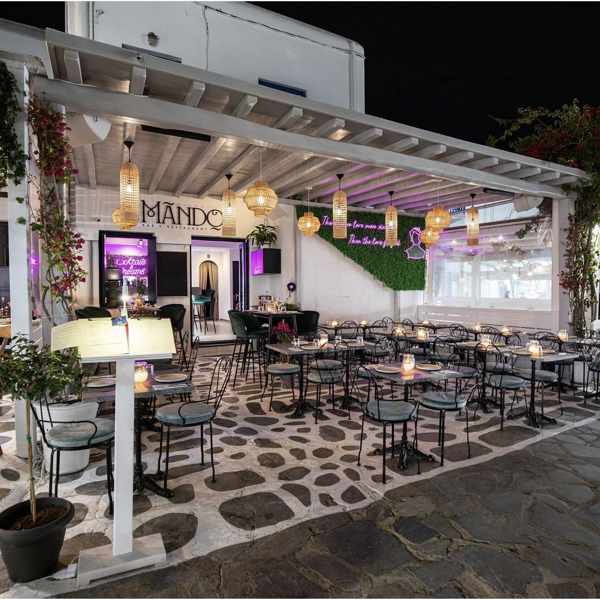 A new arrival to Goumenio Square, Mando Restaurant and Bar opened its doors in late April. Its website says Mando is "reinventing tradition with an elevated take on Greek cuisine. We are a funky bistro style restaurant blending exceptional food with craft cocktails, using local ingredients." Mando is open daily at 10 a.m. serving brunch, followed by a Greek-style tapas menu available from 6 p.m. to midnight. "We finish the night with a lounge atmosphere, music, and cocktails."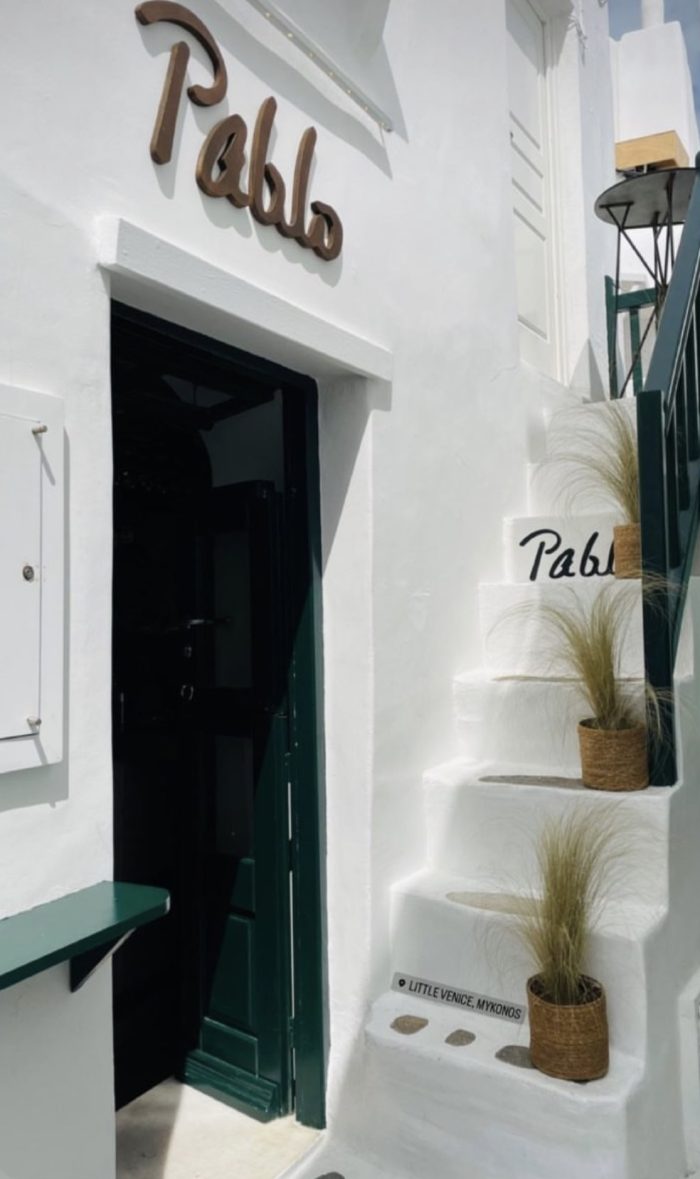 April 27 was opening day for the new Pablo Bar, a "sister" to popular Paloma Bar. You'll find Pablo at 34 Agion Anargiron Street in Mykonos Town. Pablo opens at 10 a.m. daily, serving breakfast and coffees, and the bar serves cocktails until 3 a.m.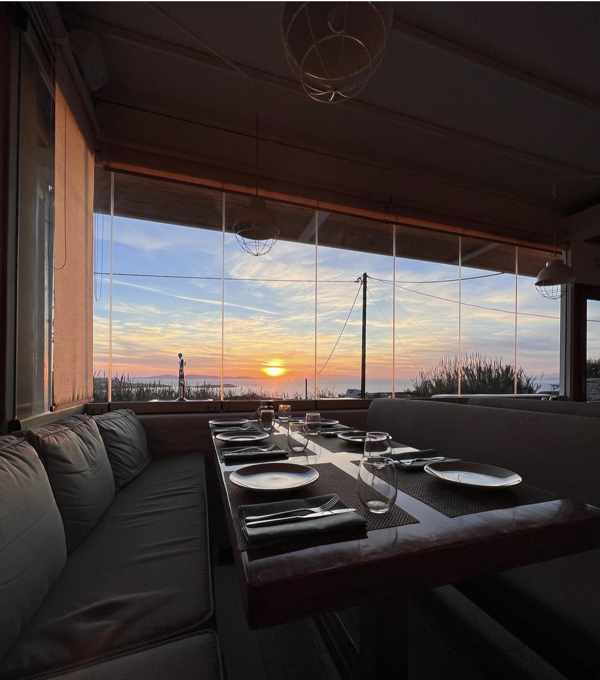 Philotimo bills itself as a "Mediterranean & traditional Greek cuisine restaurant," but it's making a particularly big impression with its amazing burgers and its daily specials of four or more popular Greek dishes. Philotimo is situated on the peripheral road in the Evaggelistraki area, near the AB supermarket. It opened in March.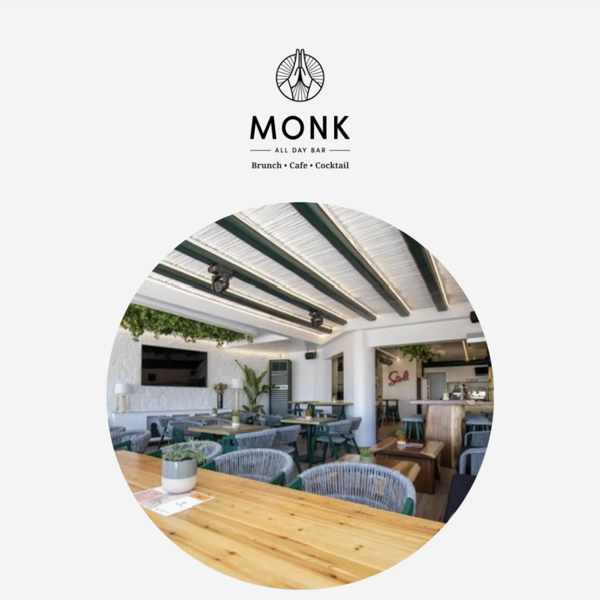 Located in Ano Mera, Monk All Day Bar is a new go-to spot for coffee, brunch and cocktails. Monk opened on April 8.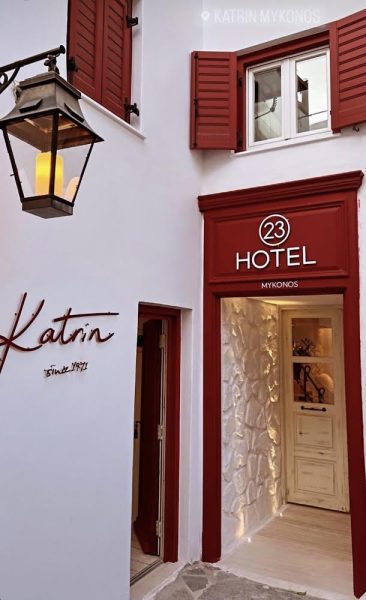 Legendary fine dining restaurant La Maison de Katrin will be opening its doors for the 2023 season at a new location in Mykonos Town — 23 Panachratou street, in 23 Hotel (new name for the former Carbonaki boutique hotel). In operation since 1971, Katrin was previously situated on Nikiou street, under a bedazzling canopy of bougainvillea that was a magnet for Instagrammers.  Only 200 meters away, the new premises will make their grand opening debut on April 12.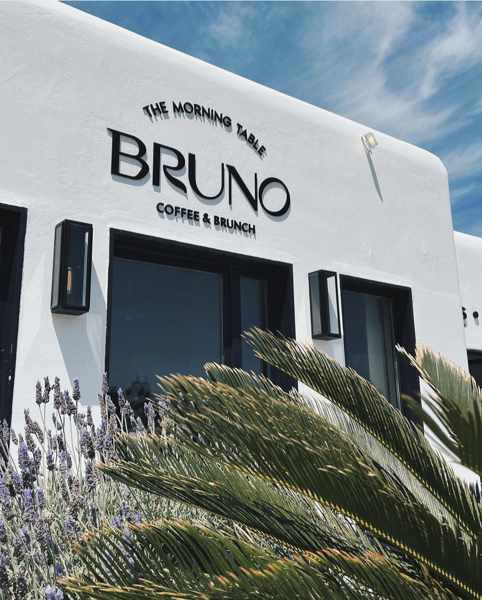 Brunello was one of many restaurant newcomers to Mykonos in 2022. For this season, the it has rebranded as Bruno Coffee & Brunch.  You'll find Bruno in the Mykonos My Mall in Ano Vrisi.
 Van Stories Mykonos is a unique new service making its debut on the island this summer.  Its signature "boho-style" Volkswagen T2 van features a fully stocked mobile bar and DJ booth that can be booked for private parties, weddings , photo shoots, and other special events.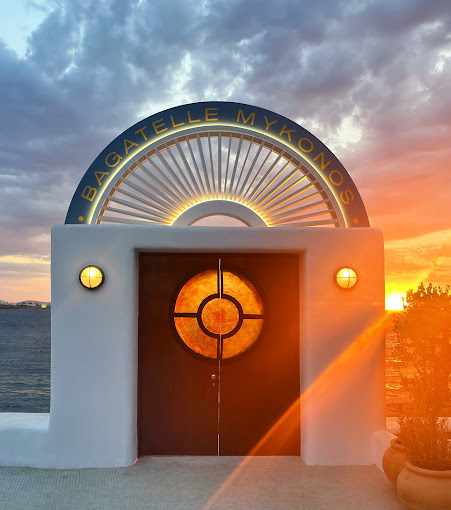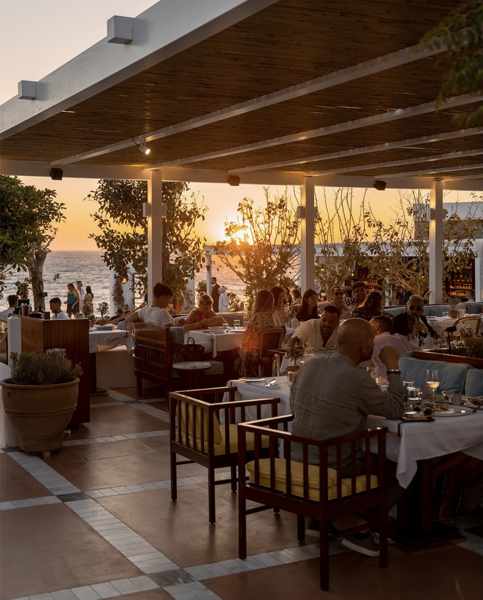 Bagatelle Mykonos will unveil an exciting new restaurant concept — The Sunset Plaza — when it opens in May for its second season of operations.  Inspired by lively plazas throughout Europe, the sunset-view, seaside complex will feature three distinct venues offering "fine dining, high-end entertainment and fashion shopping in an al fresco setting": The Sunset Lounge, Bagatelle Mykonos restaurant, and ITA Mykonos. Designed as a romantic spot to watch the sunset or relax after dinner, The Sunset Lounge will offer "amazing cocktails prepared by top-notch mixologists, a high-end collection of wines and spirits, live artists, fire blowers, singers, musicians and dancers, and the most beautiful view of the island," a Bagatelle Group spokesperson told us.  The restaurant, Bagatelle Mykonos, will spotlight cuisine inspired by La Côte d'Azur, Southern Italy and Mykonos; its unique menu will "blend the generous flavours of the French Riviera cuisine with the refreshing Mediterranean and Greek influences." Meanwhile, the "magical hideaway" ITA Mykonos — an intimate spot inspired by the lush jungles of Mexico — will offer an adventurous culinary journey  with its menu of "daring and colorful Mexican and Peruvian fusion food."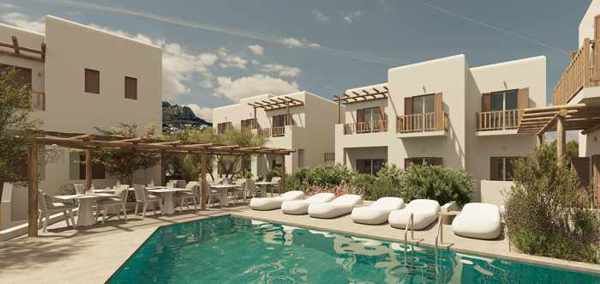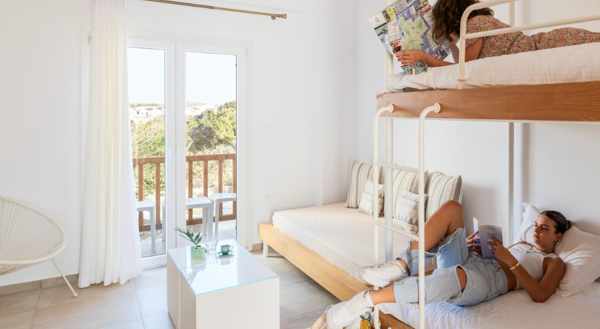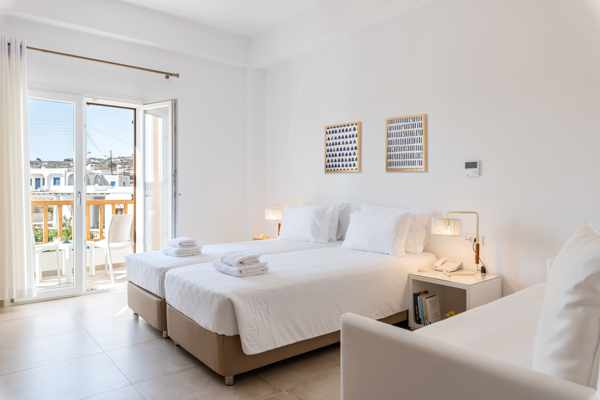 A new hotel that describes itself as "youthful, breezy and affordable" will be opening this season in Ano Mera. Mykonia Inn Hotel will boast 68 rooms in six different styles that can accommodate 1, 2, 3 or 4 people.  The hotel website says rates start as low as €60 per night for the "Just the two of us" room, €80 for the "Just the three of us" room, and €140 for the "Mykonos Vibes" room for 4. Hotel facilities and services include a swimming pool, gym, and a continental breakfast.  An official opening date has not yet been announced, and the hotel's online booking form had not been activated as of February 21. We're still awaiting word from Mykonia Inn as to when it will begin taking reservations.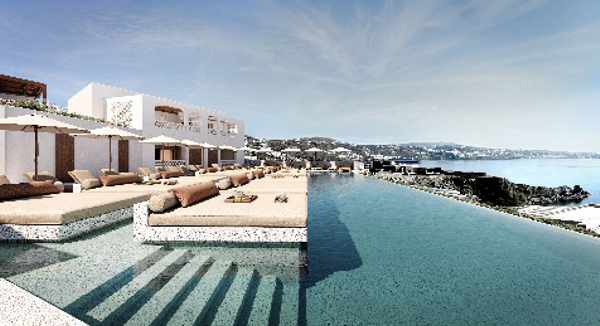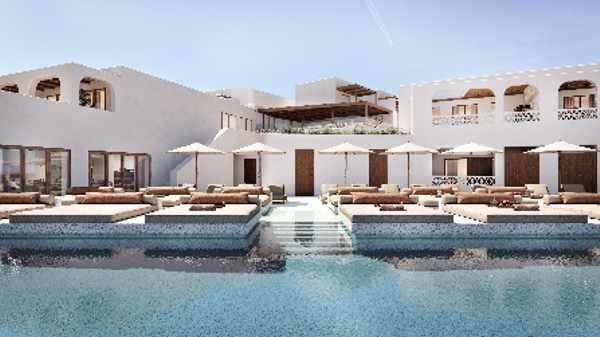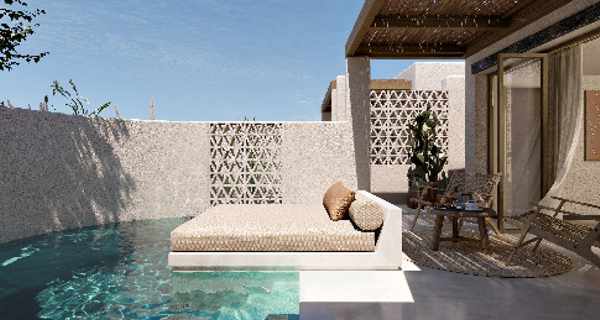 The chic new Domes Noruz Mykonos hotel is expected to open its doors this July. Located at Agios Stefanos, the 38-suite, adults-only resort is the newest member of the Domes Resorts collection of luxury lifestyle vacation properties in the Mediterranean. According to a media announcement by Domes Resorts, guests at the new Mykonos hotel will be able to "choose rooms with private pools, indulge in signature culinary offerings at Topos Neo-med restaurant, sip on cocktail masterpieces by Apallou mixologists, and experience established lounge sessions or explore the island in the care of a tried and tested concierge. These elements create a celebratory aesthetic that includes art and fashion, all set against a 24/7 vibe of chill music and sun-kissed relaxation."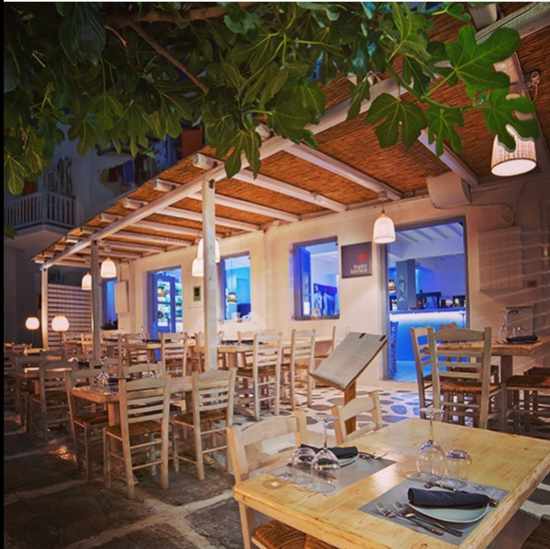 Funky Kitchen will not be returning for the 2023 season. The Lakka-area restaurant had been hugely popular with regular Mykonos visitors for the last several years, but its owners announced on social media April 2 that they have decided "to close Funky kitchen as we know it and open a new chapter concentrating in private dining and pop up events." There's no word on whether another restaurant will be moving into the space for this summer.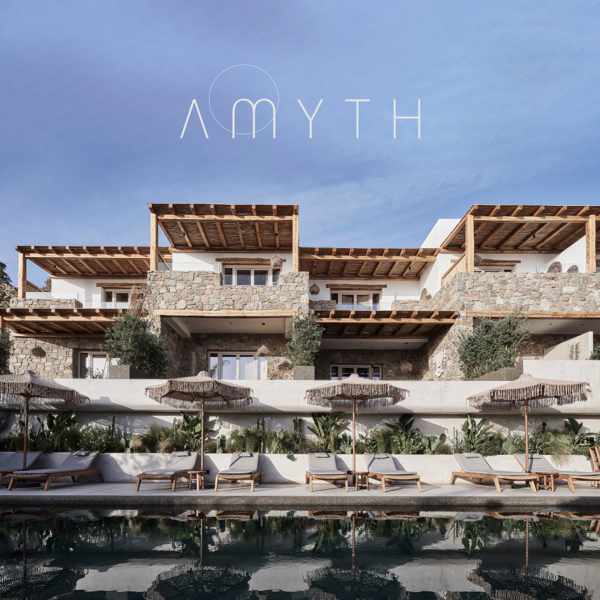 The former Habitat Hotel at Agios Stefanos has undergone a rebranding and is now a Thanos Hotels property called Amyth of Mykonos.  An April 3 social media post announced the change, saying that Amyth will be: "A sanctuary for the soul, a new bijou hotel promising boho-luxe style, authentic 'at-home' hospitality, and a deeper experience of Mykonian life at its laid-back best.​" Amyth's website shows booking availability from April 13 onwards.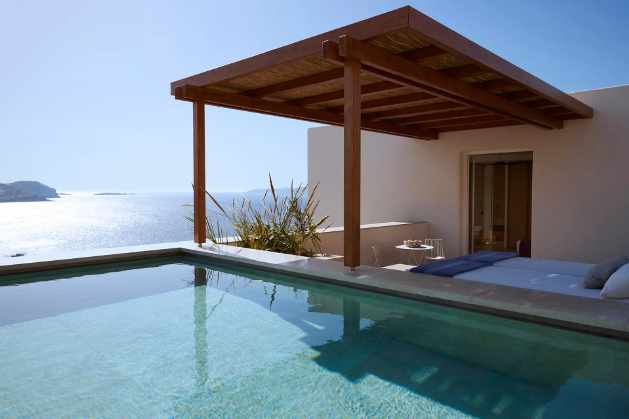 Bill & Coo Coast Suites at Agios Ioannis has introduced a new private hideaway for 2023 — the Coast Hill Suites. This "discreet cocoon" of 10 spacious suites — the biggest suite at Bill & Coo Coast — each feature an infinity pool, a sheltered terrace with sweeping sea, sunset and Delos island views, and round-the-clock service from the hotel's team.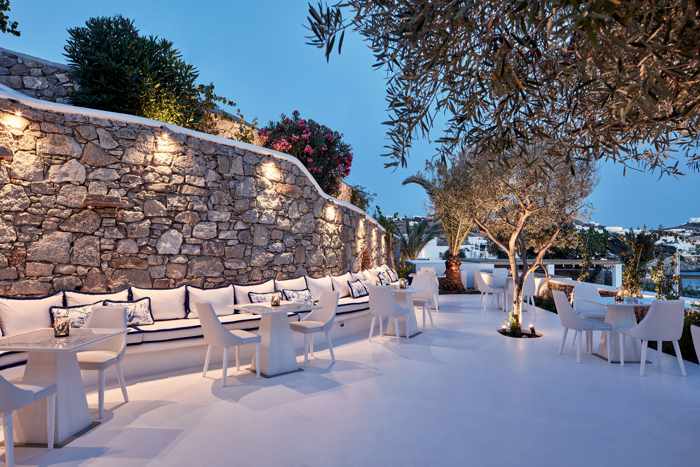 Katikies Mykonos hotel at Agios Ioannis beach will be welcoming Botrini's Mykonos restaurant to its property this summer — the newest Greek island restaurant to feature the cuisine of Michelin-starred Greek-Italian chef Hector Botrini. According to a media announcement by the Katikies hotel chain, "Showcasing premium ingredients, high technique and inexhaustible talent, the chef's most iconic recipes set the stage for a unique culinary experience. The most precious and freshest gifts of the land and the sea pass through the kitchen to be transformed into works of contemporary culinary art, which are found in degustation and à la carte menus and are accompanied by excellent Greek and international wine labels, under the supervision of Yiannis Karakasis MW (Master of Wine)." An official opening date for Botrini's Mykonos has not yet been announced, but the restaurant page on the Katikies Mykonos website is accepting online reservations for seating dates from May 1 until September 30.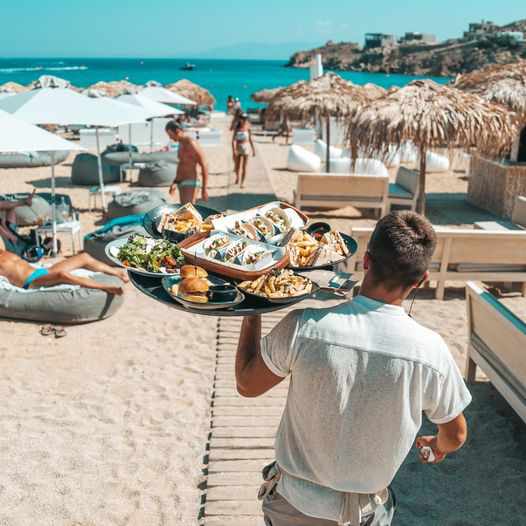 Divine Sea & More, the beach bar and restaurant at Super Paradise beach, has a new name for 2023 — the venue is now called Thalas Barefoot Tavern & Beach. It opens for the season on May 19.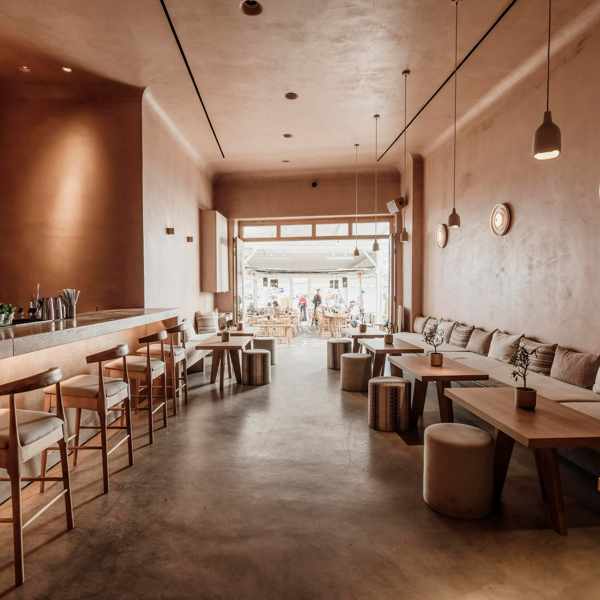 Bouboulo restaurant on the Gialos harbourside promenade of Mykonos Town has undergone a transformation for 2023. Now called Frankie Mykonos (a name inspired by Frank Sinatra), its menu features "cuisine with the flavor of Italy and fresh local ingredients, true to our farm-to-table philosophy and quality. Enjoy fresh handmade pasta, meat, bread and pizza with sourdough and organic flour that are fermented daily and baked in our wood-fired oven, as well as gluten free and lactose free options," a description on the restaurant website says.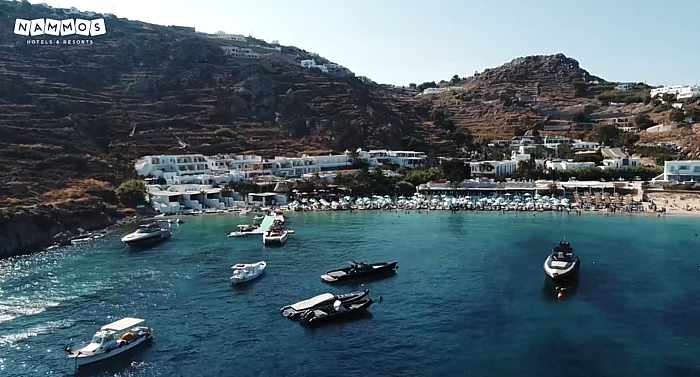 The Nammos World of luxury lifestyle restaurants, beach clubs, entertainment events and shopping is expanding with the debut of a chain of exclusive high-end hotels and resorts.  Twenty years ago, Nammos Mykonos opened as an upscale restaurant on Psarou beach. Within a few short years it became one of the island's most famous beach clubs, drawing an international clientele of the rich, famous and beautiful.  More recently, the brand opened Nammos venues in Dubai, Cannes, Limassol and Qatar. Now, in 2023, it has established Nammos Hotels & Resorts, and the first Nammos Hotel will open this summer on Psarou beach (in the premises previously operated as the Kensho Psarou hotel, and last year as N Hotel.) Nammos resorts in Abu Dhabi and the Maldives also are set to open. The new Nammos Mykonos hotel can be seen on the left side of the beach in the image above; the beach club is next door, on the right. Opening dates for the hotel and beach club have not yet been announced.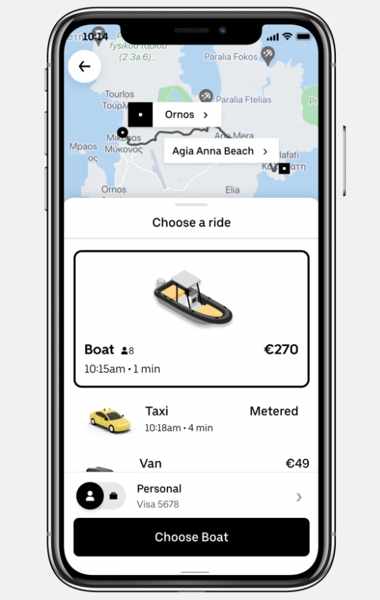 Uber has announced that it is bringing its Uber Boat service to Mykonos this summer. At the 2023 Uber Go-Get Product Event on May 17, Uber announced that the new service will give Mykonos vacationers and boat enthusiasts the opportunity to book private boat transportation simply by selecting "boat" from the Uber app.  The service will allow for "up to 8 people to cruise to popular destinations around the island of Mykonos," Uber said. The official launch date for the service has not yet been announced.
South coast beach water taxis, Delos island ferries and port-to-port SeaBus service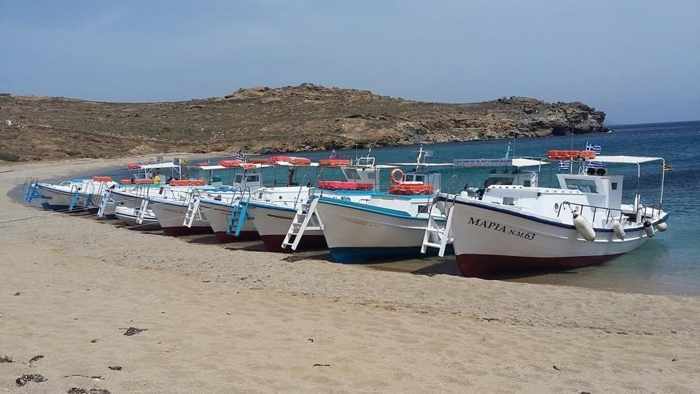 On June 1, the daytime shuttle boat service to southern coast beaches resumed for the summer. Operated since 1968 by Mykonos Sea Transfer, the water taxi service offers regular scheduled boat rides from Ornos and Platis Gialos to Paraga, Paradise, Super Paradise, Agrari and Elia beaches. A return ticket to a single beach costs €15 per person, while an all-day pass that allows hop on – hop off rides to multiple beaches costs only €20 per person.  The service operates from roughly 10 a.m. to 6:30 p.m., depending upon the beach destination and weather conditions. The company also offers private boat bookings with a captain at a cost of €100 per hour. Self-drive boats can be rented for the same hourly price. Full schedules and details can be found on the Mykonos Sea Transfer website.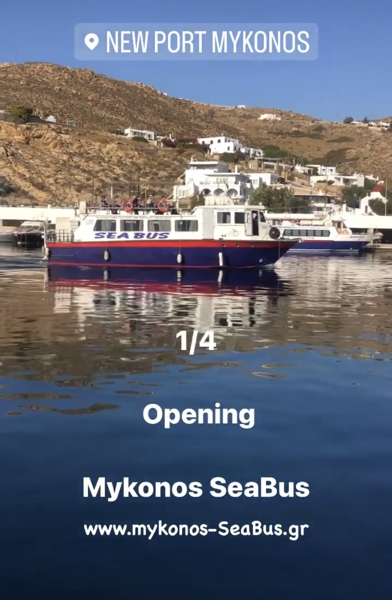 The Mykonos SeaBus water taxi service resumed operations on April 1. The best way to travel between the New Port at Tourlos and the Old Port at Mykonos Town, the SeaBus ride takes only 12 minutes and costs just €2 per person. Full details of the service, including its daily schedule and boarding locations, can be found on the Mykonos SeaBus website. The service will operate until October 30.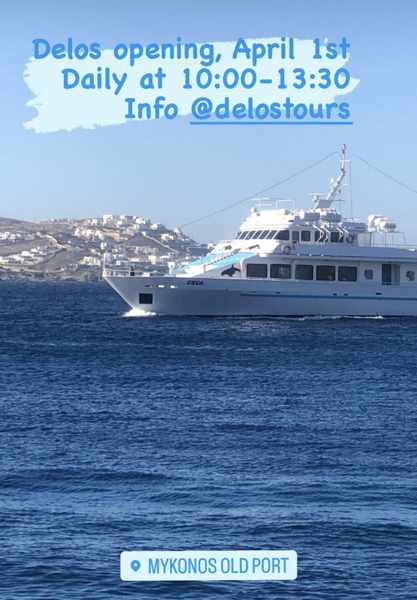 April 1 is the season start date for the Delos Tours boat trips to historic Delos island, a UNESCO World Heritage Site and one of the most important archaeological destinations in the Greek Islands. Full details of boat schedules and ticket prices are available on the Delos Tours website. 
Please click on the links below to read about restaurant and bar opening dates and other news:
Page 2 provides season opening details for restaurants and cafes;
Page 3 shows opening dates for bars, nightclubs, beach clubs and party cruises;
Page 4 is a list of parties, DJ shows and other entertainment events that have been officially announced;
Page 5 profiles opening dates for hotels, resorts and other accommodations; and
Page 6 is a list of events that have already taken place, in case you're interested in seeing what has happened on Mykonos so far this year.
CONTINUED ON PAGE 2