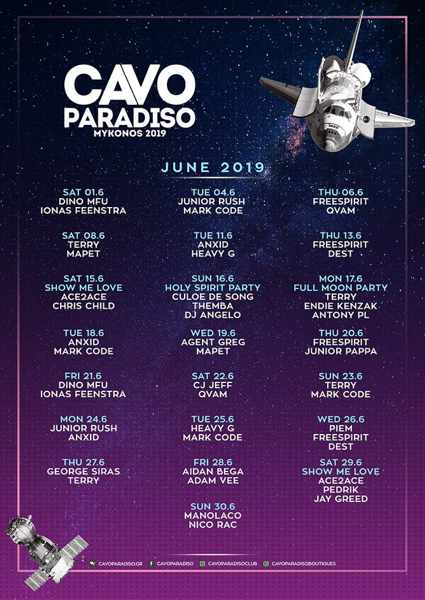 The June 2019 schedule for DJ appearances at Cavo Paradiso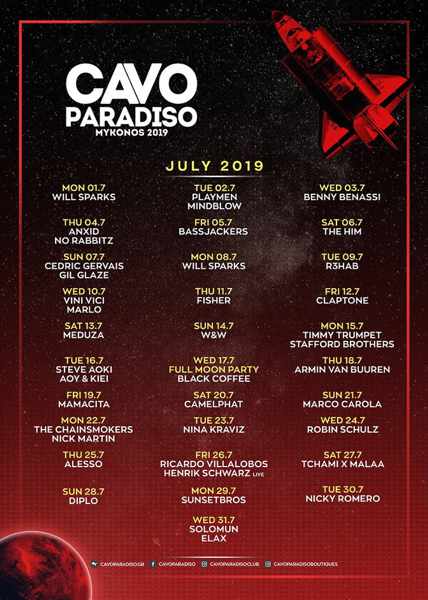 The international DJ lineup for July at Cavo Paradiso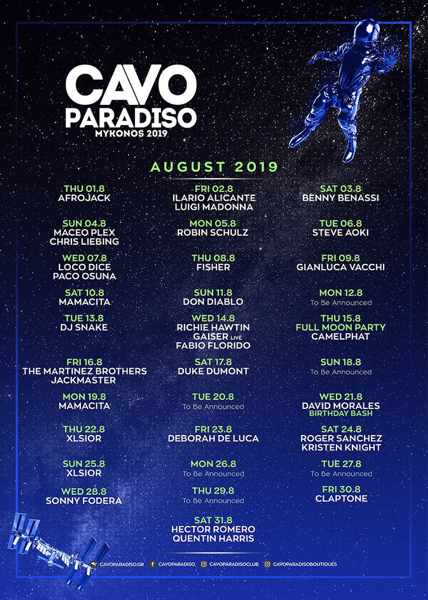 The international DJ lineup for Cavo Paradiso in August (with some appearances yet to be announced)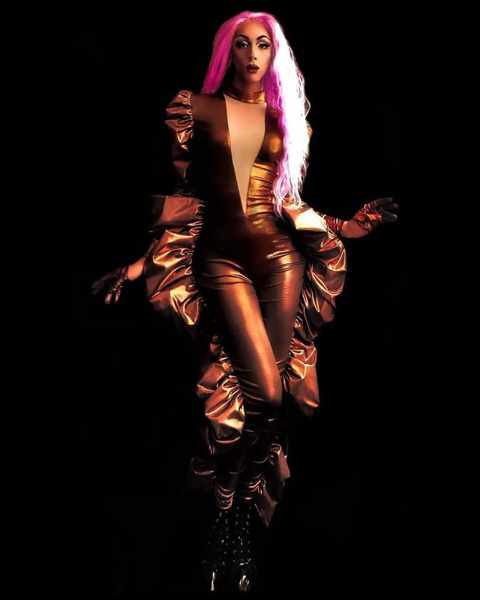 The daily drag shows resume at JackieO' Beach on Friday May 24, with entertainer Holly Grace making her first-ever appearance at the club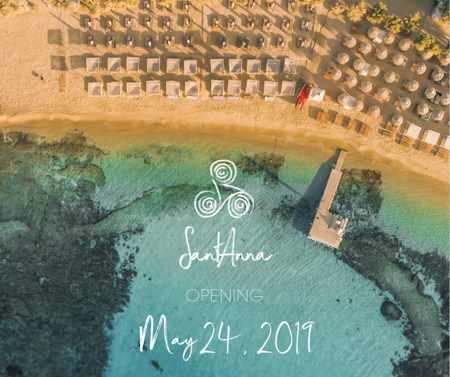 Friday May 24 is opening day for SantAnna beach club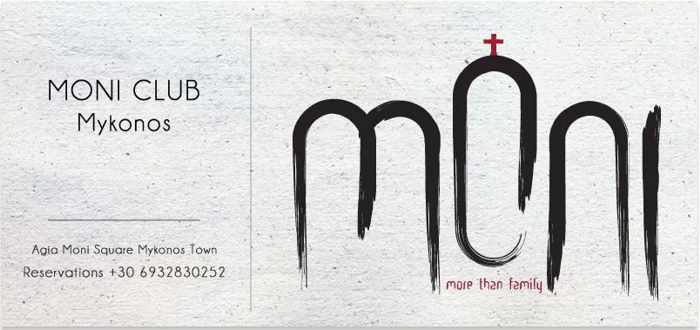 Moni kicks off its season on Friday May 24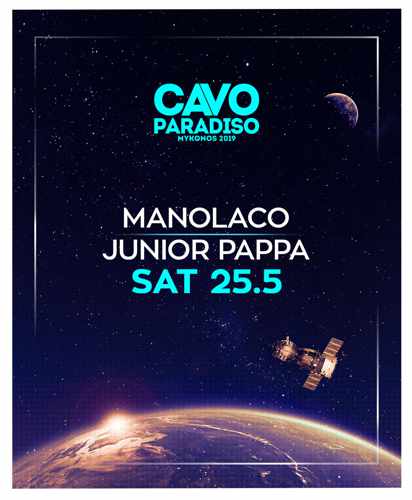 Manolaco and Junior Pappa are featured DJs for the Saturday May 25 party at Cavo Paradiso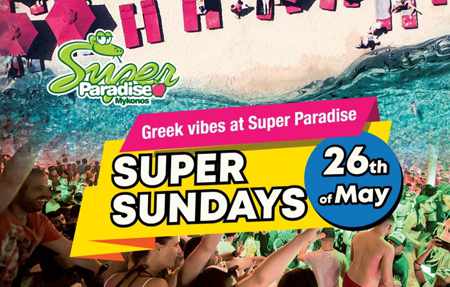 Super Paradise beach club holds its weekly Super Sundays party on May 26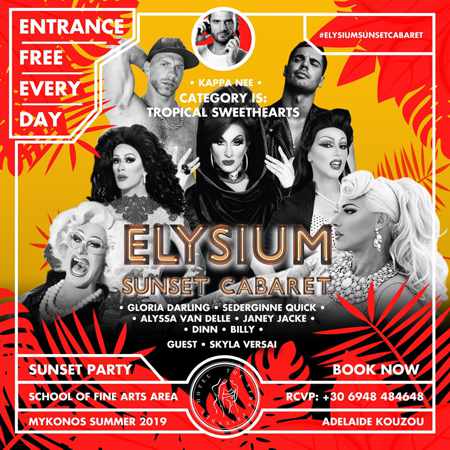 Elysium Hotel resumes its famous Sunset Cabaret shows on Friday May 31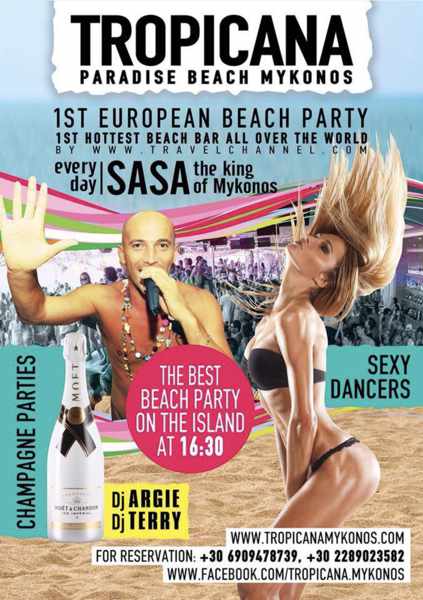 Tropicana at Paradise Beach throws parties every day starting at 4:30 p.m.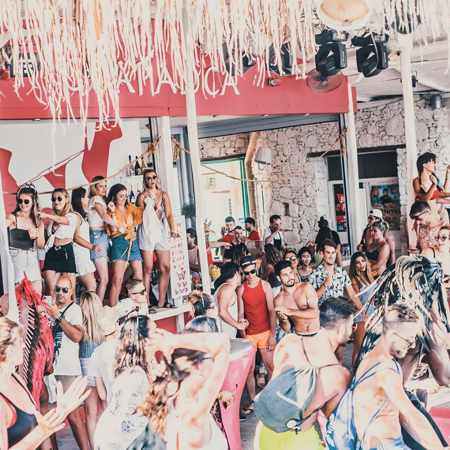 Guapaloca Bar at Paradise Beach throws beach parties every day starting at 4 p.m., and night parties starting at 10 p.m.
Super Paradise Beach Club holds its infamous anything goes beach parties every day starting at 4.30 p.m.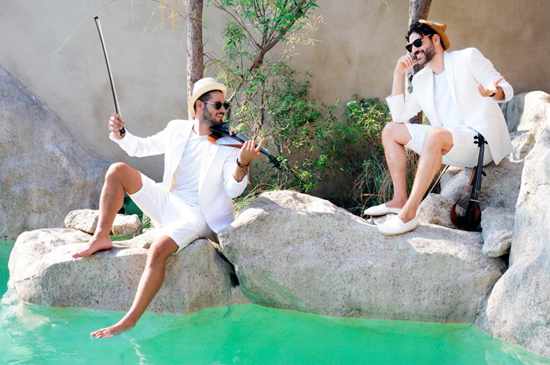 Duo Violins will appear for live performances at Kensho Psarou every Thursday 
~ updated on Thursday May 23 ~
What's happening: Summer is fast approaching and the Mykonos party scene has gotten well under way, with most of the island's bars and clubs now open for business. 
Parties both in Mykonos Town and at various beaches are happening daily, with many more on the way when the big tourist crowds arrive for peak season (July and August).
Page 2 of this post contains promotional flyers for parties and club openings that have been officially announced for May, June, July, August and September. 
Page 3 lists events that have taken place since March, in case you're interested in seeing what has already happened.
So far, Cavo Paradiso is the only venue that has released a schedule of DJ appearances for the entire summer (though there are some acts still to be announced for the club's August lineup).
I update this post whenever new announcements are released, so check back regularly to see what's new.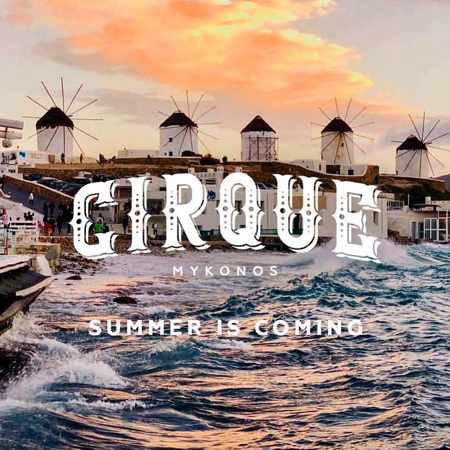 An exclusive new nightclub — Cirque Mykonos — will open this June in the Little Venice area of Mykonos Town. No further details are available yet, but since the venue will be a Mykonos offshoot of the famous Cirque le Soir in London and Cirque le Soir Duba, you can expect a similar level of extravagant and exciting entertainment when it opens on the Island of Winds.
Paradise Beach Club is promising a "massive summer" with special parties and guest DJs as it celebrates its 50th anniversary season in 2019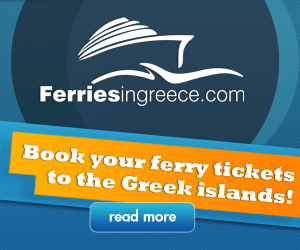 To see events scheduled for May, June, July, August and September 2019, please click on the link below to continue reading on page 2.
Page 3 lists openings, parties and events that have already taken place (in case you want to see what you may have missed).
CONTINUED ON PAGE 2