Kalua restaurant and beach bar shared this post on social media July 22 to remind people that the temporary ban of music in bars, restaurants and clubs on Mykonos will end soon — so music and live entertainment from its resident songstress, Shaya Hansen, will resume in just a few days. The music ban and an overnight curfew are Covid control measures the Greek government is scheduled to lift on Monday July 26.
Velanos Mykonos is a brand-new restaurant that has just opened today (Tuesday July 20). It's situated next to the National Bank near the airport, and is a great spot for breakfast and brunch, as well as sunset cocktails. The restaurant is open from 7 a.m.  until 1 a.m.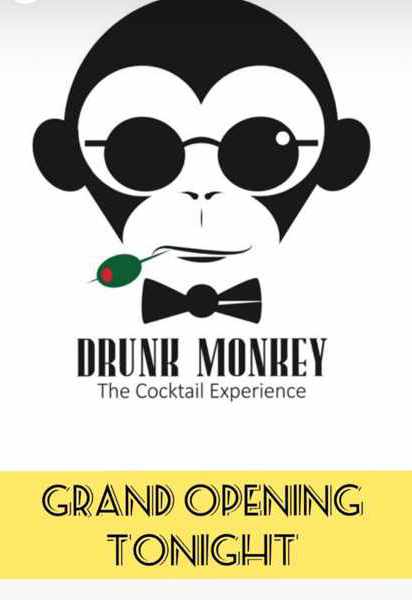 Tuesday July 20 is grand opening for Drunk Monkey, a takeaway cocktail bar in Mykonos Town returning for its second summer on the island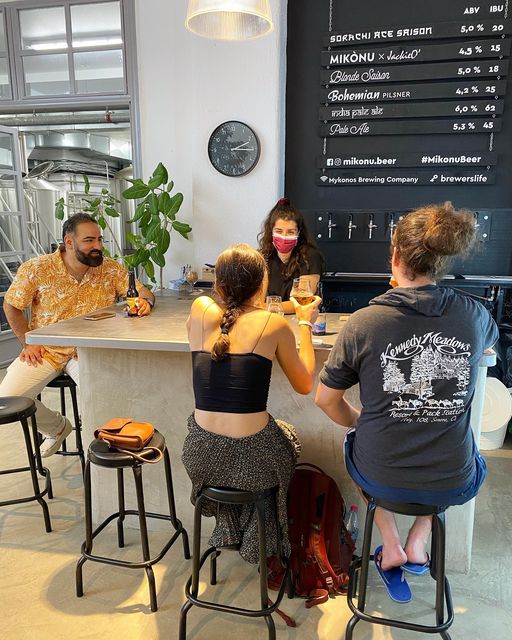 Mykonos Brewing Company is once again welcoming visitors to its taproom to taste its selection of locally-produced craft brews. The taproom is open Monday to Saturday, from 10 a.m. to 6 p.m.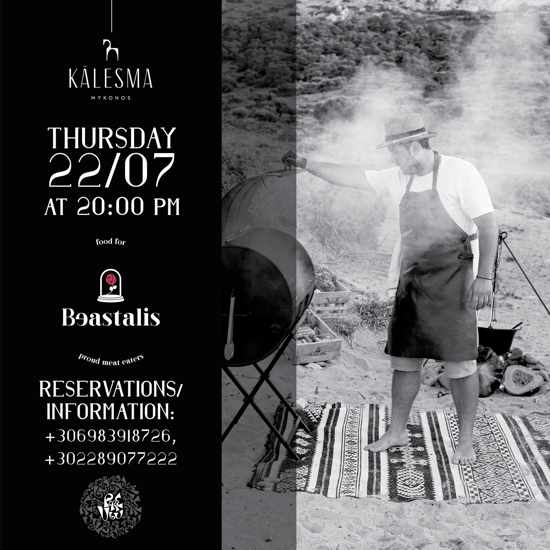 On Thursday July 22, PERE UBU Mykonos restaurant at Kalesma Hotel will host a special summer barbecue event. Billed as "food for proud meat eaters," the event will be "a celebration of all things cured, smoked and barbecued guided by the culinary craftsmanship of Beastalis." The feast starts at 8 p.m., and reservations are required.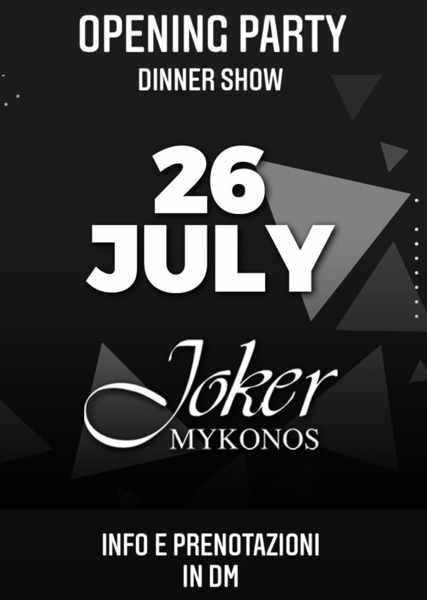 The opening dinner, show and party event by Joker Mykonos takes place July 26 at Alesta restaurant. For information and reservations, contact Joker Mykonos through direct message on their Instagram.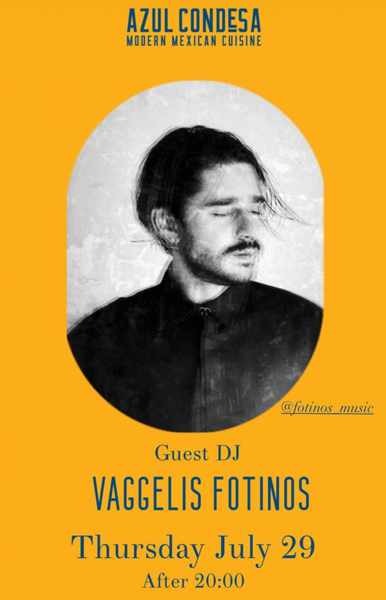 Vaggelis Fotinos will be special guest DJ at Azul Condesa restaurant on Thursday July 29
Updated  on Thursday July 22
UPDATE: In an effort to stem a surge in Covid cases on Mykonos, the Greek government has imposed special restrictive measures on the island with a curfew and music ban that take effect Saturday July 17 at 6 p.m., and continue until July 26.  During this period, Mykonos bars, clubs and restaurants may not play any music, and there is an island-wide curfew from 1 a.m. to 6 a.m. We will post further information when available, including club and bar announcements about DJ shows and other music events that were scheduled for the July 17 – 26 period. Cavo Paradiso, Skandinavian Bar and Hippie Fish have already issued notices about their operations during the lockdown — scroll down to see their social media announcements.

Wondering what's happening today? Tomorrow? The day after that? Later this month? See page 2 for a day-by-day list of events taking place on Mykonos.
Keep scrolling on this page to see club DJ calendars for this month, along with important news updates about Covid restrictions applying to the Mykonos party scene and announcements of event cancellations and rescheduling resulting from those restrictions.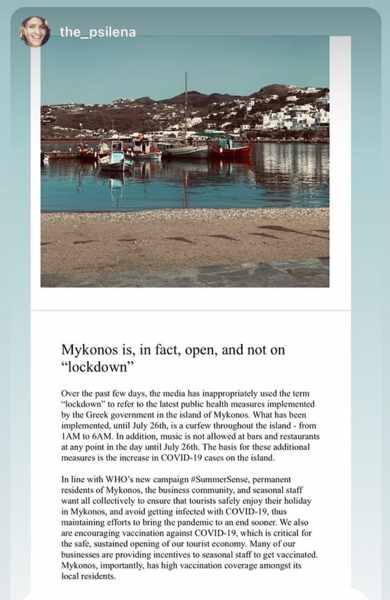 This Instagram post by a Mykonos resident, which explains the reasons for the island's current restrictions,  is being widely shared on social media by local businesses to counter rumours that bars, clubs, restaurants and shops on Mykonos have been shut down.  Businesses are in fact open, and the music ban and curfew are expected to be lifted on July 26, if not sooner.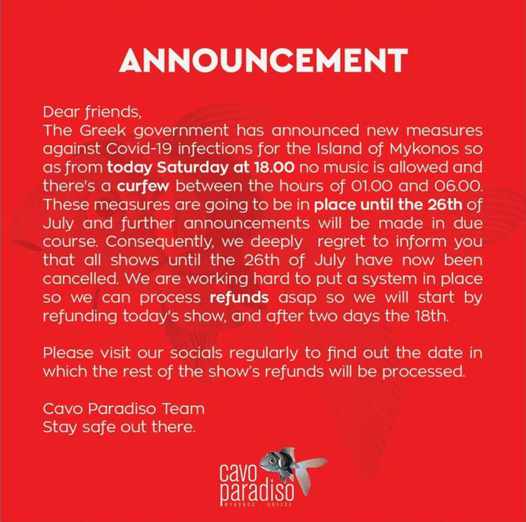 This announcement by Cavo Paradiso club explains the Covid control measures imposed on Mykonos by the Greek government, and their impact on Cavo's schedule of DJ shows for the next nine days.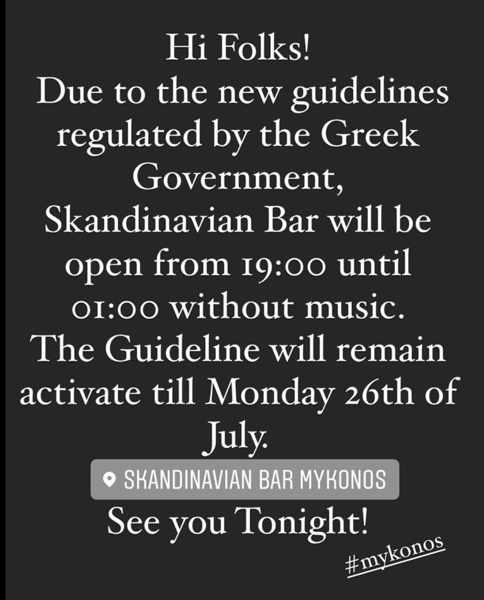 Skandinavian Bar posted this notice on social media to announce its hours of operation, with no music, from Saturday July 17 through to Monday July 26
Hippie Fish beach club and restaurant shared this message on social media after the new restrictions were announced for Mykonos
Organizers of the weekly Joker Mykonos dinner, show & DJ party events posted this notice on social media to advise that their first event, scheduled for Monday July 19, has been cancelled, and that they are awaiting word on whether they will be able to proceed with their July 26 event.
Music is banned until July 26 not only for Mykonos bars, dance clubs and restaurants, but also for private parties and even community cultural events — like the Cretan Night that had been scheduled for July 24 at Rizes Folklore Farmstead. The farmstead posted this cancellation notice on social media.
The opening party for Bordello Mykonos, The Italian Dinner Show event, had originally been scheduled for July 24. It has been cancelled because of the restrictive measures  on the island, and has been rescheduled for Wednesday July 28.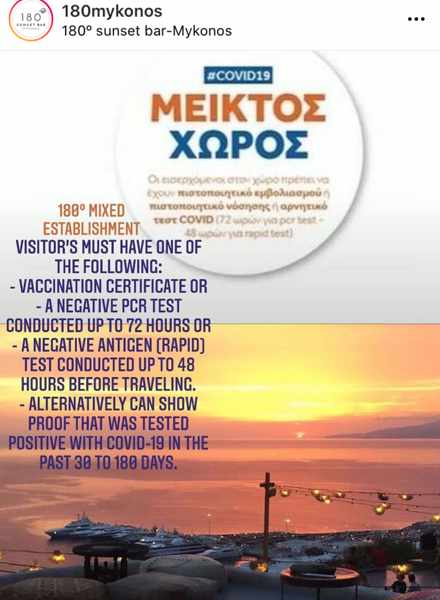 180 Sunset Bar posted this notice on social media to outline its admission policy for guests beginning Friday July 16, in accordance with Greek government regulations
SantAnna X Rose Beach club has issued this announcement to explain why it has cancelled the July 16 event that was to feature Sven Vath and Ame.
And in another announcement, SantAnna X Rose Beach club explains the cancellation of its scheduled July 23 event featuring Sven Vath and Gerd Janson.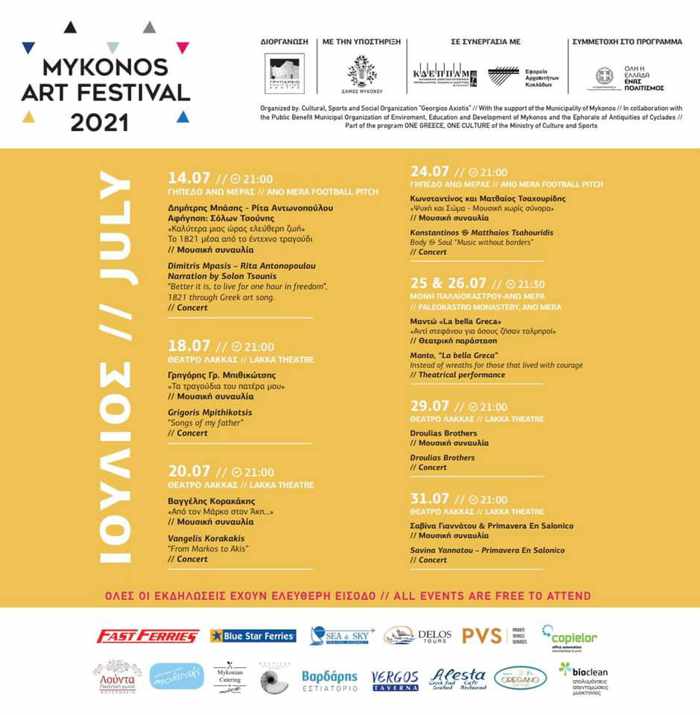 Update: This is the program of concerts and theatrical performances being held in July as part of the Mykonos Art Festival 2021.  As a result of the Greek government's partial lockdown measures on Mykonos, the events scheduled for July 18, 20 and 24 have been cancelled and will be rescheduled. New dates for those performances will be announced in the near future. All the events are free to attend at the locations specified for each event.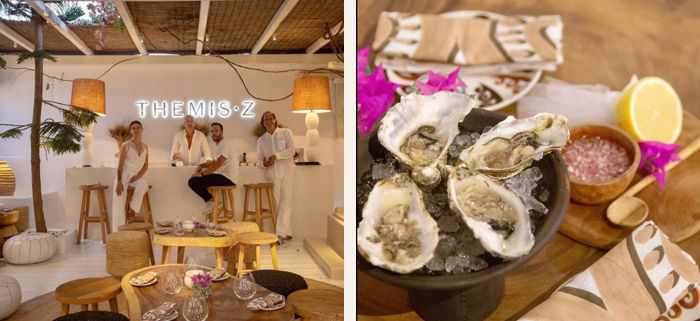 Aw, shucks! Starting July 15, the THEMIS • Z shop in Mykonos Town will be hosting Oyster Bar Evenings in the store's private garden every Thursday. This "unique THEMIS • Z experience" will offer "hand picked oysters and freshly caught shellfish from Mykonos or neighbouring islands served with our selection of Greek wines, champagne and unique cocktails." There is limited availability for table reservations, so anyone interested in attending should direct message shop founder Themis Zouganeli through her Instagram.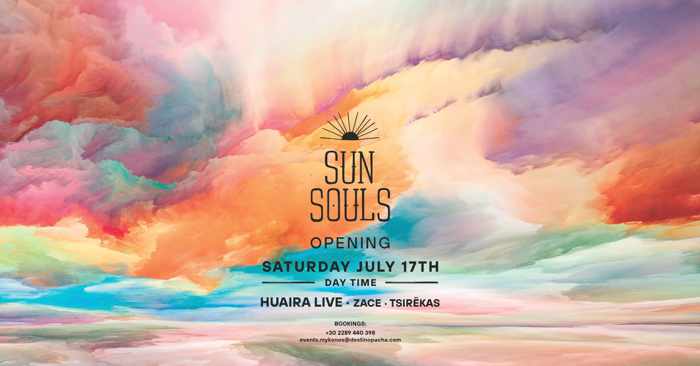 Starting on Saturday July 17, the new Destino Pacha Mykonos hotel kicks off its Sun Souls daytime music events with an opening party featuring music by Huaira, Zace and Tsirekas.  The "poolside musical experience" events will take place every day from Friday to Wednesday, and continue until September 10.
What's on: Planning to visit Mykonos during July, and wondering what sorts of parties and cultural events will be taking place on the island while you're there?
Check out page 2 of this post, where we have compiled a day-to-day list events that have been officially announced to the public — including bar and beach club parties, DJ sets, special dinner party events, live singer performances, art shows, and more.
We've posted a few club party calendars and event highlights below, but you'll find many more parties on page 2.
Events that have already taken place are listed on page 3, in case you'd like to see what you may have missed.
Events are continually being announced, so check back for updates.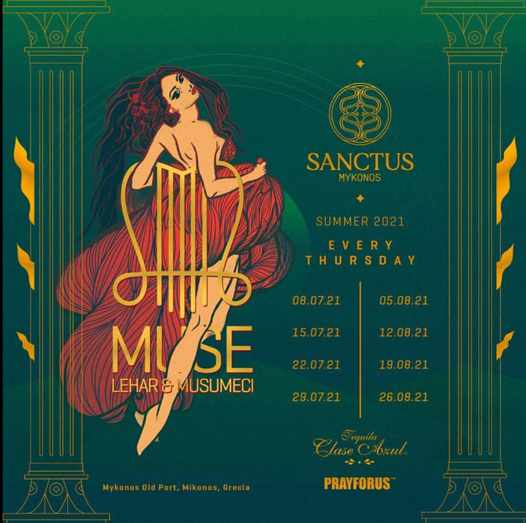 Every Thursday night, MUSE by Lehar & Musumeci will be on the decks at Sanctus. (Update: For "logistics reasons," the July 8 opening party will be held at Farma House in Ftelia instead of at Sanctus.)
This is the July DJ lineup for Sanctus club, which holds its season opening party on July 16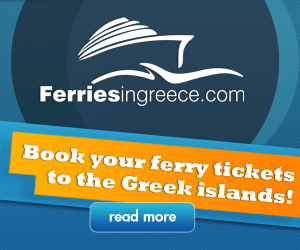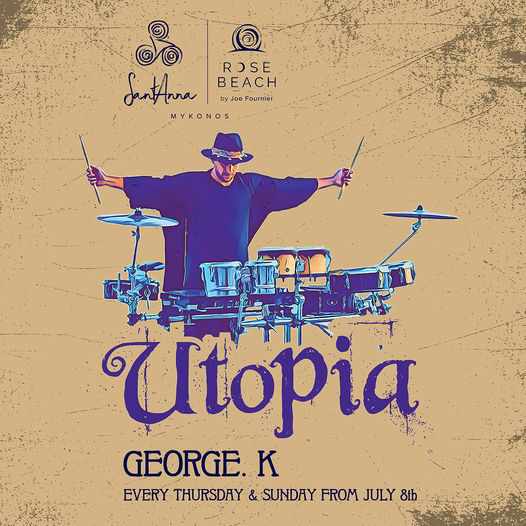 Starting on July 8, SantAnna beach club will present Utopia — "the ultimate summer party" — featuring "a breathtaking live DJ & drums set" with drummer / producer/ DJ George K. The event will take place every Thursday and Sunday this summer.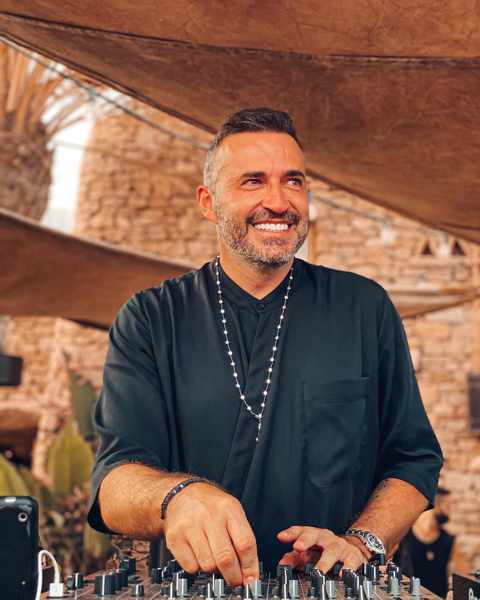 One of the most popular DJs on Mykonos, Valeron will be making weekly appearances for live shows at Noema restaurant and Scorpios beach club this month. You can catch his show at Noema on Fridays (July 2, 9, 16, 23 and 30), and see him at Scorpios on Saturdays (July 3, 10, 17, 24 and 31).
Just announced: German DJ & electronic music producer Sven Väth will play for the Phos parties at SantAnna beach club on Fridays, from July 16 to August 13. The parties will begin in late afternoon and continue until midnight.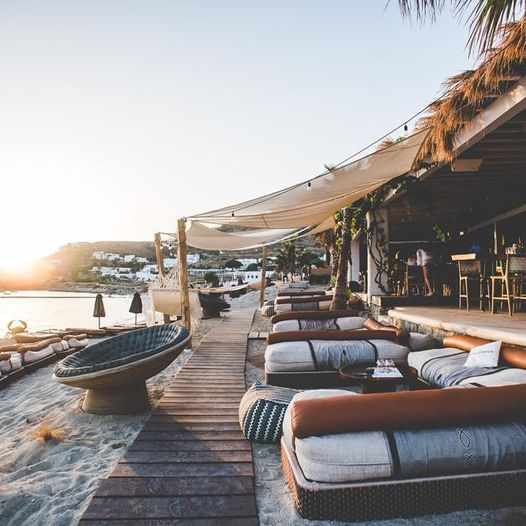 Every Wednesday and Saturday night, starting at 7 p.m., Hippie Fish restaurant and beach club at Agios Ioannis holds a Sunset Party. On Sundays, also starting at 7 p.m., the club throws a Greek Night party.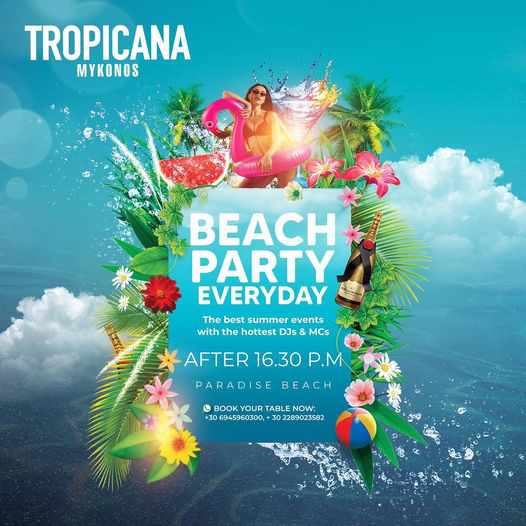 There's a beach party every day of the week at Tropicana club on Paradise beach, starting at 4.30 p.m.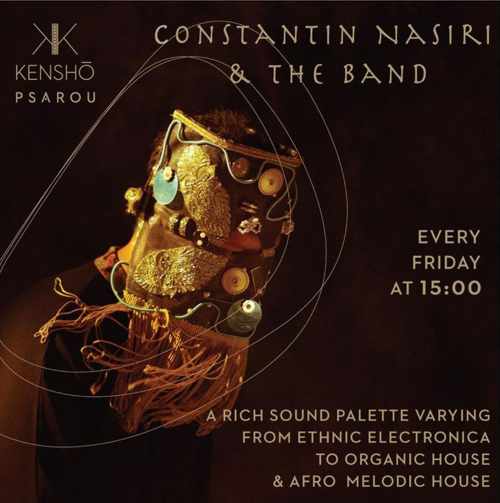 Constantin Nasiri & The Band will perform every Friday starting at 3 p.m. at the Kensho Psarou Hotel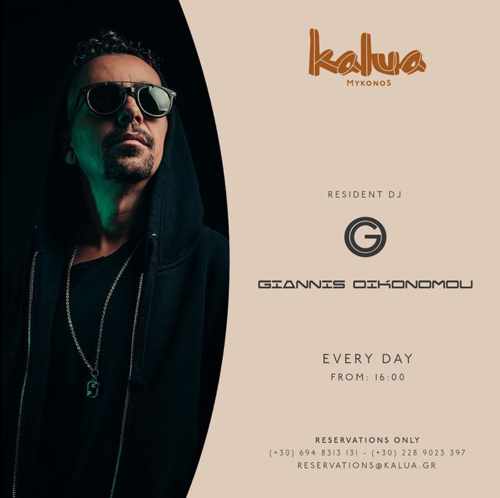 DJ Giannis Oikonomou will be on the decks every day from 4 p.m. for the beach parties at Kalua
Singer / entertainer Shaya also will be performing at Kalua every day, from Tuesday through Sunday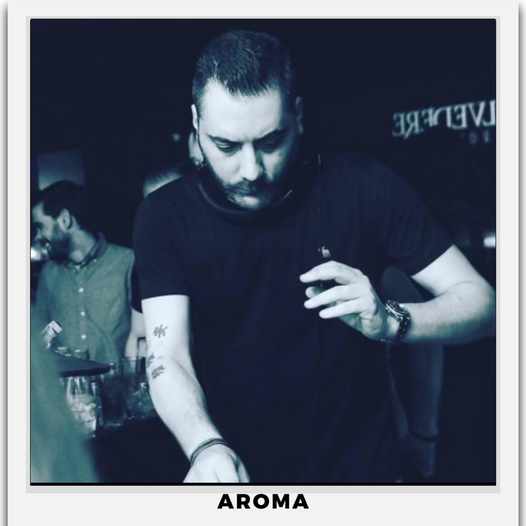 DJ Richard Horn will play at Aroma Bar every Wednesday and Saturday night this summer
Click on the link below to see the day-to-day list of events happening on Mykonos during July.
CONTINUED ON PAGE 2