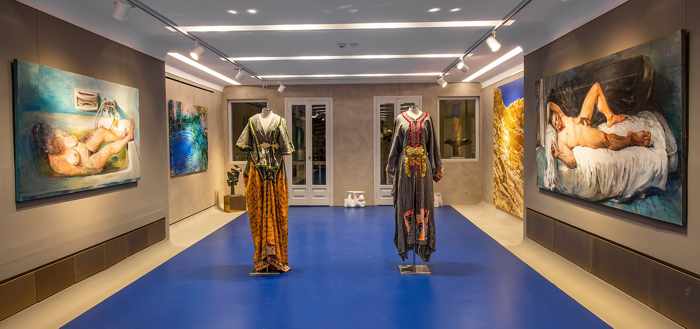 From the top: Rizes Folklore Farmstead & Restaurant; the seaview patio at Olive Tree restaurant; sunbeds at Blue Marlin Ibiza Mykonos beach club; a flight of sampling glasses at Mykonos Olive Oil Tasting; Aegon Mykonos hotel at Kalo Livadi; one of the artworks in the sculpture garden at Blue Fusion Art Restaurant; the patio at Taverna Kandavlos; moussaka at Olive Tree restaurant; inside a room at Apiro-Mykonos hotel; sea bass tartare at I Frati restaurant; a lounge at Sanctus after-hours nightclub; fresh fish on the grill at Sealicious by Kounelas; sunset view from Chill Out Lounge Bar Cafe; a signature Salt Bae steak at Nusr-Et; contemporary art and one-of-a-kind designer fashions at the Dassios boutique/Evripides Art Gallery.
New & noteworthy: Besides the iconic white Cycladic architecture, sparkling Aegean Sea and brilliant sunshine, there's much to bedazzle first-time visitors to Mykonos — a dizzying array of glitzy shops, glam restaurants, bustling bars and chic accommodations among them. With dozens of new establishments opening on the island each year, Mykonos maintains its famously vibrant and exciting atmosphere for returning visitors and local residents alike.
This summer has been no exception, as I have discovered: More than thirty new enterprises that have set up shop in and around Mykonos Town, at some of the famous beaches and elsewhere on the island. The newcomers include places to eat, drink, party, shop and sleep, plus some enlightening and fascinating attractions and activities.
Among the noteworthy highlights of this year's arrivals:
♦ A new beach club at Kalo Livadi, sunset boat party cruises to Rhenia island, and a really, really, really cool place to get an ice cold drink. And, for night owls, three new spots to party into the wee hours of the morning;
♦ Fun olive oil tasting workshops where participants can sample some of the best Greek extra virgin olive oils and learn how to pair oils with food to elevate flavours and make their home cooking shine;
♦ Four art new galleries and exhibition spaces — including one outdoors — showcasing contemporary Greek art and sculpture; 
♦ Over half a dozen boutiques and summer pop-ups offering fashionistas even more places to shop and browse exclusive designer clothing and accessories in Mykonos Town and at Psarou beach;
♦ A meticulously recreated Mykonian farmstead where tourists can experience what life was like on the island in the days before electricity and Internet, view folk art exhibitions, take cooking and bread baking classes, and dine on breakfasts and traditionally-prepared meals in the farm restaurant;
♦ A wide range of accommodations with lodging options ranging from rental studios and apartments to luxury hotels and beach resorts boasting suites and villas with private pools;
♦ A vast array of appetite-whetting places to enjoy food and beverages, including new coffee and dessert shops; street food cafes; vegan and healthy food eateries; and restaurants specializing in fish, seafood or sushi; meat dishes; pizza; crepes; breakfast & brunch; comfort food; and Greek, Italian, Mediterranean and international cuisine. 
Starting on page 2, I have compiled profiles of the new businesses, complete with photos, videos and links to their websites and social media pages (where available) so you can learn more and follow them if interested. I have deliberately packed this blog post with images so that readers who haven't been to Mykonos before can get a good grasp of what Greece's most sophisticated, cosmopolitan and international island is all about.
And just in case you think Mykonos is only a place where people go to party, bear in mind that the island also happens to be a major dining destination. With more than 400 places to eat, it's a foodie delight, offering not just traditional and gourmet Greek food, fish and seafood, but also contemporary, internationally-inspired cuisines from around the globe.
Since many of the newcomers to Mykonos this season are restaurants and cafes, I have included plenty of pictures to show some of the food they serve — appetizers, main courses, breakfasts and desserts. But here's an important warning: Don't continue reading if you're the least bit hungry; otherwise, you could feel absolutely ravenous by the time you finish scrolling through all the food photos!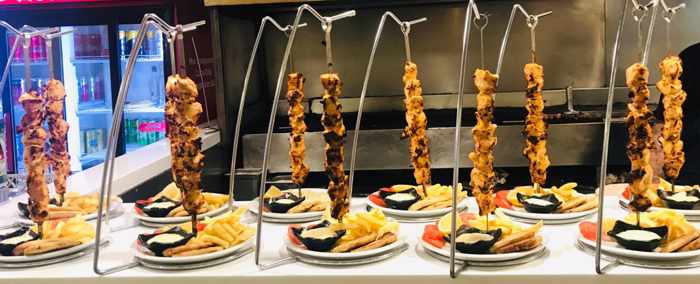 From the top: The view from Crystal View rooms above Megali Ammos; a breakfast dish at Healthylicious; the Philipp Plein boutique at Nammos Village; Venus Gallery at the Aphrodite Beach Resort; a sunset view from Apiro-Mykonos Hotel; a breakfast meal at Yo'Mamas Street Food Cafe; partying on the Mykonos Boat Club cruise to Rhenia; the outdoor patio at Major J Breakfast & Brunch; the Bulgari boutique at Nammos Village shopping center; night view of L'Aragosta Italian restaurant; inside the Grand Villa at Jenny's Summer Houses;  a burger platter at Cantina street food eatery; the patio at Blue Fusion Art bar & restaurant;  shelves of wine in the deli shop at I Frati restaurant; partiers wearing dayglo faux furs at Ice Bar Mykonos; one of the entertainment acts at Cirque nightclub; skewers of marinated & grilled chicken at My Plate Mykonos.
Please click on a link below to read about what's new on Mykonos in 2019.
Page 2 profiles new bars, beach clubs, nightclubs and party boat cruises;
Page 3 presents new cafes and restaurants;
Page 4 looks at new attractions and activities, art galleries, and fashion shops.
CONTINUED ON PAGE 2