~ continued from page 2 ~
Cafes, restaurants & tavernas
– Nusr-Et Mykonos Steakhouse –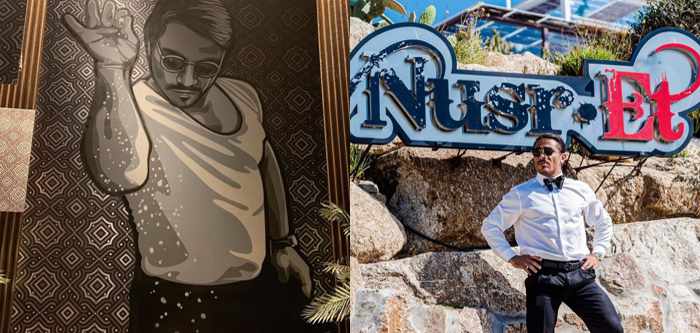 A larger-than-life artistic portrait of social media star Salt Bae (Nusret Gökçe) greets customers at the entrance to his new Nusr-Et Mykonos steakhouse, while the real-life celebrity chef poses outside the restaurant on its opening day. Gökçe shared both of these photos on his Nusret Twitter account.
The most talked-about new restaurant this year also happens to be the most expensive new place to eat on the island. The latest addition to the expanding chain of steakhouses operated by  Turkish celebrity chef and restaurateur Nusret Gökçe (better known to many by his nickname, Salt Bae), Nusr-Et Mykonos opened in mid-June.
The steakhouse is situated near the historic Bonis windmill on a hillside overlooking Mykonos Town, in premises that the upscale Italian restaurant Casa Tu occupied last year before closing after only one summer. Will Nusr-Et Mykonos be more successful and enjoy a longer run in the same space? Given the mixed reviews it has been receiving, I'm keen to see if it re-opens in 2020 or becomes just another one-season wonder.
The restaurant stirred up some controversy during the second week of its season when Greek tax inspectors ordered the premises to suspend operations for 48 hours after a surprise audit revealed receipts had not been issued, as required by law, for nearly €26,000 of sales.  The temporary closure made international headlines, but in Nusr-Et's case was just a minor setback that made me recall the old expression "There's no such thing as bad publicity."  Indeed, people flocked in droves to Nusr-Et all summer for the chance to meet Salt Bae in person and see the social media star in action. In fact, business was so brisk that customers posted critical online reviews complaining about hour-plus waits for their tables, even though they arrived well in advance of their reservation times. Given the jaw-dropping prices they were paying for their meals — €60 for a burger, €30 for a side of fried potatoes, €550 for a "gold-coated" rack of lamb,  €150 for the cheapest bottle of wine, and €25 for baklava desserts — many were less than impressed with the service.
Speaking of reviews, the  Nusr-Et Mykonos review page on Foursquare contains plenty, along with dozens of photos that diners have posted of the restaurant and Salt Bae himself.   Even more reviews  — accompanied by photos of the cuisine and the menu — can be found on the Nusr-et Mykonos review listing on TripAdvisor. Below are several food and premises photos that have been shared on social media by customers as well as by the restaurant itself.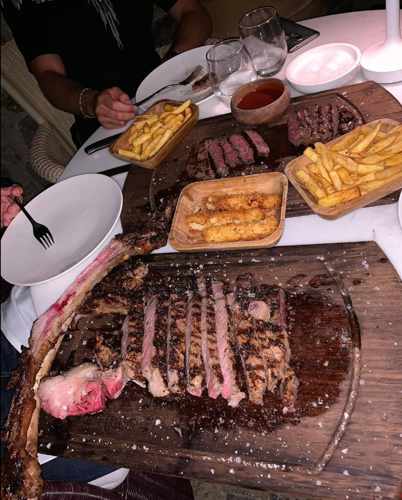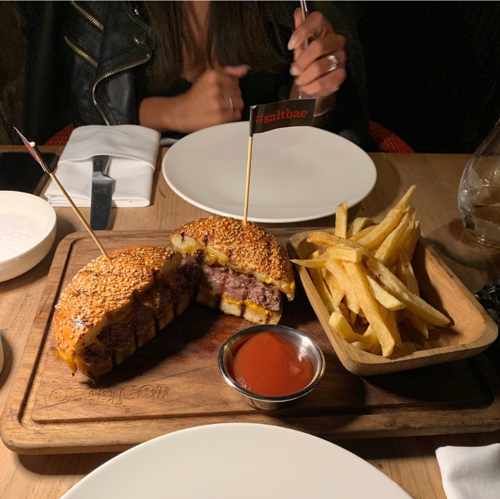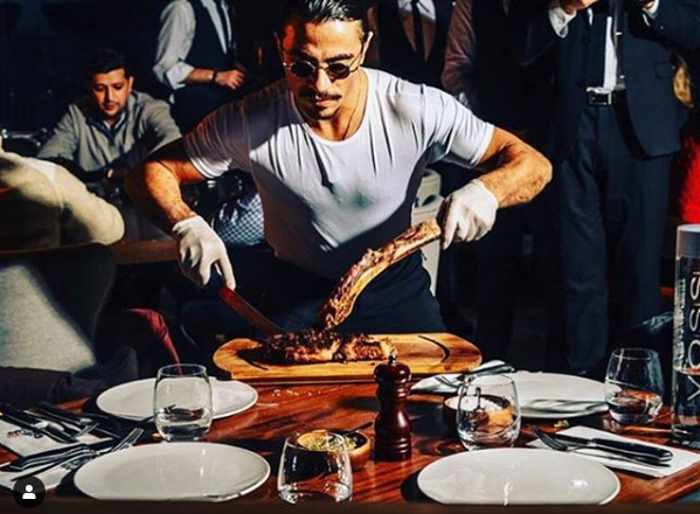 Meat platters and side dishes photo by TripAdvisor reviewer Gattared (top);  burger and fries photo by TripAdvisor reviewer Antonioeanna91 (center); and a restaurant photo of Salt Bae carving meat for a customer.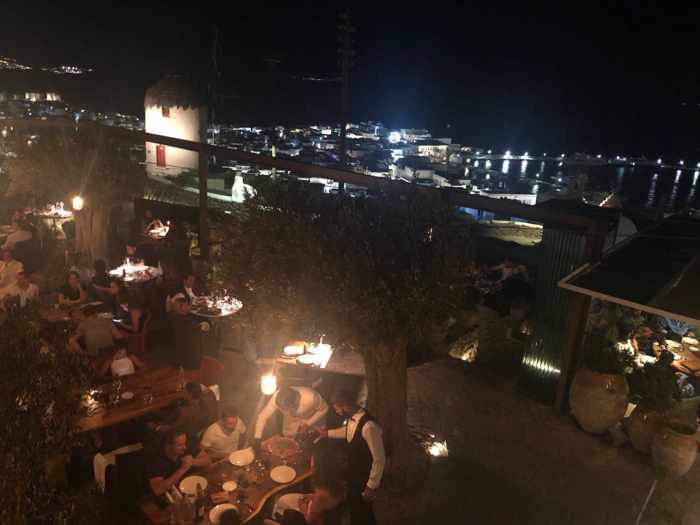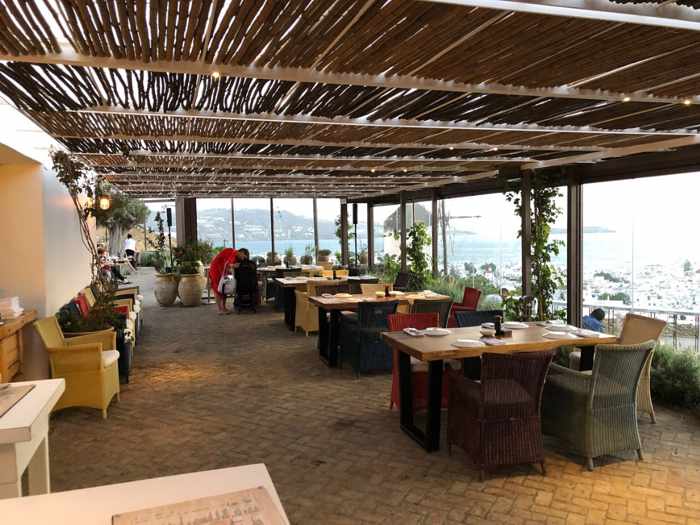 The Nusr-Et Mykonos dining area is shown in a photo shared on Foursquare by Talal (top), and an image posted on TripAdvisor by Vittorio71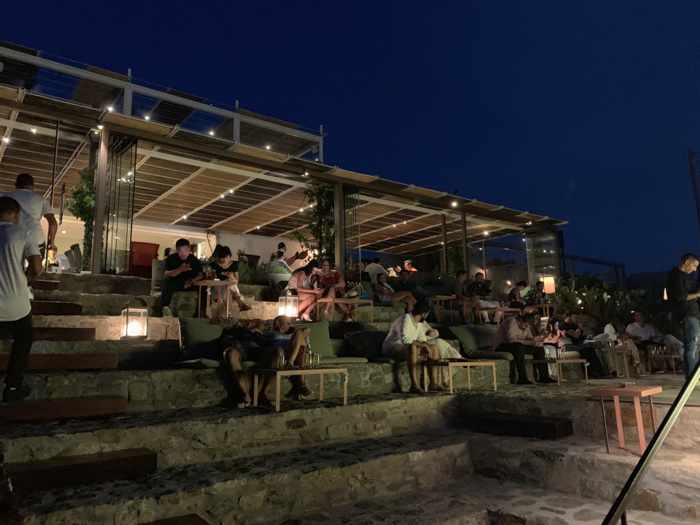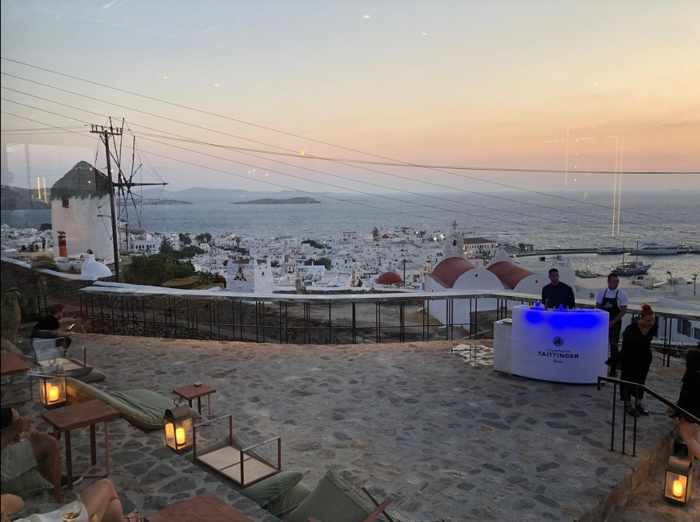 The multi-level outdoor bar patio is seen in a photo shared on Foursquare by Stefanos K (top) while the bottom picture,  by TripAdvisor reviewer Marianna N, shows the patio's fabulous town, sea and sunset view.
______________________________
 – I Frati Gastronomia di Culto –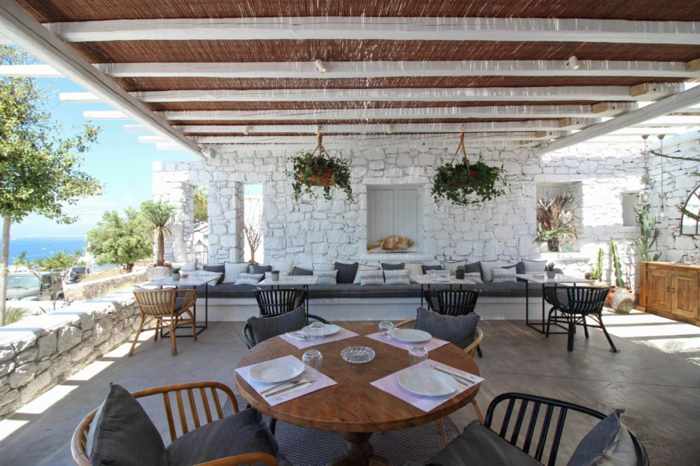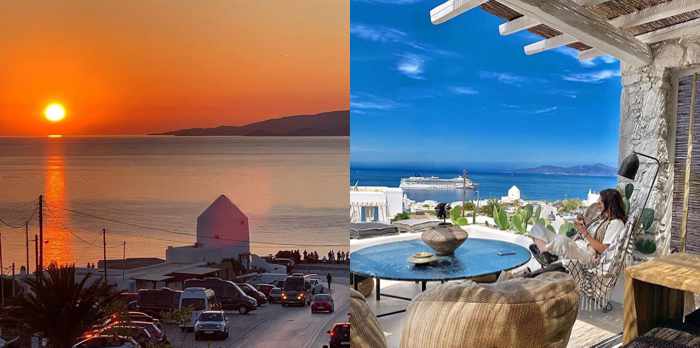 Part of I Frati's open-air dining patio (top), and its views of Mykonos Town, the sea and the sunset (bottom)
Caffe I Frati has been a popular all-day Italian restaurant in the Kifissia area of Athens since 2014, and this year the business expanded operations to Mykonos for the first time, opening on a hillside location overlooking Mykonos Town (just steps from the Hermes Mykonos and Vencia Boutique hotels).
The Mykonos I Frati Gastronomia di Culto follows the same "culinary experience" formula as its Athens counterpart, offering coffee, breakfast and brunch, an à la carte restaurant serving Italian and Mediterranean dishes, an aperitivo and wine bar, and what it claims is "the most complete delicatessen on the island."  The kitchen is overseen by Consulting Chef Gikas Xenakis, Executive Chef Nikos Sotiropoulos, and Pastry Chef Evangelos Hasiotis.
The restaurant has been active on social media, where it regularly posts tantalizing photos of its cocktails, cuisine and premises. Everything looks delicious, of course, and Greek restaurant critics have said the food tastes as good as it looks. In fact, the restaurant has been praised in the Olive Magazine article Mediterranean high end gastronomy at I Frati in Mykonos, which includes mouth-watering photos of four of the restaurant's signature dishes. Additional photos of the cuisine and premises can be seen in the estiatoria.gr website profile Frati Mykonos: The new gastronomic destination in the island of the winds! 
The restaurant doesn't just serve up great food — it also has hosted live music entertainment by artists including popular local songstress Kelly Kaltsi, who made regular Saturday appearances, and acclaimed vocalist Rosanna Mailan, who performed at the restaurant on July 11 and 12.
More than two dozen customer comments and photos can be seen on the TripAdvisor review listing for I Frati.  Below are several images that have appeared on I Frati's social media accounts.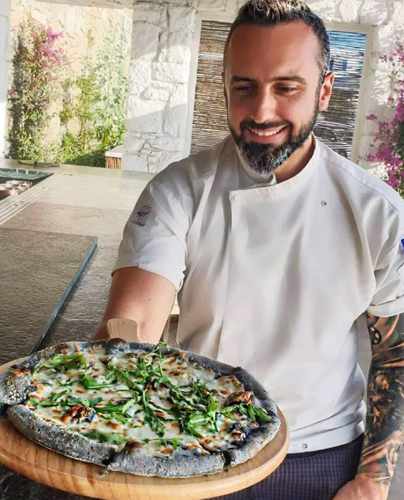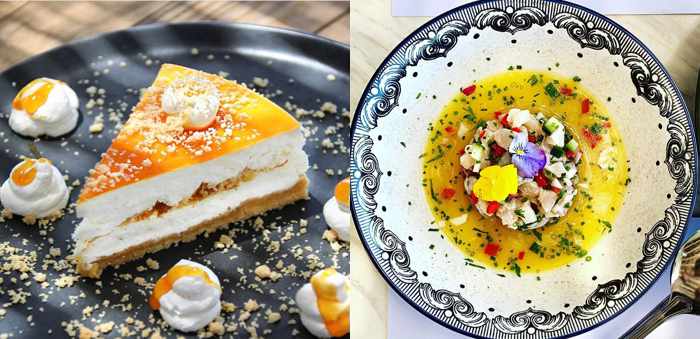 Executive chef Nikos Sotiropoulos displays one of his unique Italian "black" pizzas (top);  a creamy dessert (above left) and sea bass tartare (above right)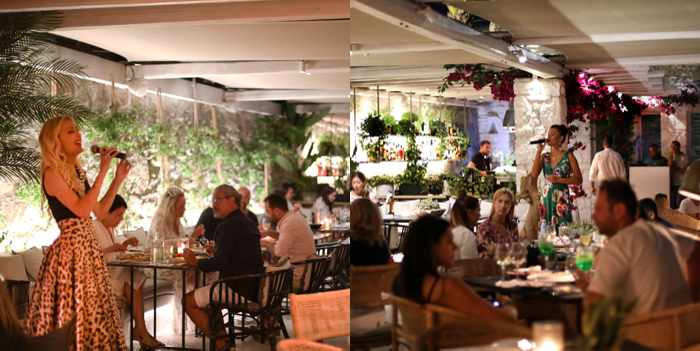 Vocalists Kelly Kaltsi (left) and Rosanna Mailan (right) are pictured performing at Il Frati on separate occasions during the summer. The restaurant often hosted live music entertainment for its customers.
I Frati boasts a large delicatessen that includes a selection of Italian wines (not shown).  Many of the products displayed and sold in the deli are available for online ordering from the I Frati's eshop. 
______________________________
– My Plate of Mykonos –
Yet another trendy Athens restaurant has set up shop on Mykonos this year.  My Plate, a 24-hour eatery at Karameikos Square in the city's Gazi entertainment district, launched My Plate of Mykonos in early May, and the place has been filling its seats with hungry tourists all summer. 
The Mykonos My Plate is situated at a prime location on the bustling Gialos harbourfront promenade of Mykonos Town, offering customers one of the best people-watching and sunset-viewing spots on the seafront.  (For those who have been to Mykonos before, you'll know the spot — the building beside Manto Square that was previously occupied by Kalamaki Mykonos restaurant & Madon nightclub. )
The menu includes a wide range of Greek and Mediterranean dishes including salads, hummus and eggplant dips, gyros, falafel, burgers,  fish & chips, moussaka, meat skewers, grilled meats, pita wraps, desserts and more. Customers can dine in the restaurant or, from noon until midnight, order delivery or takeout.
The restaurant is active on social media, where it frequently posts photos and videos of its food and views. (If you have never been to Mykonos before, the videos will show you what the port town's scenic harbourfront looks like.)  I have reposted several pics and one video below; check out the My Plate Mykonos Facebook page and the My Plate Instagram feed to see more.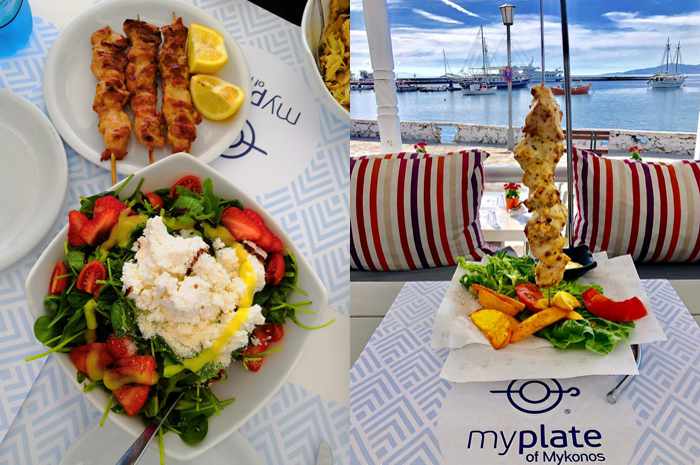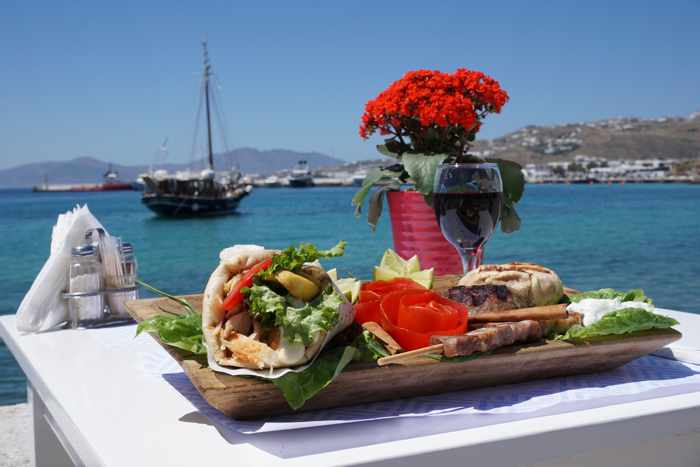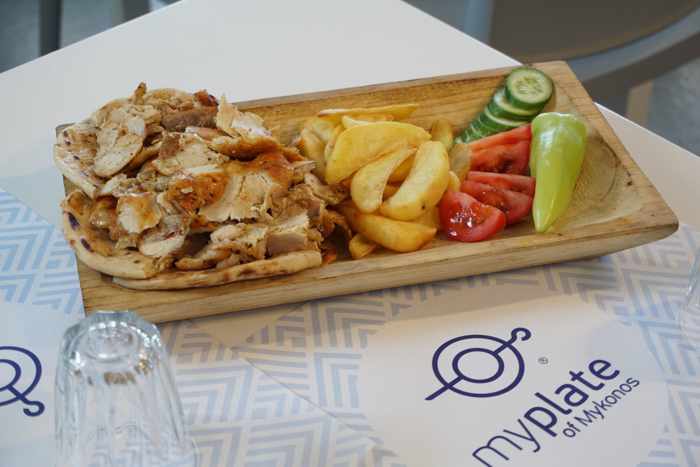 Above: Some of the meals and harbour views at My Plate of Mykonos. Below: One of many short clips the restaurant has shared on social media to show its dining terrace and the surrounding harbourfront area.
______________________________
 – Olive Tree Kitchen & Grill –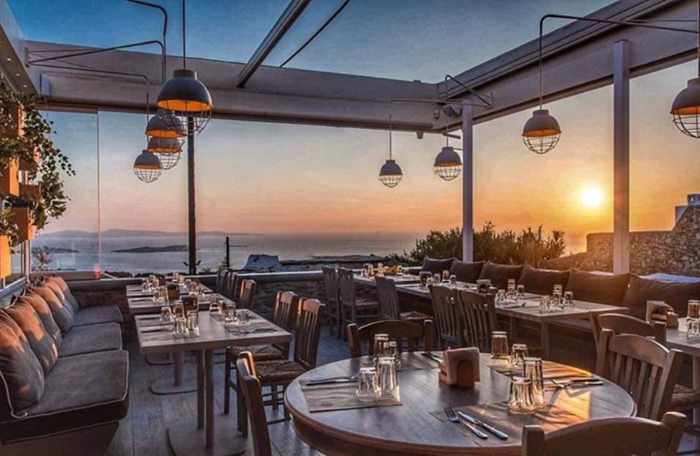 Olive Tree's sea- and sunset-view dining terrace
April 10 was opening day for Olive Tree Kitchen & Grill, a casual restaurant situated on a sea-view hillside in the Evagelistraki district high above Mykonos Town. 
According to the Olive Tree website, the chefs take a"modern approach to traditional Greek cuisine," creating "unique flavours" for dishes ranging from tzatziki to stuffed tomatoes, moussaka, grilled meats, pita wraps, and much more.  The website is packed with tantalizing photos that will instantly whet your appetite for Greek food, and includes a PDF version of the full menu, complete with prices (which I would consider to be quite reasonable for Mykonos).
The restaurant is active on social media, regularly posting photos on its Olive Tree Facebook page and on the Olive Tree Instagram account. In addition, the Olive Tree review listing on TripAdvisor contains more than 100 photos, along with comments from more than 30 customers.
The restaurant provides a parking lot for customers, but also offers delivery service anywhere on the island for people who don't feel like driving or walking over to dine on the premises.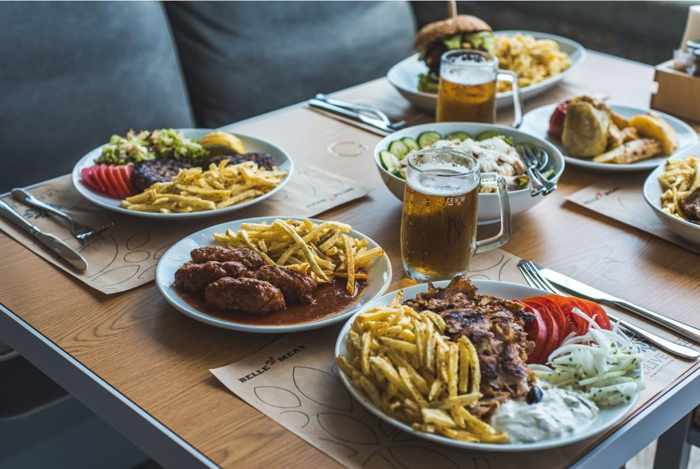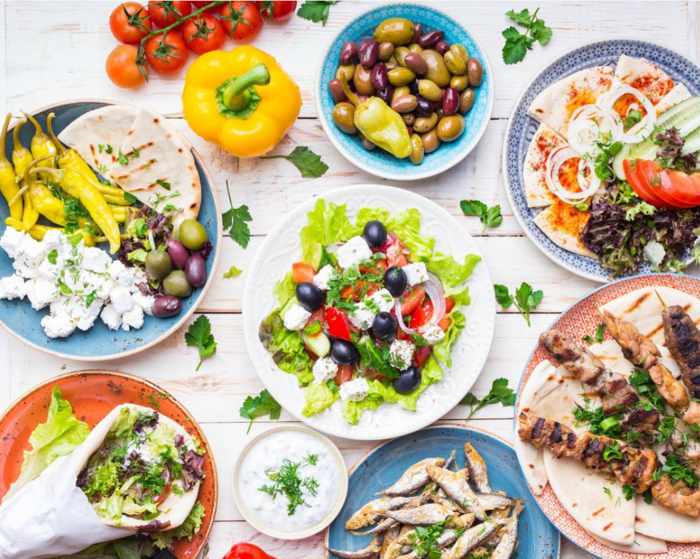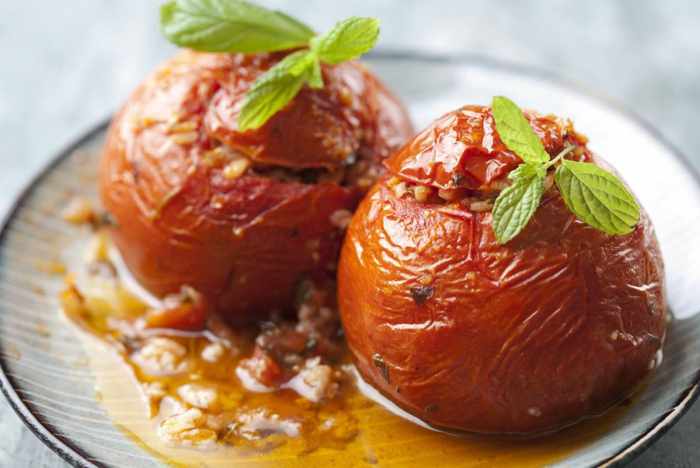 Above: Dining room and food photos from Olive Tree's social media pages and website. Below, a short promotional video for the restaurant.
______________________________
– Cantina Mykonos Street Food –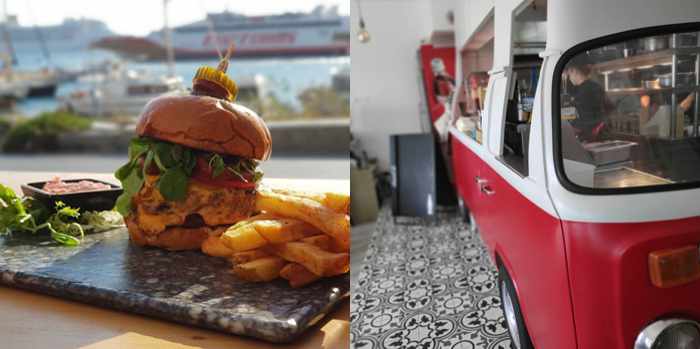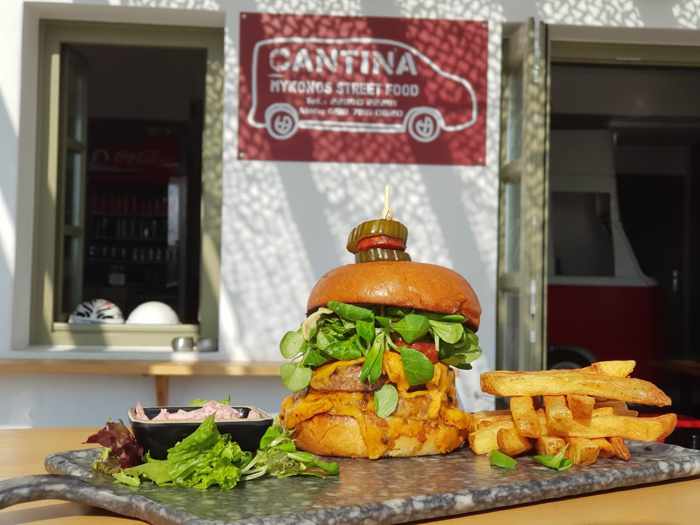 Two views of one of Cantina's signature homemade burger platters, along with the cafe's food truck kitchen. 
Street food is an increasingly popular dining trend in destinations around the world, and Mykonos hasn't escaped rising traveller demand for tasty and reasonably-priced local fast food treats. One of the new island eateries catering to this growing market is Cantina, which began serving Mykonos Street Food fare from its location next to the Olia Hotel at Tourlos in August.
Cantina is owned by the same people who operate the acclaimed Kalita gourmet restaurant in Mykonos Town, so customers can expect quality and big flavour in the local take on homemade burgers and souvlaki (the lamb souvlaki on pita looks amazing, while the Caesar souvlaki wrap is a unique, fresh twist on an old favourite).
Prices are decent by Mykonos standards: homemade burger dishes cost €8 and up, souvlaki wraps start at €4, a tabouleh salad is €7, and 330-ml beers are €3 and up.  Photos of the menu, with prices, can be seen on the Cantina Mykonos page on Facebook, along with pictures and short videos of various food items. 
Cantina is a short walk from the Mykonos New Port at Tourlos, so it's conveniently located for travellers seeking a quick bite to eat either before catching a ferry or right after arriving on one. The restaurant offers delivery service.
Below are some food photos the restaurant has posted on Facebook as well as on the Cantina Instagram page.
Above: Cantina classic burgers; souvlaki pita wrap with fries; a Caesar souvlaki wrap; and skewers of grilled chicken with cheddar and bacon. Below: Cantina's specialty lamb souvlaki with yogurt sauce, pesto pepper and salad.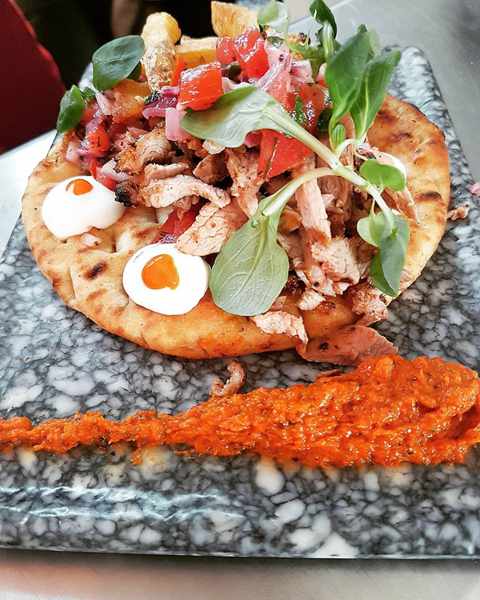 ______________________________
– Yo'Mamas Street Food Cafe –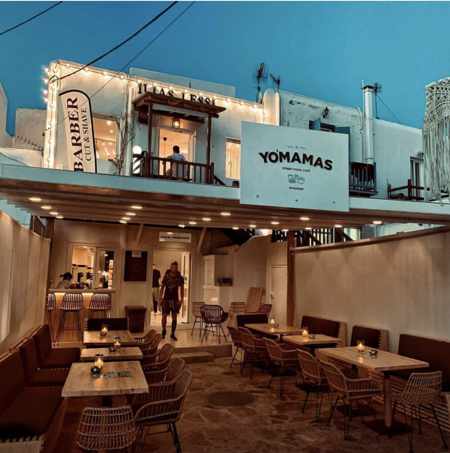 Yo'Mamas posted this street view photo of its cafe on its Instagram page
Another new place to sample street eats this year is Yo'Mamas Street Food Cafe.  Though it's located at Fabrika Square, one of the busiest and most congested spots in Mykonos Town, Yo'Mamas has kept a fairly low profile on social media since it opened for business in late June. It created a Facebook page, but posted only images of its logo and nothing more.  It has a slightly bigger presence on Instagram, where it has published 10 pictures of some of its food choices, including breakfast and brunch dishes, burgers, "power bowls," and dessert. A few are shown below, while you can check out the Yo'Mamas Instagram page to see more.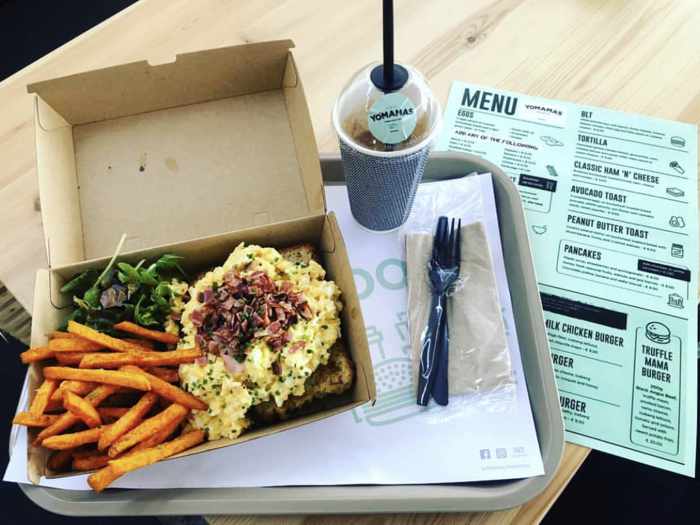 From top left: Yo'Mamas burgers and fries; power bowls; and a Big Mama Breakfast with scrambled eggs and sweet potato fries
______________________________
– Zama –

Street food isn't the only hot culinary trend that's big on Mykonos in 2019. Health-conscious cuisine started growing in popularity a couple of years ago, especially with the arrival of Bowl at Ornos, and delicious vegan and organic dishes are the star attraction at Zama, which opened in late spring at a location along the road to Ano Mera.
According to a description on the restaurant's Facebook page, Zama means "City of Dawn," and is named after the ancient Mayan city of Zama (now known as Tulum). 
"Here you can treat yourself to the finest organic local cuisine. You should expect exceptional vegan dishes, but rest assured that you won't leave our premises with a dissatisfied palate even if veganism is not your kind of thing," the Zama profile states.
On its Instagram profile, Zama describes its dishes as "Mediterranean healthy cuisine," and includes photos showing what must be some of the  island's most vibrantly colourful fruit and vegetable dishes. I've posted two of the pictures below, but you can see many more on the Zama Instagram feed.
Unfortunately, I can't show you what the restaurant premises look like because Zama never responded when I messaged to ask if any were available, and to inquire about their opening date and hours of operation.  If I stumble upon any, I will add them if I update this post.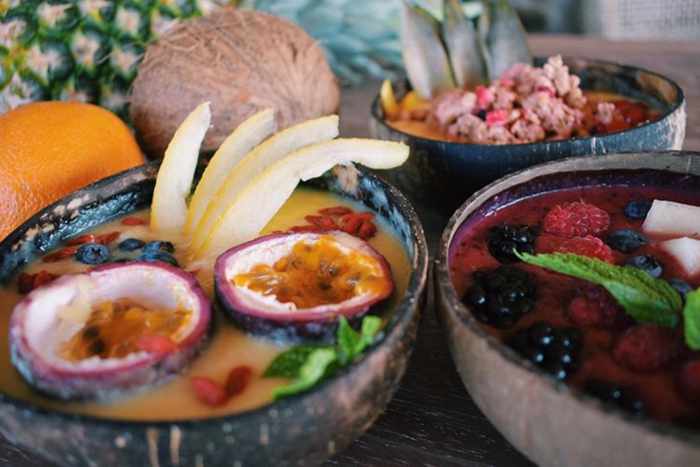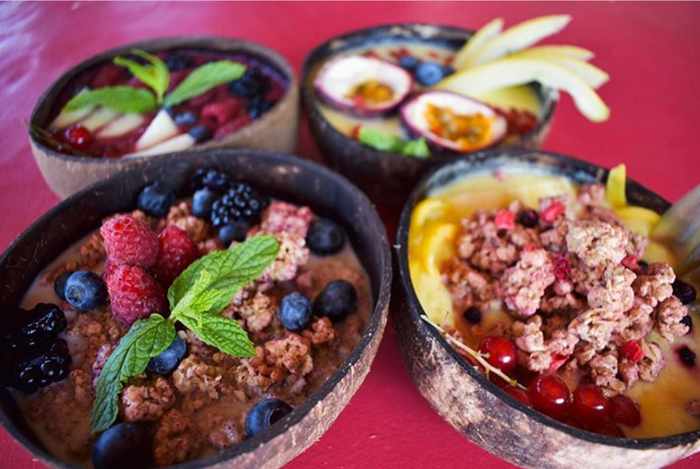 ______________________________
– Healthylicious –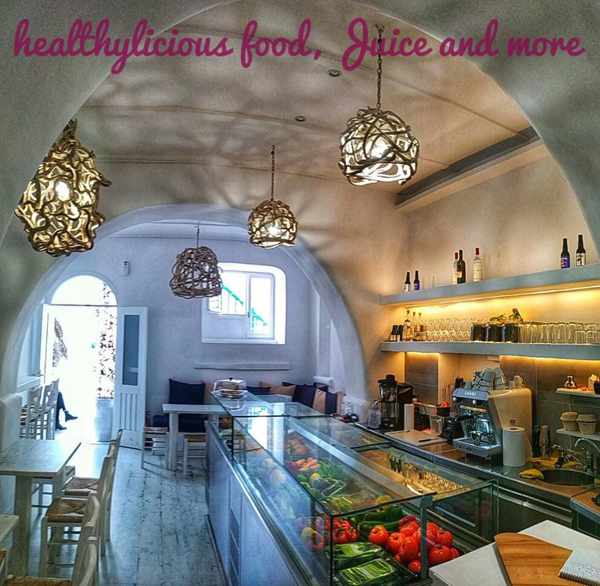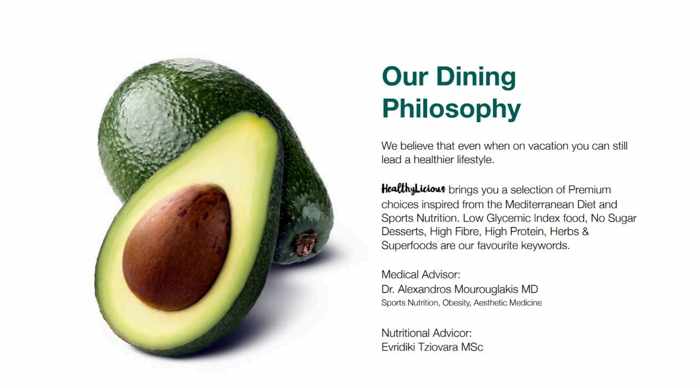 Inside Healthylicious, top, and a promotional image describing the restaurant's philosophy
Healthylicious is another newcomer whose cuisine aims to satisfy visitors with demanding dietary or lifestyle restrictions, or who simply might want to make smarter meal choices and assuage their guilt after overindulging in rich foods and alcohol during their holiday. Looking for low-calorie items? Gluten free? Low glycemic? Low fat? Energy boosters? Sugar-free treats? Superfoods? Healthylicious offers plenty of choices, and the restaurant's motto — "Healthier gastronomy and sports nutrition" — sums it up in a nutshell.
"HealthyLicious brings you a selection of Premium choices inspired from the Mediterranean Diet and Sports Nutrition. Low Glycemic Index food, Healthy Food, No Sugar Desserts, High Fibre, Vegan Friendly, High Protein, Herbs & Superfoods are our favourite keywords," the restaurant website says.
The menu includes breakfast items (omelets, scrambled eggs, yogurt & berry bowls and avocado dishes), mains (including tuna and beef filet carpaccios, salmon avocado tartar, and vegan and Black Angus burgers), healthy shakes and smoothies, energy bites, and sugar-free desserts. (You can view the menu, which includes calories and nutritional information for each item, on the Healthylicious website.)
Healthylicious opened on April 18 at 58 Ματθαίου Ανδρόνικου Street in the Matogianni shopping district of Mykonos Town.
Below are three photos of Healthylicious menu selections. More pictures of the restaurant and its food can be seen on the Healthylicious page on Facebook as well as on their Instagram profile.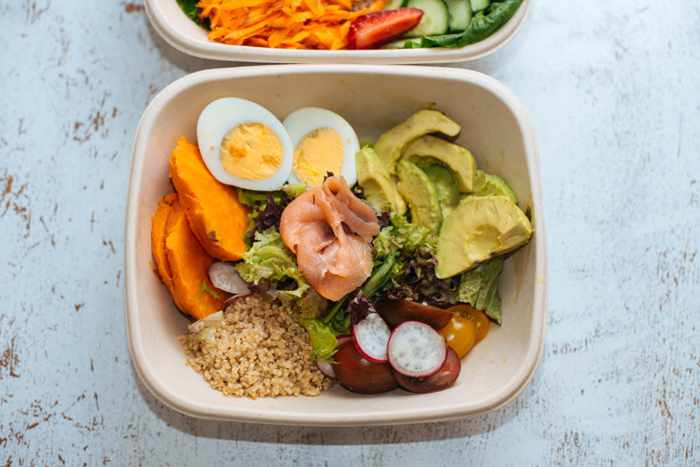 ______________________________
– Sealicious by Kounelas –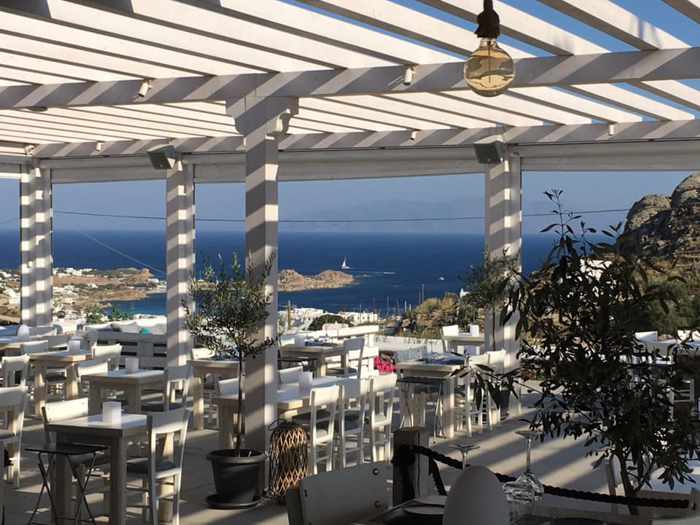 Part of the seaview dining terrace at Sealicious
For the past 40 years, Fish Tavern Kounelas has been a consistent, reliable and very wallet-friendly seafood restaurant in the heart of Mykonos Town; I have enjoyed their fish and service, and have frequently recommended the place to other travellers. This spring, Kounelas expanded its horizons — quite literally — by opening a second location, this time at a scenic hilltop location in the Glastros district of the island.
The new restaurant — Sealicious by Kounelas — is situated along the road to Psarou and Platis Gialos, just past Hotel Jason, and boasts an indoor dining room as well as an outdoor patio that presents impressive views of the coast, sea and surrounding area. Sealicious follows the same business model that has kept customers coming back to the original Kounelas in town: fresh fish and seafood; friendly staff; tasty drinks and cocktails; and a pleasant, comfortable ambiance. The new location boasts a few bonus extras, though, such as customer parking and transfers, a hookah bar, and those inviting views. It also has a DJ and has hosted a few special party events over the course of the summer; its most recent was a Stayin' Alive dance party on August 30.
Reviews on social media have been extremely complimentary, both on the restaurant's Facebook page and on the TripAdvisor listing for Sealicious, where most commentators have heaped praise on the establishment for the meals and service.
Below are several photos and a video that have appeared on Sealicious's social media pages. Additional photos and videos of the restaurant and its cuisine can be viewed on the Sealicious Instagram feed and the restaurant's official page on Facebook.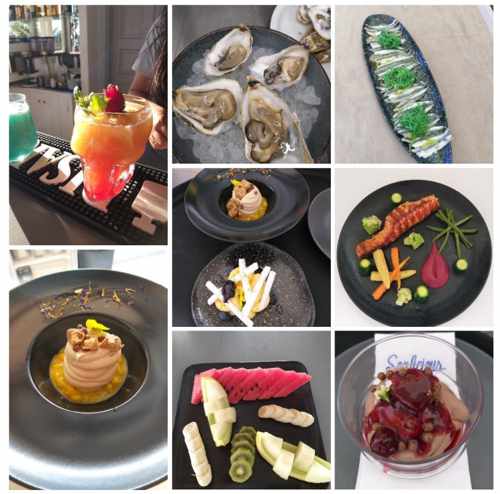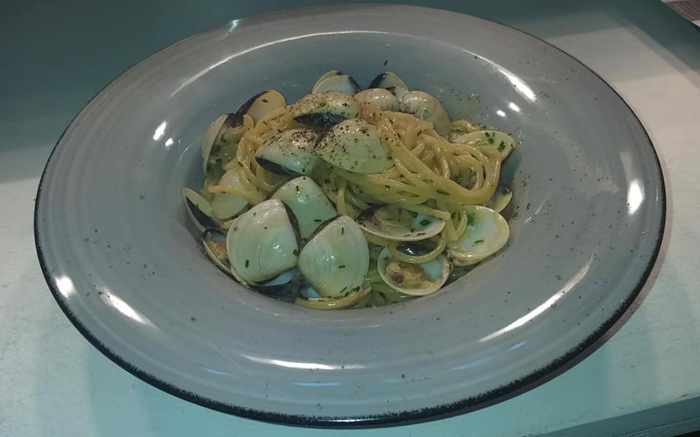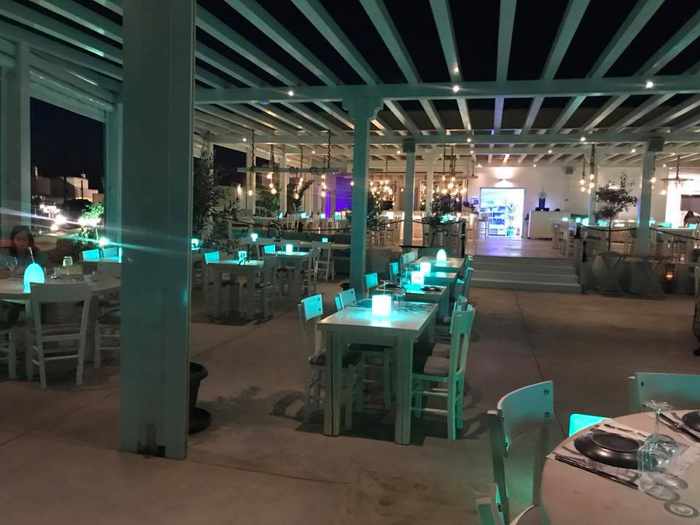 Top: A compilation photo shared on TripAdvisor by reviewer Eno-Matilda C. Middle: Sealicious photos of a fish meal and a seafood dish. Bottom: A Hannah Taylor photo of the restaurant patio.
______________________________
– Chill Out Lounge Cafe Bar –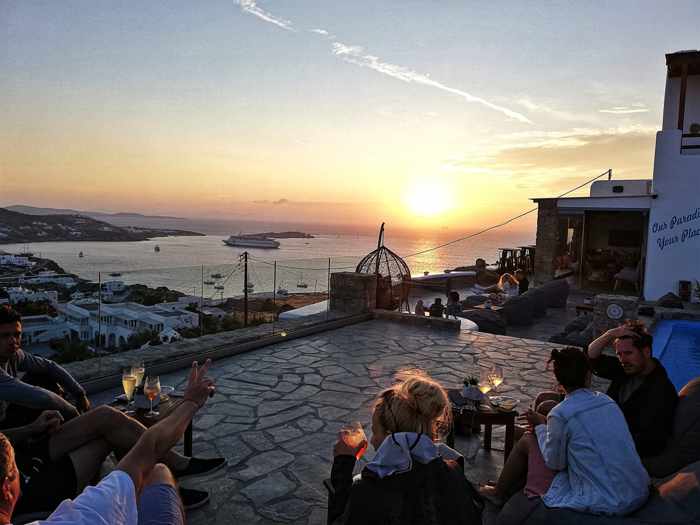 Patrons enjoy sunset and cocktails at Chill Out Lounge Cafe Bar 
Chill Out Studios has been operating apartment and suite accommodations in the Drafaki area of Mykonos Town for several years, and this spring added a new amenity to its facilities — a cafe-bar with a large patio offering great views of the sea, island and sunset.
The Chill Out Lounge Cafe Bar isn't restricted to guests staying in the studios — it's open to the public, too, and serves Lavazza coffee, breakfast, salads, sandwiches and snack items throughout the day. To give you an idea of prices, the club sandwich costs €7 as does an Aperol Spritz cocktail.  Chill Out's big drawing card no doubt will be cocktail and drink service for sunset watchers.  
The cafe begins serving breakfast at 9 a.m. daily. Management told me they expect the cafe-bar will remain open until the studios' season concludes at the end of October.
Below are a few of the cafe's food and view photos from social media. More can be seen on the Chill Out page on Facebook as well as on its Instagram profile.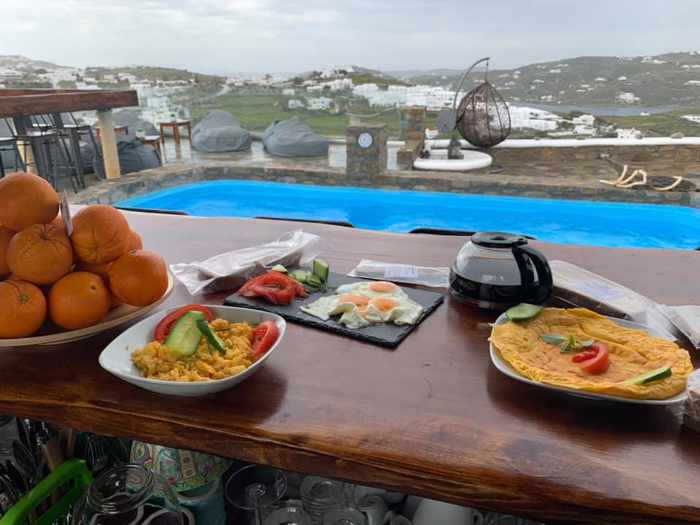 Above:  Three of the cafe's breakfast egg selections and a king-sized club sandwiches. Below: Two sunset views from the patio.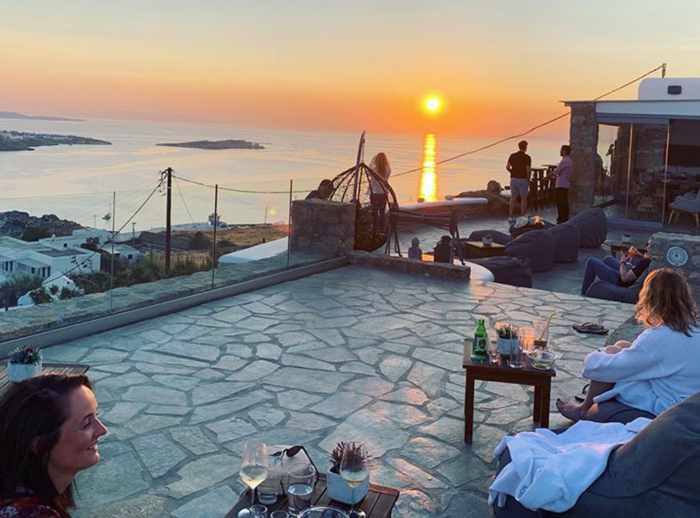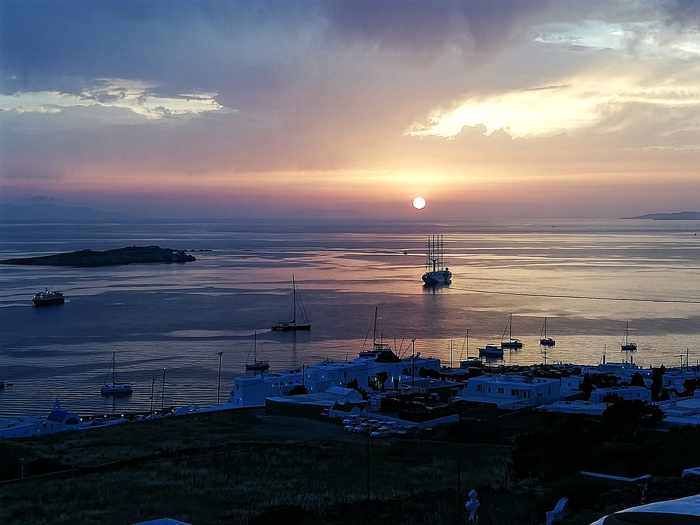 ______________________________
– Taverna Kandavlos –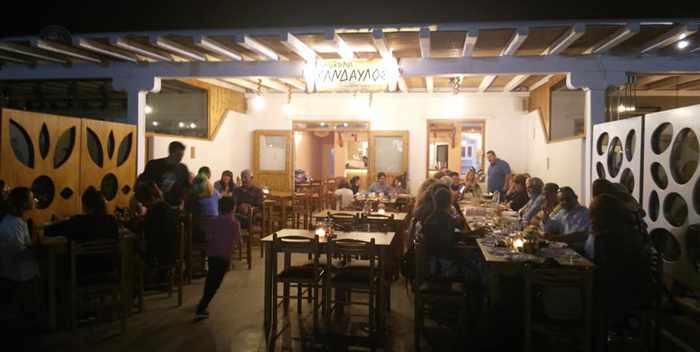 Customers enjoying dinner on the outdoor patio at Taverna Kandavlos 
Here's some good news for meat lovers: If you're hankering for a hearty meal of grilled or spit-roasted meats, but aren't willing to fork out a shedload of Euros for a Nusr-et celebrity steak, Taverna Kandavlos should hit the spot quite nicely. Their generous and reasonably-priced portions of juicy grilled chicken, beef, lamb, pork or sausage will leave you pleasantly full and satisfied, but won't burn holes in your wallet or blow your travel budget.
Taverna Kandavlos opened its doors on April 30 and, in photos posted to social media almost daily since then, has been showing what they've been cooking for hungry local and tourist customers. Throughout the summer, my Facebook and Instagram feeds have bombarded me with pictures of golden-skinned whole chickens and legs of lamb roasting on the spit; Μπιφτέκι (meat burgers); chicken and pork souvlaki skewers; and  ποικιλία — big wooden platters heaped with a selection of meats. Perhaps that explains why I've been craving meat way more than usual!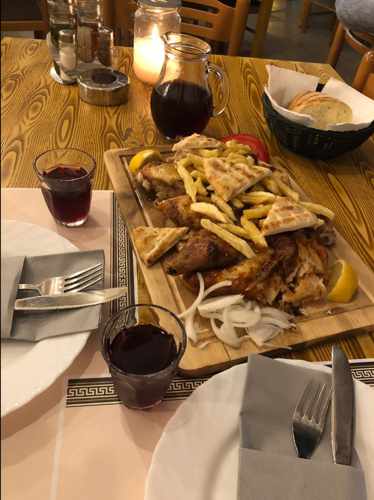 Traveller Lina E posted this photo with her TripAdvisor review of Taverna Kandavlos. She and her boyfriend enjoyed a platter of roast chicken served with potatoes, tomatoes, Greek pita and sauces.  Lina gave the meal and service five stars and praised the dinner as "excellent value." 
Although the house specialty is spit-roasted meats, the Kandavlos menu also offers traditional taverna dishes (including grilled mushrooms, fried cheese balls, and a meat stew called Μπεκρί Μεζέ) as well as appetizers and salads. You can view the menu on the Kandavlos website.)
Kandavlos is located on the peripheral highway in the Vougli district above Mykonos Town (in the same Food Center plaza where Rustic Grill, Maizevelo restaurant and Mikel coffee shop are situated — look for the sign at the driveway entrance).  
Below are just a few of the many food photos posted on the taverna's Instagram account and on its Facebook page this summer.  Additional pictures can be seen in the Taverna Kandavlos review listing on TripAdvisor.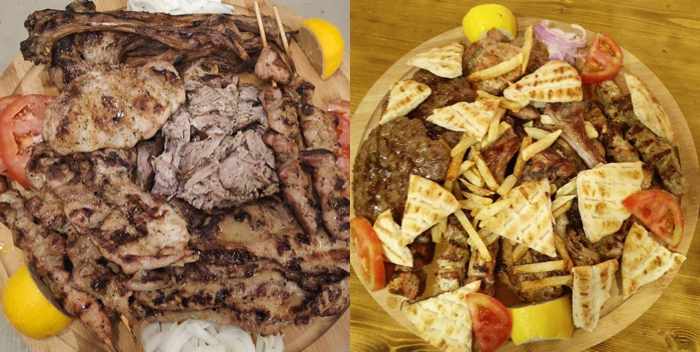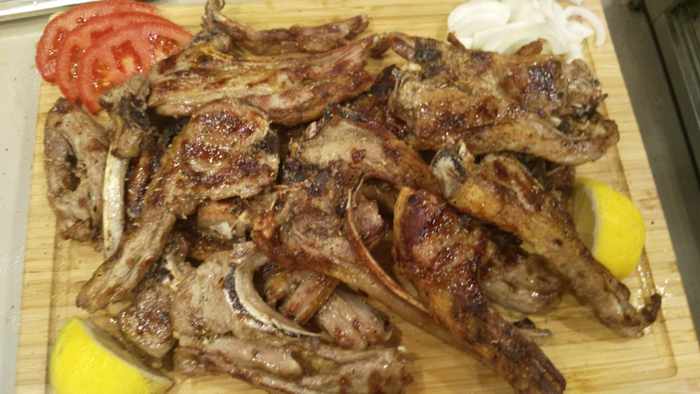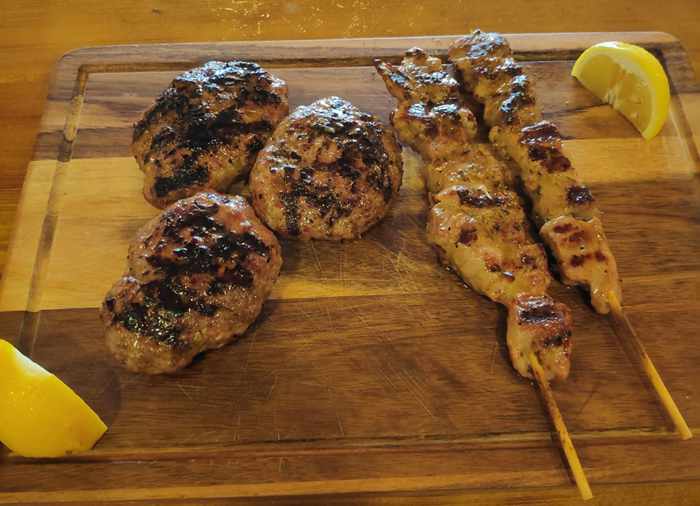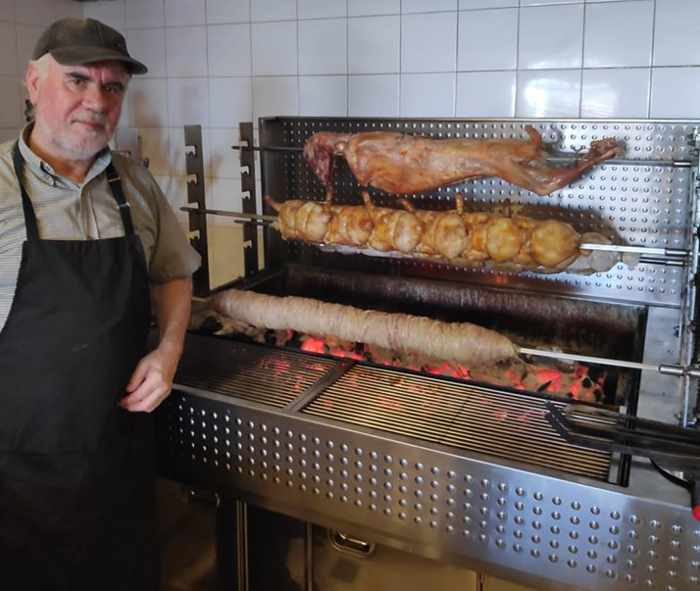 ______________________________
– Blue Fusion Art Restaurant –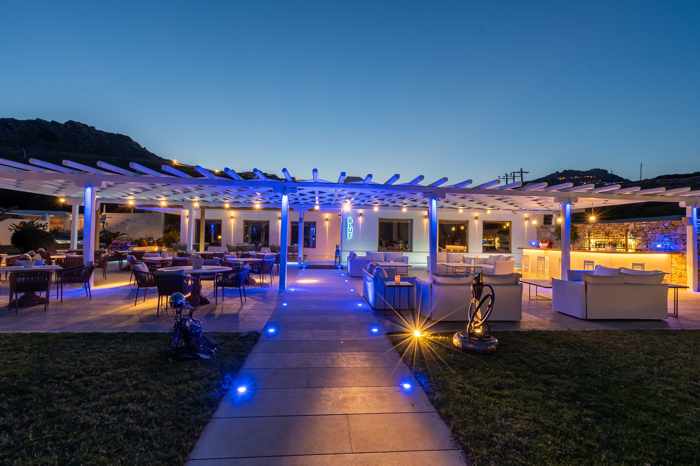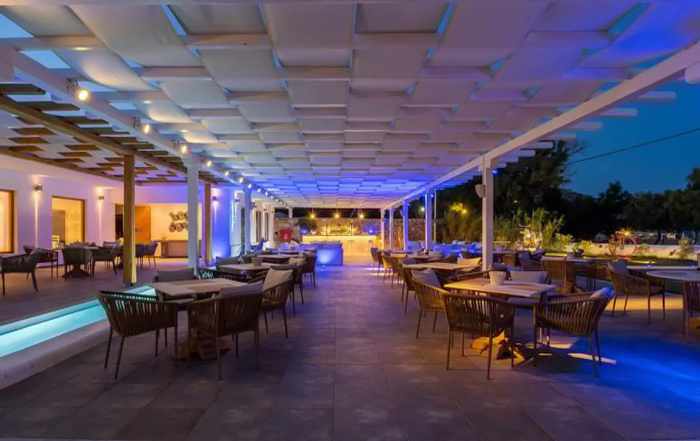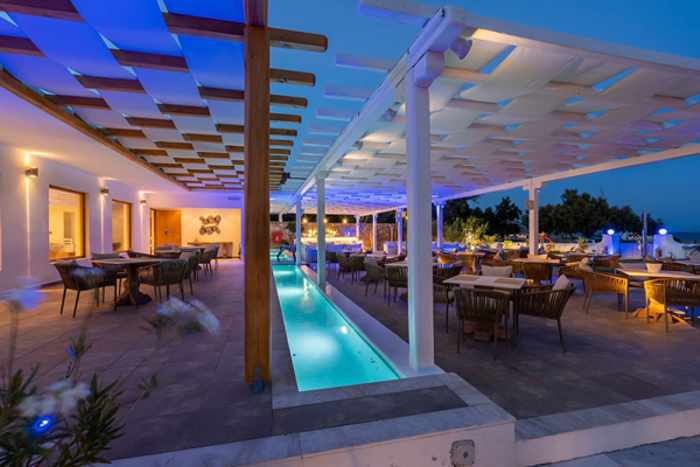 The Blue Fusion open-air dining terrace is seen in photos from the restaurant's page on Facebook 
"Fine dining in an art environment." That's how Aphrodite Beach Resort at Kalafatis beach describes its unique dining attraction, Blue Fusion Art Restaurant. 
What's so special about it? Well, the fine dining component is a gourmet fusion menu of Mediterranean and Japanese cuisine created by chef Miltos Karoubas and executive chef Yiannis Panagiotakopoulos. The art environment consists of a gallery adjacent to the dining room, plus an outdoor sculpture garden directly in front of the open-air restaurant patio. (Yet another new art space, the Venus Art Gallery, is just steps away at the hotel reception area).  In combination, the restaurant and art displays give visitors "a complete experience of gastronomy and culture."
Blue Fusion's menu includes exotic salads, appetizers, seafood and meat main courses, pastas and desserts. 
I describe the sculpture garden and restaurant gallery in more detail in the Art Gallery section further down in this post.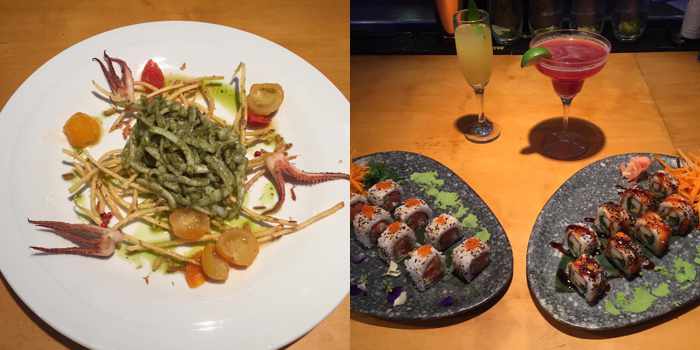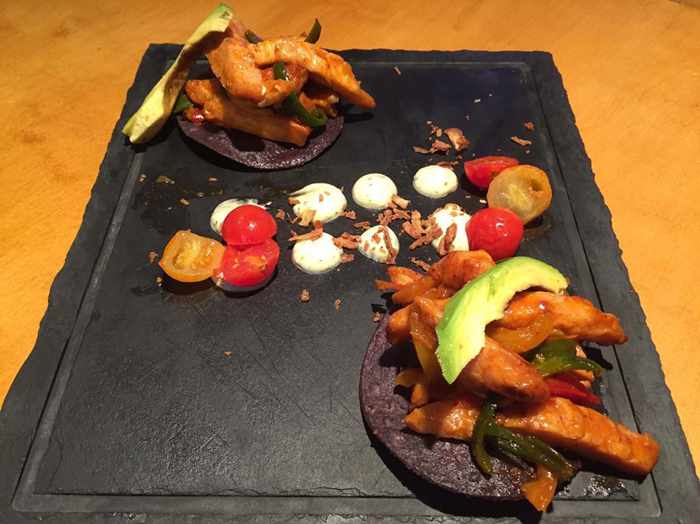 Social media photos of some of the delectable culinary creations at Blue Art Fusion Restaurant. At top left is the "green squid" — squid with basil pesto in a crisp potato nest; at top right are cocktails and sushi dishes; above is a platter featuring chicken fajitas on blue tortillas with avocado cream.
______________________________
– Major J Breakfast & Brunch –
Fancy an omelet? Burger? Sandwich? Pasta? Or would you just rather relax with a delicious cocktail and equally inviting scenery? If you crave any of the above, then Major J ticks all the boxes.
Situated at Jenny's Summer Houses on the road to Platis Gialos and Psarou, Major J launched in the spring with a breakfast, brunch and comfort food menu offering a "a mix of local and international cuisine" with "a phenomenal view."
"The local, seasonal produce is the base for almost every dish — from special omelettes and sandwiches to pancakes, salads, pasta and more — which you can enjoy from early in the morning until late in the evening," the Major J website says. In fact, many of the tasty local ingredients are grown in the restaurant's own herb and vegetable garden.
Below are several photos of Major J and some of its menu selections. You can view more pictures in the outstanding reviews posted on the Major J listing on TripAdvisor.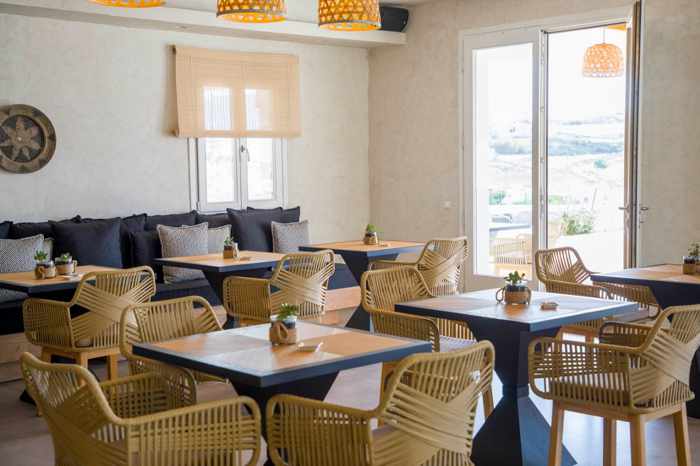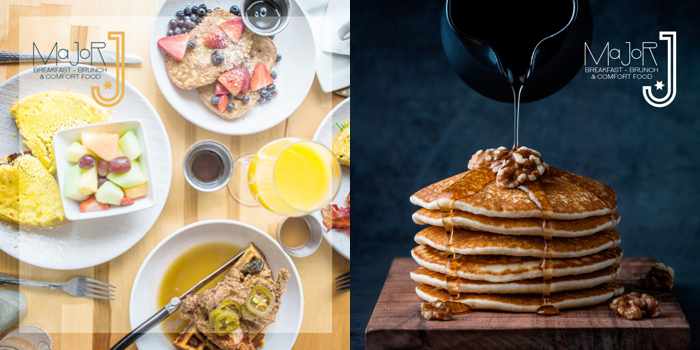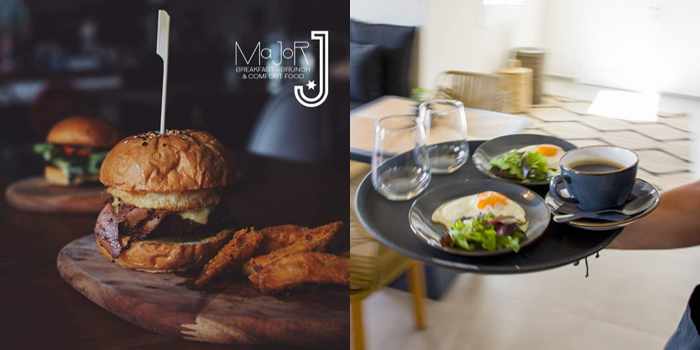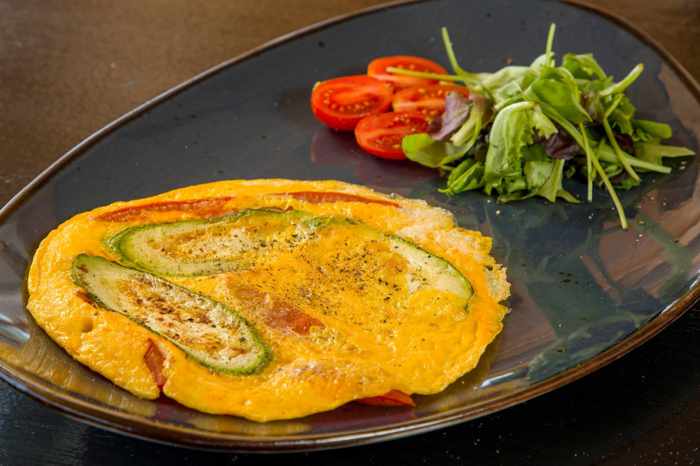 ______________________________
– L' Aragosta Ristorante Italiano –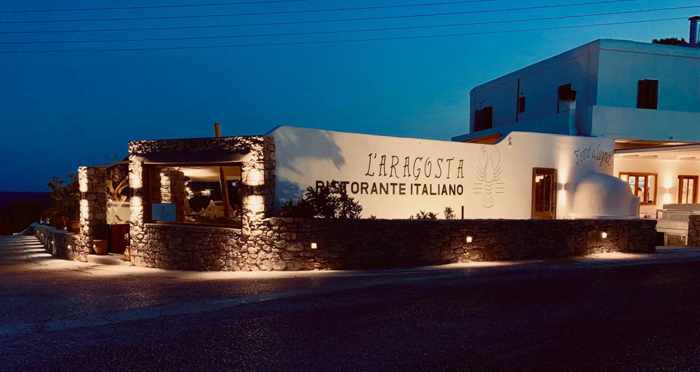 Italian restaurants are always a big hit with Mykonos visitors from all over the world (not just the many thousands of Italian tourists who regularly vacation there), so each summer usually sees the arrival of a couple of new eateries spotlighting Italian cuisine. This year was no exception. Earlier in this post I profiled I Frati, which opened in Mykonos Town. The second newcomer is L' Aragosta Ristorante Italiano, which opened in April near Kalafatis beach.
L' Aragosta has compiled an extensive menu of Italian dishes, including salads, baked starters, oysters, risotto, antipasti, a vast range of pastas, pizza, grilled meats, grilled seafood,  fresh fish, special scallopine and chicken dishes, and of course desserts. (The restaurant website includes a PDF of the complete menu; it might be a good idea to give it a read before dropping in for a meal so you won't have to spend ages reading through the selections and trying to decide what to order!)
The restaurant has a large open-air patio with scenic views of the surrounding hills as well as Agia Anna and Kalafatis Bays.
Below are some food and restaurant photos that have been posted on social media. Additional pictures can be found in the L' Aragosta review listing on TripAdvisor.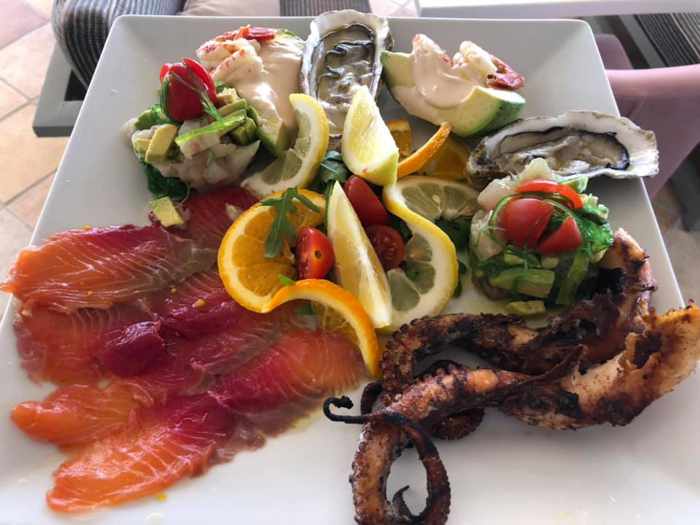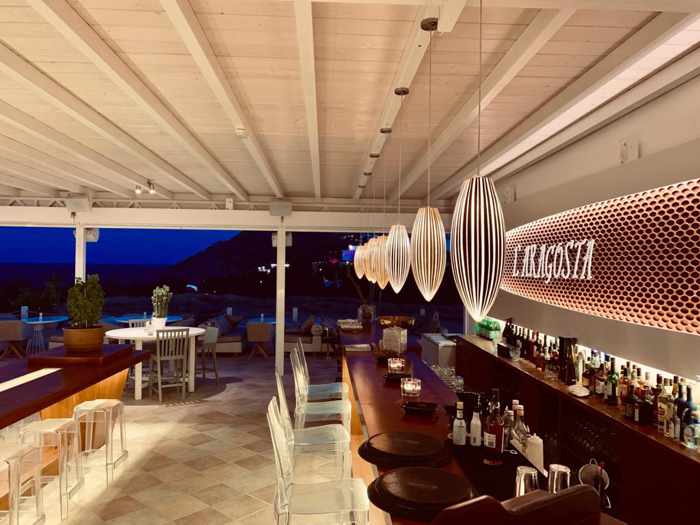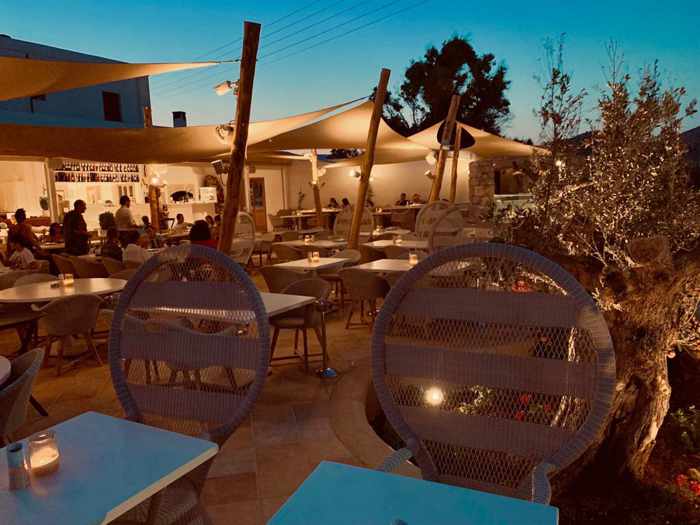 L' Aragosta's own photos of a seafood platter (top); the bar (center); and the outdoor patio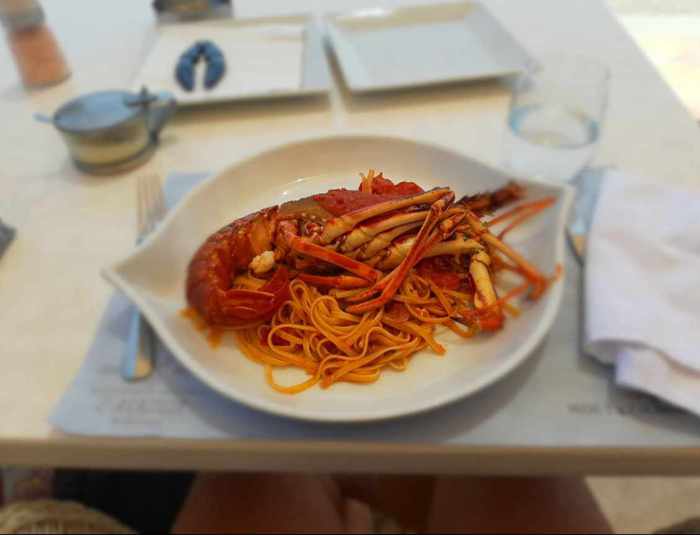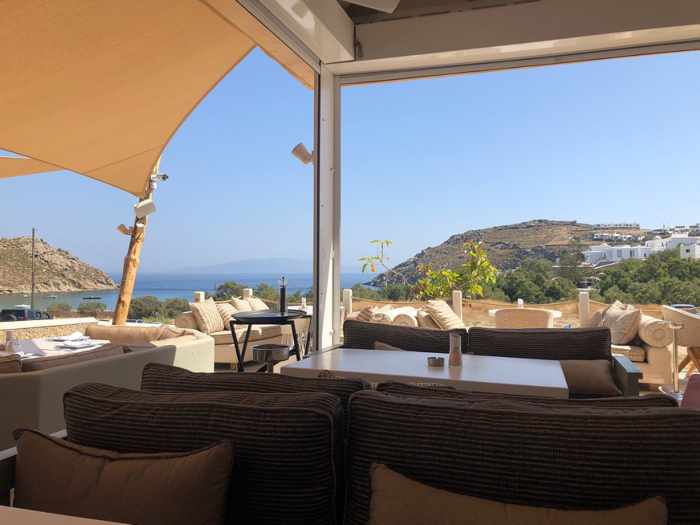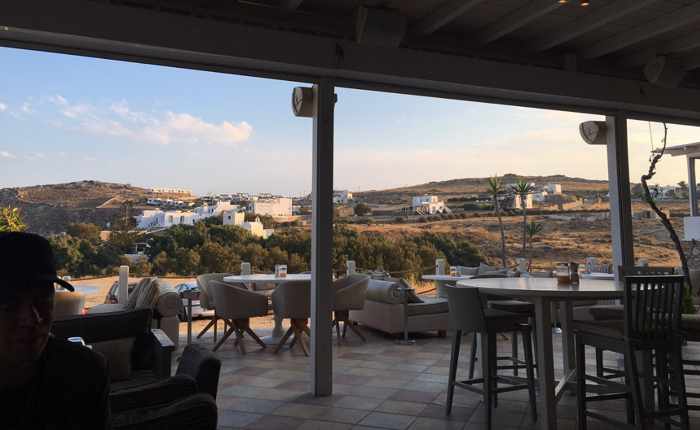 From the L' Aragosta reviews on TripAdvisor, a lobster pasta dish photographed by Francesco Cangiano (top); the patio view of Agia Anna Bay, photographed by Jack S (center); and the nearby hillsides, photographed by Gee Tee (bottom).
______________________________
– Avli Sweet Bar –
Avli Sweet Bar is seen in a street view photo by Nana Kara
Mykonos Town seems to attract at least one new dessert shop each year, and for 2019 the new arrival is Avli Sweet Bar, tucked into a picturesque lane in the Agios Vlassis area (a maze of alleys and narrow streets hidden behind the main harbourside promenade).
The shop sells a variety of fresh-daily home-made desserts and sweet treats made from traditional recipes, as well as coffee, other beverages, salads and breakfast items. There's plenty of selection to satisfy the sweetest tooth. Seating is provided right outside the cafe.
There are more than two dozen dessert photos you can view along with the very complimentary comments that customers have posted on the Avli Sweet Bar listing on TripAdvisor.
Additional pictures of the tempting desserts — and many of the customers who have enjoyed them — can be seen on Avli's Instagram page.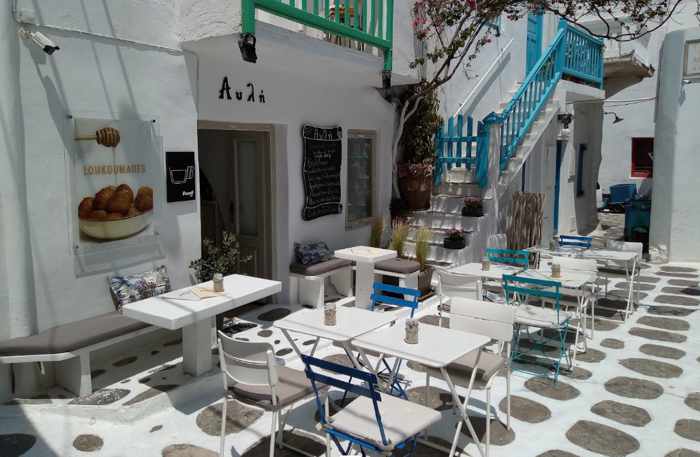 This street-view photo of Avli Sweet Bar was shared on Google by Δημητρης Τσιγκος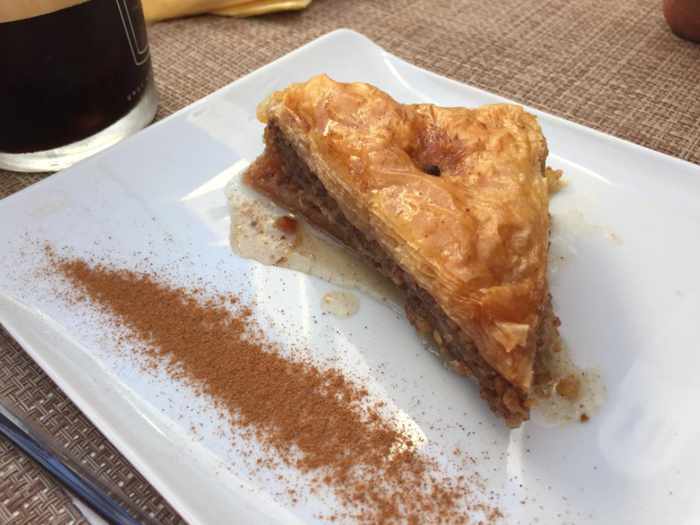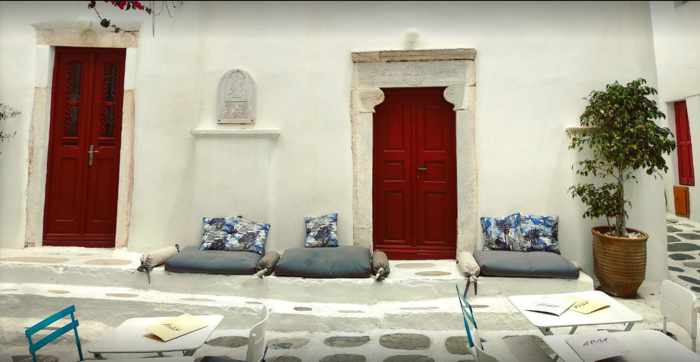 Above are several of Avli Sweet Bar's own social media images showing some of its delicious desserts, its menu board and some of its streetside seating for customers
______________________________
 – Alfiere Caffe –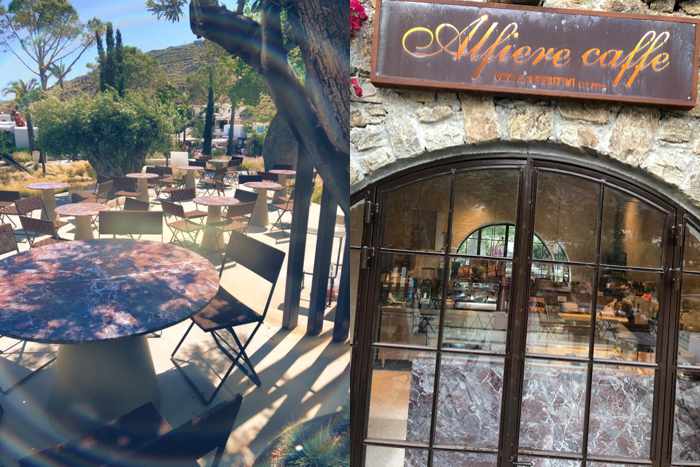 Alfiere Caffe social media photos of its storefront and patio at Nammos Village shopping center on Mykonos
Here's another example of a popular Athens business expanding its brand to Mykonos for the summer tourist season. Alfiere Caffe is a chic coffee shop , aperitivo and wine bar situated across from the Italian embassy in the tony Kolonaki district of Athens. In June, it opened a Mykonos branch at Psarou beach, in the ritzy Nammos Village shopping center.
The Mykonos Alfiere Caffe quickly became a popular spot for visitors to relax with drinks and snacks after shopping and browsing the high-end designer fashion boutiques and art galleries of Nammos Village.  Entertainment often was provided, either by DJs or professional musicians including the Smooth Mood Project duo, who frequently performed in the courtyard next to the cafe patio. 
______________________________
 – What Else Mykonos Bakery & Coffee –

What Else Mykonos Bakery & Coffee opened in mid-summer along the road to Platis Gialos, in a location that's uphill walking distance from the beach as well as from Psarou beach.
Operating from early morning until late afternoon, What Else brews premium Portioli coffees and also serves fresh juices, teas, crepes, sandwiches, snacks and desserts.
 What Else offers a delivery service.
The cafe can be found on social media at the What Else Facebook page and on Instagram.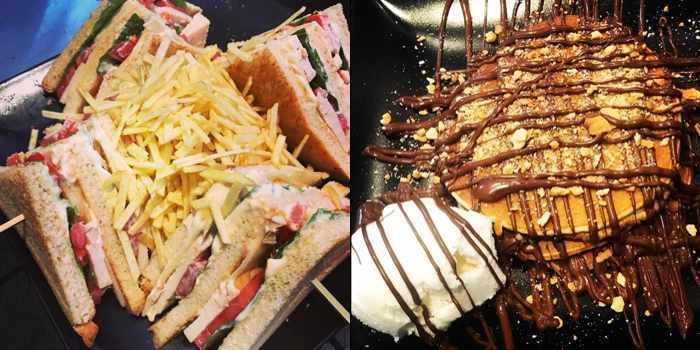 What Else Cafe Mykonos social media photos of a club sandwich platter and pancake dish
______________________________
– Coffee Mill, Crepaland and Domino's –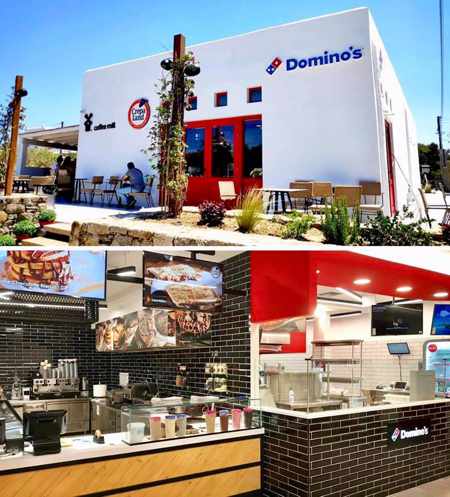 The Crepaland company shared this composite image on social media to announce the opening of its second restaurant on Mykonos; also shown are counters for Coffee Mill and Domino's Pizza
A new mini-food plaza in the Argiraina district of Mykonos offers three distinct food and beverage vendors in one convenient place.
The new eateries include the island's first Domino's pizza outlet, its second Crepaland store, and a Coffee Mill cafe, all side by side.
The trio of food shops is situated on the road to Ano Mera, near the Mykonos health center. The Domino's offers delivery service to many areas of the island.
______________________________
– Kastro's Restaurant –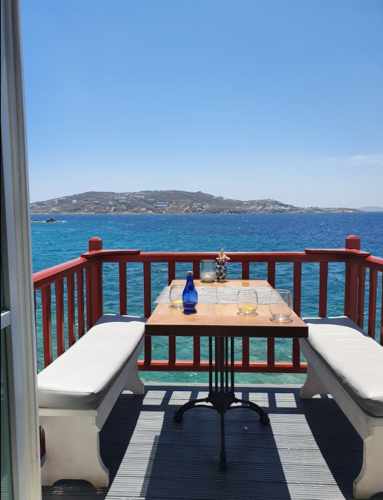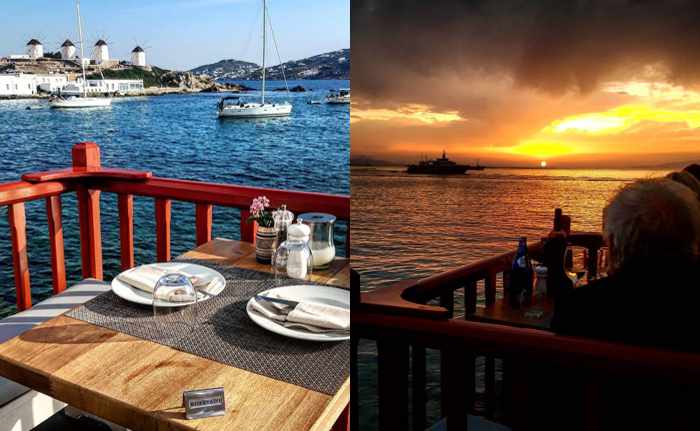 Top: One of the new balconies at Kastro's Restaurant is shown in a photo that CatarinaeFabricio posted with a review on TripAdvisor. Bottom: The balconies' sea and sunset views are seen in Instagram images by zannis_bk.
Regular visitors and people who've been to Mykonos at least once may  wonder why I'm including Kastro's Restaurant in my What's New post. Understandably so, since Kastro's has been in business on Mykonos for more than four decades — for 37 years operating as a popular cocktail bar known for its delicious drinks and relaxing jazz and classical music, then  six years ago expanding into a full-service restaurant offering a menu of seafood, Greek and Mediterranean cuisine. 
What is new about Kastro's is the three balconies it has installed this year to provide intimate outdoor dining spaces on which customers can enjoy their drinks and meals with fantastic views of the sea, sunset, Little Venice area and the iconic Mykonos windmills at Kato Mili. (Previously, guests had to gaze at the breathtaking scenery through the restaurant's big, wide windows.)
The balconies are small, but each can accommodate four adults. I expect the balconies will be in great demand, even though the location can get extremely windy. With the restaurant's delicious Greek cuisine and wine on the table and amazing views all around,  I'm sure there will plenty of people willing to brave the breeze for a chance to enjoy a meal with those iconic Mykonos views.
You can find photos and more than 800 customer comments in the Kastro's Restaurant listing on TripAdvisor. Below are some images from Kastro's website and social media feeds.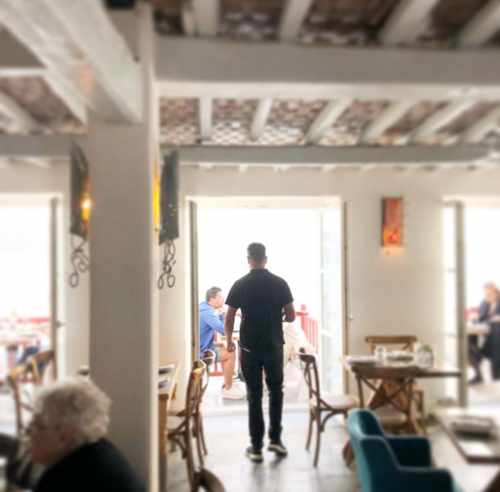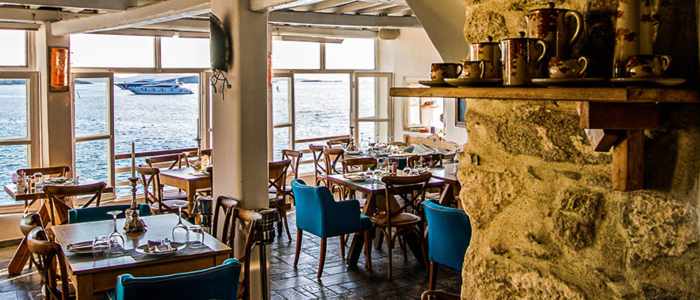 A waiter approaches one of the new balconies (top), a website photo showing Kastro's interior before the restaurant replaced its big windows with access doors to the balconies (center) and a sea view of customers on the three new balconies (bottom)
______________________________
Please click on the link below to continue reading.
Page 4 highlights new accommodations, attractions and activities, art galleries, and fashion shops.
CONTINUED ON PAGE 4