~ continued from page 3 ~
Hotels, studios, suites & apartment accommodations
 – Apiro-Mykonos Hotel –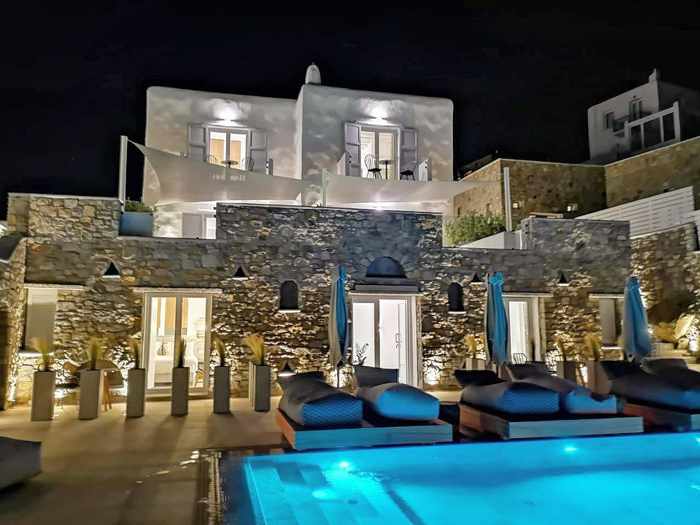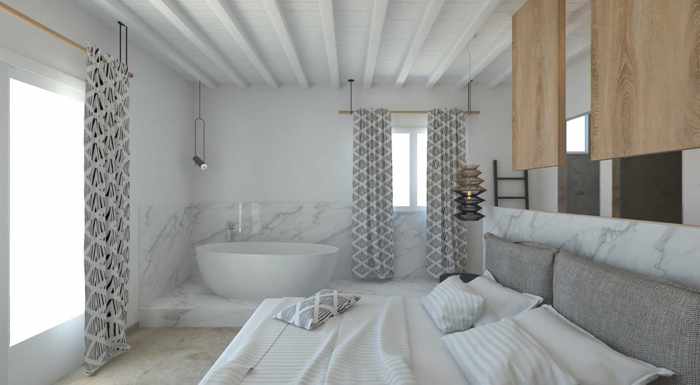 Situated on a hill overlooking Megali Ammos beach, a short walk from the heart of Mykonos Town, Apiro-Mykonos Hotel offers a collection of sumptuous rooms and suites in a beautiful building with traditional Cycladic architecture and design.
The family-owned hotel boasts an outdoor swimming pool with a gorgeous sea and sunset view, as well as a lounge, bar and snack bar. Parking is available, and the hotel can arrange transfers to/from the port or airport for an extra charge.
The inviting suites and rooms feature contemporary decor with "elegant and simple lines and earth tone colours." A range of accommodations are available, including standard doubles and triples; superior doubles and triples with private hot tubs; and junior suites. Breakfast is provided.
Complete details of room and suite features and amenities, along with photo slideshows of the gorgeous room interiors, are provided on the hotel website.
Apiro-Mykonos opened on May 13 and expects to end its first season after the 15th of October.
The hotel has a presence on social media; the Apiro Mykonos page on Facebook includes pictures and contact details, while the hotel's Instagram includes photos and several short video clips. Additional photos, along with guest comments, can be found on the Apiro Mykonos review listing on TripAdvisor.
Below are some images of the hotel's rooms, facilities and impressive view.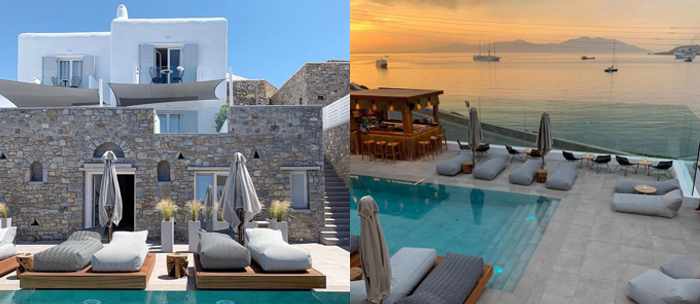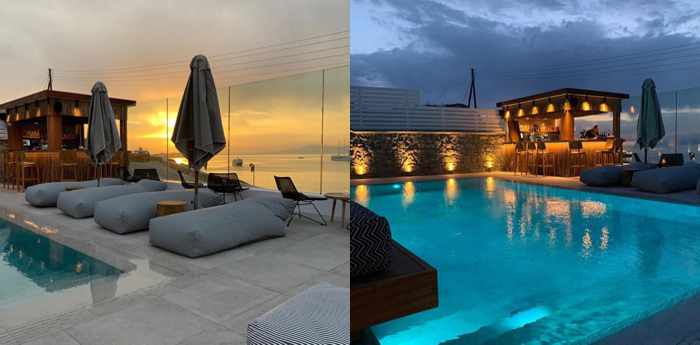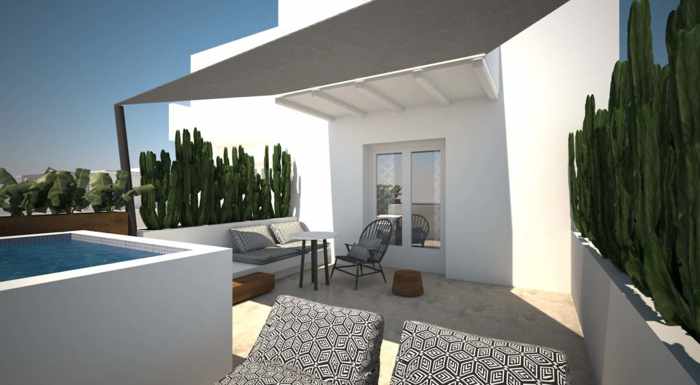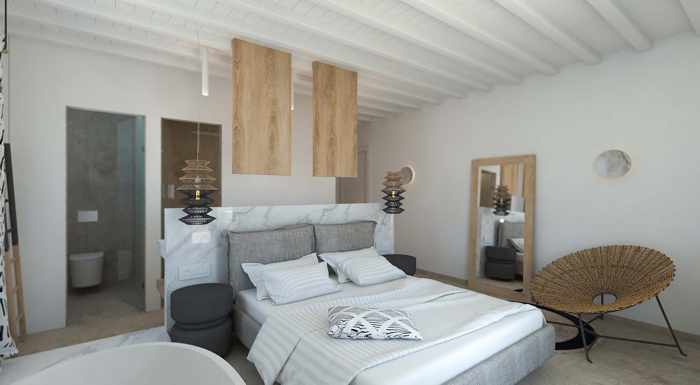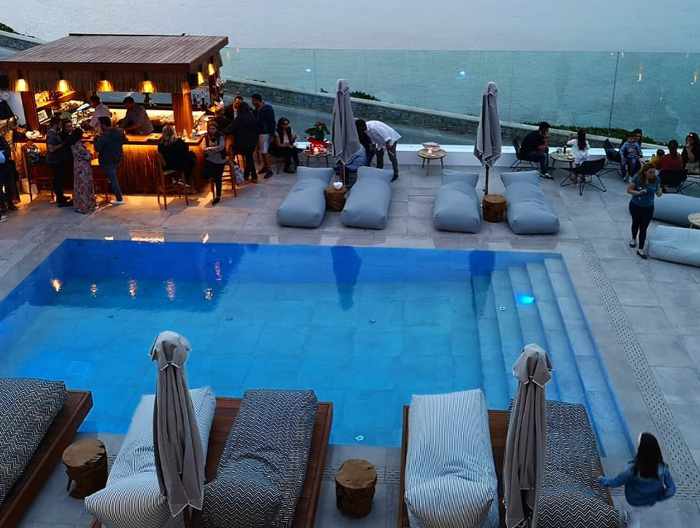 ______________________________
– Crystal View Mykonos-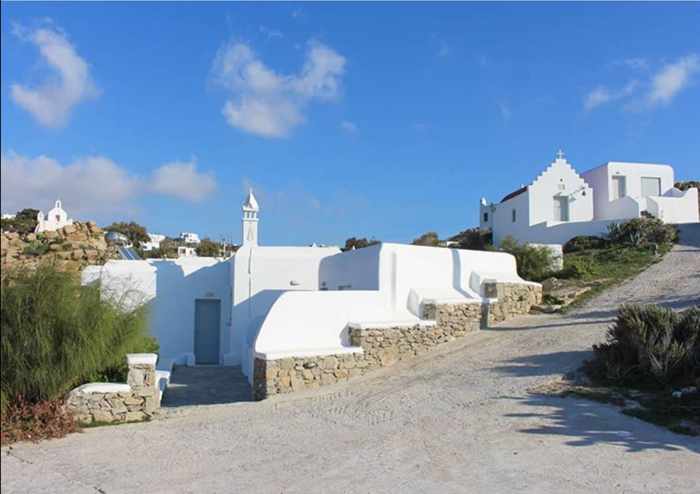 The exterior of the Crystal View Mykonos apartment buildings (top) and a patio for one of the studios are seen in photos by Margarita Kousathana.
Crystal View Mykonos is a small collection of elegantly-appointed accommodation rooms that opened in May.  The property is situated on a peaceful and scenic hillside above Megali Ammos beach, with superb views of the sea and parts of Mykonos Town. It's a short downhill trek to the beach, and easy walking distance to town.
The accommodations include spacious and comfortable double, deluxe double and triple rooms, which are equipped with wi-fi, fridge, Nespresso coffee machine, hairdryer, safe, A/C and TV. The deluxe and triple rooms also have fully-equipped kitchenettes.
Crystal View provides transfers to and from the port or airport, and has parking available for guests.
Bookings and availability inquiries can be made through the Crystal View website. 
Below are a few photos of the property, room interiors and views; more pictures can be viewed on Crystal View's Facebook page and on its Instagram page. There are also more than 60 images on the Crystal View review listing on TripAdvisor.


Above: Inside two of the studios. Below: One of the Crystal View apartment buildings and a red-roofed chape; daytime view of the famous Mykonos windmills and Tinos island in the distance; a serene sunset view.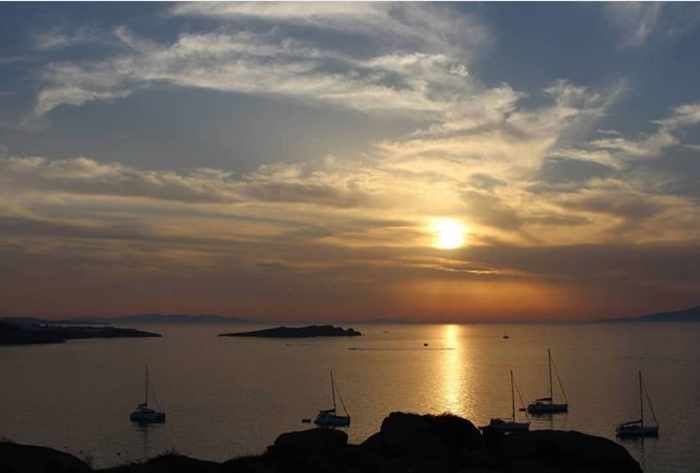 ______________________________
– Aegon Retreat Hotel –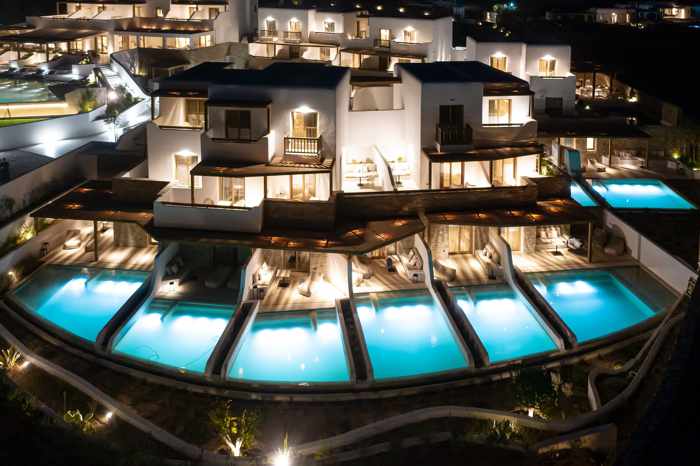 The newest "luxury hip" hotel at Kalo Livadi beach, Aegon Retreat is an Autograph Collection property of Marriott International — and just the first phase of its work-in-progress Aegon Mykonos development. A sister hotel, Aegon Revive, is expected to open for summer 2020.
Once complete, the double hotel complex will consist of "76 lavish rooms & suites embellished with indulgent private pools, hot tubs, in-room Spa and fitness facilities, a total of two outdoor pools and culinary delights at our new signature restaurants and bars," according to a promotional description on the Aegon Mykonos Facebook page.
The twin-hotel complex will offer guests a choice of "glorious Mykonos accommodation" to suit their mood, whether that is to "Retreat away from the crowds" or to "Revive at the beach," the Aegon Mykonos website says. To that end, the Aegon Retreat has been built on a hillside above Kalo Livadi Bay, "for those seeking intimacy," whereas the Aegon Revive will be situated beachside, for those seeking "fun beach days and nights." As I noted earlier in this post, the Aegon's beach fun is provided by the Blue Marlin Ibiza Mykonos club, which the hotel operates.
An introduction on the website adds that "the hotel is surrounded by a breathtaking Aegean landscape of supreme beauty. Living spaces are designed to capture every depth and breadth of your soul, embellished with indulgent private pools, hot tubs, in-room entertainment, spa and fitness facilities. The Aegon Mykonos accommodation will serve for a narcissistic, vibrant and passionate Mykonos holiday, awakened by the overwhelming spirit and light echoing the Ancient site of Delos." 
The indulgent and narcissistic accommodation choices at the Aegon Retreat include a Deluxe Room, Horizon Room, Aqua Room, Aqua Suite, Infinity Pool Suite, and the top-flight Aegon Suite (aka the Presidential Suite).
The Aegon Retreat opened on August 5, several weeks later than originally scheduled. Several travellers who had their July reservations cancelled on short notice (because the hotel wasn't ready for occupancy) vented their frustration and anger online, commenting on the Aegon page on Facebook and on TripAdvisor's Mykonos travel forum. Their primary complaints concerned customer service issues with the last-minute cancellations and the hotel's failure to secure alternate comparable accommodations for them. Since the official opening, however, the Aegon Retreat has received accolades from guests, both on its Facebook page and on the hotel listing on TripAdvisor, where it had 24 five-star ratings as of early September.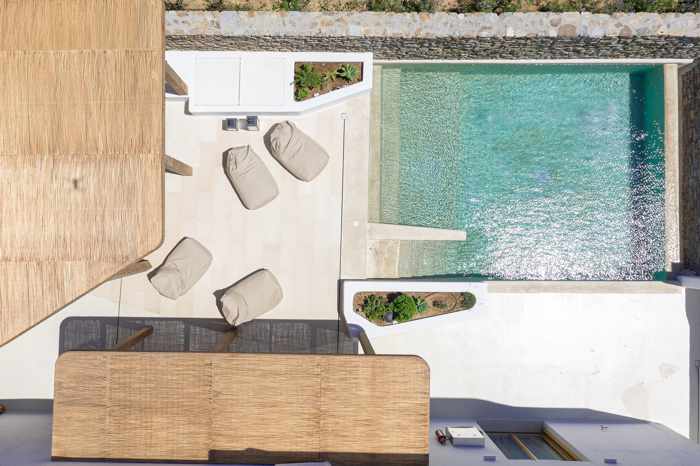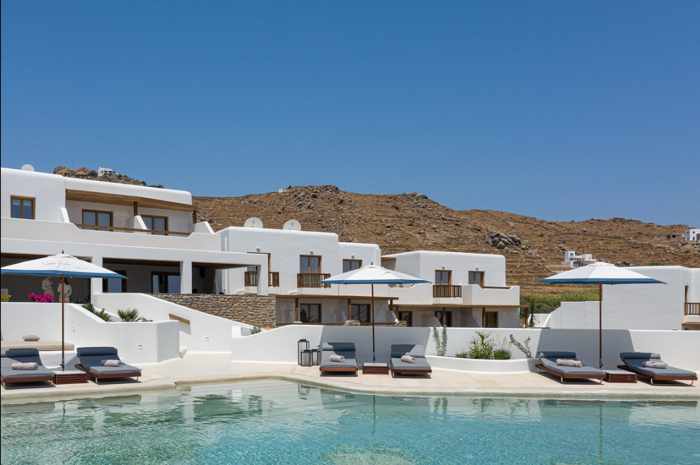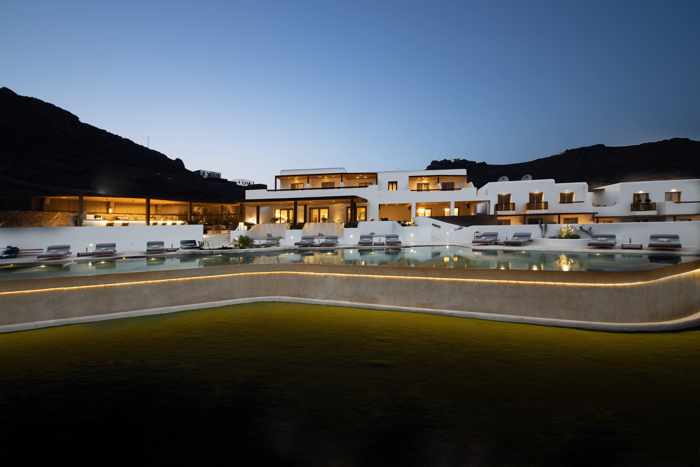 Above are some of Aegon's own social media photos showing room interiors, the hotel building and the main swimming pool. Below is a photo showing the view of Kalo Livadi Bay in the other direction. That picture was posted with a TripAdvisor review by LukeJang.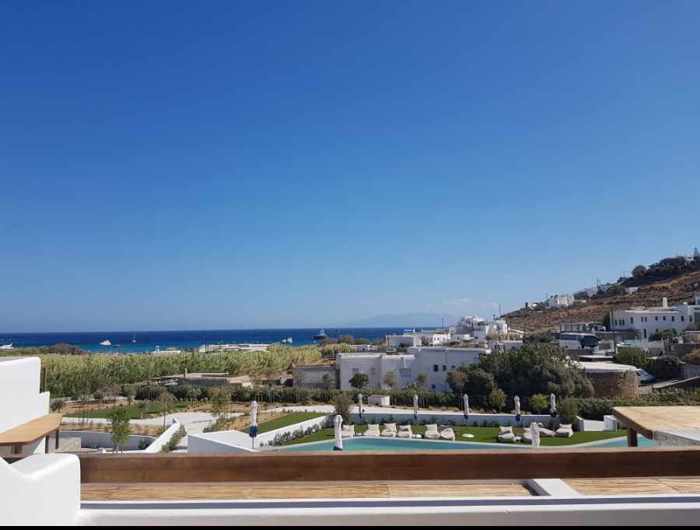 ______________________________
 – Jenny's Summer Houses –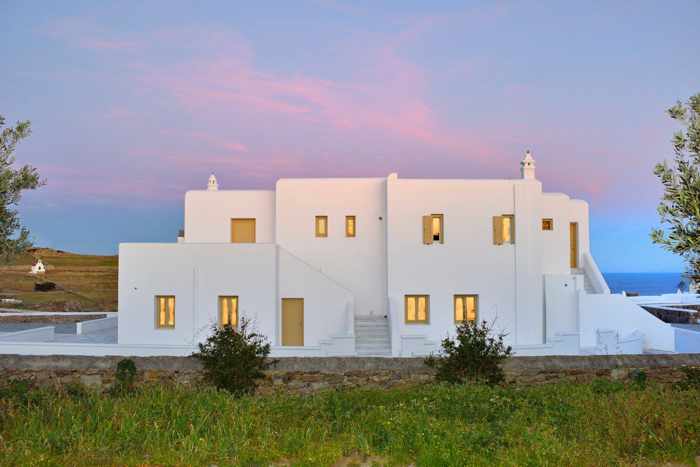 From the outside, the crisp white Jenny's Summer Houses complex displays Cycladic design and architecture elements. The sophisticated interior decor features soft wood tones that reflect the Mykonian countryside.
Located just 1 kilometer from Psarou and Platis Gialos beaches, Jenny's Summer Houses is a hilltop complex of rooms and suites that opened in spring. It's also where you'll find Major J, the breakfast, brunch & comfort food restaurant I described earlier in this post.
Visitors considering Jenny's can select from five different accommodations: A double room with king-size bed; a triple room with a king bed and sofa bed; a 2-bedroom, 2-bathroom family room with one king bed and two single beds; a villa with 2 bedrooms, 2 bathrooms, a living room and a kitchen; and the "crown jewel" — a luxuriously spacious 150 sq.m. grand villa with 3 bedrooms (each furnished with a king bed), 3 bathrooms, a living room and a kitchen. 
I've posted a few photos of the rooms and villas below, while additional pictures and full descriptions of the suite amenities can be found in the accommodations section of  Jenny's website. 
Jenny's Instagram page includes more than three dozen images of the property and places on Mykonos, while the Jenny's Summer Houses page on Facebook also has photos and information, plus a messenger link for contacting the property online.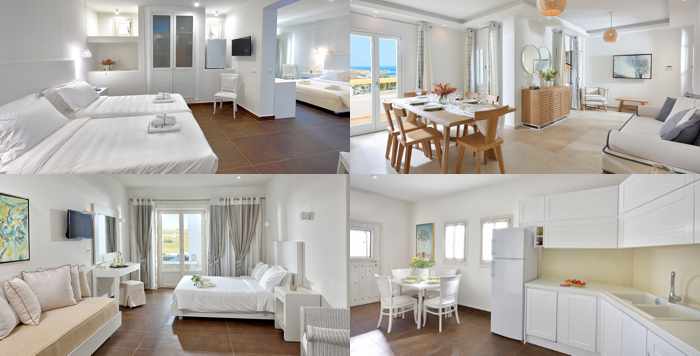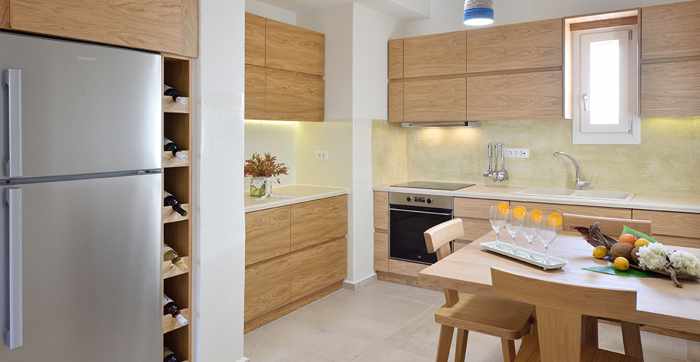 Room and villa interiors (top) and outdoor views of the property (below) are seen in a collection of images from the Jenny's Summer Houses website and Facebook page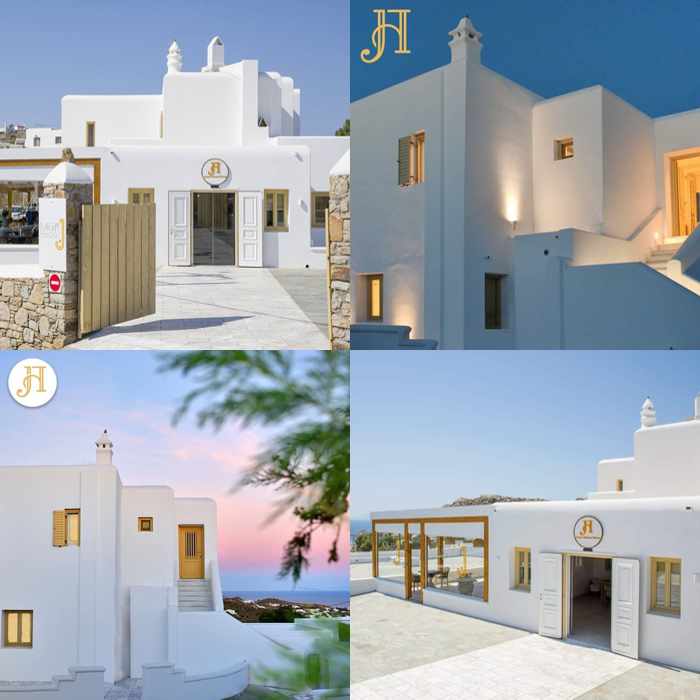 ______________________________
– Geant Suites –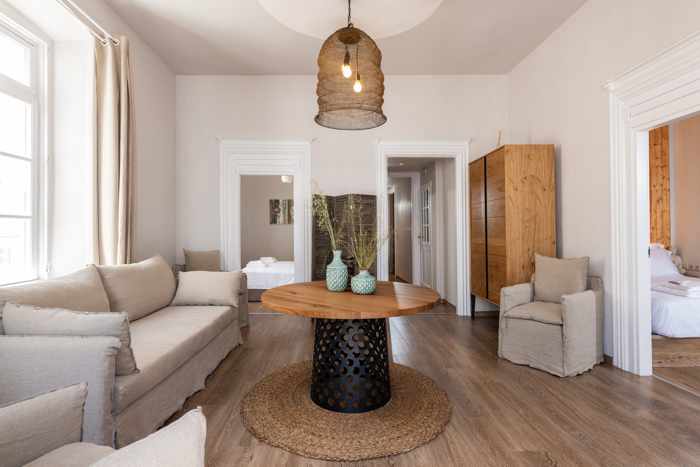 The large living room in Geant Suites, a 2-bedroom rental apartment in the heart of Mykonos Town
Looking to stay in a private apartment in a historic building right in the heart of Mykonos Town? It's possible at Geant Suites, which opened in the spring on Matogianni, the island's famous summer shopping street.
Geant Suites is a 2-bedroom, 2-bathroom accommodation that is listed for rent on major online reservation sites, including Airbnb, booking.com and Expedia. It occupies the second floor of a mansion that was built in 1870 and originally was the home of the Kouzis Georgoulis family. 
"Geant epitomizes the status and the sophistication of times long gone, exuding an air of class and wealth," says a description on the property's Airbnb listing. "The dazzling Cycladic light, bursting through Géant's big windows, the earthly color scheme that was chosen for the decoration, the high ceilings, the use of cement mortar, the touch of wood and the distinct architecture showcase the almost theatrical design of this space, that will awaken memories from ages past," it adds.
The property has been updated with "contemporary decorative elements and modern amenities…integrated into the island aesthetic."
When guests walk out Geant's big front door onto Matogianni Street, they will find themselves literally in the middle of town, with shops and restaurants mere steps away (La Casa restaurant is directly below the apartment).
Nearly 20 pictures of the property can be viewed on Geant's Instagram page; however, dozens more can be seen in the Geant Suites listing on booking.com.  The property also can be contacted through the direct message feature on its Facebook page, where you can also find photos of the apartment. Below are several of the images it has shared on social media.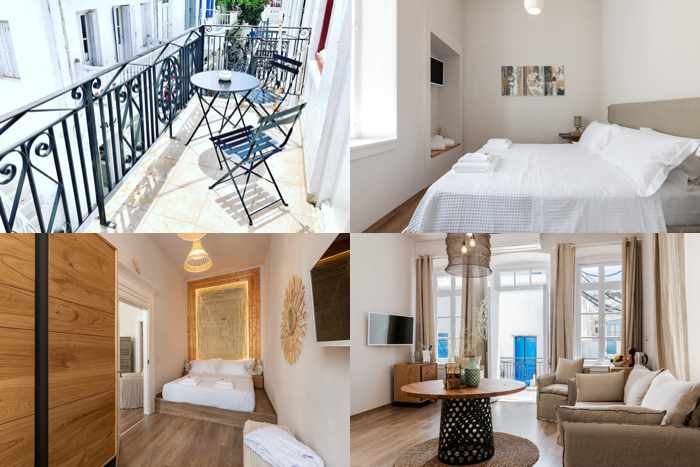 Above, photos from Geant Suites listings in online booking sites show views of the property's rooms and balcony; below are photos of Matogianni Street from the Geant Suites balcony and from ground level outside the bold red entrance doors to the rental home.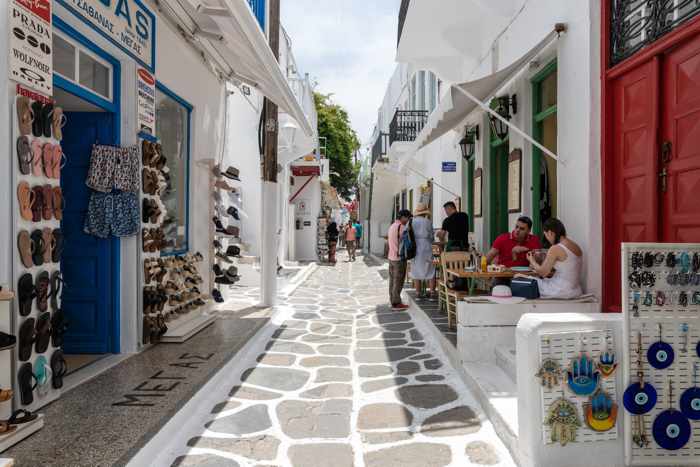 ______________________________
– Tropicana Hotel luxury suites and villas –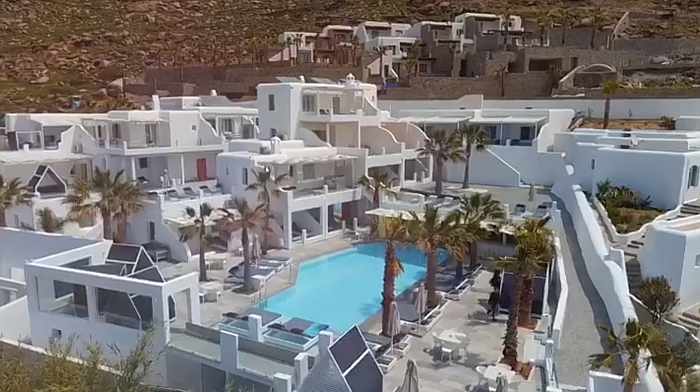 Tropicana Hotel's new suites and villa wing at Paradise Beach
The most popular hotel at the most famous party beach on Mykonos has expanded this year, opening a brand-new wing that boasts luxurious suite and villa accommodations with private pools.
Tropicana Hotel has long offered an extensive variety of lodging in its hillside property overlooking Paradise Beach, including regular and deluxe rooms, studios and apartments. In June, it opened a newly-constructed wing that features its most luxurious accommodations yet — superior suites with private pools and panoramic sea views, as well as 2-bedroom villas with private pools and sea views.
The hotel had not yet updated its website with photos and information about the new accommodations when I was preparing this article, but the Tropicana listing on booking.com does include pictures of the new facility, along with an availability search engine that provides details about the villas and superior suites as well as room rates.
Below are several images that have appeared on Tropicana's social media accounts, including the hotel's Instagram, along with a promotional video that has been shared online.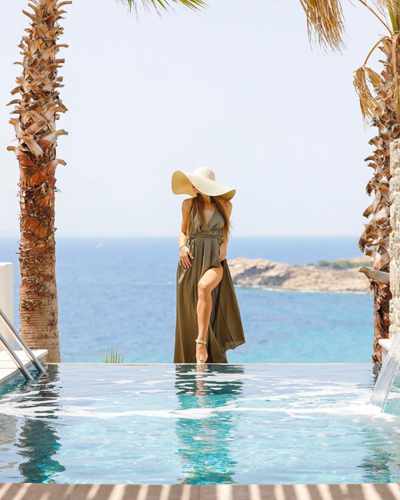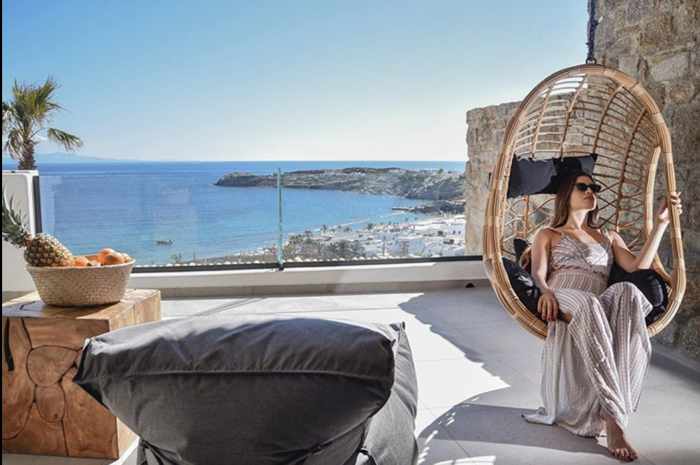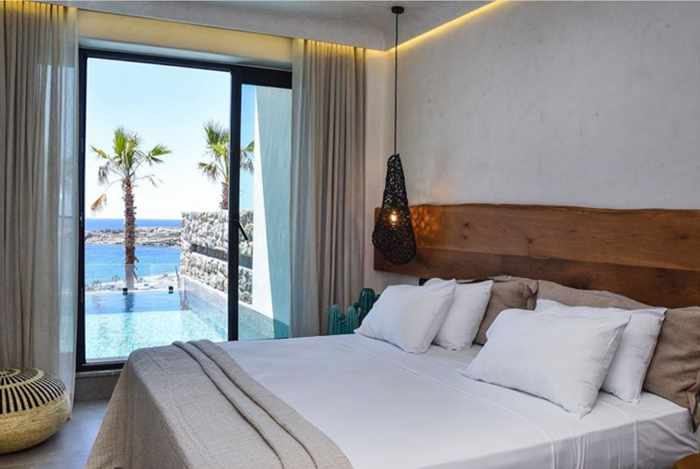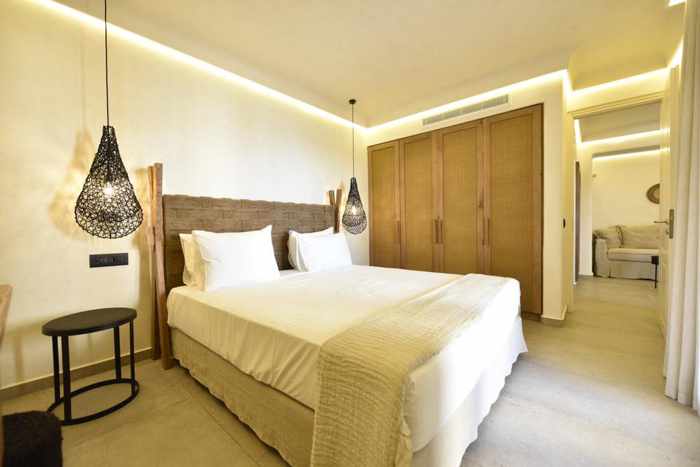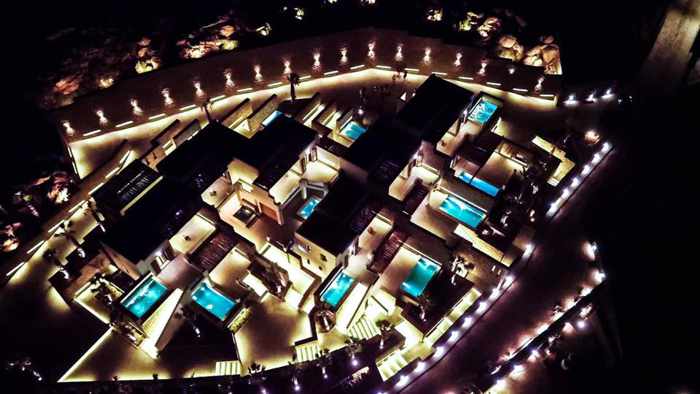 From the top: A private pool, a private terrace, the interiors of some of the new superior suites and villas, and an aerial night view of the new Tropicana Hotel wing. 
______________________________
Attractions & Activities
– Rizes Folklore Farmstead & Restaurant –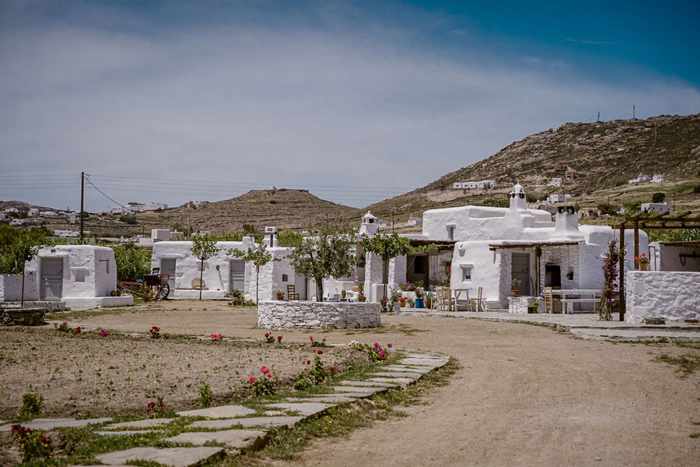 Old family traditions have been revived into a fascinating and educational new attraction for Mykonos visitors at the Rizes Folklore Farmstead & Restaurant
Mykonos frequently comes under fire, in media and especially in online travel chat forums, by people who insist the island is "inauthentic," "not Greek," and "totally lacks anything that resembles traditional Greece." To see the "real" Greece, you have to go anywhere but Mykonos, the critics claim.
While it's true that Mykonos has lost much of its original Greek look, feel and atmosphere as a result of over-development caused by mass tourism (the tiny island gets more than 2 million visitors a year), Mykonos is Greek, and authentic Greek culture is still alive and well there. The island's haters would see it if they made the slightest effort to look beyond the glitzy in-your-face commercialism — shops, bars, restaurants, beach clubs, hotels and villas — that attract all the attention and enthrall the selfie-snapping Instagram crowds. 
This year it's even easier for visitors to step away from contemporary, modern Mykonos and take a big step back in time to experience the Mykonos of olden days, thanks to Rizes Folklore Farmstead & Restaurant.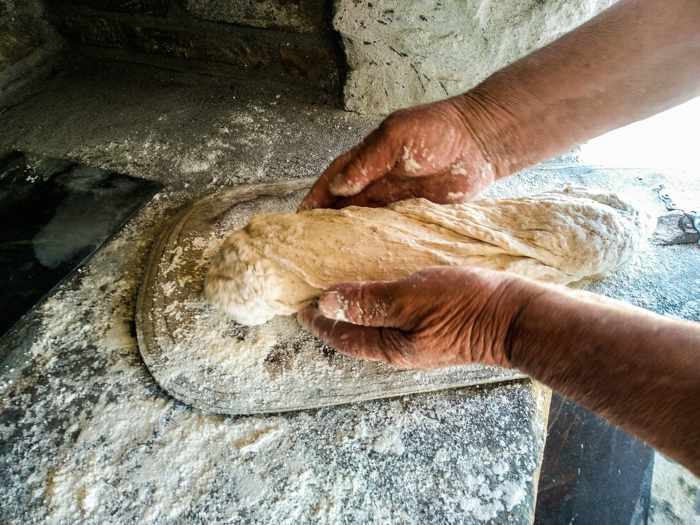 Visitors to Rizes can arrange to take cooking and bread baking classes
Rizes is the Greek word for "roots," and the Zouganeli family of Mykonos has revived a traditional farmstead not only so family members can preserve their history and heritage and pass these important roots to future generations, but also so visitors can take a journey back in time and experience the "original Mykonos" — a side of the island they would never see while browsing the shops on Matogianni Street or partying at Paradise beach.
Situated in the Maou district of Ano Mera, in the island's interior, the Rizes property consists of a 5-acre farmstead on which visitors can see a traditional house; a chapel; an olive grove, vineyards and vegetable gardens; a chicken coop, stable and dovecote; domestic animals; a stone oven, cheese workshop and wine press; folks arts exhibits; and more. Activities offered at Rizes include guided tours, cooking classes and bread making sessions. There also is a restaurant where guests can enjoy either breakfast or an afternoon or early evening meal prepared from fresh ingredients grown on the farm. 
"Homemade pies, salads and spreads, roasted and oven baked vegetable or meat recipes, are some of the dishes that one can savor. Vivid flavors and strong aromas are accompanied by the most known Greek drinks; ouzo, tsipouro and wine," the Rizes website says.
Full details of things to see and do, opening hours, travel directions and contact information for reservations can be found on the Rizes website, as well as on the Rizes Facebook page.  There also is a Rizes Instagram profile with more than two dozen photos.
Below are some photos that have appeared on the Rizes website and social media feeds.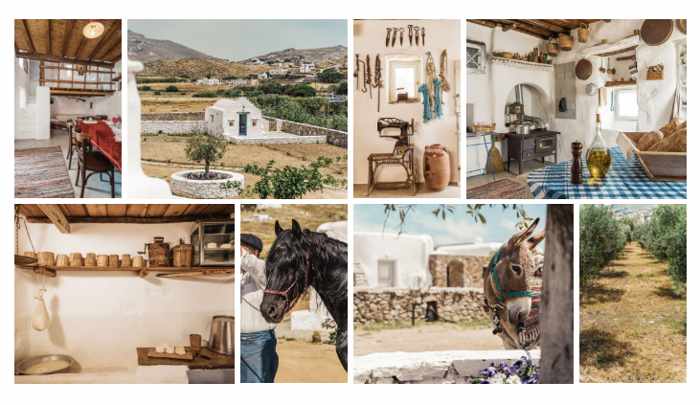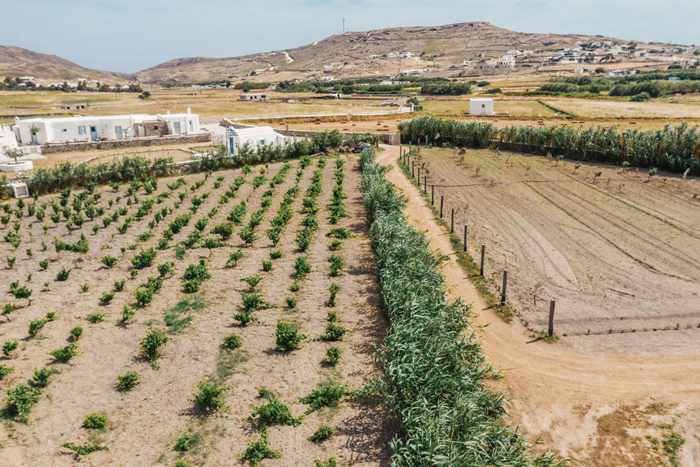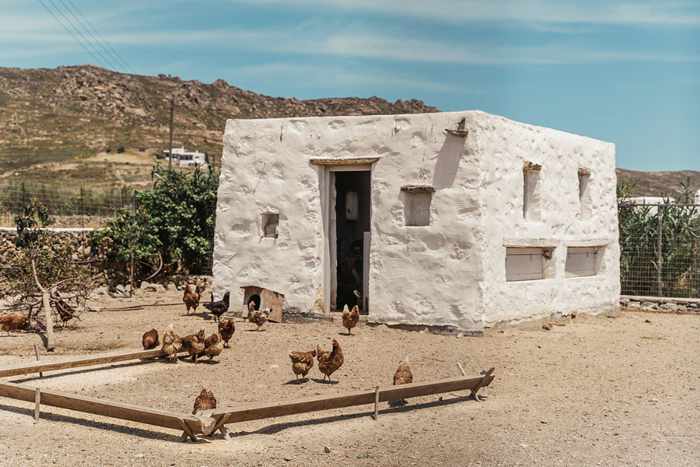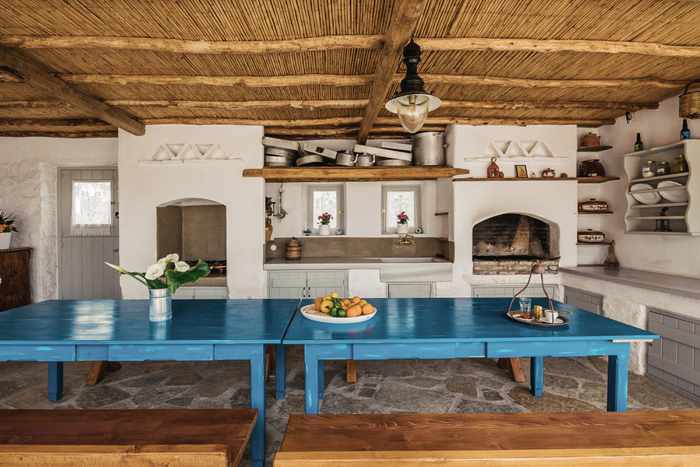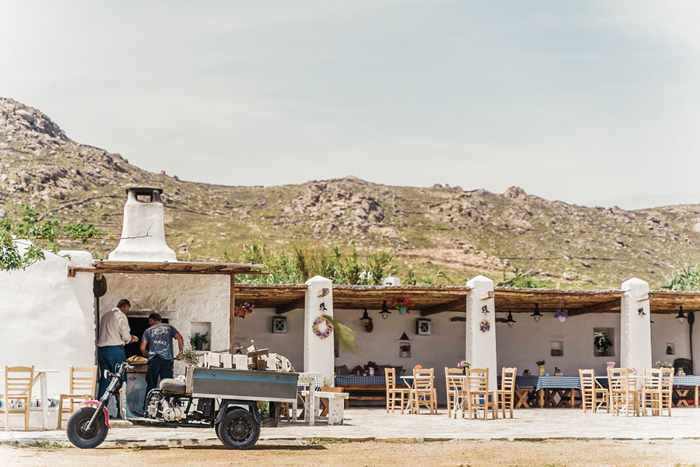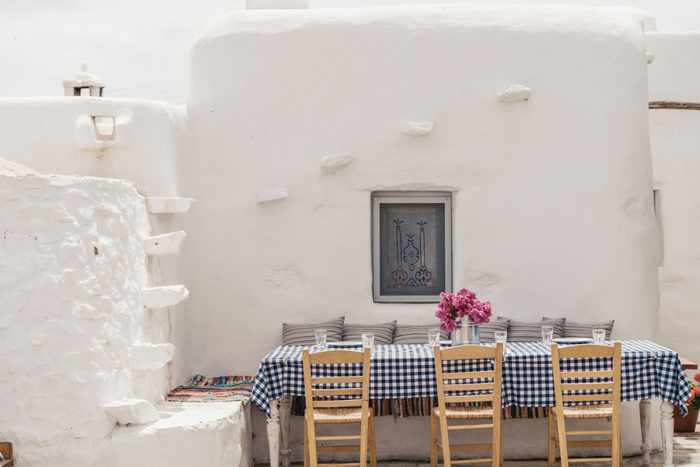 ______________________________
 – Mykonos Olive Oil Tasting –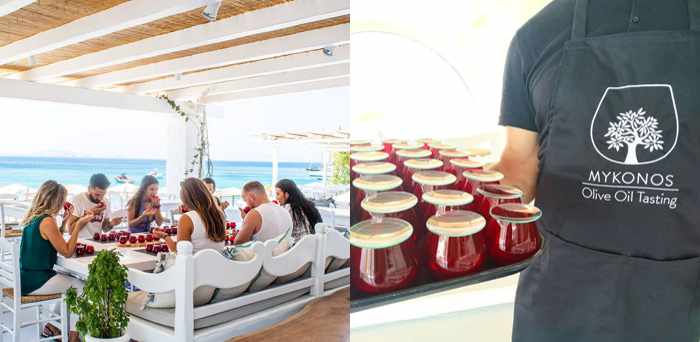 If I had been able to visit Mykonos this summer, my first priority would have been to reserve seats for one of the group sessions presented by Mykonos Olive Oil Tasting, a locally-based educational company that holds seminars and workshops on olive oil tasting, the Mediterranean Diet, and holistic health & wellness. At home, I do a lot of cooking with olive oil, but I honestly don't know how to tell if an oil is good or not, and I definitely don't know if I'm using the right product for the dishes I make. One of the tasting classes would have given my limited cooking skills a huge boost, not to mention the chance to sample some of the best olive oils produced in Greece.
Mykonos Olive Oil Tasting was established in 2018 by Anita Zachou, who is a certified pro olive oil expert and taster,  as well as a certified holistic life and wellness coach and an agricultural engineer. Anita created her company to provide olive oil consulting services to food professionals (chefs, restaurant owners, cooking schools and importers), teaching clients how to taste and evaluate olive oils and pair them with food. This year she started offering her fun and interactive workshops to people visiting the island, too.
"Olive oil is my greatest passion so I wanted to teach people to select, enjoy and appreciate the good Greek extra virgin olive oil even on an island that it is not famous for its oil," Anita told me.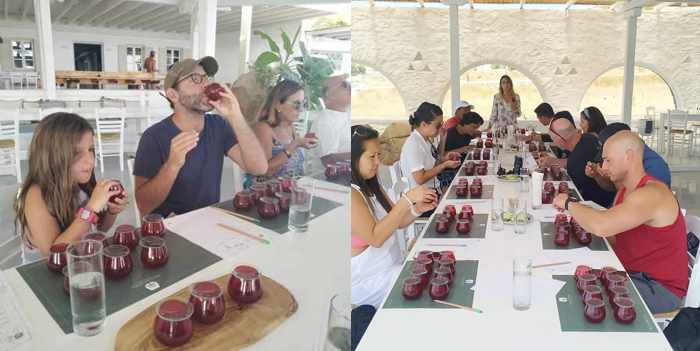 Participants sample award-winning Greek olive oils in two of Anita Zachou's group tasting sessions
The 2-hour-long group classes started on May 1 and were offered twice daily until September 1 at the seaside Pyli restaurant at Agios Ioannis beach. Private workshops could be arranged for people who preferred having the sessions at their hotels, villas, or even on their yachts.
Anita told me that guests were able to sample 8 different olive oils during the classes, including five of the most award-winning oils in Greece, and also got to engage in an olive oil and food pairing activity.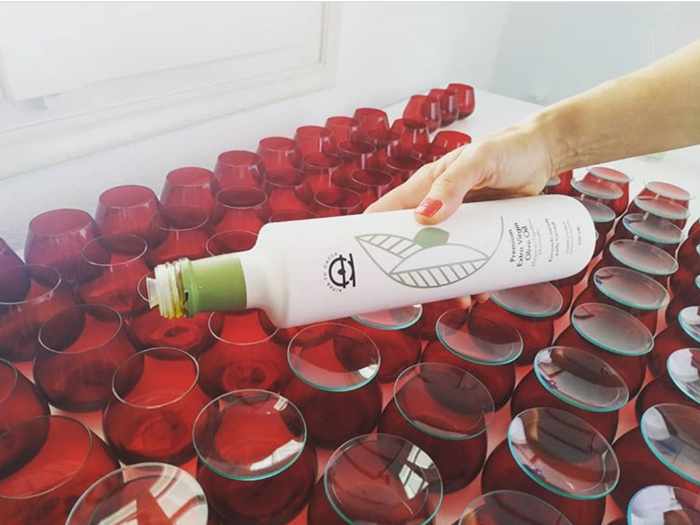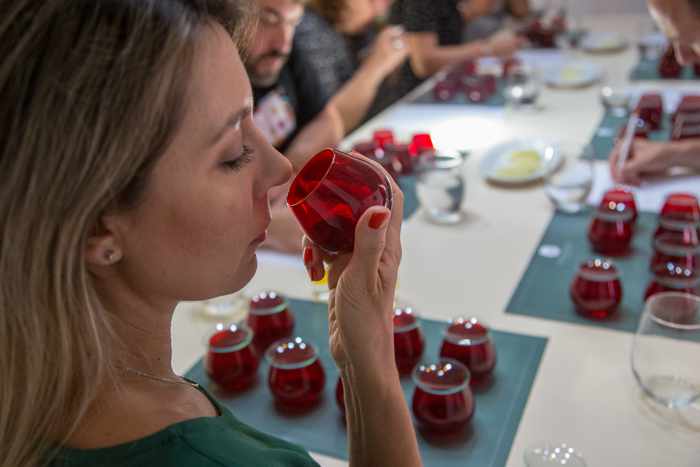 Samples of a top-quality Greek extra virgin olive oil are poured into tasting glasses (top); workshop participants smell, taste and observe samples in a sensory evaluation process during one of the sessions (bottom). 
A description on the Mykonos Olive Oil Tasting website explains that workshop participants would "learn how to smell, taste, and observe in order to discover the incredible flavors of fine Greek Extra Virgin Olive Oils." Anita would lead guests through a sensory evaluation process to help them "understand the true meaning of 'extra virgin' as well as how to describe an olive oil correctly with terms such as 'fruity,' 'bitter' and 'spicy.'" Participants also would "discover how to recognize a defective olive oil from a good one as well as how to correctly combine specific olive oils with different foods in order to transform a simple dish into something extraordinary simply by using the right olive oil."
Classes will resume next spring, though Anita isn't yet certain if they will continue at Pyli restaurant or take place somewhere else.
Full information about the company's activities and services, as well as contact details, can be found on the Mykonos Olive Oil Tasting website. Photos and information also are provided on the company's Facebook page and on its Instagram profile.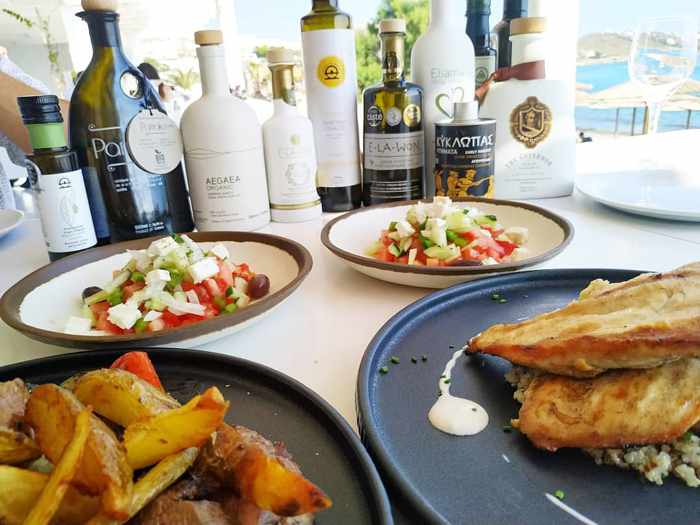 Leading brands of Greek extra virgin olive oil are displayed alongside dishes of Greek cuisine from one of the Mykonos Olive Oil Tasting sessions on oil and food pairing
______________________________
Art Galleries
– Aphrodite Beach Resort galleries –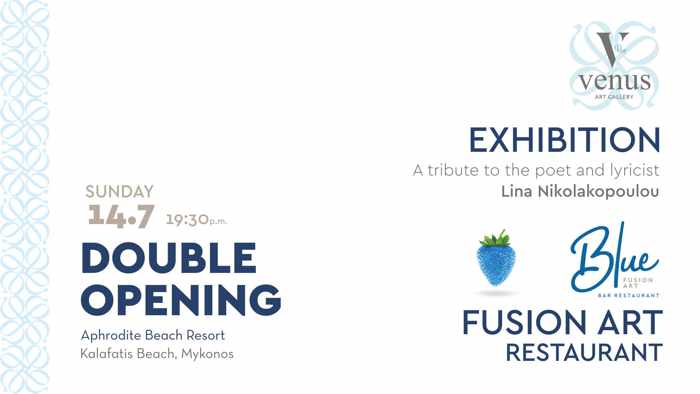 The announcement for the official July double opening of Venus Art Gallery and Blue Fusion Art Restaurant at Aphrodite Beach Resort
Aphrodite Beach Resort at Kalafatis beach gave an exciting big boost to Greek artists this summer — along with a huge visual treat for contemporary art lovers visiting the island — by opening not one but two brand-new exhibition spaces at the hotel: Venus Art Gallery and Blue Fusion Art Restaurant.
Venus Art Gallery is situated inside the hotel, adjacent to the lobby, while the resort's Blue Fusion Art Restaurant includes an indoor gallery plus an outdoor sculpture garden. All of the art displays are open to the public.
Creation of the art spaces was a collaborative project by the hotel and #Rest@rt Contemporary Art Platform, an institution operated under the auspices of Greece's Ministry of Culture, Ministry of Tourism, and National Tourism Organisation. Rest@rt aims to enhance cultural tourism in Greece, while promoting international interest in Greek artists and their work.
Venus Gallery held its opening night on May 24 to unveil its first group show, Winds of Art, which featured works by 29 artists.  The gallery hosted several more exhibitions over the course of the summer including Summer Lovers, more than 80 works by Greek artists presented in a project by ArtShot Sophia Gaitani Gallery in Athens.
In June, the resort hosted a special "double opening" reception to officially inaugurate both the Venus Gallery and Blue Fusion (the latter had been operating as a fine dining restaurant named Blue since June 2017; it now features Japanese and Mediterranean fusion cuisine).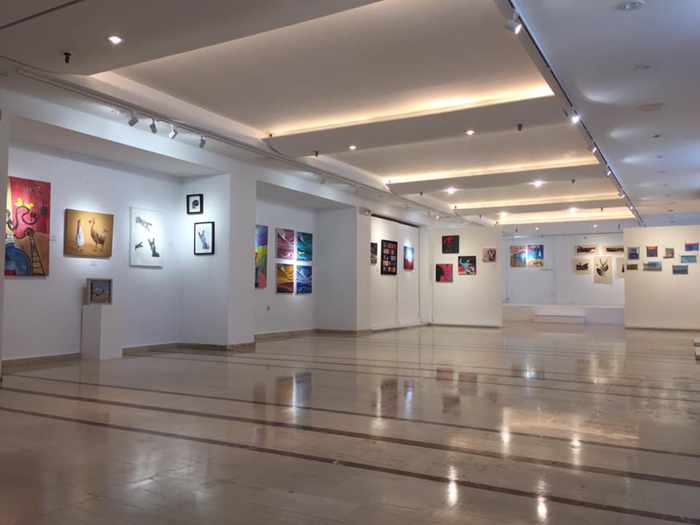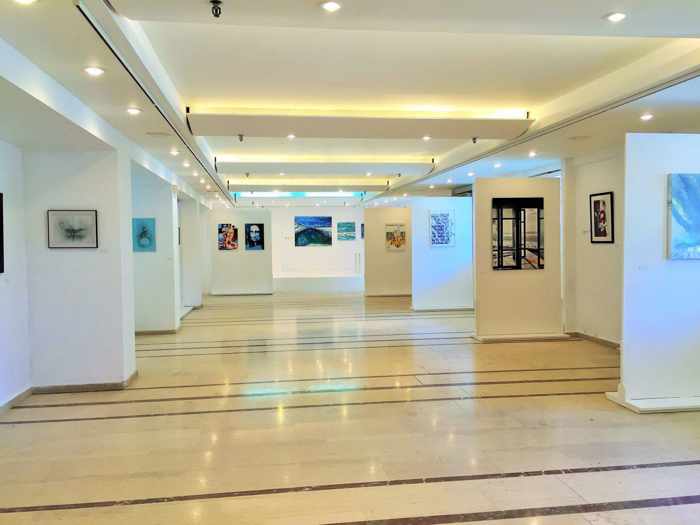 Above, views of Venus Art Gallery during two different exhibitions this summer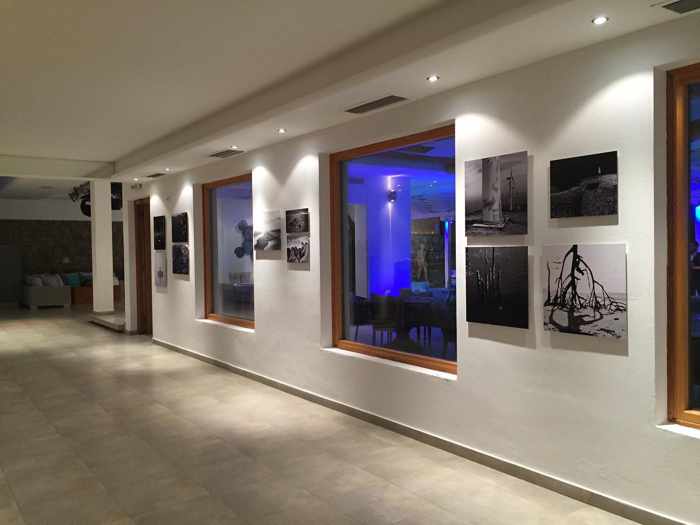 Above, images from the Reflect on Me photography exhibit at the gallery inside Blue Fusion Art Restaurant in August. Below are some of the contemporary sculptures displayed in the restaurant's garden.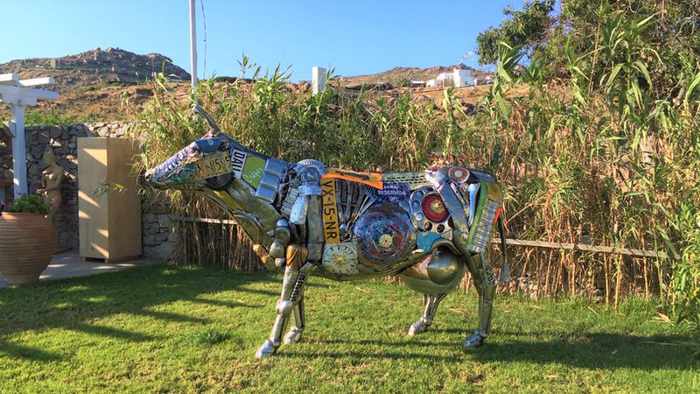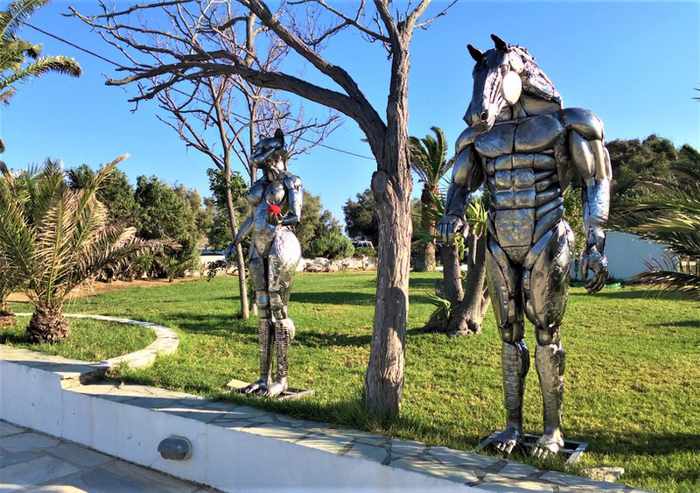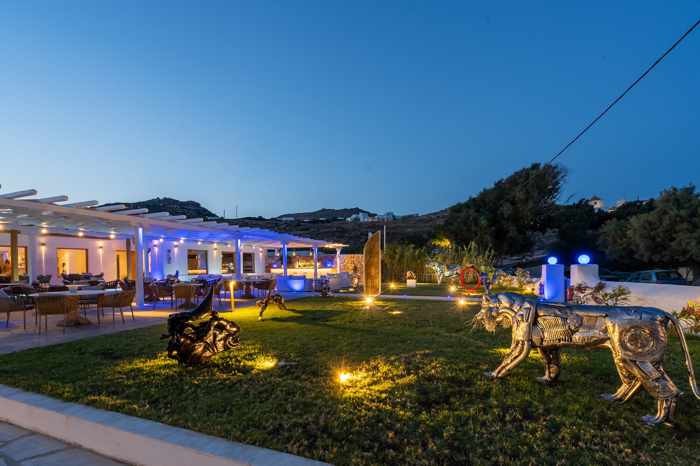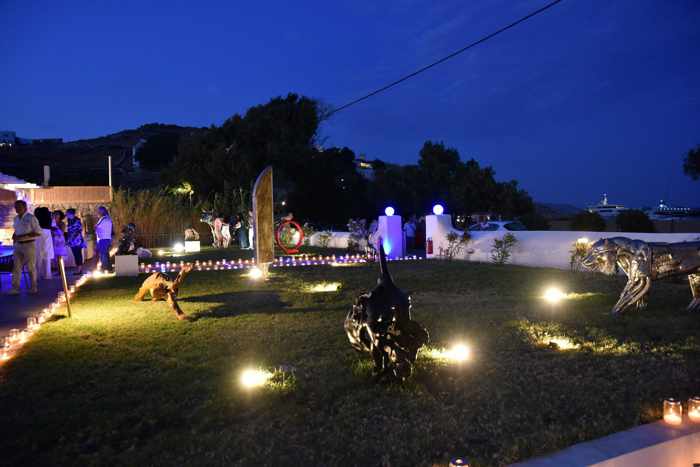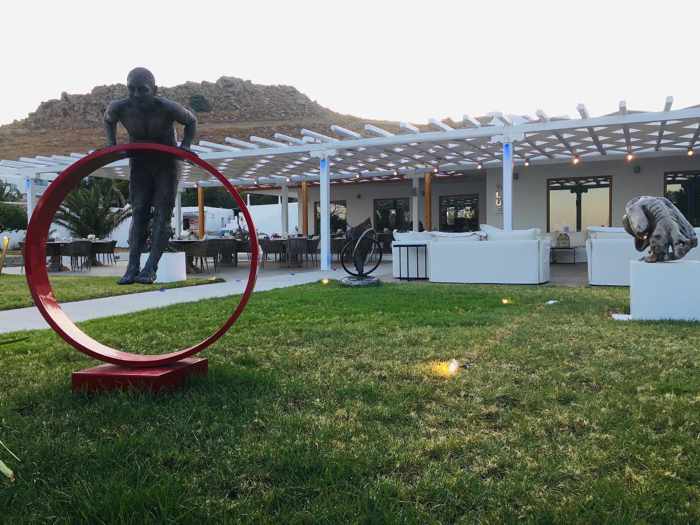 ______________________________
– Evripides Art Gallery –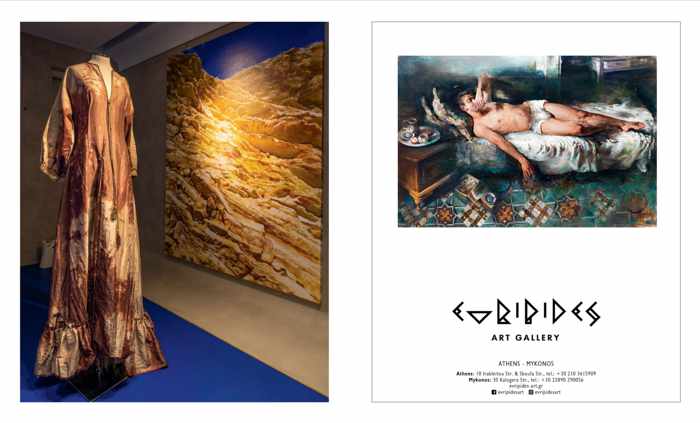 A promotional advertisement for the Evripides Art Gallery art and fashion project in Mykonos
This summer, Evripides Art Gallery in Central Athens teamed up with Greek fashion icon Dimitris Dassios to present a showcase of Greek art and fashion in the Dassios flagship store on Mykonos (see below).
The Art & Fashion Project highlights work by contemporary Greek artists, and presents both individual and group art exhibits. The project aims to bring Greek art and fashion to greater worldwide attention, and Mykonos was the obvious place to present the collaboration since the island is a hugely popular holiday destination for influential international travellers.
Below are two photos of the Mykonos gallery that Evripides published in a news release announcing the joint venture with Dassios.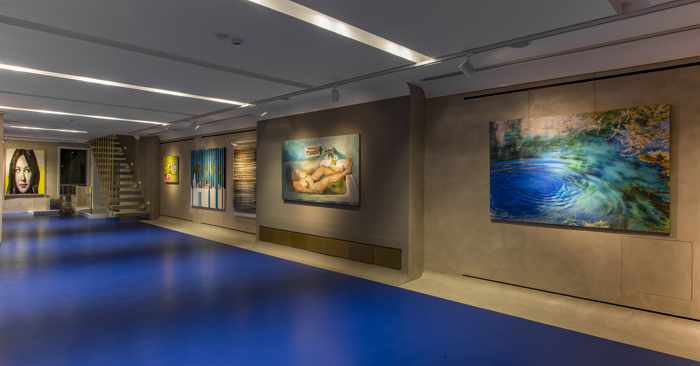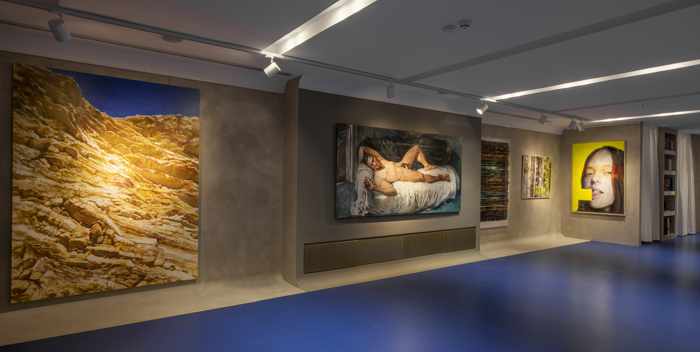 ______________________________
Fashion boutiques
 – Dassios –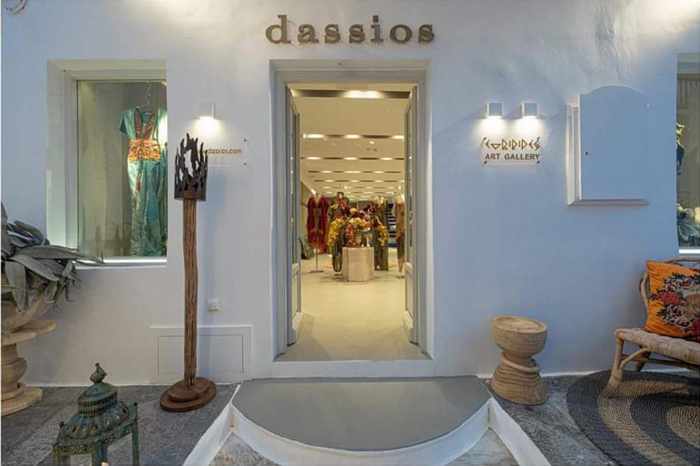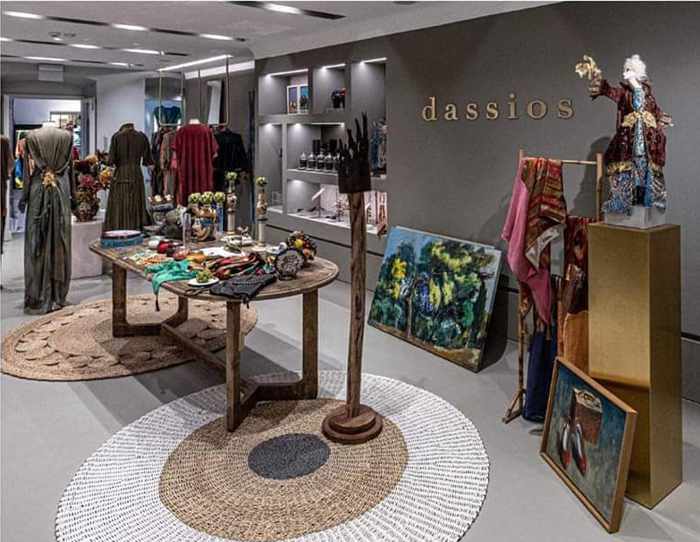 Views of the entrance and interior of the Dassios shop in Mykonos Town
One of the most innovative and avant-garde fashion designers in Greece, Dimitris Dassios, opened a flagship store on Mykonos this spring to showcase his one-of-kind, handmade creations.
Dassios fashion collections are famous for their unique handwoven combinations of fine antique fabrics and contemporary material.
"Authentic materials, original fine craftsmanship, precious antique fabrics, trims and embroideries, all hand-woven with the original and ancient techniques, are carefully combined with contemporary materials such as leathers or denims, for a unique, authentic and highly imaginative dassios signature," says a biographic description on the Dassios Mykonos page on Facebook.
The Mykonos shop is noteworthy not just for its signature Dassios designs, but also since it's home to an Evripides art gallery (which I described above), making it a dual destination for fashion and culture.
The Dassios shop is located at 30 Kalogera Street.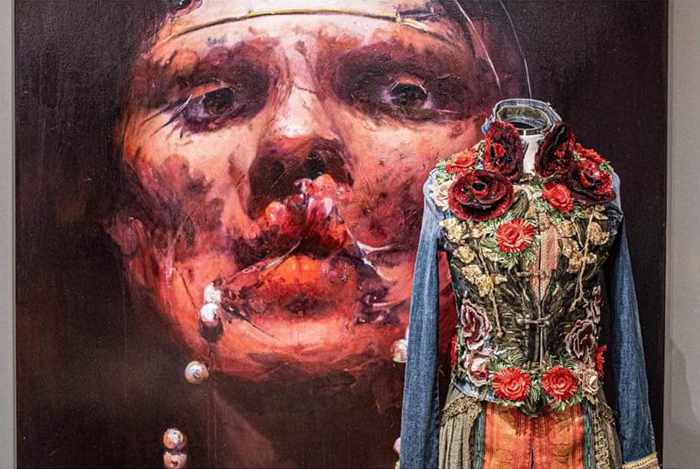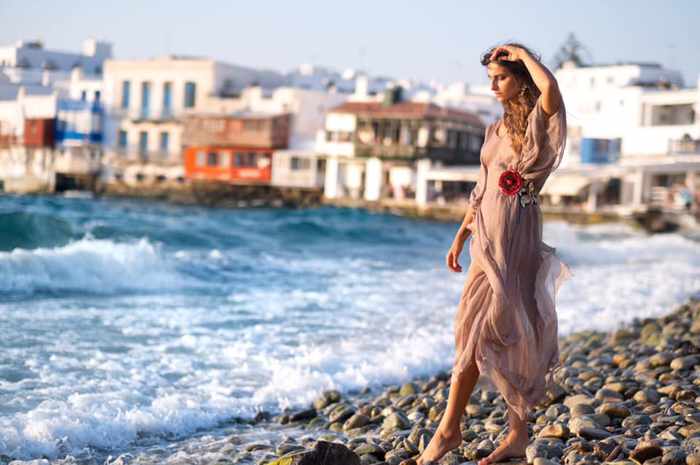 Top: One of Dimitris Dassios's custom fashion designs is displayed alongside a contemporary art piece from Evripides gallery. Bottom: A model walks along the Little Venice seafront of Mykonos Town in a dress from the Dassios Spring/Summer 2020 collection. 
______________________________
 – Guess –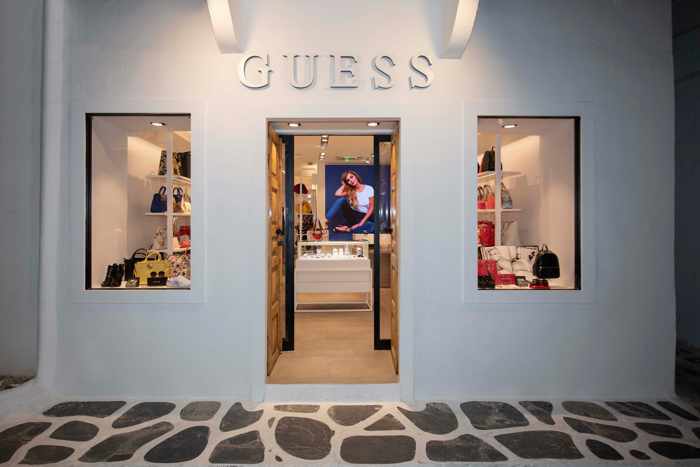 Greek fashion importer/distributor Shop & Trade has opened the island's first Guess retail shop.  The boutique opened in mid-May at 10 Mattheou Andronikou street in the Matogianni shopping district of Mykonos Town.
______________________________
– New luxury boutiques at Nammos Village –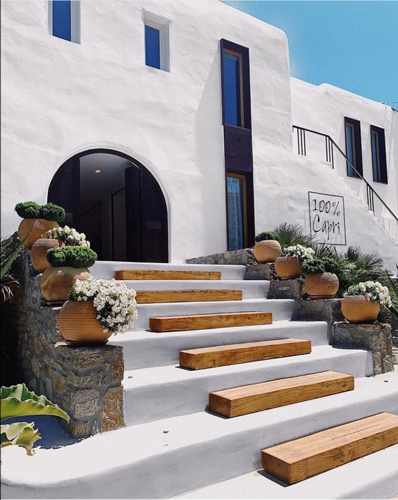 The entrance to the 100% Capri luxury linen fashion boutique on Mykonos
Several top-flight luxury fashion brands introduced brand-new boutiques or pop-ups at the ultra luxe Nammos Village shopping center at Psarou beach during 2019.
The arrivals included 100% Capri; Maison Christian Dior; Burberry, which is carrying the chain's newly launched Monogram collection of fashionwear; a Bulgari pop-up inside the Kessaris shop; and Philipp Plein.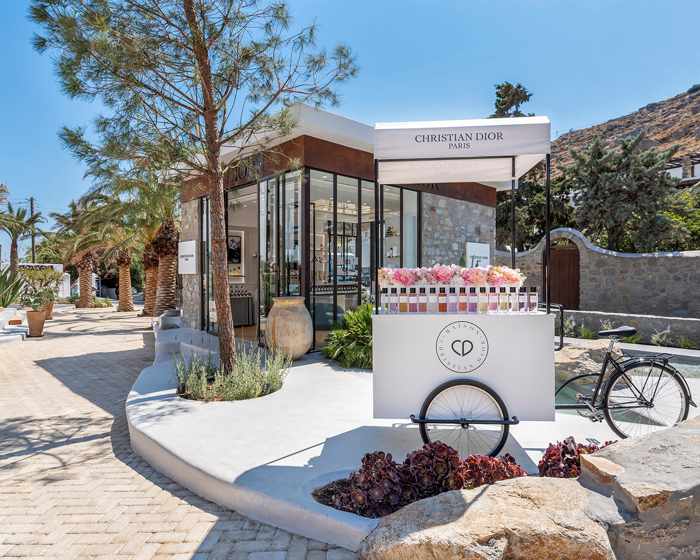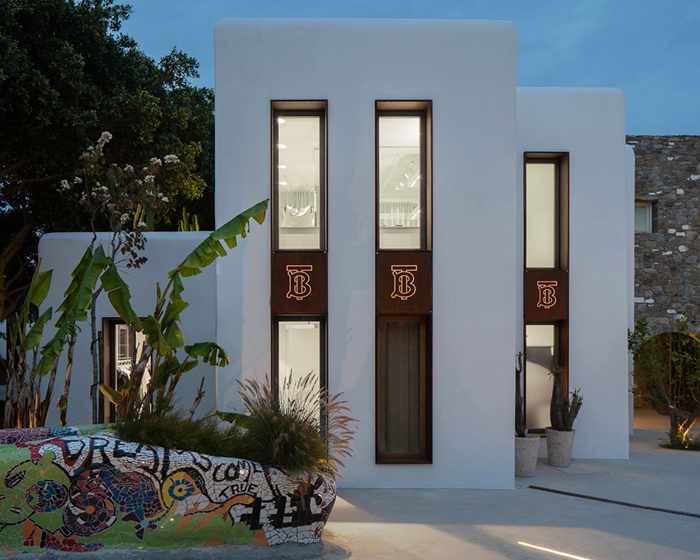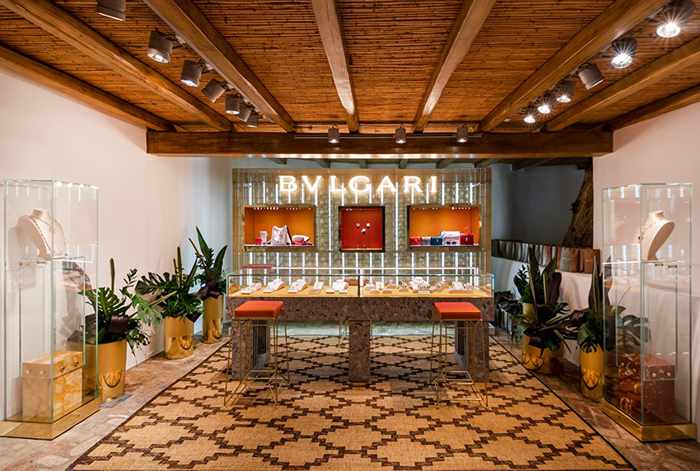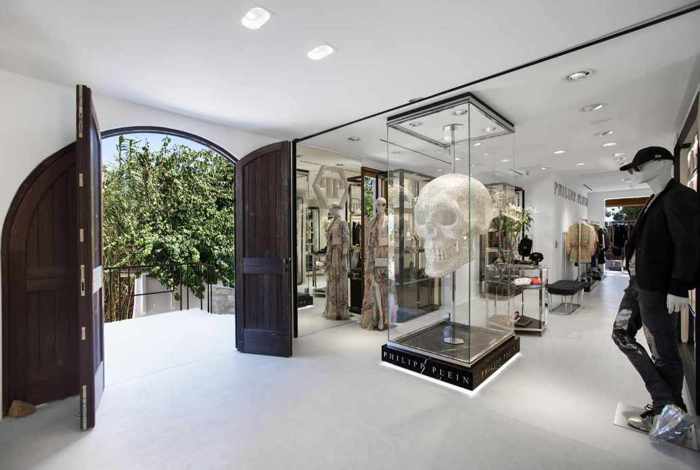 New Nammos Village boutiques include, from top: Maison Christian Dior, Burberry, Bulgari, and Philipp Plein