Video views of archaeological sites and superb scenery at the top historic places of Ancient Corinth
The 6-minute film  Ancient Corinthia from high above captures breathtaking aerial views of the major historic locations of Ancient Corinth
For history buffs and landscape lovers: The Corinth region of Greece is home to a plethora of important sites that will impress visitors who are fascinated with ancient Greek history. And since they're situated in beautiful outdoor locations, these places should appeal even to people who aren't history buffs, but who enjoy seeing and spending time in picturesque landscapes, countrysides and coastal areas.
That's why we think both types of traveller will enjoy watching the video we have shared above. Produced by the Archaeological Museum of Ancient Corinth, it captures amazing visual perspectives of Ancient Corinth's signature ruins and monuments amidst their scenic surroundings.
Historic sites shown in the video include, in order of appearance:
♦ Krommyon at Ayioi Theodori
♦ Sanctuary of Hera at Perochora
♦ Ithsmus / Corinth Canal
♦ Diolkos at Poseidonia
♦ Sanctuary of Poseidon at Ithsmia
♦ the submerged ancient port at Kenchreai
♦ Solygeia at Galataki
♦ Tenea at Klenia and Chiliomodi
♦ Poros Limestone Quarries at Examilia
♦ the harbour at Lechaion
♦ Ancient Corinth
♦ Acrocorinth
♦ Sanctuary of Demeter and Koris
♦ Sanctuary of Asklepios
♦ the Theater at Ancient Corinth
♦ Temple of Apollo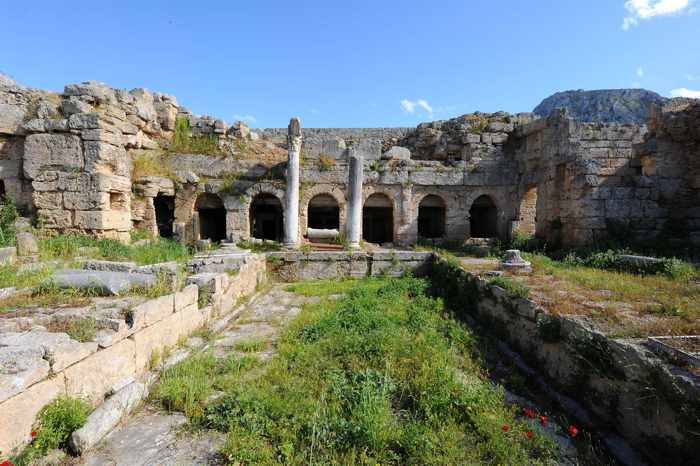 The Peirine Fountain, seen in a photo from the website for the Ancient Corinth Archaeological Museum
We got to see several of the locations — Sanctuary of Hera, Corinth Canal, Diolkos, Acrocorinth, as well as the Temple of Apollo and many other monuments at the Ancient Corinth archaeological site — during two daytrips in May 2022, while we were staying in the nearby city of Loutraki. We passed close by a few of the others shown in the video, but regret that we weren't able to include them in our itinerary.
If you find yourself in the Corinth area with a vehicle and three to four (or more) days at your disposal, you should be able to comfortably visit most, if not all, of these sites. The villages, towns and countryside around them look fascinating, too, and undoubtedly would be worth exploring. 
Travel links
Planning a trip to the Corinth area, or just wondering if it's the right region for you to visit on an upcoming trip to Greece? The following links should prove helpful for your research:
♦ the Explore Corinth website provides detailed information, photos, artwork and videos of some of the region's key sites and attractions — Ancient Corinth, Acrocorinth, Corinth Canal, Ancient Tenea and Ancient Nemea — and includes a section spotlighting St. Paul the Apostle, who established a Christian community and church at Corinth.
♦ the website for the Archaeological Museum of Ancient Corinth contains detailed visitor information and photos of the museum and its collections, and the adjacent archaeological site, as you would expect, along with specific sections that focus on Acrocorinth, Bema of St. Paul, Sanctuary of Asklepieion, Temple of Octavia, Temple of Apollo, Glauke Fountain, Basiilica of Kraneion, Basilica of Lechaion, Peirene Fountain, Ancient Odeion, Amphitheater, and the Theater of Ancient Corinth.
♦ the commercial travel agency site Enjoy Corinthia features information, photos and videos of historic sites, top tourist attractions,  beaches and other places of interest both in the Corinth area and beyond, along with descriptions of tours and excursions the company provides and, of course, details of its holiday packages and other services.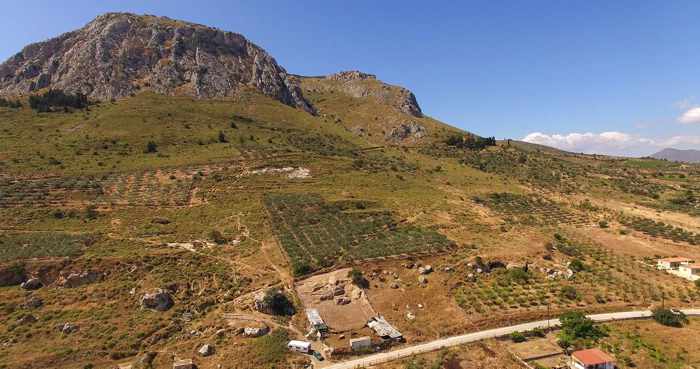 The Sanctuary of Demeter and Koris is seen in an aerial photo from the Ancient Corinth Archaeological Museum's website
Our Corinth daytrips in 2022
Also have a look at our blog posts containing descriptions and photos of daytrips we took during a three-day stay at the city of Loutraki in May 2022:
♦ A modern bridge and ancient boat track at the Corinth Canal
♦ A visit to Acrocorinth Castle
♦ A short daytrip from Loutraki to Vouliagmeni Lake and the Sanctuary of Hera; and
♦ Our holiday visit to Loutraki on the Gulf of Corinth coast