A lush 100-hectare coastal property is for sale on Ithaca island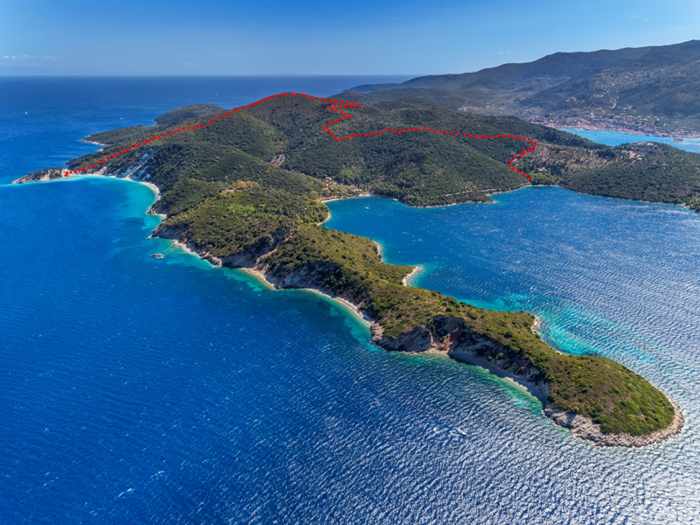 The lovely Ulysses' Cove property for sale on Ithaca island is shown in an aerial photo from the website FT Property Listings
Ionian idyll: If you've been dreaming about spending next summer at your own private Greek Island retreat, here's your chance to snap up a piece of paradise in Greece's Ionian islands — a lush, coastal property on Ithaca is up for sale.
Although it's not an entire island, Ulysses' Cove is nonetheless an enviable estate-sized property that measures a whopping 1 million square meters (that's 100 hectares or 247 acres). The expansive and varied terrain encompasses rolling hills and level grounds thickly wooded with trees and verdant foliage, a long forested peninsula, and eight beguiling beaches scattered along gorgeous turquoise waters.
The property includes nine buildings that were constructed in the 1960s in a simple yet elegant style designed to blend seamlessly with the island's natural environment. The structures include a "charming" villa and cottages that measure 849 square meters in all, and boast a reception hall, living room with fireplace, two kitchens, a formal dining room, nine bedrooms with eight bathrooms, and two rooms for staff.  The grounds feature colourful flower-filled gardens and a number of outdoor terraces that would be ideal for al fresco dining, entertaining and relaxing. What's more, the property comes with its own caique — a 12-meter traditional Greek boat.
"This unique estate may be the ideal haven for a family seeking a private paradise, or it may be developed into an exclusive hotel or collection of holiday homes," the listing notes.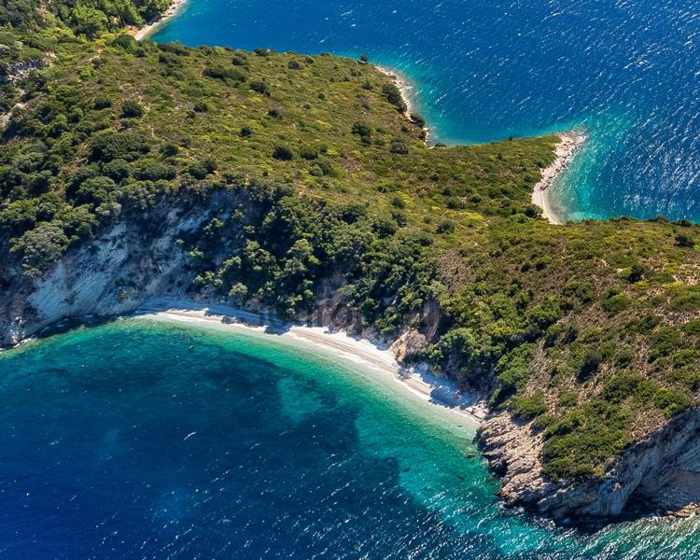 One of the estate's eight enticing private beaches is seen in an aerial photo from the Ulysses' Cove listing on the Ploumis Sotiropoulos Real Estate Brokers website.
We stumbled upon the Christie's International Real Estate listings for Ulysses' Cove while web-surfing possible destinations for our holidays in Greece next year. One of the listings was part of an Aegean Airlines in-flight magazine advertisement by Athens-based Ploumis Sotiropoulos Real Estate Brokers, while the other appeared on FT Property Listings. Photos of the property's interior and exterior spaces can be viewed on both websites.
 While the ads don't mention the vendor's asking price (it's available only upon request), we're fairly certain it's a little beyond our personal holiday accommodation budget for 2023.  Still, that won't keep us from imagining ourselves soaking up the summer sunshine on a different private beach every day of the week, hosting family and friends for drinks or BBQ parties on the hideaway's bay-view waterfront, or spending an afternoon at sea on the Ulysses' Cove boat.
If you, by any chance, happen to acquire Ulysses' Cove after learning about it here on the blog, please keep us in mind when you're planning a list of guests to invite for a holiday stay in one of the cottages. We'd love to join you there! 😉