Exciting new places to eat, drink, party and sleep on Mykonos this year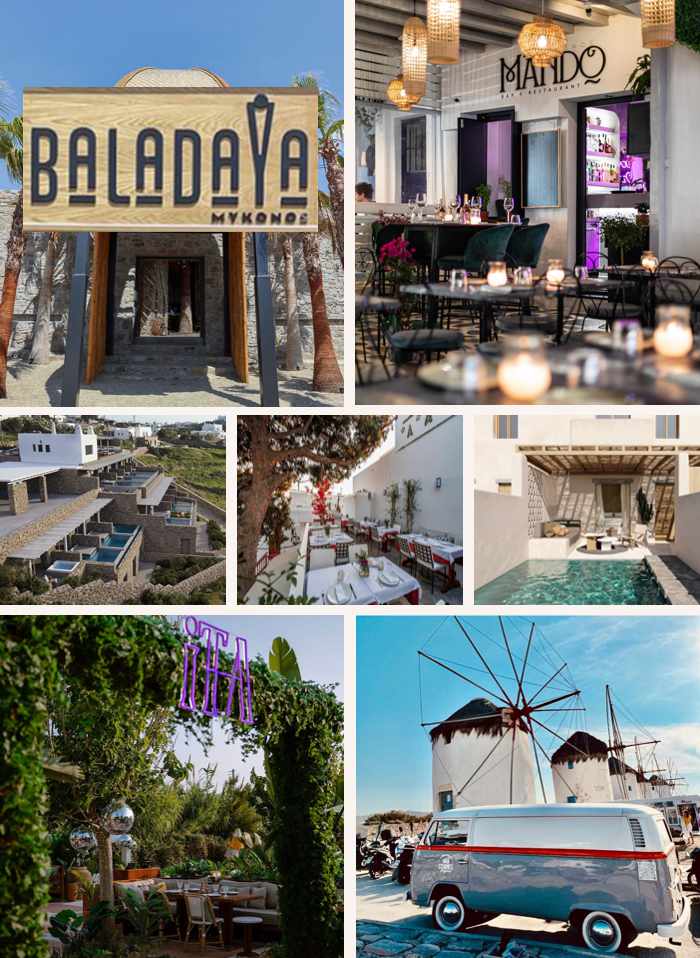 Some of the island's noteworthy new arrivals and big changes for 2023 include, from top left, Baladaya club at Paradise beach; Mando bar and restaurant; Nomia Sunset Suites hotel; a new location for legendary Katrin restaurant; Domes Noruz Mykonos resort; ITA Mexican restaurant at Bagatelle Mykonos; and the Van Stories Mykonos mobile bar and DJ service.
Restaurants, cafes, bars and beach clubs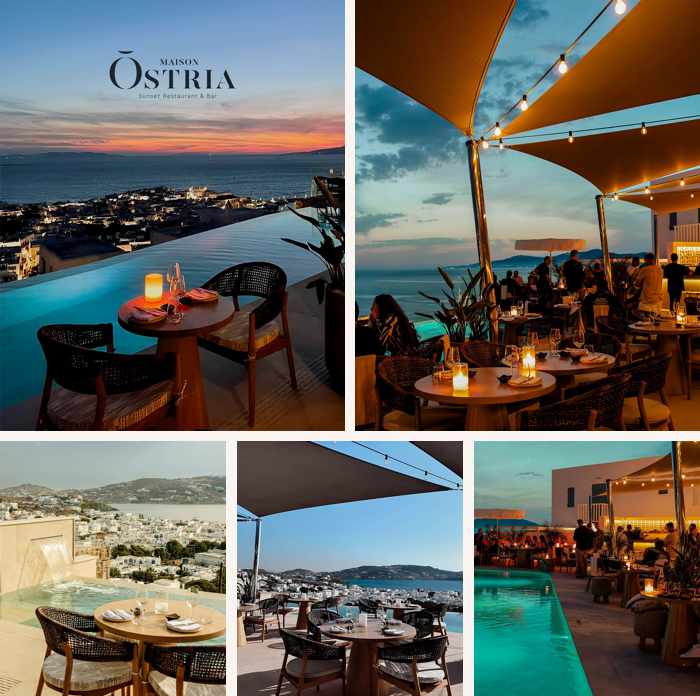 If you find yourself  in the mood for delicious sushi and cocktails accompanied by a magnificent view, you'll find that Maison Ostria Sunset Restaurant & Bar ticks all the boxes. Located in the new Ocean Inn hotel overlooking Chora (Mykonos Town), Ostria restaurant serves sushi and fusion dishes with "authentic Japanese and Mediterranean flavours." Situated next to the hotel's infinity pool, the restaurant's open-air dining patio boasts stunning views of Mykonos, nearby islands, and of course the mesmerizing Cycladic sunsets. The restaurant is open daily from 8 a.m. until midnight, serving breakfast and brunch items in the morning followed by an all-day menu that includes a selection of salads and main dishes. There is a shisha menu as well. Customers also can visit Ostria to enjoy the swimming pool from morning until 6 p.m. (with €50 per person minimum food & drink consumption).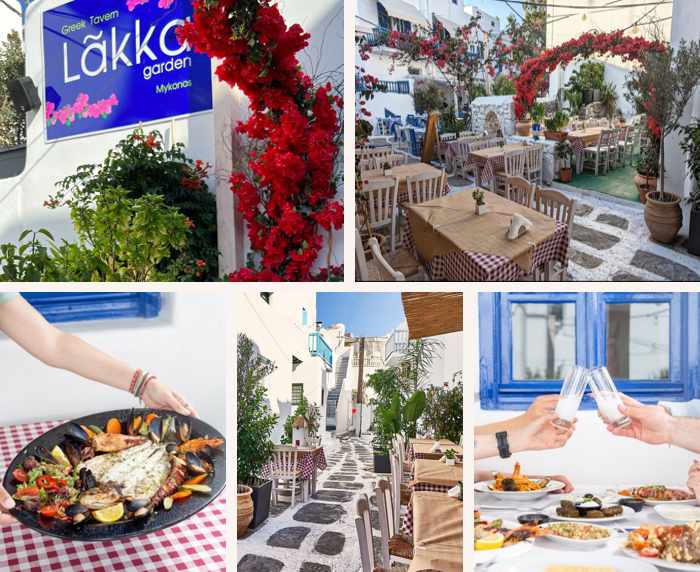 With a menu focussed on traditional Greek cuisine, fresh fish and seafood, Taverna Lakka Garden describes itself as "a haven for those seeking an authentic taste of Greece."  Lakka Garden opened in May at 21 Ignatiou Mpasoula street in the Lakka area of Mykonos Town.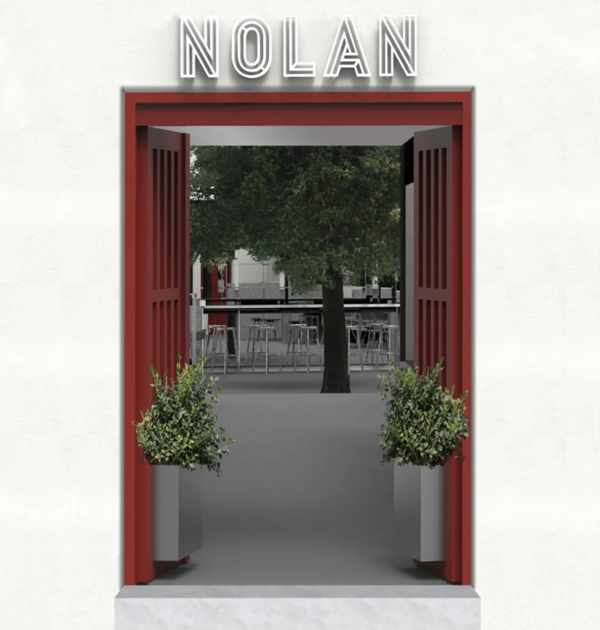 The popular comfort food restaurant Nolan near Syntagma Square in Athens has closed its doors temporarily and moved to Mykonos for the summer. Nolan is described in Michelin Guide as "a contemporary bistro" that "creates contemporary Greek-focused cooking with plenty of Asian influences, and enticing dishes that are fresh, colourful and perfect for sharing." Nolan decided to do something different this summer while it undertakes renovations of its Athens premises, so it seized the opportunity to move its operations to the chic Matogianni area of Mykonos Town for July and August. Nolan Mykonos has set up shop at 25 Kalogera Street, in the space previously home to the Ceresio7 Mykonos restaurant.   Nolan will return to its freshly-updated digs in Athens in mid-September.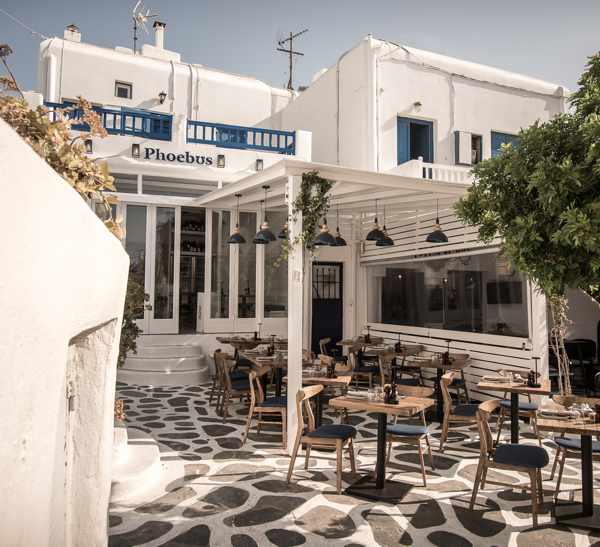 An addition to colourful Goumenio Square in Mykonos Town, Phoebus is a pescatarian wine restaurant that developed from an idea two friends from Mykonos conceived in 2015, and brought to reality this spring. "Dive into a sea of flavor, where our dry-aged fish and seafood creations will redefine your seafood experience. Taste the essence of the ocean, elevated to perfection," says a post on the restaurant's Intagram page. Phoebus opened its doors on May 8. Only three weeks later, Athinorama restaurant critic Dimitris Antonopoulos paid it an anonymous visit, and in an impressive review published on June 9, said Phoebus "has aesthetics, character and renews the culinary scene of Mykonos." (You can click here to read the full review, and see photos of several of the restaurant's exquisite dishes.)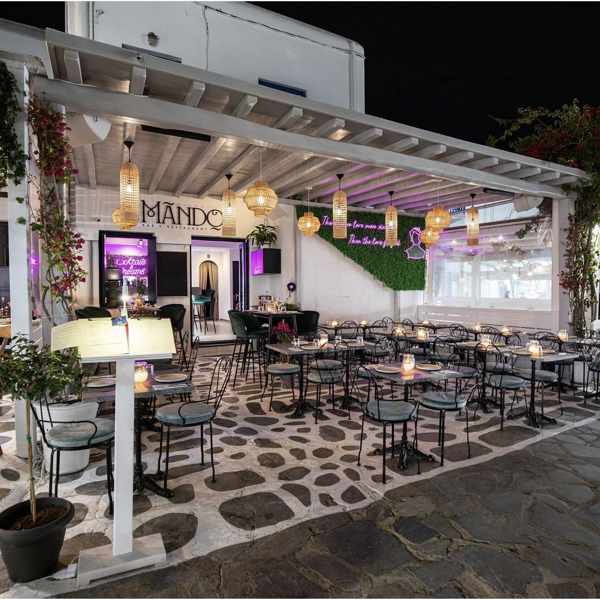 Another newcomer to Goumenio Square, Mando Restaurant and Bar opened in late April. Its website says Mando is "reinventing tradition with an elevated take on Greek cuisine. We are a funky bistro style restaurant blending exceptional food with craft cocktails, using local ingredients." Mando is open daily at 10 a.m. serving brunch, followed by a Greek-style tapas menu available from 6 p.m. to midnight. "We finish the night with a lounge atmosphere, music, and cocktails."
June 9 was opening day for Drakoulis Dry & Raw Mykonos, the first island member of the fine dining restaurant chain of Drakoulis Butcheries (the others are located in the Kifissia, Kolonaki and Voula neighbourhoods of Athens). "Offering a meat experience unlike any other, Dry & Raw welcomes guests to enjoy a fusion of Mediterranean flavours and Japanese cooking with some of the best cuts of meat from around the world chosen with the help of our butchers to meet your tastes and wants," says the company website. "Drakoulis Restaurants offer a signature 360 meat experience in an upbeat state-of-the-art environment that transforms by night with electronic music vibes." You'll find Dry & Raw at Agia Kirikia Square in Mykonos Town.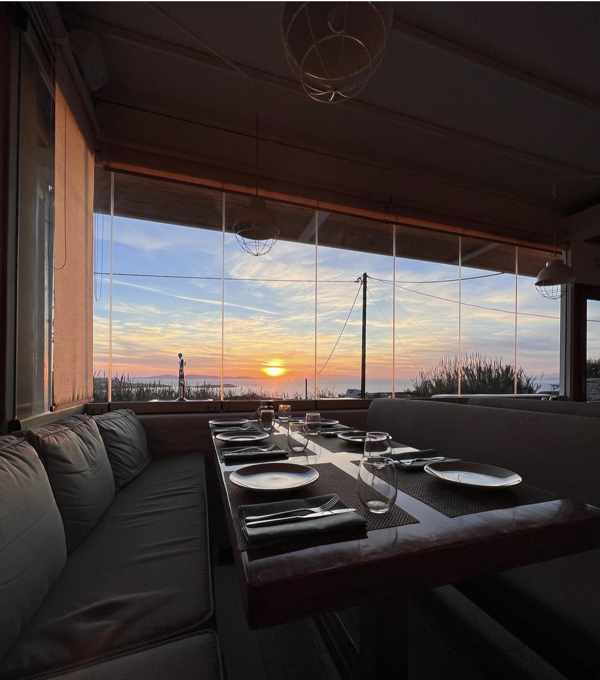 Philotimo bills itself as a "Mediterranean & traditional Greek cuisine restaurant," but it has been making a particularly big impression with its amazing burgers. It's also popular for its daily offerings of several popular Greek dishes. Philotimo is situated on the peripheral road in the Evaggelistraki area, near the AB supermarket. It opened in March.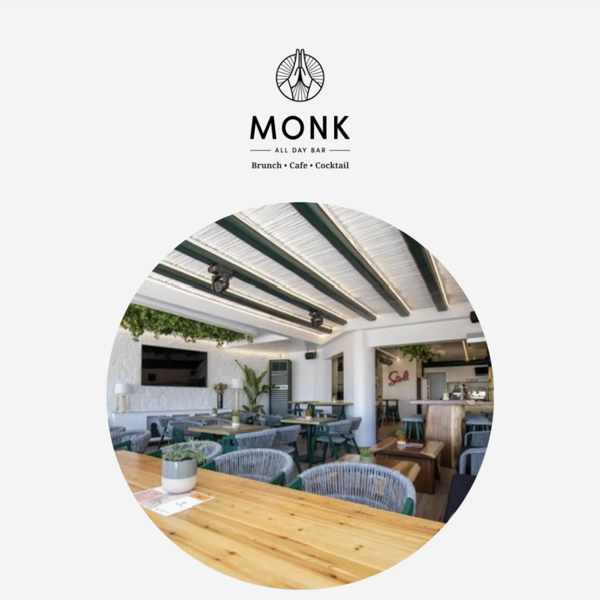 Located in Ano Mera, Monk All Day Bar is a go-to spot for coffee, brunch, light meals and cocktails. Monk opened on April 8.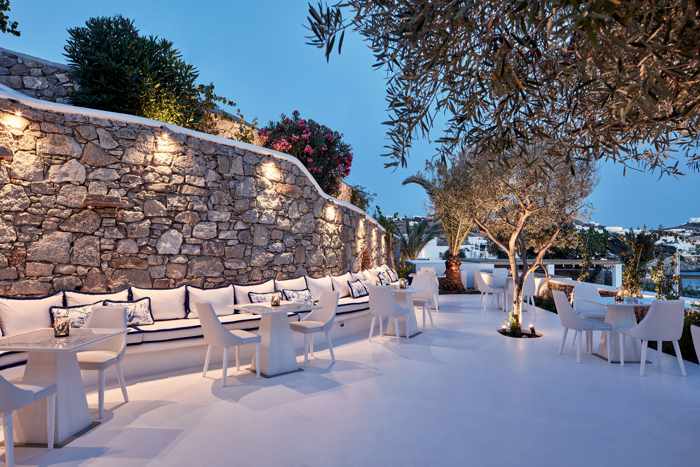 Katikies Mykonos hotel at Agios Ioannis beach will be welcoming Botrini's Mykonos restaurant to its property this summer — the newest Greek island restaurant to feature the cuisine of Michelin-starred Greek-Italian chef Hector Botrini. According to a media announcement by the Katikies hotel chain, "Showcasing premium ingredients, high technique and inexhaustible talent, the chef's most iconic recipes set the stage for a unique culinary experience. The most precious and freshest gifts of the land and the sea pass through the kitchen to be transformed into works of contemporary culinary art, which are found in degustation and à la carte menus and are accompanied by excellent Greek and international wine labels, under the supervision of Yiannis Karakasis MW (Master of Wine)." An official opening date for Botrini's Mykonos has not yet been announced, but the restaurant page on the Katikies Mykonos website is accepting online reservations for seating dates from May 1 until September 30.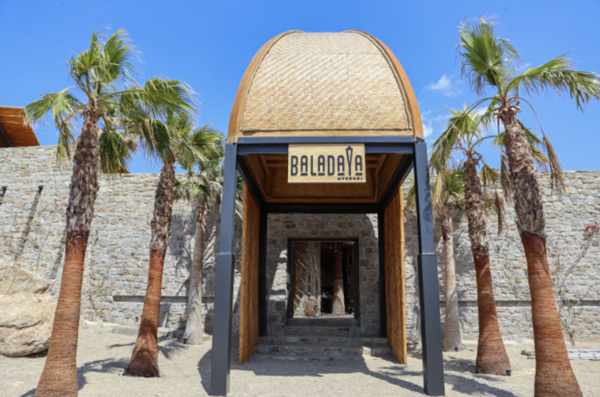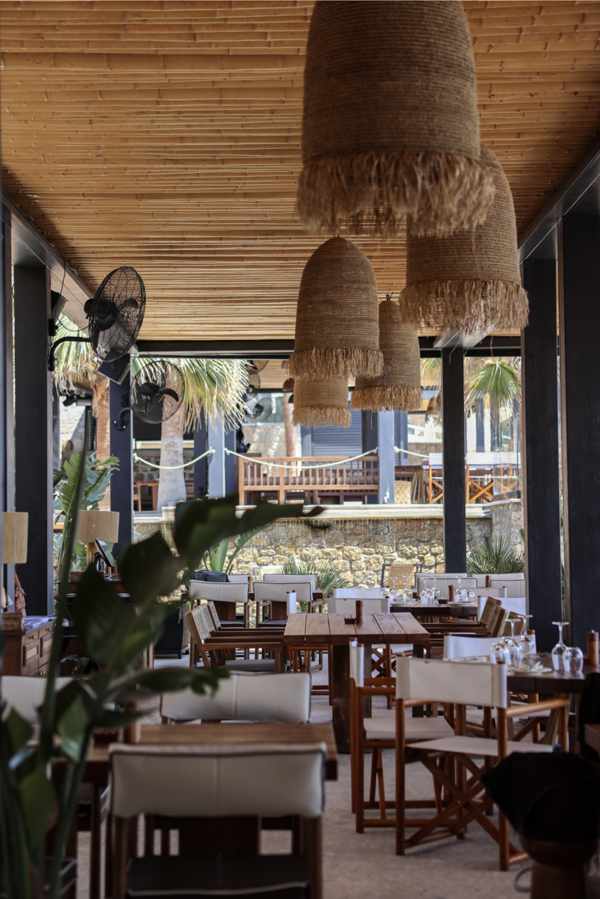 The beginning of June saw the opening of Badalaya Mykonos on Paradise beach (in the premises occupied last year by the itbeach Mykonos club). Described as "a modern Greek tavern … where tradition meet innovation," Badalaya boasts a menu, created by Chef George Stylianouda, that offers a wide range of meat, seafood and Greek dishes, as well as salads and sharing plates. A separate menu for the restaurant's beachfront sunbeds includes burgers, sandwiches and salads. Both menus can be viewed on the Badalaya Mykonos website.
June 9 was grand opening day for L' Artista, Osteria  Da Roberto, an elegant Italian restaurant "where comfort food meets fine dining." L' Artista is situated mere steps from Agia Anna beach at the Old Port harbourside of Mykonos Town, in the premises occupied last year by the short-lived Billionaire Mykonos restaurant and nightclub.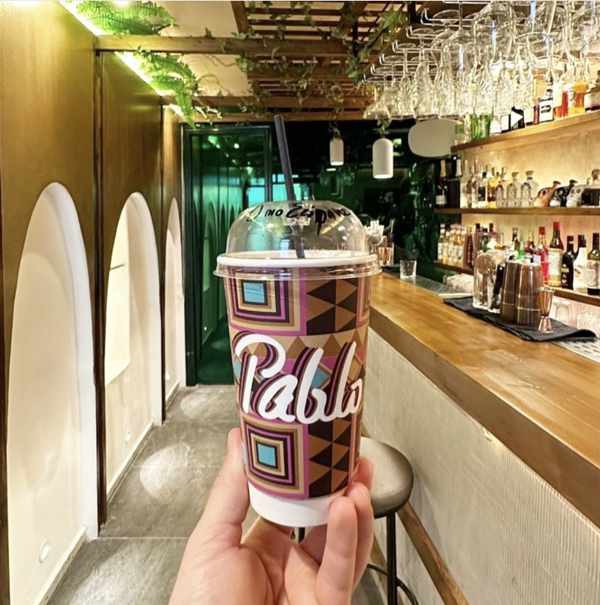 April 27 was opening day for Pablo bar, a "sister" to popular Paloma Bar. You'll find Pablo at 34 Agion Anargiron Street in Mykonos Town. Pablo opens at 10 a.m. daily to serve breakfast and coffees, and the bar continues to serve cocktails until 3 a.m.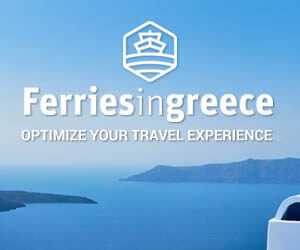 Planning to do some Greek island hopping this summer? July and August are the peak travel months in Greece, and seats on inter-island ferries are filling up fast.  If you haven't already booked your ferry tickets, click on the image above to arrange your transportation now!
Hotels and accommodations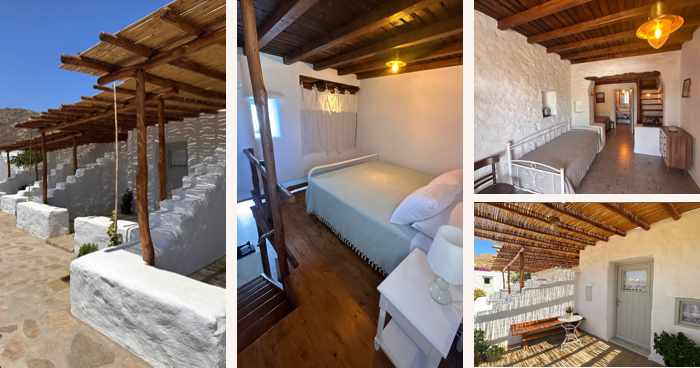 We have been struck by all the considerable attention Rizes Folklore Farmstead has been receiving on social media this season. Every day, our Instagram feed features impressive photos and videos that visitors have been posting with rave reviews describing everything that delighted them at Rizes — its traditional Greek cuisine restaurant, cooking and bread baking classes, guided farm tours and horse riding. This summer, Rizes added yoga classes to its roster of activities, and in late June it unveiled new guest room accommodations right on the farmstead property. The five traditional Myconian guest houses offer "a once in a lifetime experience of living on a Myconian farm," Rizes said in a social media post announcing the opening of the rooms — a truly unique lodging for an island most people associate with posh luxury suites, private plunge pools and high-end amenities. Visitors who stay in the guest houses will "get to enjoy a locally sourced breakfast from our garden, bake fresh bread, get eggs from the chickens, milk the goats, spend time with the horses, and much more," Rizes says.  To inquire about guest house rates and availability, contact the farmstead by email at: info@rizesmykonos.com.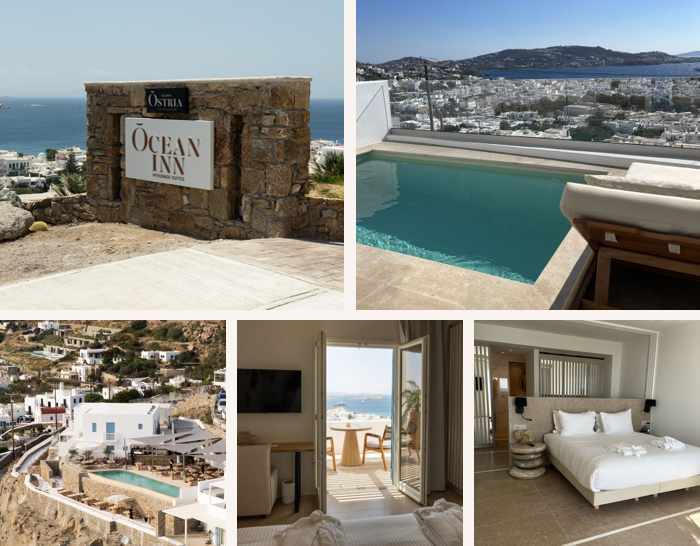 Open since spring, Ocean Inn Mykonos is a boutique-sized luxury hotel perched on the hillside that rises behind the iconic whitewashed buildings of Chora (Mykonos Town).  Most of Ocean Inn's sea-view suites and junior suites accommodate two guests each, with some offering hot tubs while others boast private pools.  The spacious Superior King Suite can sleep three people, and features a central living area with kitchen, sofa bed and bathroom, a separate bedroom with ensuite bath, and a private pool.  Hotel facilities include a concierge, a sea-view infinity pool, and the adjacent Maison Ostria Sunset Restaurant & Bar, which we profiled above in the new restaurants section of this post.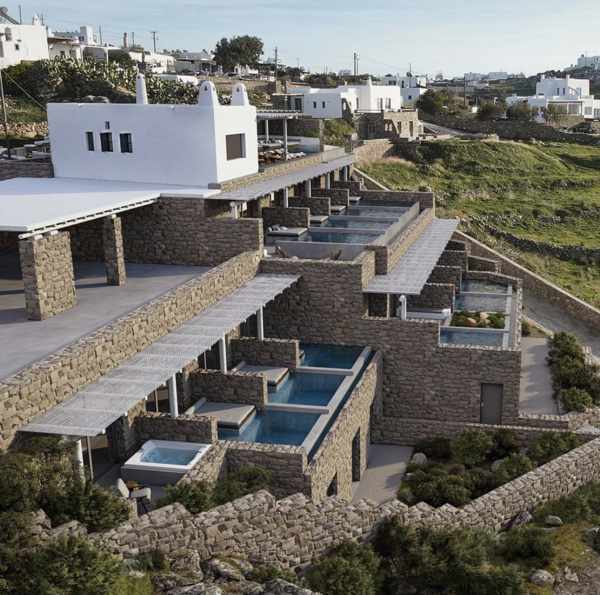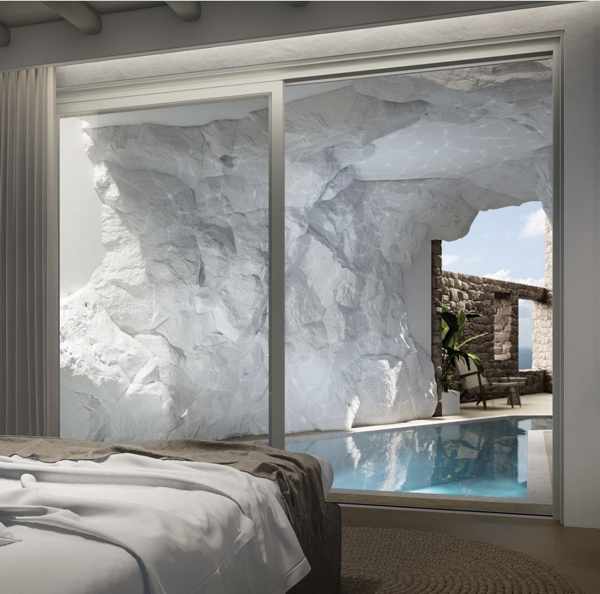 Early July saw the opening of Nomia Sunset Suites, a luxury hotel nestled against a rocky sea- and sunset-view hillside in the Pigados area of Mykonos, approximately 2.7 km from both Mykonos Town and the New Port at Tourlos. The hotel boasts 16 suites, some of which have private heating swimming pools, and others which are furnished with outdoor hot tubs. Nomia also offers a Cave Pool Experience Suite, which comprises a separate living room, a spacious bedroom, and an en suite marble bathroom with walk-in rain shower, and can accommodate up to 3 persons. Hotel facilities include a lounge, a seaview infinity pool and terrace, a wellness area, and boutique.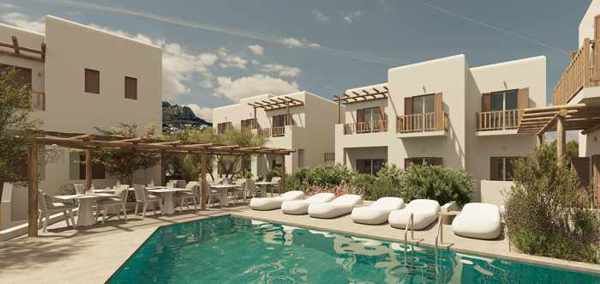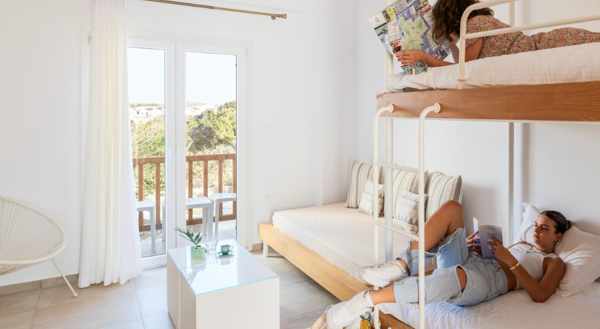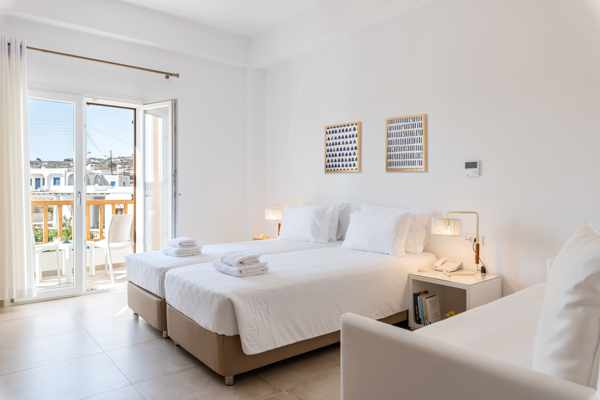 Describing itself as "youthful, breezy and affordable," Mykonaki Hotel has opened in Ano Mera, boasting 51 rooms in seven different styles that can accommodate 1, 2, 3 or 4 people.  Geared for young, party-minded visitors, the hotel notes that while it's located in "the most chilled area of Mykonos," it's nevertheless close "to all the famous hotspots of the island. All you need to do is pick the room that fits your style and join us for a never-sleeping, always-partying summer time!"  Accommodations include rooms appropriately called "Just the two of us,"  "Just the three of us,"  "Funky Vibes room for 4," "Chill Out room for 3," "Summer is On room for 2," and "Mykonos Vibes room for 4."  Hotel facilities and services include a swimming pool, gym, and a continental breakfast.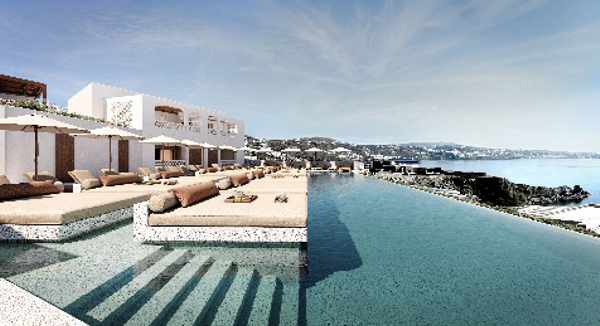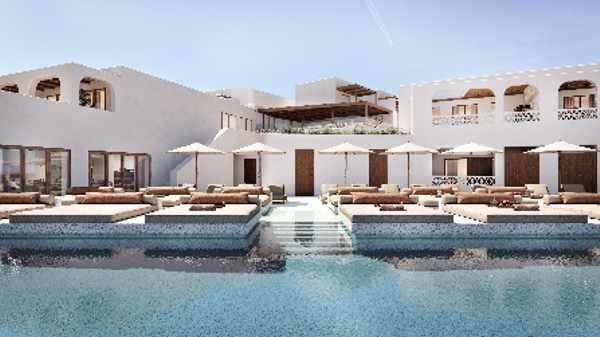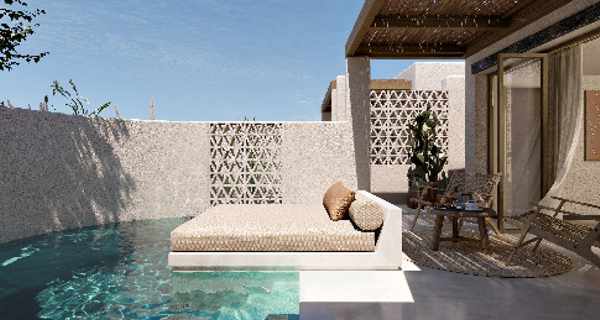 The chic and exclusive Domes Noruz Mykonos hotel opened its doors in early July. Located at Agios Stefanos, the 38-suite, adults-only resort is the newest member of the Domes Resorts collection of luxury lifestyle vacation properties in the Mediterranean. According to a media announcement by Domes Resorts, guests at Domes Noruz Mykonos can "choose rooms with private pools, indulge in signature culinary offerings at Topos Neo-med restaurant, sip on cocktail masterpieces by Apallou mixologists, and experience established lounge sessions or explore the island in the care of a tried and tested concierge. These elements create a celebratory aesthetic that includes art and fashion, all set against a 24/7 vibe of chill music and sun-kissed relaxation."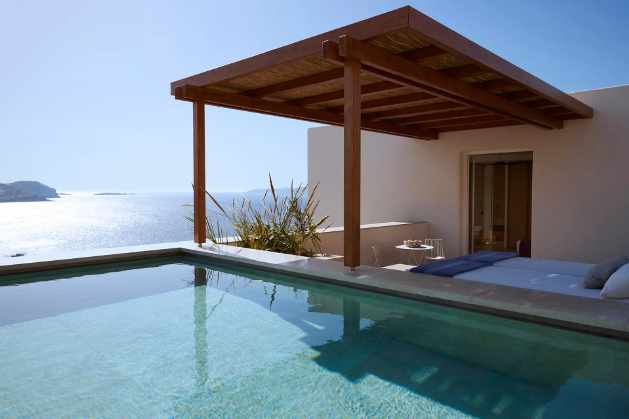 Bill & Coo Coast Suites at Agios Ioannis has introduced a new private hideaway for 2023 — the Coast Hill Suites. This "discreet cocoon" of 10 spacious suites — the biggest accommodations at Bill & Coo Coast — each come with an infinity pool, a sheltered terrace with sweeping sea, sunset and Delos island views, and round-the-clock personalized assistance from the hotel's top-notch service team.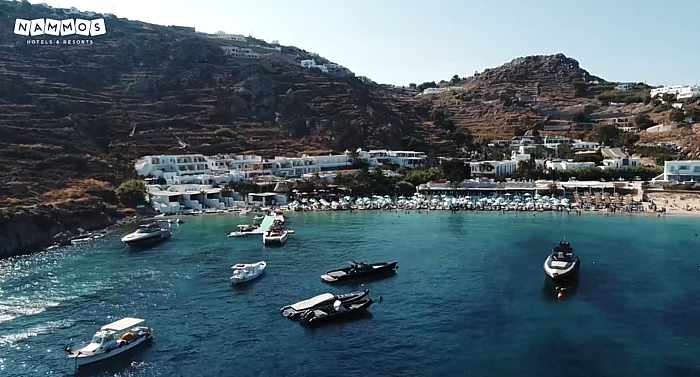 The Nammos World of luxury lifestyle restaurants, beach clubs, entertainment events and shopping is expanding with the debut of a chain of exclusive high-end hotels and resorts.  Twenty years ago, Nammos Mykonos opened as an upscale restaurant on Psarou beach. Within a few short years it became one of the island's most famous beach clubs, drawing an international clientele of the rich, famous and beautiful.  More recently, the brand opened Nammos venues in Dubai, Cannes, Limassol and Qatar. Now, in 2023, it has established Nammos Hotels & Resorts, and the first Nammos Hotel will open this summer on Psarou beach (in the premises previously operated as the Kensho Psarou hotel, and last year as N Hotel.) Nammos resorts in Abu Dhabi and the Maldives also are set to open. The new Nammos Mykonos hotel can be seen on the left side of the beach in the image above; the beach club is next door, on the right. Opening dates for the hotel and beach club have not yet been announced. 
New services
 Van Stories Mykonos is a fun mobile service making its debut on the island this summer.  Its signature "boho-style" Volkswagen T2 van features a fully stocked bar and DJ booth that can be booked for private parties, weddings , photo shoots, and other special events.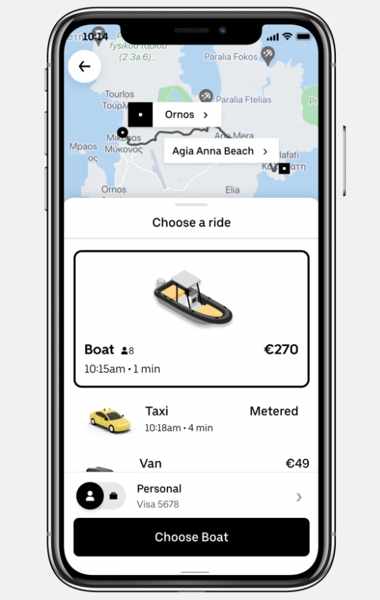 Uber has announced that it is bringing its Uber Boat service to Mykonos this summer — joining its on-land Uber vehicle service, which started operations on Mykonos this spring. At the 2023 Uber Go-Get Product Event on May 17, Uber announced that Uber Boat will give Mykonos vacationers the opportunity to arrange private boat transportation simply by selecting "boat" from the Uber app.  The service will allow for "up to 8 people to cruise to popular destinations around the island of Mykonos," Uber said. The service launched at the end of June and is expected to be available until October. Extensive information and details about the Uber land and boat transportation services on Mykonos can be found in the June 29 Greek Travel Pages news report Uber's New 'Boat' Service Takes the Mykonos Experience to Another Level.
Familiar spots with new names, locations or features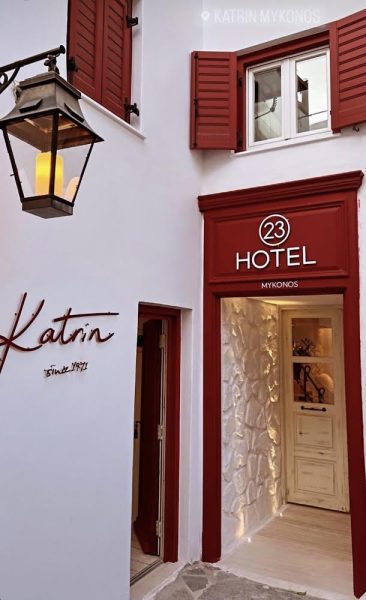 On April 12, legendary fine dining restaurant La Maison de Katrin opened its doors for the 2023 season in a completely different part of Mykonos Town. In operation since 1971, Katrin was previously situated on Nikiou street, where Instagrammers flocked to photograph the bedazzling canopy of bougainvillea that shaded a row of tables and chairs in the narrow lane along the restaurant. Katrin's new location is a short walk away at 23 Panachratou street, in 23 Hotel. That's another big change that Mykonos regular visitors will notice — it's the new name for the former Carbonaki boutique hotel. Though the new Katrin doesn't boast a show-stopping display of blooming vines above its tables, it still serves the signature exquisite cuisine that wows new customers and keeps drawing regular guests back every year.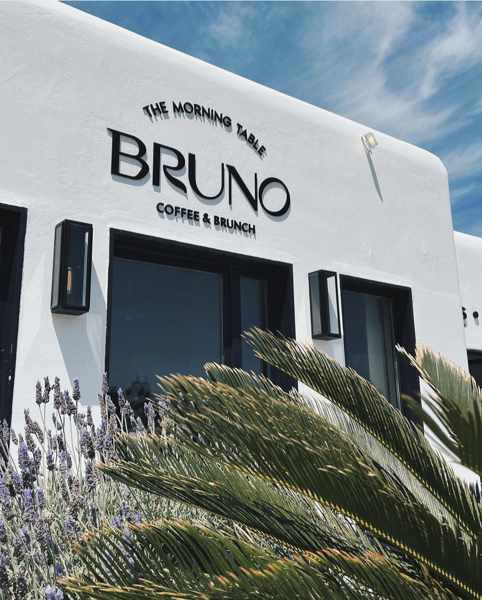 Brunello was one of many restaurant newcomers to Mykonos in 2022. For this season, it has rebranded as Bruno Coffee & Brunch.  Bruno is located in the Mykonos My Mall in Ano Vrisi.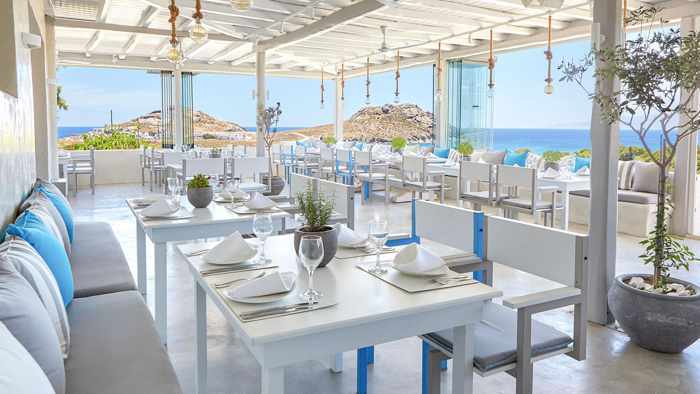 Another restaurant rebrand for 2023 is Fraskω at Agia Anna Kalafatis — the farm-to-table eatery formerly named Nesaea.  On its social media, Fraskω is described as a "fish fun tavern" offering "an authentic island experience. Local products, local fish & a lot of Greek hospitality."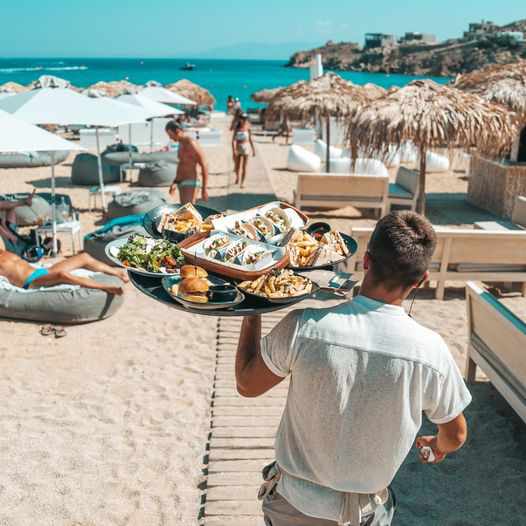 Divine Sea & More, the beach bar and restaurant at Super Paradise beach, is now called Thalas Barefoot Tavern & Beach. It opened on May 19.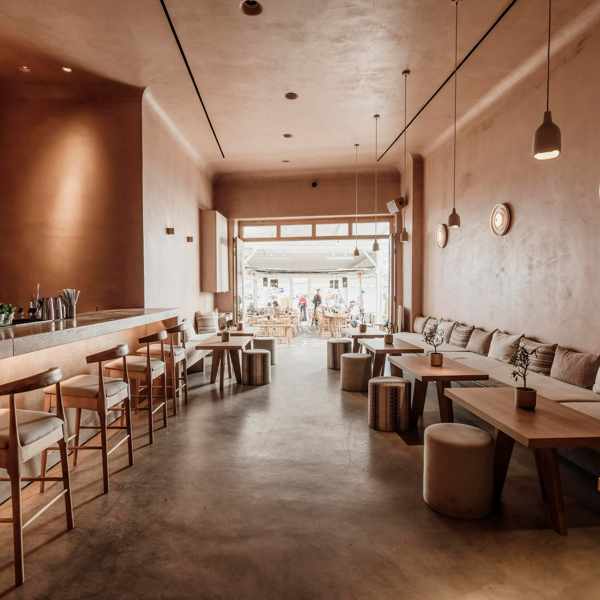 Bouboulo restaurant on the Gialos harbourside promenade of Mykonos Town has undergone a transformation for 2023. Now called Frankie Mykonos (a name inspired by Frank Sinatra), its menu features "cuisine with the flavor of Italy and fresh local ingredients, true to our farm-to-table philosophy and quality. Enjoy fresh handmade pasta, meat, bread and pizza with sourdough and organic flour that are fermented daily and baked in our wood-fired oven, as well as gluten free and lactose free options," a description on the restaurant website says.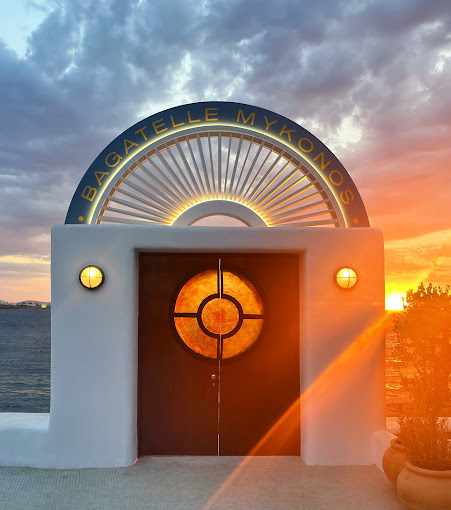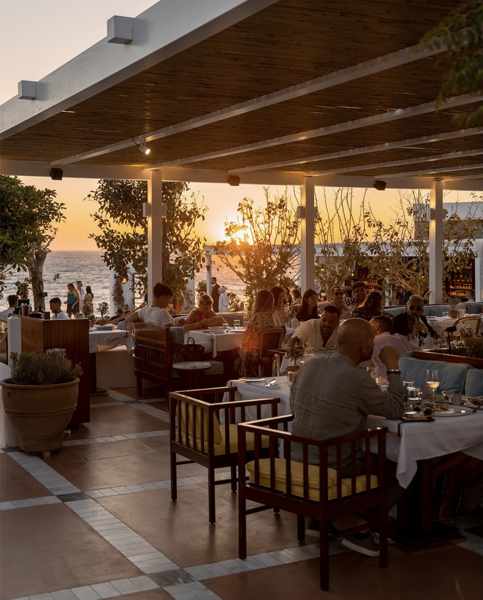 Bagatelle Mykonos unveiled an exciting new restaurant concept — The Sunset Plaza — when it opened in May for its second season of operations.  Inspired by lively plazas throughout Europe, the sunset-view, seaside complex comprises three distinct venues offering "fine dining, high-end entertainment and fashion shopping in an al fresco setting" — The Sunset Lounge, Bagatelle Mykonos restaurant, and ITA Mykonos. Designed as a romantic spot to watch the sunset or relax after dinner, The Sunset Lounge will offer "amazing cocktails prepared by top-notch mixologists, a high-end collection of wines and spirits, live artists, fire blowers, singers, musicians and dancers, and the most beautiful view of the island," a Bagatelle Group spokesperson told us.  The restaurant, Bagatelle Mykonos, will spotlight cuisine inspired by La Côte d'Azur, Southern Italy and Mykonos; its menu will "blend the generous flavours of the French Riviera cuisine with the refreshing Mediterranean and Greek influences." Meanwhile, the "magical hideaway" ITA Mykonos — an intimate spot inspired by the lush jungles of Mexico — will offer an adventurous culinary journey  with its menu of "daring and colorful Mexican and Peruvian fusion food," the company rep added.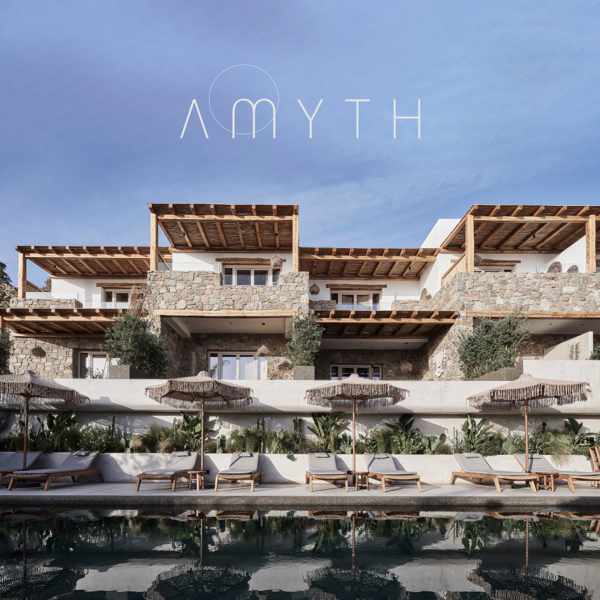 The former Habitat Hotel at Agios Stefanos has undergone a rebranding and is now a Thanos Hotels property called Amyth of Mykonos.  An April 3 social media post announced the change, saying that Amyth will be: "A sanctuary for the soul, a new bijou hotel promising boho-luxe style, authentic 'at-home' hospitality, and a deeper experience of Mykonian life at its laid-back best.​"
Noteworthy departures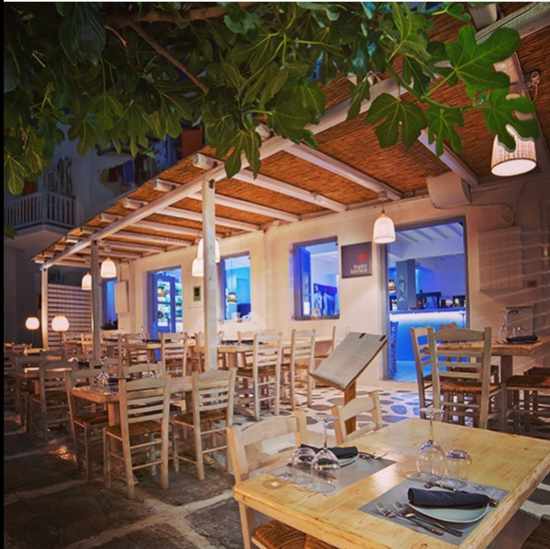 Funky Kitchen will not be returning for the 2023 season. The Lakka-area restaurant had been hugely popular with regular Mykonos visitors for the last several years, but its owners announced on social media April 2 that they have decided "to close Funky Kitchen as we know it and open a new chapter concentrating in private dining and pop up events." There's no word on whether another restaurant will be moving into the space for this summer.