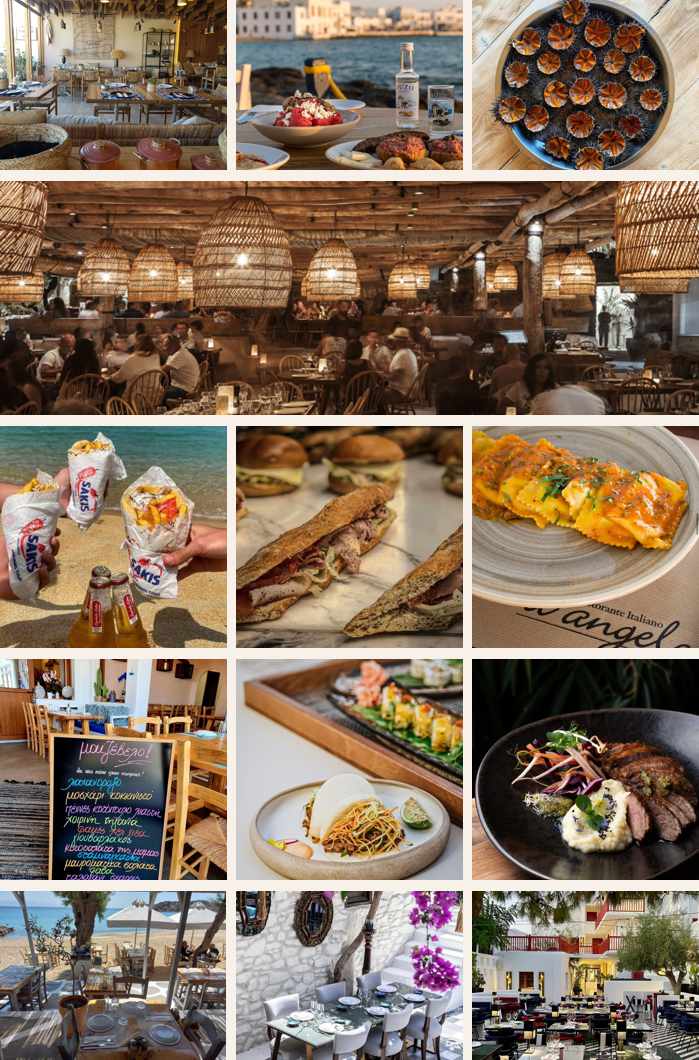 Photos from a few of the many restaurants on Mykonos, seen top row from left: Farina Cucina Italiana; Baboulas Ouzeri; Apaggio; Scorpios beach club; Sakis Grill House; Coffee Break; D'Angelos; Maizevelo; Branco; Byblos; Tasos Taverna; Coya Mykonos; Ceresio7
Tastes of the island:  With its hundreds of snack bars, cafes and restaurants serving up fast food/street eats, fine dining/gourmet cuisine, and everything in between, Mykonos is a veritable paradise for food lovers. Visitors will find Greek, Italian and Mediterranean fare, including fresh fish and seafood, all around the island, along with French, Japanese, Mexican, Peruvian and other international cuisines, as well as vegan food.
The dining options are extensive, ranging from local family-owned tavernas to iconic high-end dining establishments known around the world.  The restaurant roster includes places that have been welcoming visitors to Mykonos for decades, plus brand-new arrivals hoping their food and beverage selections will make an impression on the island's vibrant hospitality scene.
In this post, we present an overview of places to eat that have already opened their doors or that have announced their opening dates for the 2022 travel season. We will be updating this post as we learn of additional restaurants that have started their seasons, so check back from time to time to see more.
Below, on this page, we profile the dining spots that have been operating for decades, and that have become beloved favourites for many Mykonos repeat visitors. We also spotlight the establishments along what we call "restaurant row" — the Akti Kampani harbourside promenade in Mykonos Town.
On page 2 of this post, we showcase:
♦ Traditional Greek tavernas, grill houses and local restaurants
♦ Restaurants specializing in fish, seafood or sushi;
♦ Vegan, vegetarian and healthy food restaurants
♦ Places offering international cuisines;
♦ Breakfast and brunch hangouts;
♦ Italian and Mediterranean cuisine restaurants;
♦ Beach cafes and dining spots;
♦ Fine dining and gourmet restaurants;
♦ Fast food and street eats;
♦ Bakeries, creperies and coffee shops
Island icons, legends and long-timers
Below are snapshots of the island's most enduring and legendary restaurants.  Some are traditional Greek tavernas, several are beach tavernas, one is a renowned bistro that made its name blending traditional Greek dishes with classic French cooking, and another is a popular Italian ristorante. A few have been welcoming guests since the 1960s, while the others opened their doors in the early 1970s. During their collective decades of operation, they have seen hundreds of other restaurants  come and go with the passing trends of their time. But these stalwarts have ensured that visitors and residents can still enjoy a piece of authentic, traditional Mykonos, something that has becoming increasingly difficult to find given all the rapid change and development on the island in recent years.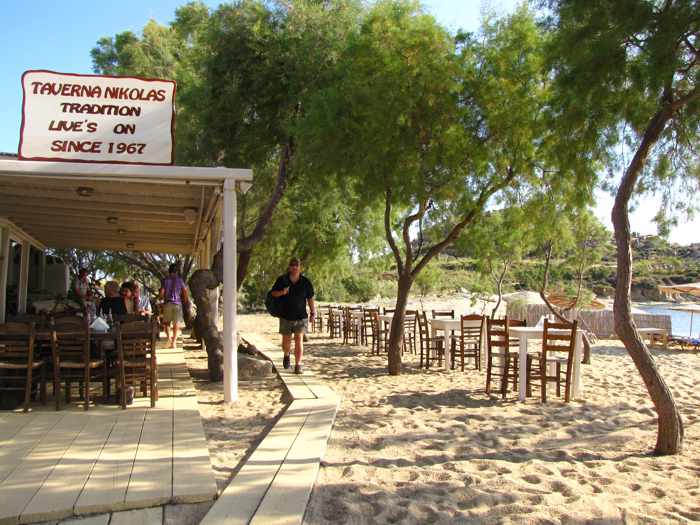 Family-owned and operated Nikolas Taverna has been a fixture at Agia Anna Paraga beach for the past 55 years. We took this photo during one of our lunch visits 10 years ago. Since then, the taverna has installed a new sign, and painted all its tables and chairs white, but the food is still delicious and the service remains excellent.  It's our favourite beach restaurant on Mykonos, and we recommend sitting at one of the tables on the sand for great views of the beach and bay while you dine. This year, Nikolas Taverna opened on April 15.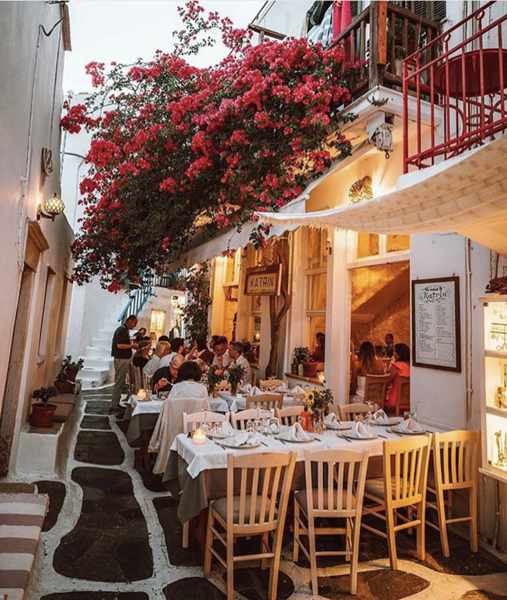 Situated on picturesque Nikiou Street in Mykonos Town, La Maison de Katrin has been a Mykonos fine dining institution since 1971. Operated by the Giziotis family, Katrin "marries traditional Greek recipes with French gourmet cooking, warm hospitality with elegant surroundings, luxurious top–quality ingredients with the simplicity of the Cyclades." The bistro-style restauration is a favourite shooting location for photographers, and is one of the most-Instagrammed places on the island.  This year, Katrin will hold its grand opening on April 16.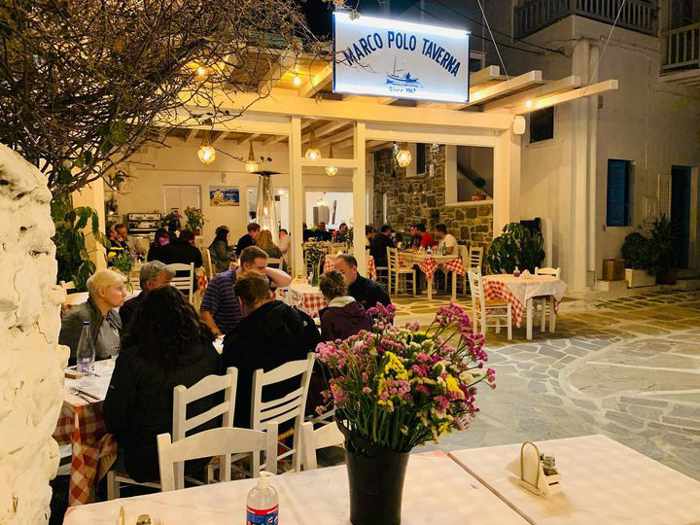 Located near Lakka Square in Mykonos Town, Marco Polo Taverna has been a popular go-to spot for fish, seafood and and reasonably-priced traditional Greek food since 1967. The taverna was founded by fisherman Marco and his wife, Maria, and named after Marco's fishing boat, Marco Polo. The taverna is still a family business — today, it's operated by the couple's three children. This year Marco Polo Taverna opened its doors on April 8.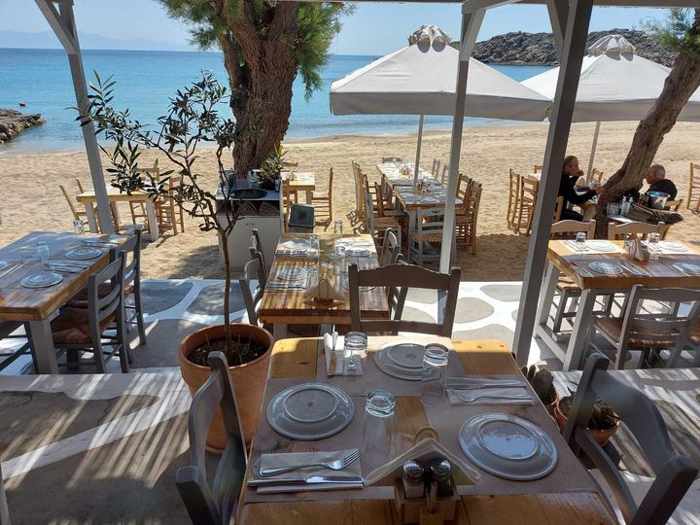 Tasos Taverna has been a popular lunch and dinner destination at Paraga beach since 1962. It has maintained its traditional Greek taverna focus and atmosphere even though newer trendy restaurants and clubs have arrived with contemporary menus of fine dining, sushi and expensive champagne to the beach. This year, Tasos opened on March 25.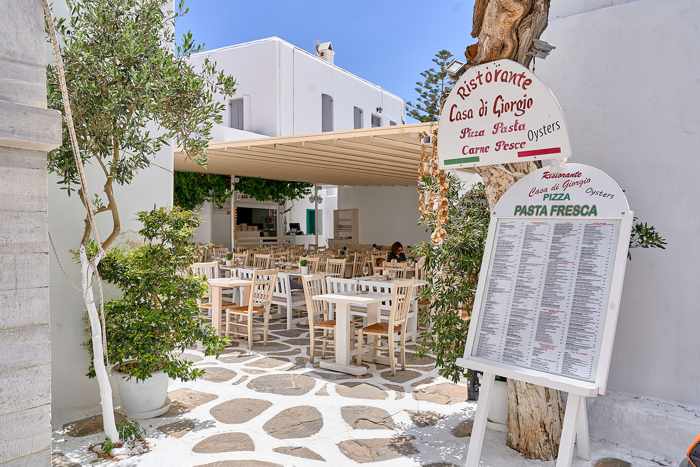 Casa di Giorgio Ristorante has been serving Italian cuisine since 1970 at its Mitropoleos street location behind the Catholic Cathedral near Alefkandra Square in Mykonos Town. This year the restaurant opened its doors and patio on April 6.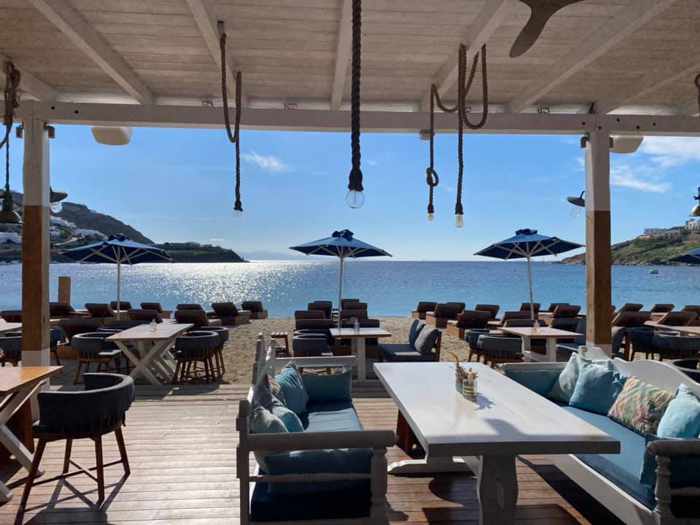 For the past 55 years, family-run Kostantis restaurant and bar has been serving fresh fish and seafood, and Greek and Mediterranean cuisine "with cosmopolitan notes." Located on Ornos beach, Kostantis started its season on April 15.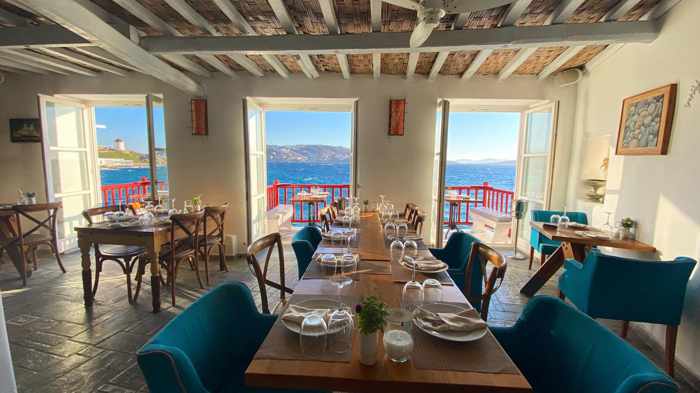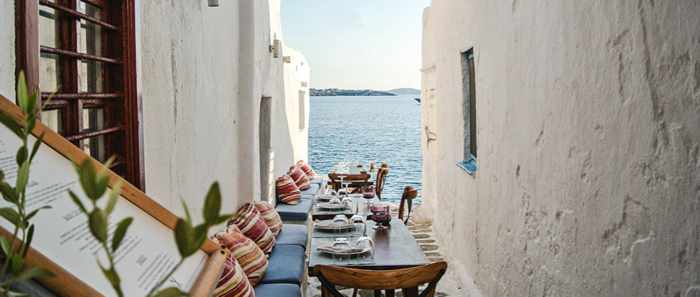 Kastro's started as a bar in 1976, and later morphed into a restaurant, recently adding three private dining balconies that overlook the Little Venice seafront and offer superb sea and sunset views. For the past several years, the row of tables and benches in the narrow alley outside Kastro's has been one of the most-photographed Mykonos sights on Instagram.  Kastro's opens this year on April 29.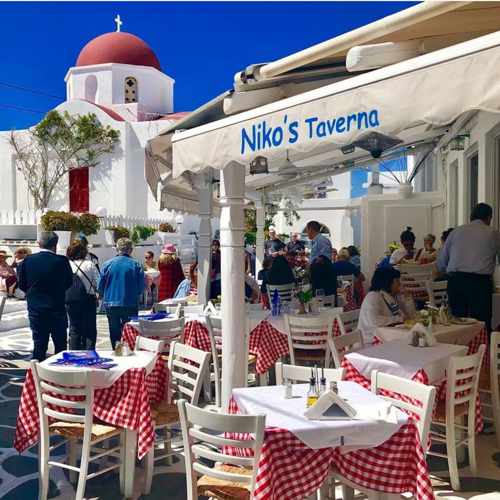 It's easy to spot Niko's Taverna at Agia Moni Square, a short stroll from the harbour promenade — just look for the rows of tables with Niko's signature red and white checked tablecloths clustered in the lane below red-domed Agios Nikolaos church.  Niko's has been serving traditional Greek food since 1976, and is one of the busiest tavernas on the island — it's usually packed with customers.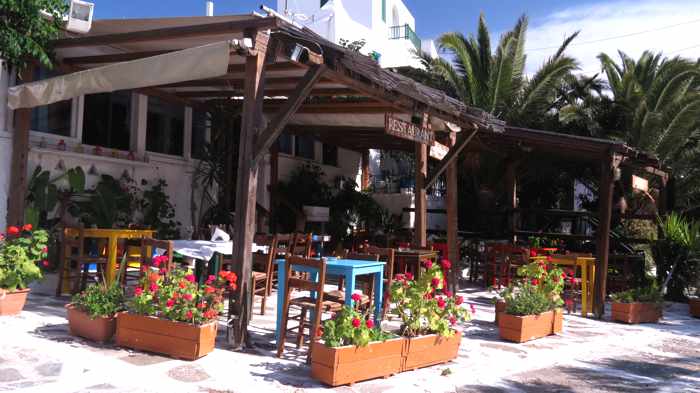 Operating since 1975, Maria's Traditional Myconian Restaurant is tucked into a quiet, plant-filled courtyard steps from the small harbour beach in Mykonos Town. Easiest way to reach Maria's is to look for the narrow lane, lined with potted geraniums, that leads off the beach promenade — it will take you directly to the restaurant. Word is that Maria's could be closing after this season or next year, so don't miss the chance to enjoy a traditional meal here if you visit Mykonos in 2022. Editor's update: In posts to its social media accounts, Maia's announced that it permanently closed on September 20 after 47 years of business.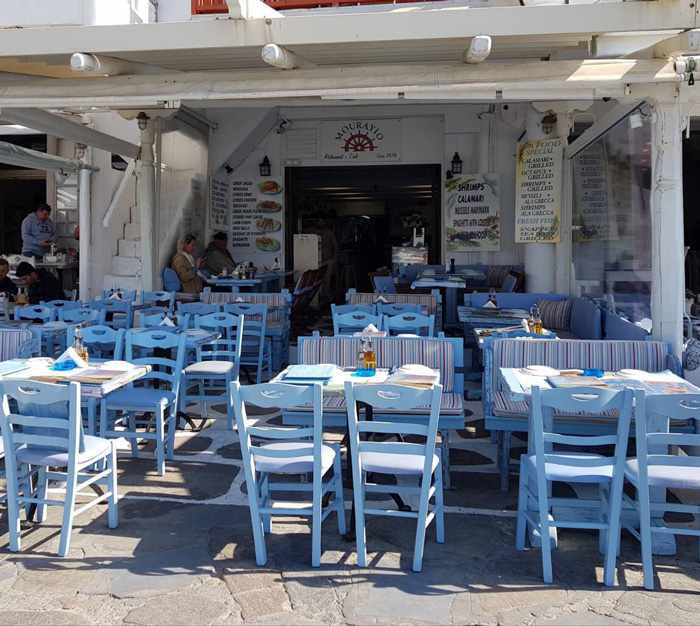 March 29 was opening day for Mourayio Cafe-Restaurant on Akti Kampani, the Mykonos Town harbour promenade.  The family-owned taverna has been operating since 1976. Its specialties are grilled fish, calamari, octopus, shrimp and other seafood dishes, but the restaurant says it has long been renowned for its home-made sweets, too.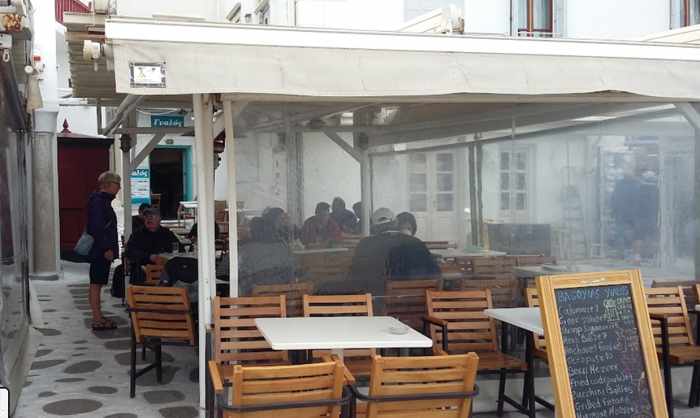 Located on the Akti Kampani restaurant row (more on that below), Bagoyias Gialos is often overlooked by visitors, especially cruise ship daytrippers, who typically flock to the larger, stylish and much more expensive restaurants that surround it. Since 1977, Cafe Gialos, as it's also called, has been a longtime meeting place for Mykonos locals, who gather for coffee, conversation, delicious mezes and traditional Greek taverna fare, served at what are very reasonable prices by Mykonos standards.  We're told the breakfast omelet with Myconian sausage is a must-try.
A family-owned and -operated restaurant in the heart of Mykonos Town, Eva's Garden has long been a favourite dining destination for new and repeat Mykonos visitors who enjoy the charming and romantic ambiance of its hidden courtyard garden terrace, dining room and veranda  — as well as its delicious Greek food, seafood and other menu items.  Eva's Garden has been in business for 40 years, and this year it opens on April 29. You'll find it at Goumenio Square, with another entrance (with outdoor seating) at the north end of Kalogera Street.
Restaurant row at the old harbour 
Another Mykonos icon is the row of restaurants along Akti Kampani street, the long pedestrian promenade that curves along the shore of the Old Port harbour in Mykonos Town, from Manto Square to the Mykonos Town Hall and the iconic blue-domed fishermen's chapel, Agios Nikolaos, at the dockside. The flagstone walkway is lined with places to eat and drink, including a couple of tavernas that have been in business for more than four decades each (Mourayio and Gialos, which we described in the previous section of this post), along with contemporary and fine-dining restaurants that arrived during the past decade.  Most offer all-day dining, opening early in the morning to serve coffee and breakfast, and remaining open throughout the day for lunch, dinner and late-night drinks.  Almost all serve Greek and Mediterranean cuisine, fish and seafood. Some become lively and festive party spots at night, with music played by in-house or special guest DJs. Here's a look at the establishments along Mykonos Town's busiest restaurant strip.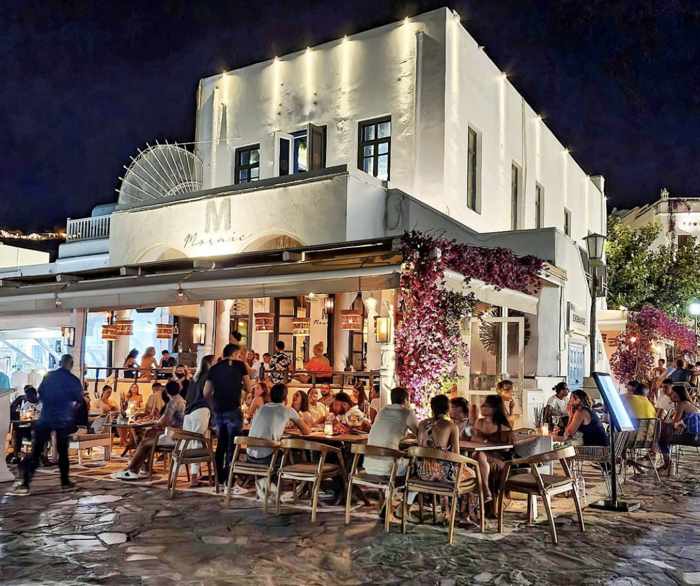 Mosaic MSC restaurant and bar, next to Manto Square, is open throughout the year. The MSC stands for "meat, sushi cocktails," and the menu features an "eclectic but thoughtfully curated" mix of tastes and flavours from around the world.  Last summer the restaurant regularly hosted live music entertainment by local singer Kelly Kaltsi, and during the winter Mosaic was a popular weekend party spot.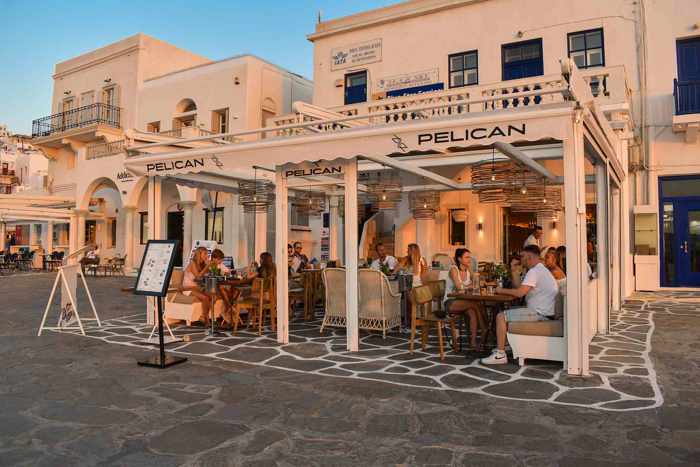 One of the newer harbourside eateries,  Pelican restaurant, made its debut in the spring of 2020, just as the country's tourism industry was reeling from the staggering drop in international travel during the first wave of the Covid pandemic. The restaurant has been resilient, though, and commenced its 2022 season on March 23. An all-day dining spot, Pelican is open for breakfast, and for lunch and dinner serves innovative Greek and Mediterranean dishes that offer "a culinary ride from every corner of Greece."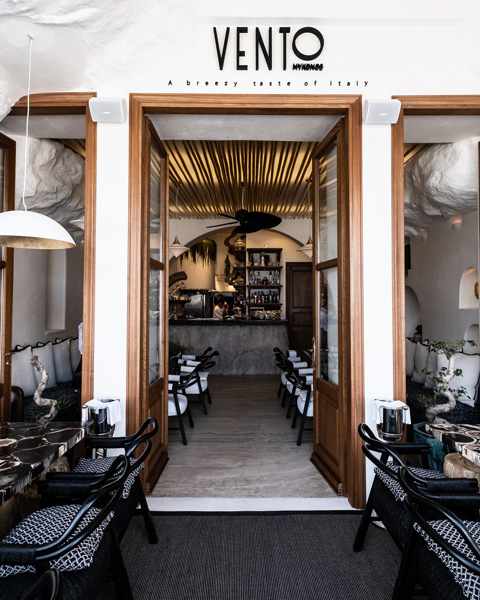 A new arrival to Mykonos in the fall of 2020, the elegant Vento restaurant features "creative Italian cuisine" by chef Alsi Sinanaj.  The restaurant serves breakfast each morning, and for lunch and dinner treats its guests to "a breezy taste of Italy" with fresh-made pasta, fresh fish and succulent meat. This year Vento started its season on March 15.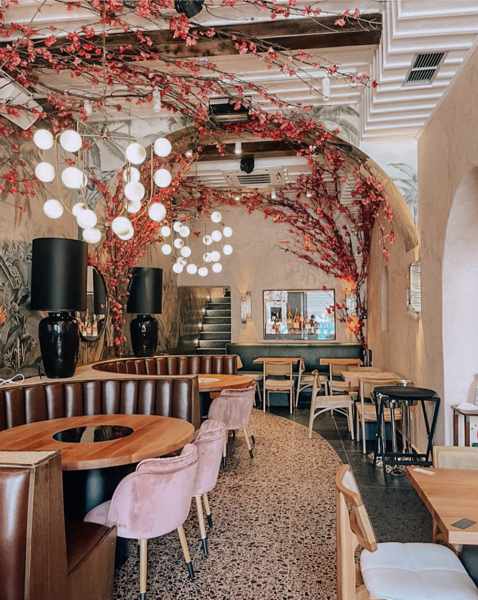 A new restaurant and bar arrival in 2021, Promenade Mykonos promised "a modern spin on old world traditional cuisine and stylish parties." Since its re-opening on March 4 after a two-month winter break, the upscale restaurant has been one of the island's most popular places to dine, drink, dance, and party. It season-opening night featured a live performance by singer Tilemachos Zeis , and since then Promenade has regularly hosted party events with music entertainment by special guest DJs.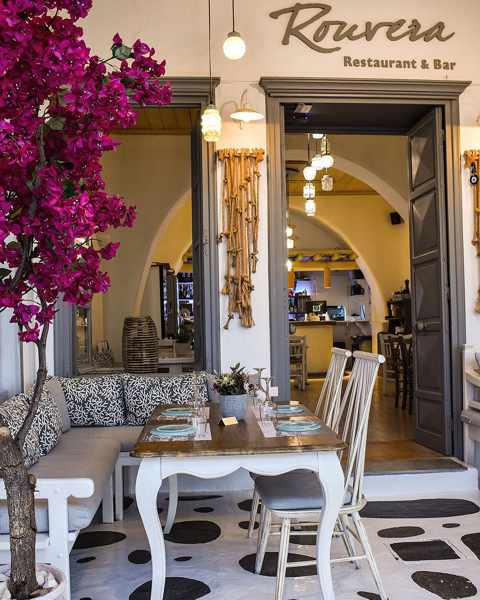 Open throughout the day for breakfast, lunch, dinner, coffee and drinks, Rouvera restaurant and bar has been in business more than 20 years. Its menu includes Greek, Mediterranean and vegan dishes, as well as meat, seafood and desserts. Rouvera started its season on March 28.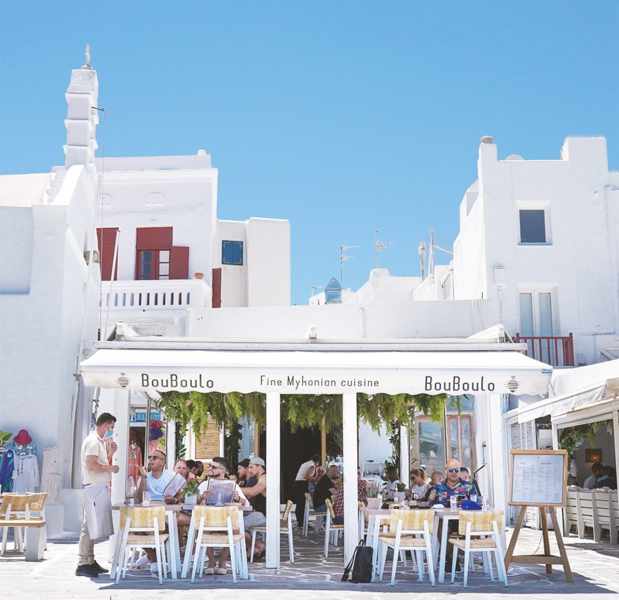 The all-day Bouboulo Fine Mykonian Cuisine arrived on the harbourside promenade in July 2020, the newest member of the nice n easy hospitality group,  whose other Mykonos venues include the nice n easy and Spala restaurants on the Little Venice seafront, the SantAnna beach club at Paraga, and Olea Greek Cuisine at Kalafatis (formerly called Farm 'n Sea). Bouboulo takes pride in its local and Greek cuisine, which is prepared with fresh ingredients sourced from small producers. Bouboulo held its season opening on March 24.
Raya is an all-day restaurant and bar offering "elegant dining by the sea," with a focus on fine Greek and Mediterranean cuisine, as well as sushi. Raya is open throughout the year.
  Kazarma opened its doors in 1997 in a historic building which once was owned by Greek revolution heroine Manto Mavrogenous, who used the premises as an arsenal to store arms and munitions.Kazarma opens at 7 a.m. to serve hearty breakfasts, and its kitchen and bar remain open until at least 1 a.m. for late night snacks, meals and cocktails. The menu focusses on Greek and Mediterranean cuisine as well as fish and seafood. Following a brief winter holiday break, Kazarma re-opened on February 3 for this year's tourist season.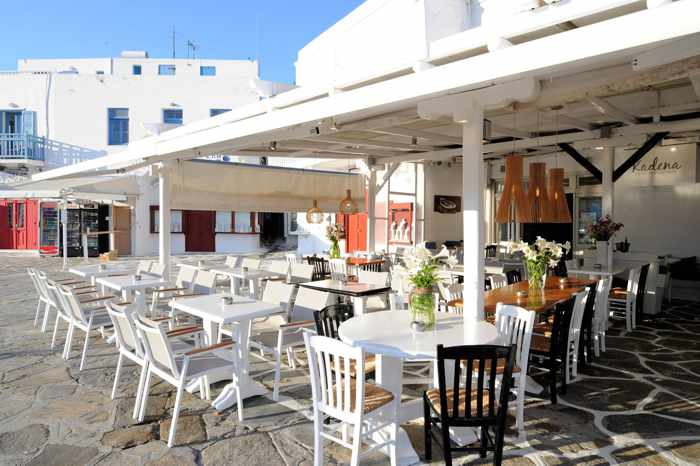 Kadena restaurant is another all-day establishment, serving home-made Greek and Mediterranean dishes, salads, pastas, desserts and cocktails. Kadena opened for the season on March 15 this year.
Open for the past 7 years, Captain's specializes in mezes — small plates of Greek and Mediterranean dishes that are perfect for sharing. The restaurant is open all day, and is popular for its selection of Greek wines and ouzo and local craft beers. This year, Captain's commenced its season on March 5.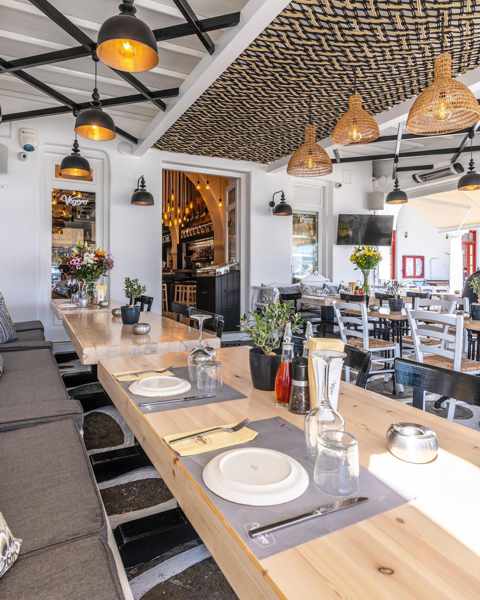 Stylish Vegera restaurant is easy to find — its harbourview patio is only steps away from Agios Nikolaos, the iconic blue-domed fisherman's church that is a magnet for Instagrammers. The all-day restaurant and bar serves breakfast, lunch and dinner, as well as coffees and cocktails. This year, Vegera held its opening day on March 4 and has been a popular weekend party destination, featuring music by special guest DJs.
Please click on the link below to continue reading on page 2 of this post.
CONTINUED ON PAGE 2