— continued from page 1 —
— Destino Pacha Mykonos —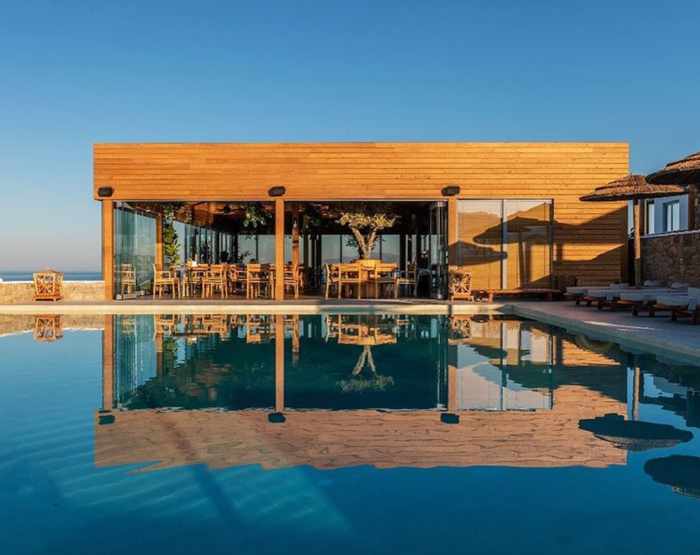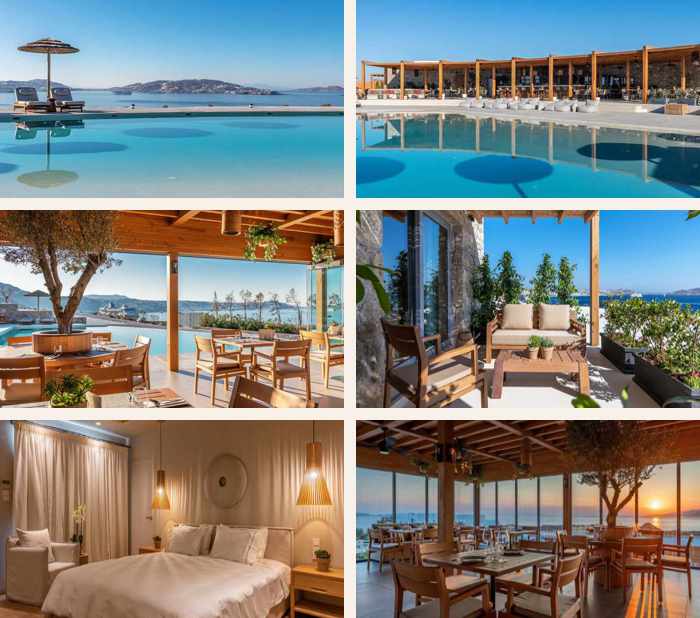 Looking for the Ibiza vibe and lifestyle on Mykonos? Visitors will find it at the Destino Pacha Mykonos hotel at Agios Stefanos.  It's the first resort outside of Spain for Pacha Group, the Spanish company behind the celebrate life-themed Pacha nightclub and hotels and the Lio restaurant brands in that country. Keeping with the Destino Pacha philosophy — "We embrace and strive for a world filled with celebrations and good times" — Destino Mykonos will create vibrant pool, lounge and restaurant scenes, with local and international guest DJs and artists providing the music entertainment so guests can experience "the Mediterranean dream where life is celebrated from sunrise to sunset and beyond."  Since Pacha Group is also opening a Lio cabaret restaurant on Mykonos this summer (see our recent blog post Hot new places on Mykonos in 2021), you can expect the daily celebrations will shift from the hotel pool to the dinner club in Mykonos Town each night.  
Destino Mykonos has a selection of 34 spacious rooms — including six sea-view suites — in the premises that previously operated as the Oniro Mykonos — A Shanti Collection Hotel.  There are six room categories: Guest, Guest Grand, Guest View, Destino View, Pacha Suite and Cherry Suite, all with luxurious decor and furnishings.  Hotel amenities include a restaurant with a menu featuring "Greek tradition and flavors reflecting a Mediterranean island blend," and of course the signature sea-view swimming pool and poolside bar where DJs will spin "laidback beats."
Destino Mykonos opens June 1.  Check its website for early booking discounts and promotions — during April, it featured a number of special offers for pre-season reservations.
Website:  destinopachamykonos.com
Facebook: DestinoPachaOfficial
Instagram: @destinopachaofficial
______________________________
— The Elaia House —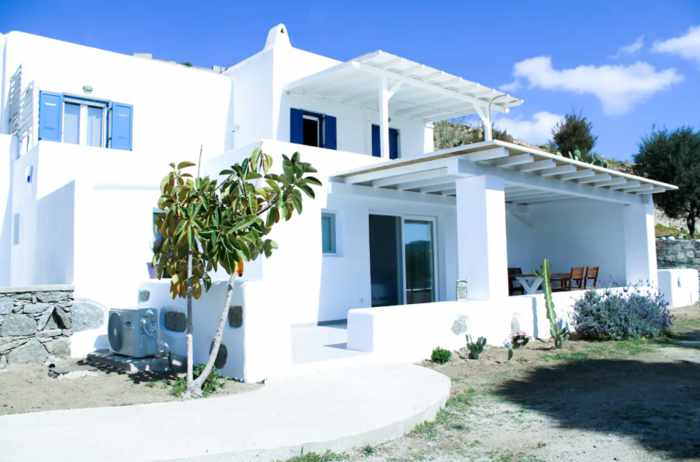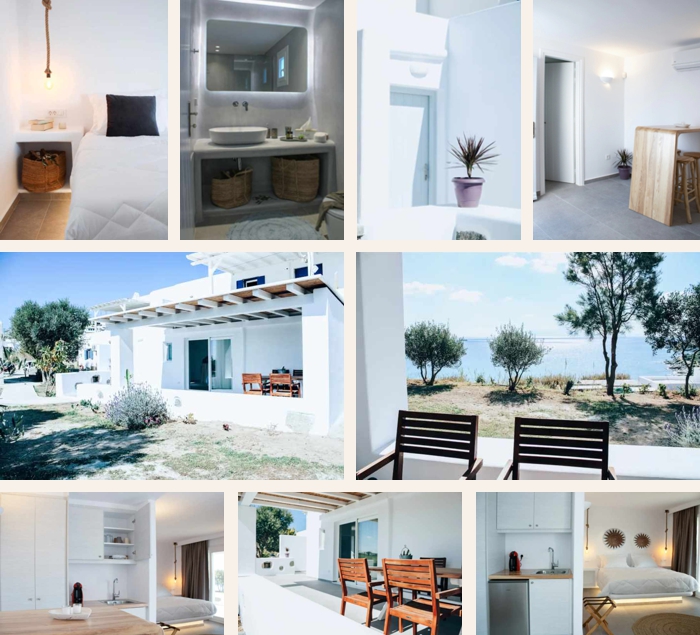 The Elaia House is a new airbnb rental hosted by owner Georgia. It's a cute and cozy bohemian-style studio on the ground floor of a whitewashed, Cycladic-style house overlooking Ornos Bay.  The studio is furnished with a comfy king bed; refrigerator; kettle; dishes, cutlery and wine glasses; bathroom with stand-up shower; and a roomy private sea-view veranda with table and chairs — the perfect place to relax with a glass of wine and enjoy the refreshing sea breeze. The unit has wi-fi and air conditioning, and also has parking. Since the house is located in the Aleomandra area of southwestern Mykonos, it's advisable to have a rental vehicle for easy and convenient transport from the apartment to Mykonos Town, major beaches and elsewhere on the island. For those who don't wish to drive and don't mind walking, no problem — the house is about 480 meters from a bus stop for the local route that runs regularly between Mykonos Town, Ornos and Agios Ioannis.  Ornos beach is within reasonable walking distance, while two other popular beaches — Agios Ioannis and Kapari — can be reached on foot, too. 
Airbnb listing: The Elaia House Mykonos
Instagram: @elaia_house_mykonos/
Facebook: The Elaia House
______________________________
— Aeonic Suites & Spa —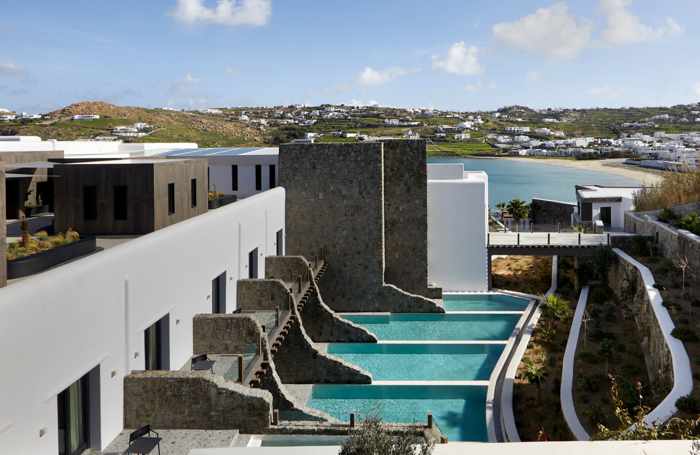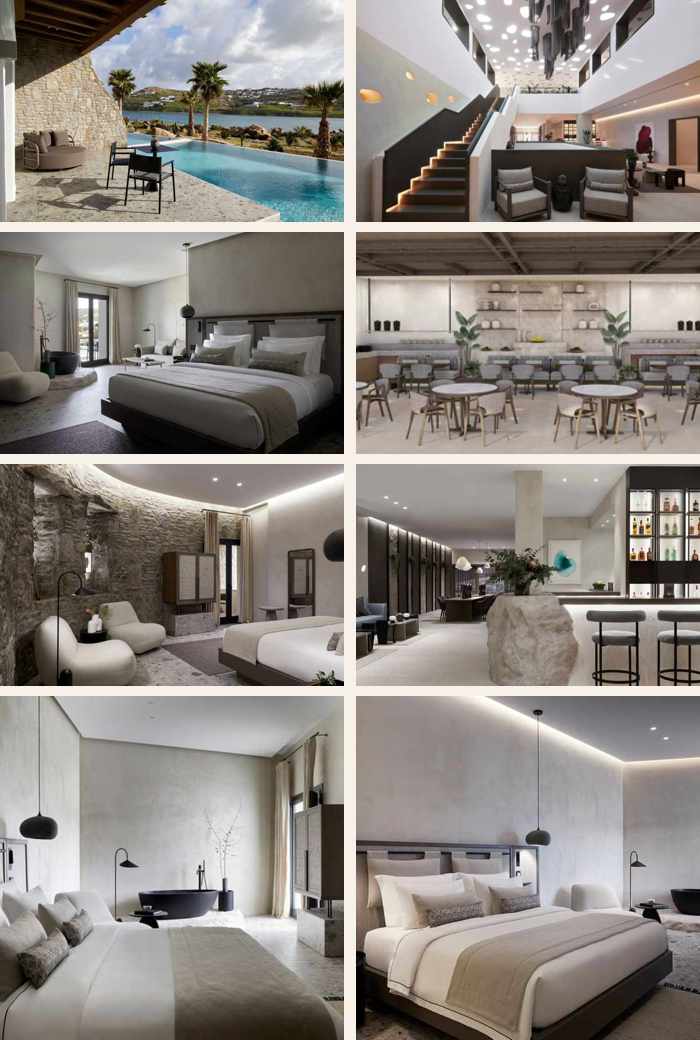 Mykonos may be famous for buzzing beach clubs and exciting nightlife entertainment, but it's also a great spot for a chill, relaxing vacation.  Bliss and calm are key characteristics of the soothing interior decor and design of the luxury boutique hotel, Aeonic Suites & Spa, located near Ornos at Korfos beach. The Aeonic website invites guests to "Wander around the finely crafted interiors that capture the essence of Mykonos in a timeless, understated palette, where hues of grey and beige and dark wood accents pervade all spaces with their quality of calmness, and the sense of expansive space."
Guests can choose from 10 different styles of suites, each featuring either a jacuzzi or plunge pool, or a private swimming pool. Eight of the suites are furnished with large double beds that sleep 2 adults, but two — the Stone Suite with Plunge Pool, and the Apeiron Suite with Private Pool — can accommodate four adults.
Hotel amenities include the seafront Cove Restaurant, the all-day Cove Bar, the Kyoto Bar in the lobby,  the Genesis Spa, and the Waves business center and conference room.
Website: Aeonic Suites & Spa Mykonos
Instagram: @aeonicsuitesandspa
Facebook: @AeonicSuitesandSpa
______________________________
— Soleila Mykonos Villa —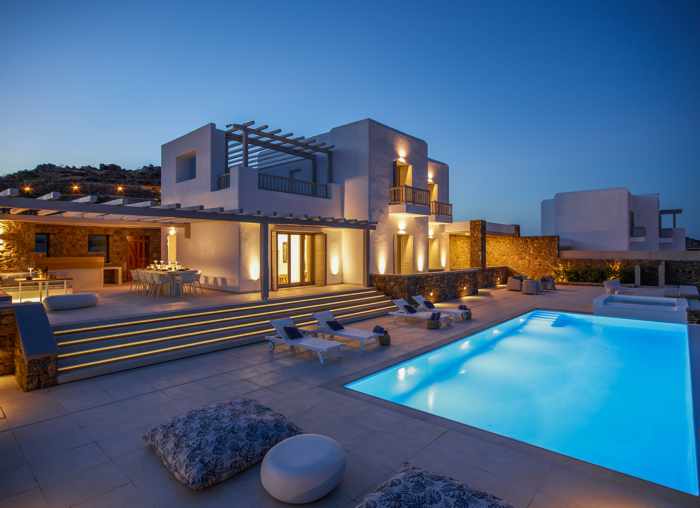 Named after the brilliant sunshine that beats down on Mykonos more than 300 days a year, Soleila is a 2-level, 5-bedroom villa on a hill high above Kalafatis beach. Its location is ideal for privacy and complete relaxation — and perfect for people who follow a mindfulness lifestyle. As the villa's owners note, guests could "effortlessly spend the whole day watching the colours change from morning to noon to sundown and, when the day turns to night, entranced by the soft glow of the pool lights, make a wish upon a falling star."  Or they could meditate and practise yoga by the pool, or simply sit on a balcony to read a good book and gaze at the countryside and Aegean Sea. 
Soleila's ground floor features a living room with satellite television; a fully-equipped kitchen with dining area; a guest bathroom; and 2 master bedrooms, each with their own bathroom and shower. The upper level has 3 seaview bedrooms, each with bathroom and shower. There is wi-fi and air conditioning throughout. In total, the villa can accommodate 10 guests. The villa has been cheerfully and tastefully decorated by one of the owners, Pepi Kogla, who handcrafted and painted many of the art pieces displayed in the rooms.
The villa's leisure and relaxation amenities include a private swimming pool with hot tub and a spacious patio; a veranda with built-in bar and sofa and a dining table that seats 10; an electric BBQ; an outdoor exercise space; and an outdoor shower.  There also is private parking.
The owners offer concierge services and can arrange for private chefs, grocery shopping, on-site private yoga and wellness sessions, restaurant reservations and more.
For families, wedding parties or groups of friends requiring accommodation for more than Soleila's 10-person capacity, arrangements can be made to book the "twin" villa, Ethereal, right next door. (Scroll down just a bit to see its profile).
Website: Soleila Mykonos Villa
Instagram: @soleilamyconianvilla
Facebook: @SoleilaMyconianVilla
______________________________
— Ethereal Villa —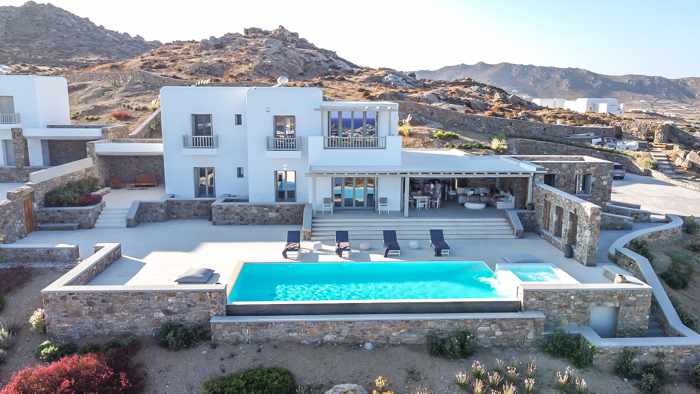 Elegance, simplicity and privacy is how the owners of Ethereal Villa describe the unpretentious luxury of their 2-level, 5-bedroom property near Kalafatis.
With modern, minimalist design and decor, Ethereal offers a tranquil environment from which up to 10 guests will enjoy panoramic views of the beautiful surrounding countryside and the sparkling Aegean Sea. "Atmosphere is incorporated in every space"  — indoors and out — with ambient night-time lighting setting a particularly magical mood.
The villa's ground floor has a fully-equipped kitchen with dining space, a living room with satellite TV, a guest bathroom, and 2 seaview master bedrooms, each with bathroom and shower. The upper floor has 3 bedrooms, each with bathroom and shower.
There is a large outdoor dining veranda, an electric BBQ, a swimming pool and hot tub,  an outdoor shower, and an exercise area. The villa has wi-fi and air conditioning throughout. Management are available on-call 24/7, and can arrange any requested concierge services.
As mentioned above, Ethereal is right next door to its twin, Soleila (the villas were designed by the same architect and are virtually identical, but each have different owners). Although Ethereal villa can accommodate 10 people, the owners can make arrangements to book Soleila for larger groups of travellers requiring space close together. 
Website: Ethereal Villa Mykonos
Instagram: @etherealvillamykonos
Facebook:  @EtherealVillaMykonos
______________________________
–– EpicMykonos —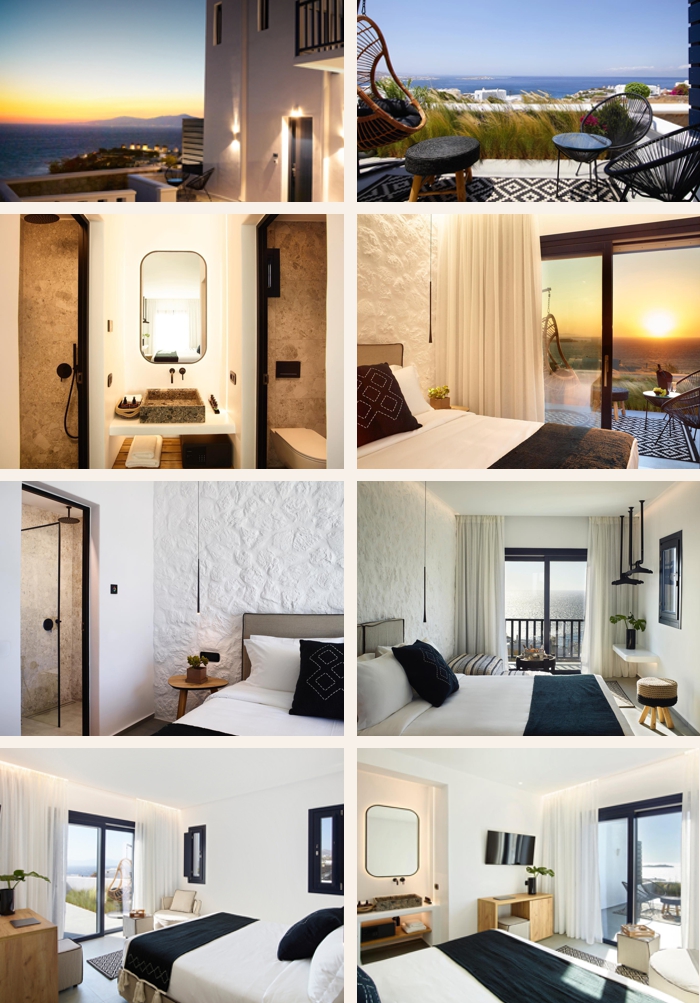 Opening on May 14, EpicMykonos is a collection of luxury rooms and suites situated in the island's Drafaki district above Mykonos Town.  
Epic's deluxe double rooms are bright and cheery and approximately 22m² in size.  They offer views of the sea and the famous row of windmills near the scenic Little Venice seaside of Mykonos Town. The rooms directly access either a private balcony or a terrace.  The larger junior suites are about 29m² in size, and also have a private balcony or terrace. These sun-filled suites also present impressive views of the sea and windmills, as well as parts of the town. (From some of the rooms, guests will be able to watch the sunset and view the Aegean Sea while lounging in bed.)
The rooms and suites are elegantly designed and decorated, and are furnished and equipped with modern amenities to guarantee a relaxing stay:  comfortable, high-quality beds; new high-tech, single-room air conditioning systems; flat-screen smart TVs; Nespresso coffee machines; minibar with wine selection menu, and more. 
A concierge service is available to make restaurant, bar and club bookings; plan excursions and activities; reserve rental vehicles; and arrange massage and beauty treatments. (Though guests may be more than content to just spend time on their terrace or balcony, sipping wine and enjoying the great views.)
Website: Epic Mykonos
Instagram: @epicmykonos 
Facebook: @epicmykonos
______________________________
— Mykonos Earth Suites —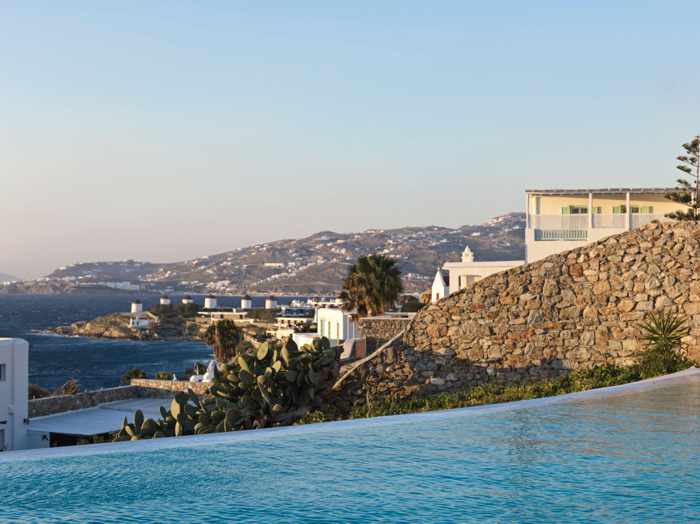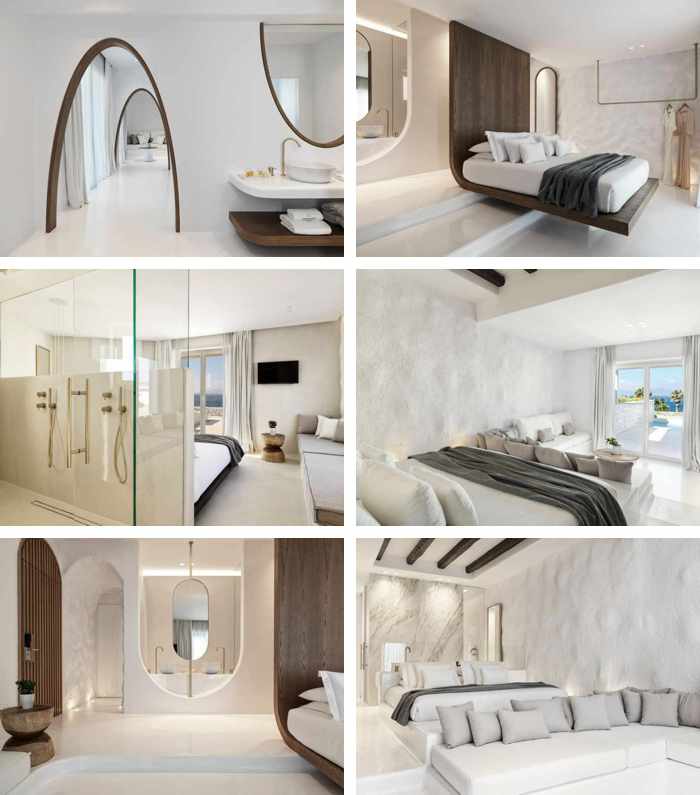 An adult-only luxury hotel, Mykonos Earth Suites brings an almost out-of-this-world aesthetic to Mykonos with its stunning "minimal-chic" yet lavish interior design and decor details. Its 12 ultra-modern suites offer a secluded cocoon of "sheer relaxation in absolute privacy," accompanied by refined and discreet guest services, the hotel states on its website.
With its mix of natural building materials, including wood and local stone, and its traditional architectural design, Mykonos Earth blends seamlessly into its surroundings.  
The hotel's accommodations include a deluxe seaview room with a jet tub, and 11 seaview suites with private pools — junior suites, executive suites and a honeymoon suite.
Hotel facilities and amenities include a large main swimming pool with views of the iconic row of windmills in Mykonos Town, a pool bar, and a la carte restaurant that will serve a menu of "delicious Greek-Mediterranean cuisine with a creative twist."
Mykonos Earth Suites is located at Megali Ammos beach, a scenic 15-minute walk from Mykonos Town.
Website: Mykonos Earth Suites
Instagram: @mykonos_earth_suites
Facebook:  @MykonosEarthSuites 
______________________________
— Once in Mykonos —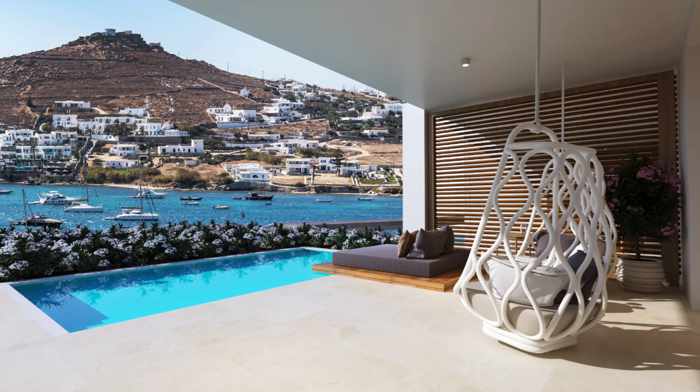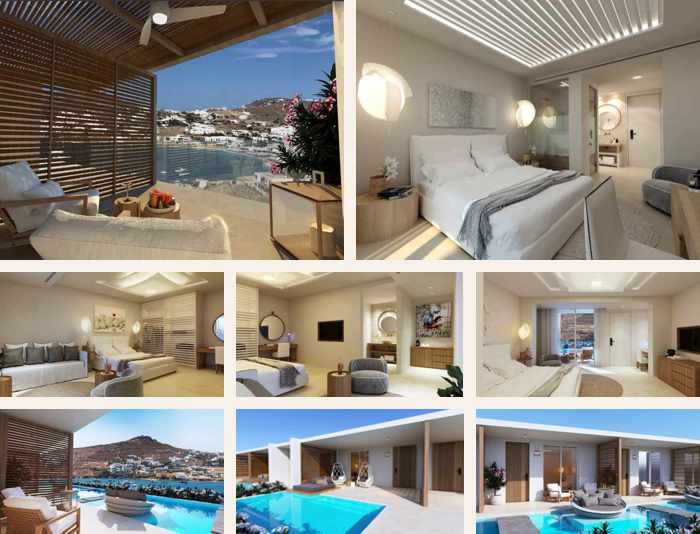 Greek boutique hotel network Tresor Hotels & Resorts will be welcoming a new member into its portfolio of 10  exclusive properties this year — the 5-star Once in Mykonos Luxury Resort at Ornos. 
Although a precise opening day has not yet been announced, the hotel is expected to launch this summer with 35 suites, and 11 more scheduled for completion sometime this year.
According to a post on Tresor's Travel Secrets blog, Once in Mykonos  will be distinguished by "unparalleled beauty and unique aesthetics." Its "ultra-elegant suites" will offer guests "a dream vacation with high quality amenities. Indoors, elegance perfectly coexists with boho decor, traditional details and atmospheric lighting."
The resort has 10 different categories of sea-view rooms and suites that will sleep either 2, 3 or 4 people. The accommodations suitable for 2 guests include the Panoramic Double; the Comfort with Outdoor Jacuzzi; the Deluxe Room with Sharing Pool; and the Deluxe Room with Chill Out Pool. The lodgings for up to 3 persons  include the Comfort Room; the Junior Suite ; and the Honeymoon Suite with Private Pool. Sleeping up to 4 people are the 2-bedroom Family Suite; the Prestige Suite with Private Pool; and the Premium  Maisonette with 2 bedrooms and Private Pool.
Hotel amenities will include a restaurant and bar, plus spa and wellness facilities and treatments.  The hotel will particularly impress with its  sophisticated main swimming pool and adjacent bar patio, which the Once in Mykonos website describes as an "infinity-style haven surrounded by a sublime island panorama." 
Website: Once in Mykonos Luxury Resort
Facebook: Once in Mykonos
Instagram: @onceinmykonos
______________________________
— Mykonos Euphoria Suites —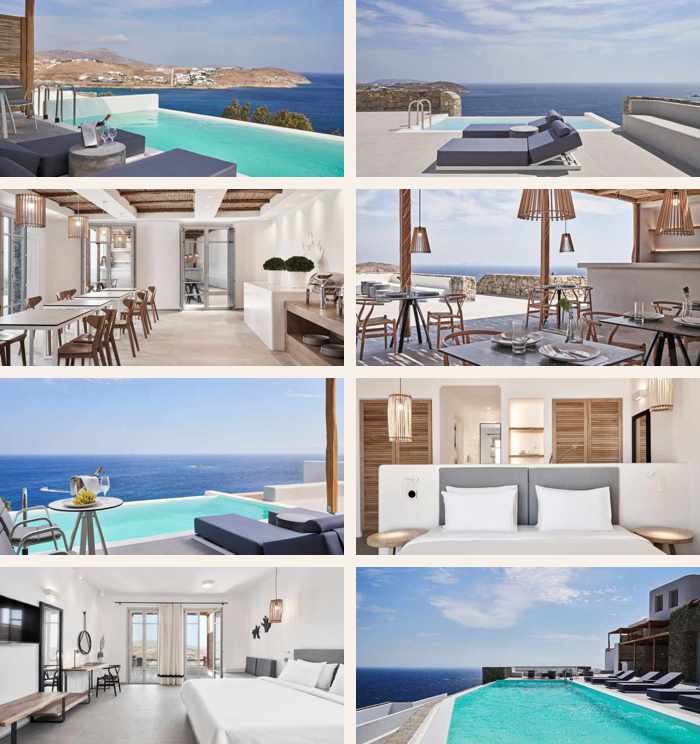 Another 5-star arrival, Mykonos Euphoria Suites promises to "capture your heart with its Cycladic charm and luxurious vibe," and "will inspire you to unwind with friends or relax in solitude, all while enjoying the view." And it's a marvellous 180-degree view indeed, since the property is perched on a hill high above Kalo Livadi beach and bay.
Euphoria is comprised of 31 suites perfectly suited for romance or relaxation, each "with refined finishes and elegant Cycladic touches at every turn," and either an outdoor jacuzzi or private pool. Five of Euphoria's seven room categories sleep 2 adults, while two room styles can sleep up to 3 people. The accommodations suitable for 2 include the Standard Double; the Superior Double with Jet Tub; the Superior Suite; the Honeymoon Suite with Jet Tub; and the Euphoria Master Suite with Private Pool. Accommodations for 3 include the Junior Suite and the Deluxe Suite, each of which boasts a private pool.
Amenities and facilities include a central swimming pool with pool bar, restaurant, breakfast hall, gym and spa. The Euphoria restaurant menu will showcase "exceptional Mediterranean flavors with an authentic Greek twist."
Website:  Mykonos Euphoria
Instagram: @mykonoseuphoriasuites
Facebook: @mykonoseuphoriasuites
______________________________
–– Kalesma —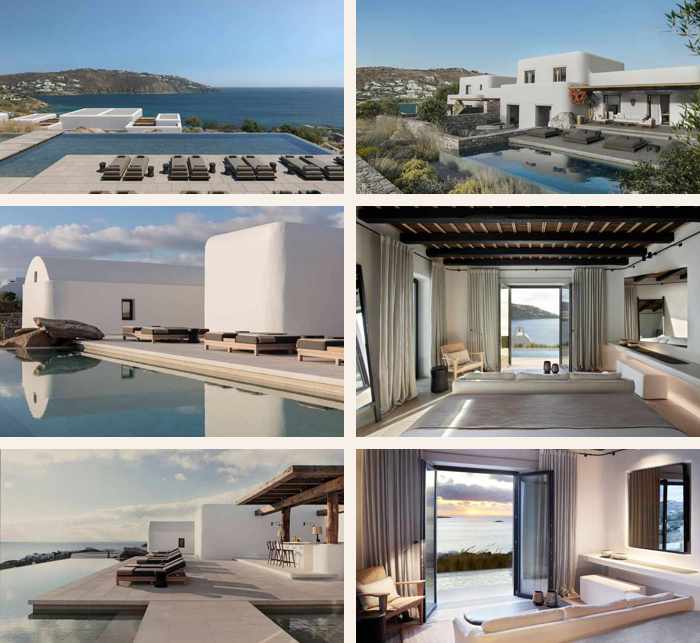 One of the most highly anticipated new hotels on the island is Kalesma, which we profiled last year in our post New Kalesma luxury hotel set to open.  It had been scheduled to open in June 2020, and several leading travel and lifestyle publications called Kalesma one of the world's top new hotel openings to watch for during the summer. That was before the Covid-19 pandemic wreaked havoc on international travel and resulted in a late start to Greece's travel season. Kalesma's debut was postponed to this year, and is now expected to take place in May.
Located in the Aleomandra area of Mykonos, Kalesma is described on its website as a "luxurious Mykonian hideaway in idyllic natural surroundings." Featuring architecture inspired by traditional Cycladic designs, its 25 suites and two villas are "spacious and elegantly simple … stylish with an uncompromised attention to detail."
"Rooms have unobstructed sea views, private terraces with al fresco dining areas, poolside sun loungers, outdoor showers and SONOS sound systems," the hotel website notes. What's more, Kalesma is "the only hotel in Mykonos where all suites come with their own private, heated pool."
Besides its incomparable luxury accommodations, Kalesma will become a go-to destination for dining at its all-day, in-house restaurant, Pere Ubu. 
You can read more about Kalesma in the blog post link we posted above,  a Forbes article on top new hotels in Europe, and a February 2020 mention in the New York Times Style Magazine. 
Website: Kalesma Mykonos
Instagram: @kalesmamykonosgreece
Facebook: @kalesmamykonos
______________________________
More property profiles will be published in an upcoming post.