From an impressive airport overhaul to bars, clubs, cafes, restaurants, hotels and villas, there are lots of new things for visitors to discover on Mykonos this summer. Here's a sneak peak at some.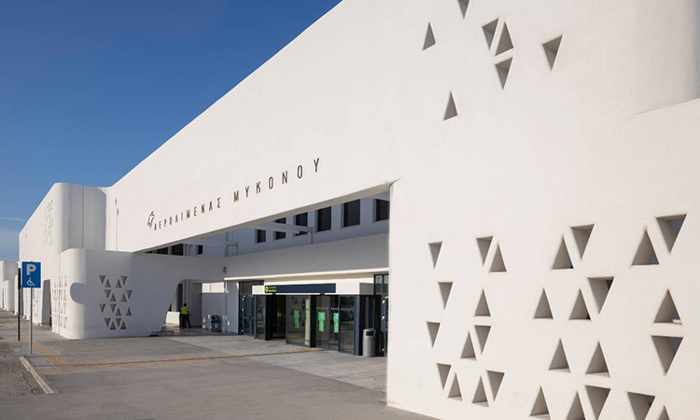 A 4-year, €25 million project to expand and improve Mykonos International Airport (JMK) was completed recently, just in time for the 2021 tourist season.  The terminal building has been completely overhauled and enlarged, and will impress with its striking modern look based on traditional Cycladic island design elements. The terminal now boasts a larger arrivals area, more departure gates, a new baggage handling system, plus new shops, restaurants, washrooms and VIP lounges. Upgrades also were made to the runway, ramps, parking, and terminal curbfront.  The terminal entrance is shown in this photo from airport operator Fraport Greece.
Noteworthy newcomers:  Spring has sprung, and pandemic-weary people around the world are wondering whether they will get a summer vacation this year. Millions are hoping to holiday in Greece, and many have set Mykonos in their sights. As the most exuberant, exciting and hedonistic island in Greece,  it's quite possibly the ideal holiday destination for anyone looking to let loose and experience unbridled joy, freedom and self-indulgence — something most of us have only been able to dream about during the lockdowns and quarantines that have kept us cooped up at home for much of the past 12 months.
It's no wonder Mykonos maintains such immense appeal for people desperate to escape the mind-numbing tedium and disruption of the Covid-19 crisis. While the island's wind-whipped natural landscapes are barren, arid and austere, they provide the perfect backdrop for the bliss and pleasure-focussed activities and attractions that have made Mykonos one of the most desirable summer holiday destinations in the Mediterranean.
Crisp white sugar-cube houses, hotels and villas gleam in the sunshine on rugged, rocky hills. Sparkling turquoise seas splash against craggy coastlines ringed with secluded coves, scenic bays and crescent-shaped sandy beaches.  A magical atmosphere pervades in Mykonos Town, where glamorous fashion boutiques, exquisite art galleries, stylish cocktail bars, elegant restaurants, budget-friendly fast food joints and delightful dessert shops sit nestled inside a mesmerizing maze of cobbled lanes and bougainvillea-draped courtyards. Of course, there's also the allure of the dynamic dance bars,  bustling beach clubs and the electrifying late-night party places that have made Mykonos legendary for robust dusk-to-dawn revelry and unabashed adult entertainment. The island's long-established reputation as a summer playground for the world's beautiful, rich and famous only adds to its cachet as a great place to get away from the everyday grind back home.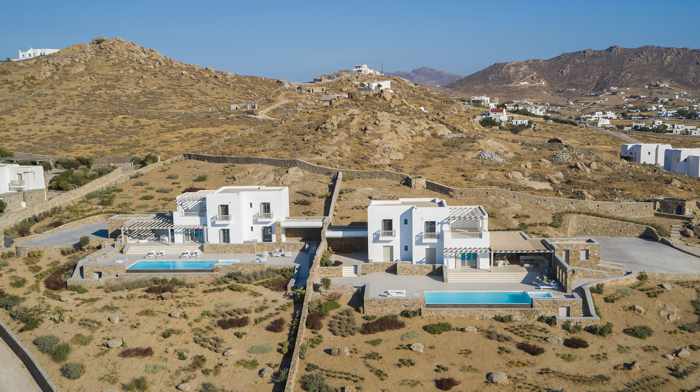 Vacation rental villas are in high demand on Mykonos. This photo shows Soleila (left) and Ethereal, new "twin" villas on a sun-soaked hillside at Kalafatis.

This image shows the Kalesma luxury hotel in the Aleomandra area of Mykonos. Several leading travel and lifestyle publications have ranked Kalesma among the world's top new hotels for 2021.
Beaches, food, drink and fun are among the top features that draw crowds to Mykonos.  Paradise, Super Paradise, Platis Gialos, Psarou and Paraga are among the island's most iconic beaches, but dozens more — from hidden coves to quiet, pristine shorelines and busy golden-sand strips fully organized with bars, restaurants and water sports amenities — mean there's a sensational seaside to suit any traveller's lifestyle, needs and preferences . First-time and repeat visitors also come to dine at the superb restaurants and dance at the notorious party venues they have been hearing about for years. Paradise Beach Club, Tropicana, Cavo Paradiso, Skandinavian Bar, Astra, Caprice, Nammos, Remezzo, Katrin, Kastro and Kiki's are perenially-popular tourist hangouts, but visitors also throng to newer hotspots that regularly feature in their Instagram and Facebook photo feeds,  including Scorpios, Alemagou, Principote, 180 Sunset Bar, JackieO' Beach Club, Lohan Beach House, Buddha-Bar Beach, M-eating, and more.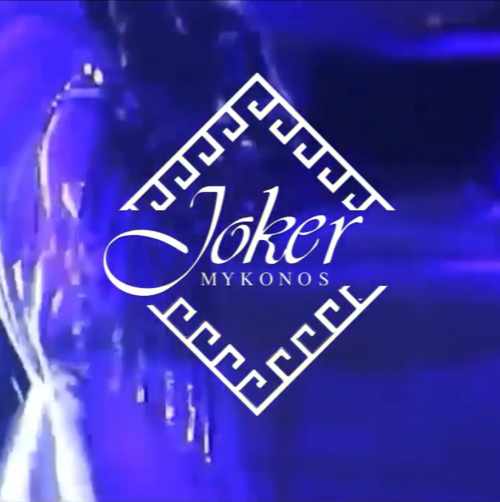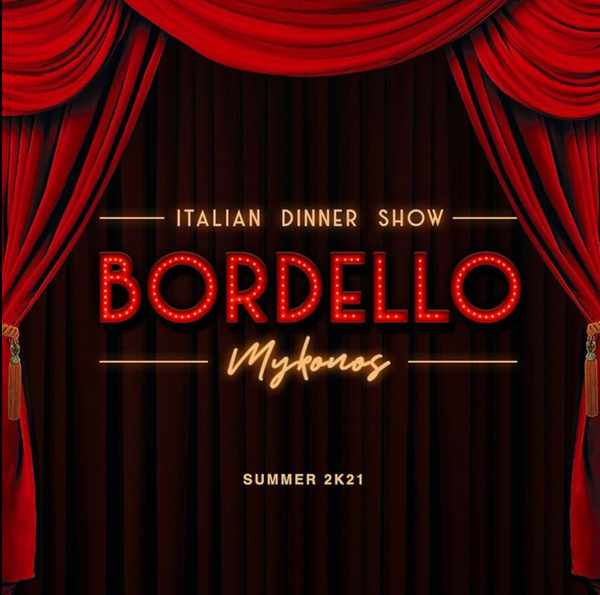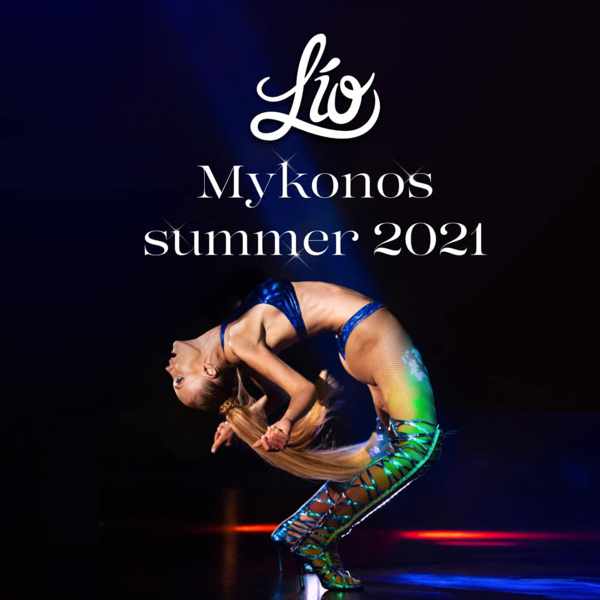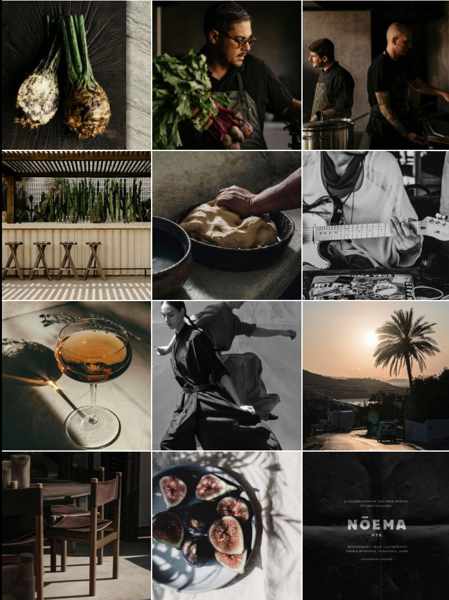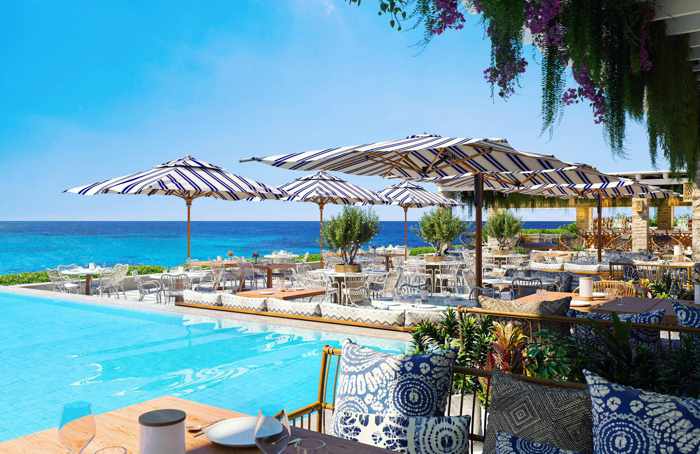 Five much-anticipated additions to the Mykonos dining and nightlife scenes in 2021 are the weekly Joker Mykonos dinner and party events; the Bordello Mykonos series of Italian Dinner Show parties, the Lío live cabaret restaurant and club, Nōema restaurant, and the Jason Atherton restaurant Mykonos Social.  
Ensuring that Mykonos remains vibrant and enticing is the bevy of brand-new tourist-oriented enterprises and attractions that debut on the island every year. A building boom that began in the mid-2010s has added thousands of  hotel and villa beds to the island's accommodation capacity for overnight guests, and is still going strong with dozens more  villas, hotels and  rental homes currently under construction and in early stages of development. This has led to corresponding growth in travel-related hospitality and service businesses — retail shops; drinking and dining establishments; personal health, beauty & spa services; transportation and tour providers; and so on. Each new tourist season brings even more things to do and places to discover — an impressive feat for a small island that already boasts an incredibly wide range of options for rest, relaxation and entertainment. 
That trend continues in 2021, despite the tremendous upheaval and uncertainty that the Covid-19 pandemic has inflicted on the international travel industry. Mykonos is set to welcome dozens of new establishments whose owners and management expect a good summer for the island's tourism industry, and see an even brighter future for holiday travel in the forecast.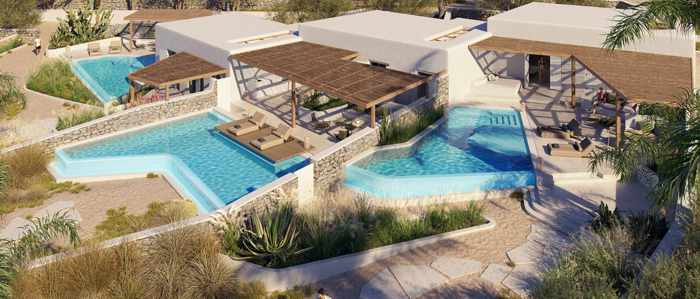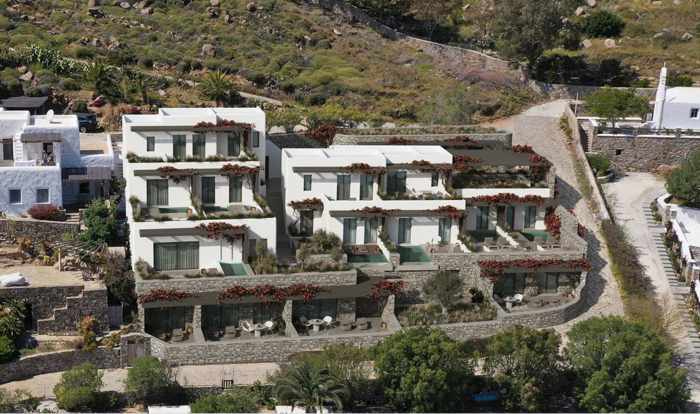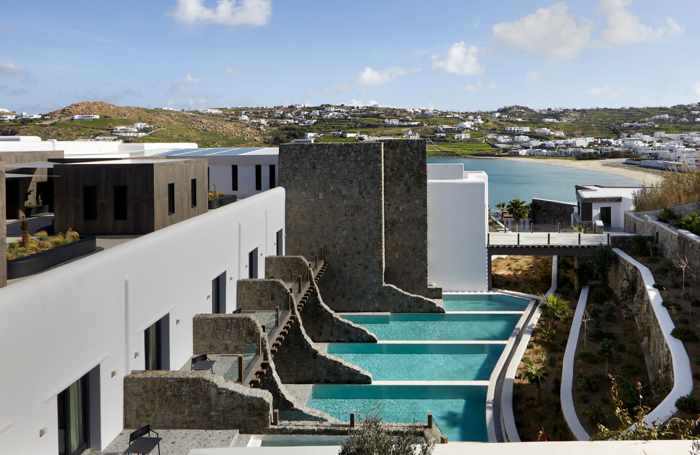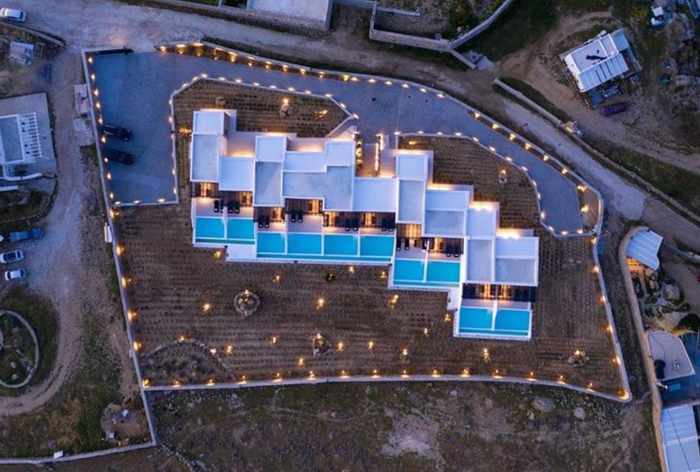 Among the fabulous accommodations opening on  Mykonos this summer are the Destino Pacha hotel at Agios Stefanos (top), new 1-bedroom villas at Bill & Coo Hotel in Mykonos Town; Noima Mykonos Luxury Suites at Agios Ioannis;  Aeonic Suites & Spa near Korfos beach; and Agrari Black Villas near Agrari beach.
Food, drink and entertainment newcomers set to make waves on Mykonos this year include live dinner show clubs, elegant restaurants and cocktail bars, cafes and bakeries, and specialty food shops. You can see some of them in our post Hot new places on Mykonos in 2021. 
This summer's new accommodations range from studio apartments to luxury hotels, lavishly-appointed suites, and spacious private villas. You can see them in our post New hotels, suites & villas on Mykonos.
Mykonos: Yours for life is a scenic 1-minute video that will instantly put you in a Mykonos frame of mind.  It's from a joint travel promotion campaign by Marketing Greece and the Municipality of Mykonos.
*Photo credit notes: The images, photos and videos included in this post were sourced from websites and/or social media posts published by the respective businesses.