Mykonos visitors can choose from a vast array of holiday accommodations, ranging from cozy studios to spacious designer villas and luxurious hotel suites with private pools. Here's a look at several more of the island's impressive new lodging options for 2021.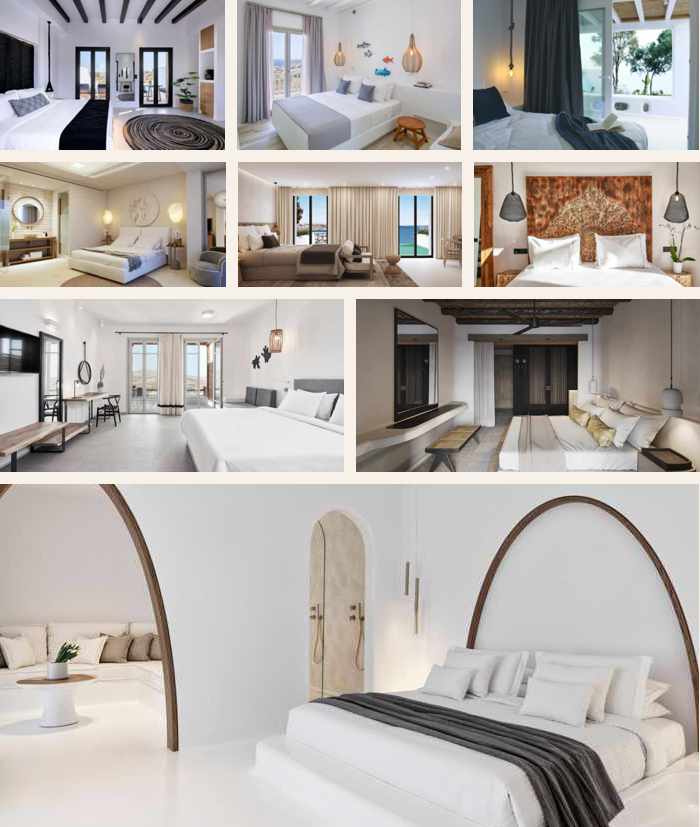 Some of the beautiful new bedrooms where guests will enjoy resting and recharging after a day at a beach or a late night in the island's legendary bars and clubs. Top row: Agrari Black Villas (left), Soleila villa, and The Elaia House. Second row: Once in Mykonos (left), Noima, and UBUD. Third row: Mykonos Euphoria Suites (left) and Kalesma. Bottom: Mykonos Earth Suites.   
Luxury of choice: Each year dozens of new accommodations open on Mykonos to sleep the steadily-rising numbers of tourists who flock to the island for spring, summer and fall vacations. In New hotels, suites and villas on Mykonos, we profiled 10 such newcomers, including Airbnb studio rentals, luxury hotels and vacation villas. Here, in Part 2, we shine the spotlight on 7 more properties that have already opened or will be opening their doors in 2021.
They include:
♦  Agrari Black Villas
♦  Noima Luxury Suites
♦  Bonzoe Homes & Villas
♦  Bill & Coo Villas
 ♦  Habitat Mykonos All-Suite Hotel
♦  UBUD Mykonos
♦  Panormos Bay Luxury Suites
Please click on the link below to see the profiles on page 2 of this post.
CONTINUED ON PAGE 2