From cozy studios to spacious designer villas and luxurious hotel suites with private pools, Mykonos offers a vast array of holiday accommodations. Here are the island's impressive new lodging options for 2021.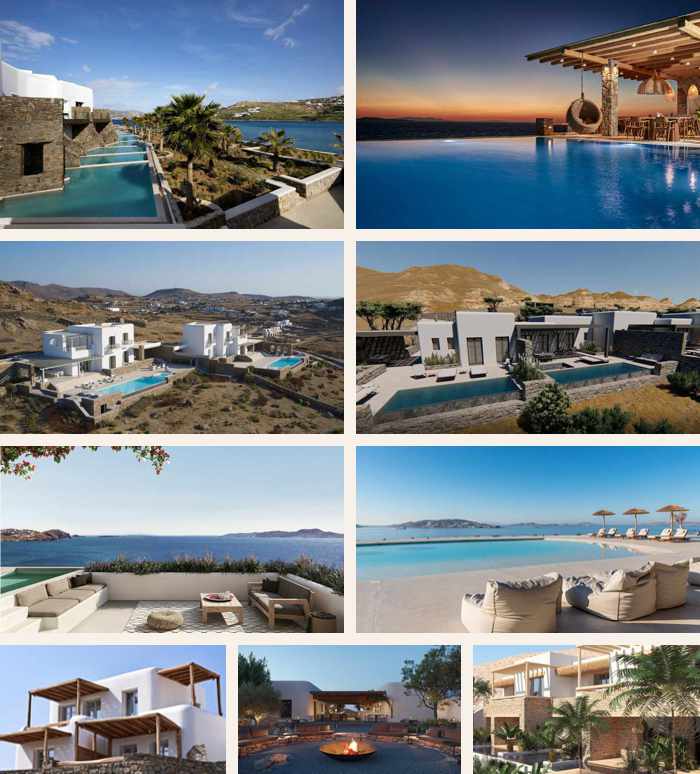 Top row: Aeonic Suites & Spa (left) and UBUD. Second row: Soleila and Ethereal villas (left) and Bonzoe Homes & Villas. Third row: Noima Luxury Suites (left) and Destino Pacha. Bottom row: Mykonos Euphoria Suites (left), Aloni Sunset Lounge at Kalesma hotel (center), and Habitat All Suite Hotel.
Decisions, decisions: Where to stay on Mykonos?
The answer is easy for most of the island's repeat visitors: They've already found their favourite accommodations, and keep returning to familiar surroundings, where management and staff feel like old friends or even family.
But for people travelling to Mykonos for the very first time, it can be a daunting task to choose from the sizeable selection of places to stay.  More than 1,100 properties are available through booking.com alone, and TripAdvisor tallies 770 hotels and 1,030 vacation properties in its listings. Over 300 accommodations can be found on Airbnb, while high-end management agencies, professional concierges and elite travel planners have hundreds of luxury homes and villas bookable through their  exclusive portfolios.
Making a decision gets increasingly difficult each year as dozens of additional accommodation properties enter the market. 
For 2021, visitors can choose from a wide variety of new lodgings that include cozy studios, sumptuously-appointed suites, full-service 5-star hotels, and exquisite private villas.
For nervous travellers seeking accommodations where they can enjoy comfort, space and privacy for their first overseas holiday since the Covid-19 pandemic began, there's good news: choices are plentiful for luxurious, spacious rooms and personal pleasure amenities like private plunge pools and patios. 
Here, in the first instalment of a multi-part post, we take a look at 10 of the island's top new accommodations, providing photos, descriptions and contact information for each property.
The newcomers profiled in this post are:
♦ Destino Pacha Mykonos
♦ The Elaia House
♦ Aeonic Suites & Spa
♦ Soleila Villa
♦ Ethereal Villa
♦ EpicMykonos
♦ Mykonos Earth Suites
♦ Once in Mykonos Luxury Resort
♦ Mykonos Euphoria Suites, and
♦ Kalesma
More new hotels and villas are spotlighted in our post Luxury lodging: More new hotels, which you can find simply by scrolling further down this page.
Please click on the link below to see the profiles on page 2.
CONTINUED ON PAGE 2