— continued from page 1 —
— Agrari Black Villas —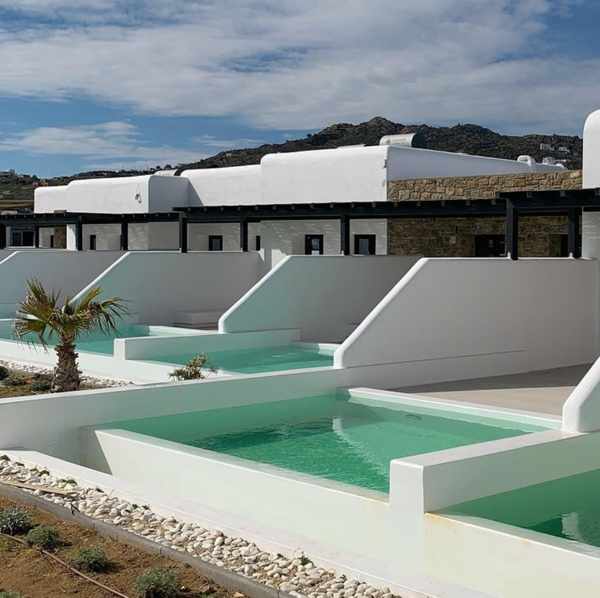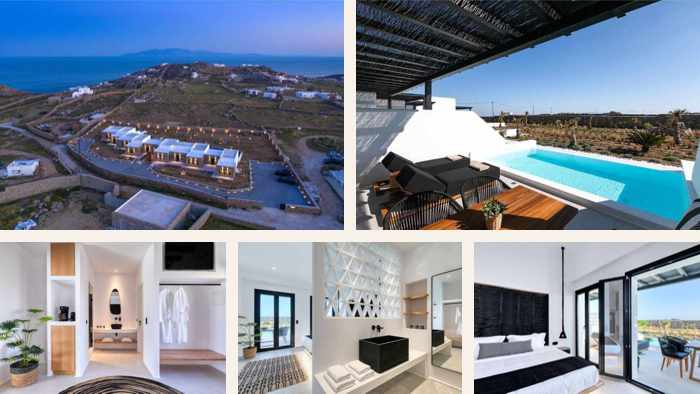 "Mykonian white, natural stone materials, soothing earthy tones, and sophisticated decoration create the perfect atmosphere for this ultimate relaxing, luxurious heaven," says the website for Agrari Black Villas, a complex of bohemian-chic one-bedroom villas located near Agrari beach on the island's south coast.
Two types of suites are available at the 10-unit property:  Junior Suites, which can accommodate 2 guests, and Deluxe Suites, which can sleep up to 4. The Junior Suite has a double bed, a large en suite bathroom with separate shower enclosure and WC, a patio and a private pool. The Deluxe Suite has a double bed, two sofa beds, a large en suite bathroom with separate shower enclosure and WC, a terrace and a private pool. The suites are equipped with a smart television with Netflix, air conditioning, wi-fi, and a coffee/tea/espresso machine.
Agrari Black Villas describes itself as a kid-friendly property.
Website:  Agrari Black Villas
Instagram: @agrariblackvillas
Facebook: Agrari Black Villas Mykonos
______________________________
— Noima Mykonos Luxury Suites —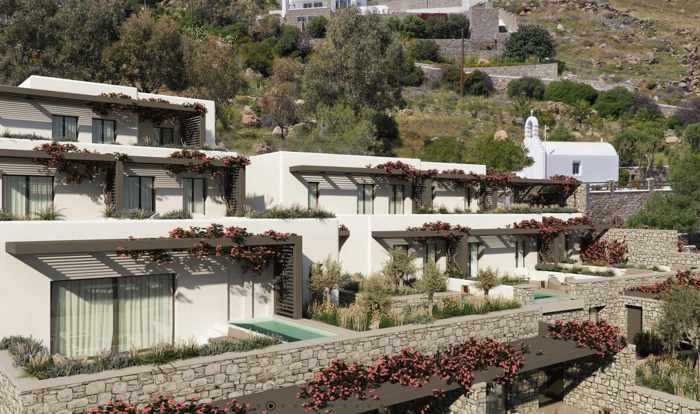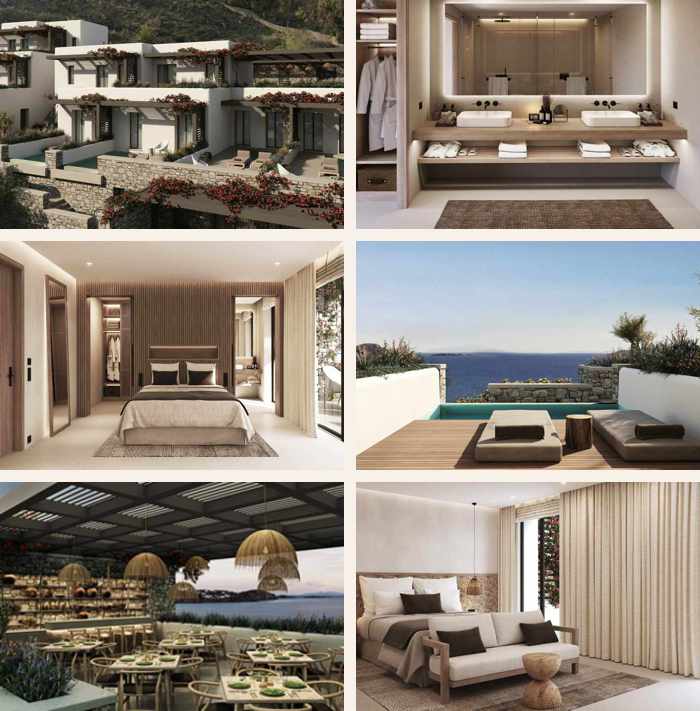 Situated at scenic Agios Ioannis beach, Noima is named after the Greek word for "meaning." On its social media pages, the hotel accordingly invites visitors to "add noima to your summer life" and "find your own sense of place." 
The Noima website says the hotel will present its guests with "a fresh approach to summer holidays," offering an exquisite hospitality program that will exceed visitors' expectations. "Luxury and exclusiveness combine with attentive services in a sanctuary for the discerning traveller, a welcoming haven for you and your loved ones."
Noima's accommodation options include a Superior Double Room that sleeps 2; an Executive Suite and a Junior Pool Suite that can each accommodate 3; and the Premium Pool and Executive Pool Suites, which each have a maximum capacity of 4 persons. All have sea views.
To ensure guests are happily nourished, the hotel serves breakfast and boasts an all-day restaurant — "a chic space opening onto a sprawling terrace with gorgeous sea views." The restaurant menu will feature "superb savoury and sweet specialties with Mykonian and Mediterranean flair, curated drinks and cocktails and an exquisite selection of wine."
Guests will find a concierge "at your utter disposal with a set of well-thought services, all focused on your absolute satisfaction."
Website: Noima Luxury Suites
Instagram: @noimamykonos
Facebook: @noimamykonos
______________________________
— Bonzoe Homes & Villas —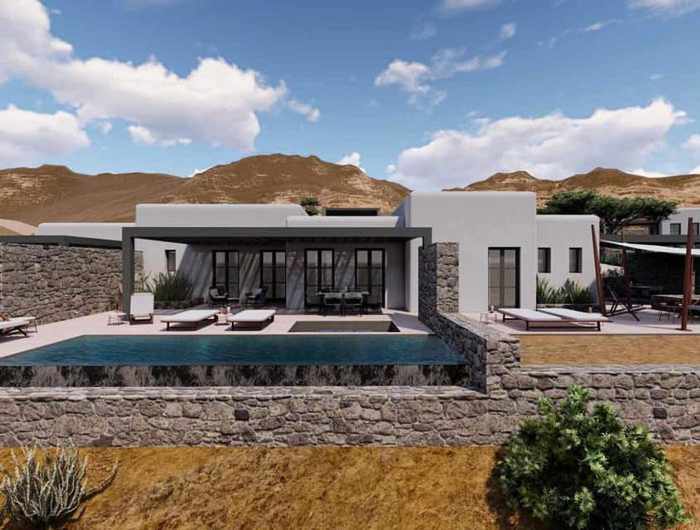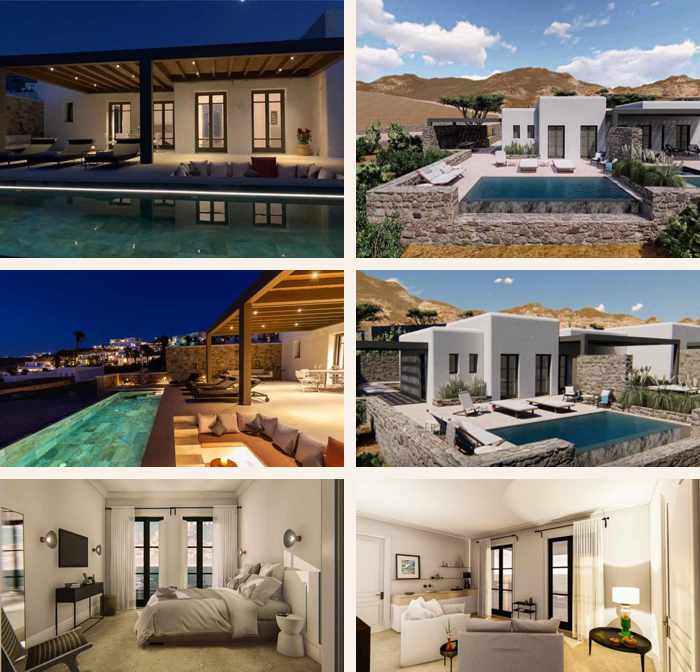 Opening May 15, Bonzoe Homes & Villas is described on its website as "an all-new concept-complex of 7 homes that will present you with the authentic lifestyle of the island. Discover classic Cycladic design, traditional minimal architecture, warm hospitality, authentic island living and luxurious conveniences."
The complex is designed as a "secluded sanctuary" which is relaxed and low-key, "the kind of place that invites you to recline poolside, breathe in the fresh air, and sip a glass of wine surrounded by the ones you love."
Bonzoe is located near Megali Ammos beach on the edge of Mykonos Town, and has views of the town and its landmark windmills. 
The accommodations include a 3-bedroom villa that can sleep 6 adults and 1 infant, and a 2-bedroom villa that can sleep 5 adults and 2 infants. Both have private pools and sea views. There are also three styles of 1-bedroom homes that have sea views and private pools, and which can each accommodate 3 adults and 1 infant. In addition, there is a 1-bedroom suite can sleep 2 adults and an infant; it, too, has a private pool and sea view. Finally, there is a lounge suite with plunge pool. It can sleep 2 adults.
"There's no pretension within each home and villa, simply a celebration of the minimal Cycladic design, with charming interiors accented with top-of-the-line conveniences, unique furniture and a laid-back ambience, perfect for families and friends. The interiors are intimate and cozy, while the outdoor areas of each property are spacious and inviting, featuring a swimming pool, a dining area and plenty of space for you to relax and simply enjoy the beautiful view," the Bonzoe  website states.
The property's concierge can take care of such matters as restaurant and bar reservations, transfers,  laundry and private helicopter and yacht charters, or arrange for the services of a private chef.
Website: Bonzoe
Instagram: @bonzoe_mykonos
Facebook: Bonzoe Homes & Villas
______________________________
— Bill & Coo Villas —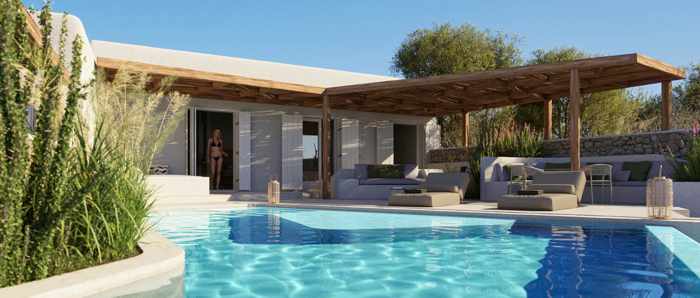 Long regarded as one of the island's pre-eminent 5-star hotels, Bill & Coo Suites & Lounge will expand its ultra-luxe accommodation portfolio when it introduces three new 1-bedroom villas this season.  Directly connected to the hotel for easy access to its services and facilities, the villas will offer guests the "utmost privacy" along with spectacular views from their sophisticated and elegant holiday hideaway.
Each villa has been designed with an open-concept living room, indoor and outdoor dining and lounge spaces, and a heated outdoor pool. Furnishings include a king bed and sofa bed, satellite television, Nespresso coffee machine and minibar. 
Size-wise, each villa boasts a generous 200 square meters of space — 80 m2 inside, and 120m2 outdoors — and can sleep 2 adults as well as 2 children up to 12 years old. The villas "can be booked individually or combined into a private standalone three-bedroom villa with pools. Perfect for couples or friends travelling together as well as families whose different generations prefer a little more independence or seclusion, as these are connected to each other via lockable wooden doors set in their fragrant gardens, offering easy access when open but complete privacy when closed," the website notes. All of the villas offer amazing sea and sunset views.
The hotel's extensive range of exclusive concierge services will be available to guests, including personal assistants, trainers and shopping assistants; 24-hour room service; twice-daily maid service; yacht and private jet charter; and transfer services. The hotel also can arrange for a private chef to cook meals at the villas, or grill up exquisite steaks from Beef Bar on the Coast, the dreamy seaside restaurant at Bill & Coo Coast Suites at picturesque Agios Ioannis beach.
Website: Bill & Coo Mykonos
Instagram: @billandcoowayoflife
Facebook: @billandcoo.gr 
______________________________
— Habitat All-Suite Hotel —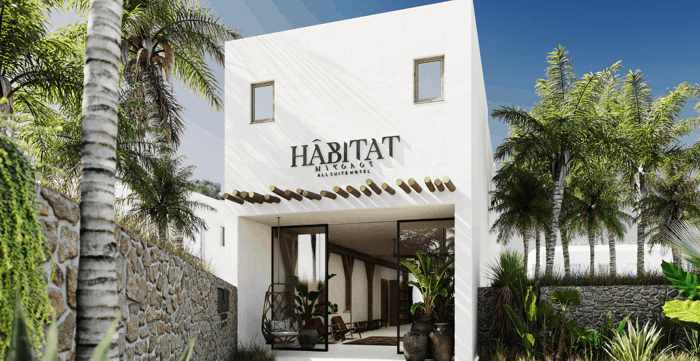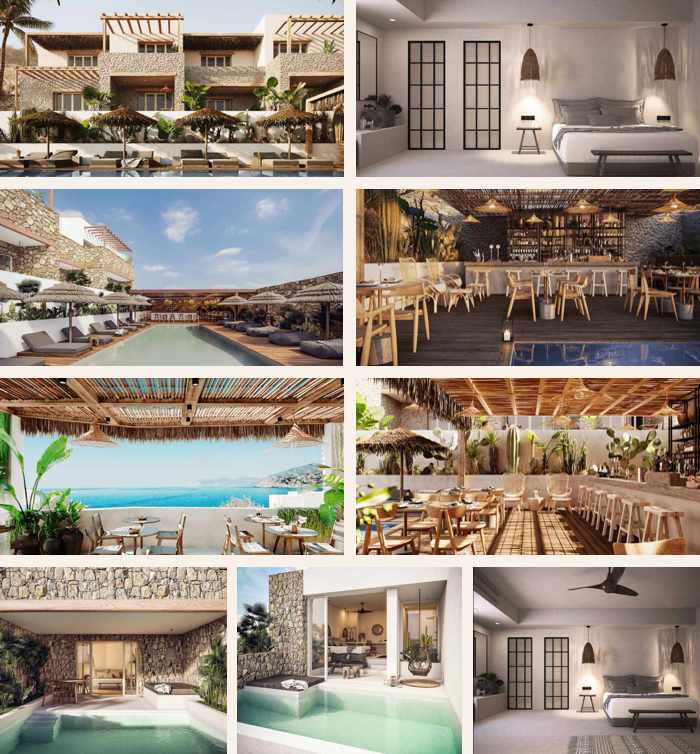 "Habitat Mykonos is a home away from home for those in the know, who seek an authentic, warm and welcoming experience rather than just a hotel stay." So says the website for this "bohemian-chic," 17-suite property at Agios Stefanos. 
Habitat's accommodation options include a Junior Sea View Suite with Outdoor Hot Tub; a Superior Sea View Suite with Private Pool; a Jungle Suite with Private Pool; and a Habitat Sea View Suite with Private Pool — each of which can sleep 2 persons. The Classic Suite can sleep up to 3 guests.
The suites "effortlessly mix simple, rustic details with modern amenities and contemporary comforts. All come adorned with bohemian artisan elements, understated furnishings, plush linens and unique materials."  The rooms are luxuriously appointed with such features as 55 inch LED FHD televisions with satellite channels; ergonomic desks; illy coffee machines; minibar;  and more.
The on-site restaurant offers a menu of contemporary Mykonos flavours and Mediterranean cuisine, while the pool bar's mixology experts are ready to prepare classic cocktails and create delightful, summer-inspired drinks.
The Habitat Boutique will sell a selection of bohemian clothing, fine art and jewellery created by Greek and local artisans. Concierge services also will be available.
Website: Habitat Mykonos
Instagram: @habitatmykonos
Facebook: Habitat Mykonos All Suite Hotel
______________________________
— UBUD Mykonos —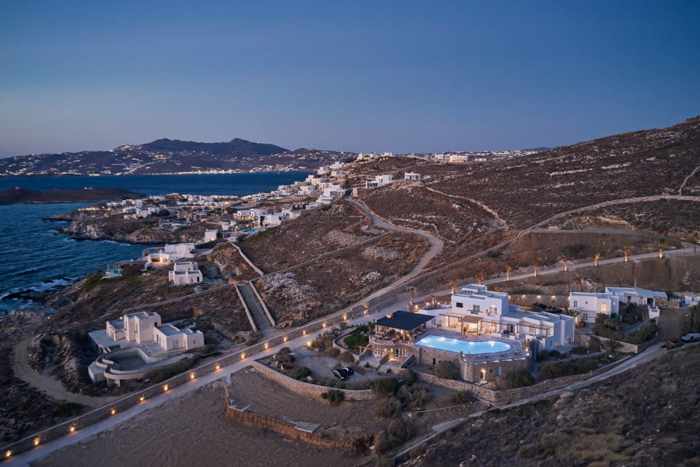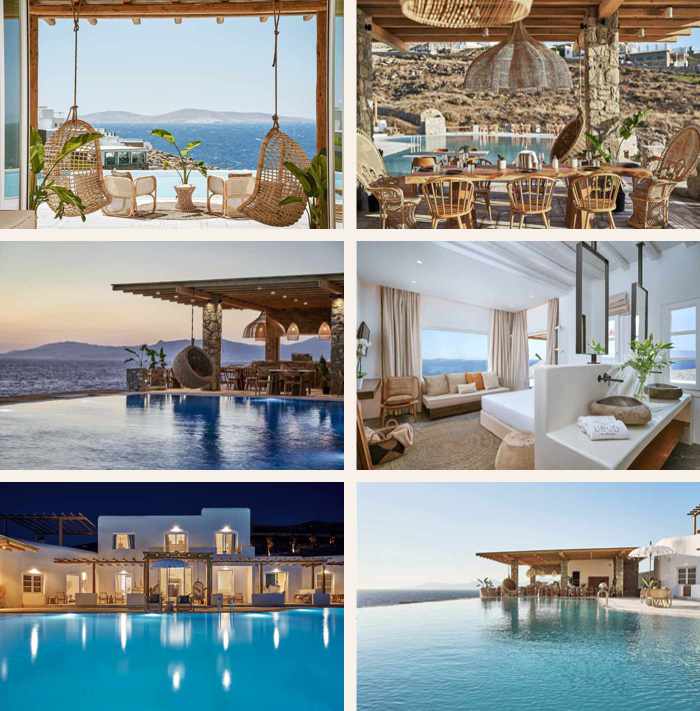 A new concept hotel, UBUD Mykonos extends a warm welcome to "the real wanderers of life," and invites them to "discover a new way of summer living."
  "UBUD in Mykonos offers a hospitality experience that brings under the sun of the Aegean exotic charms, exclusive well-being and cosmopolitan eclecticism in just one resort! Are you ready for the most intriguing stop in your summer wandering?" the hotel website asks.
UBUD is a hotel venture that was inspired by its owners' love for travel and for the two places that hold a special place in their hearts: Mykonos (of course) and Ubud in Bali. They envisioned "an exquisite holiday experience,"  and set about creating UBUD Mykonos,  "a lavish hotel that combines the best of both destinations in a summery heaven of tranquillity, relaxation and beauty, where Balinese and Mykonian elements blend in harmony, creating an entirely new and exciting experience."
"This is the place where your mind can be at peace, where the restless sea soothes and relaxes your being and where verdant opulence balances out the wilderness and appeases your soul," the hotel website promises.
UBUD Mykonos has a selection of sophisticated and thoughtfully-designed rooms and suites that blend contemporary Balinese elegance with traditional Mykonian elements" in a scenic coastal location.  Accommodation categories include the garden-view deluxe and superior rooms, which can each accommodate 2 guests; the sea-view Superior Room, which sleeps 2; and the sea-view Junior Suite and Family Room, each of which can accomodate up to 3 people.
Hotel amenities and services include UBUD Restaurant, whose menu "is an inspired mix of traditional Indonesian recipes with a touch of contemporary international gastronomy, redolent with aromas of Balinese spices and pure, authentic Ubud tastes";  a swimming pool with a bar that serves breakfast, snacks, cocktails and drinks; and curated massage, beauty and wellness treatments.
The hotel is situated in the Ano Diafkoftis district of southern Mykonos. This out-of-the-way area is not served by local bus routes, and is not within convenient walking distance of major beaches, so a rental vehicle would be necessary for easy, convenient travel on the island.
Website: UbudMykonos
Instagram: @ubudmykonos
Facebook: @UbudMykonos
______________________________
— Panormos Bay Luxury Suites —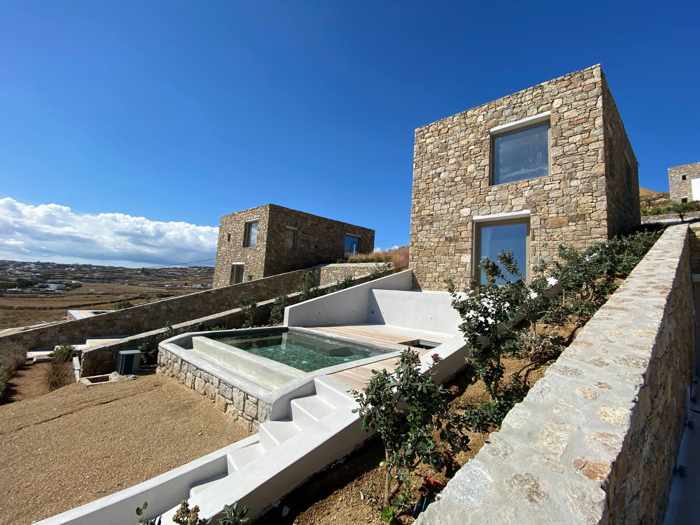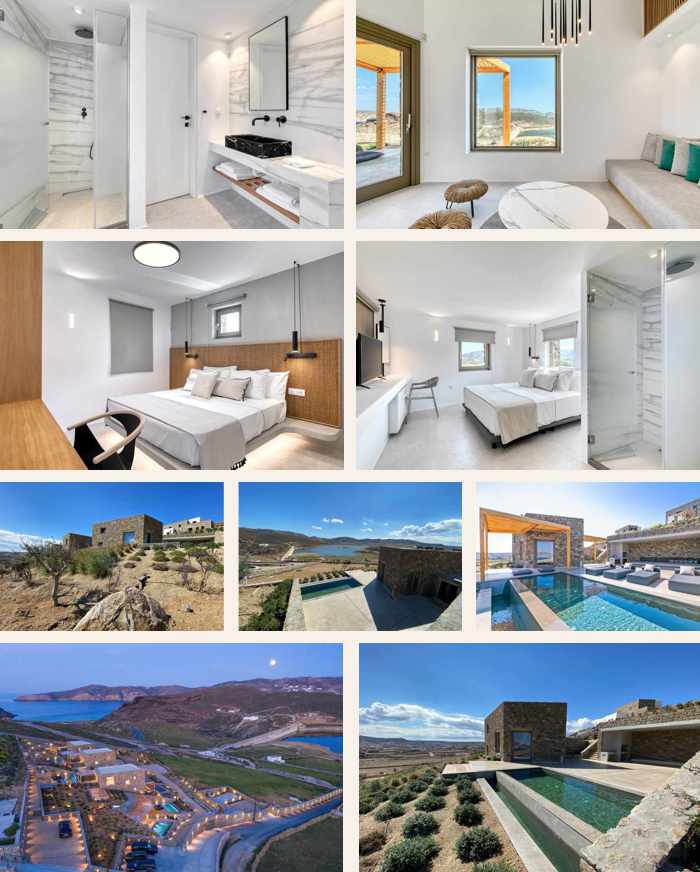 Panormos Bay Luxury Suites is a collection of 11 "boho-chic" hideaways built on the side of a hill just 500 meters from Panormos beach. As described on its Facebook page, Panormos Bay is "an exclusive haven for pleasure-seekers wishing to escape, relax, explore and soak up laid-back vibes" in a location that's secluded yet still convenient for access to beaches, Mykonos Town and elsewhere on the island. It was envisioned to be "A place where you can let go and be embraced by wild beauty, serenity and simple luxury at its best."
Architecturally designed with "an indoor-outdoor spaces approach," the property "evokes the island's unique architecture enhanced by subtle luxury, with natural stone and a soothing color palette of whites, grays and earthy tones. The suites harmoniously embrace the island's raw aesthetic; natural materials, high end furnishing, stylish lighting and fine linens, all elaborately appointed, creating a sense of pared-back luxury," the Panormos Bay description states.
Guests will get "to retreat and slow down" on their private terrace, relaxing in a jacuzzi or pool or blissfully admiring the raw landscape scenery from the comfort of luxurious sunbeds.
The property is walking distance to beautiful Panormos beach, where guests will find two dining spots: the popular Principote beach club and Kalosta restaurant. Also within walking distance is Agios Sostis beach and the island's famous afternoon dining spot, Kiki's Taverna.
Website: Currently unavailable
Instagram: panormos_bay_luxury_suites
Facebook: @PanormosBayluxurySuites