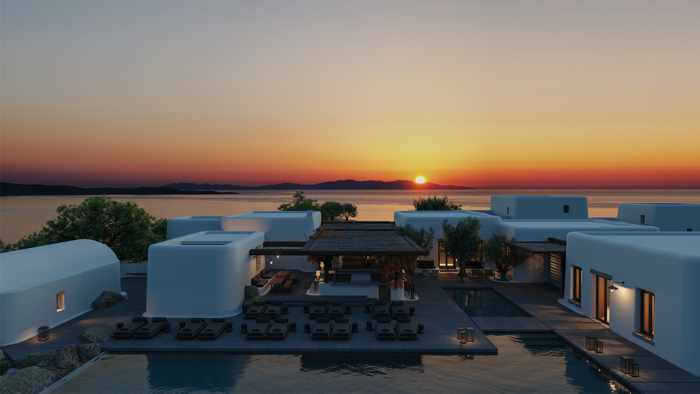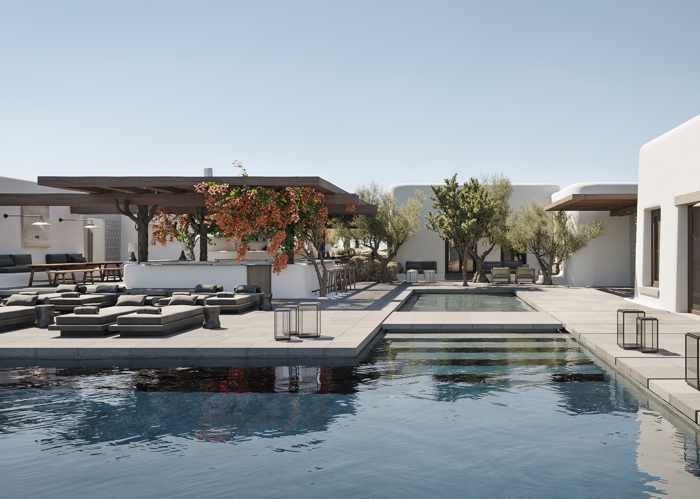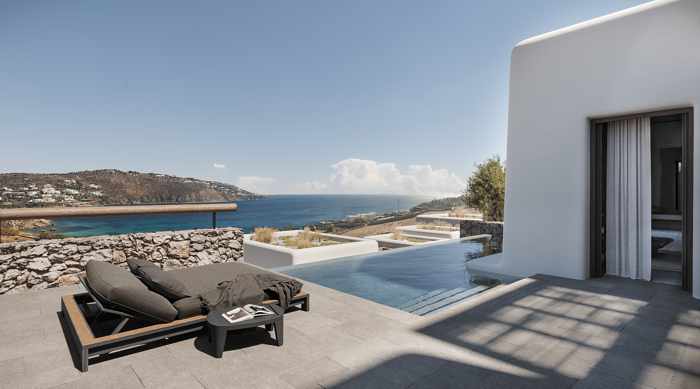 Kalesma Mykonos, seen in renderings provided by the hotel, is comprised of 25 luxury suites, 2 villas and a signature restaurant showcasing Cycladic cuisine. A collection of whitewashed houses, the newly-built property occupies a hillside location overlooking Ornos Bay on Mykonos.  
Inviting newcomer: A unique collection of luxury suites and villas will make a distinctive mark on the Mykonos boutique hotel scene when it opens its doors this summer.
Kalesma Mykonos will bring chic designer digs, destination dining, "private experience concierges" and a traditional Mykonian village vibe to the Ornos area when it opens on June 1.
"Inspired by Cycladic architecture, combining tradition with contemporary elements, Kalesma is a design aficionado's dream," according to a property description brochure provided to me by the hotel.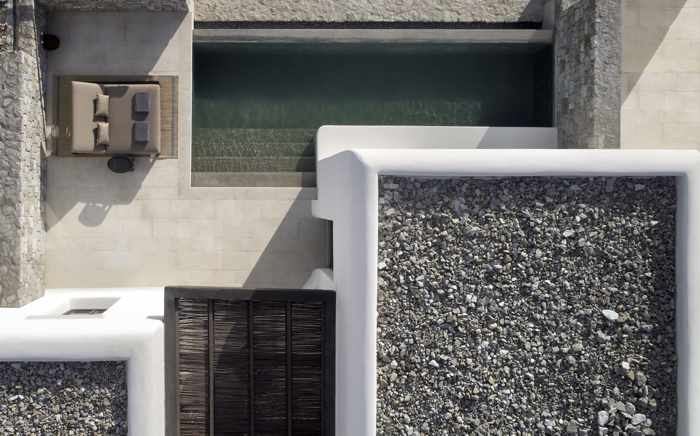 An aerial view of the pool and patio at one of the Kalesma Mykonos suites. Each of the hotel's accommodations has its own private heated pool.
With its Cycladic-style whitewashed houses that spill down a slope of the Aleomandra peninsula on the southwest side of Ornos Bay, Kalesma has been built to resemble a traditional island village.  Suites, villa and common area interiors will feature sleek minimalist design details, fashioned with locally-sourced materials. Each accommodation will boast its own private heated pool — a rarity on Mykonos.
The 25 suites are 680 square feet in size and can sleep either two adults and two children, or three adults. Each unit boasts a 970-square-foot terrace, furnished with poolside lounge chairs, and offers impressive, unobstructed sea views. "All accommodation features original artwork and expansive bathrooms with freestanding bathtubs and an outdoor shower on a private patio," the hotel's publicity brochure notes.
"Kalesma is also home to two spectacular, earth coloured private villas, one with two bedrooms and one with three. Ideal for entertaining or family holidays, both feature an open plan living room with cosy sofas, dining area and a fully equipped kitchen with pre-stocked food and wine fridges. A personal chef is available to villa guests if they wish to organise an intimate gathering or romantic meal on their terrace. Villas also come with their own fitness rooms complete with Technogym equipment. A stay in one of these private villas combines self-contained serviced residences, with access to exceptional hotel facilities and each will have a dedicated Villa Manager on call to coordinate guests stays," the brochure adds.
When they're not admiring and relaxing in the beautifully-designed private and public spaces, Kalesma guests will enjoy fabulous scenic views including beautiful Ornos Bay, the Aegean Sea, and both the sunrise and sunset.
Kalesma is a Greek word for "inviting," and the hotel complex and its services have been meticulously planned to foster an inviting, welcoming ambiance and provide outstanding hospitality. "The look and feel of a traditional village is deliberate, as Kalesma is all about making guests feel at home and encouraging a neighbourhood vibe, enhanced by weekly intimate dinners," the hotel description says.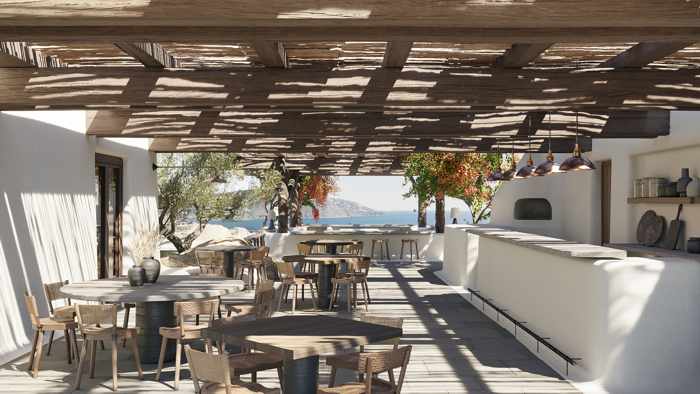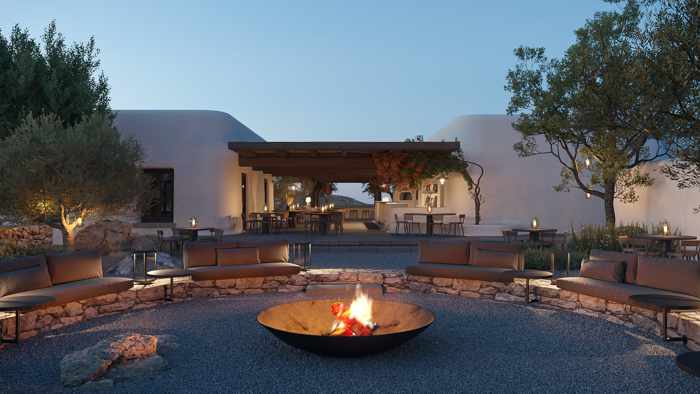 Top: The al fresco patio for PERE UBU restaurant (there's an indoor dining room as well); bottom: the outdoor fireplace at the Aloni lounge.
Kalesma's centerpiece will be its restaurant and "social hub," PERE UBU, whose menu will spotlight Cycladic cuisine incorporating seasonal local products.  Created by the owners of the acclaimed Pere and Ubu and Sea Spice restaurants in the glam Glyfada district of Athens, Kalesma's PERE UBU will offer "a laid-back atmosphere during the day with chilled summer music, delicious small plates and light lunches. By night, it transforms into a sophisticated eatery, serving simple, elegant dishes showcasing the local produce alongside innovative cocktails keeping guests fuelled into the early hours."
Open to the public, PERE UBU has been conceived as a destination restaurant whose inspiring cuisine and comfortable atmosphere  will entice visitors from across the island. However, the restaurant also will host intimate weekly dinners exclusively for Kalesma's own guests. 
With an open fireplace, the Aloni Sunset Lounge is another common space that is expected to become a popular gathering spot for sunset viewing over cocktails or late evening conversation and nightcaps.
Additional amenities include a private on-site chapel for wedding ceremonies, and a boutique shop offering luxury brands, accessories and local products.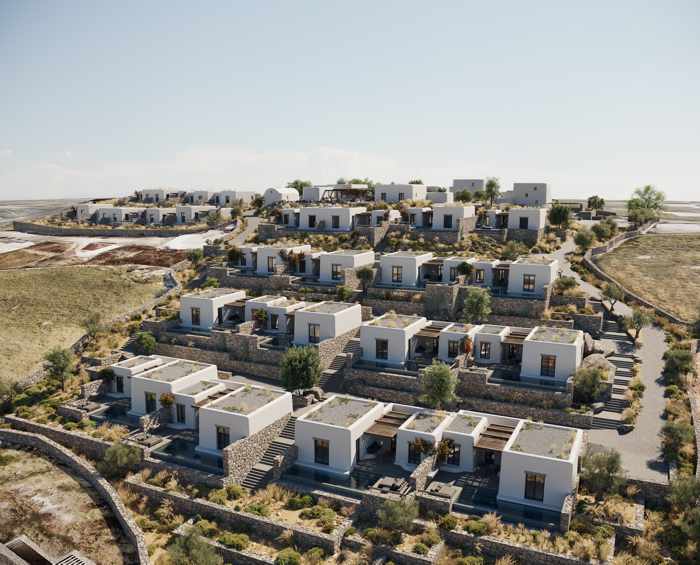 These aerial images show how Kalesma's hotel, villa and common-area buildings have been designed in the distinctive white architectural style of the Cyclades islands, and positioned to resemble a traditional Mykonian village 
As part of the Kalesma hospitality team, private experience concierges will be "on hand to help guests discover the islands hidden gems including local eateries, exclusive boutiques and picture-perfect tiny churches. They can also arrange trips to some the island's 25 beaches – from the hottest beach clubs to wide stretches of golden sand and secluded swimming caves, known only to the hotel's private tenders. Private yacht charters and helicopter transfers are also available upon request for those who wish to truly push the boat out and experience the island from a different perspective."
Please click on the link below to continue reading and see more images of Kalesma Mykonos on page 2.
CONTINUED ON PAGE 2