— continued from page 1 — 
Traditional Greek tavernas, grill houses and local restaurants
In this section, we profile places whose menus emphasize Myconian and Greek cuisine — whether it's mezes (small sharing plates), souvlaki or gyros, grilled meats, or traditional dishes like moussaka, gemista and pastitsio. We have listed the restaurants in alphabetical order.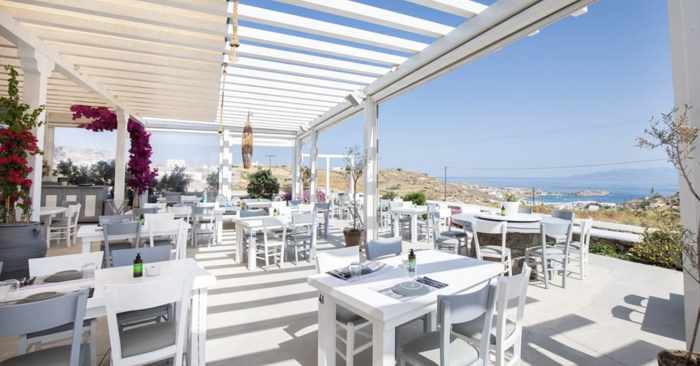 Operated by hosts Eirini and Dimos, Alesta restaurant is an all-day eatery located on the road to Platis Gialos beach (watch for the little windmill beside the restaurant). It opens for breakfast, serving coffees, egg dishes, pancakes, fruit bowls and more, and welcomes guests for lunch and dinner as well, offering a menu of Greek and Mediterranean cuisine, fresh seafood, cocktails, wine and home-made desserts. Alesta boasts a spacious open-air dining patio that has panoramic views of the Platis Gialos area, the sea and Naxos island. This year, Alesta opened its doors on May 16.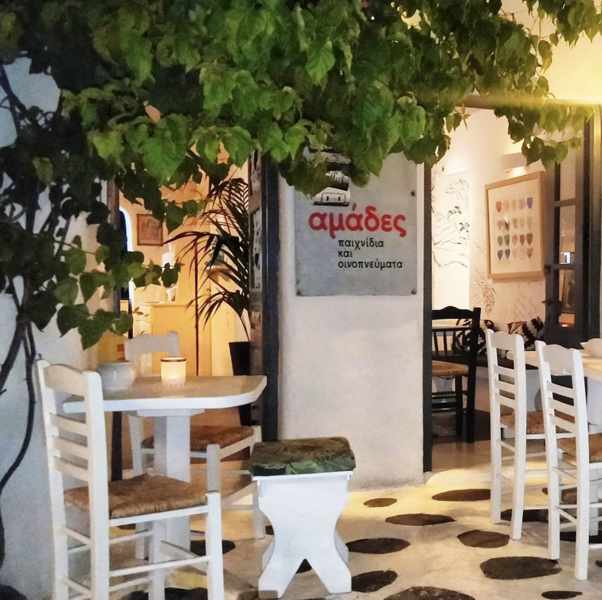 A proponent of "Eat Local" dining, Amades in Mykonos Town is a great spot to enjoy wines and drinks with mezes (sharing plates) of local dishes, including cheeses, sausages, seafood and Greek pasta, in either the cozy indoor dining room or at tables in the cobblestone lane.  Amades opened on March 31.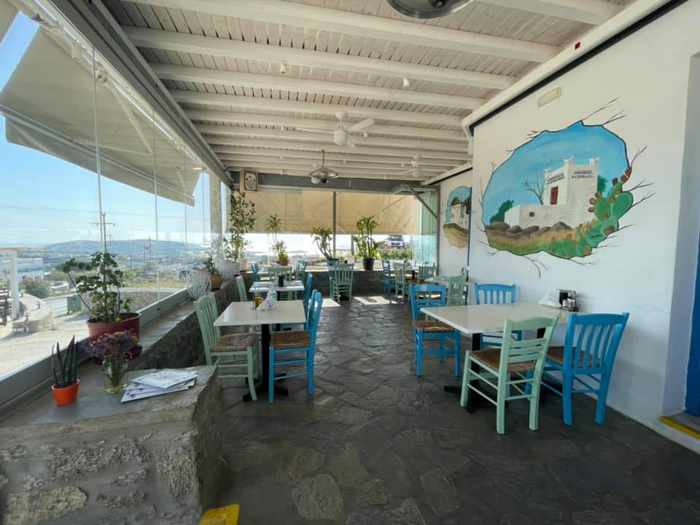 Amethystos, a traditional Greek taverna situated just off the airport road in the Skalado district, is open throughout the year.  Owned and operated by Pepa Salkova and her husband, Amethystos serves fresh fish and seafood, salads, grilled meats and basically everything you would expect to find at a Greek taverna, along with local and in-house specialties.  We've been told their eggplant dish is a must-try; in winter months, locals drop by for hearty soups and the Myconian tripe.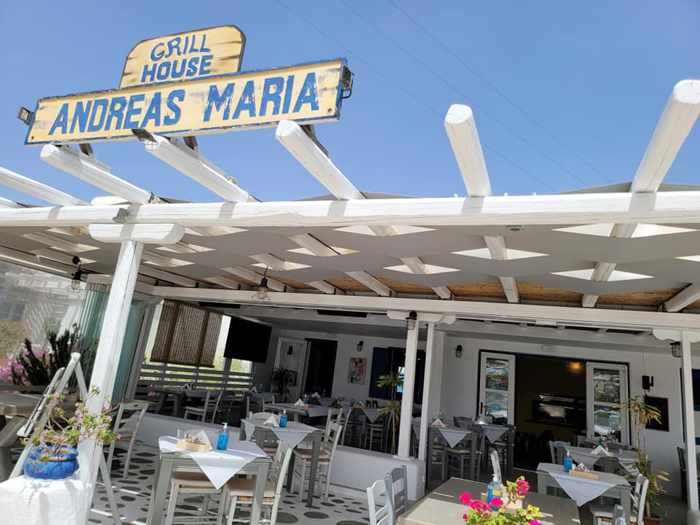 Andreas and Maria Grill House opened for the season on February 8 this year. Besides grilled meat dishes, the restaurant offers a variety of traditional Greek and local cuisine, with special dishes of the day ranging from such familiar items as Greek meatballs, pastitsio, soutzoukakia, roasted eggplants, rooster in red wine sauce, oven-roasted chicken, beans, kebabs, and more. The grill house is located in the Glastros area, between Mykonos Town and Platis Gialos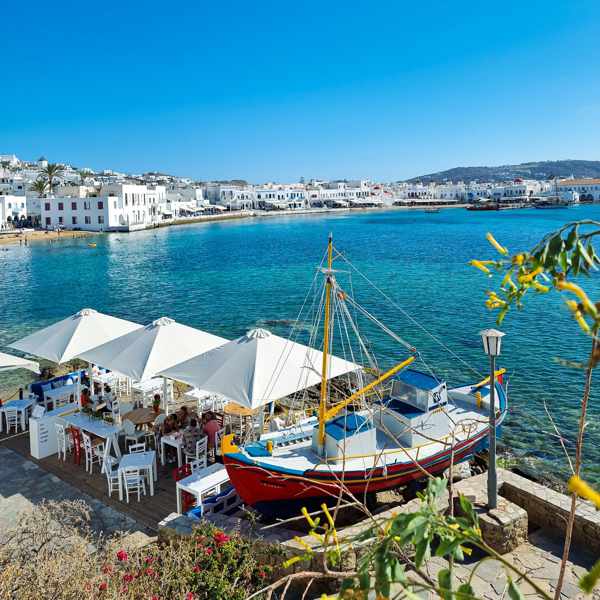 Baboulas Ouzeri calls itself "the least gourmet restaurant on the island," and takes pride in its menu fish, seafood, and Greek dishes brimming with "original Myconian flavours." It has a great selection of ouzo, too (as well as other beverages). Baboulas also takes pride in its mascot, the hand-made traditional fishing boat Mathios, which gets spruced up each spring with fresh coats of paint.  Mathios is an island icon, and Instagrammers make a beeline to Baboulas to capture photos of the boat and the whitewashed buildings of Mykonos Town on the far side of the Old Port harbour.  Baboulas opened this year on May 1.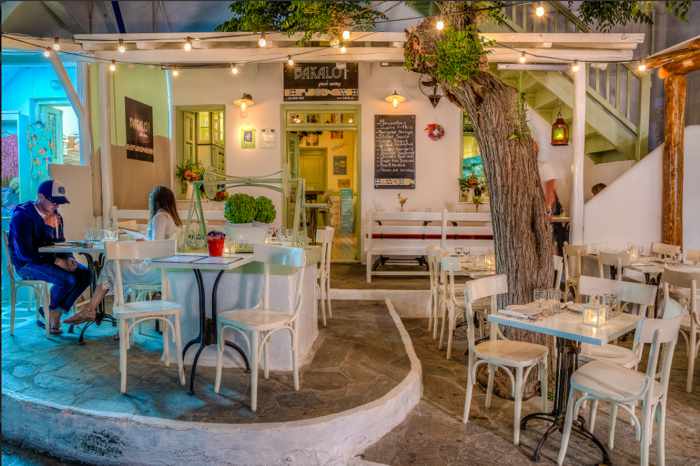 Situated in a traditional Mykonos house that dates from the 18th Century, Bakalo Greek Eatery serves authentic traditional Greek dishes in a stylish and sophisticated setting near Lakka Square in Mykonos Town. Its menu features dishes commonly served in Greek households, prepared according to "recipes that mothers kept secret from friends and relatives."  Bakalo started its 2022 season on April 19.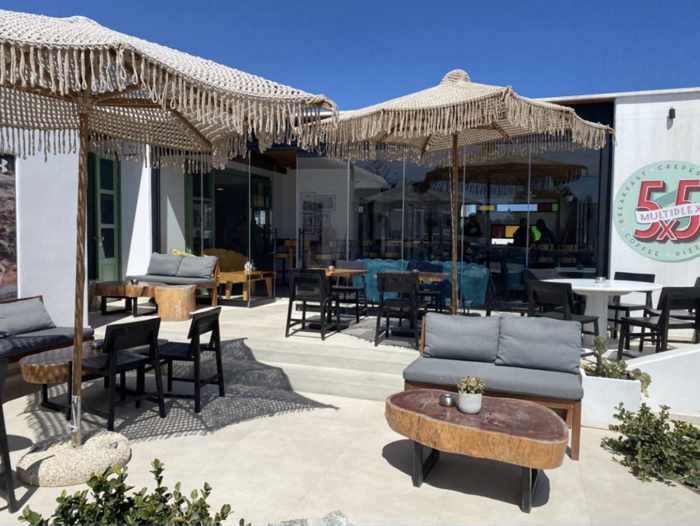 5×5 Multiplex is a casual Greek all-day dining spot that was opened at Korfos in the autumn of 2021 by the same family that operates Kostantis restaurant on Ornos beach. Its menu includes breakfast items like pastries, pancakes, crepes, eggs, waffles and coffees, and such lunch and dinner fare as burgers and fries, souvlaki, kebabs, wraps, gyros, salads, paninis, sandwiches, pizzas, and desserts.  Besides dine-in, 5×5 offers take-away and island-wide delivery.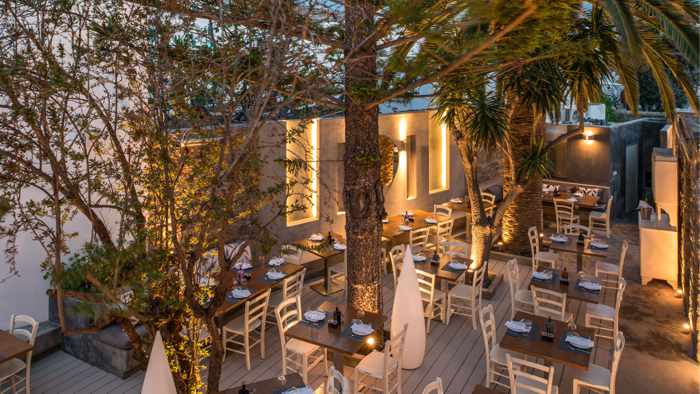 Operating since 2010, Kalita restaurant offers a menu of "classic Greek flavours enriched with a modern touch." The chef's creations are served in an elegant courtyard at the Fresh Hotel on Kalogera Street, right in the heart of Mykonos Town.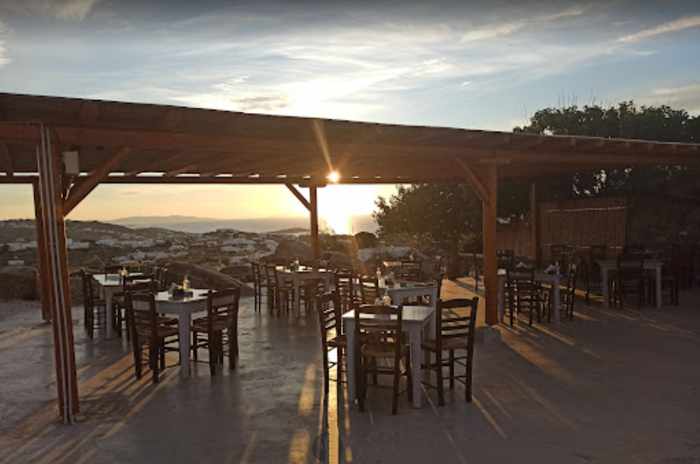 Situated near the airport in the Skalado area,  Καρτερι Ουζομεζεδοπωλειο  (Karteri Ouzomezedopoleio)  is a down-to-earth and unpretentious grill house where locals head for authentic Greek and local dishes, mezes (small plates) grilled meats and, of course, ouzo, all served at reasonable prices.  Karteri has a spacious sunset-view open-air patio (shown above) as well as an indoor dining room. Don't be surprised if chickens saunter past your table while you're dining outside — they're just free-range neighbours out for a walk.
We enjoy following Koutala on Facebook because the restaurant posts photos — and sometimes videos — of the home-cooked specialties the chef has decided to make each day. There's always at least half a dozen of our favourite Greek dishes  that we'd love to order — eggplant, beans, pastitsio, stuffed peppers, plus meat, vegetable and potato dishes – – along with grilled fish and other items that we would like to try. Koutala has omelets and other breakfast items, too, and offers take-away and delivery. You can find the restaurant in the Argyraina area, near Goody's.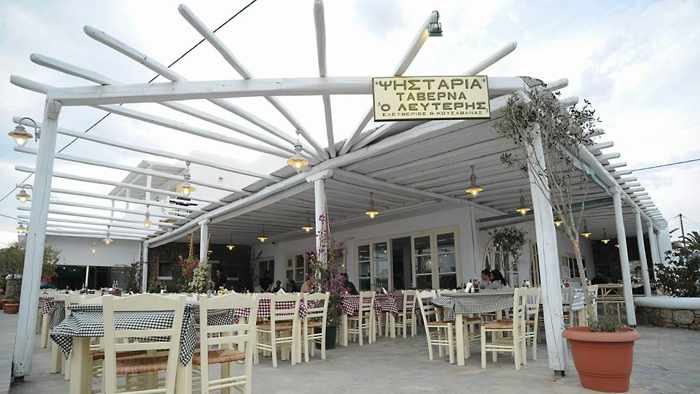 Located at Ornos, a short walk from the beach, Lefteris Grill House has been a popular go-to spot for island residents and visitors since 1994. The restaurant is particularly well-regarded for its grilled and spit-grilled meats and souvlaki, but also serves familiar traditional Greek dishes ranging from appetizers and salads to moussaka and other mains. The menu also includes pasta and seafood items. This year, Lefteris starts its season on April 30.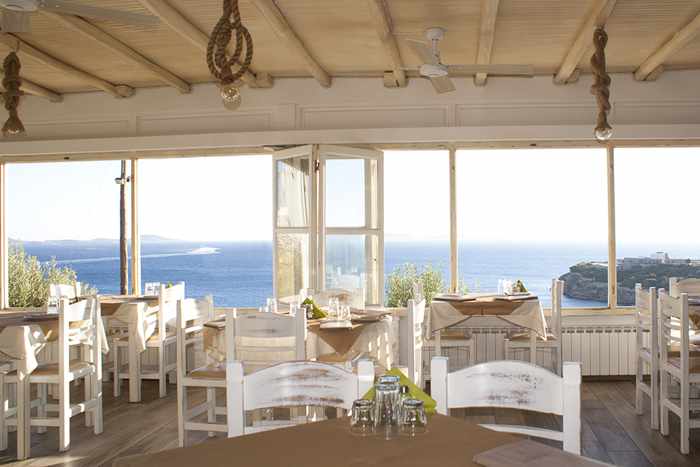 Situated on a hillside above Agios Stefanos beach, Limnios Taverna is a family business that has been operating for more than 20 years. Its menu "is based on traditional Greek and special Mykonian cuisine," with signature items including "the homemade stuffed vine leaves, the meatballs and the Greek moussaka," as well as grilled fish and meats. The grilled lamb chops are the house specialty.   Limnios Taverna started its season on February 23.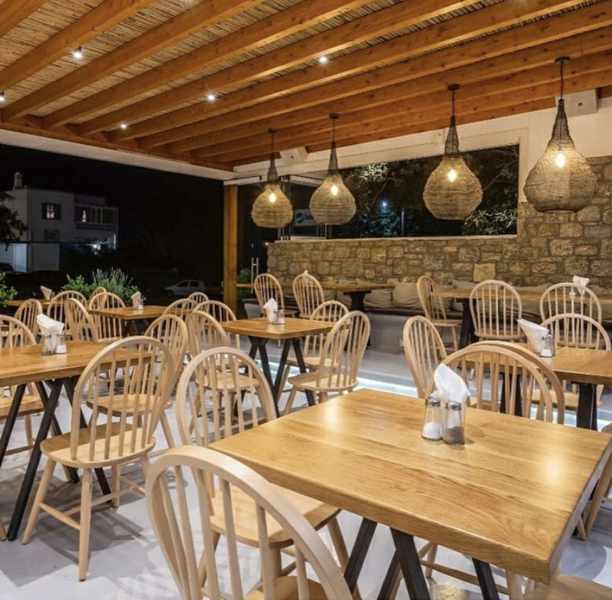 Located in the Argyraina area, Local Mykonos BBQ & Souvlaki specializes in Greece's favourite street food, souvlaki, but its menu includes other popular Greek items such as appetizers, dips, gyros, burgers, grilled meats, skewers and spit-roasted meats, desserts and drinks. Local opened for the season on March 9.
Located at Ano Mera, Lovemeze Cafe Restaurant is open throughout the year, offering a menu of Greek dishes as well as a variety of other cuisines, including pasta, pizza, burgers, and seafood. The restaurant regularly hosts live Greek folk music entertainment on weekends.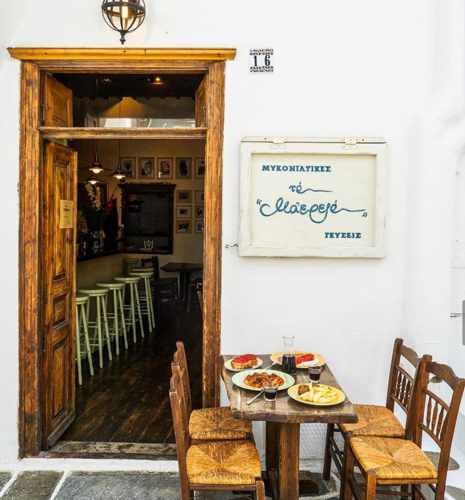 One of our personal favourite places to eat delicious Greek and local Myconian food is To Maereio on Kalogera Street in Mykonos Town, a tiny family restaurant operated by twin brothers. It has limited indoor seating and only a few tables in front of the restaurant, and doesn't take reservations, so it's often necessary to wait awhile for a table to come available. But it's always been worth the wait (we've been lucky enough to nab the table beside the front door a few times, and have managed to get seated inside twice without having to wait long). This year Maereio's opening day was March 23.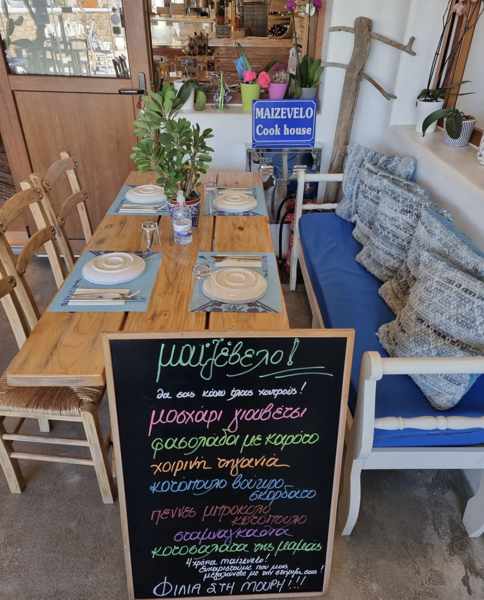 Located off the peripheral road in the Vougli district, Maizevelo Cook House is open all year long. Besides its regular menu of mezes, starters, salads and Greek pasta, Maizevelo prepares special dishes each day — if you can read Greek, you'll see them listed on the restaurant's blackboard (if you can't understand Greek, the staff will be happy to describe the selections to you.)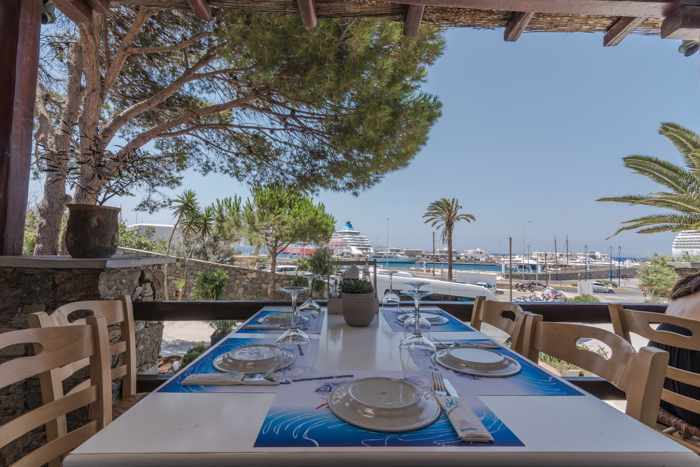 Molaraki restaurant offers an extensive menu of hot and cold Mediterranean and Greek dishes as well as a wide selections of its specialty pizzas. It's located at Makis Place Hotel in Tourlos, and its open-air dining patio has views of the nearby marina and Mykonos New Port.  This year Molaraki opens on May 2.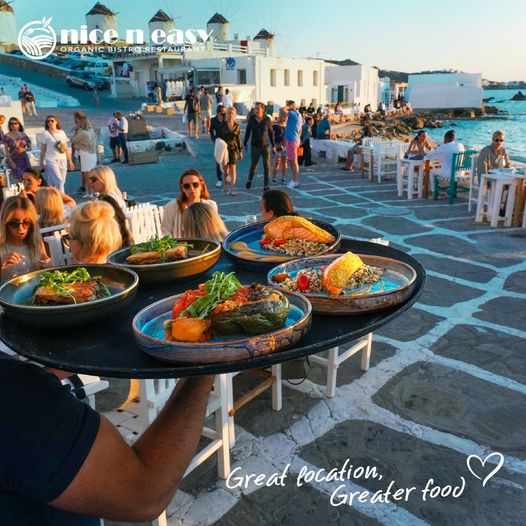 Nice n Easy Organic Bistro Restaurant occupies a prized piece of real estate at Alefkandra Square on the Mykonos Town seaside, offering its customers impressive views of the Little Venice seafront on one side, the island's historic windmills on the other, and the sea and sunset in the middle.  A part of the Athens-based Nice n Easy hospitality group, Nice N Easy Mykonos boasts a menu of traditional Greek dishes made with locally-sourced organic ingredients, along with vegetarian and gluten-free items.  This year, the restaurant opened on April 6.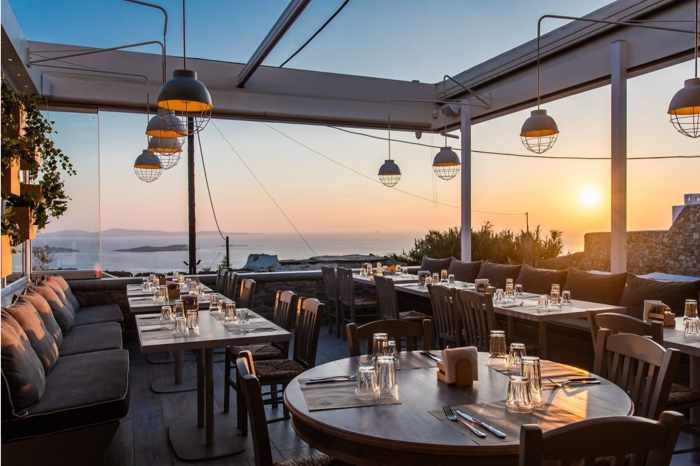 Olive Tree Mykonos, located along the peripheral road in the Evagelistraki area, is open year-round. It describes its cuisine as a "modern approach of traditional Greek cuisine," and promises to take diners on "a tasty journey all over Greece." Olive Tree's menu includes hot and cold appetizers, salads, pastas, meat dishes, burgers and sandwiches. Its dining rooms offers sea and sunset views, but the restaurant has a delivery service for customers who would prefer to dine in their villas or holiday accommodations.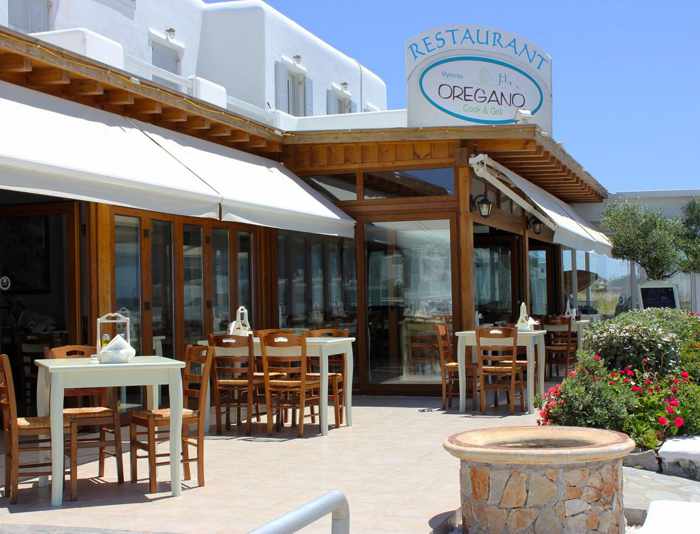 Oregano Cook & Grill, located on the peripheral highway above Mykonos Town, is open year-round. The restaurant offers a wide variety of mouthwatering Greek and local dishes which guests can view at the kitchen counter before ordering their meals. Everything looks delicious, so you might find it hard to choose your selections (that's definitely been the case for us each time we have gone there for dinner). Portions are generous and prices are reasonable.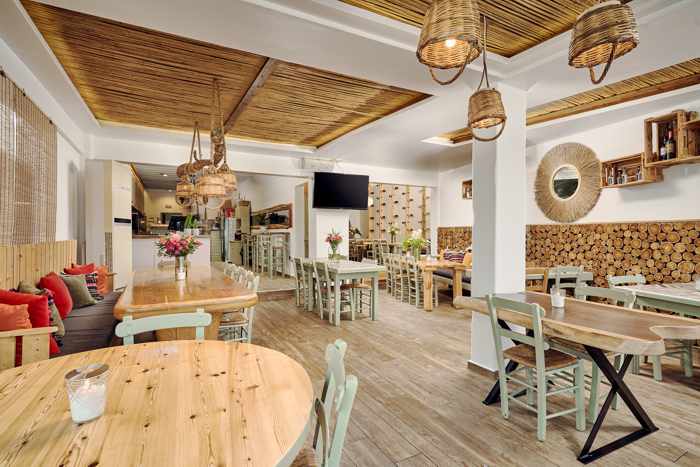 Located in Ano Mera, the casual dining restaurant Paprika Souvlaki & Pizza is open almost all year round, serving tasty souvlaki, gyros, pizza, appetizers, salads, grilled meats, pasta, sandwiches, wraps, burgers and much more.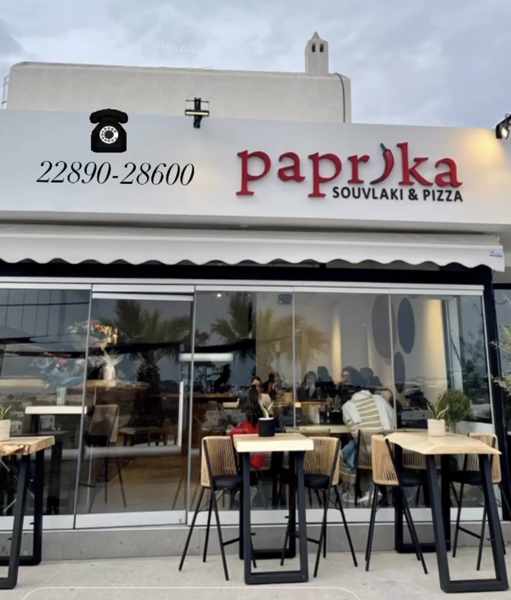 For the 2022 travel season, Mykonos visitors won't have to go to Ano Mera to enjoy the food at Paprika Souvlaki & Pizza — the restaurant has opened a brand-new location in the Drafaki area near Mykonos Town.
Open since 2013, Pepper Souvlaki & More is a popular casual dining spot located on Kouzi Georgouli street in Mykonos Town. Best known for its souvlaki, its menu includes skewers, grilled meats, steaks, Greek sausage, burgers, fries, salads, tzatziki and dips, cocktails and more. It opened this season on April 16.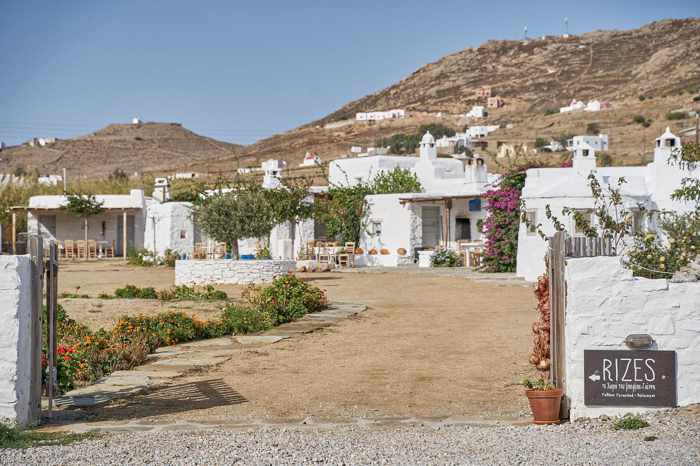 During this past winter, the restaurant at Rizes Folklore Farmstead was open from noon on Saturdays and Sundays. Starting on Saturday April 16, the Rizes kitchen will be open every day from noon to 9 p.m.  The restaurant serves home-made pies, salads, spreads, vegetables and meat dishes prepared from traditional Greek and Myconian recipes, and using ingredients grown on the farmstead. The farmstead has been hosting live Greek folk music entertainment on Sundays, and has presented live entertainment for feasts and other occasional special events.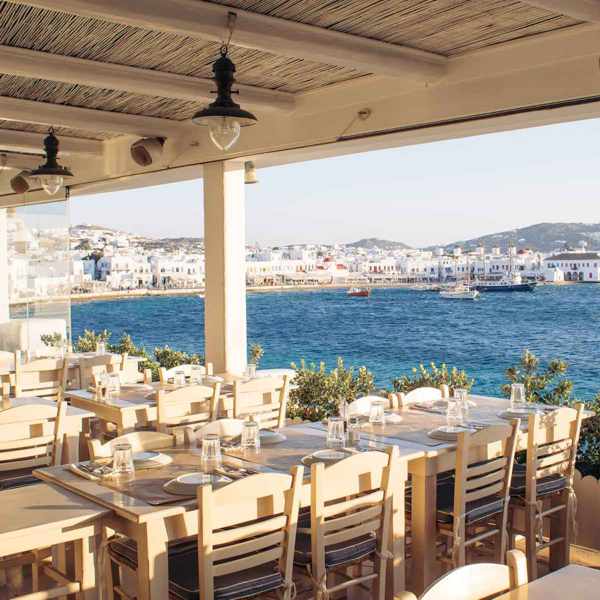 If you're looking for great food and great views, it's hard to beat Roca Cookery. From its location overlooking the Old Port, the restaurant's guests can enjoy beautiful vistas of Mykonos Town and its harbour, the sea and the sunset, while dining on equally impressive fish, seafood, meat, pastas and Greek cuisine. We had a fabulous meal of fresh fish, grilled vegetables, salads and vegetable sides, accompanied by excellent and cordial service. A courtyard dining area is available for large groups, weddings and special events, while the restaurant is wheelchair friendly with an access ramp.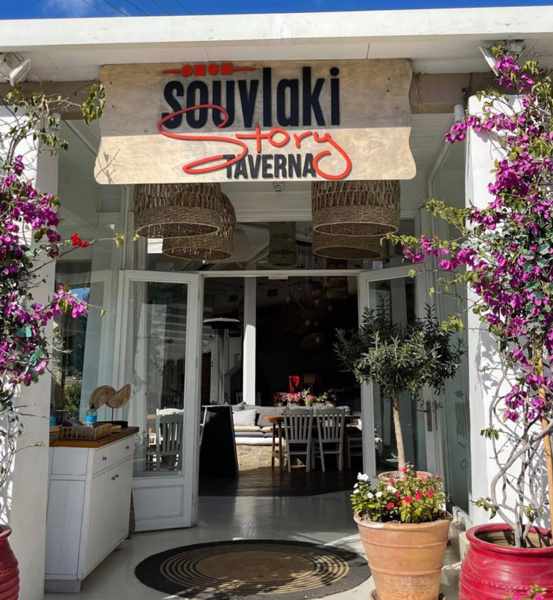 Souvlaki Story has several locations on Mykonos, including summer season outlets in the Mykonos Town center and a year-round taverna in the Argyraina area (pictured above) . The house specialties are souvlaki and grilled meats, of course, but there's a wide range of meal options including combos, mixed platters, salads, wraps, sandwiches, burgers,  wraps, skewers, and traditional dishes like moussaka and pastitsio.
Fish, seafood & sushi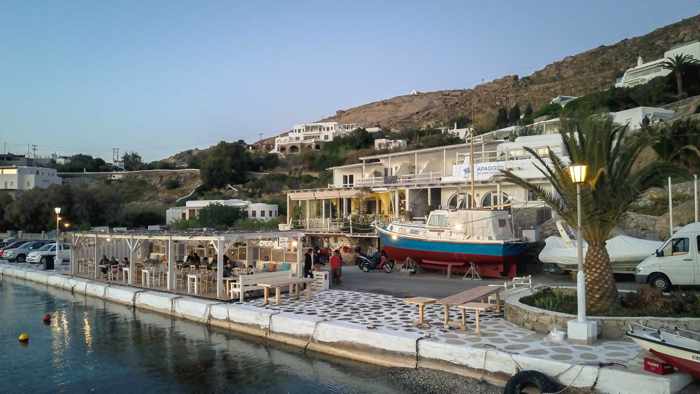 Apaggio fish and seafood restaurant at Ornos is open year-round, and is considered one of the top seafood restaurants on the island.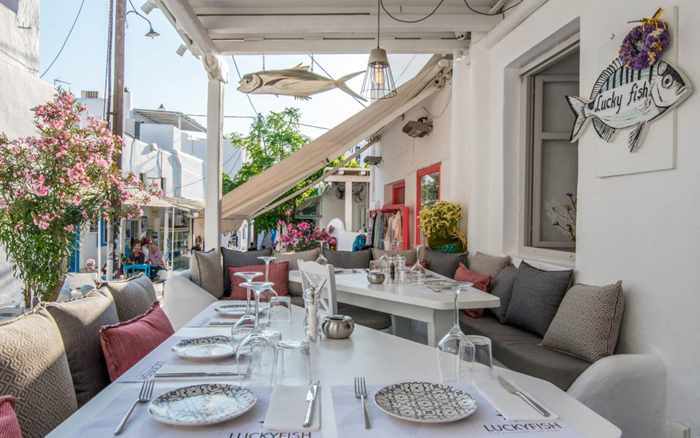 Lucky Fish is a fine dining fish and seafood restaurant, located on Kalogera Street in Mykonos Town.  Its opening day was April 1 this year.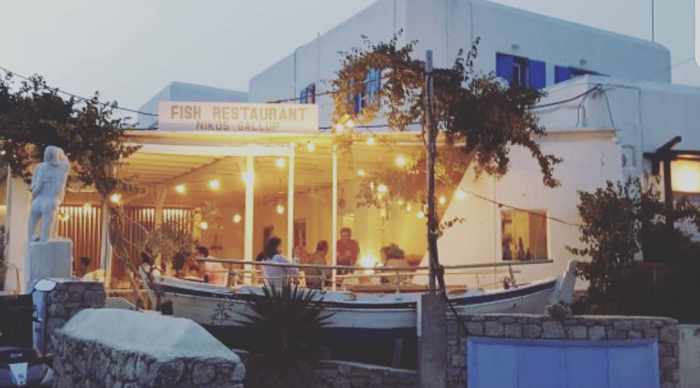 Nikos Gallop restaurant is located on the road to Platis Gialos, just a short stroll from the beach and bus stop. It has been in business since 1984, and this year it opened on April 15.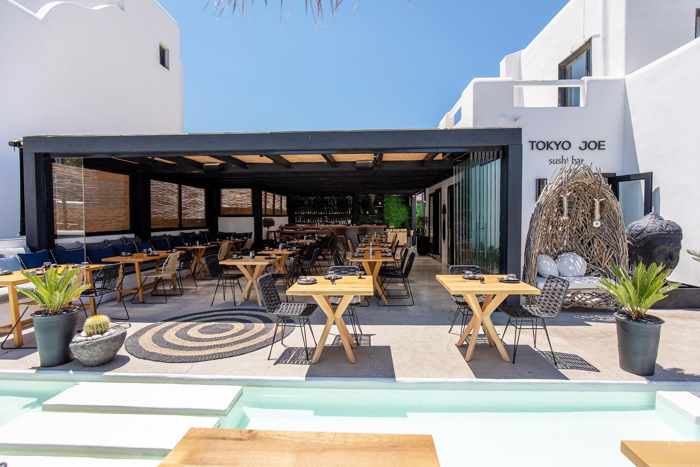 Tokyo Joe Mykonos sushi bar is located at My Mall in the Ano Vrisi area (between Mykonos Town and Glastros)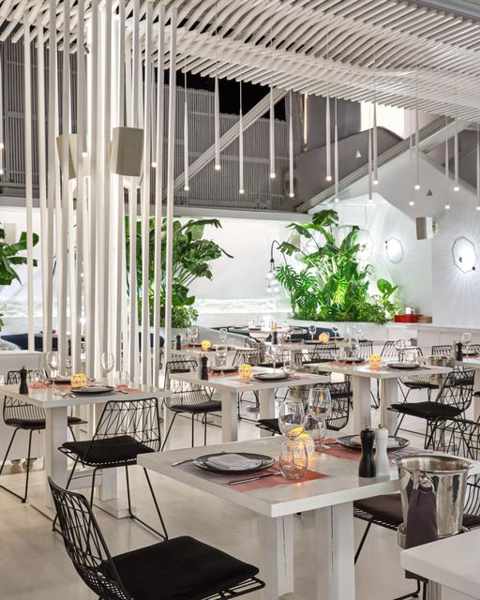 Koursaros is a popular "fish 'n' sushi fusion" restaurant at Meletopoulou Square in Mykonos Town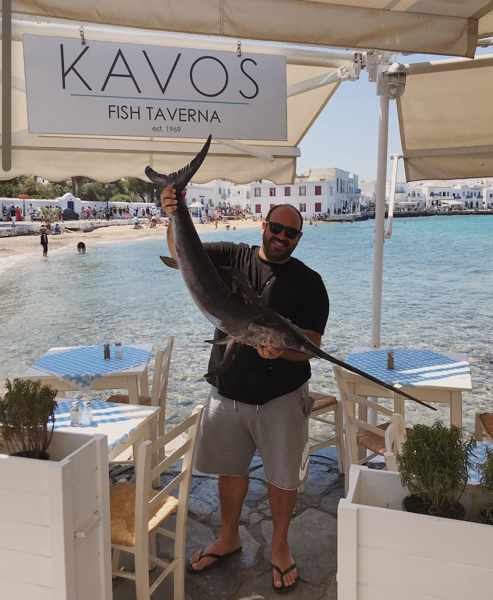 Kavos Fish Taverna has been operating on the Mykonos Old Port harbourside since it was established in 1969 by Iakoumis Famelis. Its open-air dining patio has views of the small town beach mere steps away, as well as the whitewashed buildings lining Akti Kampani street on the opposite side of the harbour bay. If you're avid movie fan, and something about the place seems familiar to you, it's probably because Kavos was a filming location for one of actor Anthony Quinn's scenes in The Greek Tycoon.  Kavos specializes in fresh fish and seafood dishes, like calamari, octopus, prawns and lobster, but also has meat and pasta dishes on its menu. It opened on April 18 this year.
International cuisine 
It was one of the busiest and most talked-about new arrivals on Mykonos last year, and we're willing to bet that will be the case again this season for Azul Condesa.  The restaurant describes itself as "a modern take on traditional Mexican cuisine,  introducing homemade unique plates together with a wide choice of margaritas for you to enjoy on the overwhelming view of the Mykonian sunset." Located in the Argyraina area above Mykonos Town, Azul Condesa opens this year on May 12.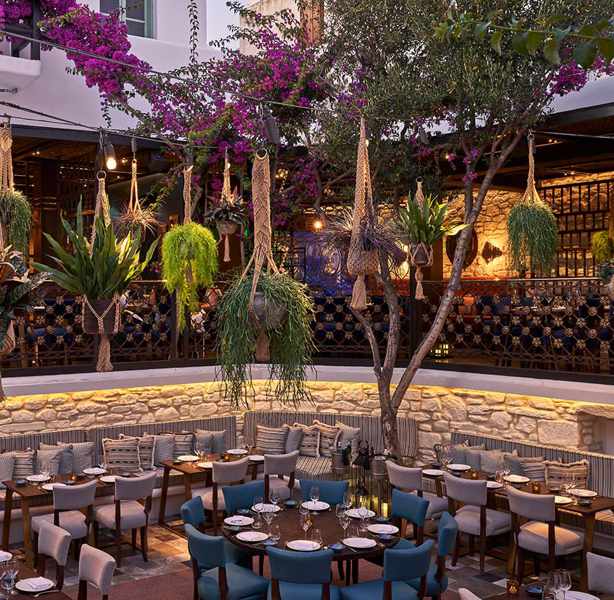 One of the liveliest and most popular restaurants on the island, Coya Mykonos brings "the spirit of Peru to the Greek Islands. We invite you into a world inspired by the flavours and colours of Incan heritage and Latin American culture," the restaurant's social media pages say.  Its website adds: "From the art on the walls to the tribal beats of COYA Music, allow yourself to be taken on a multi-sensory journey from the moment you walk in."  Besides its restaurant menu of Peruvian fusion cuisine, Coya has two Pisco bars where mixologists are eager "to shake up something from the vast selection of COYA signatures, Peruvian classics and localised specials. Guests can also enjoy the unique sounds of COYA music resident DJs every evening along with special weekly events with guest DJs."  Coya is located on Malamatenias Street in the Matogianni area of Mykonos Town. It opened in mid-May this year.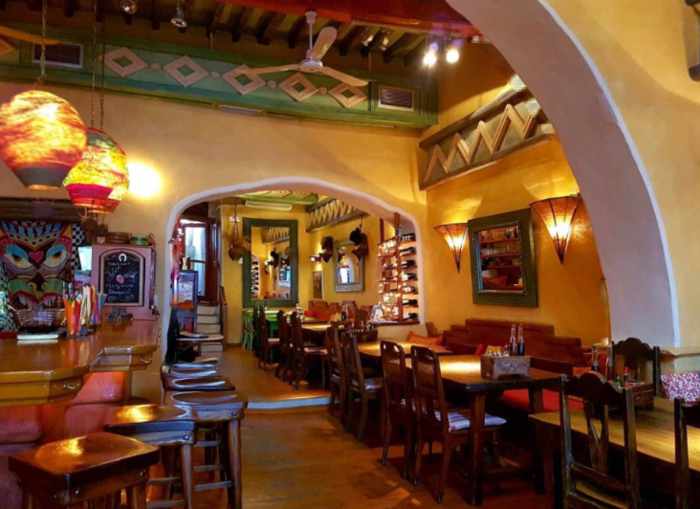 On its website, Appaloosa Restaurant describes itself as "a playful fusion of local and world flavors, music and cocktails." Its menu selection includes "Mexican, Indian, Indonesian specialties, grilled food, many vegetarian and Vegan options – some of which change daily – and a big selection of salads most of which are made with fresh, local products." Appaloosa is open almost all year long; it closes for a brief holiday break, and this year re-opened on January 28 for weekend evenings only. Since March 15, Appaloosa has been open every day except Sunday, starting at 7 p.m.  The restaurant is located on Mavrogeni street, close to Goumenio Square.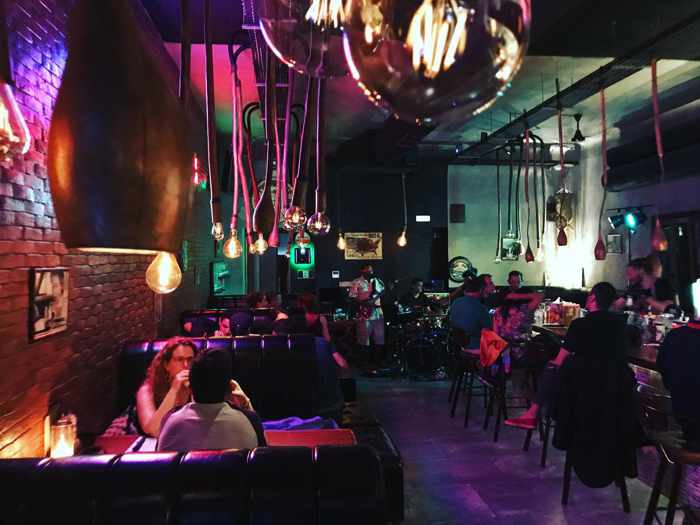 April 3 was the season opening for Rustic Grill restaurant and bar — American and Mediterranean dishes, including burgers, steaks, tacos, wings, wedge fries, salads, seafood, pasta and pizza.
Vegan, vegetarian & healthy cuisine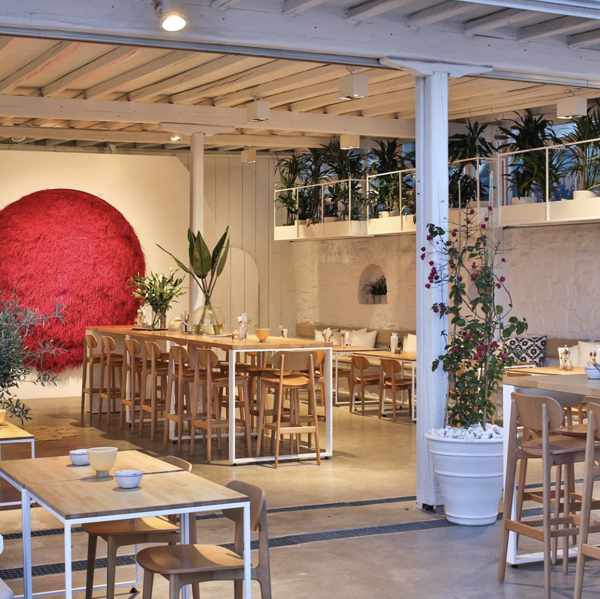 April 25 is season opening day for Bowl Mykonos, which specializes in healthy food and beverages including juices and smoothies, acai bowls, breakfast bowls, superfood bowls and specialty coffees (you can view a full menu on the restaurant website).  Bowl was established by the Australian husband and wife team of Victoria and Robert Fisher, who were married on Mykonos and subsequently moved to the island. According to the restaurant website, Bowl "is a passionate celebration of their love of Greece and healthy, delicious, organic food and juices. Locally sourced where possible, and also offering vibrant options for diet conscious vegans and gluten free diets, Bowl takes inspiration from global food trends dedicated to delivering seasonal, homemade, energy bowls." You'll find Bowl on the peripheral road at Ornos.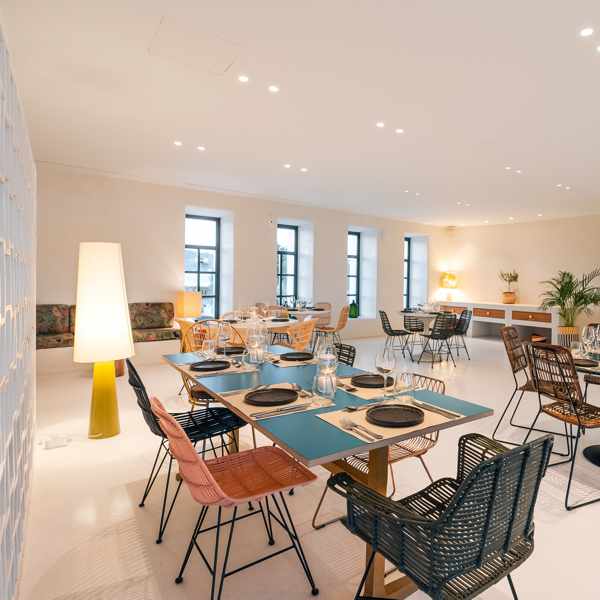 Koukoumi Hotel at Ano Mera was the first vegan hotel to open in Greece, and tables at its vegan-organic restaurant can be booked even by Mykonos visitors who aren't staying at the hotel.  The restaurant opens May 5 this year, and the hotel website offers this description of its ethnic, Mediterranean and Greek-inspired vegan menu: "Koukoumi restaurant invites you to taste a unique and authentic Vegan menu full of flavors. Our plant-based approach centers around vibrant living foods and delivers to you globally-inspired ethnic dishes with a Greek scent, cooked with love and compassion by our vegan Chef.  We use premium quality ingredients with minimal or no processing, coming from our own organic garden as well as from trusted Greek suppliers." The restaurant's menus, and photos of its beautifully-styled culinary creations, can be viewed on the restaurant page of the Koukoumi Hotel website.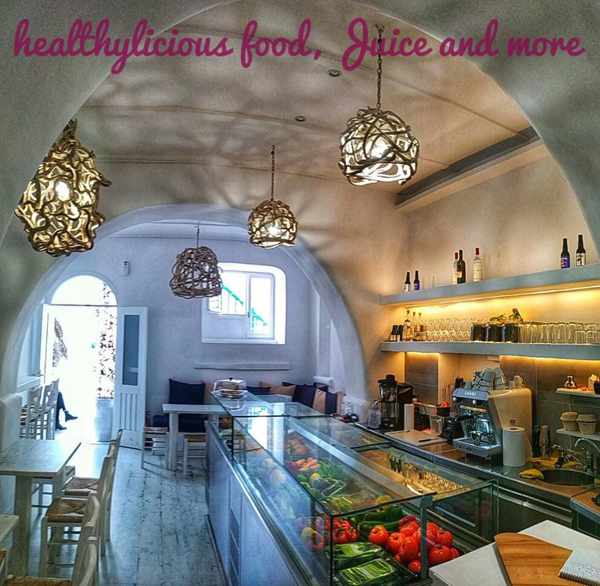 "We believe that even when on vacation, you can still lead a healthy lifestyle." That is the "dining philosophy" behind Healthylicious Mykonos, a restaurant specializing in healthy foods and sports nutrition. Its menu includes fresh juices, smoothies, bio coffees, fruit and yogurt bowls, avocado toast, no-sugar desserts, and many more items based on recipes that aim for low fat, no sugar, low glycemic index and high protein content. You'll find Healthylicious on Riga Feraiou street in Mykonos Town 9right next door to popular Aroma Bar).
A new arrival on Mykonos in 2021, Mother Earth – Healthy Vegan & Vegetarian Restaurant was established "to inspire and support a healthy and sustainable lifestyle. we want to feed the mind and soul of those willing with nutritious, plant-based meals that respect the gifts of our own Mother Earth," its social media pages explain.  Mother Earth boasts an extensive menu (posted on its website), which includes breakfast fare, starters, salads, burgers, pizza, pasta, desserts, juices, smoothies, cocktails and mocktails, beer, wine and a selection of special dishes. Mother Earth is located at 11 Mitropoleos Street in Mykonos Town.  The restaurant welcomes guests on a walk-in basis only — it doesn't accept reservations.
Beach cafes and restaurants
April 10 was the season opening day for Kuzina, the beachfront restaurant at the Mykonos Ammos luxury hotel on Ornos beach. To find Kuzina, the restaurant says its distinctive black and white striped beach umbrellas will "show you the way to the most glamorous beachfront dining experience." Characterized as "fun meets haute cuisine," Kuzina's menu features "sumptuous fusion and Mediterranean flavours" as well as sushi.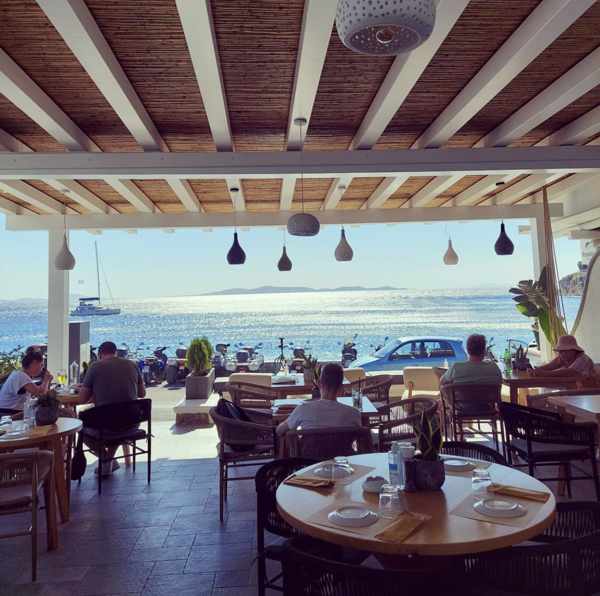 Situated just a few steps from Agios Stefanos beach, Nosostros is an all-day lounge and restaurant that boasts an open-air patio with views of the sea, nearby Delos island, and the sunset.  April 15 was its season opening day this year.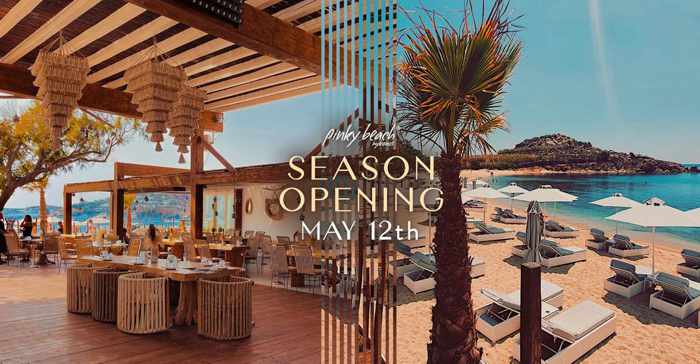 Pinky Beach restaurant and beach club at Agia Anna-Paraga beach is gearing up for a May 12 season opening
Yialo-Yialo restaurant, located on the beach at Platis Gialos, started its season on April 20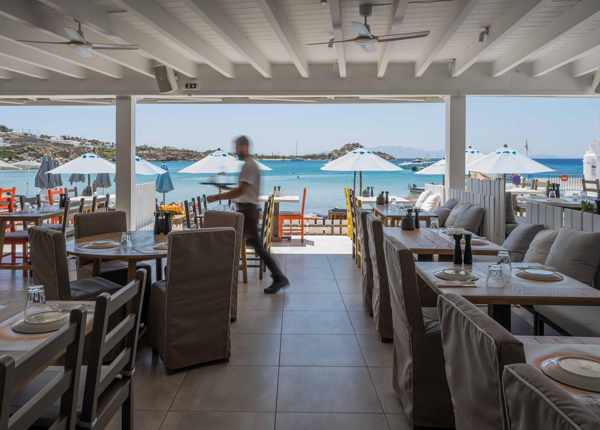 April 20 was season opening day for Avli tou Thodori, located on the beach at Platis Gialos.  The restaurant serves fine Greek and Mediterranean cuisine, fish, seafood, pasta, pizza, cocktails and wine, and is renowned for its quality cuisine and excellent service.  Not surprisingly, it has a legion of fans who make a point of reserving a table for their holiday arrival-day dinner on Mykonos.  Guests can enjoy drinks and meals from the Avli tou Thodori loungers on the golden sand beach in front of the restaurant. If you're not staying at or near Platis Gialos and don't have a vehicle, the restaurant will be happy to arrange a private transfer for you.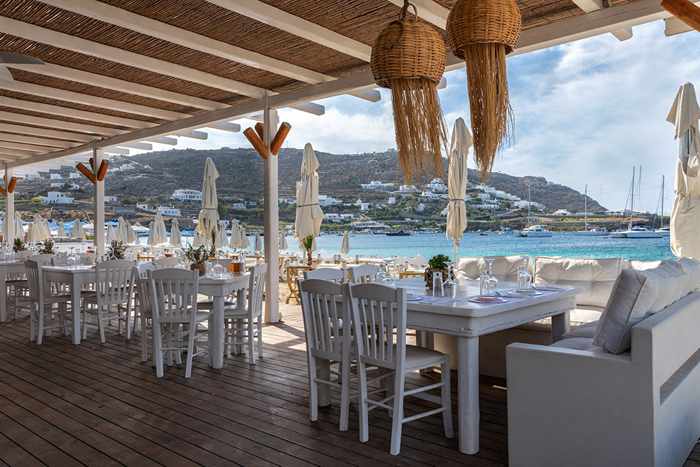 Aperanto Galazio Seaside Cuisine Bar has been a fixture on Ornos beach for more than 25 years. It's an all-day restaurant and bar where patrons can grab a coffee or breakfast in the morning, and dine on Greek, Mediterranean cuisine and seafood for lunch and dinner.  The restaurant operates the sunbeds on its beachfront, and even has a 40-foot cruising yacht that can be chartered for day trips to beaches along the Mykonos coast, for trips to other islands in the Cyclades, or even for transfers between islands. Aperanto Galazio started its season on April 18.
Elegant, fine dining & gourmet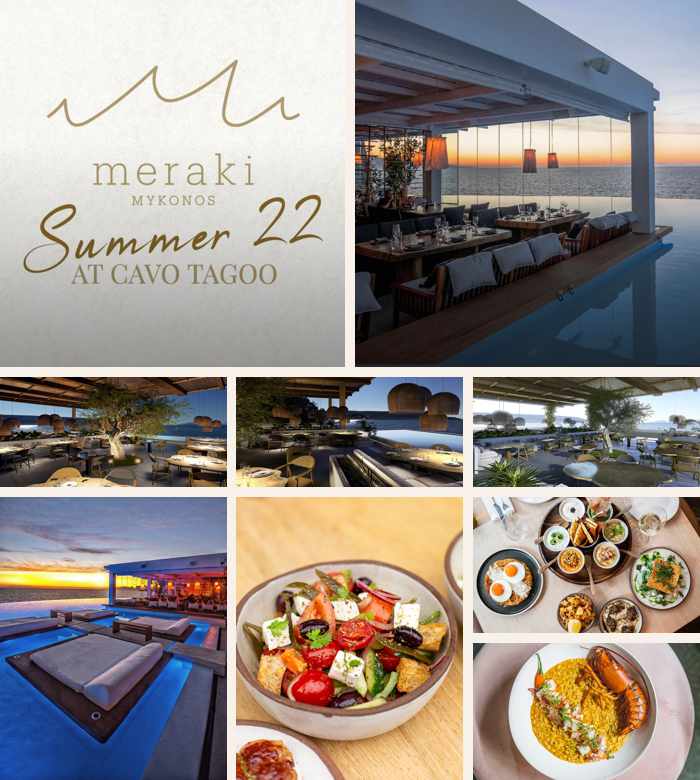 For the summer of 2022, the 5-star Cavo Tagoo Hotel  in Mykonos Town is hosting a new fine dining restaurant — Meraki — in the prized sea- and sunset-view spot next to its Instagram-famous infinity pool. (In 2020 and 2021, the coveted space had been occupied by a summer "pop up" of the Japanese- and Asian-fusion restaurant chain, Zuma.)  Meraki Mykonos is the fourth and newest member of the Meraki group of high-end restaurants and bars specializing in Modern Greek and Mediterranean cuisine (the others are located in London, Riyadh and Puerto Cervo).   Meraki Mykonos opened on May 6.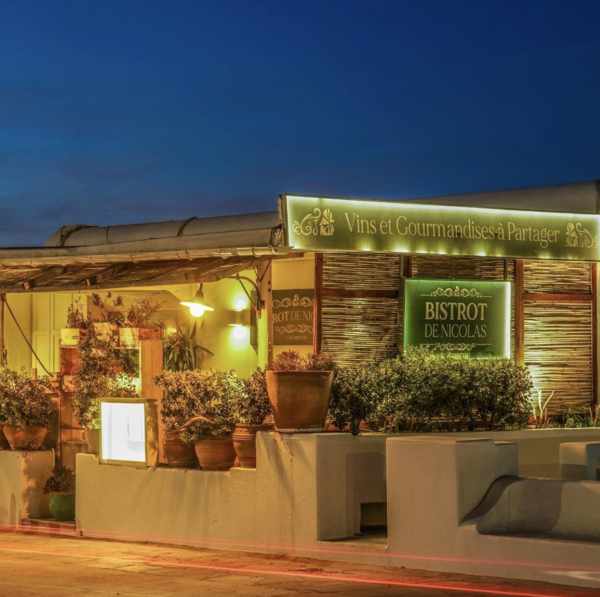 Bistrot de Nicolas — Vins et Gourmandises a Partager is an elegant fine dining restaurant established by its passionate owner and chef, Nicolas. "Every single recipe is his creation, always experimenting with the principles of French cuisine and the finest Mykonian ingredients of each season," the bistrot's social media pages note. The seasonal offerings include traditional Greek dishes — like moussaka — prepared with a French twist, or Nicolas's inventive interpretations of classic French dishes.  Decadent desserts are prepared in-house daily, and the wine list includes personally-selected international vintages. The bistrot actively posts inspiring photos of its food, wine and cooking techniques on its social media pages, so if you're a foodie or an enthusiastic home chef, be sure to follow either @bistrotdenicolas on Instagram, or the Bistrot de Nicolas page on Facebook. The restaurant is open most of the year, closing for an early winter break after Christmas. This year it re-opened on February 10. It's currently operating on a winter schedule, opening Thursdays, Fridays and Saturdays from 6 p.m. to midnight, and Sundays from 1.30 to 8.30 p.m.  You'll find the restaurant in the Glyfada area, on the road to Ano Mera.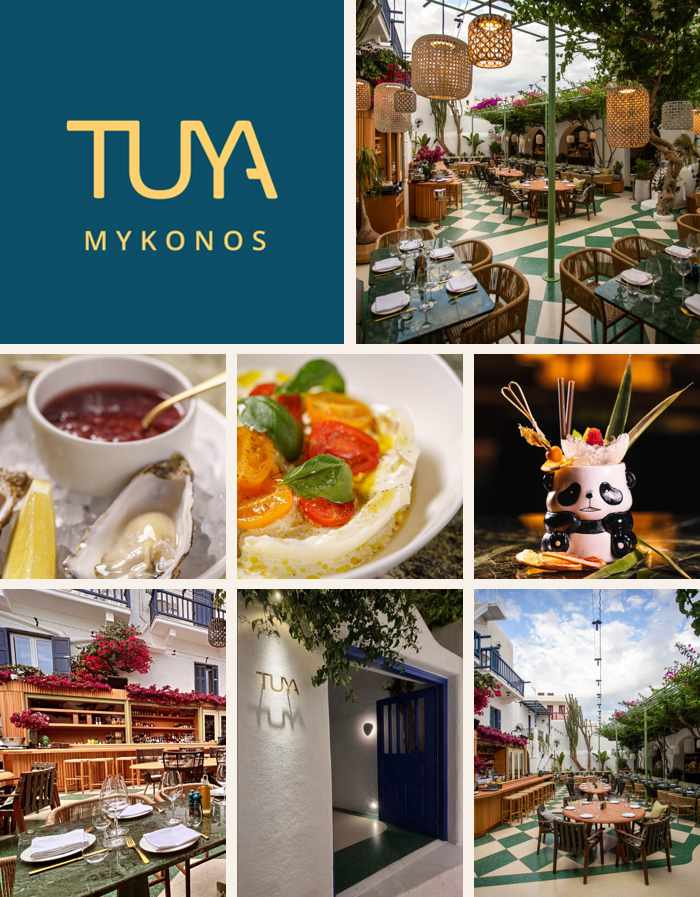 Tuya Mykonos, a fine dining restaurant featuring a menu of French Riviera Cuisine, opened June 10 on Kalogera Street in Mykonos Town. It's the third Tuya restaurant to open in Europe — the chain's other locations are in Bucharest and Vienna, with a fourth Tuya set to open this fall in Milan.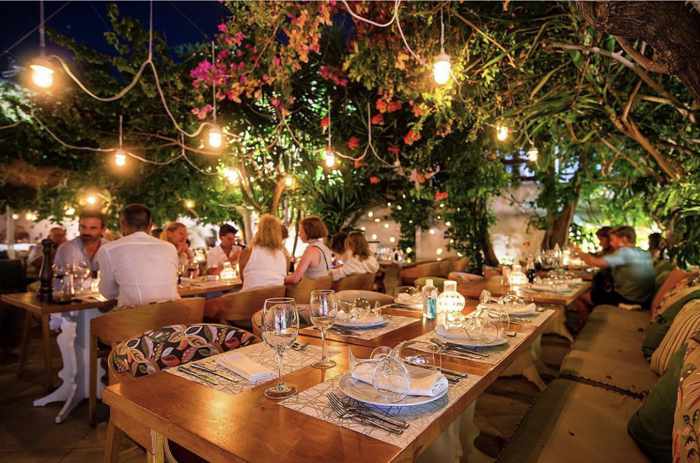 Mamalouka bills itself as a "Greek and Mediterranean-inspired restaurant celebrating locally sourced ingredients in the cutest courtyard of Mykonos Town." Mamalouka opened for the 2022 season on April 13… you'll find the entrance to its beautiful garden patio at 53 Kouzi Georgouli street.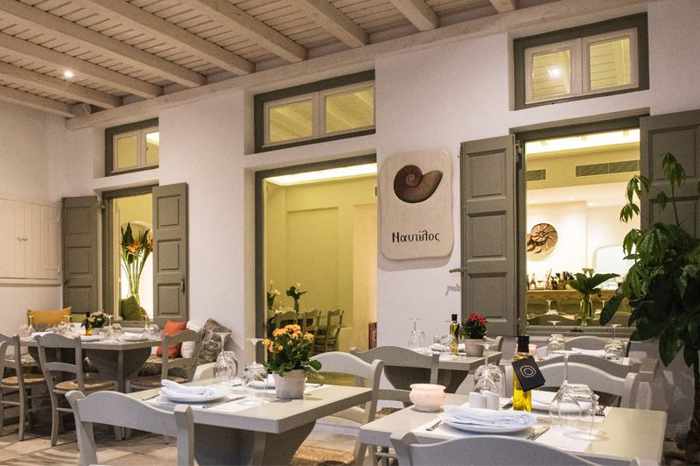 Nautilus restaurant and bar is located in the Lakka district of Mykonos Town, in the island's old post office premises. "Our Mediterranean cuisine is a blend of traditional Greek flavors but with a modern twist," the restaurant says. This year, Nautilus opened on April 14.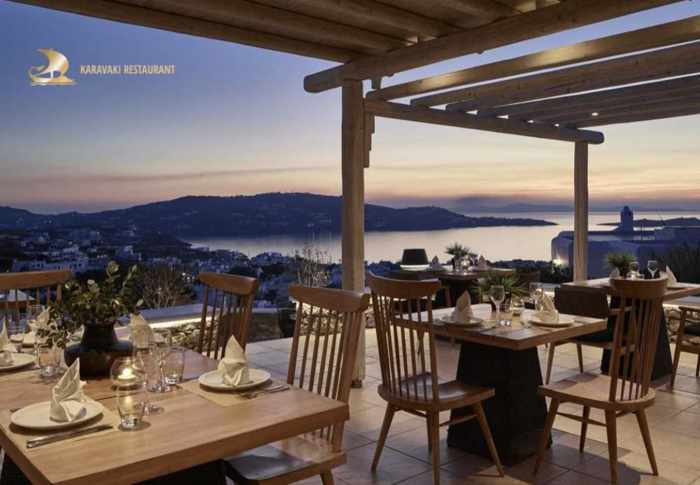 April 20 was opening day for Karavaki Restaurant, situated in the Vencia Hotel on the hilltop overlooking Mykonos Town.  Karavaki invites guests to "indulge in a magical feast of flavors and aromas, tasting a cornucopia of special tastes from the Mediterranean, Greece and the local Mykonian cuisine." The restaurant is open to the public (not just hotel guests), and its outdoor dining terrace offers wonderful views of the town, sea and sunset. And for special occasions or romantic experiences, Karavaki offers a sunset-view private dining table.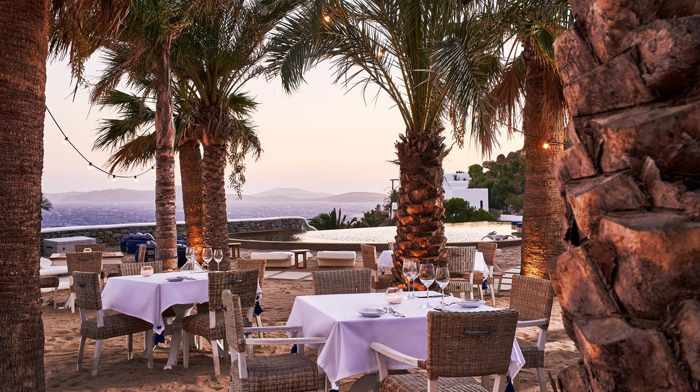 Mikrasia is an award-winning fine dining restaurant whose menu focusses on Greek and Anatolian cuisine.  As noted on its social media pages, Mikrasia's dishes are "inspired by Smyrna's multicultural cuisine yet incorporates contemporary techniques to ensure the gastronomy aligns with the modern desire for light and sumptuous fine dining." Mikrasia has received Top Notch recognition at the Greece's Best Restaurants Awards each of the past two years.  Positioned under a canopy of palm trees beside the infinity pool at Katikies Mykonos hotel at Agios Ioannis, the restaurant patio boasts views of Delos island. Mikrasia opened for the season on May 1.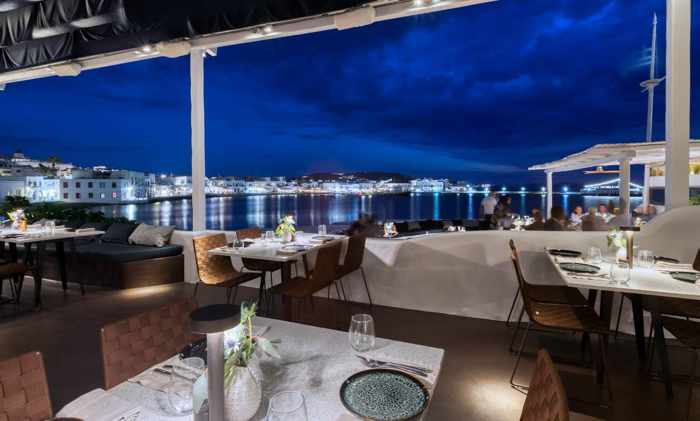 Remezzo became a Mykonos nightlife legend soon after it opened in 1967 and became a hangout for international celebrity guests and the "jet set." In the past decade, it has become better known as a fine dining restaurant and cocktail bar, featuring a menu of Greek and Mediterranean cuisine and seafood. It's still a popular meeting place for drinks and DJ events, too. Its open-air dining and lounge patios offer impressive views of Mykonos Town and its harbour and Old Port areas. Remezzo restaurant and bar starts its 2022 season on May 5.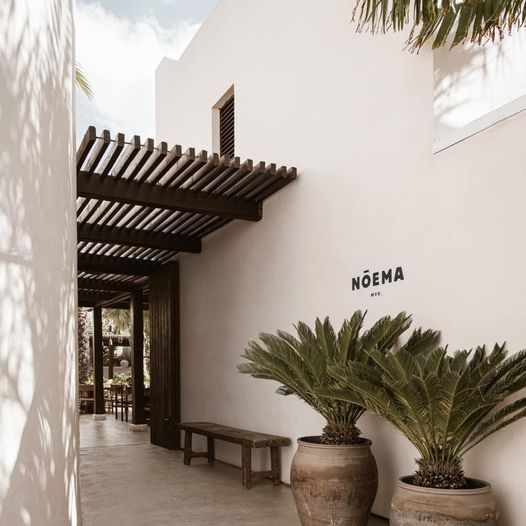 New to Mykonos last year, Nōema is a contemporary take on a Greek restaurant and bar — as well as a modern version of Greek tradition and heritage. Nestled in a hidden courtyard behind Panachra church in Mykonos Town, Nōema boasts an inspiring menu created by acclaimed Greek chef Athinagoras Kostakos — "a New Cycladic Cuisine, rooted in seasonality, sustainability, and the simple joy of sharing." Nōema is also a unique entertainment venue; its courtyard "doubles as an intimate stage for artistic expression," says a description on the restaurant's social media pages. "An eclectic ensemble of musicians, performers, and DJs blur and expand musical horizons, while botanical cocktails, Aegean digestifs, artisanal Greek spirits, and biodynamic wines flow freely at the bar."  Nōema  opens for its second season on Friday May 6.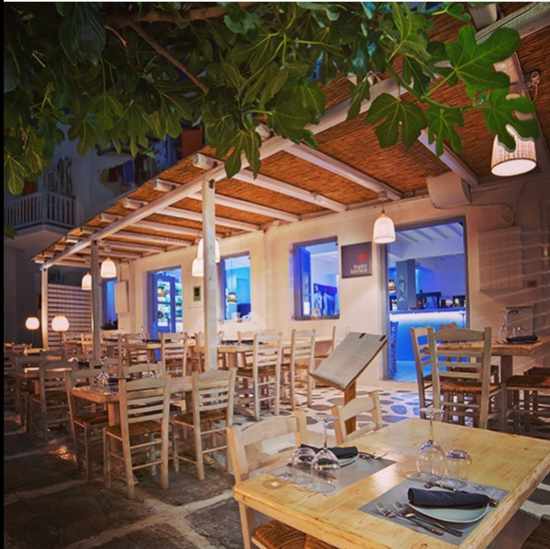 Owned by Chef Pavlos Grivas, Funky Kitchen takes pride in its flavourful Mediterranean cuisine (which includes vegetarian and gluten-free selections) and excellent service. The restaurant is located on Ignatiou Mpasoula Street in the Lakka district of Mykonos Town, and opens this year on May 10.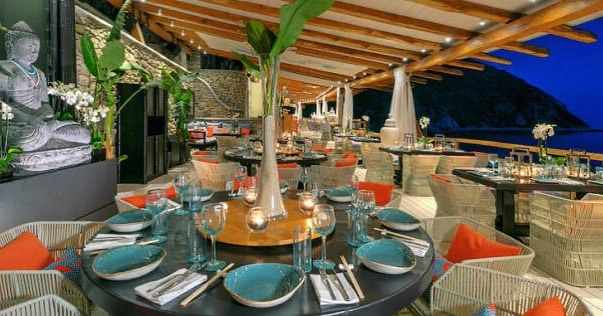 May 6 is season opening day for Buddha-Bar Beach restaurant at the Santa Marina Resort in Ornos.  Situated on an open-air seaview terrace, the restaurant and lounge describes itself as "an Aegean interpretation of the world-famous Buddha-Bar lifestyle experience," offering a menu of Asian, Mediterranean and Greek fusion cuisine, sushi and seafood, along with signature Buddha-Bar cocktails. The venue comes to life at sunset, "with world-renowned DJs spinning stimulating beats and exceptional Buddha- Bar mixologists serving inspired cocktails into the night."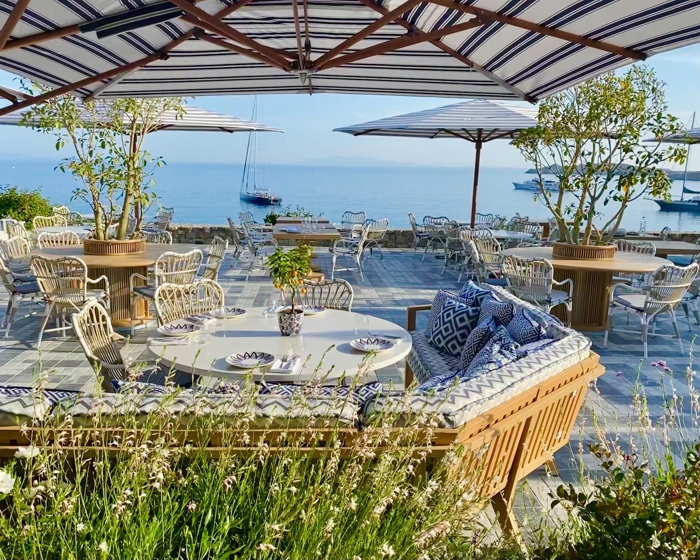 May 6 is first day of the new season for Mykonos Social , a "bespoke, all-day dining" restaurant that Michelin-starred celebrity chef Jason Atheron opened last year at the Santa Marina Resort near Ornos beach. Perched above the resort's private beach, the open-air sea-view restaurant has a menu that includes grilled fish and seafood dishes, Greek and Mediterranean cuisine "with a few twists," creative cocktails and special wine selections.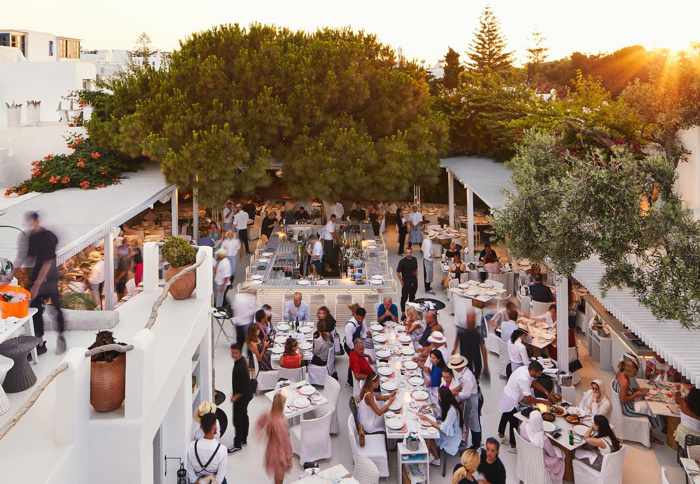 Tucked inside a garden courtyard in the Matogianni area of Mykonos Town, Interni Restaurant & Bar is one of the island's top party restaurants. According to its website, Interni is "the place to be for amazing food, fabulous drinks, fantastic music and a vibrant atmosphere in a stylish environment." This year Interni opens on May 14.
Specialty meat restaurants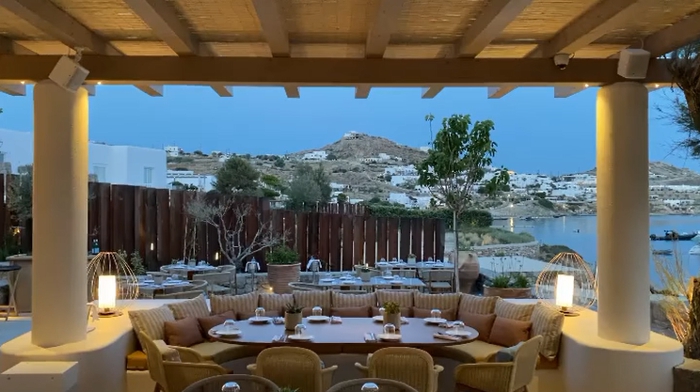 Beefbar Mykonos has returned to Agios Ioannis beach, but for this season — which started on June 10 — the restaurant has unveiled an extensively redesigned dining and leisure space, along with a new menu called Beef, Reef and Leaf.  Beefbar still specializes in exquisite meat dishes, "flame-grilled, seared, or served raw in sharing platters," while its new "Leaf and Reef menus make a virtue of freshly caught seafood and feelgood salads— from ceviche rosado with yuzu and summer truffle to king crab and quinoa."  There's also "elevated street food" offerings, including Kobe beef gyros, Kobe pizza, and Croque Sando. Located at the 5-star Bill & Coo Coast Suites, Beefbar operates from 1 p.m. to 1 a.m. From 11 a.m. to 8 p.m., guests can enjoy drinks while listening to DJ music and relaxing on the sunbeds or private beach lounge of the Bill & Coo beach directly in front of the restaurant.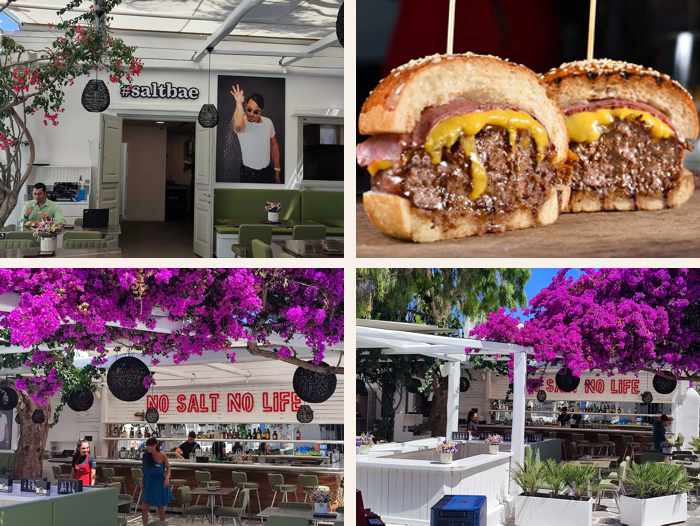 Regular Mykonos visitors will notice a big change at Goumenio Square in Mykonos Town this summer. The popular meat and meze restaurant Familia is gone — its prized location has been acquired by celebrity chef Nusret Gokce and transformed into one of his high-end Saltbae Burger joints. (Gokce brought his world-famous Nusret steakhouse to Mykonos in 2019, and is still packing that place with big-spending customers every night). The Saltbae burger restaurant and bar opened in mid-June, serving a variety of burgers and steak sandwiches at prices starting at €30 and up, along with Oreo, marshmallow and "crazy baklava" shakes costing €19 and €25 respectively.  The restaurant's signature dish,  the Gold Burger, is a juicy Wagyu Saltbae burger covered in edible 24K gold and smothered in freshly melted cheddar cheese. It is served with seasoned fries and sells for only €150.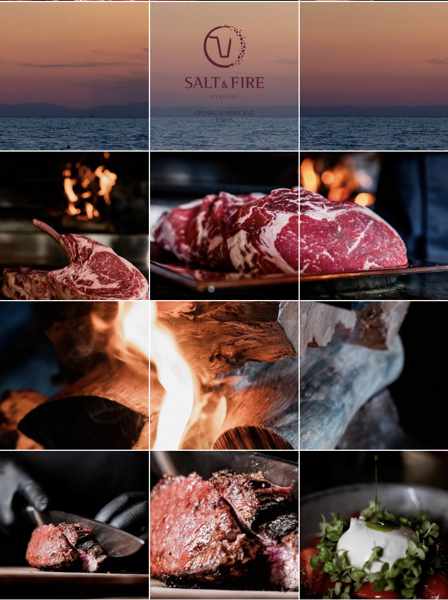 Salt & Fire Steakhouse claims it will offer "the most exclusive dining experience in Mykonos" when it opens June 15 at the Charisma Hotel and Wellness Suites in the island's Plintri area (near Super Paradise beach). Situated on the patio beside the hotel's sea view pool, Salt & Fire will have only a handful of tables at which a small number of guests can enjoy Black Angus and Wagyu steaks grilled to perfection over the restaurant's signature wood fire. (The menu also includes a simple but superb selection of salads, starters, sides and desserts).  Salt & Fire Mykonos is a summer venture of the popular Salt & Fire restaurant established in 2019 in the Agios Ioannis area of Nicosia, on Cyprus.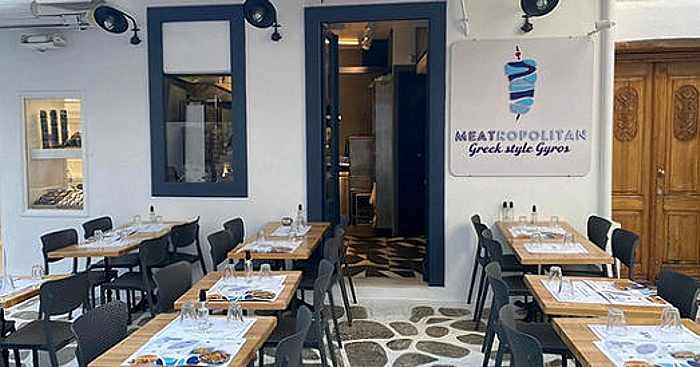 With a menu aimed to satisfy even the hungriest meat lovers, Meatropolitan Greek Style Gyros specializes in souvlaki and gyros, but also serves  burgers, chicken, sandwiches and more. It also has falafel items for vegan visitors. The restaurant opened in late April on Enoplon Dinameon street in Mykonos Town.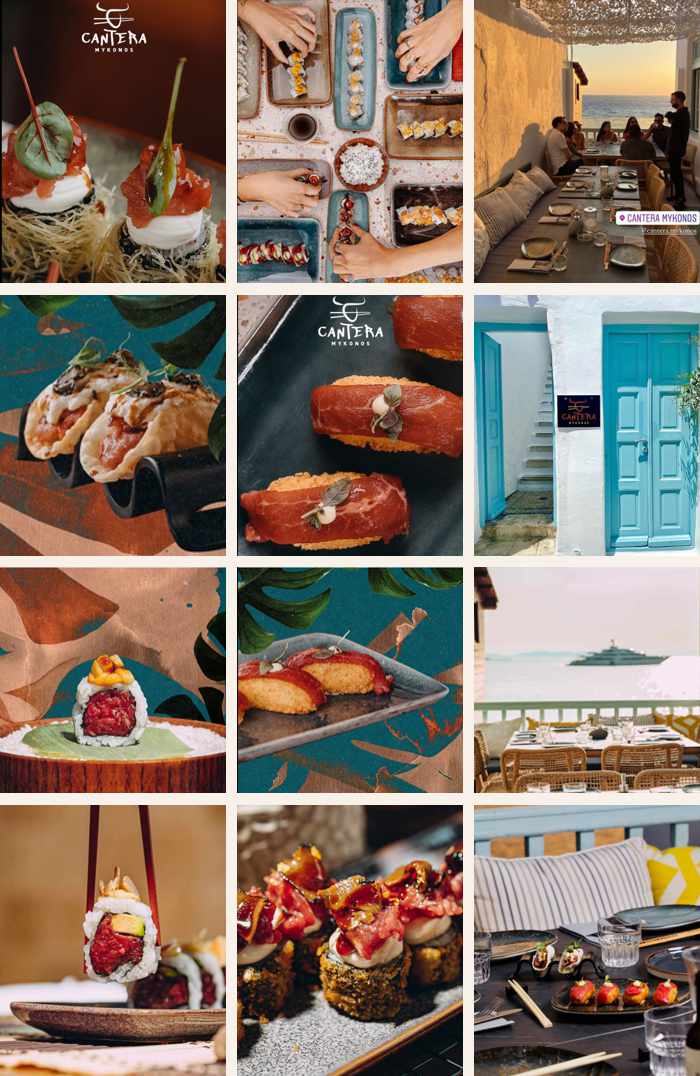 Back for its second season is the meat fusion / sushi meat restaurant Cantera. Inspired by the "eclectic idea" of fusing Japanese cuisine and meat, Cantera made its debut in 2021 on the upper floor of the Little Venice seafront building where the very popular Bao's Cocktail Bar is located. Cantera opens for "sunset, dinner and after-dinner," serving cocktails and wine as well as its signature sushi meat creations.  This year Cantera commenced its season on May 27.
Breakfast, brunch, lunch & more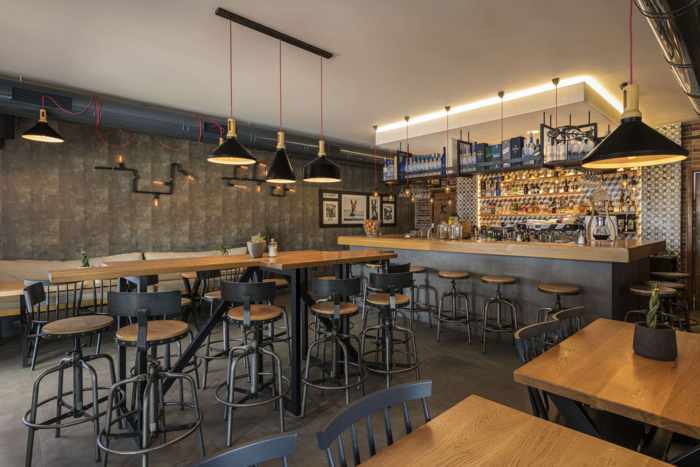 Located along the peripheral road in the Vougli area above Mykonos Town, El Burro is an all-day cafe, restaurant and bar with a menu offering breakfast and brunch fare — pancakes, omelettes and a variety of egg dishes — plus salads, sandwiches, burgers, sushi and more.  It was open several days per week during winter, and for the spring and summer tourist season will be open daily.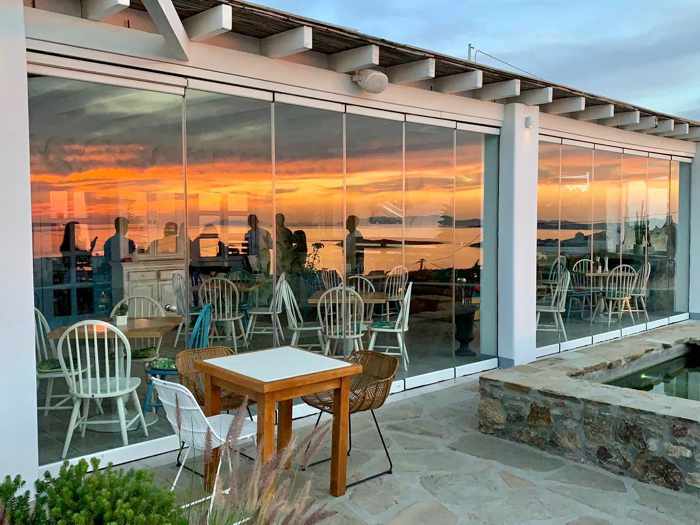 The Liberty Breakfast Room, is a popular destination for breakfast, brunch or lunch in the morning and daytime, while in the evening it's a go-to spot for sunset viewing with light mezes, cocktails or wine. Located on the peripheral highway above Mykonos Town, the restaurant opened for the season on March 24.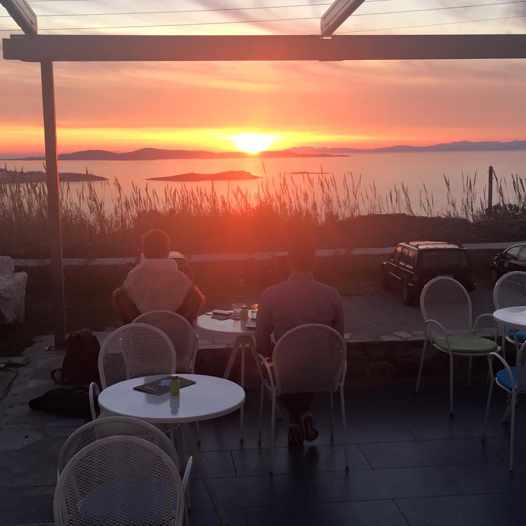 Teo's House is another spot popular for breakfast and brunch in the morning, and coffee or sunset drinks in the evening. It was open during the winter, and celebrated its 6th anniversary of operations in February. You'll find Teo's on the peripheral road in the Evaggelistraki area above Mykonos Town.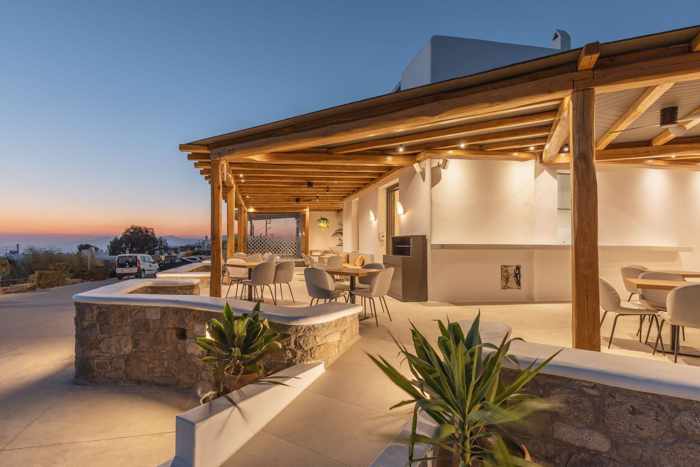 Velanos restaurant was a new arrival on Mykonos for the 2021 season, and it stayed open throughout the past winter, hosting regular parties and special events during the off-season. It calls itself "the coziest spot for brunch in Mykonos," but is also a great place to unwind with cocktails in the evening. Velanos is located in the Skalado area, off the airport road.
Italian & Mediterranean cuisine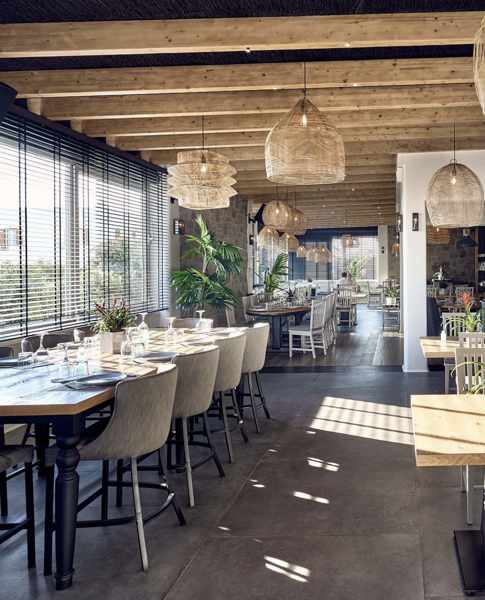 Obati, an all-day cafe, bar and restaurant that "combines Italian flavours and Mediterranean cuisine." Its menu includes a variety of "Mediterranean inspired dishes," ranging from appetizers and salads to pastas and risotto, pizza cooked in a wood oven, meat and seafood dishes, and desserts.  Obati has long been a popular dining spot with locals (since it's open all year long), but it's a popular spot with tourists, too. You'll find the restaurant in the Glastros area.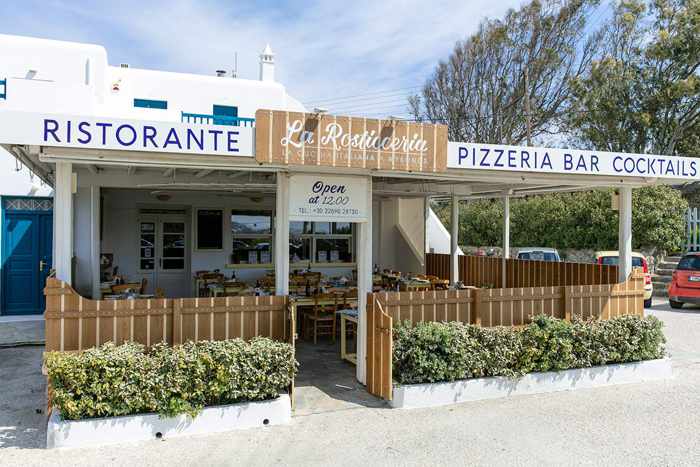 Hosted by Massimo and Roberto, La Rosticceria Cucina Italiana Mykonos aims to delight every guest "with a genuine Italian dining experience. We are proud to serve fresh, simple, delicious Italian food, complemented by a great glass of wine, served in a comfortable, home-like Italian setting where everyone is welcomed as family and friends. Our purpose is Pure Hospitality, our passion is absolute guest delight!" the restaurant says on its social media pages. La Rosticceria was open throughout the winter, operating Wednesdays through Sundays, but since April 13 it has been open daily, starting at 6 p.m. You'll find it located along the road from Mykonos Town to the airport.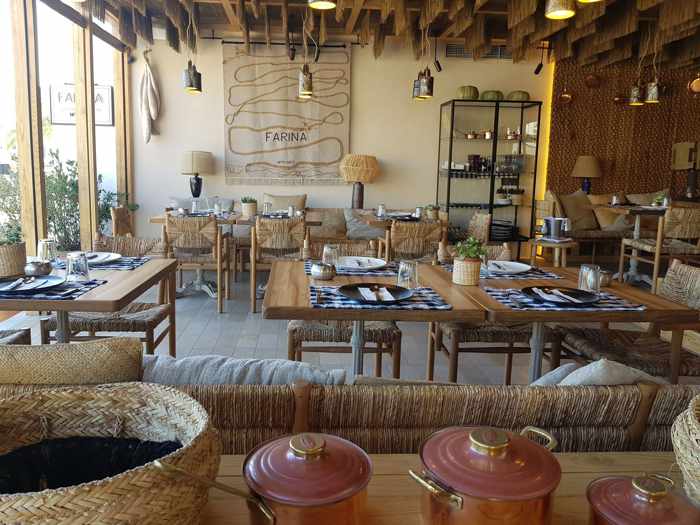 "Just add Greek fresh products, with a side of Mykonian views and a generous dose of Italian flair – The recipe to Farina's iconic cuisine and aesthetic!" That's how Farina Cucina Italiana charms its way into its delighted customers' hearts and stomachs. The traditional decor adds to the ambience, "transporting you to the Italian countryside right in the middle of Cosmopolitan Mykonos!" the restaurant's social media pages say. Farina Cucina is located at Ornos, and opened this year on March 4.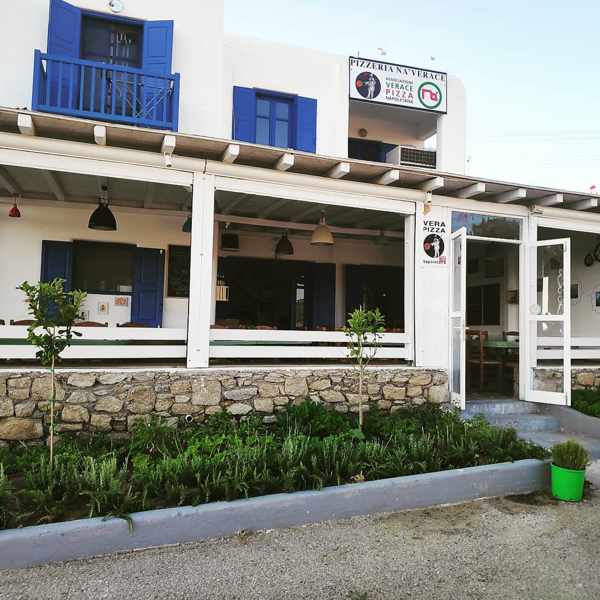 Pizzeria Na' Verace ("the real one") claims it's the one and only restaurant on Mykonos serving authentic Neapolitan pizza.  Na' Verace offers more than 20 versions of the pizza, all made with pure Italian ingredients. "Mouthwatering pizzas are baked in a wood-brick oven built with volcanic stones from Mount Vesuvius, which ensure extremely high temperatures (up to 450 °C) and baking the pizza in just 60 seconds!" the restaurant's website says.  Located on the peripheral road in the Drafaki area, Na'Verace opened April 16.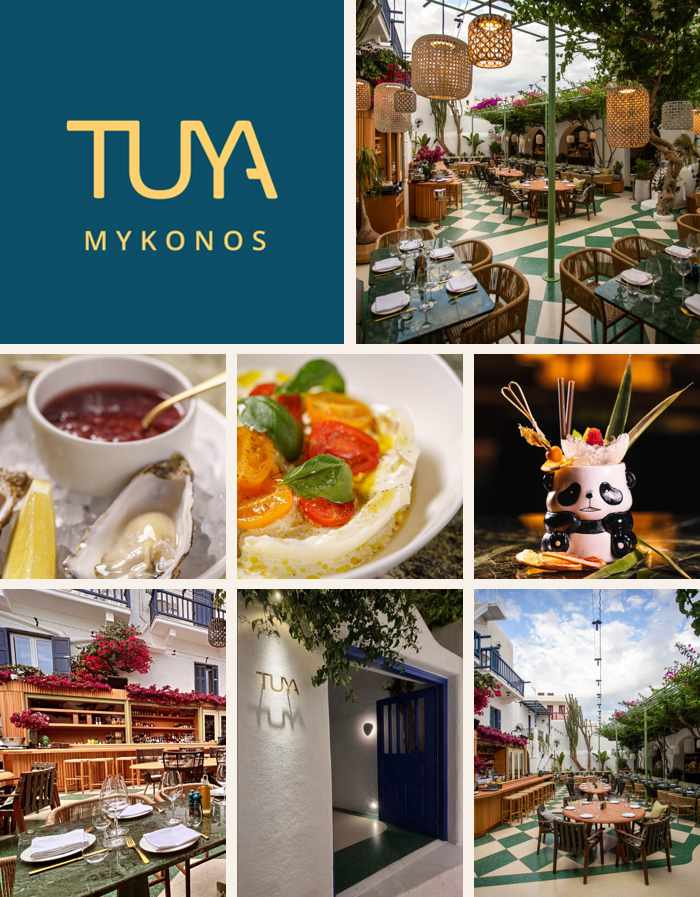 Tuya Mykonos, a fine dining restaurant featuring a menu of French Riviera Cuisine, opened June 10 on Kalogera Street in Mykonos Town. It's the third Tuya restaurant to open in Europe — the chain's other locations are in Bucharest and Vienna, with a fourth Tuya set to open this fall in Milan.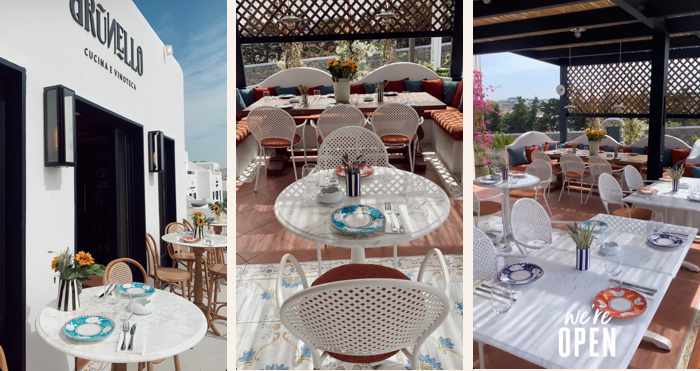 Brunello Cucina e Vinoteca is another newcomer for 2022, open since early May in the Mykonos My Mall in Ano Vrisi. An all-day restaurant, Brunello offers  "a little bite of Italy" with a menu that includes breakfast and brunch fare, salads, paninis, pizza, pasta (their truffle pasta is the house signature dish), cocktails, wine and Aperol Spritzes, of course.  The dishes are beautifully and elegantly plated, and customer photos and videos of the food are often reposted as stories to the Brunello Instagram page.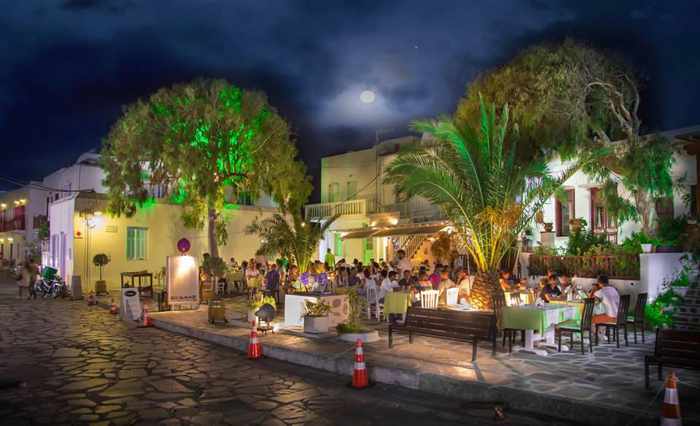 D' Angelo Restaurant opened on April 20, and will be celebrating its 11th anniversary of operations this summer. It's a hugely popular place to eat, serving authentic pizza, pasta, Italian and Mediterranean cuisine, prepared with locally-produced ingredients according to recipes passed down for generations.  D'Angelo is located at Niohori Square in Mykonos Town (between Fabrica Square and the island's famous row of windmills near the Little Venice seafront).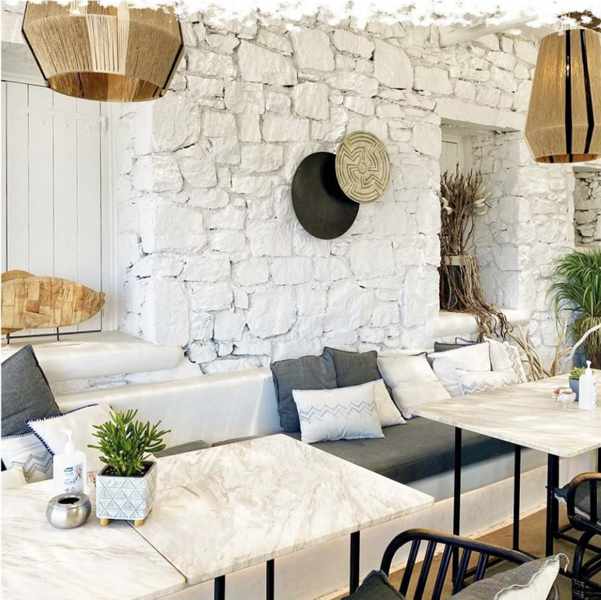 I Frati Gastronomia di Culto Mykonos invites guests to enjoy "the fabulous Cyclades experience with an Italian touch" in its all-day restaurant, its aperitivo and wine bar, and its extensively-stocked deli. The kitchen uses fine Italian products and locally-sourced ingredients  to create its tasty Mediterranean and Mykonos-influenced dishes.  I Frati is located in the Ano Mylos area on the hill above Mykonos Town. It opens April 20.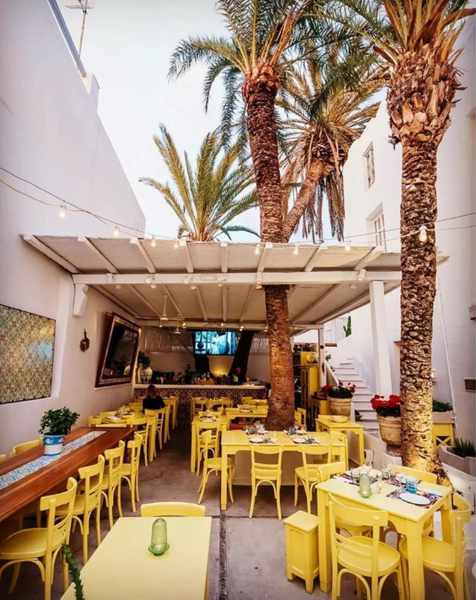 April 29 was opening day this year for Catari Ristorante Italiano in Mykonos Town.  The restaurant patio occupies the front courtyard of an old Mykonian mansion, and its kitchen is run by a team of Italian chefs who create authentic Italian dishes. "The menu offers a combination of exciting antipasti and fresh salads, homemade pasta, fresh fish and tasting meat, crispy Neapolitan pizza combined with selected Italian wines and impressive cocktails also served in jugs," the Catari website says.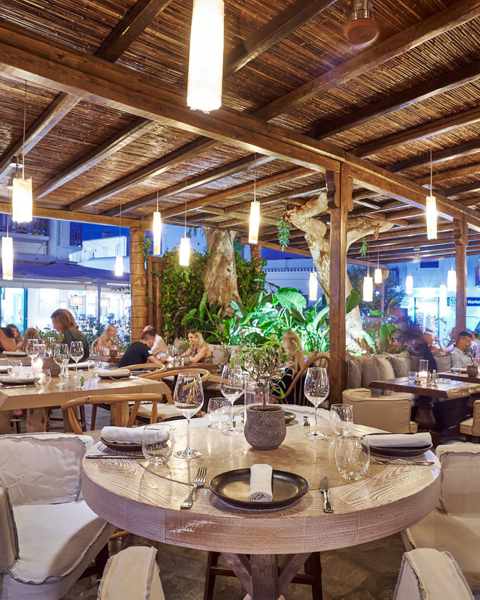 Aglio e Olio Trattoria Italiana returns on May 6. Situated in a stylish space in the Lakka area of Mykonos Town, Aglio e Olio offers creative Italian and Mediterranean cuisine including a variety of antipasti, insalate, pizza, pasta, risotto, secondo piatto, dolce and gelato.
Fast food and street eats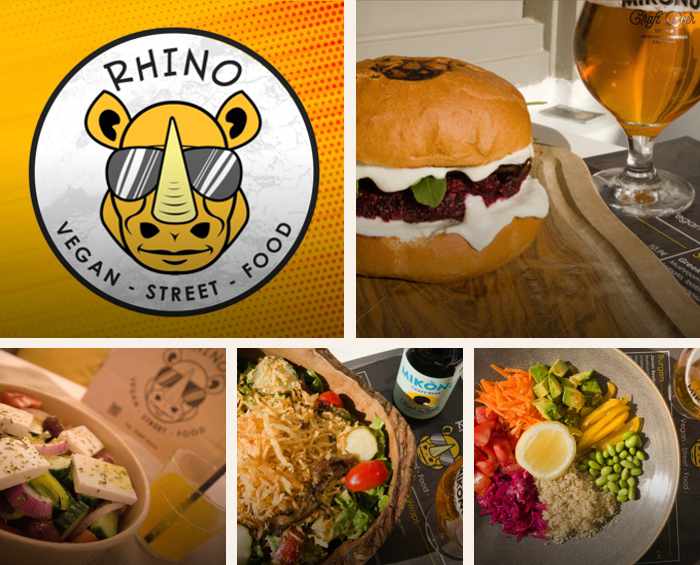 April 15 was grand opening day for Rhino Vegan Street Food, located at 3 Riga Feraiou street in the heart of Mykonos Town.  Rhino's goal is to promote sustainable and healthy eating; and as the shop says on its social media pages, "We hope to show people that a vegan lifestyle can be lived casually and effortlessly, and it can taste great too!"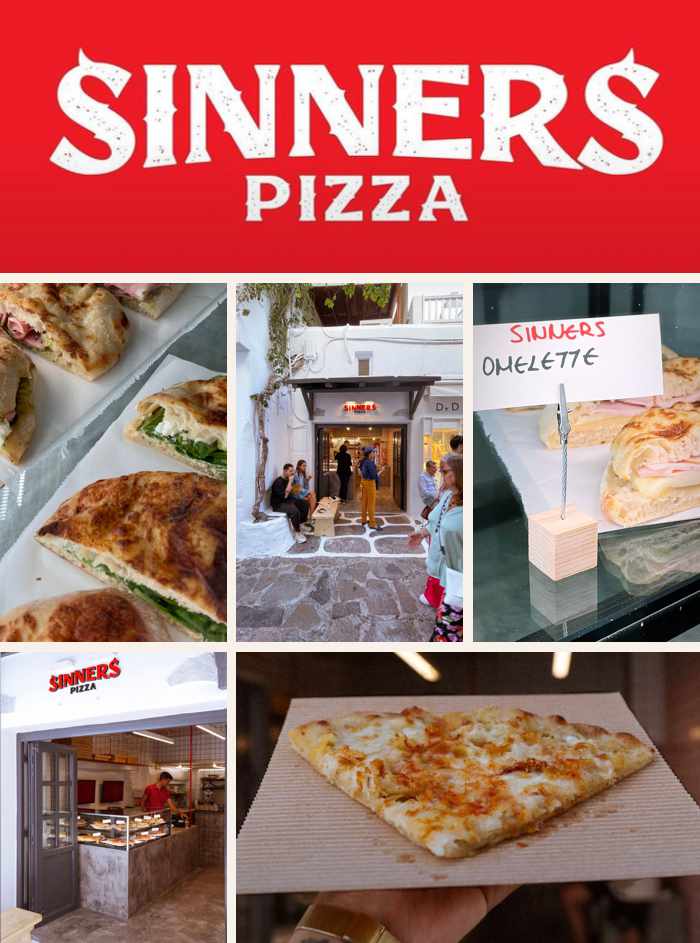 Sinners Pizza opened in early June on Polikandrioti Street, serving a variety of take-away pizzas (whole and by the slice), paninis, and beverages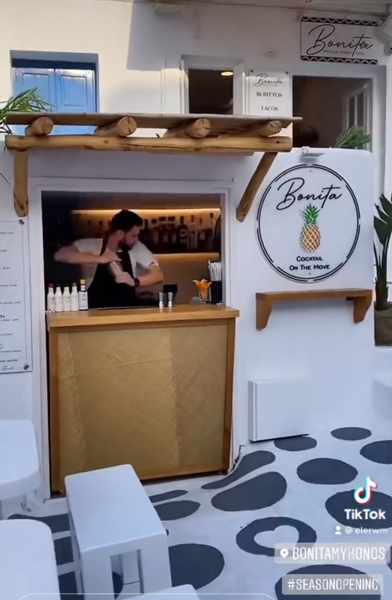 Bonita is back for its second season.  Located in the Lakka area, the Tex-Mex cafe serves Mexican street food and has a "cocktail on the move" bar for take-away beverages. Bonita opened on April 30.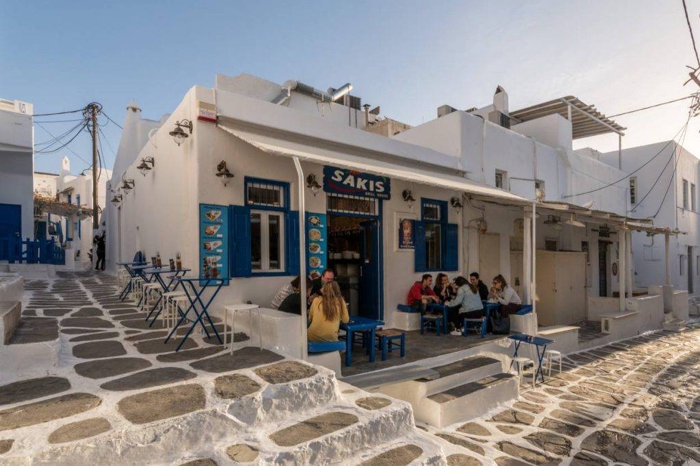 Friday April 8 is opening day for Sakis Grill House in Mykonos Town, which has been one of the island's most popular gyros and souvlaki joints since 1986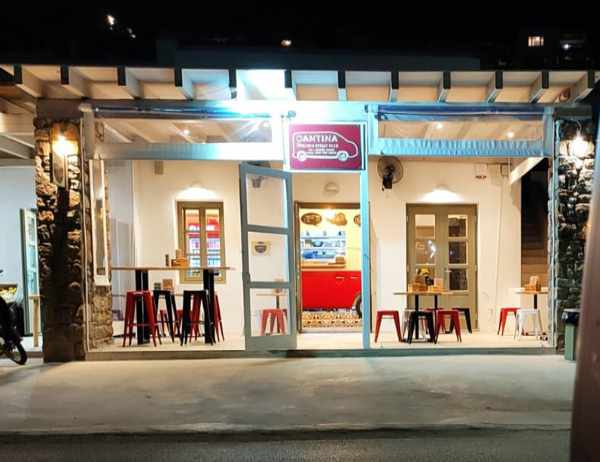 Souvlaki Mykonos — Cantina Street Food re-opened on March 28. It's located next to the Olia Hotel, directly across the road from the New Port, and offers delivery in addition to its cafe service.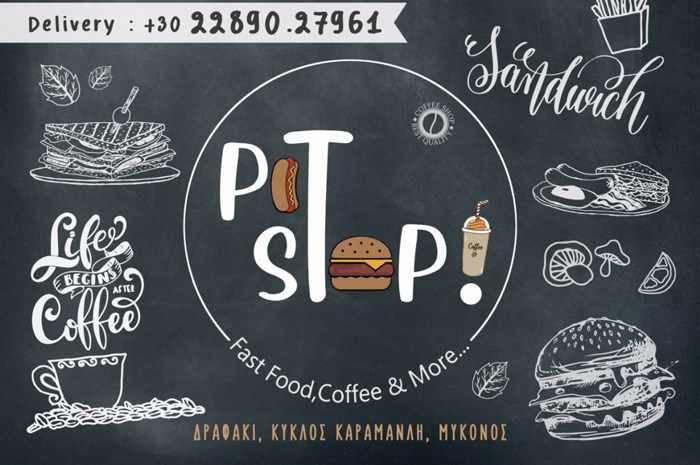 February 28 was the grand opening day for Pit Stop, a new fast food restaurant in the Drafaki area of Mykonos. The menu includes a wide range of coffees, teas and other beverages, burgers, hot dogs, custom sandwiches, tost and more. It opens at 6.30 a.m. and offers delivery.
Pita Wrap & Pizza Mykonos starts its season on February 25, and will be operating from 7 a.m. until midnight daily.  It's located just a few steps from the Mykonos Archaeological Museum above the Old Port.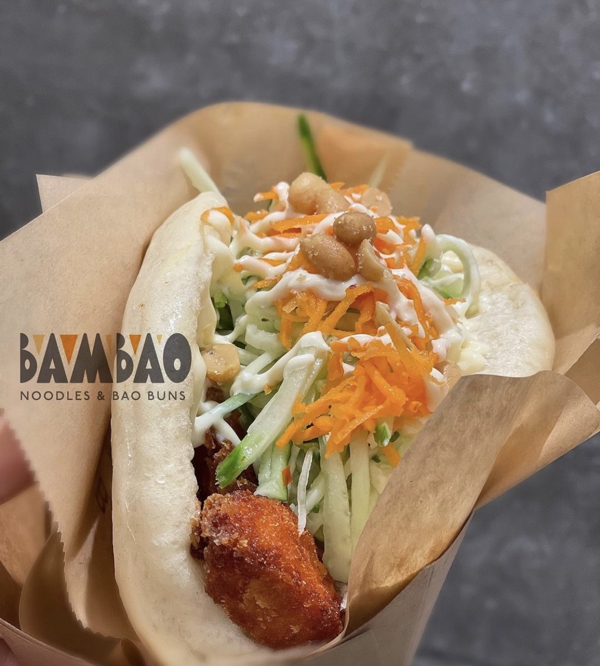 Bambao Noodles & Bao Buns opened April 29 in the Fabrika area of Mykonos Town. It's an all-day, casual Asian fusion eatery serving up bao buns, noodles, chicken buckets, and more. (You'll find it in the space occupied last year by Woba Street Food).
Cafe-bars, coffee shops, bakeries & creperies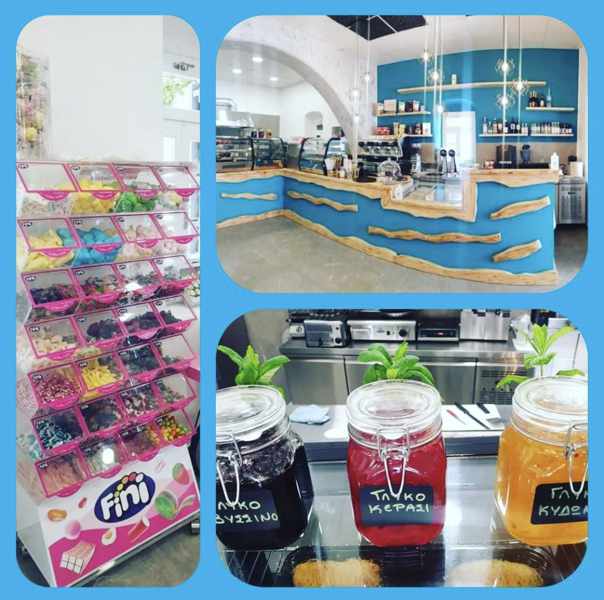 Apozouraki is a new cafe which opened April 27 in Ano Mera. It sells a variety of coffees and other drinks, along with breakfast items like crepes, waffles and pancakes, as well as sandwiches, hot dogs, burgers, pizza, spinach pies and other light fare, plus donuts, jelly beans, candies and other sweet treats.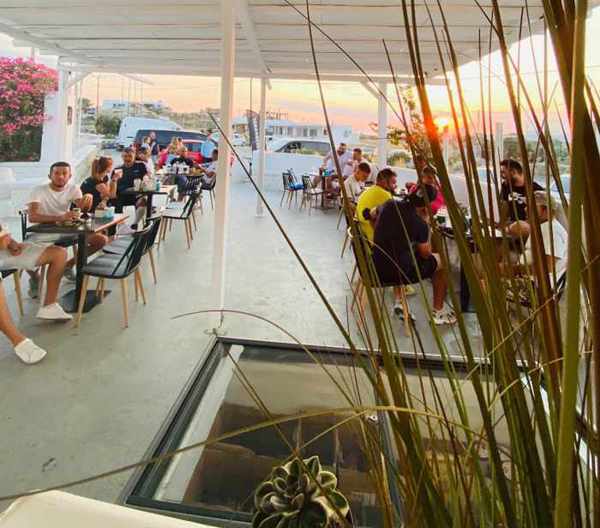 A new arrival on the island in 2021, HUG Espresso Bar has stayed open through the winter. It's located near the Mykonos International Airport.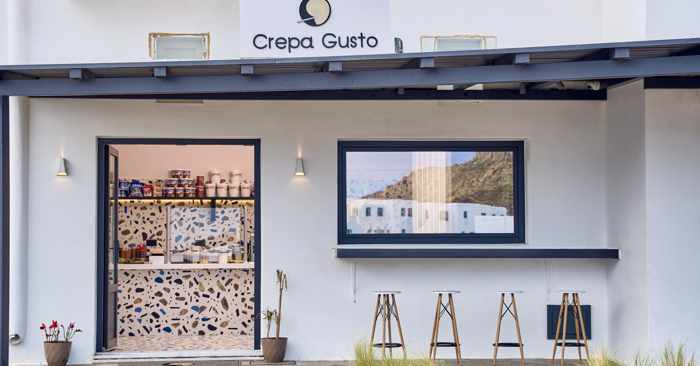 Crepa Gusto in Ano Mera was open throughout the winter months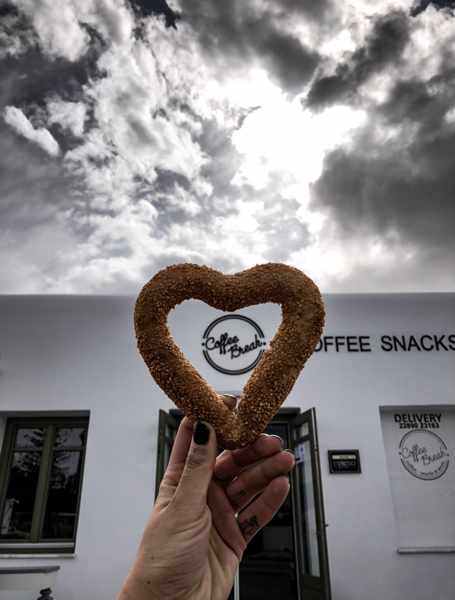 Coffee Break opens its doors on Tuesday February 22. The shop is located in the Argyraina area.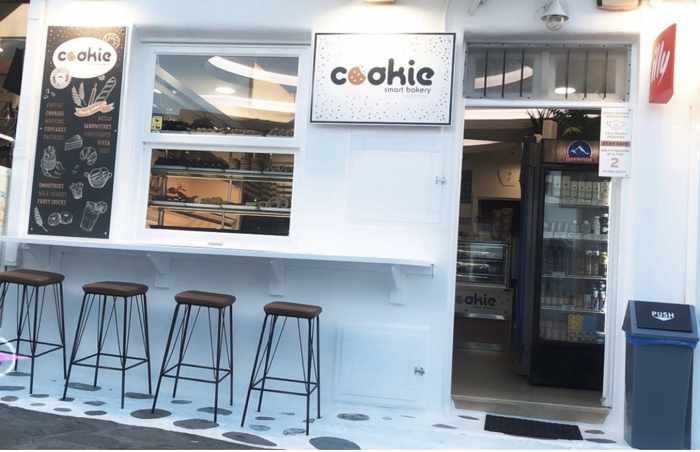 Cookie Smart Bakery, at 8 Agiou Louka Street, has been open during the winter with operating hours from 6 a.m. to 4 p.m. Starting on March 10, Cookie will be open until 9 p.m.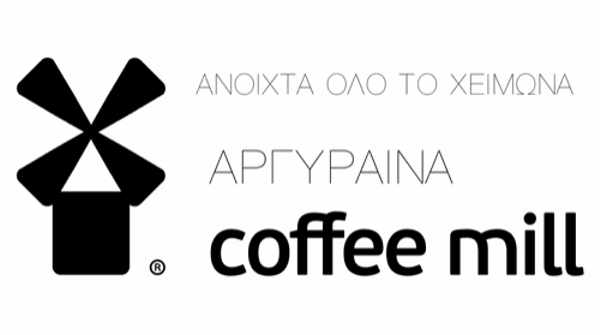 Coffee Mill, located in the Argyraina area, has stayed open throughout the winter. It opens daily from 6 a.m. until midnight, and offers delivery starting from 7 a.m.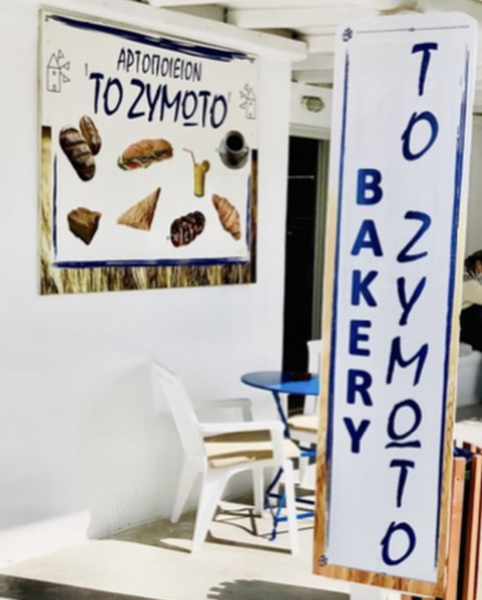 To Zymoto bakery in Ano Mera has been open since March serving coffees, pastries and home-made baked goods, including traditional Mykonian pies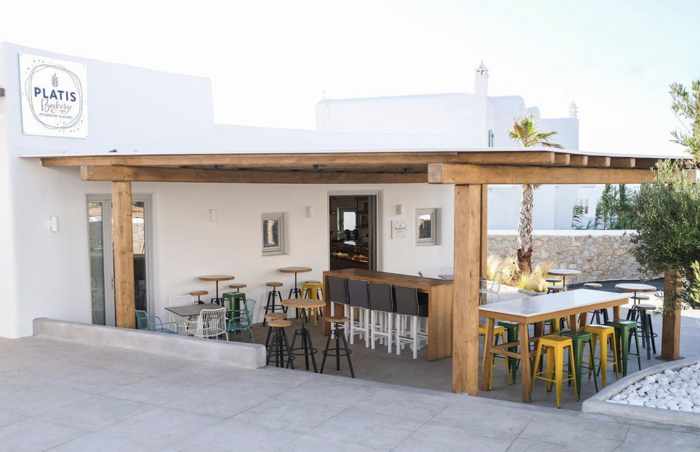 April 1 is season opening day for Platis Bakery, located at the Argo Hotel at Platis Gialos beach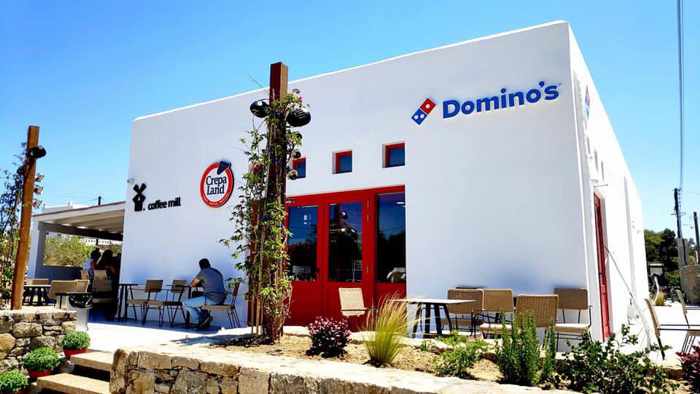 The Crepaland cafe in the Argyraina district opens on April 2