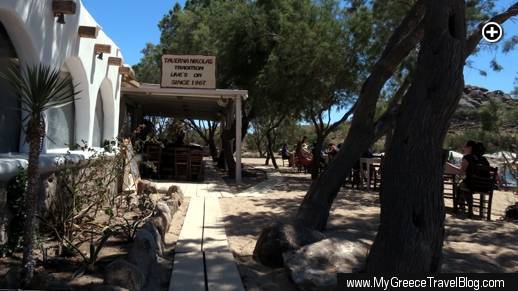 The family-run Nikolas taverna at Agia Anna beach (near Paraga beach) has been serving delicious home-cooked food for 46 years
Agia Anna beach (near Paraga)
All in the family: There are three beaches named Agia Anna on Mykonos, and the one I like best is the quiet crescent-shaped strand situated between Platis Gialos and Paraga. It also happens to be where my all-time favourite Mykonos beach restaurant — Nikolas Taverna — is located. The laid-back beachside taverna has been a fixture at the top of my "must go there for lunch" list each of the past three years, and it's a huge hit with other travellers, too. In fact, this month it's the #20-rated Mykonos restaurant on TripAdvisor.com, and I've been hearing a lot of positive comments about it all season.
A family-run restaurant, Nikolas Taverna has been operating at Agia Anna for three generations. It was established by Nikolas Dahtilidis and his wife Katerina, who passed the taverna down to their daughter, Anna Nazos. She in turn handed the restaurant down to her son, Nikolas, who has maintained the family tradition of fine service and excellent cuisine.  Anna's still very much involved in the business, doing most of the home cooking for the restaurant, while Nikolas's father, Kostantis, is in charge of grilling the meat dishes. Nikolas and his sister, Katerina, greet and serve customers.
The taverna's food is not only flavourful and delicious, it's also the epitome of the "eat local" movement. All vegetables served in the restaurant are grown at the family's farm in the Skalada area of Mykonos, while all the meats come from either local producers or from the family farm as well. Even the seafood is fresh and locally sourced — Nikolas goes fishing for it every evening.
Although the food is superb, the taverna's location is equally impressive. The restaurant building sits on the edge of Agia Anna beach, and has tables right on the sand, shaded by a row of tamarisk trees. Customers can use the sunbeds and umbrellas on the beach out front free of charge. Agia Anna is one of the quietest beaches on Mykonos, and I personally find Nikolas Taverna to be the most relaxing place on the island to enjoy an exceptional meal.
The taverna is open daily from 10 a.m. to 10 p.m. Directions and further information are available on the Nikolas Taverna website as well as on the restaurant's Facebook page.
(Tip: Although you can order from the menu, it's best to go inside the kitchen to take a look at the various dishes that have been specially prepared for that day. The Nazos family members will explain what each item is, and how it's prepared, while Nikolas will be happy to show you the available fish and seafood on offer. I can recommend the spinach pie, fennel balls, green beans in tomato sauce, stuffed peppers and tomatoes, the aubergines in tomato sauce, and the moussaka, all of which we've enjoyed. Portions are hearty, so arrive hungry!)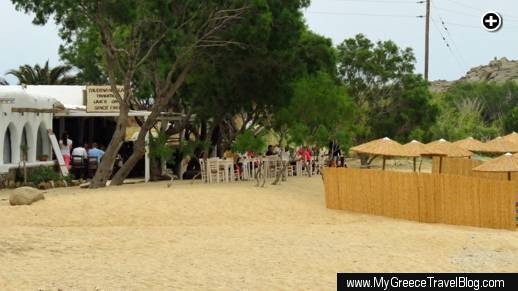 Nikolas Taverna features a restaurant building with sheltered dining terrace (left), a row of tree-shaded tables right on the sand (center), and several sunbeds and umbrellas on Agia Anna beach that diners can use free of charge (right)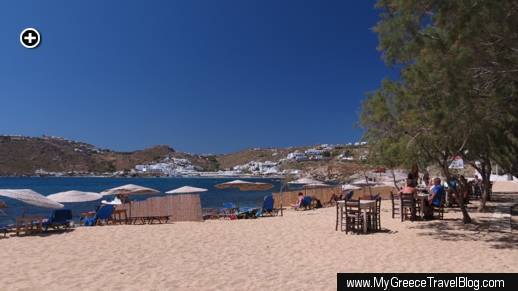 The taverna and beach have views toward Platis Gialos across the bay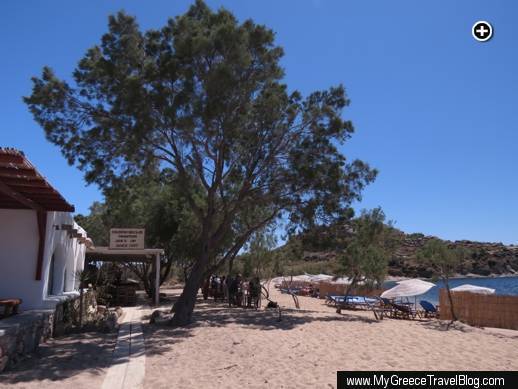 Side view of Nikolas Taverna and its beachfront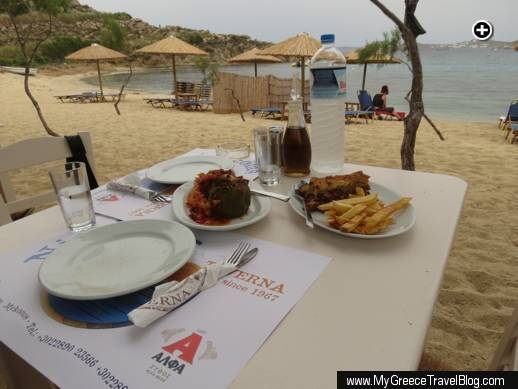 I enjoy sitting at one of the tables right on the beach, but the taverna has a wide sheltered terrace for people who prefer to dine in full shade. Our May 17 lunch included rice-stuffed peppers and tomatoes, moussaka and fried potatoes.
Lia beach
New Greek cuisine: For years — since at least 2009, in fact — I heard and read rave reviews about a wonderful taverna called La Luna at Lia beach. Locals had repeatedly urged me to check it out, while numerous guests at Hotel Tagoo (where I have stayed several times) had told me how much they had enjoyed the restaurant (as well as the beautiful, quiet beach).
Unfortunately, I never got to sample La Luna's cuisine. When I visited Lia beach in May 2012, the restaurant wasn't yet open. This past May, it wasn't even there. The taverna was closed, and workers were renovating the building for Liasti, a brand-new restaurant taking La Luna's place. Liasti opened for business in early June, less than three weeks after I left the island, and so far has been getting exceptional feedback just like La Luna did. I've been hearing many good things about Liasti from locals and travellers alike, and have been reading good comments online, too.
The Once Upon a Villa website has called Liasti "a nice spot" featuring"creative Greek cuisine with fresh home-grown local products in a bohemian chic setting." Cosmopoliti.com has heralded Liasti as the new "hot spot" on Mykonos, offering "home-grown vegetables from the huge hidden paradise garden … fresh grilled fish, simple pleasures … cooked with love and care from celebrated chef George Venieris." (One of the founders of New Greek Cuisine, Venieris is executive head chef at the acclaimed roof garden restaurant of the Electra Palace Hotel in Athens.) And foodie website Gourmed has hailed Venieris's menu as "the epitomy of ambrosial locavore cuisine" with its "fresh divine ingredients, olive oil and coarse salt. Nothing could be more gourmet in Greece!"
On TripAdvisor, Liasti is already the #55-rated restaurant on Mykonos and has received four 5-star reviews in a row. One commentator said "The food was delectable, the setting sumptuous," while another wrote: "New this year, this restaurant is very special. The owners have made this a wonderful place to spend the afternoon. The meals are creative, delicious and the atmosphere and service are outstanding."
I couldn't find many photos of the restaurant online, and couldn't find a website or Facebook page for Liasti, either. Below are two restaurant pictures I found on Instagram; if you search on that site, you'll see several photos of table settings as well pictures of some of Venieris's culinary creations. Cosmopoliti.com published a few more pics as well, in a June 15 update describing "heavenly" Liasti as "the best beach restaurant" on Mykonos.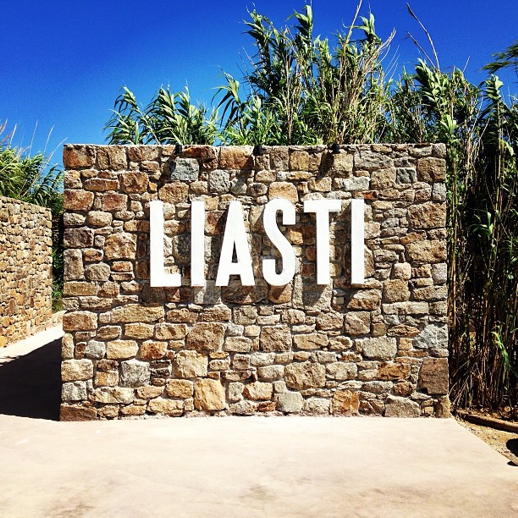 This photo of the sign for the brand-new Liasti restaurant at Lia Beach was shared on Instagram by Hunt Beauchamp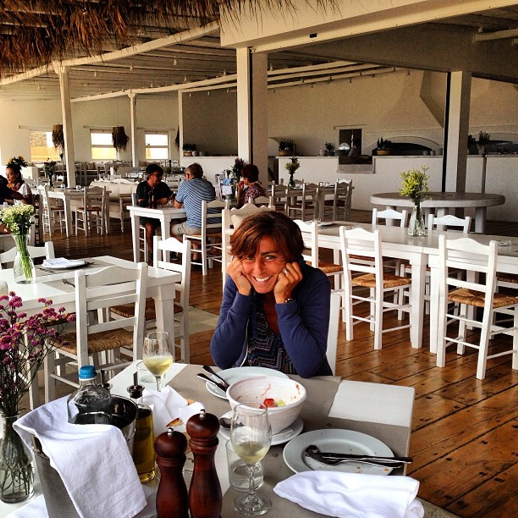 This photo of Liasti restaurant was shared on Instagram by Hotel Annunziata
Kalafatis beach
Buffets & happy hours:  Aneplora Bar Restaurant is another popular place I have been hearing people talk about since at least 2009. And it's yet another spot I still haven't had the opportunity to experience first-hand.
Located near the foot of the long road that leads downhill from Ano Mera to the Kalafatis beach area, Aneplora looks quite unassuming from the outside (one of my Mykonos friends jokes that the road-facing side of the building looks more like a bus station than a nice restaurant). But it's a different story inside, where visitors will find cozy, comfortable lounges and a cheery, bright dining room with large windows overlooking gardens, hillsides and coastal scenery.
Mykonos locals have told me Aneplora has long been known for its good food, but it's also a popular place to pop in just for a drink or cocktail.  The Aneplora bar holds happy hour every day from 5 to 8 p.m., and its à la carte menu is available for food selections during that period. There's also a daily all-you-can-eat Greek food buffet from 3 to 6 p.m., costing only €15 per person.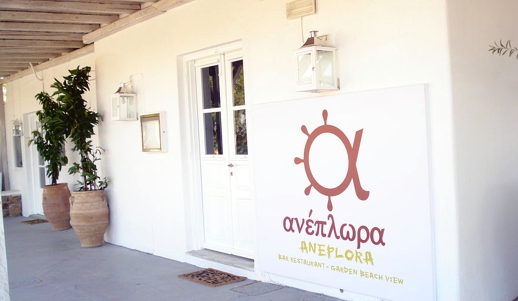 Restaurant entrance photo from the Aneplora website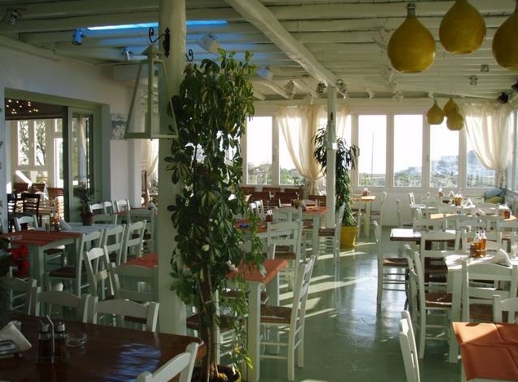 The main dining room is cheery and bright, with scenic views of Agia Anna bay and nearby Cape Kalafatis. This photo is one of two dozen that appear on the Aneplora page of the Who is Who Greek business portal.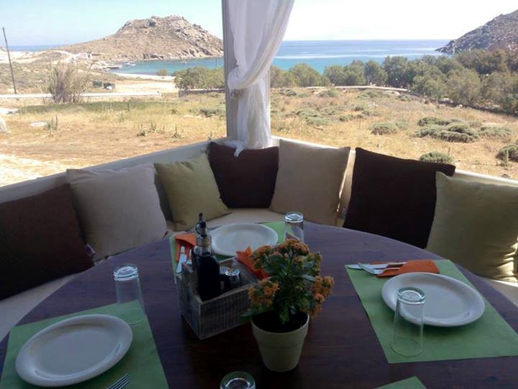 This photo from the Aneplora Facebook page shows the view toward Cape Kalafatis from the restaurant's open-air dining terrace.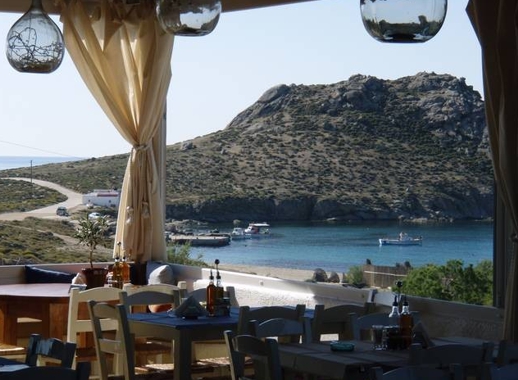 This photo, from the Aneplora website, shows the dining room view of fishing boats in the small bay below the restaurant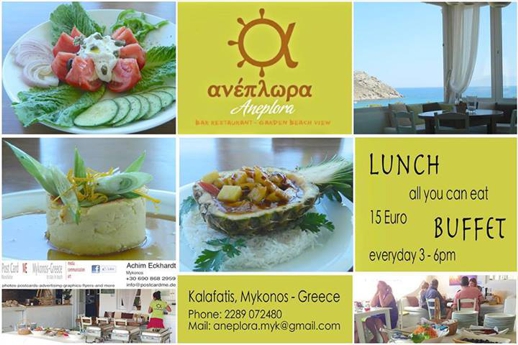 This Aneplora Facebook page  poster  promotes the restaurant's lunch buffet.  The Aneplora bar offers happy hour from 6 to 9 p.m. daily.
Fokos beach
Old-fashioned approach: Fokos is just about the only major beach on Mykonos that I haven't yet seen, and that means I also haven't experienced the delicious and well-prepared traditional Greek cuisine at Fokos taverna, which gets plaudits each summer from many locals and tourists. I have been hearing and reading about the taverna for years, and the comments have always been highly complimentary. Fokos taverna is the #9-rated Mykonos restaurant on TripAdvisor this month, and so far this season has compiled six 5-star recommendations.
Fokos is located in a rather remote area on the northeast coast of Mykonos, due north of Ano Mera town, and isn't accessible by bus. The road is paved only part of the way, on the first stretch closest to Ano Mera. On one of my Mykonos holidays I rented a compact car so I could tour the island and see some of the remote beaches, but locals told me to avoid Fokos because the unpaved bottom section of the road apparently was in terrible condition that summer and they feared my car would have been damaged by the ruts (a jeep, though, wouldn't have had any trouble getting through.) This past May locals told me the road conditions were significantly improved and said there shouldn't be any difficulty getting to the beach in a small rental vehicle. Problem was, I didn't rent a car, so once again I didn't have an opportunity to dine at Fokos taverna.
It's my big loss, unfortunately, since Fokos is exactly the type of beach restaurant I enjoy. This description from the taverna's website is beguiling enough: "We admit it! We are old fashioned! We remember when a Greek island holiday meant leaving our frenetic lives behind and getting back to basics. Basics like lazing on an unspoiled beach, cooling off in the clean Aegean and enjoying good food with good company at the seaside. Fokos beach is the perfect setting to rediscover these simple pleasures. Our taverna (described as a jewel of Cycladic architecture) is there to welcome you."
As for the food, the website says the menu "features traditional Greek fare, unique salads, grilled meats, fresh fish and homemade desserts. We keep it simple using only fresh ingredients of high quality to prepare flavourful dishes. The wine list is an interesting selection of Greek wines carefully chosen to compliment our food."
Fokos Taverna is open daily from 1 to 7 p.m.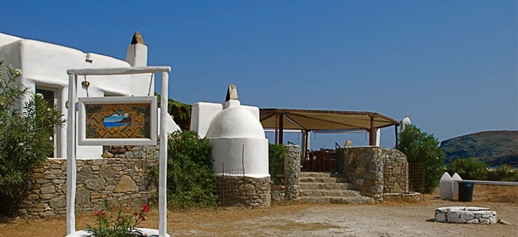 A view of the restaurant exterior in a photo from the Fokos Taverna website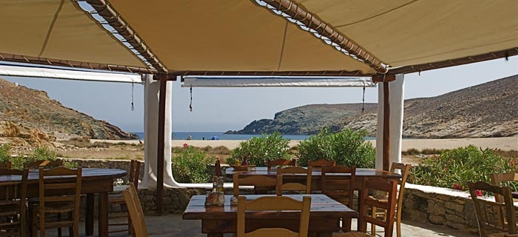 Also from the restaurant website, this photo shows the views of Fokos beach and bay from the  taverna's sheltered veranda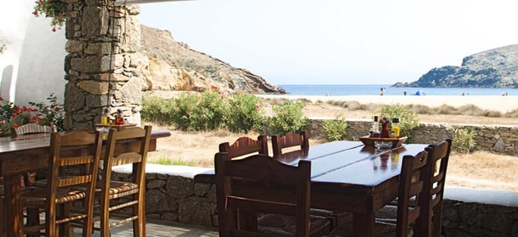 Another website photo showing the dining terrace and its view. More photos of the restaurant can be viewed on the Fokos Taverna Facebook group page.
Kalo Livadi beach
Hollywood decor: Although I personally love Greek taverna dining, I appreciate that many travellers — and foodies, in particular — prefer to experience a variety of contemporary cuisines and restaurant decors when they're on vacation.  They can quickly and easily get bored eating standard Greek fare in a rustic taverna setting day after day. These folks are in luck on Mykonos, since the sophisticated little island boasts a significant number of restaurants featuring fine international fare complimented by hip and cool modern interior designs.
One such place is Nice n Easy Mykonos, a lively new addition to Kalo Livadi beach this year. If the name sounds a tad familiar, that's probably because the place is a "sister" to the popular Nice n Easy Bio Restaurant-Café that opened in the upscale Kolonaki district of Athens five years ago. The original theme eatery is currently ranked in the top third of Athens restaurants on TripAdvisor, but its new Mykonos sibling is doing much better, presently sitting nice and easy with the #7 ranking for Mykonos restaurants. It's also been getting terrific word of mouth online, both in on social media sites and foodie circles.
Developed by owner Dimitris Christoforidis with Chef Christos Athanasiadis, the Nice n Easy restaurants follow a unique (and highly successful) formula: the food is fresh and wholesome, sourced from local and organic products; the drinks are "diverse and appealing"; and the atmosphere is "warm and welcoming" with fun "over the top decor" that includes portraits of Hollywood icons like Marilyn Monroe, Frank Sinatra and Anthony Quinn, with "jazz and classical oldies music playing in the background."
'Nice n Easy' has a menu that goes far beyond your typical Mediterranean fare,"  Christoforidis says on the Nice n Easy Mykonos website. "We work diligently to develop items that span from the traditional to more adventurous."
A few examples described on the website include: "The "Sean Connery" (freshly baked wild salmon with a herb and citrus crust on quinoa tabbouleh), the vegetarian friendly "Gavras" Special (fresh mixed greens with goat cheese, sundried tomatoes, sunflower seeds, in a mavrodaphne sweet wine dressing) and The "Marlon Brando" (big organic hamburger with bio beef meat from Arcadia, Greece). Other items include unique pasta dishes, salads, sushi and dessert selections such as: Fluffy lemon mousse with mastic yogurt sprinkles, Halva from semolina, with hazelnut praline and loukoumi ice cream and Buffalo milk rice pudding with lemongrass sorbet."
The website includes links to the restaurant's main menu as well as the special menu for beach service (the restaurant offers food and beverage service for the 200 sunbeds and umbrellas it has out front on the beach), and the menu for its sushi bar.
You can read further details about the restaurant's theme and culinary approach in a press statement issued to announce the opening of the Kalo Livadi location.  There is extensive additional information and photo on the restaurant website, plus dozens more photos of the food and restaurant on the Nice n Easy Mykonos Facebook page.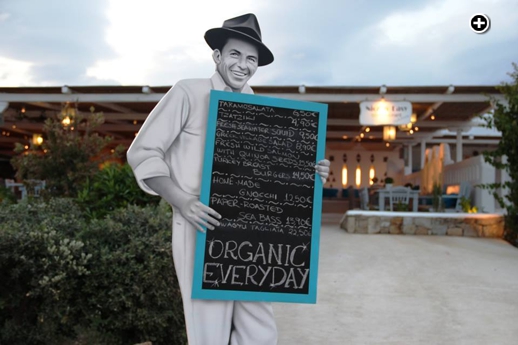 A Frank Sinatra menu board awaits visitors at the entrance to Nice n Easy Bio Restaurant Mykonos, located near the middle of Kalo Livadi beach.  To see the prices more clearly (and get an approximate idea of what it would cost to dine here), click on the photo to view a full-size image. The picture one of many on the restaurant's Facebook page.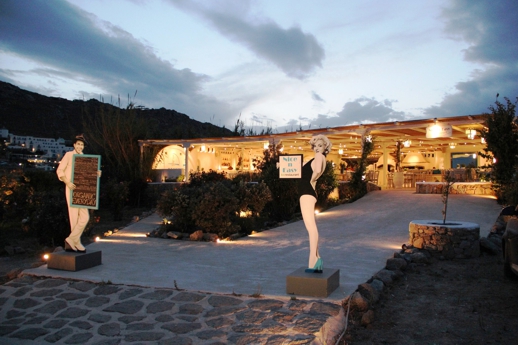 The Nice n Easy Mykonos Facebook page includes this photo showing an evening view of the restaurant from its main entrance walkway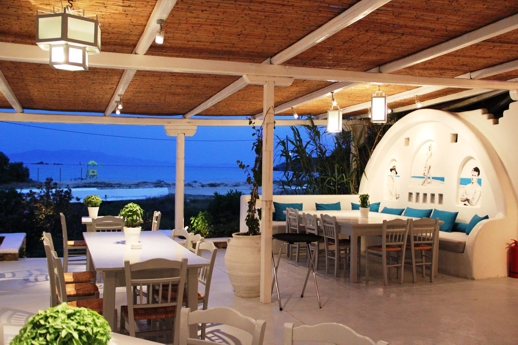 Another Nice n Easy Mykonos Facebook page photo showing an evening view of the restaurant interior and part of its view of the beach and sea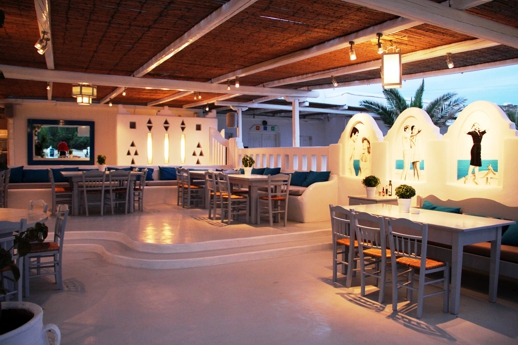 Another view of the restaurant interior. This picture and dozens more photos of the restaurant and many of food dishes can be viewed on the Nice n Easy Mykonos Facebook page.
 Panormos beach
Popular pair: Although Panormos beach may be one of the more remote (that is, not accessible by public bus) beach areas on Mykonos, and isn't organized with rental sunbeds and umbrellas stretching from one end of the strand to the other, it does hold bragging rights to some very good beach restaurants and bars. In fact, two restaurants here — Panormos Beach Bar and Restaurant and Kalosta Restaurant & Tavern — have been getting a lot of good buzz this year from Mykonos locals and travellers alike. (It also has beach bars that are getting talked about a lot, and I will describe those in a separate upcoming report).
Panormos beach bar and restaurant is situated right on the beach, with some tables out front in the sun and a cavernous open air "interior" space shaded by camouflage netting strung across the ceiling.  We stopped here back in May just to get a drink and escape the hot sun for awhile, and were very impressed when we saw various Mediterranean and Greek dishes being delivered to people sitting at tables nearby. Everything looked absolutely scrumptious, and the portions all appeared very generously-sized. And judging by the facial expressions and comments people were making as they ate their meals, the food tastes just as delicious as it looks. 
Panormos beach bar and restaurant is currently the #40-ranked Mykonos restaurant on TripAdvisor, and has been singled out as the only beach dining spot to make the Top 3 restaurants in Mykonos with grandmas' best kept secrets listing on A Luxury Travel Blog. That website describes the beach bar as having a "bohemian atmosphere," and notes that "the guest DJs play everything from lounge to Greek music depending on the crowds mood! The crowd is upscale and connoisseurs, while still relaxed and unpretentious." The restaurant wasn't crowded during our visit in May, but it definitely was relaxed and unpretentious, and the staff were certainly friendly.
The restaurant is owned by local resident George Zaglaras, and its experienced chief chef is Dmitri Papadimitriou. Their menu includes a wide range of items ranging from brunch fare to cocktails, and A Luxury Travel Blog recommends three "must-try" dishes in particular: "the sauté mussels with fennel, dry onion dill and ouzo along; the octopus vinaigrette with arugula, dry onion and capers and rice pilaf from Kassos island with chicken breast, tomato, clarified butter and Greek yogurt." Those sound even better than the dishes we saw servers bring to the people sitting beside us!
You can view lots of photos of the restaurant, food and beach on the Panormos Beach Bar and Restaurant Facebook Page. Below are several of my own pictures from this past May.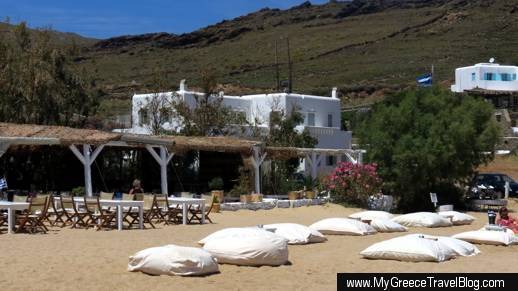 A view of the Panormos Beach Bar and Restaurant (left) from the beach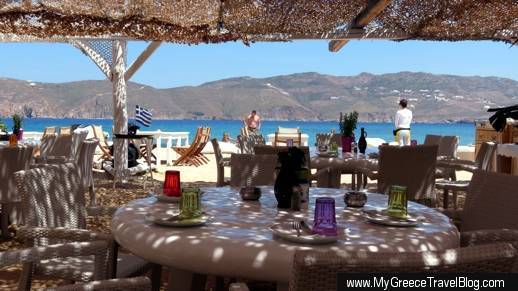 Most of the restaurant and bar tables sit right on the sand, but the dining area is comfortably shaded from the sun by overhead camouflage netting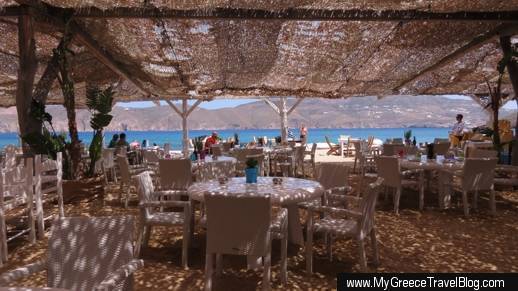 The menu features a selection of delicious Greek and Mediterranean dishes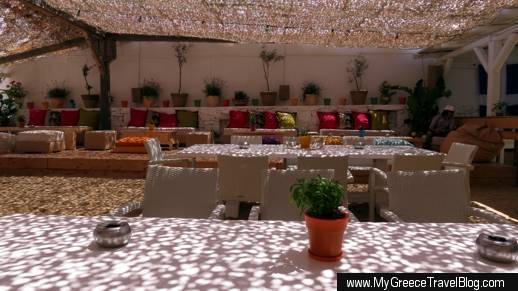 Lounge areas near the rear of the restaurant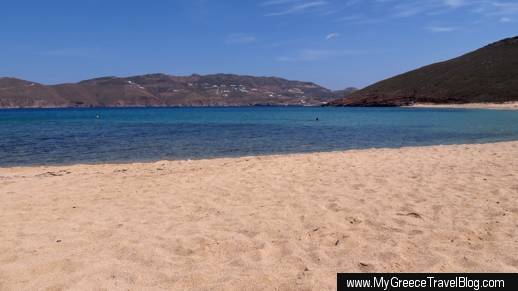 A view of Panormos beach and bay, from the sand in front of the restaurant
Locals love it: You usually know that a restaurant is good if local residents go there to celebrate birthdays and other special occasions. Kalosta Restaurant & Tavern is one such place where some of my Mykonos friends and acquaintances have been regularly gathering this summer for birthday and anniversary lunches and dinners. I have seen literally dozens of photos of the restaurant and its food on Facebook posts and Twitter feeds, and of course have heard good comments as well.
Tourists have been hearing about Kalosta, too, and have been giving it very favourable reviews. Kalosta opened just two months ago part way up the hill at the far left side of the beach (facing the sea), and already has climbed to the #24 ranking for Mykonos restaurants on TripAdvisor.
Run by the team of Max Menghi (general manager), Tassos Vougas (chef), Su Vougas (second chef) and Yiota Paraskevopoulou (maître d'), Kalosta says it offers "genuine" good-quality Greek and Mediterranean cuisine served at reasonable prices in a simple, friendly atmosphere with a beautiful beach and bay view. My friends — and the people who have posted reviews on TripAdvisor — would vouch that the description is accurate.
Check out the Kalosta Restaurant Facebook page for dozens of photos of the restaurant, its cuisine and its views. Below are two of my photos, along with two from the Kalosta Facebook page.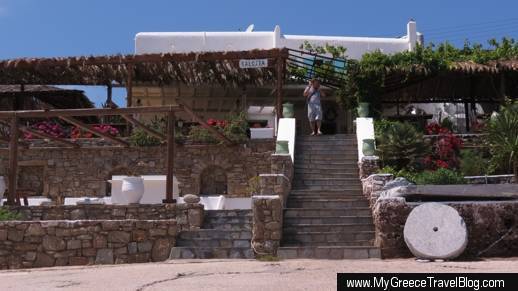 Street view of Kalosta Restaurant & Tavern. An open-air dining terrace with wonderful views of Panormos beach and bay sits just at the top of the steps.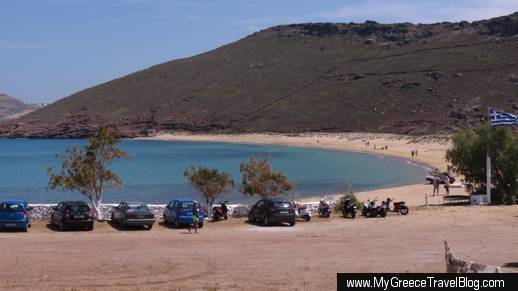 A view of Panormos beach and bay from the driveway below Kalosta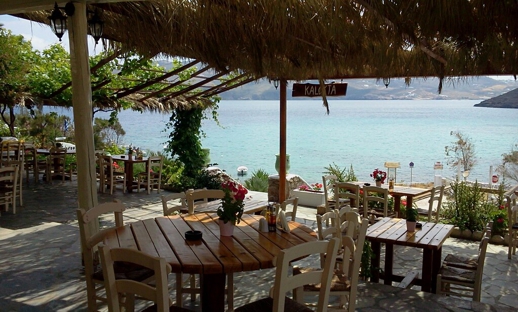 This photo from the Kalosta Restaurant & Tavern website shows part of the open-air dining terrace and its great view of Panormos Bay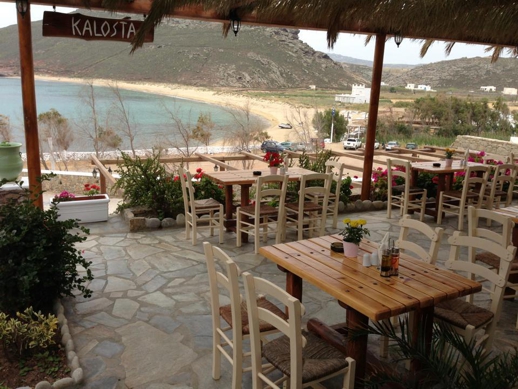 From the Kalosta Restaurant Facebook page, a photo showing the dining terrace view of Panormos beach
Paraga beach
Perenially popular: The first time I heard about Tasos Taverna was back in 2004, during our first holiday on Mykonos. We were staying in a hotel at Platis Gialos beach, and one of the reception staff suggested we spend some time at nearby Paraga beach and have a meal at Tasos Taverna. She said the taverna's food is excellent, and she assured us that we wouldn't be disappointed. We took her advice and walked over to Paraga, but we couldn't get a table at Tasos — the place was completely packed. We could see why — the dishes of Greek food that people were eating looked fabulous.
Since then we've passed by Tasos Taverna numerous times, and the place has almost always been full. The food still looks great, too. I'm sorry to say we still haven't dined there yet ourselves, but I continue to hear wonderful feedback about the taverna, both in person from people who have enjoyed meals there, as well as in online travel reviews, or in comments visitors have been Tweeting or posting on social media sites.
So far this season, Tasos Taverna is the #42-ranked Mykonos restaurant on TripAdvisor, where it has received a steady stream of complimentary reviews from contented customers.  (It also has four excellent reviews on a separate listing that ranks Tasos at position 91. Why TripAdvisor maintains two different listings for the restaurant is beyond me, but I think if the reviews were combined, the perenially popular beach tavern would rank even higher than 42.)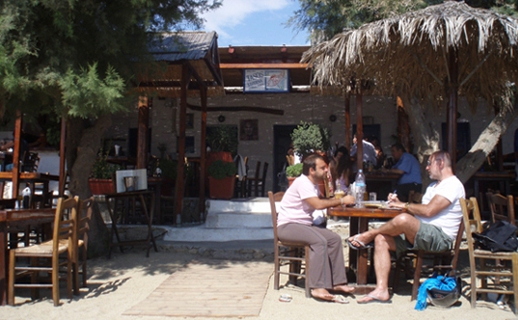 A Tasos website photo showing a view of the taverna from the beach
This photo from the Tasos Taverna Facebook Page shows part of the restaurant's shaded dining terrace beside Paraga beach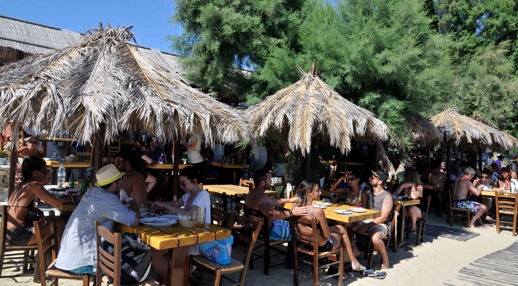 Another photo from the Tasos Facebook page shows the palapa-shaded tables right on the sand in front of the taverna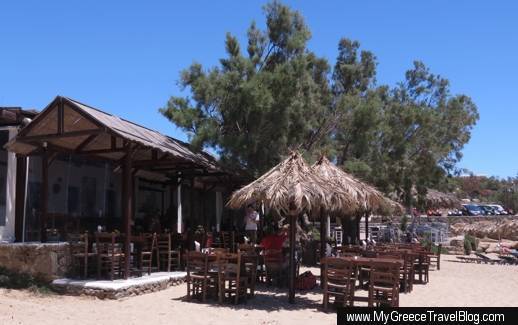 I shot this side-view photo of Tasos Taverna in mid-May 2012.
 Agios Stefanos beach
Culinary contrasts: I've been hearing great feedback about two radically different restaurants at Agios Stefanos beach north of the Mykonos New Port — the traditional Taverna Tou Limniou (also known as  To Koutouki tou Limniou), and the brand-new Ergon Greek Deli and Cuisine at the luxury Rocabella Mykonos Art Hotel & Spa. Both delight diners with excellent Greek cuisine, with Taverna tou Limniou offering up a standard Greek taverna atmosphere and menu, while Ergon presents an impressive contemporary interpretation of familiar Greek meze dishes, served in a chic and modern setting.
Taverna Tou Limniou is situated on the hillside overlooking Agios Stefanos beach north of Mykonos Town, and its dining room offers excellent sea, beach and sunset views. Although it's quite a hike up a long steep set of steps from the beach, diners have told me it's well worth the climb because the home-cooked Greek and local Mykonian dishes are delicious. The prices are also very reasonable, they say.
Taverna Tou Limniou is currently the #56-ranked Mykonos restaurant on TripAdvisor, where visitors have praised the delicious, inexpensive food and its genuine, off-the-beaten tourist path location and appearance.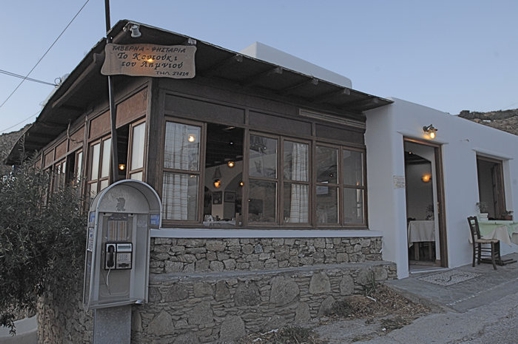 This photo, from the Taverna tou Limniou website, shows a view of the restaurant exterior. The taverna sits on the hillside high above Agios Stefanos beach.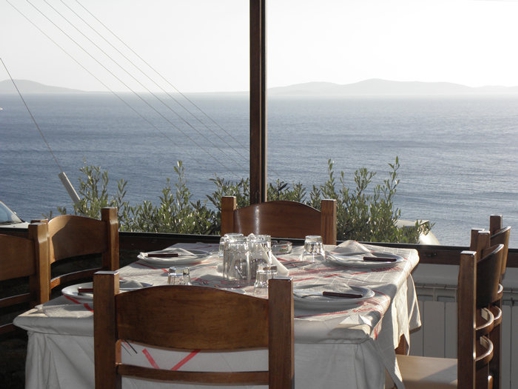 One of the seaview tables at Taverna tou Limniou. The restaurant overlooks Agios Stefanos beach and has views of Delos and Rinia islands in the distance.
Another website photo showing the view from Taverna tou Limniou
Modern touch: Ergon Greek Deli & Cuisine is quite literally at the other end of the spectrum from Taverna Tou Limniou, offering a sophisticated and modern dining experience — as well as sensational sea, beach and sunset views — from its poolside terrace setting at the chic Rocabella Mykonos boutique hotel. New to Mykonos, the Ergon restaurant opened on May 24.
The man behind Ergon's cutting-edge culinary creations is executive chef Dimitris Skarmoutsos, who prepares "traditional Greek mezes inspired from yesterday but cooked for today," the Ergon website states. To that end, Skarmoutsos uses "specially selected Greek products from very specific producers to create rustic but, at the same time uniquely distinct, delicate and refined dishes."
The Ergon restaurant is open to the public for breakfast, lunch and dinner. It serves breakfast starting at 8 a.m. and closes at midnight after dinner. The Ergon deli is situated in the Rocabella hotel's reception area, and sells a wide selection of Ergon products including Greek olive oil, feta cheese spread, salmon spread and Greek sweets and desserts, as well as a variety of Greek wines, ouzo and tsipouro and other Greek food products.
Although it's still a relative newcomer to the Mykonos dining scene, Ergon is already the island's #85-ranked restaurant on TripAdvisor, where it has received four consecutive 5-star reviews. One commentator, from London, remarked that "the food here is a modern take on Greek food taken spectacularly into the 21st Century. Ingredients are sourced from around the Greek islands and there is a lightness of touch in the dishes.  Prices were very inexpensive compared with Mykonos Town, from €6-€9 per dish. Definitely worth coming out of town for if you are unlucky enough not to be staying at the hotel."
Below are several photos that have been provided courtesy of Roy Kalfopoulou, owner of the Rocabella Mykonos. Dozens more photos of the restaurant and the exquisitely presented dishes can be viewed on the Ergon Mykonos Facebook page.
Dimitris Skarmoutsos is the noted executive chef of Ergon Mykonos Greek Deli and Cuisine, located in the Rocabella Mykonos Art Hotel & Spa at Agios Stefanos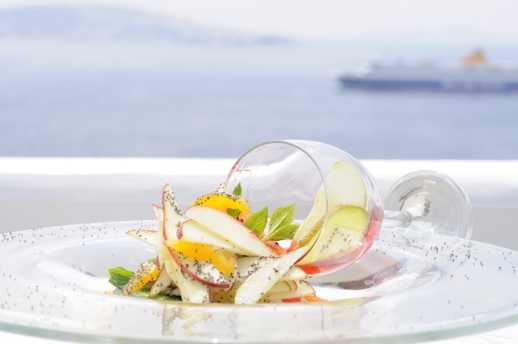 The Ergon's elegant and delicate presentation of a fresh fruit salad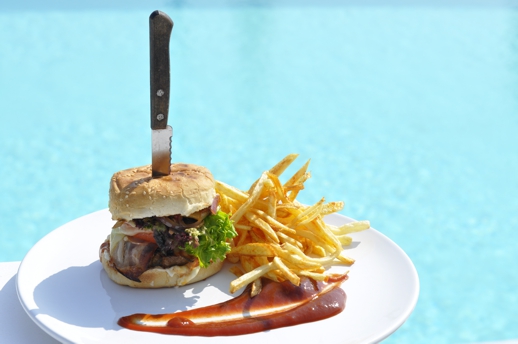 Ergon's juicy beef burger and freshly cut fries is one of the yummy lunch or afternoon snack items that diners can enjoy on the restaurant terrace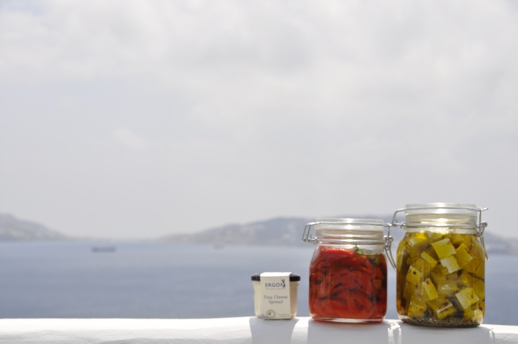 The Ergon Greek Deli is situated in the Rocabella Hotel's reception area and sells a wide variety of Greek food products, wines and other beverages. Extensive information about the product line is available on the Ergon website.
Ornos beach
Family friendly: Ornos is one of the top beach resort areas on Mykonos, especially for families, and offers a respectable selection of restaurants ranging from cheap 'n' cheerful cafés to traditional tavernas and high-end gourmet dining. The most popular dining spots are right along the beach, and out of that bunch Ithaki, Nostimon and Kostantis have been getting the most word of mouth this season (all three were just as popular last year). But I've been hearing plenty of favourable comments about another beachside eatery as well as two places that aren't near the beach at all.
Aperanto Galazio is the beach place getting good buzz. It's open from breakfast until late at night and has an extensive menu of Greek dishes at reasonable prices. Travellers have commented that Aperanto's food is just as good as the other restaurants', but less expensive, and have said the service in both the taverna and on the beach is excellent (the restaurant offers snack and beverage service to its lounge chairs out front).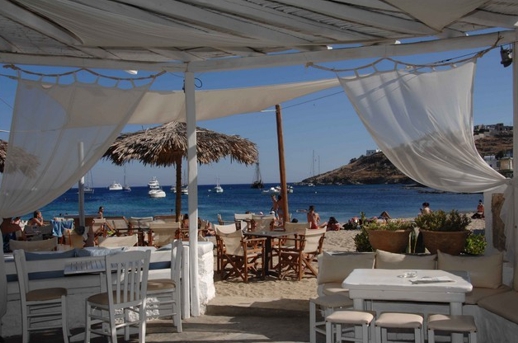 An Aperanto Galazio website photo showing the daytime view from the popular beachside restaurant at Ornos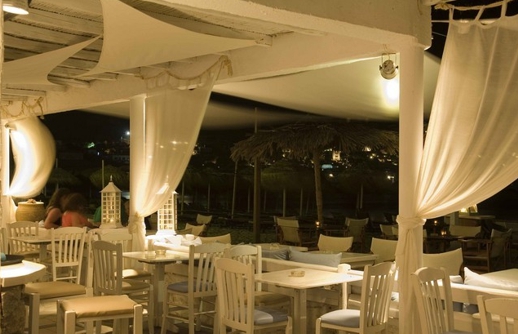 Also from the restaurant website, a photo showing Aperanto Galazio at night
Short walk: Another popular place at Ornos is a short walk from the beach —  a café called Bellagio V.S. Mykonos (listed in the TripAdvisor reviews as Bellagio All Day Bar Restaurant). Situated about a 5-minute walk from Ornos beach, Bellagio is open every day from 9 a.m. to midnight. The lead page of its website proclaims that Bellagio "is the best and healthiest café in all of Greece," serving "whole grain breads, all organic fruits and vegetables with flavours that explode in your mouth." The description on the restaurant's Facebook page is a tad more succinct: "Healthy Eats and Cool Treats."
I've been hearing that Bellagio is a great spot to go for breakfast, for coffee any time of the day, for lunch, and even for dinner. The menu includes a wide variety of dishes, including salads, appetizers, pastas, burgers, pizza, pasta, steaks, lamb, chicken, fish, desserts and more. People tell me that the prices are reasonable, and the service efficient and friendly.
Bellagio is currently the #107-rated Mykonos restaurant on TripAdvisor.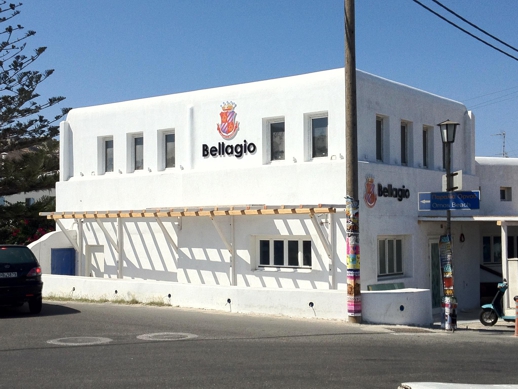 This image from the Bellagio Facebook page shows a street view of the café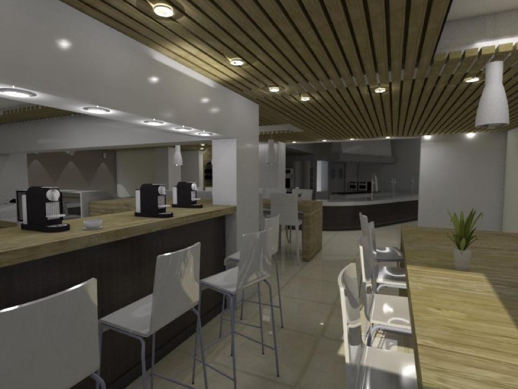 This photo of the café interior appears on the Bellagio website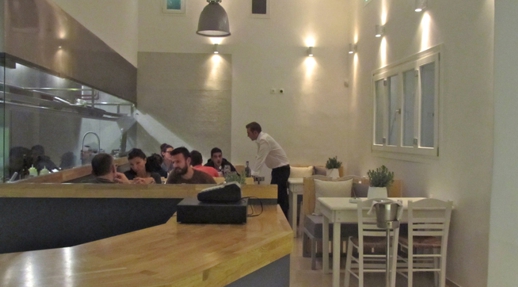 Another website photo showing the interior of the Bellagio café
Longer walk:  The second Ornos eatery I've been hearing a lot about this season is Aleka, the à la carte restaurant in the Hotel Yiannaki. Most of the feedback I've been getting about Aleka has been coming, interestingly enough, from travellers who are not even staying at the Yiannaki but who have heard good things about Aleka.
Although the hotel is roughly a 15-minute walk from the beach (it's located on a hillside about 200 meters away), its restaurant draws customers from throughout the Ornos area. While some have a bit of trouble finding the hotel initially, many enjoy the Aleka Greek cuisine and good service so much they return for another meal, sometimes more than once.
The only negative comments I've heard about the restaurant — besides its distance from other Ornos hotels — is that the tables have a view only of the hotel swimming pool and its surrounding terrace, which are attractively illuminated at night. That doesn't sound like a big deal to me, especially given all the positive remarks about the delicious cuisine.  I can think of far worse things to have to look at during dinner than a nice swimming pool!
This month Aleka was the #35-ranked Mykonos restaurant on TripAdvisor, and held the top rating for the Ornos resort area.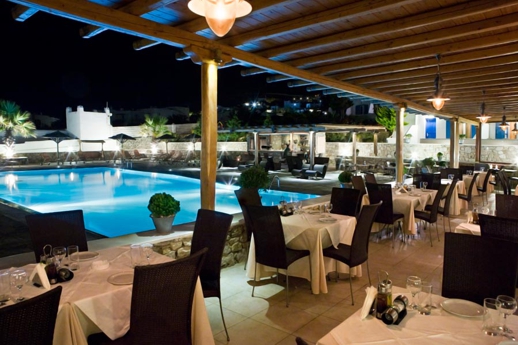 This photo from the Hotel Yiannaki website shows the Aleka à la carte restaurant locatiion next to the swimming pool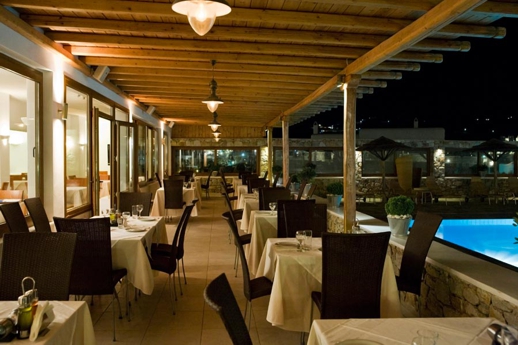 Another view of the Aleka dining terrace next to the hotel pool
Platis Gialos beach
Best of the beaches: One of the most common questions that people travelling to Mykonos ask is: Should I stay in Mykonos Town, or at a beach? I've always been surprised at how often they will be advised (by other people on Internet travel forums, not by me) to stay in Town because "the restaurants at the beaches suck" and "you would have to take the bus into Town every night to get a decent meal."
That's not the case at all, particularly for Platis Gialos, which is arguably the most popular beach resort area on Mykonos. Just open the TripAdvisor restaurant recommendation list for Mykonos, and you'll see that restaurants at Platis Gialos currently hold the #1, 2, 5, 15, 18 and 19 positions. With six places ranking in the Top 20, Platis Gialos clearly is a dining destination in its own right. In the last three years I have spoken to dozens of visitors who have literally gone out of their way to have a lunch or dinner at the beach, either driving there in a rental vehicle or taking a bus or taxi. All said they were glad they went — those meals were among the best of their vacations.
The top Platis Gialos restaurant again this year is Avli tou Thodori, which continues to attract scores of accolades from customers for its superb food and stellar service. Avli tou Thodori has an extensive menu of Greek cuisine that includes a diverse selection of hot and cold appetizers, salads, pasta, pizza and risotto, fish and seafood, meat dishes and desserts. The restaurant's large dining room overlooks Platis Gialos beach, and can easily accommodate large groups. Many of the customers are repeat visitors, and after dining there for the first time last year, I can see why 397 of the 419 TripAdvisor reviews rate Avli as excellent or very good. (By the way, if you visit the restaurant during the day, you can use their sunbeds and umbrellas on the beach out front.)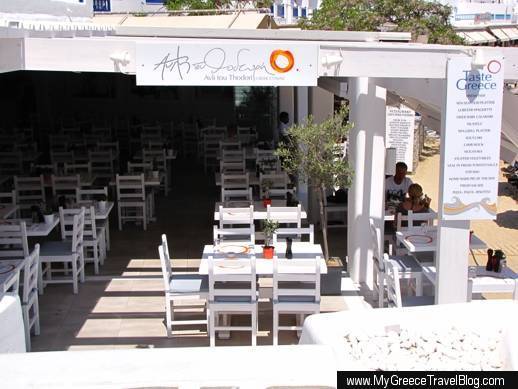 Side view of Avli tou Thodori, which is less than a two-minute walk from the Platis Gialos bus stop. The bus ride from Mykonos Town takes only 10 minutes.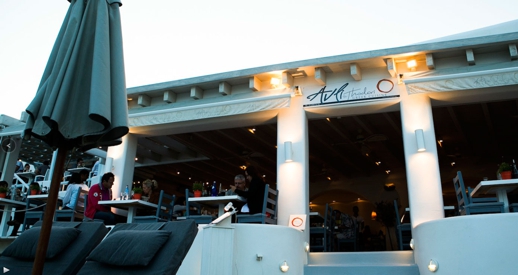 This photo from the Avli tou Thodori website shows a beach view of the building's exterior. The interior dining space is open-air in good weather; if it gets windy or chilly, the staff slide tall glass doors across the terrace so customers can dine in comfort while still being able to see the beach and bay.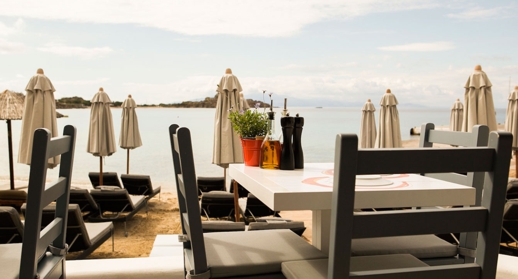 This website photo shows some of the tables right next to Platis Gialos beach, as well as the restaurant's umbrellas and sunbeds on the sand out front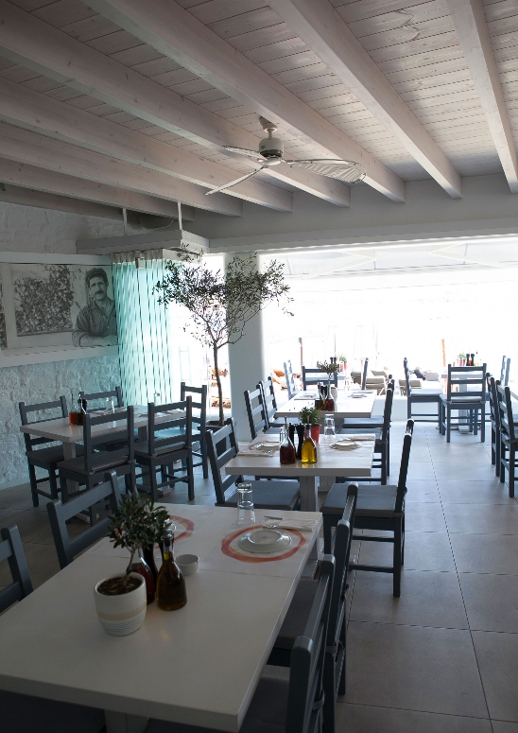 This website photo shows just one section of the large interior dining space at Avli tou Thodori. If you've got a large group of people, no problem — the friendly staff can easily accommodate your party in the spacious premises.
Just up the road: Although Avli tou Thodori commands the lion's share of attention for restaurants at Platis Gialos, I repeatedly hear positive remarks about a taverna that's just a short walk up the road from the bus stop at the beach.
The place is called Nikos Gallop Restaurant, but many visitors to Platis Gialos know it and refer to it as either Niko's or Marando. Three different names for the same taverna can be confusing enough, but two separate restaurant review listings on TripAdvisor only worsen matters.
The accurate TA review listing is the one for Marando, which gives the restaurant the #34 ranking for Mykonos.  The other review section is under the name Nikos, and identifies the restaurant location as being up the road from the Platis Gialos bus stop. However, the main photo for this particular TA listing shows the sign for the busy Niko's Taverna located behind the Mykonos Town Hall, in Mykonos Town, and most of the reviews (many of which are critical) apply to that restaurant, not the one I'm referring to near the beach.
I personally won't recommend the Niko's Taverna in town (we had a bad experience there, but the restaurant is a hugely popular place with many other tourists). But I'm very curious to try Nikos Gallop next time I go to Platis Gialos simply because of all the reviews I've been reading and the comments I've been hearing. Nine of the 10 TA reviews for so far this season (under the Marando listing) rate the restaurant five stars (one gives it four), but all praise the food and service and many mention the reasonable prices.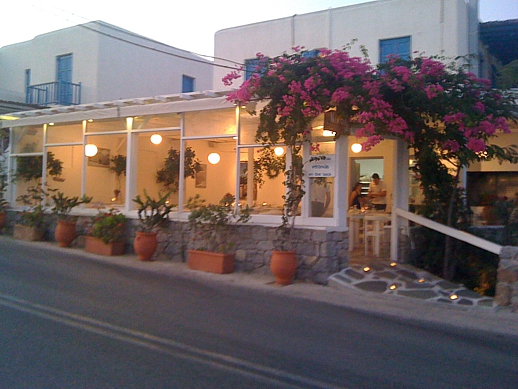 This photo from the Nikos Gallop Restaurant Facebook Page shows the taverna exterior next to the road to Platis Gialos. The taverna is a short walk up the hill from the bus stop at the beach.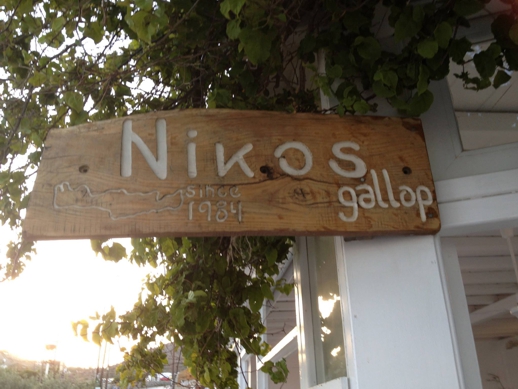 The sign hanging out front notes that the restaurant has been serving hungry customers for nearly 30 years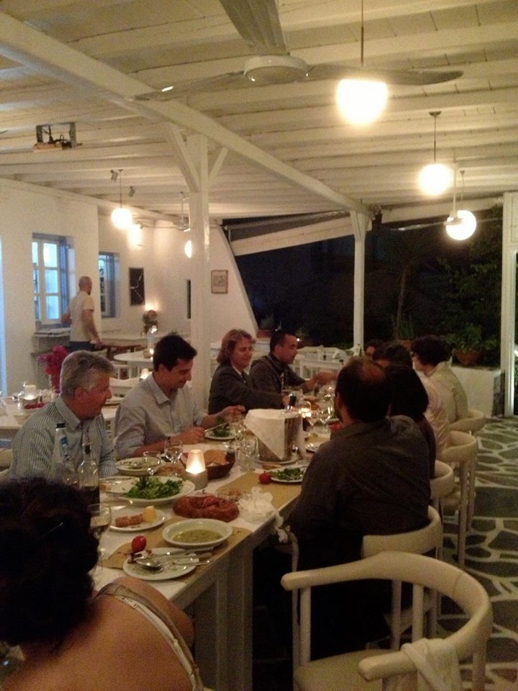 This photo, also from the Nikos Gallop Facebook page, shows part of the restaurant's open-air dining terrace
Several other Platis Gialos eateries have been getting good reviews this year, but just haven't been generating the same degree of buzz as Avli tou Thodori and Nikos Gallop Restaurant. Here's a brief outline of other beach restaurants that people have been talking about:
Second place: Yialo-Yialo, TripAdvisor's #2-ranked Mykonos restaurant, is located near the middle of Platis Gialos beach. It gets praise for good service and its Mediterranean and Greek cuisine. "Fabulous food and fantastic vibe," wrote one reviewer on TA. Not surprisingly, Yialo-Yialo gets a lot of repeat visitors.
This photo showing an exterior view of the restaurant (as seen from Platis Gialos beach) is from the Yialo-Yialo Facebook page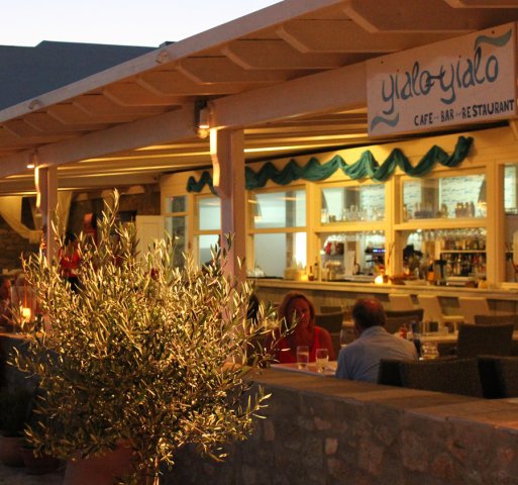 A restaurant night view photo, from the Yialo-Yialo website
Top 5: If you take the bus to Platis Gialos, you'll have to walk all the way across the beach to get to Bonatsa Open Kitchen, the #5-ranked Mykonos restaurant on TripAdvisor.  There are narrow boardwalks part of the way, but then you'll have to trod a few dozen meters  across the open beach. You'll forget about the sand in your shoes once you start eating — commentators say Bonatsa serves excellent fish and seafood dishes, and has superb service to match. We last dined here back in 2006 at which time we had a good meal. The excellent recent reviews suggest we are overdue for a return visit.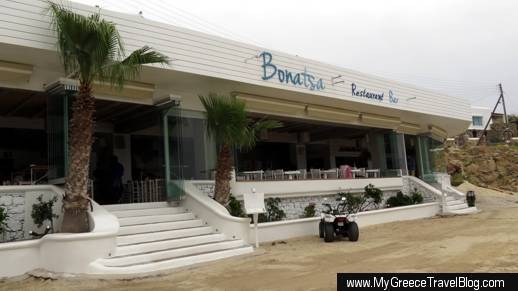 I shot this photo of Bonatsa Open Kitchen on a cloudy afternoon in May. The restaurant's broad windows slide open to give diners great views right down Platis Gialos beach and clear across the bay.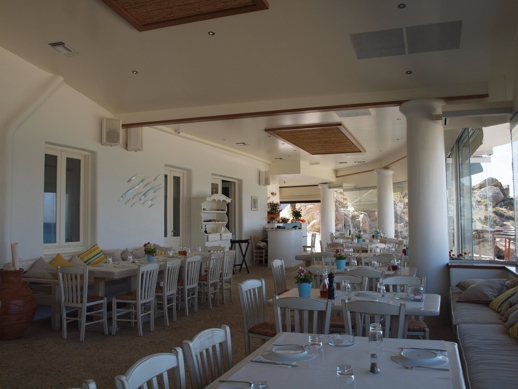 This photo of the restaurant interior is from the Bonatsa Facebook Page. The restaurant gets highly recommended for its fish and seafood dishes.
Greek nights: We had dinner at Blue Myth Restaurant at the Petinos Hotel several years ago and still recall it being one of the worst meals we've ever been served in Greece. Our mixed-grill platter of dry, salty meat was a tremendous disappointment. To top it off, the service was slow and poor, and the waiter simply shrugged and walked away when we mentioned how bad the mixed grill was. While it's doubtful we would ever go back, I've noticed in the last couple of years that the restaurant has been getting many top reviews from others who have greatly enjoyed the food and service, and who say the restaurant's twice-weekly Greek Nights are a ton of fun. As a result of all that good feedback, Blue Myth is now the #15-ranked Mykonos restaurant.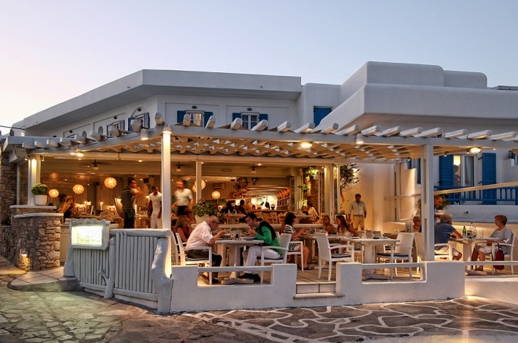 This photo of the Blue Myth Restaurant is from the Petinos Hotel website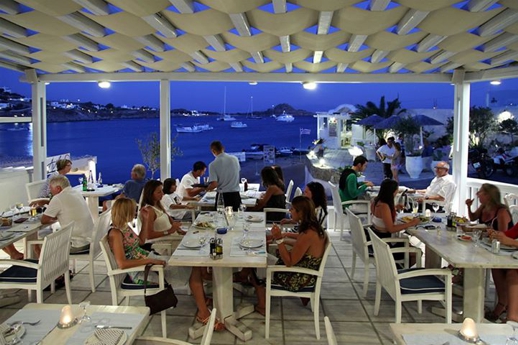 This photo of the Blue Myth's open-air dining terrace, which overlooks Platis Gialos beach and bay, is from the Petinos Beach Hotel Facebook page
Here's a brief videoclip showing highlights of the Greek Nights that Blue Myth Restaurant hosts on Wednesday and Sunday nights.
Freshly baked bread: Notos Beach Restaurant gets the nod from plenty of people, who seem to enjoy just about anything they order. In particular, though, customers have commended the warm freshly-baked bread and the delicious home-made pizza. Notos's service gets top grades, too, and numerous reviewers have mentioned that the restaurant gives customers free use of their lounge chairs and umbrellas on the beach.
Located at the beachfront of the Mykonos Palace Hotel, Notos Beach Restaurant is the #18-ranked Mykonos dining spot. The Notos dinner and wine menus, as well as the beverage and snack menu for beach service, can all be viewed on the Mykonos Palace website.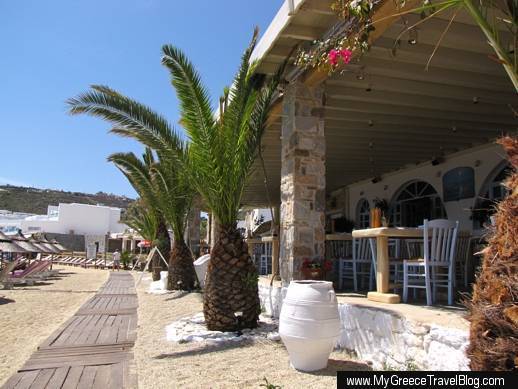 To get to Notos Beach Restaurant, just follow the boardwalk along Platis Gialos beach to the veranda behind the row of elegant palm trees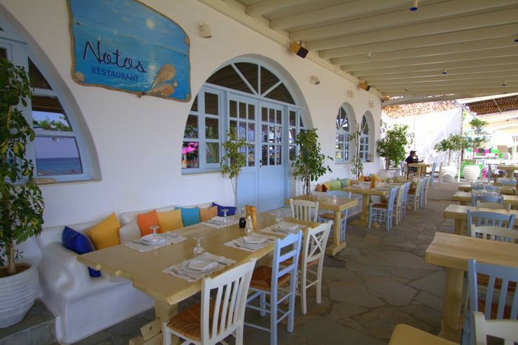 This photo of Notos Beach Restaurant's outdoor dining terrace is from the Mykonos Palace Hotel's Facebook page
Beachside seating: It wasn't very long ago that the Atlantida in the Acrogiali Hotel was the most-recommended restaurant at Platis Gialos. Then Avli tou Thodori opened up next door and stole its thunder.
We had good service and a good meal at Atlantida when we last stayed at Platis Gialos back in 2006, but since then have deliberately avoided the restaurant. The reason? Whenever we have walked past, touts standing at the entrance steps from the beach, and even waiters inside the restaurant, have been aggressive to the point of annoying in their efforts to lure us inside. In May, one of the staff kept calling out, urging us to stop in for lunch, even though we told them multiple times that we had just eaten. Even if we had been hungry, we wouldn't have gone in — we have learned from past mistakes not to fall for such intense and desperate sales pitches, and to take our business elsewhere. I wish Atlantida would turn off the touting and let the Greek and Italian cuisine speak for itself, because the restaurant terrace overlooking the beach truly is a nice spot to have a meal.
Other customers do enjoy Atlantida, though, and it rates as the #19 Mykonos restaurant this month on TripAdvisor, right behind Notos.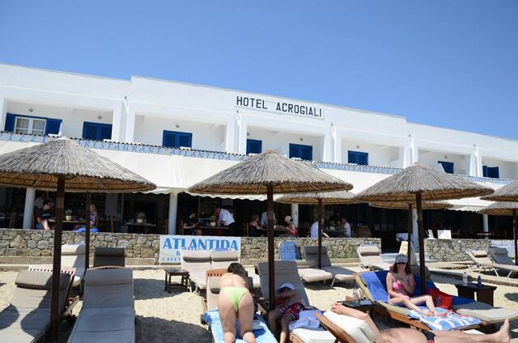 This photo, from the Acrogiali Hotel Facebook page, shows a beach view of the hotel's Atlantida restaurant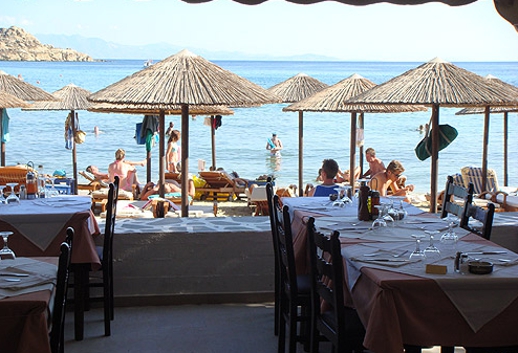 Tables at the edge of the Atlantida restaurant terrace have a great view of Platis Gialos beach and bay.  Naxos island is often visible in the distance.
Scathing reviews: I said earlier that Platis Gialos holds bragging rights to some of the top-rated restaurants on the entire island. But I would be remiss if I didn't mention one particular place at the beach that is being talked about frequently — and not in a good way. In fact, it has received a steady string of scathing reviews since the middle of May.
The Viva Mare Restaurant in the Hotel Kosmoplatz ranks second-last on the TripAdvisor list for Mykonos, currently clilnging to the unenviable #208 position. Out of 56 reviews, 37 rate it as "terrible" and 8 call it "poor." (The only reason Viva Mare isn't ranked right at the bottom is that the #209 restaurant, a souvlaki shop in Ano Mera, has received only one review to date. However, unlike Viva Mare, the souvlaki place got a good review and a respectable 4-star rating.)
Many of the Viva Mare reviewers complain that they were enticed into the restaurant by special drink offers that didn't materialize, but just as many people describe poor service and poor quality meals. Others decry the restaurant's aggressive touting tactics (which is one of the reasons why we actively avoid Viva Mare, along with Atlantida). You can read the negative comments for yourself to judge whether you might want to give Viva Mare a try. But based on the exceptionally bad feedback this summer, I would strongly recommend giving it a miss.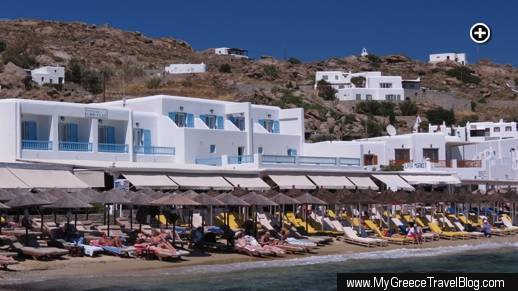 The Viva Mare restaurant, located in the Hotel Kosmoplatz, has the worst review rating this summer of any restaurant on Mykonos.
Psarou beach
Love it or hate it: Mention the word "Nammos" when you're on Mykonos, and you're bound to get a strong reaction. Nammos is one of the island's most famous beach bars and restaurants, and people either gush that's it a "great place" with "great food" and "great atmosphere," or they scowl that it's "overpriced," "over-rated," and overly "pretentious." There rarely seems to be a middle ground, other than a general consensus that Nammos can be an expensive place to eat, drink and party.
Situated at Psarou, the most exclusive beach on Mykonos, Nammos Restaurant by the Sea is celebrating its 10th anniversary this year. Throughout the past decade, it has been an incredibly popular lunch, dinner and party place for the world's rich, famous and beautiful — many of whom arrive on posh private yachts — as well as people who like to see and be seen by them.
Again this summer, Nammos keeps hauling in the customers … while raking in a mixed bag of reviews. It currently holds the #74 ranking for Mykonos restaurants on TripAdvisor, where one commentator recently hailed it as "outstanding" while another called Nammos "average" and complained that it doesn't offer "value" for money.
I keep hearing conflicting opinions from the people I speak to personally. In May, I chatted with two attractive young women who told me they had been to Nammos twice in a week and were planning to go back again. They thought it was the best beach restaurant they had ever been to, and worth every Euro they had spent (they admitted spending plenty, but said the food and drinks had been "divine" and they had a lot of fun. They also didn't think the prices were "outrageous," noting that food and alcoholic beverages at some of the upscale places they had gone to in Mykonos Town had cost much more.) Several guests at the hotel where I was staying expressed similar sentiments. But a group of middle-aged Americans told me they found Nammos disappointing, and didn't understand what all the fuss was about. They weren't impressed by Psarou beach, and considered the lunch fare at Nammos  only mediocre for the money they had paid. 
I also got conflicting opinions when I asked several Mykonos residents what they think about Nammos. Some urged me to check it out, with one saying: "You could get a couple of fabulous cocktails for under €30, and two people can have a wonderful lunch with wine for under €100. Dinner wouldn't be much more expensive if you order glasses of house wine instead of a bottle." Other locals told me not to bother. One suggested going to O'Bati restaurant in the Glastros area of Mykonos Town instead. "At O'Bati you'll get the same Nammos food at a fraction of the price — without all the pretentious people from the beach," one Mykonian told me, explaining that both restaurants are owned by the same people.
Meanwhile, I keep seeing overwhelmingly positive comments about Nammos on social media sites. People have been posting photos and videoclips of their visits to Nammos, and it certainly looks like a good time is being had by all. Apart from the reviews on TripAdvisor, I haven't seen any negative remarks. One of these days I might finally go there to check it out for myself.
By the way, if you happen to be on Mykonos this coming Sunday (July 21), Nammos is offering a special set dinner menu for only €180 per person. The menu includes a glass of champagne, a Nammos salad, deep-fried crayfish, fried zucchini, American rib-eye steak, and dessert. Alcoholic drinks cost extra. See the Nammos Facebook page for further details.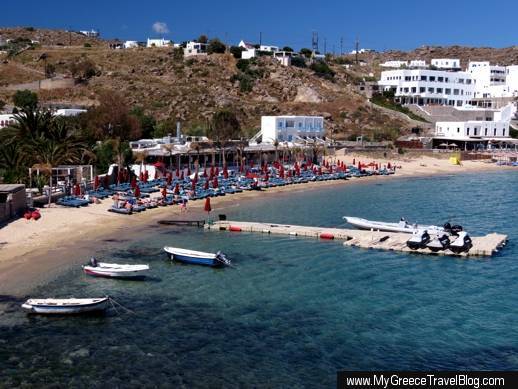 Red umbrellas and blue lounge chairs line Psarou beach in front of Nammos Restaurant by the Sea in this photo I shot in May 2012.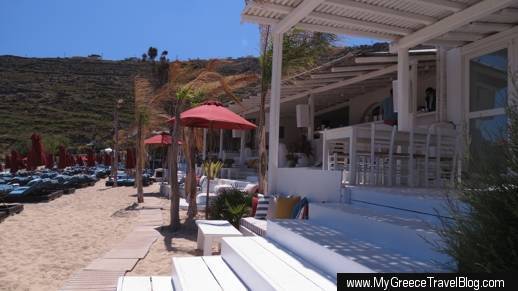 Nammos is open for lunch and dinner, and occasionally hosts special beach party events with entertainment by big-name DJs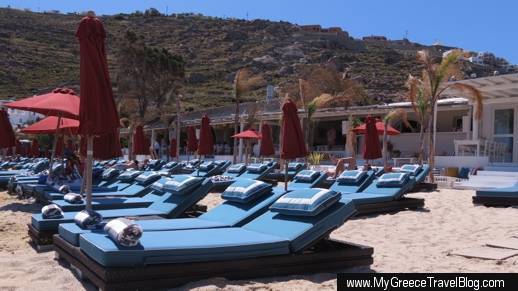 The luxurious sunbeds on the beach in front of Nammos are the most expensive on Mykonos, costing €20 per day.
 This brief videoclip of people partying in the restaurant was posted on the Nammos Facebook page on June 18.
Agios Sostis beach
Worth the wait:  There has been tons of talk about Kiki's taverna during the last several years. I first heard about it at least four years ago when some locals mentioned how much they adored a rustic restaurant that served amazing grilled meats and fish in a quaint hard-to-find location overlooking the sea. They didn't want to tell me much more than that because they worried that word would get around and the taverna would quickly become overrun with tourists, losing its charm and character in the process.
Eventually a few more details slipped out, and I learned that the place was called Kiki's, was situated on the hill above Agios Sostis beach, and didn't stay open past dusk because it didn't have electricity. 
I didn't go to Mykonos in 2010, but that year heard many rave reviews about Kiki's. People described it as a "must" and the "best" place to eat on Mykonos, with "the best salads and grilled food," breathtaking views and the most amazing dining atmosphere imaginable.
When we got back to Mykonos in May 2011, people were still talking about Kiki's. Other guests staying at the same hotel described the place in glowing terms and assured us "It's exactly like you would dream a perfect Greek taverna to be." One said: "There is nothing else like it on Mykonos," while everyone urged us to check it out for ourselves. So we did, taking an early evening drive to Agios Sostis after a day of touring around the island in our rental car.
We found the taverna just as the restaurant staff were cleaning and closing up for the day. Sunset was approaching and, since the place has no electricity, we had arrived far too late to have dinner. "Come back tomorrow," one of the staff said. Unfortunately, it was our final night on Mykonos, and that wouldn't be possible. As we turned to leave, we snapped some photos — the restaurant setting and scenery truly were remarkable. But the staff looked alarmed, and gestured for us to stop. They told us it would be OK to shoot photos of the scenery, but not the restaurant itself — and they asked us to please not post the pictures on TripAdvisor. That struck us as an odd, if not ridiculous request — especially since word about Kiki's was already spreading online like wildfire.
In May 2012, even more people were talking about Kiki's. I was one of only a few people staying at my hotel who had not been to the taverna at least once. Some guests had been there multiple times, both that year and in 2011. Everybody recommended going. But I didn't. I was travelling solo last year, and I decided to save Kiki's for another holiday when my partner would be able to join me.
This past May, the Kiki's hoopla was stronger than ever. Everyone at the hotel was talking about it, some saying they had been there two or three times already. "You really have to go this time," the hotel manager insisted. So we did. On foot. In blazing hot sunshine. (We didn't have a rental vehicle during our trip because we wanted to see as much of the island as possible by hiking around.) 
The walk should have taken us about 90 minutes, but we took a wrong turn and wound up walking half an hour in the wrong direction before realizing our mistake and turning back. We also stopped at Panormos en route to get a cold drink and rest in some shade at a beach bar there. During our beverage break, we both admitted feeling concerned that we might be setting ourselves up for a huge letdown. After several years of hearing so much hype about Kiki's, would it meet our expectations or be a big disappointment? We hoped we weren't wasting our time walking so far just for a lunch — but at least we were enjoying the hike through parts of the Mykonos countryside we had never seen before.
Only two tables were available when we arrived at Kiki's, so we got a seat immediately. Some people from our hotel were there, just finishing their meals (it was their second visit to Kiki's in as many days). We ordered our lunch and sat back with our drinks, relaxing and enjoying the view and peaceful setting.
I will describe our meal in another post, but for now will answer the big question that had been weighing on our minds — was it worth it? Was Kiki's everything that everyone had said it would be? Absolutely!
In fact, that's what the people sitting around us all said, too (I asked them for their opinions). Kiki's truly is a special place, in a unique location, and it does serve very good food. It's definitely worth a visit — even if you have to line up and wait awhile to get a table (the dining terrace is very small, with only about a dozen tables). 
 Kiki's is currently the #8-ranked Mykonos restaurant on TripAdvisor.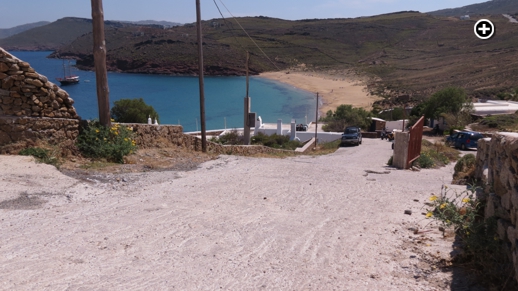 The view from the top of the road leading down to Agios Sostis beach. Kiki's Taverna is just to the left of the black SUV parked halfway down the hill.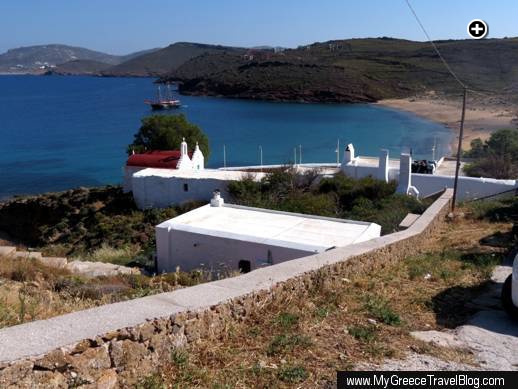 Kiki's kitchen is in the white rectangular building in the foreground. Next to that, under the tree and vine canopy, is the taverna's small dining terrace.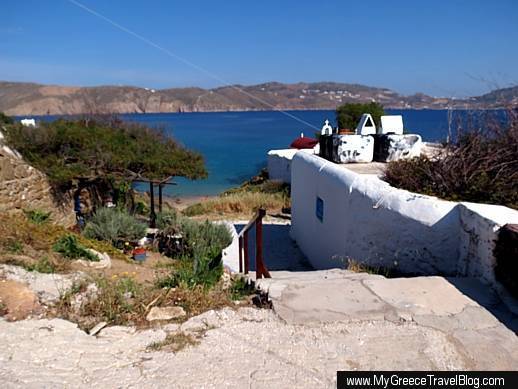 There's no sign outside to identify the taverna location. Watch for these steps — the restaurant entrance is beneath the trees at left.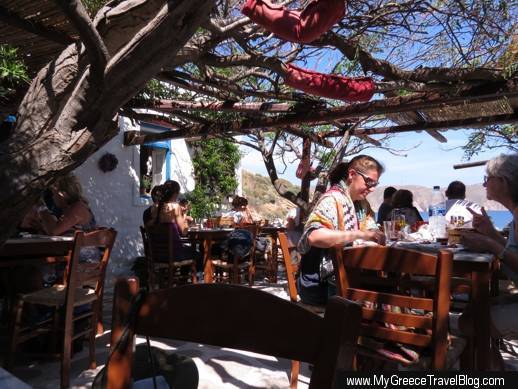 The Kiki's dining terrace is small, with only a dozen or so tables, and is partially shaded by tree branches and vines.
Above is my Agios Sostis Mykonos album on Flickr. It contains additional photographs of Kiki's Taverna, as well as dozens of photos of Agios Sostis beach and the surrounding area. Click twice on the photo to access the album and view individual full-size photos.