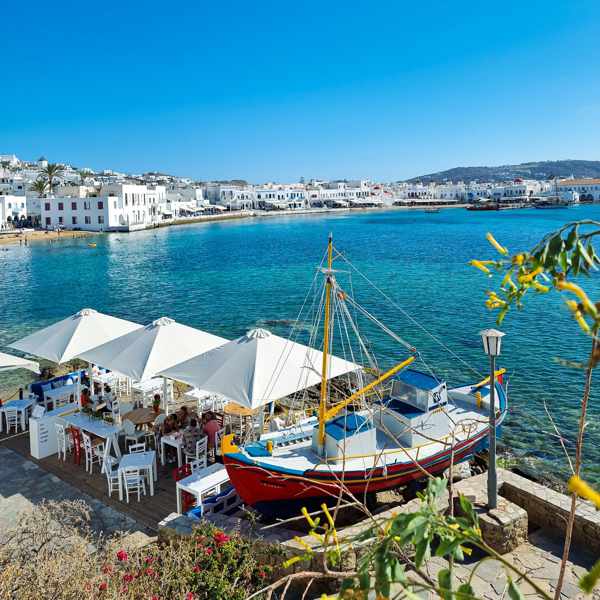 Baboulas Ouzeri has returned to the Mykonos Town harbourside alongside one of the island's most-photographed landmarks — Mathios, the oldest hand-hewn fishing boat on Mykonos
Updated on August 25 2021
Island unlocked:  After a long winter of Covid-19-related lockdowns ended and Greece reopened its borders to international tourists in the spring, Mykonos quickly bounced back to life.
Visitors arrived on Mykonos to find many familiar faces — their favourite bars, restaurants, clubs, hotels and shops — open and anxiously waiting to welcome them back.
Also eager to greet them were dozens of newly-established businesses opening their doors for the very first time — bakeries, cafes, coffee shops, bars, cocktail lounges, street food and casual eateries, fine dining restaurants, live entertainment venues, retail stores, hotels, rental accommodations, and more.
These new traveller-focussed enterprises further expand the already vast variety of drinking, dining, leisure and lodging choices on Mykonos, further cementing the island's solid position and reputation as one of the top summer holiday destinations in the world.
In this post, we will introduce you to many of this year's newcomers, along with some of the noteworthy newbies from last year. (We're including them since this is essentially their first full summer of operation — the 2020 season started late and ended early due to disruptions caused by the Covid pandemic, while few people were able to visit Mykonos because of international travel restrictions.)
_____________________________
Azul Condesa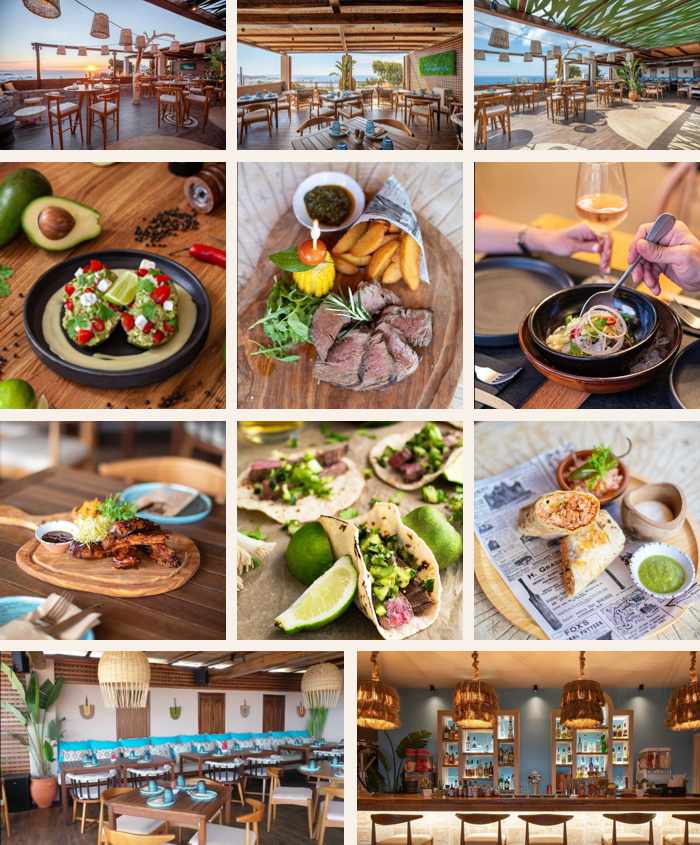 With its "modern Mexican cuisine" and sweeping patio views of the sea and sunset, Azul Condesa has been drawing crowds since it opened on May 28.  The menu includes nachos, soups, salads, starters, ceviche, tacos, tostadas, quesadillas, fajitos, burritos and main courses, along with beverage list ranging from classic and frozen margaritas to sangria, tequila, shots and a  selection of popular cocktails.  The restaurant takes pride in its homemade corn tortilla flours for tacos and burritos, and in its picanhas, beef tagliata and other meats seasoned in "unique and exceptional marinades of our Mexican chefs."  You'll find Azul Condesa in the Argyraina area, along the peripheral highway above Mykonos Town.
Facebook: @azulcondesamykonos
Instagram: @azulcondesamykonos
Web:  Azul Condesa Modern Mexican Cuisine 
_____________________________
Mykonos Social by Jason Atherton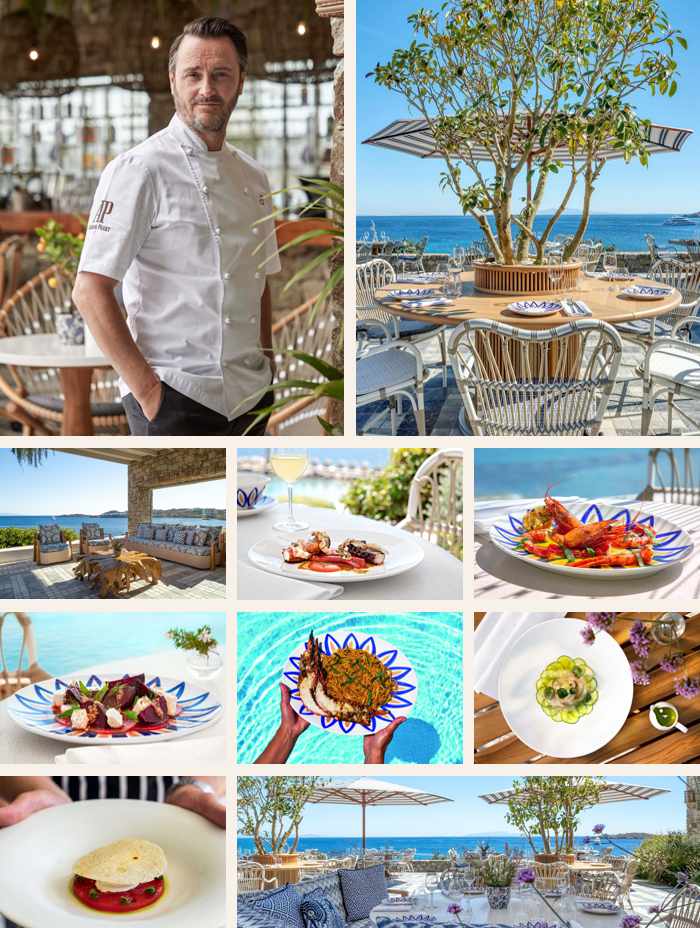 Michelin-starred British chef Jason Atherton has chosen Mykonos as the location for his first restaurant in the Mediterranean. Designed as "a bespoke, all-day dining destination," Mykonos Social opened June 16, and boasts impressive sea views from its open-air patio perched above the private beach of the luxurious  Santa Marina Resort at Ornos. When they're not mesmerized by the views, guests will be gobsmacked by the food — the menu features Atherton's creative interpretations of  Mediterranean and Greek cuisine. The restaurant bar serves Tiki-style cocktails and fine wines, while an in-house DJ plays the perfect tunes to match the clientele's mood and the sublime resort atmosphere.
Facebook: @MykonosSocial
Instagram: @mykonossocial
Web: Santa Marina Restaurants & Bars
_____________________________
Platis Souvlaki Grillbar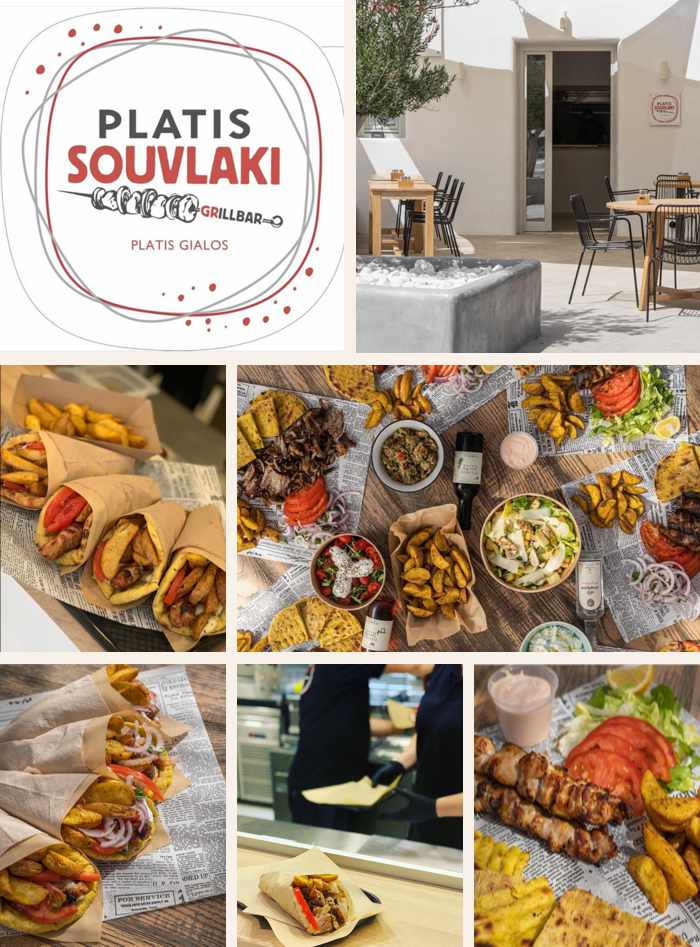 People staying in the Platis Gialos beach area won't have to travel into Mykonos Town anymore to get a taste of Greece's favourite fast food treats — gyros and souvlaki. With the June 11 opening of Platis Souvlaki Grillbar, at the Argo Hotel, visitors can now grab a budget-friendly gyros on their way to or from the beach. The grillbar menu includes gyros and souvlaki served in either pita sandwiches or meal portions, vegetarian pita, sausage and kebab pita, chicken skewers, salads, appetizers and more, all at reasonable prices. Platis Souvlaki joins three other shops that opened at the Argo Hotel last summer — a bakery, fashion boutique and hair & nail salon, which you can read about on page 2 of this post.
Facebook: Platis Souvlaki Restaurant
Instagram: @platissouvlaki
_____________________________
Woba Street Food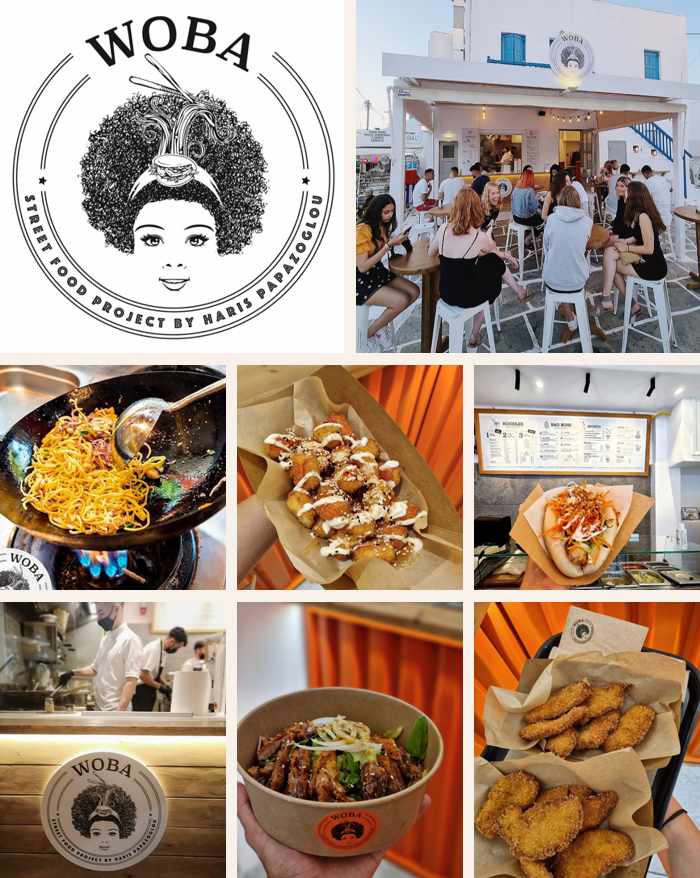 The Lakka area of Mykonos Town is always bustling with pedestrian traffic since it's home to the Fabrica bus station and dozens of cheap 'n cheerful cafes and bars.  Woba Street Food Project by Haris Papazoglu has been drawing even more people to the area since it opened on June 12.  Woba's handmade, steamed bao buns have practically been flying out of the kitchen since opening day.  The buns come with a choice of main ingredients including chicken, port, tempura shrimp, creamy mushroom, Caesar, rib eye and duck. There's even bao buns with hot dog or chicken nuggets, and sweet boa with Buenno or banofee.  The menu also offers buckets of chicken wings, nuggets and fried chicken; four varieties of fried potatoes; shrimp chips, crap popcorn and other finger foods; and Thai chicken or crispy duck salads.  
Facebook: Woba Streetfood Mykonos
Instagram: @woba_streetfood_mykonos
_____________________________
La Barran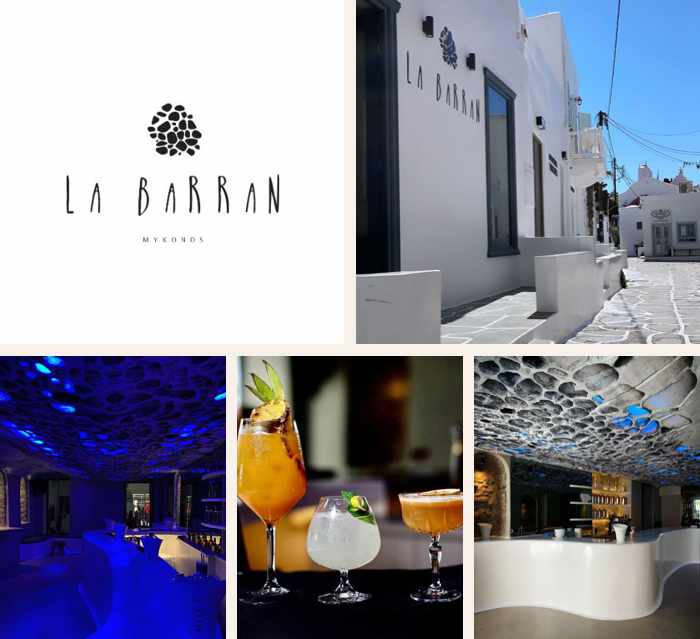 Owned and operated by a couple of young lads who were born and raised on the island, La Barran  cocktail bar quickly captures attention with its slick and curvaceous white bar and its distinctive illuminated ceiling. It's situated on Enoplon Dinameon Street, which winds through one of the busiest bar and nightclub districts of Mykonos Town. (Regular visitors will know the location as the premises previously occupied by the Replay clothing store.) La Barran opened in late  April, and has been a popular hangout for locals and visitors alike ever since.
Facebook: labarranmykonos
Instagram: @labarranmykonos
_____________________________
JackieO' Cantina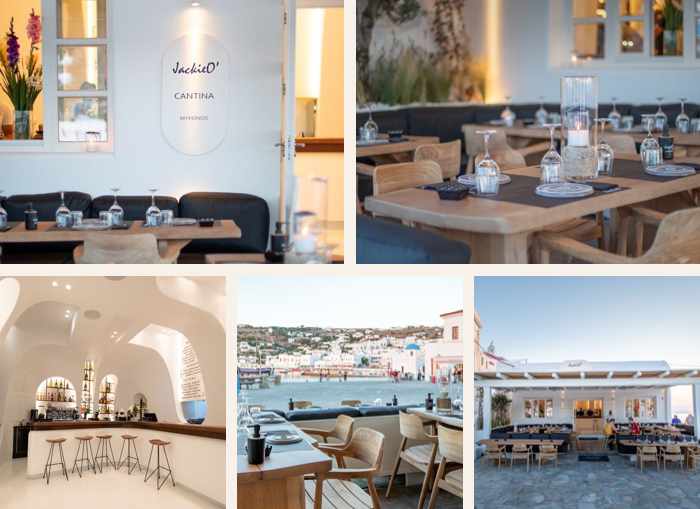 Mykonos welcomed a new arrival to the JackieO' family on June 21. The JackieO' Cantina is a casual  eatery situated right next door to its eldest sibling, the highly popular JackieO' Town Bar on the Mykonos Town seafront. (The middle child of the family is the JackieO' Beach club at Super Paradise.) The cantina menu includes a selection of dosas, gyros, souvlaki, salads, sides and beverages. Customers can either dine indoors or sit at tables on the open-air patio overlooking the harbour — a great spot for people watching.
Facebook: JackieO' Mykonos
Instagram: @jackieomykonos
Web: JackieO Mykonos
_____________________________
Koozen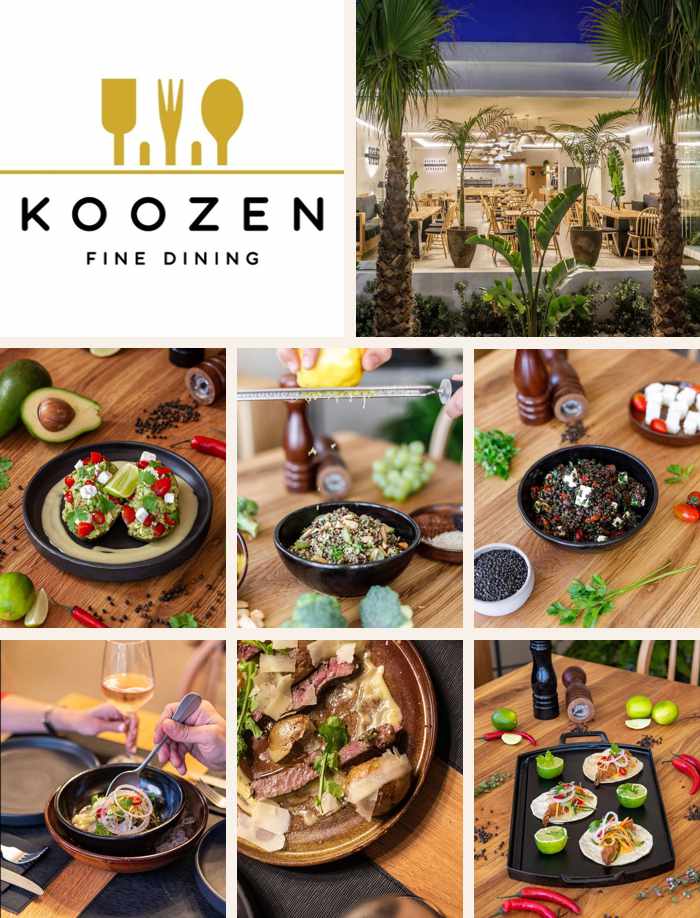 For summer 2021, Aeolos Resort has opened a new in-house fine dining restaurant, Koozen, which offers a menu of Greek and Mediterranean "comfort cuisine" created by renowned Greek chef Athinagoras Kostakos, culinary director of the Meraki restaurants in London and Riyadh, as well as Scorpios and Noema on Mykonos. For Koozen's a la carte menu, Kostakos has conceived dishes that will take diners "on a trip to the traditional flavours of Greece, with modern touches," says the Aeolos Resort website.  Guests seem to be enjoying their culinary journeys; in reviews posted on TripAdvisor, they have praised the service, flavours and high quality of the food, and have commented that Koozen's prices are very "reasonable" and "affordable" by Mykonos standards.  Koozen opened in May, and operates from 7 p.m. to 10:30 p.m.
Instagram: @koozen_mykonos
_____________________________
Drunk Monkey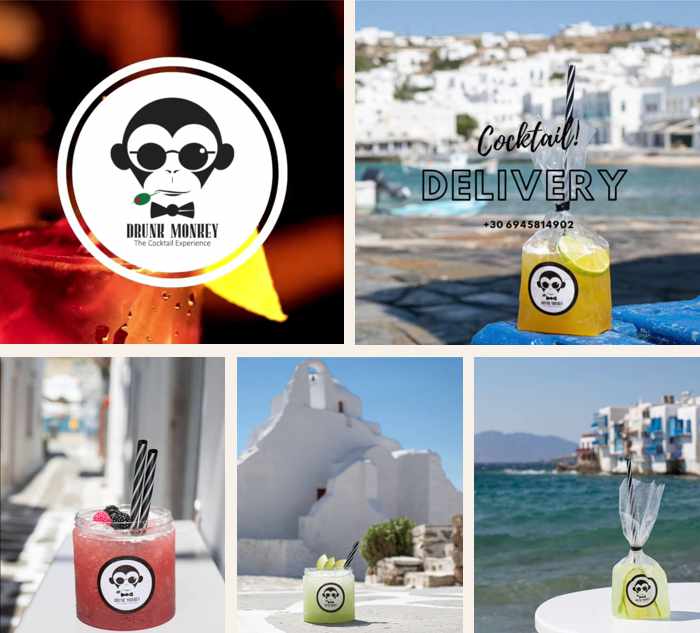 The Covid pandemic forced restaurants and bars around the world to add delivery and take-out service options to keep their businesses afloat during lockdowns. On Mykonos, two young entrepreneurs saw a promising opportunity and  established Drunk Monkey, a take-away cocktail bar that also offers delivery service. The bar opened in early July of 2020, inviting visitors to "explore the island with a cocktail" and reminding them: "Cocktail first — Because no great story ever started with a glass of water." The bar's distinctive take-out containers and logo were soon spotted all over the island. You'll find Drunk Monkey next door to Niko's Taverna, behind the Mykonos Town Hall.  This year the bar opened July 20 for its second season.
Facebook: @drunkmonkeymykonos
Instagram: @drunkmonkeymykonos
Web: Drunk Monkey Mykonos
_____________________________
PERE UBU Mykonos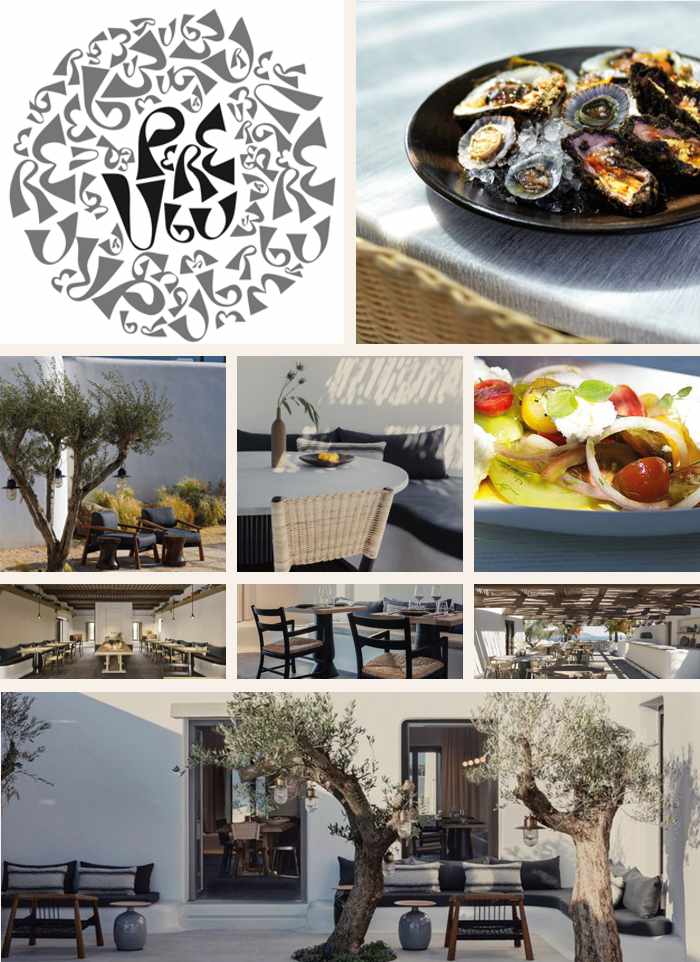 PERE UBU, the in-house restaurant at the new Kalesma luxury hotel, has been making its mark as one of the island's top destinations for fine dining under the direction of Chef Costas Tsingas, whose gastronomic philosophy "blends fresh local produce with high-end culinary craft"  to take diners on a refined journey through flavour." "From Athens to New York, he watches, listens & tastes, creating a culinary tapestry that touches on the best of global gastronomy. Connected to the world, rooted in Greece, PERE UBU Mykonos is a journey into contemporary dining," the restaurant's social media pages say. "We serve small 'mezes' plates, full meals or light lunches by day, and by night PERE UBU transforms into a vibrant social hub with innovative cocktails and gratifying menus," the Kalesma website states. Indeed, the restaurant has regularly hosted sunset entertainment by DJs Yiannis Mitsokapas and Evridiki from Zucca Radio, and on July 22 held a special summer barbecue feast "guided by the culinary craftsmanship of Beastalis."
Facebook: @PereUbuMykonos
Instagram: @pere_ubu_mykonos
Web: Kalesma Mykonos Fine Dining
_____________________________
What a Ride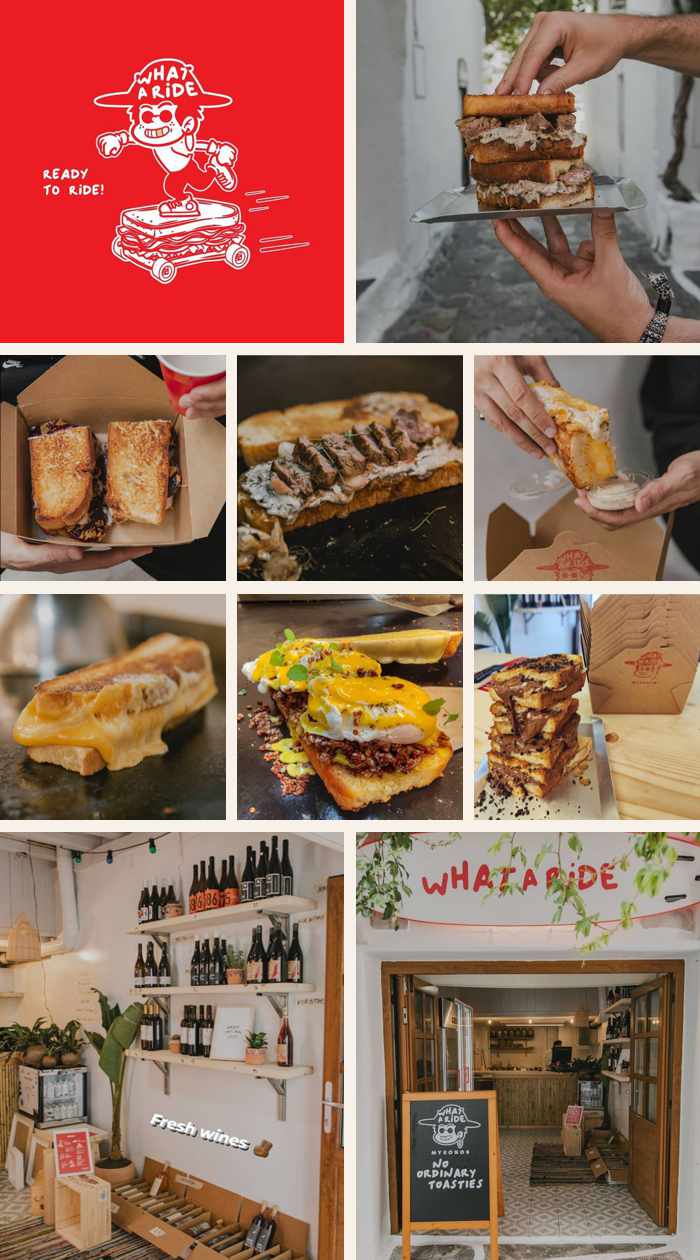 The take-away shop What A Ride quite literally became the toast of the town when it opened in early July, offering a satisfying and scrumptious street food alternative to burgers, gyros and souvlaki. Its signature toasted sandwiches — "no ordinary toasties," as the shop proudly proclaims — have been taking its customers' tastebuds on a deliciously fun ride.  The menu includes such tantalizing toast fillings as steak, cheese, and lobster, and What a Ride sells a selection of craft beers and wines to complement its custom toasties-to-go. You can find the toasteria on Polikantrioti Street near the harbourside promenade. It operates from early evening until the crack of dawn, so it's a perfect place to grab a late-night bite to eat while clubbing and bar-hopping (or an early breakfast if you manage to party until daybreak).
Facebook: What a Ride Mykonos
Instagram: @whataride.mykonos
_____________________________
Farma House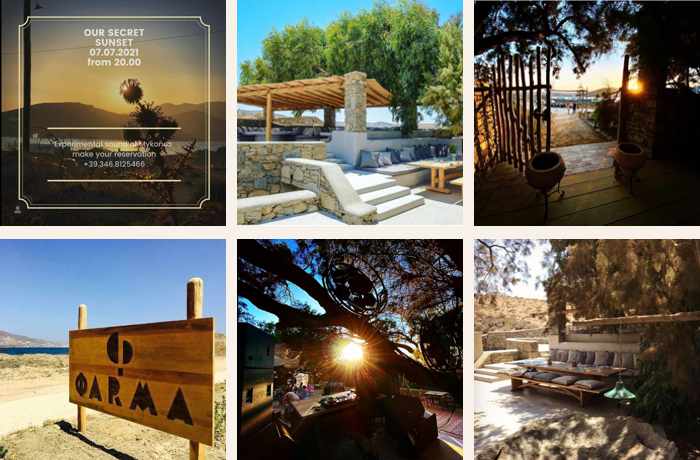 A "new concept" venue spotlighting the "experimental sound of Mykonos," Farma House is an open-air lounge where guest DJs play sets from sunset until late at night. It describes itself as "the other place" of the after-hours Sanctus club in Mykonos Town, and features some of the artists who perform there. Farma House opened on June 25, and  its DJ lineup so far this summer has included Brina Knauss, Patrice Baumel, Arodes, Ivory and Joy Rapotez. The club is situated at Ftelia beach on the site of the former Farma restaurant.
Facebook:  @farmamykonos
Instagram: @farmahouse_mykonos
_____________________________
Baboulas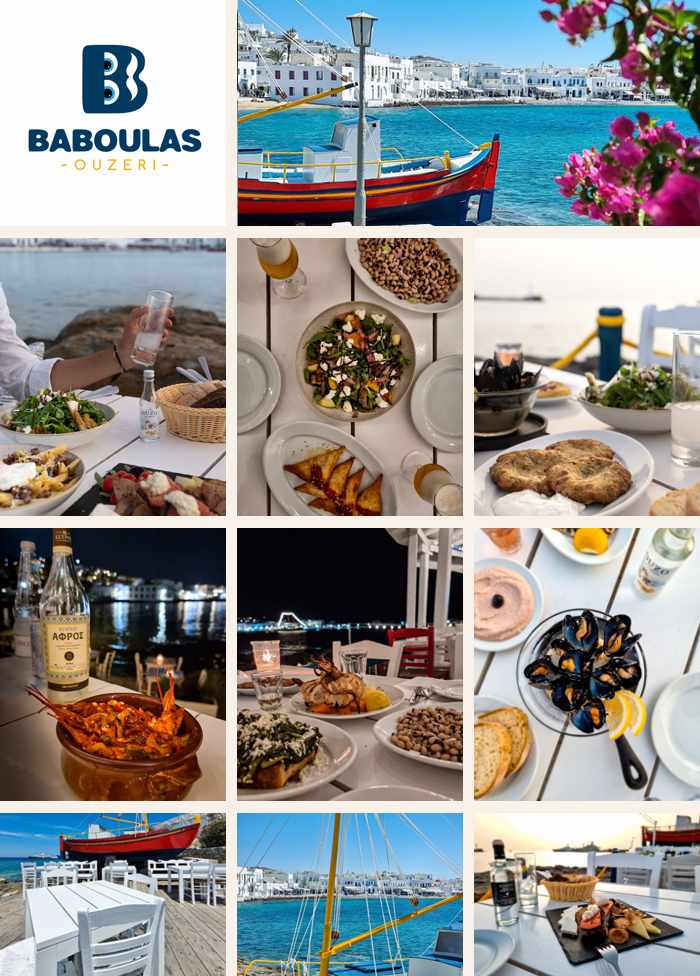 There's always plenty of new things to discover on Mykonos, but occasionally something old is suddenly new again on the Island of the Winds. Like Baboulas Ouzeri, for example.  Long-time visitors to Mykonos will remember Baboulas, which is situated on the harbourfront area of Mykonos Town called Kaminaki. With its traditional tables and chairs positioned on the rocky shoreline alongside a brightly painted fishing boat named Mathios, Baboulas was one of the most picturesque places in town — a veritable magnet for photographers long before Instagram existed. Mathios was an island icon, attracting tourists eager to snap pictures of octopus hanging from its sail ropes against a stunning backdrop of shimmering turquoise water and the whitewashed buildings lining the opposite side of the harbour.  Starting around 2012, the Baboulas location began operating as a restaurant called Salparo Seafood. But this year Baboulas is back, offering simple and authentic Mykonian cuisine, ouzo and Greek spirits — and friendly service — "just like the old days."  And while much has changed on Mykonos during its hiatus — especially the island's culinary scene, which has seen the arrival of scores of high-end restaurants — Baboulas is proud to call itself "the least gourmet restaurant on the island."  Baboulas re-opened on June 14 and will celebrate its 30th anniversary this year. 
Facebook: @baboulasmykonos
Instagram: @baboulasmykonos
_____________________________
Parthenis Cafe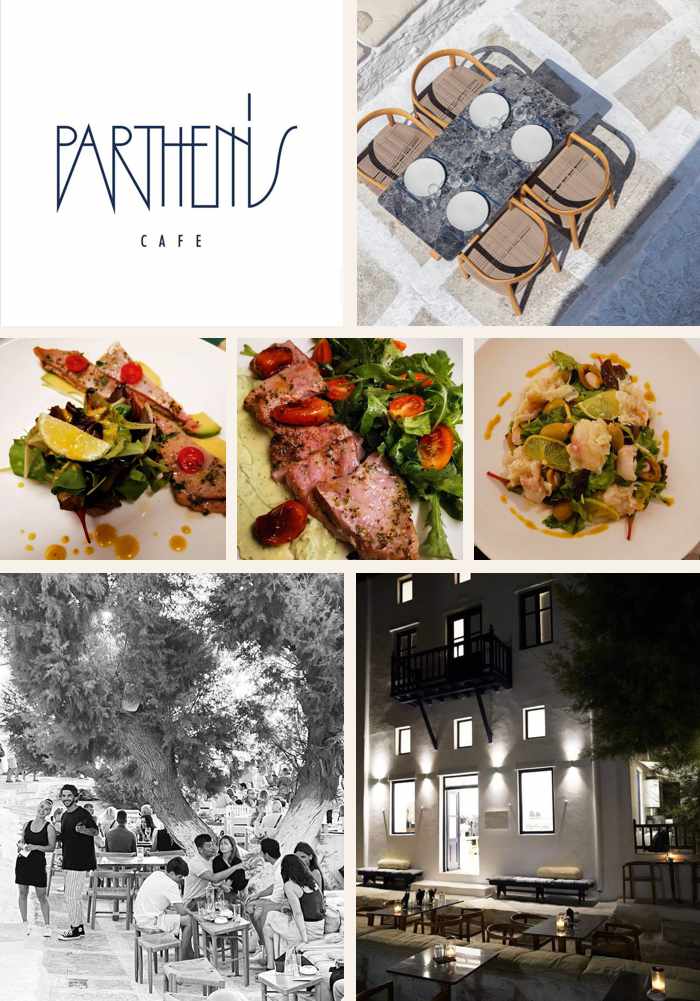 The Parthenis men's and women's clothing shop at Alefkandra Square has been a Mykonos retail icon since it was opened in 1978 by internationally-recognized Greek fashion designer Dimitris Parthenis.  The boutique has long been a must-visit shopping stop for fashionistas, who appreciate the Parthenis  aesthetic  that combines "comfort with simplicity, enveloped through a timeless twist of elegance, deeply linked to the essence of Greek summer." This summer, the shop added a cafe and lounge, which has been designed to exude the same characteristics — "simplicity, comfort and elegance" — as the clothing brand and the historic house in which its flagship Mykonos is situated. The outdoor space offers visitors a place to enjoy the Little Venice scenery and sunsets while relaxing with a cocktail,  glass of wine or a meal, with a DJ playing music curated to follow the local mood, rhythm and flow.
Facebook: @partheniscafe
Instagram: @partheniscafe
Web: Orsalia-Parthenis
Please click on the link below to continue reading on page 2, where we preview more of the exciting new places to drink, dine, party and relax on Mykonos.
CONTINUED ON PAGE 2