~ continued from page 1 ~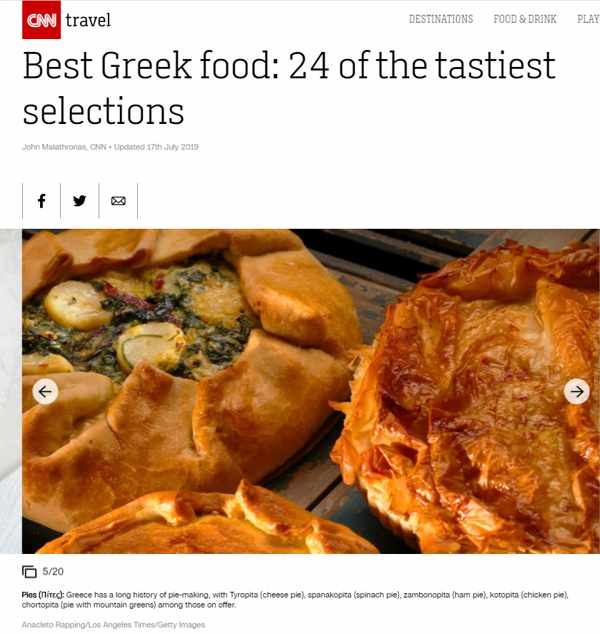 You will probably feel peckish while perusing CNN Travel's photo guide to 24 of the most popular and tasty dishes served in Greece
If you will be going to Greece for the first time, be sure to look through the CNN Travel article Best Greek Food: 24 of the tastiest selections. It was published on the CNN website in July 2019 and made me wish I had found something like it before our first trip to Greece years ago — it would have made choosing what to eat so much easier than reading a menu board and then peppering the wait staff with questions about ingredients and preparation.
Written by John Malathronas, the feature provides tantalizing photos and descriptions of the most popular items visitors will find at Greek tavernas, including starters and salads (such as dolmadakia, fava, taramosalata, tzatziki and choriatiki); Greek pastry treats (including cheese, spinach, ham and chicken pies); meat dishes (keftedes, kleftiko, moussaka, souvlaki, soutzoukakia, and spetzofai), desserts (loukoumades, bougatsa, and spoon sweets), and more.
Yogurt, a staple item in the daily Greek diet, isn't simply a breakfast "superfood" — it's a versatile ingredient in many lunch and dinner dishes, too, as an article in Aegean Airlines' Blue magazine points out
If you stay in a hotel or B&B accommodations during your holiday in Greece, you will undoubtedly find a big bowl of thick, rich Greek yogurt included on the breakfast buffet spread each morning. But Greek yogurt isn't simply a highly nutritious breakfast item — it's a key ingredient in many of the dishes you're likely to enjoy on your vacation. In fact, it's "ever present," according to Nana Darioti, who writes about food for Blue, the on-board magazine of Aegean Airlines.
In her piece The Miracle of Greek yogurt, published at page 190 in Issue 77 of Blue magazine,  Darioti observes that yogurt "works wonders as an ingredient in cooking: mixed in with feta cheese as the filling of a filo pastry pie, added to oil-rich vegetable stews, the start player in that global Greek appetizer, tzatziki, and a key component in every pita-wrapped souvlaki, be it stuffed with a pork kebab or gyros." Yogurt plays a prominent part in a variety of other dishes, too, but you'll have to read Darioti's article to learn about those.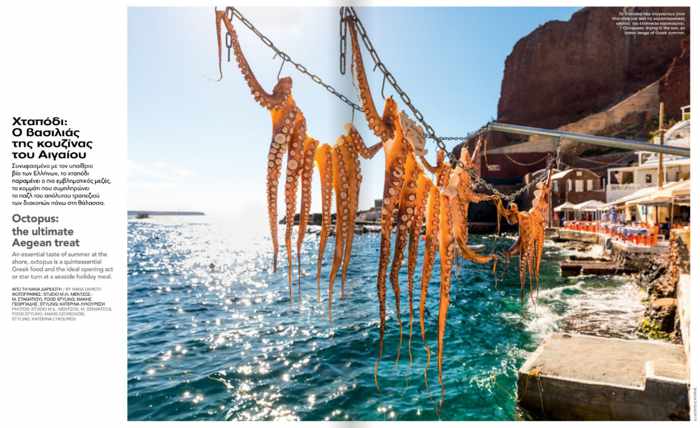 A line of octopus drying in the sun is "an iconic image of Greek summer," says Blue magazine food writer Nana Darioti 
Wander through any Greek town or village on a sunny summer's day, and you're bound to notice colourful laundry hanging to dry on clotheslines strung outside houses and apartments.  Stroll along a waterfront strip and you will likely spot lines strung next to seaside tavernas, too — but it will be octopus, rather than bed linens or garments, that you'll see hanging to dry from these cords.
Octopus is a delicacy that Greeks have been enjoying since ancient times, according to Nana Darioti. In her article Octopus: the ultimate Aegean treat, published at page 190 in Blue magazine Issue 79, she explains how a properly-prepared octopus should taste, and describes stews, salads and other dishes with which this distinctive seafood pairs well. My personal preference has long been calamari (grilled squid), but the article has inspired me to order an octopus ouzo meze next time we're in Greece.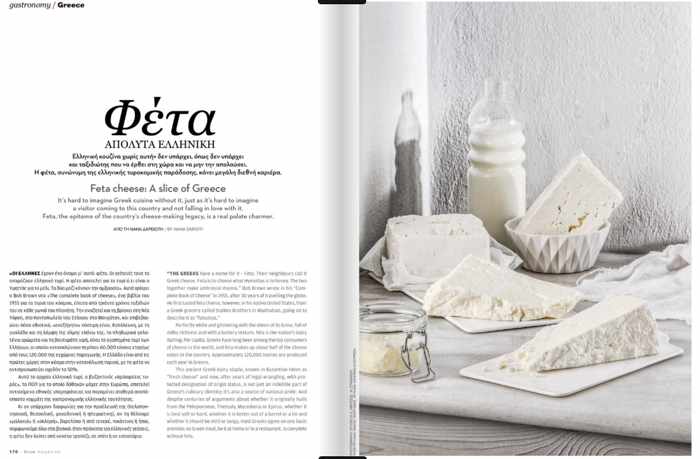 Feta has been a dairy staple in Greece since ancient times. While many tourists associate the briny white cheese as the signature topping of Greek salads, feta is a key component of many other dishes, a Blue magazine article notes.
It took a few trips to Greece before I developed a noticeable fondness for feta. Nowadays, I feel that a vacation day in Greece simply isn't complete unless I've tasted at least one creamy, smooth piece of the tangy white cheese.  We eat some feta every day when we're in Greece — on its own, in salads, or as an ingredient in lunch or dinner dishes. However, back home in  Canada it's something I buy only as an occasional treat, since authentic Greek feta is enormously more expensive here (while locally produced "feta-style" cheese, though much more affordably priced, seriously lacks comparable quality and flavour). 
If I had cheaper, easier access to the real deal, I would be cooking with Greek feta far more frequently, and trying some of the food pairings that writer Nana Dariotis recommends in her article Feta cheese: A slice of Greece, which appears at page 170 in Blue magazine Issue 76 .
"It can be eaten at breakfast or as a snack, goes into or alongside salads and main dishes, pairs perfectly with most Greek fruits, especially those of the summer, can be fried or baked, and is the star ingredient in Greece's most savoury pie," Darioti notes.
I'm already looking forward to our spring 2020 trip to Greece to get my annual feta "fix!"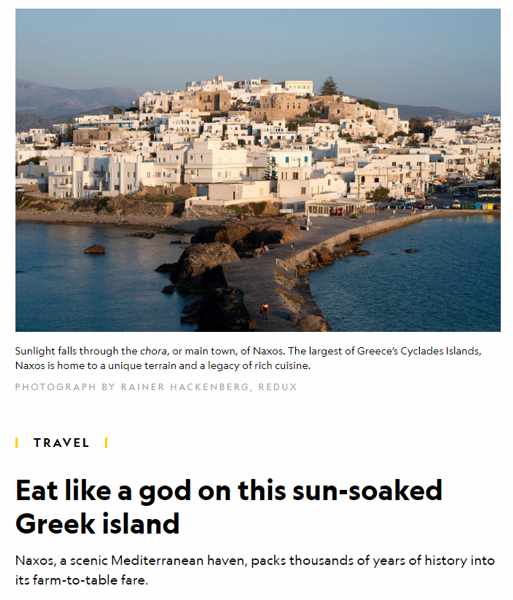 Naxos isn't just the largest island in the Cyclades, it's "the only fully self-sufficient one, with all food resources available directly on the island without need for imports," a National Geographic article notes.
We have holidayed on Naxos more than a half dozen times, and have found that the food served in its tavernas has been as impressive and memorable as the amazing mountain, coast and beach scenery. We have eaten exceptionally well on Naxos, at prices astoundingly cheap compared to what the same meals would have cost at restaurants on Mykonos and Santorini. That's largely due to the fact that the island produces much of the food and beverages its hotels and tavernas serve, unlike the other islands, which bring in most of their food products by ferry.
"Unique among the dry, barren Cyclades, Naxos produces a rich harvest of cheeses; meats; butter; potatoes; oil; honey; spices; and Kitron, a local spirit made from the leaves and fruit of the citron tree," lifestyle and food writer Danielle Bernabe notes in her June 2019 National Geographic travel article Eat like a god on this sun-soaked Greek island.
From that list, Naxian potatoes are my personal favourite. They're divine, no matter how they're prepared (though I love them best when they're served as fries.) I recall going for dinner at a taverna on neighbouring Ios island, where our server was excited because the restaurant had just received a shipment of potatoes from Naxos. "They are the best," he said, urging us to order some with our meal (which, of course, we did).
Besides potatoes, we have dined on delicious local sausage, goat and rooster dishes during our Naxos holidays — some of the "must-try" dishes that Bernabe recommends (she also mentions specific island tavernas to visit to savour these and other local specialties, so be sure to read and bookmark Bernabe's article if you're planning a trip to Naxos).
In this piece for Blue magazine, Fotis Vallatos reviews the "new generation" of restaurants serving delicious vegetarian and vegan cuisine in Athens
We have eaten countless vegetarian dishes in Greece, but I can't recall ever sitting down for a meal at a strictly vegetarian restaurant. We definitely have never dined at a vegan eatery. That could change the next time we're in Athens, now that I've read The plant-based restaurants in Athens by writer Fotis Vallatos. 
I was only part way through the article, published at page 118 in Issue 80 of Aegean Airlines' Blue magazine, when I began wishing we could visit some of the restaurants he described so we could taste a few of the appetizing dishes he describes. Like the chickpea and sweet potato burger at Avocado; the vegan moussaka at Mama Tierra; the Acai bowl at Local Green; or one of the wraps at Veganaki (to name but a few of the restaurants and specific dishes he mentions).  I have bookmarked the article so we can check out one or more of the places should we find ourselves in the neighbourhood next time we're in Athens. 
Indigenous Greek grapes like xinomavro are gaining more respect in the country's important wine export market, The New York Times reports
In her December 24 article Greek Wines Get Back to Their Roots for The New York Times, Florence Fabricant visits the Macedonia region of northern Greece, where vineyards supply wineries, like Alpha Estate, that are currently producing some of the country's best red wines. 
While high-profile Greek winemakers continue cultivating popular international varietals like merlot and sauvignon blanc, "the spotlight is starting to shine on some of the hundreds of the country's native grapes, many of which have probably existed since the days of Homer," Fabricant writes.
Her article examines some of the winemakers who are making a mark by recognizing the potential of obscure native grapes, and putting them into successful commercial production. Their goal: getting fine wine lovers around the world to start talking not just about xinomavro and assyrtiko, but other native Greek wines like malagousia, limniona, and mavrotragano.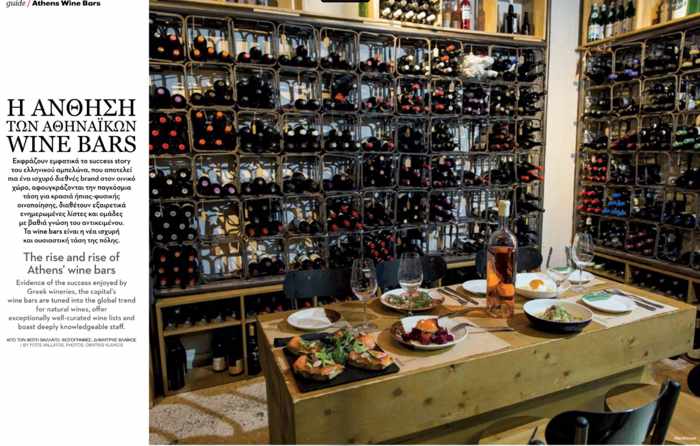 As native Greek wines rise in popularity, so do wine bars in the nation's capital, writer Fotis Vallatos observes in Blue magazine
If you fancy a glass of one of the native Greek wines that Florence Fabricant described in the article I mentioned previously, you might be wondering where to go to enjoy one. Fotis Vallatos points the way in The rise and rise of Athens' wine bars, published at page 118 of Blue magazine's Issue #77.
"Evidence of the success enjoyed by Greek wineries,  the capital's wine bars are tuned into the global trend for natural wines, offer exceptionally well-curated wine lists, and boast deeply knowledgeable staff," Vallatos says.
His article profiles a collection of the city's top wine bars, including  Heteroclito, Vintage, Oinoscent and others where wine afficionados will be absolutely spoiled for choice (at Vintage, he notes, customers can select from over 1,000 Greek and international wines, 800 of which can be ordered by the glass).
Is it wine o'clock yet?