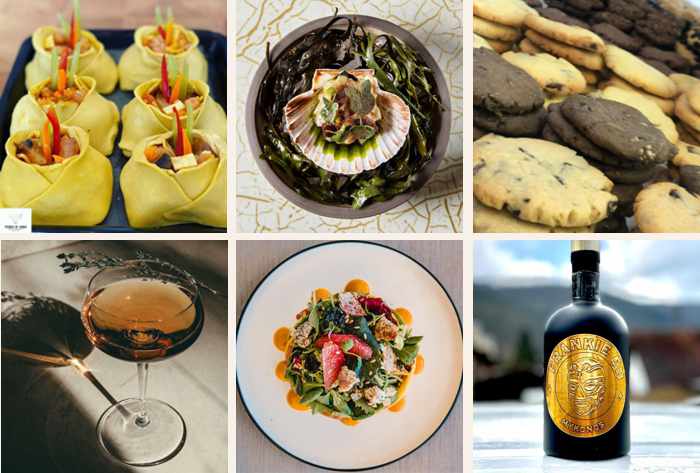 Clockwise from top left: Chicken flower pocket pies from Toro D'Oro Karelas Finest Meat; a Jason Atherton signature dish at Mykonos Social restaurant; cookies from Cookie Smart Bakery; the signature house tequila at Frankie Oh Mexican restaurant; a dish from Lio Mykonos; a cocktail from Nōema
Latest updates: Wednesday May 12
From lockdown to new openings:  After a long winter of Covid-19-related lockdowns, Mykonos is springing back to life. Tourist-related businesses across the island have been busy hiring staff, cleaning, painting, renovating and stocking up on supplies as they prepare for the official launch of Greece's summer travel season in May. 
As in past years, visitors will find most of their favourite bars, restaurants, clubs and shops open once again this summer, joined by a variety of brand-new places to check out, including casual coffee shops and cafe-bars, chic cocktail lounges, elegant fine-dining restaurants, dynamic live entertainment nightspots, food shops, and spas.
The big new trend this year is  dinner show clubs — restaurant-bar venues that offer fine dining accompanied by on-stage music and dance performances and DJs spinning tunes for late-night dancing and partying, all under one roof.  Mykonos will welcome Lio cabaret restaurant, a sister to the popular Lio club in Ibiza, as well as the Italian Dinner Show restaurant, Bordello. Meanwhile, Joker will present a unique twist on the concept of  dinner with live entertainment and DJs — it will host its events for a limited number of VIP guests at a secret location.
Visitors staying in villas or rental homes and apartments will find some new specialty retail shops to purchase food for dinner or barbecue parties they may be throwing on any nights they're not venturing out to restaurants.  Italian food fans will find freshly-prepared noodles ready to take home from at least two retailers, while meat lovers will be tempted by the appetite-whetting array of beef, lamb, pork and poultry products, tomahawk steaks, and selection of ready-for-the-oven dishes, at Toro D'oro Karelas Finest Meat.
Dinner, show & party venues
Billed as "the world's most glamorous cabaret," the Lío club in Ibiza is not only celebrating its 10th anniversary this summer, it's also bringing its "electric interactive entertainment, Mediterranean cuisine and late night lounging" to Mykonos. The Lío Mykonos club will be located at 6 Enoplon Dinameon Street in the Tria Pigadia area of Mykonos Town — just steps from Astra and Bonbonniere nightclubs.  Doors will open at 8.30 p.m. and guests will choose from 4 dining experiences and "bespoke luxuries" while being dazzled by the sensational cabaret show La Fête Sauvage. At 12:30 a.m. the entertainment spectacle smoothly transitions into La Fête, "a dynamic lounge musical experience where the DJ takes center stage, performers interact with the crowd, and the guest becomes the protagonist."
_____________________________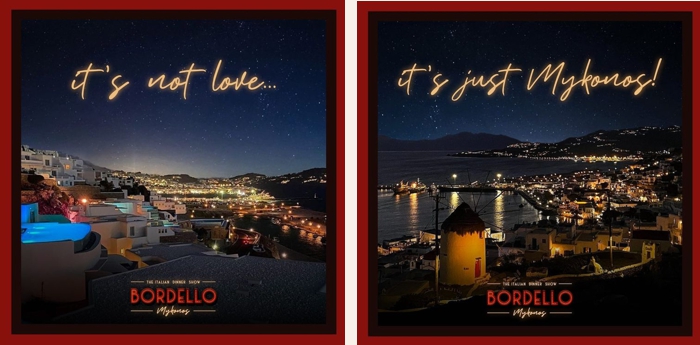 The images shown above were shared on social media as a "coming soon" promotional campaign for Bordello, the Italian Dinner Show restaurant that will make its debut in Mykonos this summer. Location and opening date details have yet to be released, but we will update this post once further information is available.
_____________________________
Anticipation is quickly building for Joker Mykonos — a series of exclusive dinner and party events that will be held on Monday nights during the summer at what organizers told us will be "a top secret location."  Limited to only 200 people, the soirees will feature a private dinner, music by a famous Italian DJ, and live show entertainment throughout the evening.  Follow Joker on Instagram for updates and upcoming posts that will explain how to get your name on the guest list.
Please click on the link below to continue reading on page 2, where we preview more of the exciting new places to drink, dine, party and relax on Mykonos.
CONTINUED ON PAGE 2