— continued from page 1 —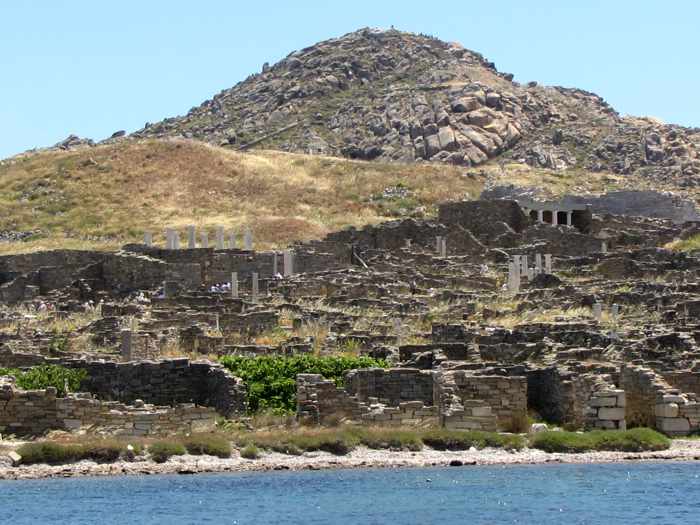 A view of ruins lining the lower slopes of Mount Kynthos on Delos island. The island is one of the most important historic and archaeological sites in Greece, and is best (and most easily) reached from Mykonos on excursion boats that operate daily from Mykonos Town.
Fitness, sports and outdoor activities and tours
April 15 was the season start date for the family-owned Mykonos Kayak, which offers visitors the unique opportunity to visit sandy beaches, secret coves and scenic coastlines that few Mykonos tourists ever get to see. Operated by Kostas and Jo Siopiros, Mykonos Kayak hosts what it calls a "classic" sea kayak trip and also arranges custom adventures for families or groups of four or more people. Full descriptions and details of the kayak experiences are provided on the Mykonos Kayak website. 
A part of the Rizes Folklore Farmstead, the IPPOS Mykonos stable and horse riding center is open all year round, offering lessons as well as a variety of riding tours and activities for ages 5 and up. It also hosts special events, including birthday and other parties, and photo shoots.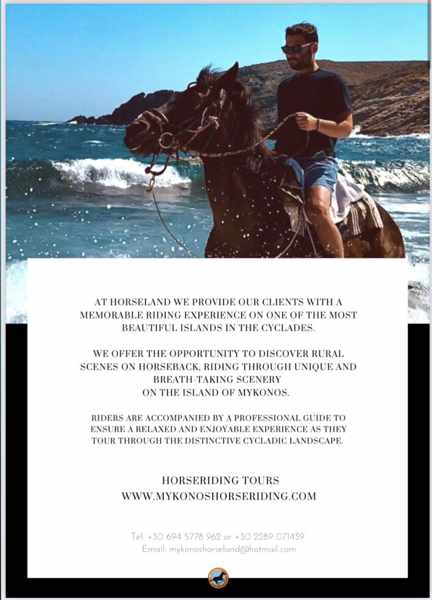 Mykonos Horseland has been operating on Mykonos since 2005, taking guests on rides along scenic mountain routes to one of the island's beautiful unspoilt northern beaches. Its horses "are specifically trained for trekking and for riders of all abilities," the company website says, and the tours "combine the best of Western and English riding styles, with the ease of soft English reigns and the comfort of the Western saddle. Safety of horse and rider comes first. " Mykonos Horseland offers two horseback riding adventures that take riders through rural farming areas to Fokos beach (one of the rides includes a 1.5-hour stop at the beach for a swim); a "romantic ride" for couples that includes champagne at a secluded beach; and photo shoots.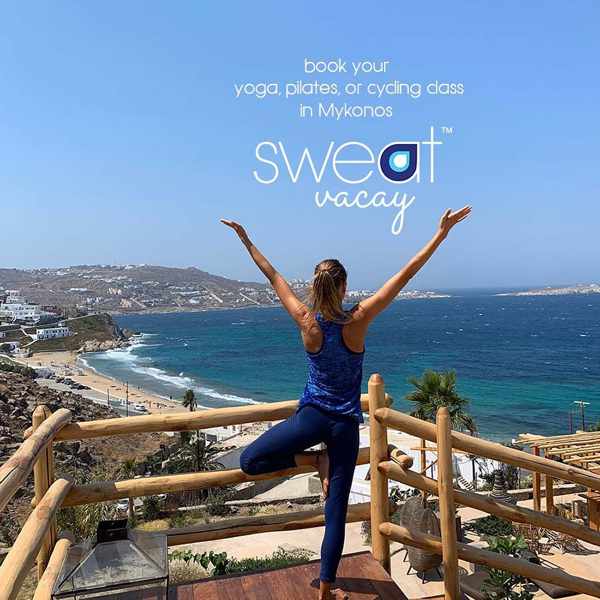 Sweat Vacay will be offering its group-style fitness classes on Mykonos from May 15 to October 15 this year.  Sessions will be available for hatha yoga, yin yoga, vinyasa, pilates, cycling, paddle board yoga, and other wellness activities.
The Mykonos Raceland GO Kart track near Ano Mera operates daily, from April to November, between 10 a.m. and 2.30 a.m.  The facility offers fun for all ages (kid karts and 2-person karts are among the vehicles available) on a 750-meter-long track, and also has a snack bar for food and beverages. Mykonos Raceland is situated near Ano Mera on the way to Elia beach. The facility accommodates groups, families and individuals alike, and can host special celebrations like birthday parties or private VIP events. 
Water sports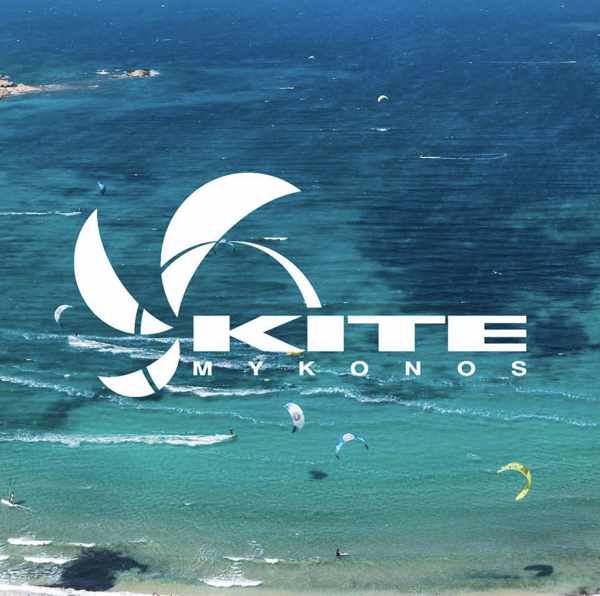 Kite Mykonos will be operating this year from mid-May through to mid-October. Located at windy Korfos beach, Kite Mykonos is a full-service facility offering lessons and equipment rentals for kite surfing, windsurfing, wing foil and SUP. 
Open from May through September, the Super Paradise Water Sports Center offers an extensive array of exciting activities, sports and services from its facility at Super Paradise Beach. Its long list of fun things to do includes canoeing, paddle board / SUP,  parasailing, pedal boats, jet skis, flyboarding, waterskiing, wakeboarding, kneeboarding, tubing and more. Waterski, wakeboard and kneeboard lessons are available, as are rib boat rentals, water taxi transfer services, and private rib boat tours around the island, to Delos and Rhenia, and to southern coast beaches, caves and Dragonissi island. Full activity details and online booking are provided on the sports center's website.
Arts & Culture: museums, galleries & activities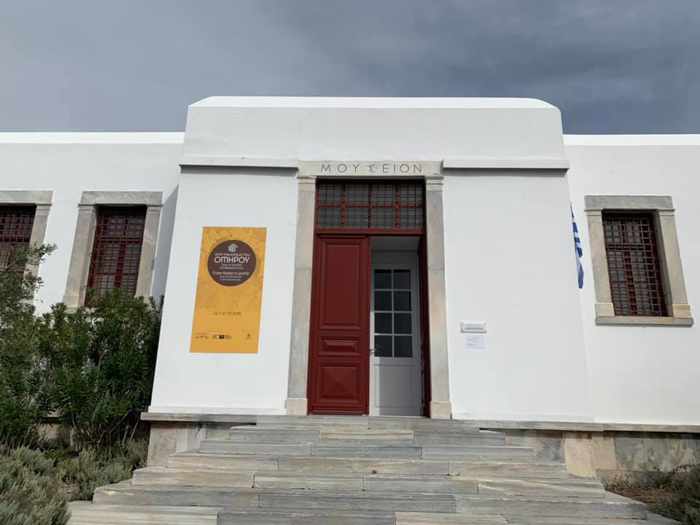 The Archaeological Museum of Mykonos is situated on the hillside above the Old Port at Mykonos Town. The museum originally was built to house finds from a "purification pit" dating back to 426 BC, which was discovered on nearby Rhenia island in 1898. The collection includes a large number of vases from pre-historic and late Hellenic periods, funerary statues and grave stelae, pottery, clay figurines and jewellery dating from the 2nd and 1st Centuries B.C.  Only a few of the finds are from Mykonos itself. The museum also hosts special exhibitions and events from time to time. Admission is €4 per person, and summer days and hours of operation are Monday, Wednesday, Thursday and Sunday from 9 a.m. to 4 p.m., and Friday and Saturday from 9 a.m. to 8 p.m. The museum is closed on Tuesdays.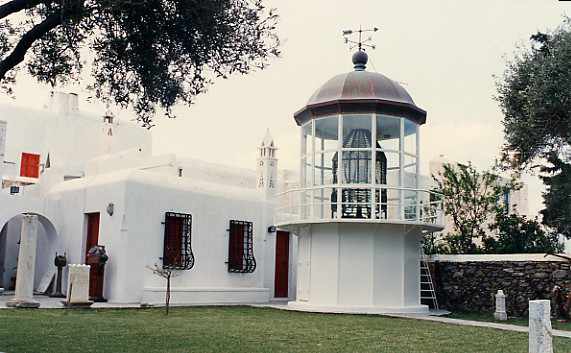 Located in a 19th Century building on Enoplon Dinameon Street in the Tria Pigadia area of Mykonos Town, the Aegean Maritime Museum is a non-profit institution established in 1985 "to collect study and promote Greek maritime history and tradition, in particular the evolution and activities of the merchant ship, mainly in the historic region of the Aegean Sea."  The museum's website says exhibits include historical shipping maps and documents; rare engravings; ship models from the pre-Minoan period to the beginning of the 20th century; nautical instruments, accessories and tools; and coins with nautical themes from the 5th Century B.C. to the 5th Century A.D. The museum's garden courtyard has an exhibition of marble reproductions of tombstones from Delos and Mykonos with reliefs that refer to shipwrecks and sailors who were lost at sea, as well as the restored original lamp from the island's Armenistis lighthouse, which was built in 1890.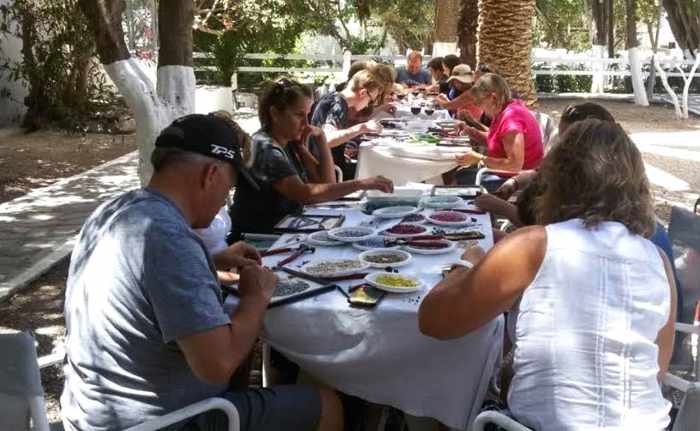 Mykonos mosaic artist Irene Syrianou will start her 2022 season of Art Mosaic workshops on March 25, offering mosaic art classes for people of all ages until October 28.  Information about the classes, as well as contact details, are available on the Art Mosaic website. Irene also welcomes visitors to her work studio and retail shop, Asteria Mosaic Art, which is located at Agios Vlassis square in Mykonos Town. It's open throughout the year, though Irene recommends making an appointment to visit since she sometimes works elsewhere on the island.
Boat, sailboat and yacht tours and excursions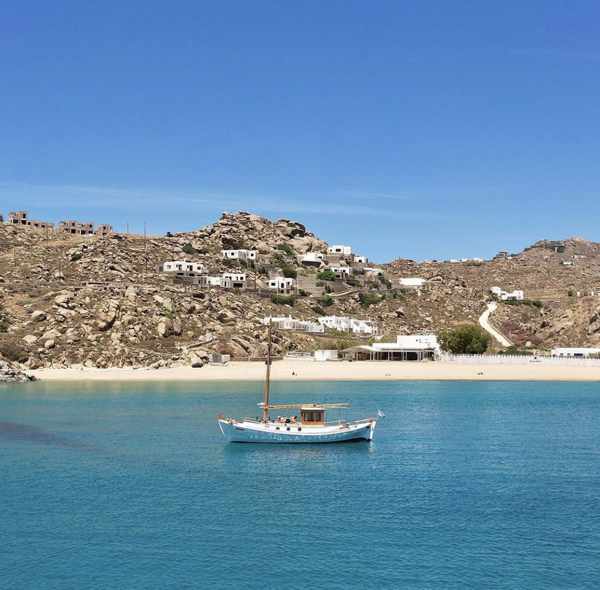 Sea Traveller Cruises Mykonos offers couples or small groups (up to 6 or 7 people) the opportunity to enjoy a fun and relaxing day at sea on the beautiful Ithaki, a traditional Greek boat (known as a trehantiri) operated by captain Leonidas. Depending upon weather and sea conditions, the Ithaki travels either to nearby Delos and Rhenia islands, or takes guests beach hopping along the southern coast of Mykonos. Guests will get to swim, snorkel or do some stand up paddling (SUP) in idyllic turquoise waters, and enjoy a delicious lunch with local flavours and wine, tsipouro or other drinks.  For further information, contact Leonidas either by private message on the Sea Traveller Cruises Mykonos page on Instagram, or by email to: seatravellercruises@gmail.com.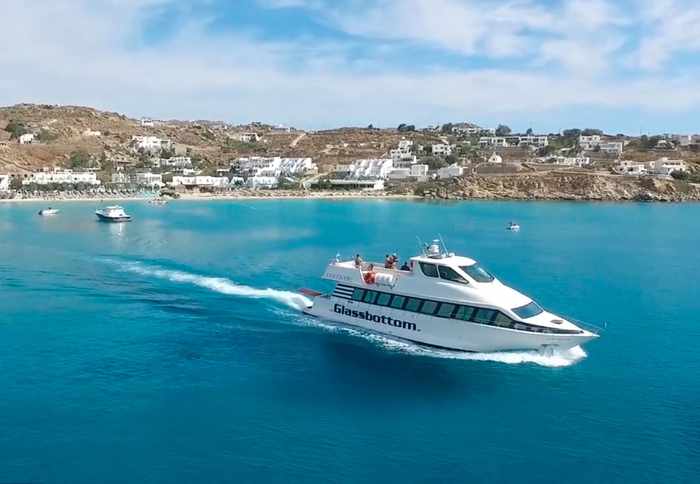 Discovery Glassbottom Yacht offers a popular 6-hour cruise that starts at noon from the boat pier at Platis Gialos beach.  The yacht takes passengers past major beaches along the southern coast of Mykonos and, depending upon weather conditions, sails to Dragonissi island, or stops instead at either Kalafatis or Loulos beach for swimming and snorkeling. The yacht stops for a second beach break at Agrari, for more swimming, snorkeling and watersports.  A lunch is included.  Full cruise details and descriptions, pricing information, photos and booking links are provided on the Discovery Glassbottom Yacht website.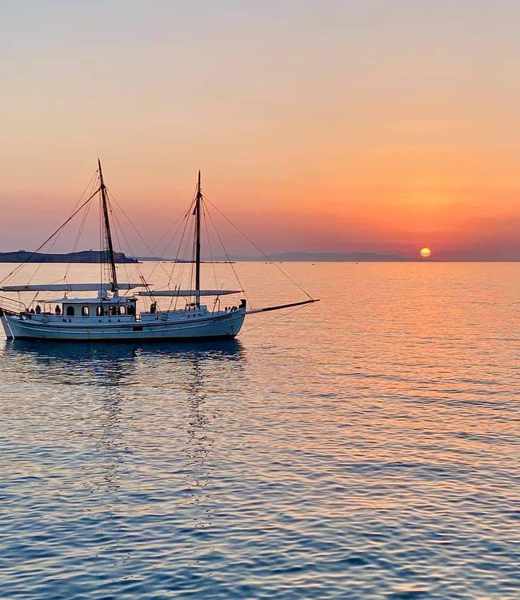 A family-owned business in operation since 2005, Aegean Ventures boasts a fleet of three traditional sailing boats — Dolphins of Delos, Quarantine of Delos, and Sophia Star — that take guests on three different daily tours that depart from the Old Port in Mykonos Town.  One is a cruise that departs in the morning for visits to nearby Rhenia and Delos islands, returning at 5 p.m. A second cruise is a Rhenia and sunset trip that starts at 4.30, while a third cruise experience starts at 7 p.m. and sails to the Agios Stefanos and Houlakia beach areas before dropping anchor near the Little Venice area of Mykonos Town for sunset viewing.  The company also offers private cruises  to Mykonos coastal areas, and to Rhenia and Delos, and also can arrange private day trips to Tinos, Paros and Naxos islands. Full tour details and prices can be found on the Aegean Ventures website.
Sarantis Boat Mykonos offers private, customized tours on its traditional wooden boat, the Mermelehas. A Mykonos-based family business, Sarantis Boat has been operating for more than 15 years, and visitors can book the Mermelehas for trips to Mykonos beaches, Dragonissi island, Delos or Rhenia, or to secret and secluded coves.  Sarantis Boat is happy to arrange trips for special events like weddings and parties, private beach BBQs, fishing, sunset cruises or romantic sails, too. Their boat is based at Ornos beach. Further information and pricing details are provided on the Sarantis Boat Mykonos website.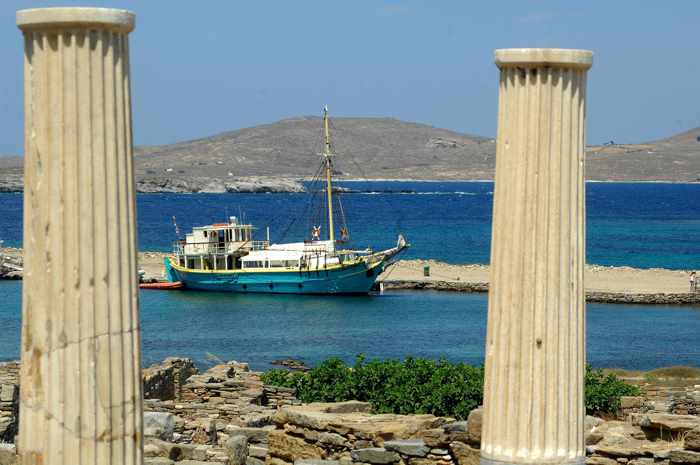 Phoebus is a 74-year-old traditional wooden caique that artist Zannis Koukas spent more than six years transforming into a day tour and luxury charter cruise boat. For the past two decades, Phoebus has been taking guests on half-day trips that include visits to historic Delos island and its archaeological site followed by swimming stops and lunch at adjacent Rhenia island, before returning to Mykonos.  It also has been taking guests on charter beach hopping trips, party cruises, special events sails or round-the-island cruises at Mykonos, as well as on trips to other Cyclades islands such as Tinos and Paros.  Further details, including photos and contact information, can be found on the Phoebus website.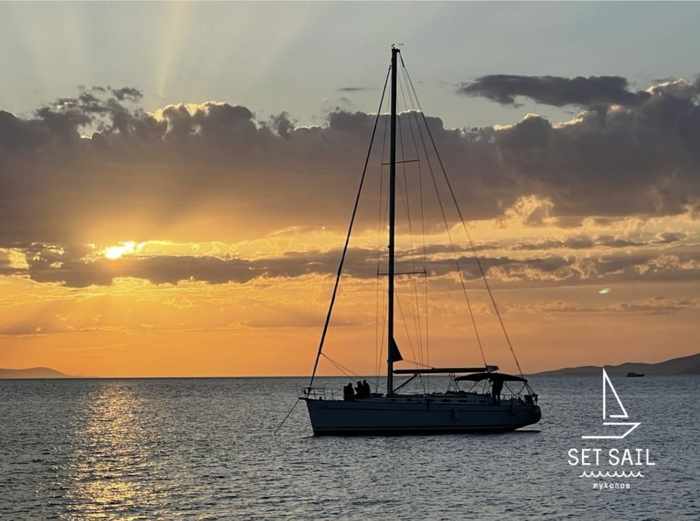 Set Sail Mykonos is a luxury yacht charter firm that offers customized tours and cruises, including excursions to Delos and Rhenia islands as well as beach hopping cruises along the southern coast of Mykonos, and sunset cruises.  The Set Sail Mykonos website includes profiles of its sailing and motor yachts and full descriptions of its excursions and destinations, along with a downloadable brochure that provides additional details and maps of its cruises and destinations.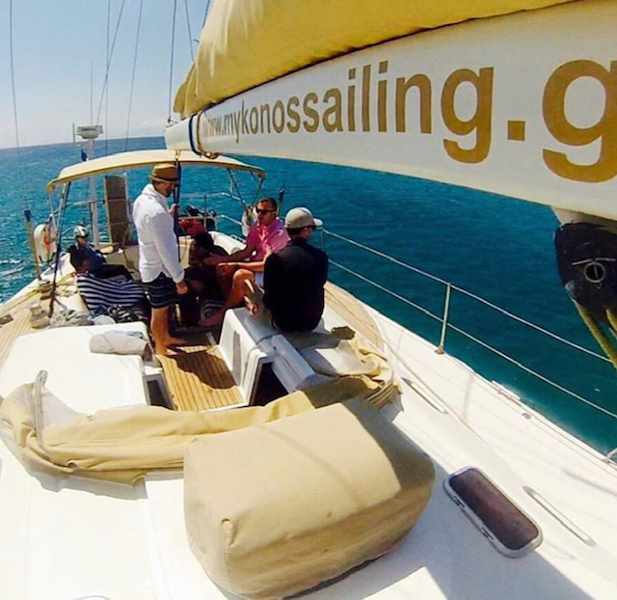 April 1 was the season start for Mykonos Sailing, which specializes in "tailor-made private and semi- private luxury cruises to southern beaches on Mykonos and to Delos and Rhenia islands; sunset cruises; and private multi-day or weekly charter cruises to neighbouring islands in the Cyclades. A family business that has been in operation for the past 15 years, Mykonos Sailing describes itself as "an upscale yachting company," with a fleet that includes rib boats, catamarans, sailboats, motor yachts and four traditional sailing caiques.  "Each cruise is complete with unique flavors inspired by our award-winning Greek chef and prepared for you by our crew, including local wine, beer and spirits of Greece," the firm's website says.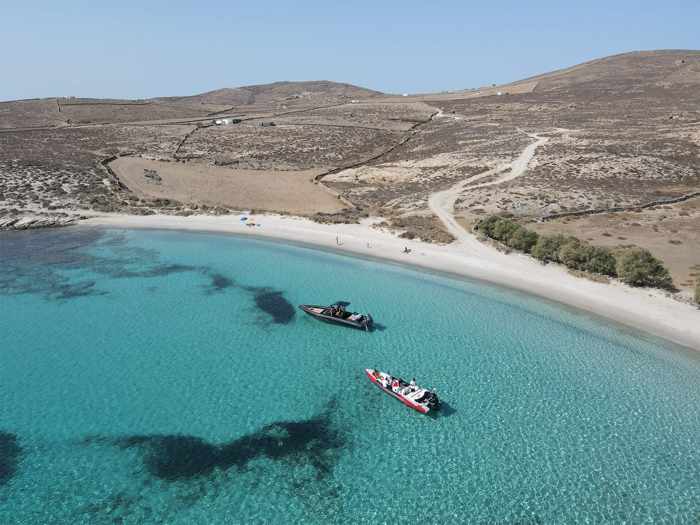 Mykonos-based rib boat company Salty Boat Trips offers tailor-made private rib boat cruises to Delos and Rhenia islands, to southern Mykonos beaches and Dragonissi island, and even full day trips to other Cycladic islands such as Syros, Tinos, Naxos, Paros, Antiparos, Despotiko and Koufonissi.  The company also provides private rib boat transfer services to Mykonos beaches and beach clubs, and hosts weddings, anniversary celebrations and other special events .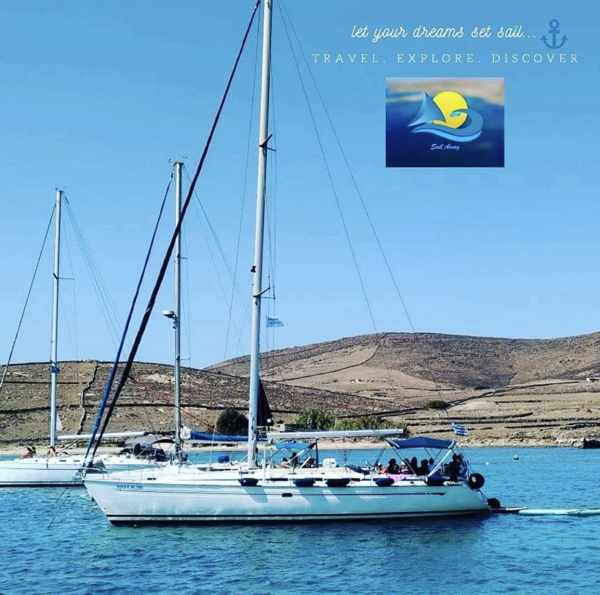 Mykonos Sea Excursions invites its guests to "Seas the Day" and "sail away to magical places," either on one of its regular sailboat cruises from Mykonos, or on a privately-arranged sailing adventure. Its Delos & Rhenia Island Cruise departs at 9 a.m. and lasts for six hours, while its Sunset Tour starts at 3.30 p.m. and lasts for five hours.  Prices and cruise descriptions are available on the Mykonos Sea Excursions website.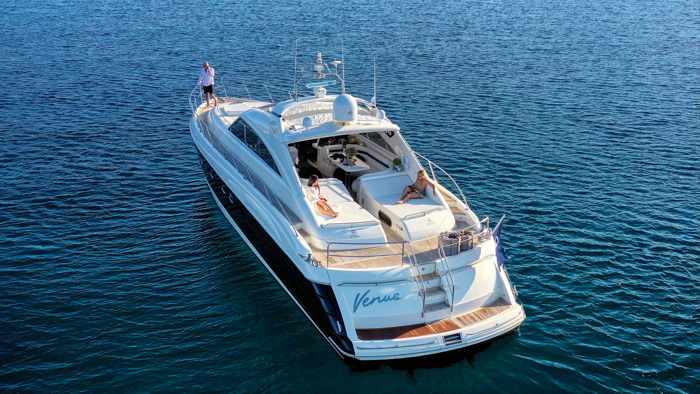 If you want to treat yourself to or pamper someone special with a truly unique luxury boating experience, the Dukes Yachting team — Captain Nicholas and Hostess Claudia — will ensure that you enjoy an unforgettable adventure at sea.  They offer exclusive charter tours and trips in their 20-meter open motor yacht, Venus, to locations along the southern coast of Mykonos, to nearby Delos and Rhenia islands, and also to Tinos, Paros, the Small Cyclades, and Santorini.  Half-day, full-day and multi-day charters can be arranged, with unrivalled hospitality provided by Nicholas and Claudia throughout the journeys. (We have heard and read nothing but extremely positive comments about their tours from many happy guests over the past half dozen years, and for five years in a row they have been awarded certificates of excellence by TripAdvisor.) Full details of their services, along with full descriptions and photos of Venus, can be found on the Dukes Yachting website.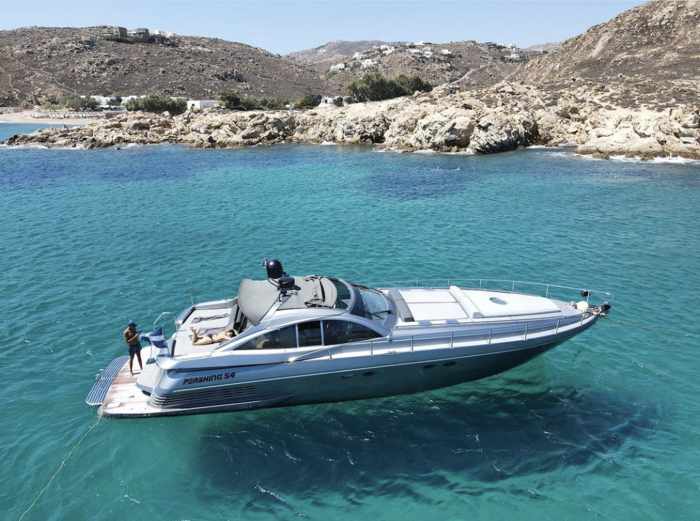 Based at Ornos beach, Mykonos Boat Trips is a yacht charter firm with a fleet of luxury yachts, such as the Pershing 54 shown above, which can be rented, booked for special events, or taken on one of the company's regular excursions to Delos and Rhenia islands, or a Mykonos southern coast beach safari.  The Mykonos Boat Trips website contains photos and details of each vessel in the fleet, along with information about the available excursions, and booking contact links.
CD Yachting operates two motor yachts — a a Chranchi 44 and a Falcon 92 — on a variety of charter tours and cruises. Their charter packages include half-day (4.5 hours) trips to Delos and Rhenia; a sunset cruise; and a round-trip cruise from Ornos to Super Paradise beach. Their full day (8 hours) tours include a private cruise to Delos and Rhenia, as well as a Mykonos beach hopping cruise. Multi-day charter itineraries are available, and the company also arranges tailor-made packages. Full detail and contact information can be seen on the CD Yachting Mykonos website.
It bills itself as "the funnest trip from Mykonos to Rhenia island," and it's Hola Rhenia — a daytime boat tour during which a double-decked glass bottom boat sails from Mykonos to historic Delos island and its neighbour, Rhenia, with swimming and watersports stops along the way.  The tours run from 10.30 a.m. to around 3.30 p.m. and include drinks, food, paddleboards, inflatables and a waterslide.  The tours are suitable for families, and there is no charge for children under 7 years of age.  The first tour of the season takes place on May 14, and tours will be offered four days per week the rest of the month and in June. During July, August, and September, the excursions will take place every day. A few tours will be offered in October. Full descriptions and details of the tours, along with online booking links, are provided on the Hola Rhenia website.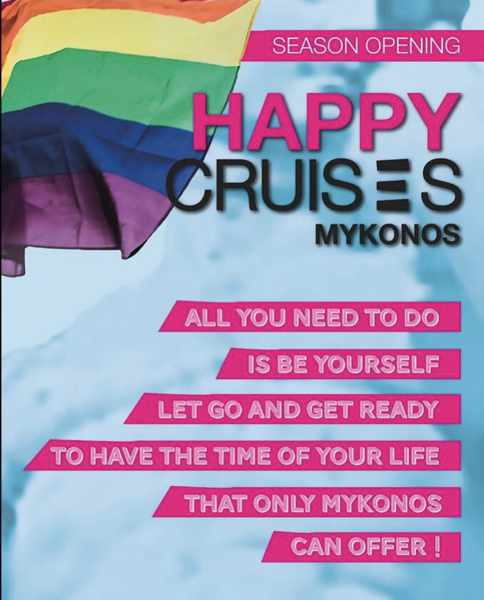 The weekly Happy Cruises Mykonos boat tours and parties are back for summer 2022. The first cruise of the season on July 8  sold out quickly, but space is available on upcoming cruises.  For information and bookings, contact Happy Cruises via WhatsApp at +30 6988550061