Tours, cooking classes, wine & beer tastings, fitness activities, outdoor entertainment and other things to do on Mykonos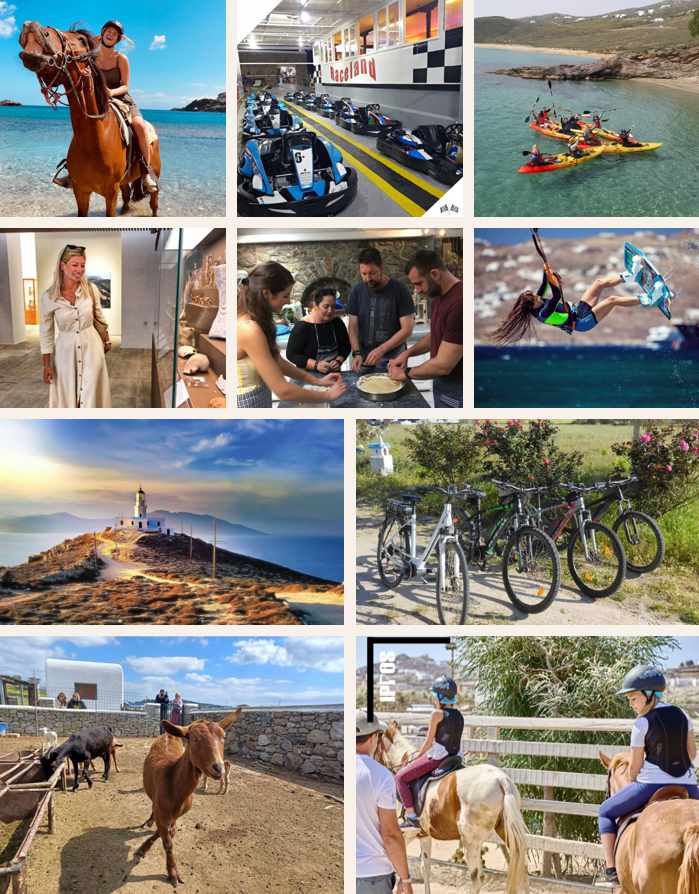 Images from some popular Mykonos activity and tour providers, from top left: Mykonos Horseland; Mykonos Raceland go-kart center; Mykonos Kayak; Maria-Eleni Sfaellou from Bespoke Mykonos guided tours; a cooking class at Mykonos Spiti & Farm; Kite Mykonos; a Mykonos Phototour picture of the Armenistis lighthouse; Yummy Pedals e-bikes; animals at the Mykonos Spiti farm; kids on a horse riding lesson at IPPOS Mykonos.
Beyond the bars and beaches: Mykonos may be famous for its beaches, boutiques and nightlife, but there's a lot more to do on the island than just sunbathe, swim, party or shop 'til you drop. Activities abound for visitors, whether they're travelling solo, as a couple, with family or in a group — either visiting the island just for the day on a cruise stop, or staying on Mykonos for a few days or an extended holiday.
Want to go sightseeing? There's a wide variety of guided tours available that will show you scenic off the main tourist path parts of the island either on foot, by bicycle, on horseback, or in a jeep or other vehicle.
Are you a foodie who'd like to take a cooking class, taste traditional Greek dishes, or learn about olive oil or cheese making? Or are you more interested in sampling local craft beer or wine, either at a craft brewery or local vineyard, or on a private scenic tour? There's a number of tours focussed on food and wine, as well as specialized cooking classes and demonstrations, wine or beer tastings, and more.
Looking for fitness, fun outdoor activities or watersports?  You can choose from kayaking; horseback riding; windsurfing, kitesurfing & boarding; yoga, pilates & other fitness classes; go-karting; and boat, sailboat and yacht tours and excursions galore.
If you're a history and culture buff,  the ruins and archaeological site of Delos island — a UNESCO World Heritage Site — are a must-visit, and easily reached by boats that depart from a pier near the town hall in Mykonos Town. There's several interesting museums, along with a municipal art gallery and a number of excellent private art galleries that showcase works by Greek and international artists.
And for evening entertainment, how about watching a movie under the stars at the Cine Manto outdoor cinema in the heart of Mykonos Town?
Below, and on page 2 of this post, we spotlight those and other top Mykonos attractions and activities:
A brand new arrival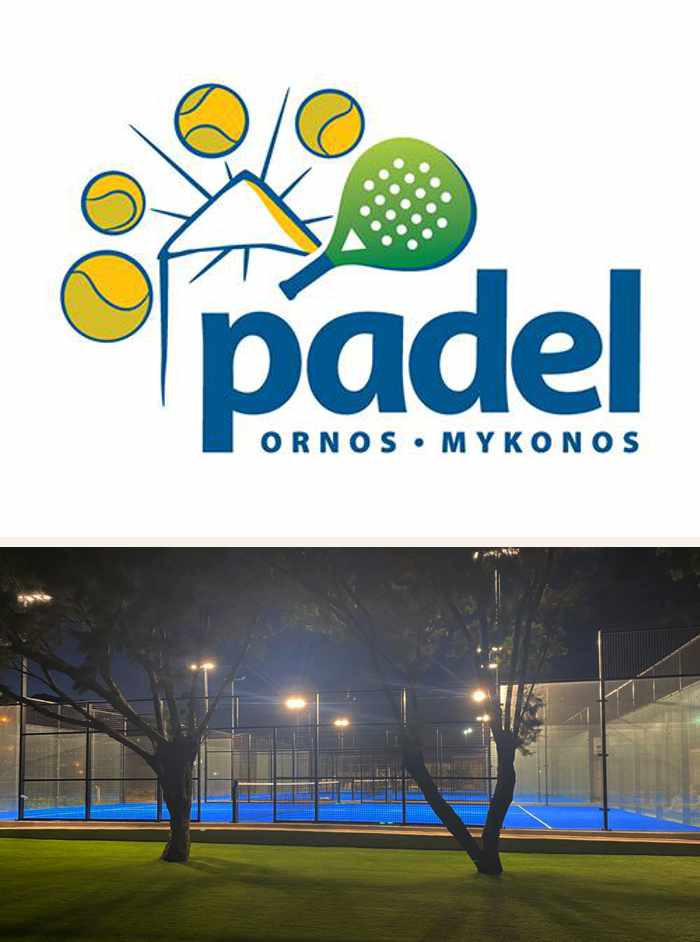 As of July, Mykonos visitors can enjoy games of padel tennis at Padel Mykonos, a brand-new facility located in the Korfos area near Ornos beach.  Padel, a sport that has rapidly been gaining popularity around the world, is a fun sports activity that can be enjoyed by families and people of all ages and abilities. The first padel courts open to the public on Mykonos, Padel Mykonos is open daily from 8 a.m. until midnight.  Lessons with a qualified coach are available, while anyone who wants to give the sport a try is welcome to drop by. Court bookings can be made by phone to +30 6975532566; by email to play@padelmykonos.com; or by using the online reservation form on the Padel Mykonos website.
Guided tours, sightseeing excursions and day trips to other islands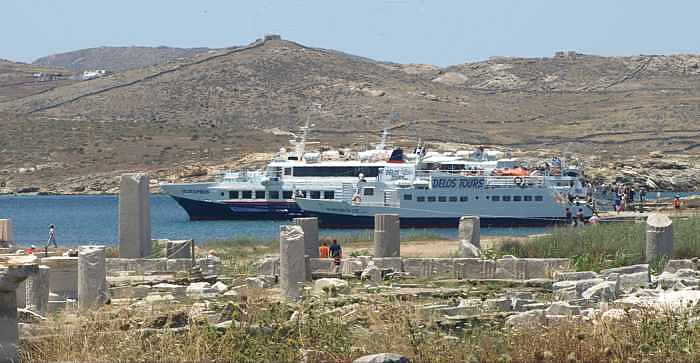 The most popular partial day trip/tour excursion available on Mykonos is one of the daily boat trips to nearby Delos island, a UNESCO World Heritage Site and one of the most important and historic archaeological sites in all of Greece. (Admission to the site costs €8 per person, payable at the entrance gate.) Since the 1970s, the Mykonos-based family business Delos Tours has been operating boats that ferry tourists to Delos to explore the ancient ruins of what was once a thriving and wealthy cosmopolitan port city. From April until the end of October, the Delos Tours boats make daily return trips (weather conditions permitting), and visitors can either buy €22 per person tickets for just the boat transfer so they can see Delos at their own pace, or they can purchase €60 per person tickets for organized tours that include the boat trip, entrance to the site, and a guided tour of the ruins by a certified tourist guide. (Guided tours are free for children under 6 years old, and €30 for kids aged 6 to 12.) Full details of boat and guided tour schedules, and online ticket booking, are available on the Delos Tours website.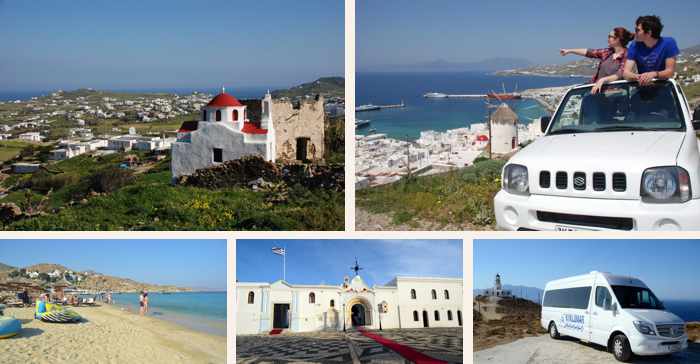 Operating for the past 27 years, Kyklomar Tours will resume its popular series of excursions and private tours this spring. Its City and Island Tours start on April 3, while its Jeep Safaris will begin on April 18. Tours to Delos island start May 2, Tinos island day trips on May 3, south coast boat cruises on May 21, and sunset cruises on May 22. A Wine & Culture tour can be booked anytime upon request.  The company also offers transfer services. Full details of the tours, including start times, meeting points and prices, are outlined on the Kyklomar Tours website.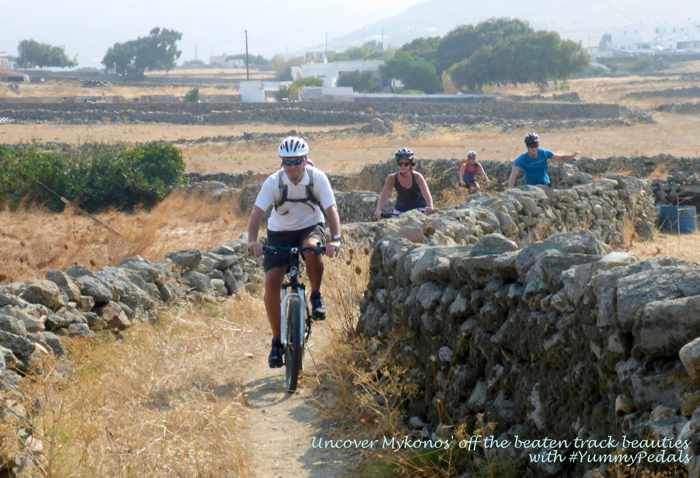 Open for bookings and requests throughout the year, Yummy Pedals began operating its guided bicycle and hiking tours on March 15.  Yummy Pedals offers a variety of half- and full-day adventures for people of all ages and abilities, with excursions tailor-made for singles, couples, families, honeymooners, and cruise passengers.  Romantic escapes and special events can be arranged, and electric bikes are available for booking.
A part of the Mykonian Spiti farm and cooking class business, Mykonos Excursions offers an extensive array of adventures and activities, including cooking demonstrations and classes; farm visits; hiking, walking and jeep tours; sunset and southern beach cruises; island tours; and even a day trip to Andros island.  Their season started in March.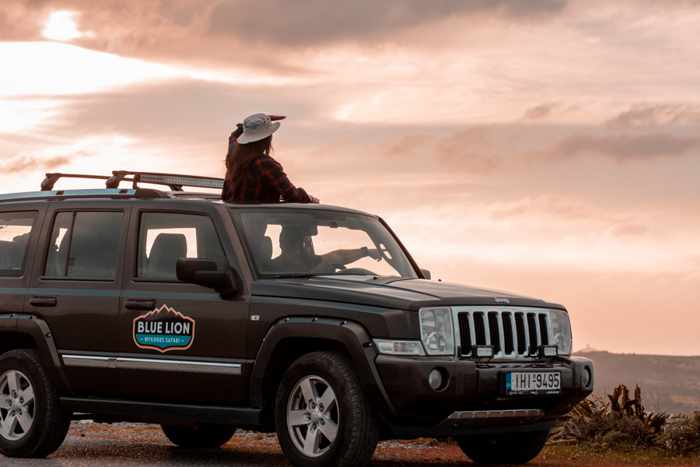 Again this year, Blue Lion Safari is offering its selection of private and semi-private specialized Jeep tours of Mykonos.  The options include 5-hour private and semi-private morning tours and sunset tours through northern regions of Mykonos; a 10-hour full day private tour; and a special occasion private tour that will be customized to private a unique adventure experience on Mykonos. The tours include a meal and wine stop along the way. Maps and descriptions of the tour itineraries, along with contact information, are available on the Blue Lion Safari website.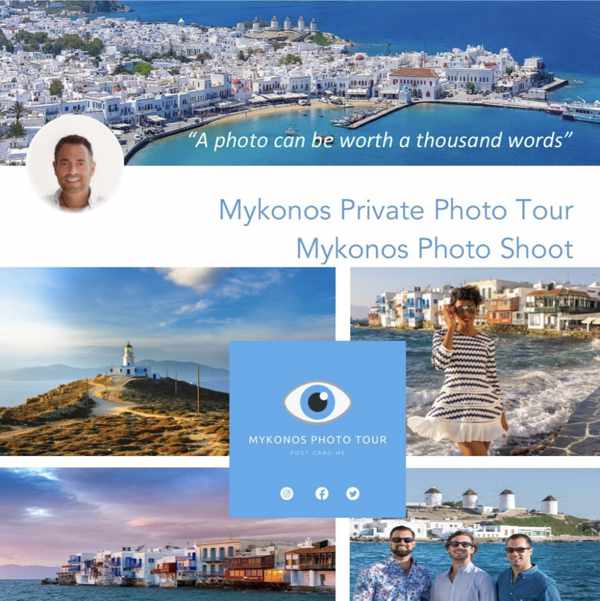 Mykonos Photo Tour returns April 24, offering private island photo tours and photography shoots, location guides and travel coordination services hosted by its founder, Achim Eckhardt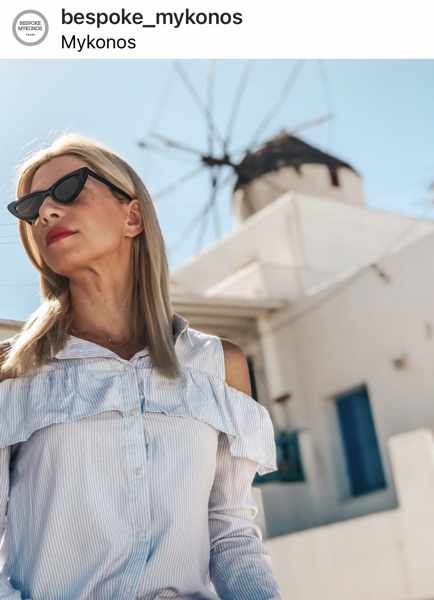 Private guided tours on Mykonos are available now from licensed tour guide Maria-Eleni Sfaellou of Bespoke Mykonos. Starting on April 1, Maria-Eleni also will be available to provide guided tours at the Delos island archaeological site. 
Food, beer and wine-focussed tours, classes and activities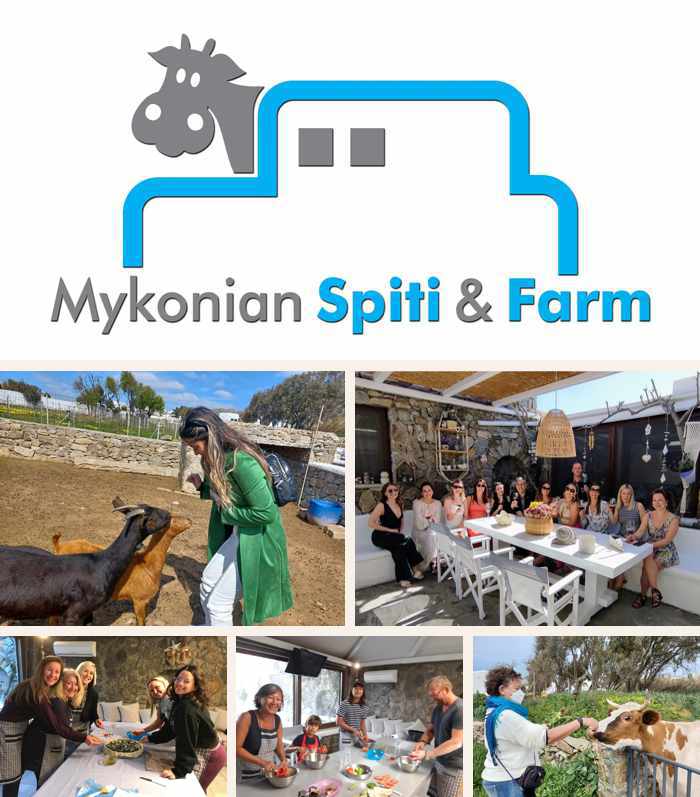 One of the island's best-known food and farm attractions, Mykonian Spiti & Farm hosts cooking classes and demonstrations, wine tastings, and tours of its farm. Located in the island's Messaria district, Mykonian Spiti offers day and evening cooking classes hosted by Teta Fragedaki. The spiti's other activities include wine tastings, traditional lunches and dinners, a farm bakery class with lunch, a farm barbecue, olive oil tasting, and a variety of experiences — ideal for children — on the farm.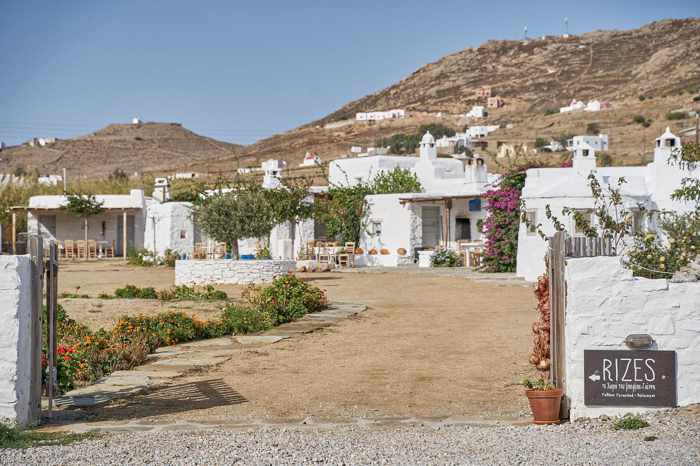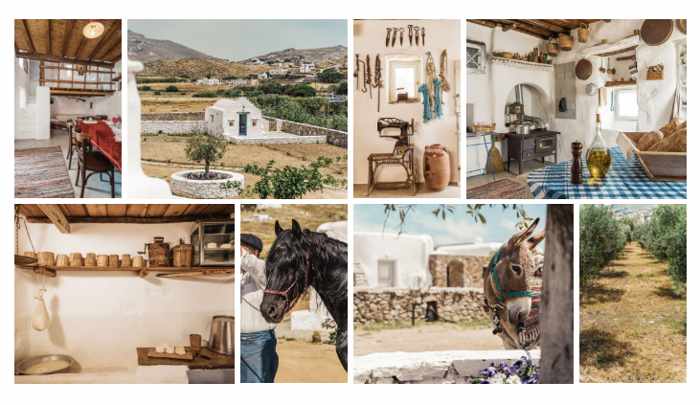 A 5-acre property in the Maou area near Ano Mera, Rizes Folklore Farmstead offers guided tours of a re-created Chorio (traditional Myconian farmstead), including its house; chapel; vineyard, olive grove and vegetable garden; wine pressing vat; cheese workshop; folklore exhibitions; stable, dovecote and chicken coop; and a visit with the domestic farm animals. Cooking and bread baking classes also are offered.  In addition, the farmstead has a popular restaurant where visitors can enjoy freshly-cooked traditional meals, including  homemade pies, salads and spreads, and vegetable and meat dishes, all prepared according to Greek and Myconian recipes and techniques, and made primarily with local ingredients and products.  On Sundays, Rizes presents live Greek folk music entertainment, and hosts party feasts to celebrate national holidays and important religious events. During winter, Rizes was open only on weekends, but since April 16 has been open every day from noon until 9 p.m.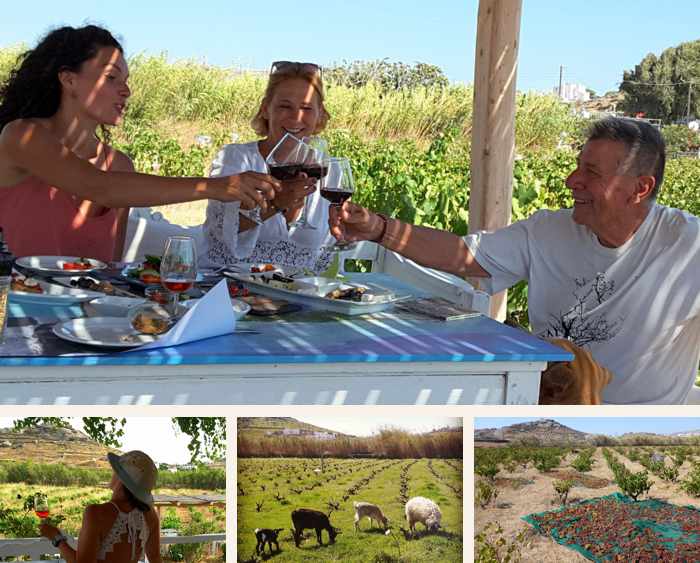 April 1 is opening day for Mykonos Vioma Organic Farm & Winery, located in the Maou area near Ano Mera. Operated by the Asymomitis family, the farm offers daily free guided tours that show visitors its biodynamic cultivation and wine making techniques. The farm also hosts tastings of their wines and local products, and kids can meet and play with the farm's four-legged residents.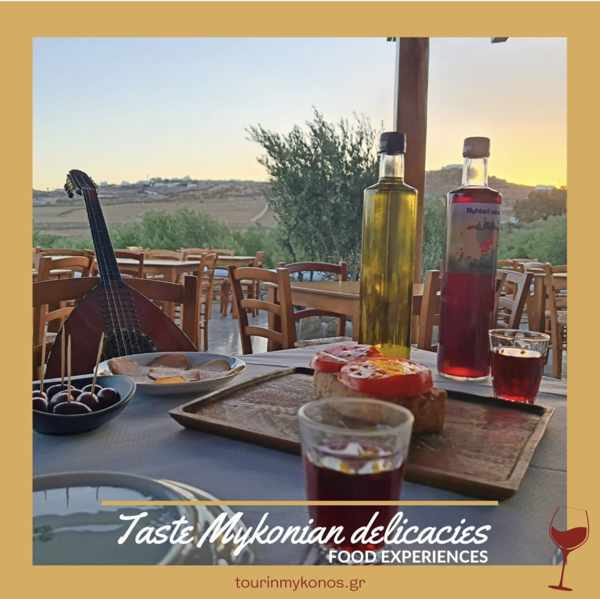 The unique Tour in Mykonian Land experiences return on April 1. The two-hour guided tours of an estate in the Marathi area take visitors through an olive grove, vineyard and wine press facility, and conclude at the on-site taverna. There, guests are treated to traditional live music entertainment while they sample local food delicacies and some of the estate's wines and olive oil.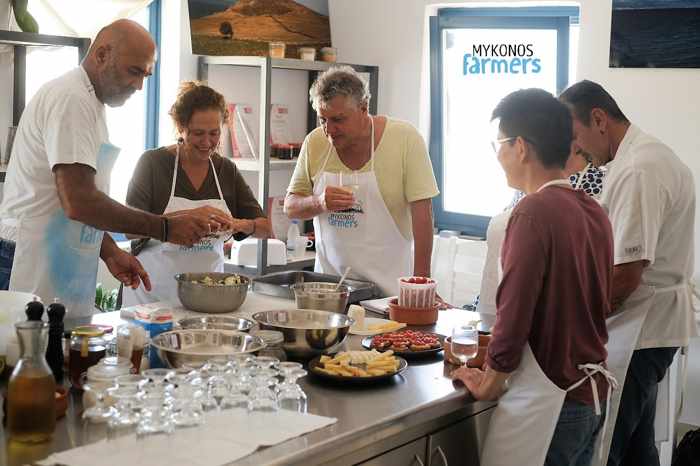 Located in the Agios Lazaros area, Mykonos Farmers is a facility that specializes in the production of Mykonian cheeses (including the spicy Mykonos Kopanisti cheese) and other dairy products using traditional methods. Visitors are welcome to drop in for a tour of the facilities, and to sample the products. Mykonos Farmers also offers interactive cooking workshops that will introduce participants to cheese making, along with recipes to take home. Tours and workshops are available for large and small groups alike.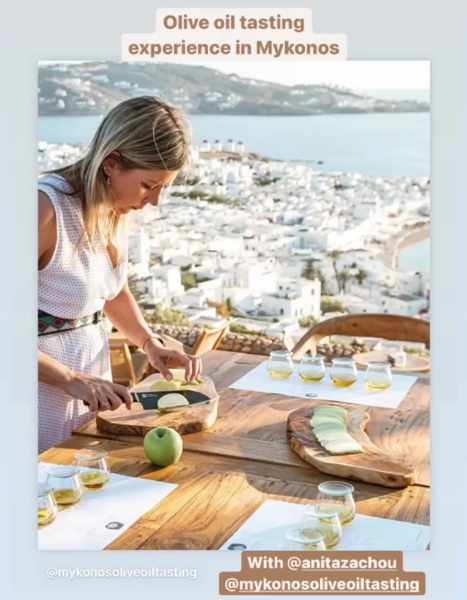 From May 15 to October 15, Anita Zachou of Mykonos Olive Oil Tasting will again host her group tasting workshops every afternoon. Private tasting sessions, special event tasting parties, on-yacht sessions and children's workshops also are available. Full details of the company's tasting sessions and activities, as well as booking and contact information, are available on the Mykonos Olive Oil Tasting website.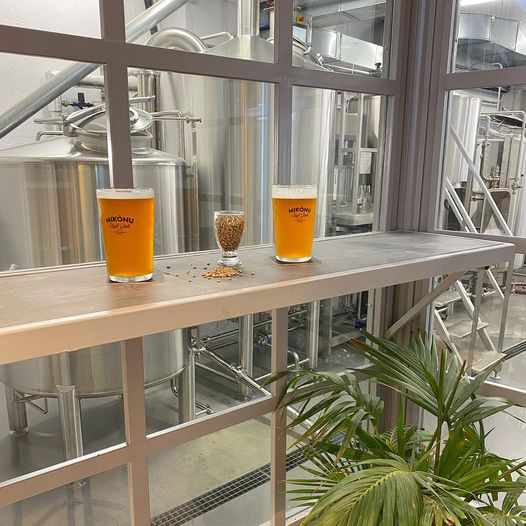 Mykonos Brewing Company is the island's first, and only, craft brewery, and makes the local Mikonu brand of beers.  Located in the Argyraina area just outside Mykonos Town, the brewery is a complete brewhouse and taproom in an underground facility that once housed the island's bowling alley. Visitors can advance book tours and tasting sessions, or can simply walk in to visit the taproom and sample the brews.  The taproom has windows offering a view of the brewery production area, and "is a family friendly, pet friendly, snack friendly, board game friendly space with a bar and table seating area." The taproom is open year-round; its hours of operation for the spring and summer are Monday through Friday from 11 a.m. to 6 p.m.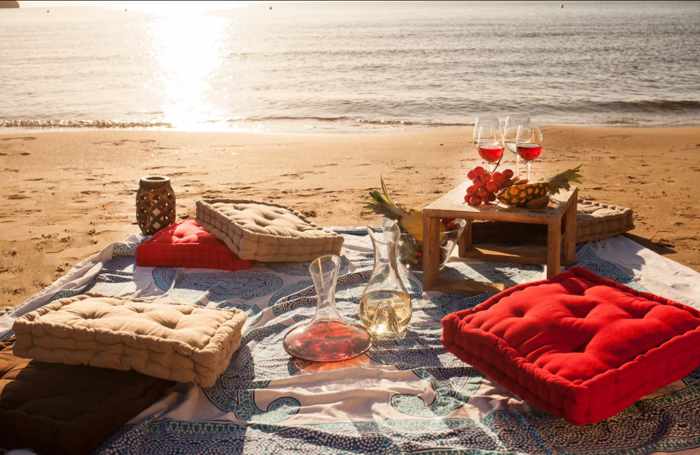 The Wine Society exclusive wine tastings return on April 1, along with other unique holiday experiences curated by Georgia and Stelios, co-owners of Your Concierge. Their company's one-of-a-kind activities include a variety of walking tours (a morning excursion that includes a breakfast break; an evening tour that includes a stop for a cocktail, and another that features a beach picnic); a souvlaki cooking class; a Greek cocktail masterclass; and a fish meze picnic at a secret beach. Your Concierge also can create customized private tours and memorable activities for visitors celebrating special occasions. Their experiences can be scheduled for anytime between April 1 and October 31. Full descriptions and details of the various experiences can be found on the Mykonos Experiences page of the Your Concierge website.
Open-air movie entertainment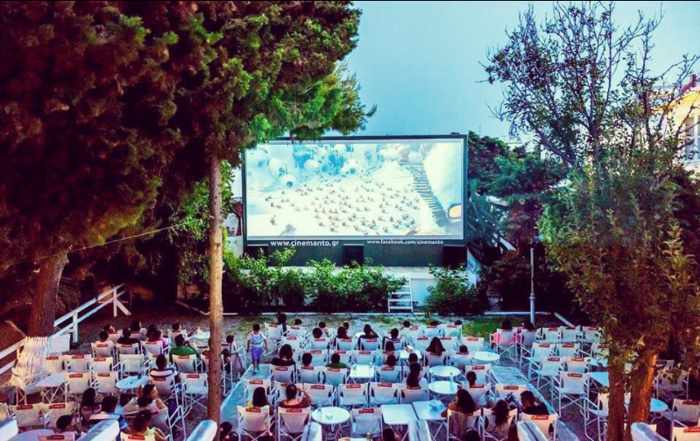 Cine Manto is an outdoor cinema located in a beautiful botanical garden oasis in the heart of Mykonos Town.  Open from the beginning of June until the end of September, it presents a nightly roster of original release, first-run movies (usually in English, with Greek subtitles).  Besides the nightly Hollywood entertainment, Cine Manto boasts a cafe-restaurant which operates from 10 a.m. to 1 a.m. daily, offering a unique, tree-shaded spot to escape the hustle and bustle of Mykonos and relax with a reasonably-priced breakfast, lunch or BBQ dinner meal and beverages.  The garden also hosts special events as well as mosaic workshops and morning yoga classes offered by Sweat Vacay (you'll find information about both of those activities on page 2 of that post.
Please click on the link below to continue reading on page 2, where we profile fitness, sports and outdoor fun activities; cultural attractions and activities; and boat, sailboat and yacht tours and excursions.
CONTINUED ON PAGE 2