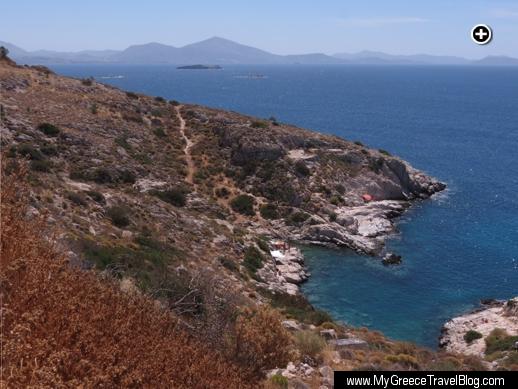 One of many coves along the scenic Apollo coast, southeast of Athens, where locals and visitors can enjoy sun, sea and serenity
Beach alternatives: You don't have to travel to an island to enjoy beautiful beaches and coastal swimming spots in Greece — you can find them in spades on the mainland, including the scenic Saronic Gulf coast a short drive from Athens.
Popularly known as the Apollo Coast and the Athens Riviera, the more than 70-kilometer-long stretch of seafront between Piraeus and Cape Sounion boasts scores of beaches and swimming spots, with an extensive variety of public and private beach facilities catering to all tastes, budgets and lifestyles.  Many are easy to reach from Athens either by car, by the city's tram system, or by public bus.
And for those who prefer to avoid busy organized beaches, there are plenty of secluded coves and inlets offering places to swim or suntan in peace and quiet — or even in nothing at all.
When we visited Athens last year, we noticed that many beach clubs and public strands along the Apollo Coast were packed with people. We could only imagine how crowded they must get during the summer when practically everyone in the city would head to the seaside to beat the heat.
Both in May and again during our return trip to Greece in October, friends who live in Athens took us for drives along the Apollo Coast, stopping to show us some of the popular beach areas including public strands to which admission was free, as well as several private clubs that charge entry fees of around 5 or 7 Euros and up per person.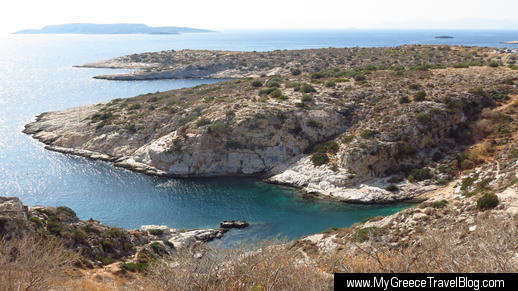 A peninsula on the Apollo Coast just a short drive south of Vouliagmeni. The rocky shoreline is popular with sunbathers and swimmers — especially nudists — who want to avoid the crowded public and private beaches along the Athens Riviera.
CONTINUED ON PAGE 2