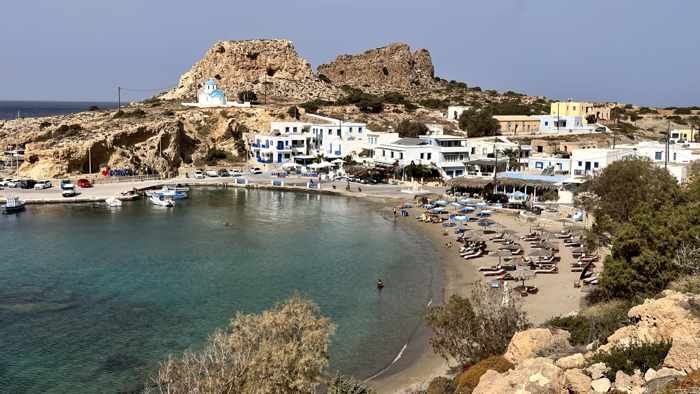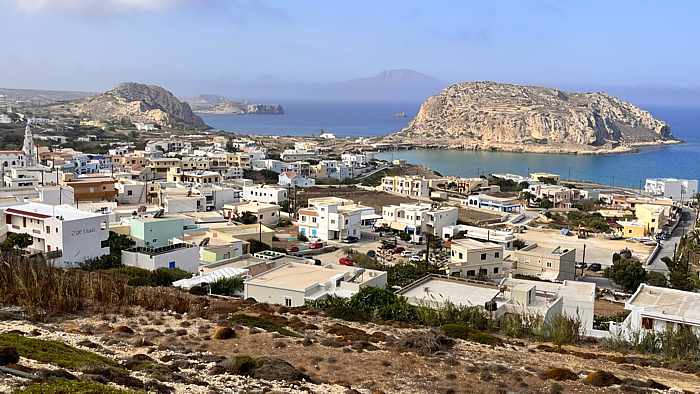 Two of the places we loved on Karpathos were the villages of Finiki (top image) and Arkasa, both situated on the island's scenic southwestern coast. 
Photos from Corinth, Karpathos and Attica: Sometimes travel doesn't happen as planned, or doesn't happen at all. Holidays were ruined for thousands of people around the world this year because of flight cancellations and airport delays, lost luggage, extreme weather, Covid infections and other unanticipated events.
For us, a long-awaited trip to Greece — our first vacation in three years — had to be cut short when I sustained a severe injury in a fall just hours after we arrived on Karpathos in early May. What was supposed to be a carefree 5-week holiday was turned into a nightmarish experience by a split-second walking accident.
Instead of sightseeing, swimming and chilling out on beautiful beaches, I spent two days in the island's small hospital, frustrated and stressed out from phone calls with travel insurance company personnel who wouldn't help me secure medical treatment. And rather than enjoying the lovely hotels we had reserved, and exploring scenic mountain villages, I was scrambling to cancel reservations and hastily re-arrange transportation so I could get home quickly for surgery. The Greek holiday that was supposed to give us a mental break from the doom and gloom of the Covid pandemic turned into an unexpected trip to a Canadian operating room, followed by a painful recovery period and months of grueling physiotherapy.
Our holiday disaster is a long, complicated tale I might tell another time. It's also the reason I haven't added any new posts to this blog in more than seven months.
And while my story still isn't finished, it does have a happy chapter: When doctors and physiotherapists gave me the go-ahead to travel, we  booked a last-minute trip back to Greece in late September. This time, I'm pleased to report, our vacation was low-key and injury-free.  It provided three weeks of rejuvenating rest and blissful relaxation at some of the places we didn't get to see in May.
During our accident-shortened spring holiday, we visited the Loutraki and Corinth areas of the Peloponnese, and the town of Pigadia on Karpathos island. In late September, we went back to Karpathos for three weeks, then wrapped up our autumn getaway at the Porto Rafti seaside town near Athens before flying home.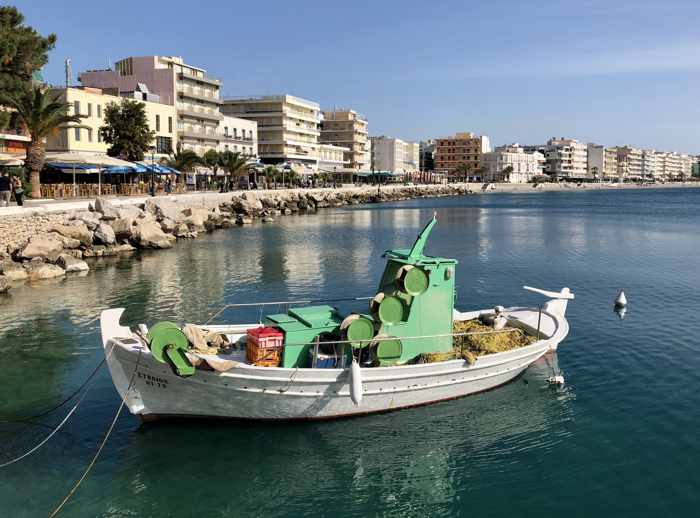 A fishing boat tied to a pier in Loutraki, a town situated on the eastern coast of the Gulf of Corinth. We spent three nights here in May, finding it an excellent base for exploring the Corinth region of the Peloponnese.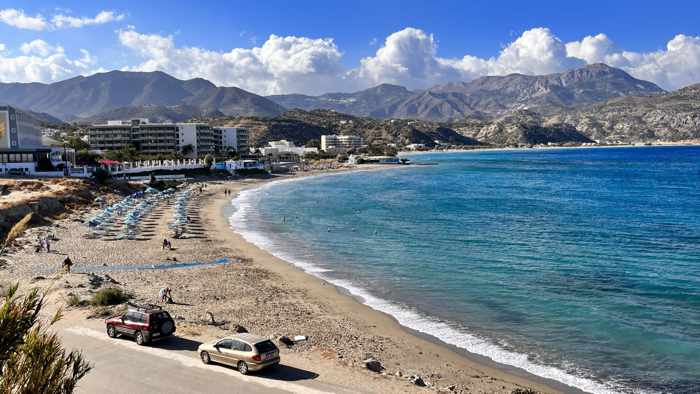 The long golden-sand beach at Pigadia, the main port town on Karpathos island. We spent several nights in Pigadia in May, and again in October during our return trip to Karpathos.
A hilltop view of one of the bays at Porto Rafti, a picturesque seaside town in Attica near the Athens International Airport. We enjoyed three nights here at the end of our vacation in mid-October.
As always, we took plenty of pictures during our travels, and you can see dozens of them on our two main social media accounts:
♦ the my_greece_travel_blog profile on Instagram; and
♦ the My Greece Travel Blog page on Facebook
I'm still posting additional photos several times a week, so you will discover new content if you check back regularly for updates.  (You can view the images even if you don't have your own Instagram or Facebook accounts, by the way.)
I'm currently busy working on some blog posts about our holiday destinations and experiences, and hope to publish those soon.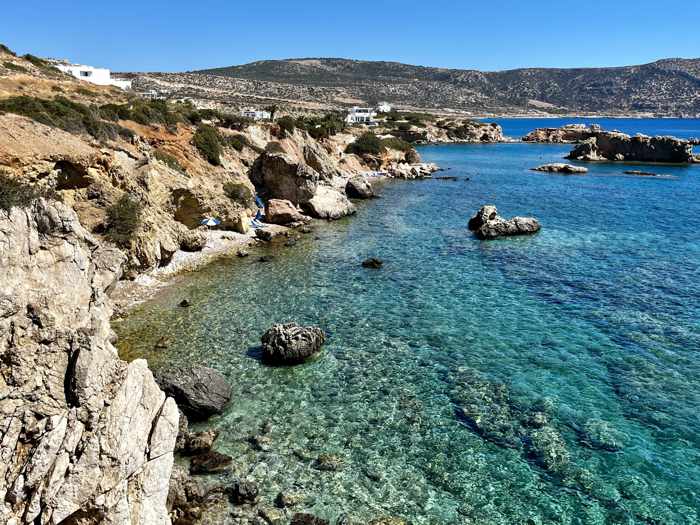 The rugged coast at Amoopi, a resort area on Karpathos. We  were fascinated by the clear turquoise waters and intriguing rock formations, and loved discovering secluded coves as well as Amoopi's organized sand and pebble beaches.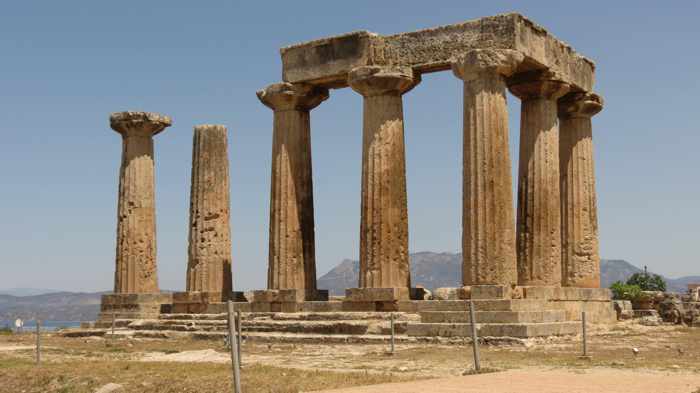 The remaining erect columns of the Temple of Apollo — one of many monuments we saw at the archaeological site and museum of Ancient Corinth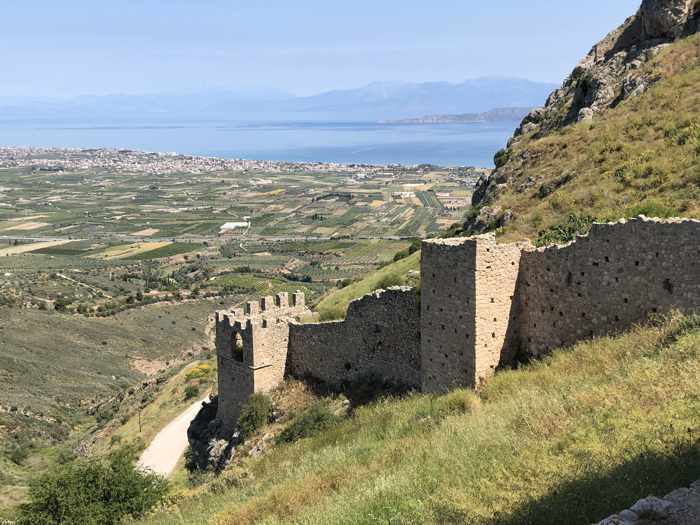 We were blown away by the vast panoramic views of the Gulf of Corinth and the Peloponnese while we climbed and wandered around the massive mountaintop grounds of the Acrocorinth Castle