~ continued from page 1 ~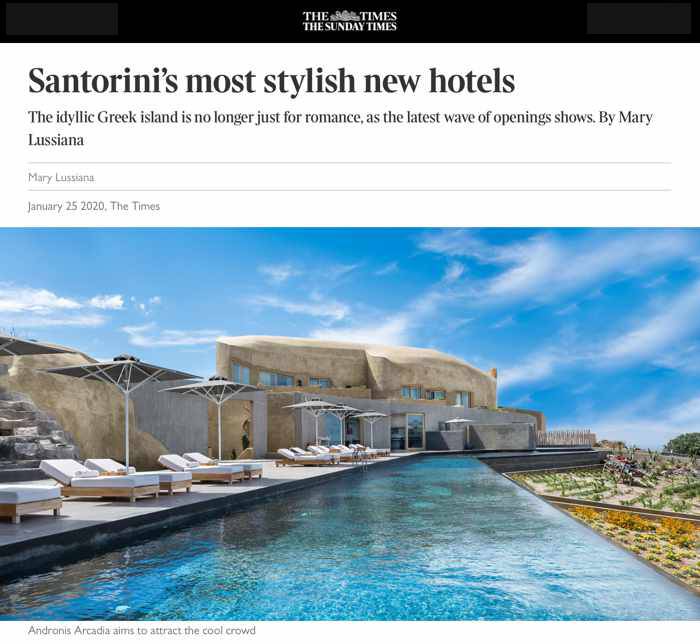 The Andronis Arcadia is one of four high-style Santorini hotels profiled in a January 25 2020 article in The Times
In Santorini's most stylish new hotels, writer Mary Lussiana revisits the island for the first time in 10 years, and finds it has changed "beyond recognition." One big difference she observes is the extensive overdevelopment — "whitewashed hotel after whitewashed hotel." The other major change is the types of people who are visiting Santorini. "It used to be almost uniquely a honeymoon destination," she says, but now families and others are coming, "while wealthy young couples, spa seekers and foodies all swell visitor numbers."
But Lussiana sees a positive side to the extensive development, particularly with regard to hotels and restaurants. Most new accommodations "are exquisite, high-end places," while the island's dining options have vastly improved.
"Ten years ago the wines on the island were forging a name for themselves, but food was not seen as a draw. Since then the gastronomic scene has exploded, with hotels hosting heavyweight gourmet festivals and Michelin-starred restaurants in Athens tying their names to various hotel masts." 
Lussiana goes on to recommend top places to stay for for four different lifestyles of tourists swarming to Santorini:
♦ Andronis Arcadia in Oia, with 52 luxury suites, its Opson Restaurant and Evexia Spa, is ideal for "spa seekers and socialites."  The hotel's manager tells her that since everything in Oia generally is shut by midnight, "what we want to do here is provide a party ambience that attracts the cool crowd."
♦ Istoria hotel near Perivolas beach, where former horse stables have been "cleverly converted into 12 sumptuous suites," is perfect for families;
♦ Katikies Garden hotel and its restaurant, De Paul, in Fira, is a must for gourmands. The restaurant "serves modern dishes inspired by ancient Greek gastronomy, and the chef Haris Nikolouzos plates up a phenomenal array of delights," while the wine cellar is overseen by Greek wine master Yannis Karakasis, who has "created a list of more than 100 vintages, majoring on bottles that hail from Santorini and other parts of Greece."
♦ OMMA Santorini, in Imerovigli, is a "magic" spot for romantics.  Situated in a "private and privileged" location, it boasts "a 180-degree view of the caldera on one side and a panorama of the Aegean on the other."
Brand-new & almost-new Greek island hotels & resorts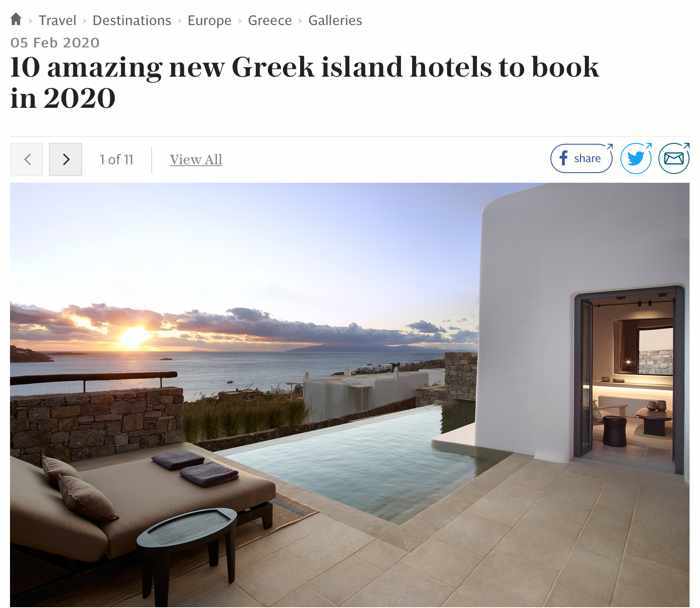 In February, The Telegraph took a peek at Kalesma Mykonos (above) and 9 other much-talked-about new hotels situated on Greek islands
Also compiling a 2020 hot list of stylish new hotels was The Telegraph newspaper in the U.K.  which narrowed its choices to just 10 on the Greek Islands. And though its mini-guide is headlined 10 amazing new Greek island hotels to book in 2020, half of the luxury properties actually opened last year, while the other five are slated to greet their first guests this summer.
Among The Telegraph's top picks are "design-forward creations on Mykonos, romantic retreats in Rhodes, stylish stays in Santorini and spa getaways in Corfu."
The five brand-new hotels highlighted in the newspaper's slideshow are:
♦ Kalesma Mykonos (which we profiled on the blog in a February 16 2020 post);
♦ The Royal Senses Resort & Spa near Rethymno on Crete
♦  family-friendly  Angsana Resort on Corfu;
♦ Panoptis Escape (which we reported in our Above the rest article in January) and
♦ TheTownHouse hotel on Mykonos;
The Telegraph's choice of resorts that opened last year, but which continue to draw significant buzz in 2020, are:
♦ OMMA luxury boutique hotel in Imerovigli village on Santorini;
♦ the "lavish" adults-only Lindos Grand Resort & Spa on Rhodes;
♦ Andronis Arcadia all-suite luxury hotel at Oia village on Santorini;
♦ the 5-star Calilo resort at Papas beach on Ios; and
♦ The Syntopia, a deluxe hotel "exuding swanky gypset vibes" for adults, couples and solo travellers at Rethymno on Crete.
Luxury hotels & fine dining on Mykonos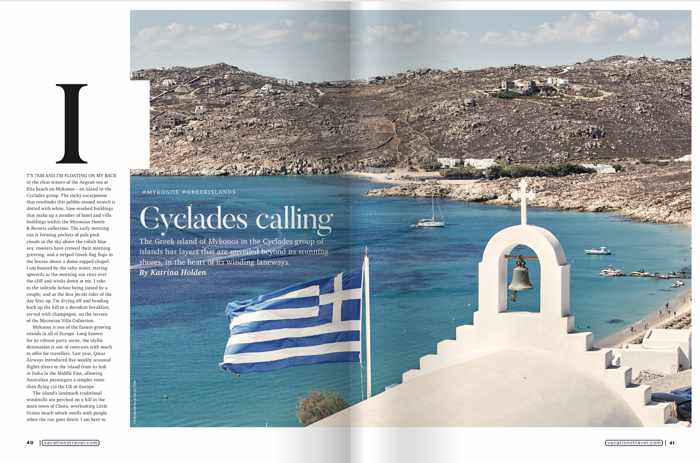 In an article for Vacations & Travel magazine, Katrina Holden recounts her experience staying and dining at some of the Myconian Collection luxury hotels on Mykonos
There are two dozen major islands in the Cyclades chain, so we were a touch surprised to read about only one — Mykonos — in Cyclades Calling, an article appearing in the Summer 2019-2020 edition of Australia's Vacations & Travel magazine. Mykonos isn't a typical Cyclades island by any means; famous for its upscale hotels, villas, designer boutiques, art galleries, nightclubs and restaurants, its legendary party scene, and its visits by international billionaires, celebrities, sports stars and A-listers, it's in a league of its own, and isn't representative of other Greek islands at all.  The editors appear to have noticed this when they republished the issue online with a revised and more appropriate title — Cyclades calling: the allure of Mykonos.
That bit of nitpicking aside, we did find the article an interesting read, since it's writer Katrina Holden's account of visiting some of the hotel, resort and villa accommodations in the Myconian Collection, a chain of 10 high-end properties owned and operated by the Daktylides family of Mykonos. We have stayed at two of the Collection's luxury hotels, including the Myconian Ambassador, where we enjoyed spending the first four nights of our very first trip to Greece, so we were keen to read about the impression they are making at present. Based on Holden's report, the Myconian Collection holiday experience sounds even more first class and sophisticated than it was during our visit years ago.
Holden recalls her stay at "the über-chic, five-star Myconian Villa Collection" at Elia beach, which "has art and design running through its white-hot core" — including, in its main lobby, a gallery by Artion Galleries of Athens and Geneva. Her description of the daily breakfasts at the Villas, and the wonderful dinners she enjoyed at three of the chain's other properties, brought back fond memories of our own excellent dining experiences.  
However, we did feel just a tinge of jealousy when Holden recounted visiting the Delos island archaeological site through a private luxury yacht charter and guide organized by hotel staff — an option that wasn't available  when we stayed at the Ambassador. But then, we had a great time sailing to and from Delos on a fisherman's caique, so we can't complain. Those boats are gradually disappearing from Greek waters, and the few that remain are vastly outnumbered by sleek, modern yachts, so I suppose we can count ourselves lucky we got to enjoy the traditional way of travelling between the islands. But Holden's article does make us daydream about a return sojourn at the Ambassador,  or one of its newer sister hotels, sometime in the future.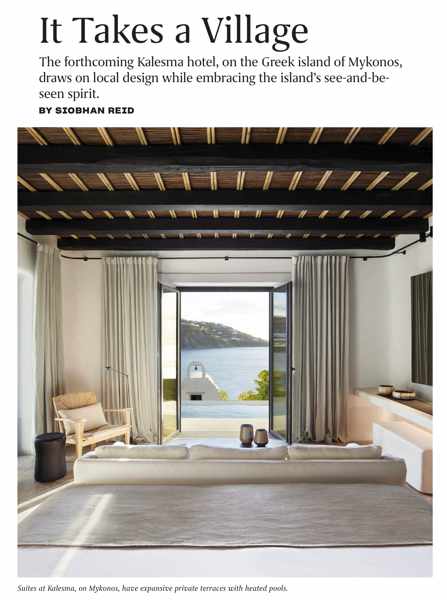 It Takes a Village, published in the May 2020 issue of Travel + Leisure magazine, takes a quick peek at the new Kalesma hotel on Mykonos.
The brief 1-page profile says the brand-new family-run property, which opens this summer, "will offer the glitterati a chic place to rest and recharge."
We read the magazine on Apple News+, but you can also find it on newsstands now.
You'll find much more information, along with a collection of photos and architectural renderings, in the Kalesma hotel profile we posted on the blog back in February.
Parilio Hotel + dining on Paros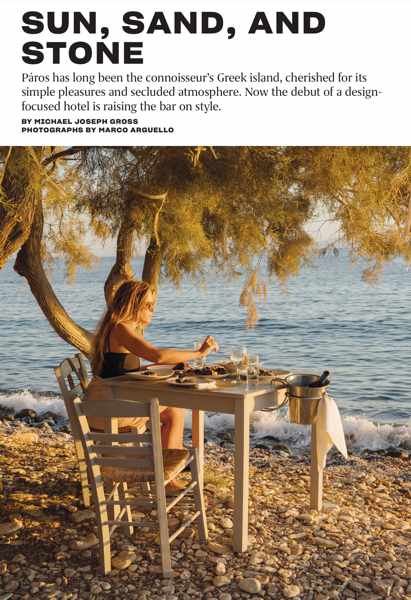 Seaside dining at Thalassamou taverna at Aliki beach on Paros. The photograph, by Marco Arguello, was published in a Travel + Leisure article about Paros.
A few words of warning before you read the Michael Joseph Gross  article Sun, Sand, and Stone, published in the February 2020 issue of Travel + Leisure. First, the descriptions of meals he ate on Paros island could make you suddenly crave a gourmet breakfasts, platters of fresh seafood, or contemporary versions of traditional and classic Greek dishes. Second, you'll wish you had a good friend who just happens to own the hottest new luxury hotel on the island, and who will introduce you to some of the island's most enthralling beaches and tavernas.
In this case, Gross's friend is hotelier Kalia Konstantinidou who, together with husband Antonis Eliopoulos, opened Parilio hotel near Kolimbithres beach on Paros in 2019 (the couple owns and operates three acclaimed hotels on Santorini, too). Parilio quickly became one of the most talked-about new hotels in Greece when it opened, garnering widespread press coverage and recommendations from travel and lifestyle publications around the world. It's still getting attention — Parilio is included on the Travel + Leisure It List 2020, the magazine editors' picks of the world's best new hotels.
Gross describes the hotel's architecture and amenities, of course, as well as the tantalizing breakfast and dinner offerings at Parilio's in-house restaurant, Mr. E. He also recalls visits to Aliki, Kalogeros and Kolimbithres beaches, a scrumptious seafood lunch at Thalassamou taverna, and drinking rounds of a spirit called souma at Mario Restaurant on the harbourfront in Naoussa.
The article is accompanied gorgeous photos by Marco Arguello.
We read the magazine on Apple News+; it's available through other online magazine sites, too, including PressReader. 
Blue Palace Resort & Spinalonga island on Crete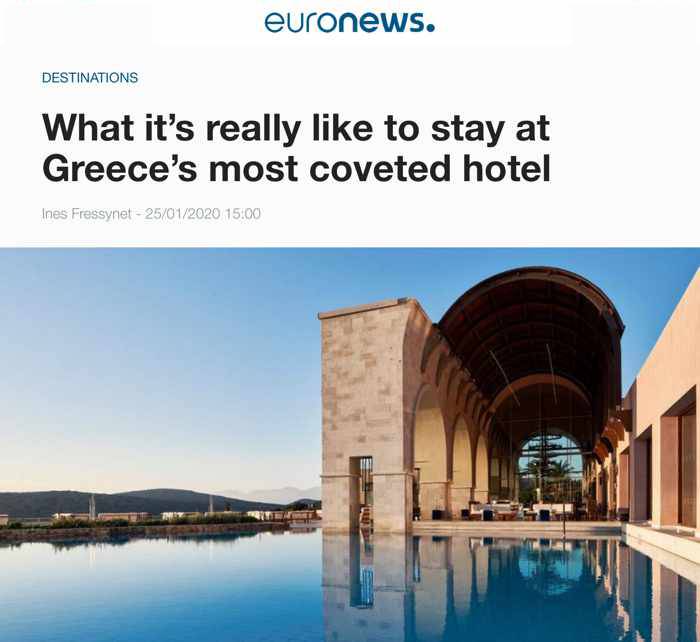 Euronews writer Ines Fressynet profiles the 5-star resort and describes a visit to nearby Spinalonga island
What a curious coincidence: Here we are self-isolating at home as much as possible during the Covid-19 crisis, and an article we find about a luxury resort on Crete begins with the writer recounting a daytrip to Spinalonga island — a former leper colony that is now a UNESCO World Heritage Site and popular tourist attraction in northeastern Crete.
"…imagining that a group of unwell people once lived there, in total seclusion, sounded claustrophobic to me. At the very least, they had the magical view over the bay and surrounding Katselios mountains to soothe their pain and loneliness. The sight must have been the little happiness they found in sorrow," Ines Fressynet writes in her January 25 2020 Euronews article, What it's really like to stay at Greece's most coveted hotel.
We couldn't help but think of how many people around the world today, sick in hospital or home quarantine with Covid-19 symptoms, would relate to the Spinalonga lepers' situation, but wish they could have a wonderful sea and mountain view, too, in order to boost their spirits, however slightly. And we wondered  if any would prefer to spend their quarantine where Fressynet stayed — at the Blue Palace Resort and Spa, a 5-star luxury hotel directly across the bay from Spinalonga. We aren't feeling ill ourselves, touch wood, but we have debated whether we might feel happier stuck in quarantine in the comfort of our own home, or restricted for two or more weeks to a spacious hotel suite with a private terrace and pool and jaw-dropping views of the scenic Crete coast.
The idea of being on Crete right now is incredibly appealing. However, being confined to a hotel room for two weeks or longer would mean missing out on the amazing array of amenities that Fressynet discovers at Blue Palace — a lounge bar, beach club, five swimming pools, six restaurants, tennis courts, a well-appointed spa facility with an indoor heated pool, saunas and gym, and much more. Wouldn't all those luxuries be the whole point of going to the Blue Palace in the first place? And wouldn't it be torture knowing you're only steps away from all those facilities, yet unable to use them? Still, there's that dreamy view …
Fressynet's story is illustrated by 10 enticing photos of the hotel's location on the Gulf of Elounda, its restaurants and facilities, and its view of Spinalonga.
Athens Riviera & Astir Palace hotel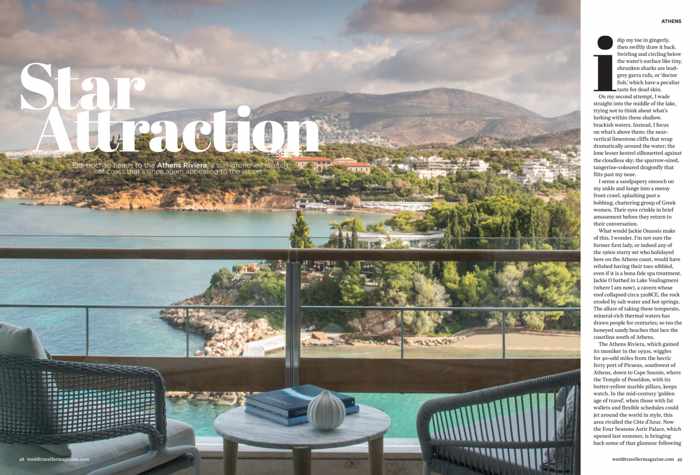 World Traveller magazine profiled the Athens Riviera and the famous (and recently renewed) Astir Palace Hotel
Our personal travels have taken us to many memorable places along the Athens Riviera, including the impressive Temple of Poseidon at Sounion, lovely Lake Vouliagmeni, and more than a dozen seaside tavernas, cafes and beach clubs. In fact, we started our 2019 spring holiday with a brief  stay at a beachside hotel short walking distance from the Sounion monument.  If we'd had more time, it would have been a treat to drive down the coast for a look at the freshly-rejuvenated Four Seasons Astir Palace Hotel Athens. Legendary as a hideaway for Hollywood and international celebrities from the mid-1960s through the 1980s, the sprawling hotel complex had just recently re-opened after an extensive two-year renovation.
We had a peek at the Astir Palace several years ago when an Athens friend took us on an evening drive along the Athens Riviera and made a quick detour onto the pine tree-forested Vouliagmeni peninsula, where the hotel occupies a stunning 30-hectare site on the coast. It was twilight, so we couldn't see much detail of the hotel in the deepening darkness, but the vast property still looked impressive, and we could appreciate how sweet it would be to stay in such a splendid and storied location.
Our friend texted us several photos of Astir Palace last spring, while we were vacationing on Lesvos island following our short stay at Sounion. Friends of hers were staying there, and she had snapped a few pics of the views and swimming pools while paying them a visit. The facilities and surroundings looked fantastic, and we wished we'd had the opportunity to see the place ourselves. It slipped our minds until we found the article Star Attraction in the March 2020 issue of World Traveller magazine.
Writer Ella Buchan takes a trip to the Athens Riviera, where she recalls the 40-mile-long seaside strip's heyday as a holiday hangout for Hollywood stars and the "jet set" during the "golden age of travel" in the 1950s and 60s. The rich and famous flocked to the Astir Palace which, for two decades, "was the place to see and not be seen, provided you could afford it," Buchan notes. The guest roster included the likes of Frank Sinatra, Charlton Heston, Joan Collins, Jane Fonda, Nelson Mandela, former U.S. presidents Jimmy Carter and Barack Obama, and of course Aristotle Onassis and Jackie O.
The hotel closed for a much-needed refurbishment and upgrades in 2016, but when it reopened as a Four Season property, it retained "a distinctly 1960s vibe to much of the decor," Buchan says. She goes on to describe the hotel amenities that have been refreshed, and the new features that have been added, and notes the rejuvenated Astir Palace is bringing back "some of that glamour" from its golden days. "There's no question that the Athens Riviera has star quality — and now it's ready to shimmy into the spotlight again," Buchan concludes.
The hotel's revival confirms that you don't need to travel to Mykonos or Santorini for a superb luxury resort experience — you can find it just a short drive from the center of Athens on a remarkably scenic coast.