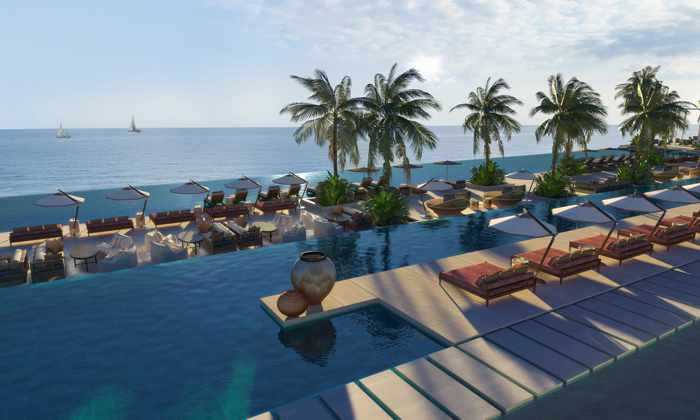 A rendering of the main swimming pool at The Royal Senses Resort & Spa, scheduled to open in late June on Crete.  The Royal Senses was included on The Telegraph's list of 10 amazing new Greek island hotels to book in 2020.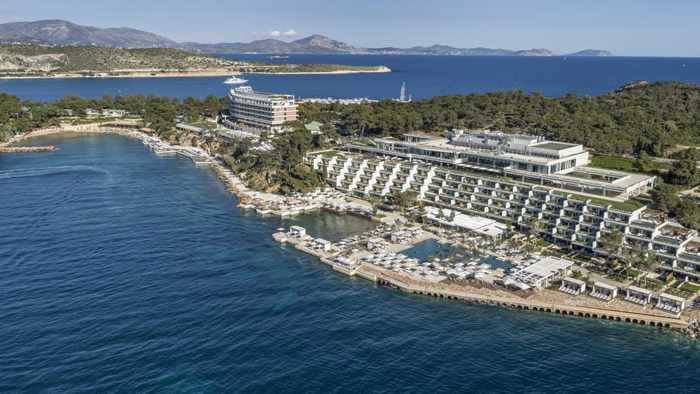 The Four Seasons Astir Palace Athens, a legendary hotel on the Athens Riviera that re-opened last year following extensive renovations. The hotel was profiled this spring by World Traveller magazine.
A short social media promotional clip for Kaliya, a much-anticipated new restaurant opening this summer in Fira, the capital of Santorini. Kaliya is among several sumptuous Santorini dining spots cited by World Travel magazine.
Where to stay, dine and drink: Each winter and spring, major newspapers and travel magazines publish articles describing new and noteworthy places to stay and visit in Greece, and this year they've done it again, even though the Covid-19 pandemic turned international travel planning upside down and left everyone wondering if there would even be a tourist season in 2020.  Would any of the hotels, resorts, restaurants and bars described in the travel media be able to open this year?
It looks like there might be part of a summer travel season after all, now that the Greek government has announced (on April 28) its plans for lifting lockdowns, gradually restarting the country's economy, and possibly re-opening its tourism infrastructure and facilities as early as July. Although details about when — and which — foreign visitors will be allowed to enter Greece are still up in the air, it appears summer holiday travel to Greece will be a possibility for some people.
Given that hopeful prospect, we have compiled this post to highlight travel articles we have read over the past month during our own coronavirus home quarantine.   It's a round-up of recommendations and travel reports for hotels, resorts, villas and restaurants in Greece that captured the attention of international travel media experts.
If you're among the fortunate people who get to visit Greece this summer and experience any of the properties and establishments described in these publications, do drop us a line once you're back home, to let us know how you enjoyed them.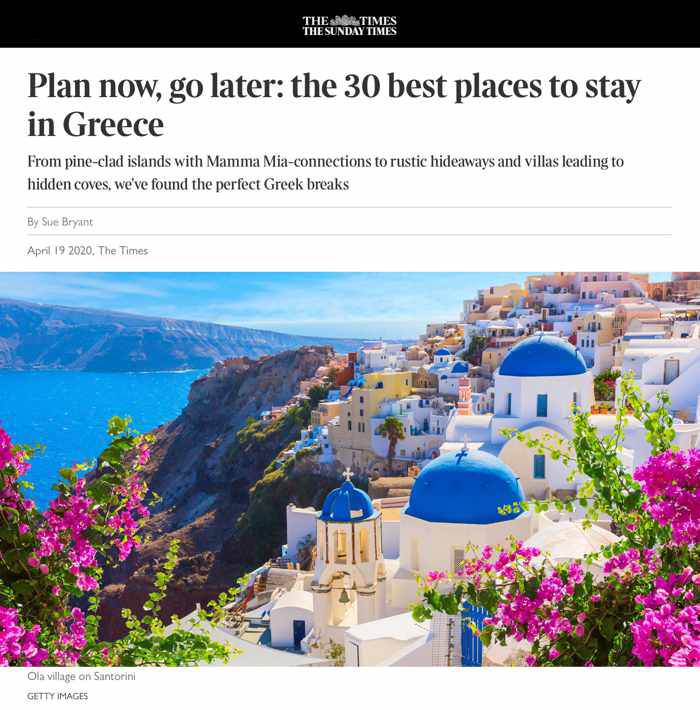 If you're having trouble choosing where to go once Greece re-opens its borders to international tourists, The Times article 30 best places to stay might help you narrow your options. Then again, it could confuse you even more, since it describes so many outstanding accommodations to consider.
Whether it's adults-only on Santorini, kid-friendly on Rhodes, eco-conscious on Crete, a rustic mountain retreat or a luxury hilltop villa, the newspaper's top picks cover most travel lifestyles, though the list does lean mainly towards higher-end and design-forward hotels. 
Hotel, resort and villa recommendations on the newspaper's list include the following Greek island regions:
♦ Crete
♦ Antiparos, Folegandros, Mykonos, Santorini, Serifos and Syros in the Cyclades island chain
♦ Corfu, Ithaca, Kefalonia, Kythira, and Lefkada in the Ionian group of islands 
♦ Hydra and Spetses in the Saronic Gulf
♦ Skiathos and Skopelos in the Sporadic isles, and
♦ Kos and Rhodes in the Dodecanese archipelago
For mainland Greece and the Peloponnese, the article suggests stylish accommodations for:
♦ The Athens Riviera
♦ Halkidiki
♦ Monemvasia, Nafplio and The Mani in the Peloponnese;
♦ Parga, Perdika, Sivota and the Zagorochoria areas of northwestern Greece.
Santorini hotels, restaurants and wineries
Canaves Oia Epitome luxury hotel was the shooting location for the cover photo for World Travel Magazine's February/March 2020 issue
When Nasos Kouzelis wrote What's New Santorini?,  tourism-related businesses on the island were excitedly preparing for the launch of the 2020 travel season. "In just a few days' time," he said, restaurants would be setting their tables and wineries would be polishing their glasses to welcome their first guests of the year. His article was originally published in the February/March 2020 edition of World Travel magazine, so Kouzelis would have submitted it to the editors weeks before Greece went into lockdown because of the Covid-19 pandemic. Those opening plans have since been put on ice, of course, and at this time no-one knows exactly when Santorini's tourist season for international travellers will finally start.
But by the time that happens, there will be even more built-up anticipation for the opening of some eagerly-awaited new restaurants and hotels that Kouzelis describes, along with the return of some much-talked-about accommodations and dining spots that made their debuts in 2019.
Among the hot spots Kouzelis mentions:
♦ in Oia village: the Canaves Oia Epitome and its Elements restaurant, and the Andronis Arcadia Hotel and its Opson restaurant;
♦ in Imerovigli village: Cavo Tagoo Santorini hotel and its restaurant, OVAC, plus OMMA Santorini hotel and restaurant;
♦ in Fira, the island capital: Katikies Garden hotel, Panigiri Restaurant, and the brand-new Kaliya restaurant;
♦ at Monolithos beach: the Nikki Beach Santorini Resort & Spa;
♦ at Baxedes beach near Oia: the all-day lounge restaurant Laze;
♦ Avantis Cellar Door winery and restaurant in Kontochori near Fira, and Mikra Thira winery on nearby Thirasia island.
The article is illustrated with beautiful pictures by Christos Drazos, one of the most sought-after professional hotel and restaurant photographers in Greece.
Please click on the link below to read about more travel publication profiles of hotels and restaurants on Santorini, Mykonos, Paros, Crete, Corfu, Rhodes, Ios and the Athens Riviera.
CONTINUED ON PAGE 2