~ continued from page 1 ~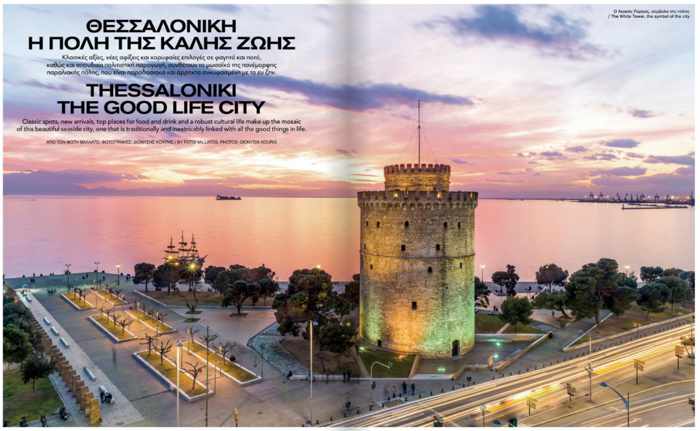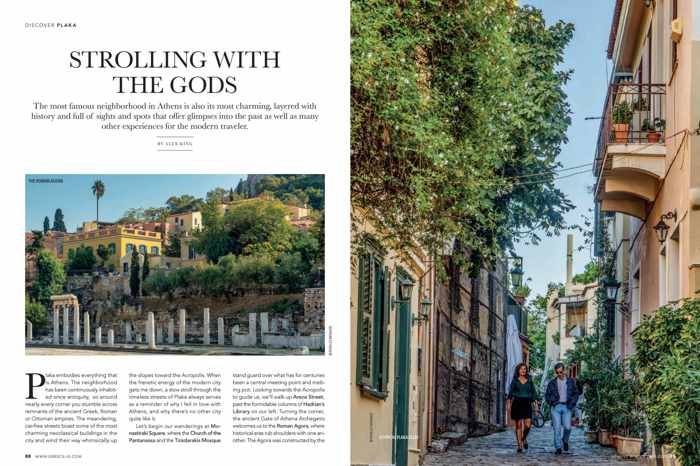 Top: A view of the iconic White Tower from an Aegean Airlines Blue magazine guide to the city of Thessaloniki. Bottom: Scenes from the historic Plaka neighbourhood, part of a Greece Is special edition publication dedicated to the city of Athens.
Thessaloniki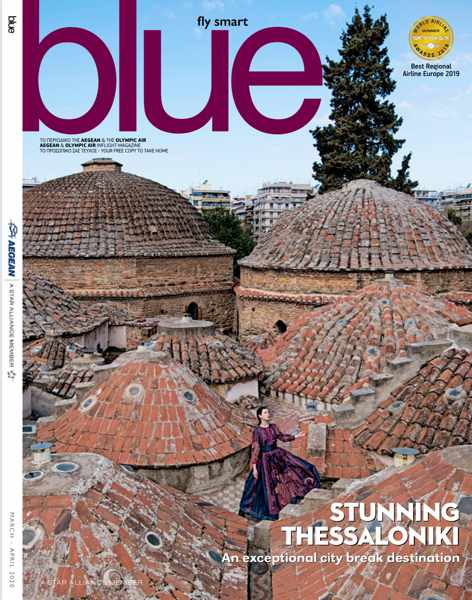 The spring issue of Aegean Airlines' Blue magazine contains marvellous photos of Thessaloniki sights and monuments, an 18-page guide to bars, cafes, restaurants and museums, and an article describing the city's street food scene
The March-April 2020 edition of Blue, the in-flight magazine of Aegean Airlines, is one of three excellent and insightful publications that have left us itching to pack our bags for a trip to Thessaloniki once the Covid-19 pandemic has passed. (You will see the other two magazines as you scroll further down in this post.) While all portray Thessaloniki as an outstanding city-break destination, their enticing descriptions and photos of the myriad attractions in the city and surrounding region show it clearly merits a visit much longer than a quick couple of days.
"Thessaloniki's extraordinary charm lies mainly in its vibe. It lies in the city itself, in its hospitable and extroverted residents, in its stunning early Christian and Byzantine monuments — many listed as UNESCO World Heritages Sites — in the iconic White Tower, in the revamped New Waterfront promenade, and in the Thermaic Gulf, which gently laps at the city's feet," says the introduction to the magazine's cover features on Thessaloniki. 
"A cosmopolitan city at the crossroads of different civilisations with a glorious history stretching back more than 2,300 years, Thessaloniki doesn't treat its past as only something to be honoured, respected and safeguarded; it's also an intrinsic part of day-to-day life for its residents and visitors. It's something you experience as you walk around the city centre, stopping at Aristotelous Square, admiring the 19th and early 20th century townhouses along Vassilissi Olgas Avenue or enjoying the panoramic view from the Trigonian Tower in Ano Poli," the introduction adds.
The magazine's Thessaloniki content include a 17-page gallery of fashion photos shot at a number of significant historic sites and monuments, a feature story describing the city's centuries-old ethnic street food scene, and an 18-page guide advising where to dine and drink , visit museums, and more.
Once you start perusing the magazine, you'll quickly see why the editors call Thessaloniki "a love-at-first-sight destination."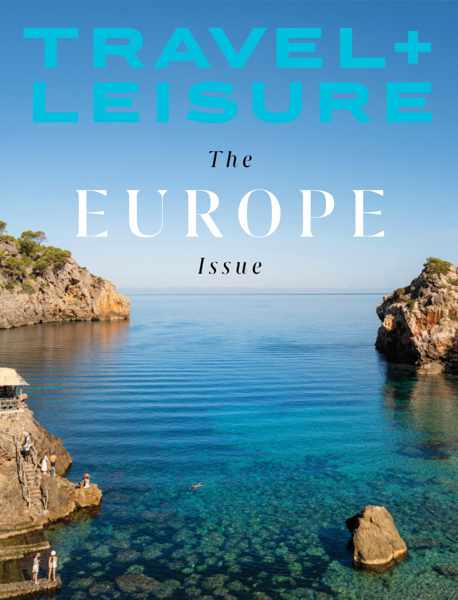 Travel + Leisure magazine's Europe Issue includes a fascinating feature profile of Thessaloniki by Claire Messud, who discovers that the city "holds a wealth of unforgettable stories in, beneath and behind its structures."
Our interest in Thessaloniki got piqued even further by a fascinating feature article that Claire Messud wrote for the May 2020 issue of Travel + Leisure magazine, which we read on Apple News+. (The issue is currently available on newsstands as well as on other online magazine sites.)
In Modern Classic, Messud recounts a trip to explore the city that had enchanted her grandparents nearly 80 years ago. They had lived there in 1939 and 1940, but fled the country when the Nazis invaded France and it became clear that war could soon come to Greece. Although Thessaloniki was "forever transformed" by the Second World War, Messud wanted to search for "traces of that lost cosmopolitan enclave" her grandparents had fondly spoken about.
"What I discovered was a remarkable palimpsest of histories, more complex and fascinating than I had imagined, and a lively modern city, exuberantly Greek in its culture, buzzing with students rather than tourists. Nestled in a lovely natural harbor between the Aegean and rising hills, the city has a typically Mediterranean aspect—seafront cafés, white stone plazas and façades, brilliant sunshine, azure water lapping at the seawall—and a workaday, slightly old-fashioned atmosphere. I described it to a friend as "Nice meets Sofia," a combination that, as it happens, is utterly exhilarating," she wrote.
Readers interested in history and architecture will enjoy Messud's detailed descriptions of churches, noteworthy buildings, public squares and markets, museums, monuments and other historic structures.  
The article also recalls day trips, including one to see the burial ground of King Philip of Macedon (father of Alexander the Great) at Aigai, near the town of Vergina, and another to the towns of Pella and Veroia.  Messud also describes a brief stay in the Halkidiki region an hour's drive from Thessaloniki, where she stayed at the luxury Sani Resort in Kassandra.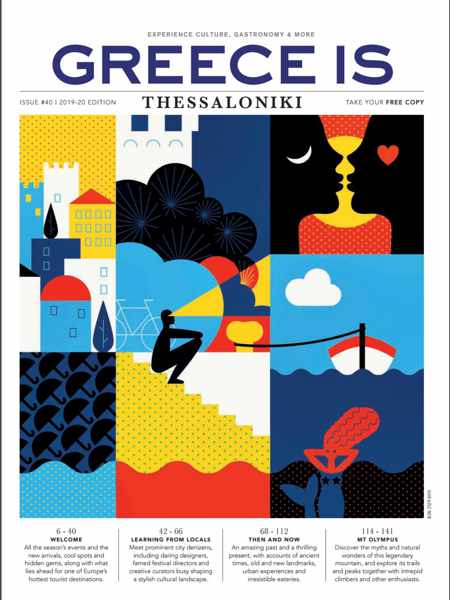 This edition of the Greece Is Thessaloniki magazine comes loaded with terrific insider advice and practical tips for visiting and fully experiencing Greece's second biggest city
The third publication that wowed us with its superb Thessaloniki photos and editorial content was Greece Is magazine's special Thessaloniki issue for Winter 2019-2020, which we read on Issuu.com (copies are available for direct order from the publisher while supplies last).
In an introduction to the 144-page magazine, Greece Is Editor-in-chief Giorgos Tsiros notes that while residents of 2,300-year-old Thessaloniki like to gripe about the city's imperfections and shortcomings, visitors "simply fall in love with it." 
"Its privileged relationship with the sea, its long and omnipresent history, the vibrancy of its student population and of its numerous creative bodies, its old and new haunts and its thriving cultural scene offer a wealth of experiences that are at once cosmopolitan and authentically local," he says.
Indeed, consumer surveys have found that the city's "distinct character," "amazing cuisine and "the wealth of its archaeological and cultural sites" are the main features that draw visitors to Thessaloniki and leave them with a  highly favourable impression. In fact, 95% say they would be happy to go back, Tsiros observes.
By showcasing features and attractions that have been boosting Thessaloniki's international reputation in recent years, the magazine reveals why visitors are so enraptured with the city. The insightful and informative articles explore:
♦ key moments and events in the city's history
♦ the busy calendar of local celebrations and festivals;
♦ new shops, bars, cafes and restaurants;
♦ the vibrant fashion design scene; 
♦ the annual Thessaloniki International Film Festival; and much more.
The issue also includes Don't miss a thing, an 18-page guide to top sites and attractions that will help travellers "organize a perfect visit," and The keys to the city, an 11-page look at landmarks including "Roman ruins, centuries-old churches, inspiring museums and elegant architecture old and new." A special section on nearby Mount Olympus includes an article about its myths and mysteries; descriptions of hiking routes on the lower slopes; and profiles of the mountain's flora and fauna.
Must-see mainland destinations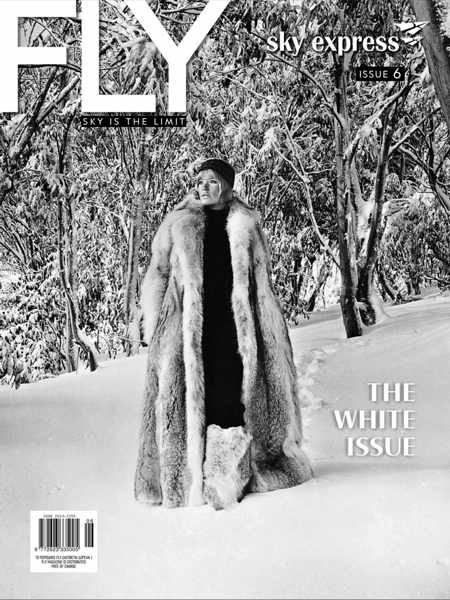 Cover of The White Issue of Fly, the on-board magazine of Sky Express airlines.  The magazine's amazing photos may inspire you to plan a road trip to stunning locations in mainland Greece.
We find ourselves frequently flipping through The White Issue of Fly, the in-flight publication of Sky Express, to admire its picture profiles of about a dozen different destinations that the airline serves in Greece (the images of Kastoria and the Kokkoras bridge on page 1 of this post are two of the many breathtaking photographs featured in the magazine).
This particular edition of Fly magazine focusses mostly on mainland Greece, and shows spectacular scenery from a variety of towns, villages and regions including: 
♦ Kastoria
♦ Kozani
♦ Epirus
♦ Evros and the Evros River Delta
♦ Arachova and Pelion
♦ Alexandroupolis
♦ Ioannina
♦ Kalarita, and
♦ Syrrako.
The magazine is heavy on captivating pictures and light on detailed text — perfect for perusing during the airline's short domestic flights — and quickly confirms that Athens and the islands aren't the only must-see places in Greece.  
Island destinations highlighted in the magazine are Chios and Samos, as well as the city of Heraklion on Crete.
The White Issue also is noteworthy for two sets of captivating historical photos. The article Greece in in the '60s includes black and white pics of high-profile public figures who visited Greece during that decade, including actor Anthony Quinn, Prince Rainier and Princess Grace of Monaco,  and singer Paul McCartney.  The Ships of Liberty photoset will appeal to those interested in maritime and nautical history, since it shows one of the "Liberty ships" that the USA had sent to Greece after World War II.
Athens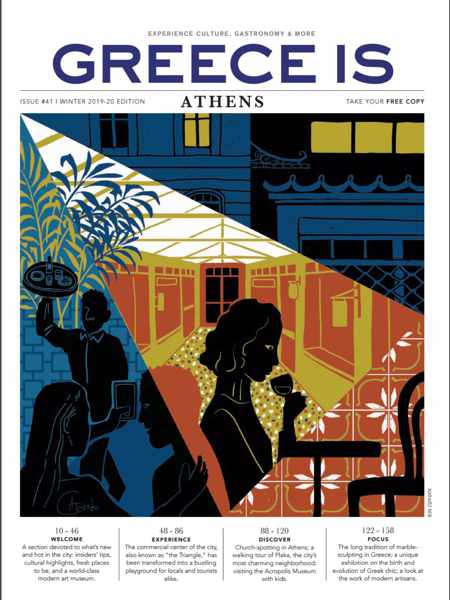 This special Athens issue of Greece Is magazine explores exciting neighbourhoods and an acclaimed new art gallery, and examines how marble has shaped, built and decorated the city
Each of the special Athens issues published by Greece Is twice a year makes us eager to revisit the city, and that has been the case yet again with the Athens winter edition 2019-2020. It's chalk full of photos and information about sights and attractions we had been hoping to see for the first time this May (until our vacation plans got cancelled courtesy of Covid-19), along with other places we're always happy to see time and again.
Among the superb articles and photo features included in the winter issue are:
♦ "A Modern Art Affair":  Writer Elina Dimitriadi profiles the fabulous new Basil & Elise Goulandris Foundation art gallery, which opened to rave reviews last October at 13 Eratosthenous Street. It was the top item on our personal "must-see" list for our next trip, and we will be even more eager to visit when we're finally able to return to Athens.
♦ "A Triange-Shaped Heart": Sakis Ioannidis takes a look at the bustling and "constantly evolving" district known as the Commercial Triangle of Athens (the area situated between the "points" of three major city squares: Syntagma, Omonia and Monastiraki.
♦ "Strolling with the Gods":  Alan King takes readers on a walk through Plaka, which he calls the most famous and most charming neighbourhood in Athens. Continuously inhabited since antiquity, he points out how the area is "layered with history and full of sights and spots that offer glimpses into the past."
♦ "Take Me to Church": Writer Yiannis Chrysaphis and photographer Nikos Karanikolas spotlight six "Byzantine-era treasures" — "the city's oldest houses of Christian worship."
♦ "The City's Sacred Past": John Leonard highlights some of the many ancient sites  "large and small, major and minor, resoundingly awsome and quietly amusing" that await visitors "seeking the glory that was Classical Athens."
♦ "The Brilliance of Marble": Another piece by John Leonard in which he examines how marble "has been used time and again in Greek art and architecture to honor the gods, celebrate beauty and impress the public."
♦ "Rock of Ages": A gallery of photos by Clairy Moustafellou, showcasing marble sculptures that grace some of the city's public spaces, and
♦ "Reimagining Marble":  Xenia Georgiadou introduces Greek designers who are "combining the classical elegance of marble with the sharp new look of cutting-edge contemporary design, creating unique decorative and jewelry items."
They're all interesting reads that will show you what to look for — and explain what you're seeing — if you take a stroll around the historical center of Athens.  And since you'll work up a hearty thirst and appetite from all that walking, exploring and sightseeing, the magazine includes guides for delightful places to eat and drink:
♦ "When You're Downtown": is a guide that suggests "the best places to eat, drink, shop and hang out with the locals," while
♦ "World Cuisines" explores the city's ethnic food scene.
We're keeping our fingers crossed that all of these intriguing places are able to re-open their doors once the pandemic lockdowns are lifted.