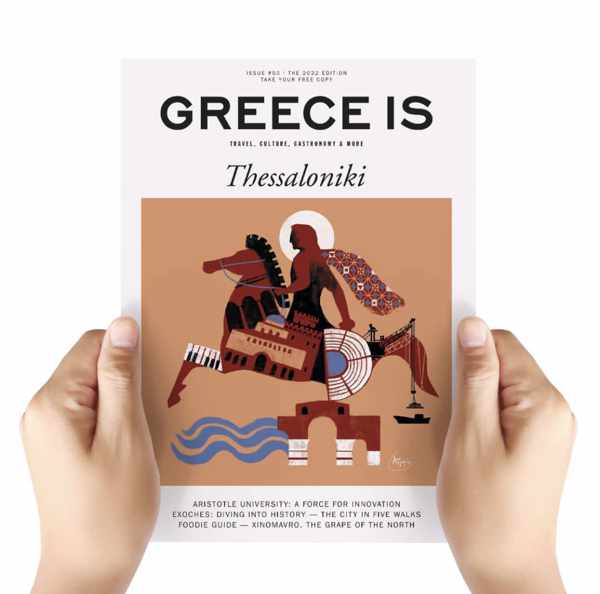 The cover of the 2022 issue of Thessaloniki, a special-edition magazine published in November by Greece Is 
City spotlight: We've got some good reading to look forward to during our holiday season downtime, thanks to the latest magazine published by Greece Is — an issue devoted entirely to notable places, sights and historic attractions in Greece's second largest city, Thessaloniki, and its environs.
The city is on our bucket list of places we hope to visit in Greece within the next several years, so the new magazine — released in late November — will be a helpful resource for researching and planning our visit, whenever it might happen.
The main stories in this issue that caught our attention include:
♦   "The city in five walks," a guide that invites readers to "head down to the sea, stroll through the narrow streets of the city center, visit some old haunts and new spots, and explore options for culture, entertainment and food."
♦   A "Foodie Guide" to "new and classic" places to enjoy wonderful food and drink;
♦   "In the Xinomavro Zone," a road trip through the Amyntaio-Naoussa wine region;
♦   "The sound of the city," a guide to the Thessaloniki music scene "from its glorious past to its superb present";
♦   two articles showcasing art and architecture: "Timeless Byzantine City," which examines some of the city's Byzantine-era monuments, and "Memories & Mansions," which takes a look at buildings in the historic Exoches area;
♦   "In the shadow of Athos," a tour of the historic monasteries at Mt Athos;
♦   "Mt Olympus: The three peaks challenge," an account of a one-day climb to the highest points "on the mountain of the gods";
♦   "Aigai reaches new heights," an article about a new world-class museum scheduled to open in 2022 at Vergina, site of the former capital of ancient Macedonia; and
♦   the feature piece "Aristotle University of Thessaloniki," which profiles "southeastern Europe's largest institute of higher education."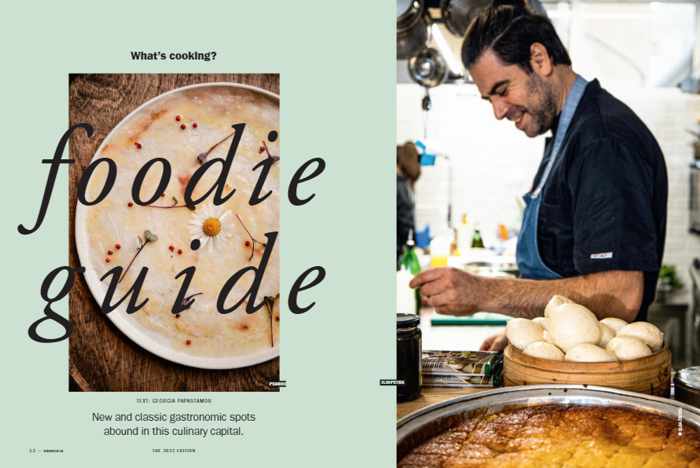 Thessaloniki recently became the first Greek city included in the UNESCO global network of Creative Cities of Gastronomy.  The latest Greece Is magazine's "Foodie Guide" spotlights some of the "new and classic" dining establishments that have helped put Thessaloniki on the world's culinary map.
Not-to-be-missed reads for anyone planning to visit Thessaloniki in 2022 include:
♦   "New arrivals," which offers a peek at two recently opened hotels, a gallery, a food spot and a new Aegean Airlines lounge at Thessaloniki International Airport;
♦   "The cool factor" — a collection of insider city tips and secrets shared by six local influencers; and
♦   "Always something on" — an agenda of upcoming major exhibitions and cultural performances.
While we can't wrap our hands around a physical copy of the Thessaloniki magazine since we're not in Greece at the moment to pick one up, we — and you — can conveniently access a digital version on Issuu.com to either read online or download.
Greece Is has previously published six other special magazine issues focussed on Thessaloniki. If you're interested in reading any of those, you can find digital versions on Issuu.com.
The Greece Is publishing portal is one of our favourite sources of reliable advice, inside information and fascinating insights into Greece destinations, travel, culture, arts, architecture, food and much more.  If you're not already familiar with the brand, here are links to its website, Instagram profile and Facebook page, all of which are filled with photos of beautiful places in Greece and links to a treasure trove of information to inspire and assist your travels:
Web: The main Greece Is online portal contains a vast collection of feature articles, photos, news items, blog posts, Greek product profiles, and more.
Instagram: @greece_is
Facebook: @my.greece.is 
Twitter: @MyGreeceIs