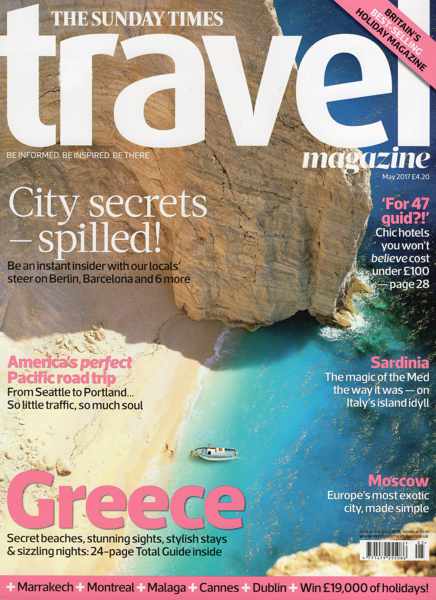 Greece gets cover treatment in the May 2017 issue of The Sunday Times Travel Magazine
Cover glory:  It may have been an omen, or simply serendipity, but whatever it was certainly happened at a good time.
When I popped into a local newsstand the other day to browse reading material for our upcoming flight to Greece, a photo of a beautiful Greek island beach instantly caught my eye.
At first glance I thought it was a picture of Zakynthos island's world-famous Navagio beach (also known as Shipwreck Beach) that graces the cover of the May 2017 edition of The Sunday Times Travel Magazine. But after taking a closer look once I got home, I realized it's a different beach altogether. Surprisingly, the magazine's editorial page doesn't identify the location — the photo states only that the image was photographed by Giovanni Simeone of SIME/4 Corners.  But after a few minutes of Google searching, I discovered that the picture captures a small cove a short distance down the coast from Navagio. 
With that little mystery solved, I took a quick peek through the magazine's cover feature — a 24-page "Total Guide" to Greece. 
"Whether you're after a jam-packed family trip, an indulgent break with friends, or a romantic laze on a step-back-in-time island, we've got your Greece right here," the guide's introduction pledges. And it certainly seems to fulfill its promises. 
Among the guide's dozens of destination profiles, tips and suggestions are articles describing:
♦  The ideal island-hopping break (to the Argo-Saronic islands)
♦  3 ways to feel remote
♦  The ideal active holiday
♦  5 ways to get off-season summer sun
♦  A girly break on Santorini
♦  The ideal crowd-free Athens break
♦  Our favourite scrummy seaside lunches
♦  The ideal family-friendly resort holiday
♦  Our favourite epic historic sites
♦  Our favourite beaches only the locals know
♦  2 ways to visit a great little city
♦  The ideal timewarp trip (to Kythira), and
♦  Our favourite white sand beaches (Navagio ranks #2 on the list, right after Crete's Balos beach, which I profiled in two blog posts  last year: Escape to Crete's exotic Balos beaches and lagoons, and Escape to Balos Part 2).
The guide provides plenty of additional information and helpful advice, and is packed with photos of beautiful and inspiring sights and scenes.  See if you can pick up a copy at your local news outlet. Sorry, but you can't borrow mine — I'm not letting it  out of my hands!