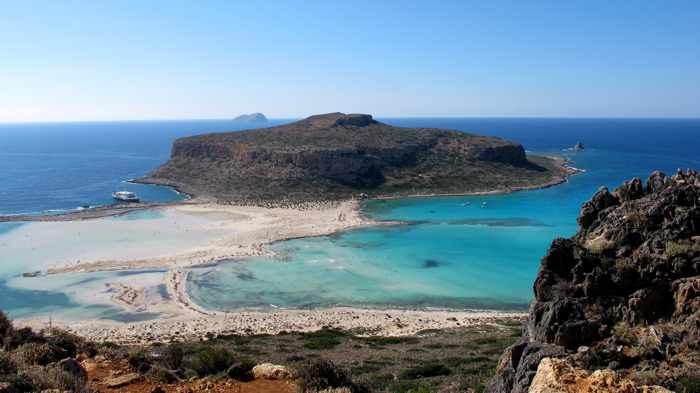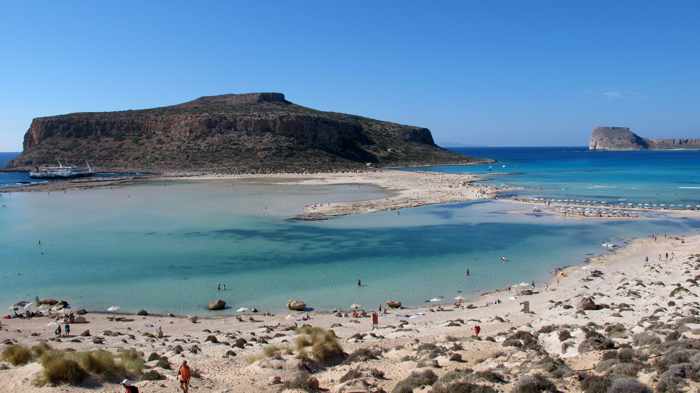 Cape Tigani and the Balos beaches and lagoons in northwest Crete are seen from two different perspectives in beautiful photos shot in early October 2015 by Antoine Nikolopoulos of Odyssey Art Photography
Longing for lagoons: I've had an insatiable craving for Vitamin Sea and sunshine recently … symptoms, no doubt, of a severe case of midwinter blues. Deep-freeze temperatures here in Toronto most of last week, followed by two days of snowfalls this week, have only made my condition worse. So I've been looking at photos and videos of Balos, what I consider to be one of the most sensational beaches in Greece, to take my mind off the cold and snow.
It's a self-prescribed treatment I call the "Balos boost." Even though I haven't yet been to what is widely regarded as the most iconic and most photographed beach on Crete, it always lifts my spirits to see images of this exotic-looking seaside area.  

It's dreamy scenes like this, photographed by Flickr member Caroline Martinez, that make me yearn for an escape to Balos.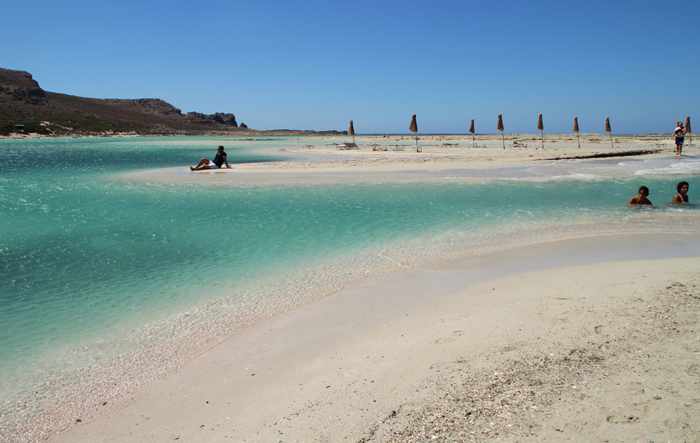 Here's another image that instantly makes me daydream about going to Balos. This scene, photographed by Giannis Fountoulakis, is just one of two dozen impressive images, all captured by Giannis, that appear in a Balos photo gallery on the website for the Elizabeth Estate Agency in Crete.
Why Balos?
Because it has everything I imagine in the Fantasy Island beach of my dreams: alluring shallow lagoons shimmering with more than a dozen different hues of tempting turquoise water; curving ribbons of white sand (pinkish from crushed seashells in some places); visually-striking natural landscapes with steep rust-coloured hills and cliffs, and rugged rocky seashores; marvellous scenery in every direction; and mesmerizing sunset views. All in a rather out-of-the-way location that can be an adventure to reach. 
It's my personal notion of a Greek island paradise, a place that has "special," "incomparable" and "wow" written all over it. From what I've seen and read, that's the general impression Balos has made on many people who have been there and seen it with their own eyes. In fact, Balos was ranked as the #3 beach in Greece, and the #11 beach in Europe, in the recently-announced TripAdvisor Travellers' Choice awards for 2016.
"A single glance is enough for someone to understand that this is not just a beach but one of nature's finest masterpieces." — Elizabeth Estate Agency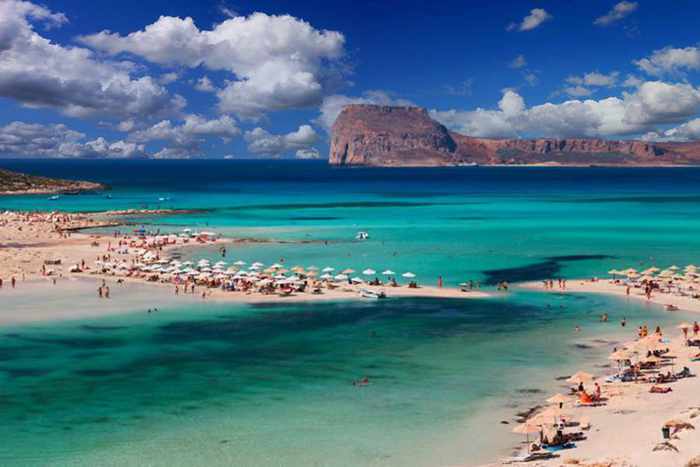 According to a post about Balos in the Bulgarian-language travel blog My Trips in Pictures, visitors can observe 12 to 17 different shades of turquoise in the Balos lagoons and surrounding sea. A few of the fascinating hues are seen in this photo from the Crete island, Greece Facebook page.
This photo from the Crete island, Greece Facebook page shows people enjoying the shallow waters of the Balos lagoons with nearby Gramvousa island as an impressive scenic backdrop
Coming up on the next page, as well as in Part 2 of this post, you'll see some of my favourite Balos videoclips and photographs — just a sample of the thousands of Balos images that have taken my mind off cold and snow dozens of times so far this winter. I'm sharing them here in case you could use a little Balos boost yourself, wherever you might be.  
I also have gathered links to online travel sites and blog posts that provide even more pictures plus detailed information about the beach, including directions on how to get there, in case you'd like to pay Balos a personal visit this summer or sometime in the future. Consider it a mini guide to Balos, if you will. The only information I don't include is for hotels, studios or rental villas — you'll have to research that yourself, but you'll find links to accommodation resources on most of the websites I mention, as well as in source credits appearing under many of the photographs in my post.
To start off my "escape to Balos" feature, here is a video to help those of you who aren't already familiar with Balos to get acquainted with its matchless location and sublime setting.
I love watching this film by Žiga Zupančič because it instantly makes me feel like I'm at Balos, basking in the sun, appreciating the grandeur of the landscapes and scenery, and chilling out to the laid-back beach vibe. 
CONTINUED ON PAGE 2