~continued from page 1 ~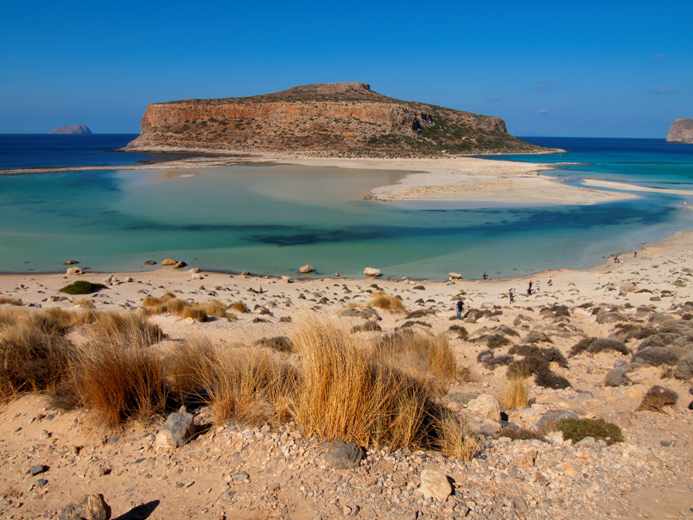 The colourful Balos beaches and lagoons, and the distinctively-shaped Cape Tigani peninsula, in a photo from the Solo Traveler Blog
Where is Balos?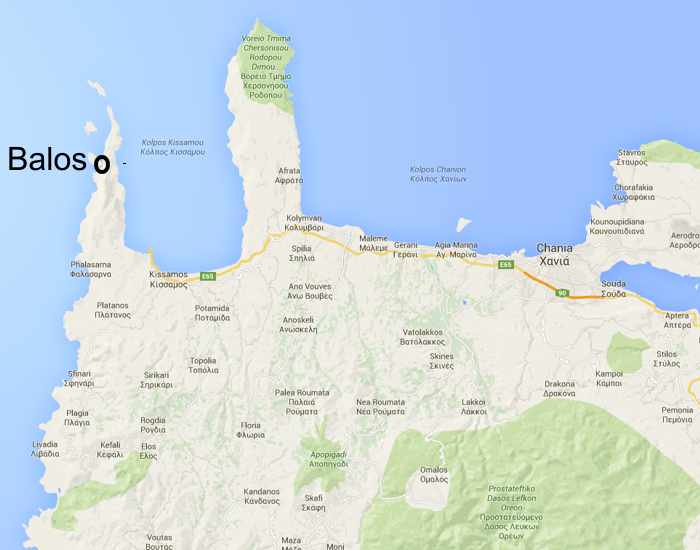 Balos is situated near the northwest tip of Crete, approximately 53 km from the city of Chania and around 15 km from the town of Kissamos.
How to get to Balos
"Reaching Balos beach requires an act of pilgrimage, as it is fitting for such a fine landscape." — GreekLandscapes.com
Many of Greece's outstanding beaches are situated in out-of-the-way or difficult-to-access locations, and Balos is no exception — it takes time and effort to get there. Most people arrive by ferry, while driving is the next most popular mode of transport followed by local bus service in peak season (launched in 2015). There are other options that wouldn't appeal to most tourists, but in case any of my readers are die-hard cyclists and trekkers, I have described them below. 
Getting there by boat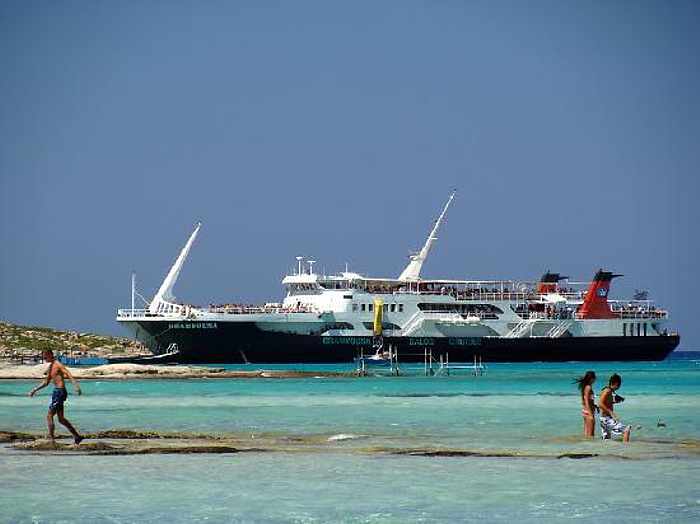 The Gramvousa is one of several ferries in the fleet of Cretan Daily Cruises, which offers daily excursions to Gramousa island and Balos from the beginning of May through the end of October. 
This promotional video for Cretan Daily Cruises gives an overview of their organized ferry trips to Balos and Gramvousa island
Definitely the easiest and most comfortable way to reach Balos is by boat — either on your own vessel (if you're fortunate enough to have a sailboat, yacht or private charter at your disposal), or on one of the ferries that make daily trips from Kissamos to Balos, with a brief visit to Gramvousa island (a.k.a. "The Pirate Island") en route.
Most of the ferries depart Kissamos in mid-morning, roughly between 10 and 10:30 a.m. and reach Gramvousa within an hour. During a 2-hour stopover, passengers can go swimming in the crystal-clear turquoise waters at one of the island's scenic coves and beaches, or hike up the mountain to see the remains of the Gramvousa castle built by the Venetians in 1579. It takes just 20 minutes for the ferry to travel onward to Balos, where passengers have 3 hours of beach time before the ship sails back to Kissamos, arriving there around 6 p.m. 
(Numerous Crete travel sites say that, from mid-June to mid-September, an extra ferry trip is added to the schedule, departing Kissamos around noon and returning by 7.30 p.m. However, when I compiled this post in mid February, the Cretan Daily Cruises booking system was not yet showing any options to purchase tickets for mid-day trips.)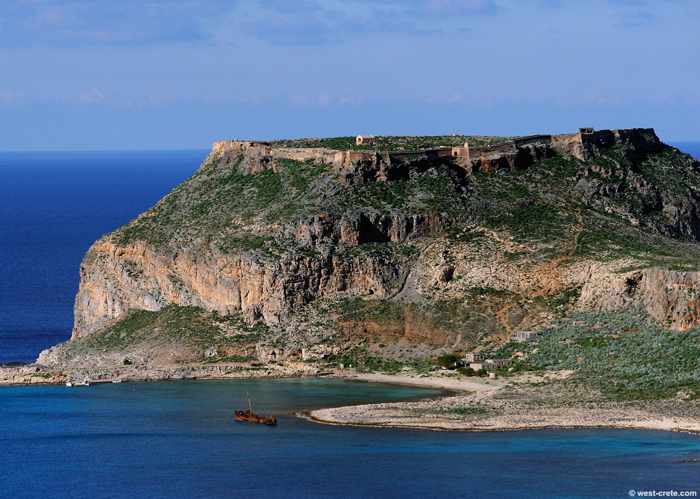 During an hour-long stop at Gramvousa island, ferry passengers can take a dip in the sea, view a shipwreck or visit the historic fortress on the hilltop. This photo, by west-crete.com, was posted on the Archaic Wonder Tumblr page with an article outlining  the history of the island and fort.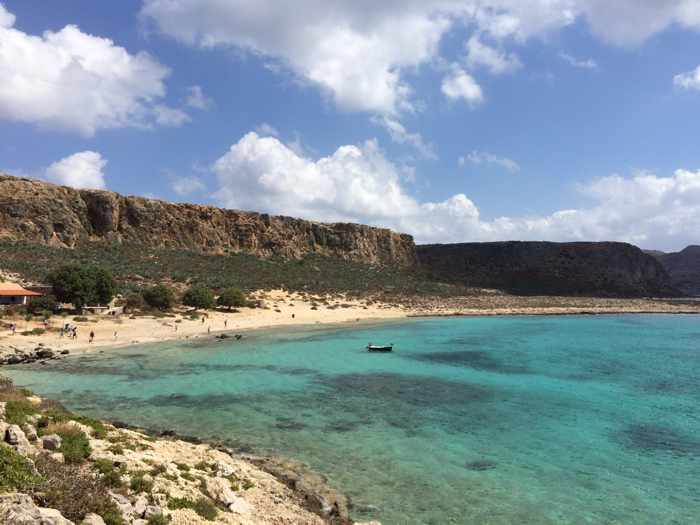 One of the beaches on Gramvousa island, seen in a photo shared on Facebook by Rico Franceshini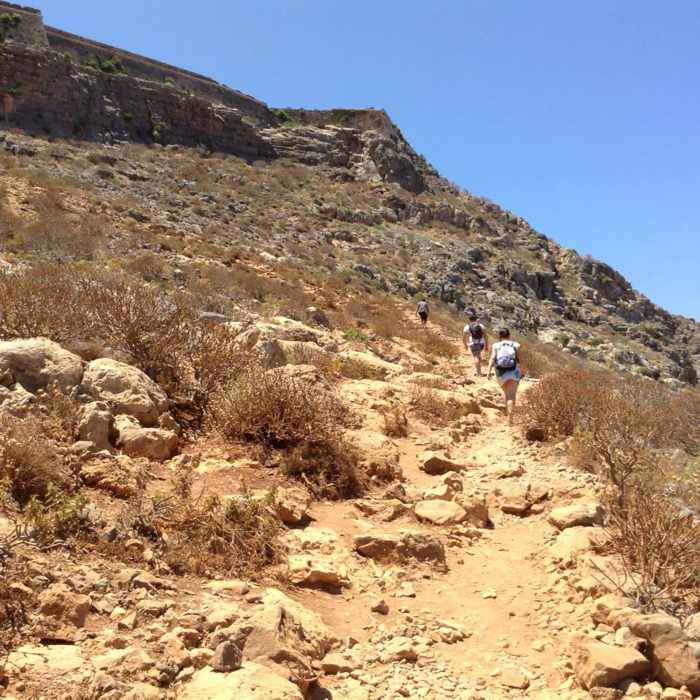 It's a long and steep climb to the castle, but "Don't be a wimp. You won't regret it. You will see a most beautiful overlooking view of the island. It's just Oh-my-God so pretty," says the travel blog thesophomoreslump2. You can see more stunning Gramvousa scenery and views in the blog's photo report The best of Crete: Balos and Gramvousa.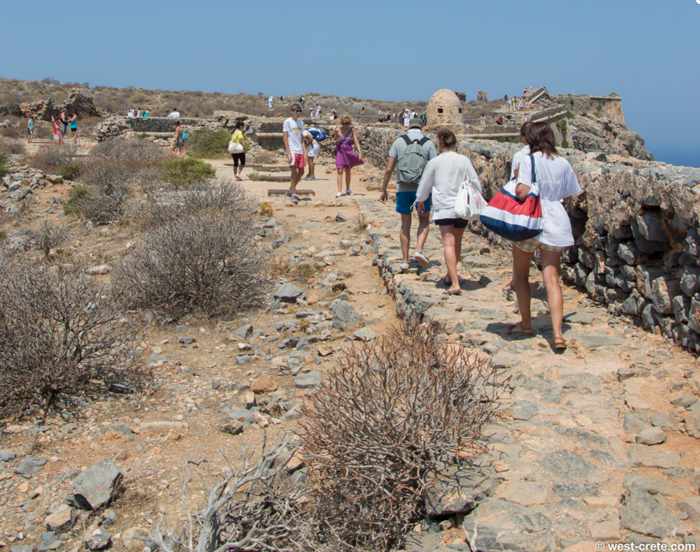 Tourists explore the grounds of the centuries-old fortress on the peak atop Gramvousa island. (Photo from west-crete.com)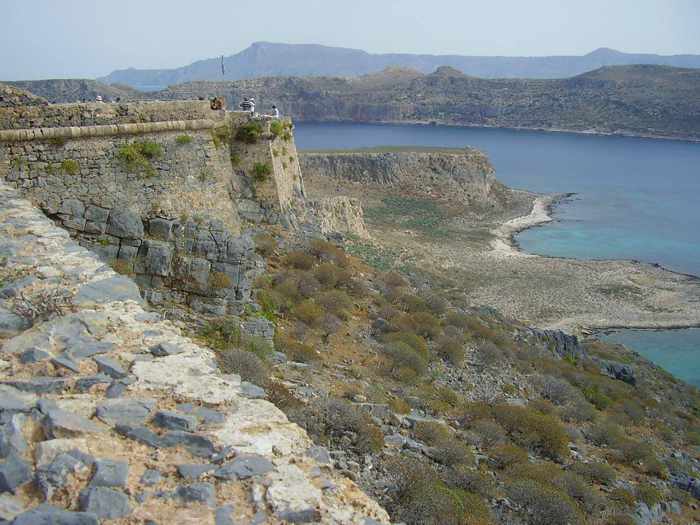 The views from the fortress are well worth the huffing and puffing it takes to get up there. This photo was shared on Facebook by Grčka-info.
~ Balos ferry pros and cons
There are two main advantages to visiting Balos by ferry:
(1) It's easy and effortless. Once you're on the ship, you simply relax and watch as amazing coastal scenery passes by. Food and beverages are available on board.
The ferry trip saves you the trouble of renting a vehicle, as well as worrying about damaging its undercarriage on the extremely bumpy and rough dirt access road to the Balos parking area.  Arriving by boat also means you will avoid what people consider to be the worst thing about driving there — the very long downhill hike from the parking lot to the beach, followed by the far more gruelling trek back up, exertion that will be even more arduous in blistering summer sunshine and heat. (The elderly, people with mobility issues, families with young children, and anyone with vertigo or fear of heights should take the ferry rather than attempting the footpath.) 
(2) You'll get to visit Gramvousa island along the way, where you can go for a swim, see a shipwreck off the coast, or climb to the mountaintop to view the awe-inspiring scenery and visit the ruins of a castle built more than 400 years ago.
This video by YouTube contributor wnieznane.pl shows what ferry passengers will get to see during their stopover at Gramvousa
Some of the drawbacks to going to Balos by ferry:
(1) You get to spend only three hours at the Balos beaches and lagoons;
(2) You may arrive with as many as 1,200 other passengers just on your ferry alone, and hundreds more on other boats, so you could encounter a crush of people jostling for space on the sand or for the limited sunbeds and umbrellas (if any are even still available);
(3) You must schedule your entire day according to the ferry departure and return times. 
(4) If you're travelling as a family or in a group, the price of ferry tickets (plus fees for transport to Kissamos port, if required) will cost substantially more than the charge for a rental vehicle and fuel.
~ Online resources with ferry trip information
Here are links to several Crete travel websites that provide detailed descriptions of the ferry excursions along with booking information:
♦ Cretan Daily Cruises operates the four ferry boats that sail from Kissamos to Gramvousa and Balos. Its website provides extensive information about the Balos ferry itineraries (as well as for several other cruises they offer elsewhere on Crete) and includes an online booking system. 
♦ Diana's Travel in Chania has a webpage describing the ferry excursions, as well as the transfer services their company provides for people who require transportation to the Kissamos ferry port
♦ The cretetravel.com page for Balos includes a detailed boat trip timeline, but lists prices for the 2013 travel season. However, the links it provides for booking and for further information will take you directly to Cretan Daily Cruises, where you will find this year's ferry rates.
♦ The Balos Travel website points out noteworthy natural and historic attractions that ferry passengers will see as their ship passes through the Kissamos gulf, and describes highlights of Gramvousa and Balos.  It also provides information about tours that include transfers and guides.
♦ The Balos page on the travel portal Chania-Crete-Greece.com has information about Balos and Gramvousa, tours and ferry trips to both, plus maps and driving directions, photos and videos.
Getting to Balos by driving
Because of the steep terrain at its remote location, and also since it's a Natura 2000 environmentally-protected area, you cannot drive right up to Balos beach. You can get more than 95% of the way there in a vehicle, but once you reach the designated Balos parking lot you must walk to the beach — a thigh-burning hike that will take 20 to 40 minutes along more than a kilometer of dirt trails and stepped stone footpaths that snake down the mountainside.
Here's what you can expect during the driving segment of a road trip to Balos: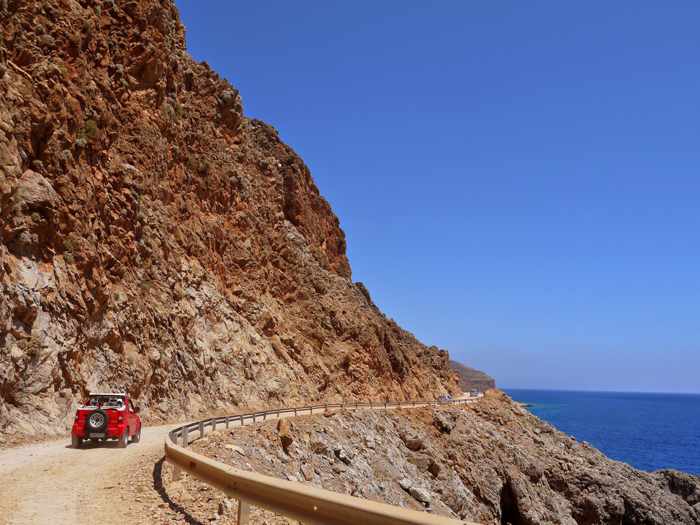 The first 5 km of the route is an asphalt-paved road, but the final 8 to 9 km is a dirt track cut into the face of the imposing tall cliffs that extend along the spectacular Cretan coast. This photo is from the travel blog Morning Kawa.  
This is one of several pictures of the road that appears in a Balos photo report post on Travel Highlighter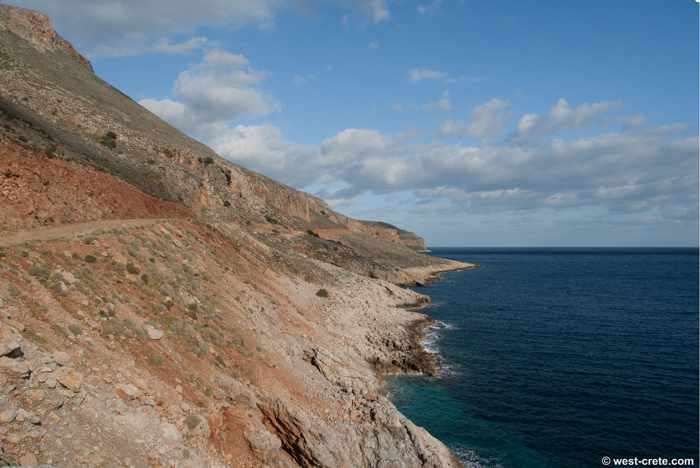 Another view of the road and rugged coast (Photo from west-crete.com)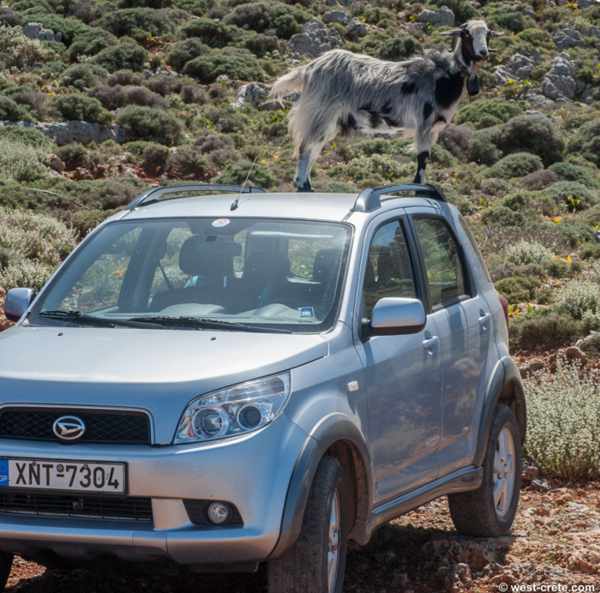 The access road ends at a parking lot where friendly locals will be happy to keep a close watch on your vehicle while you're at the beach. Consider offering them water or snacks as a gratuity. (Photo from west-crete.com)
Driving to Balos begins innocuously enough — you follow a relatively smooth asphalt highway for several kilometers, but then the route continues onto a gravel and dirt road that winds along the scenic coast. Brace yourself to be jostled, jolted and bounced around as your vehicle maneuvers down the the nearly 9 km of dusty, corrugated track (which will be in even worse condition if there has recently been a major rainfall).  Friends who drove to Balos in a 4×4 last October described the road condition as "brutal" and in even worse shape than rough roads they have driven in the Australian Outback. 
Many websites advise against attempting the drive unless in a Jeep or 4×4, but the vast majority of people who drive to Balos do it in compact rental cars (undoubtedly to the dismay of the rental agencies whose vehicles get badly beaten up from being driven too quickly on the rutted road. Drive slowly, people!) It is possible that you could be held liable for any damage the vehicle sustains on the Balos road, so be sure to confirm the insurance coverage and exclusions prior to departing the rental agency.
Some visitors manage to drive partway but wind up turning around to avoid damaging their vehicles — or simply because they get tired of moving so slowly. This happened with one family that attempted the drive in a Subara 4×4. As the driver recalled in a post on GreekLandscapes.com, "It was taking too long to drive in first and, rarely, second gear that I decided to spare my car the aggravation very early on the trip." They turned back and took one of the ferry cruises to Balos on another day instead.
Note that you will reach a checkpoint where you will have to pay a park entry fee of €1 per person (that was the charge in 2015 and previous years; there is no word yet on whether it has been increased for 2016.)
Websites with information about driving to Balos
♦ Driving directions and several videos of the Balos road are available on Chania-Crete-Greece.com
♦ A description of the drive and numerous photos of the road, beach and lagoons can be seen in the July 31 2014 Morning Kawa blog post  A Dream Vacation to Greece — Part 1 — Balos beach Crete 
♦ The Balos Beach — Crete post on Travel Highlighter briefly describes the drive and includes photos shot along the way, as well as at the beach.
The drive to Balos will take more than 40 minutes, but this film shared on YouTube by CreteMedia condenses the journey into a 15-minute clip to show what most of the route looks like. 
You'll get a good impression of the bumpy road condition in this 5-minute video by YouTube contributor mpmomot
Once you have found a parking space, you must leave the air conditioned comfort of your vehicle to walk the rest of the way to the beach. Make certain you are wearing sunscreen and a hat — there is no shade to protect you from the blazing sun. Take along bottled water, and wear shoes suitable for hiking — flip-flops and sandals are not recommended. Some people complete the hike in as little as 20 minutes, but others find it takes twice as long. If you haven't brought your own food and drink and wish to fuel up before your trek to the beach, stop by the canteen at the car park for refreshments. 
There is an interesting description of the hike from the parking lot to the beach, as well as beautiful photos shot along the way, in the Balos beach through photos post on the World Wide Vegetarian blog.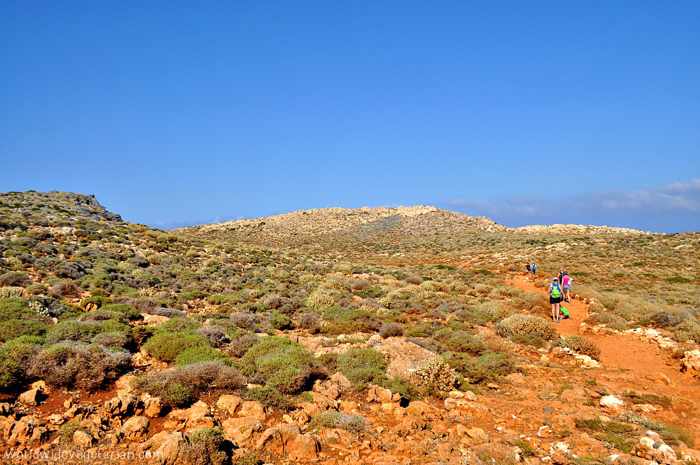 From the parking lot, visitors trek along the dirt trail shown in this photo from the World Wide Vegetarian blog. The beach isn't visible from this part of the path, which winds across an arid peninsula landscape dotted with shrubs, wild herbs and scrub vegetation.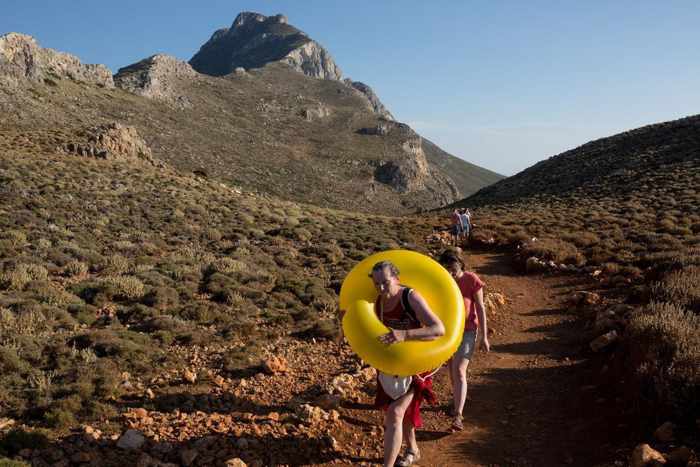 A picturesque mountain peak rises behind a group of tourists making their way along the beach trail. (This image is from a Balos photo gallery on the Greek-language Mantinades blog.)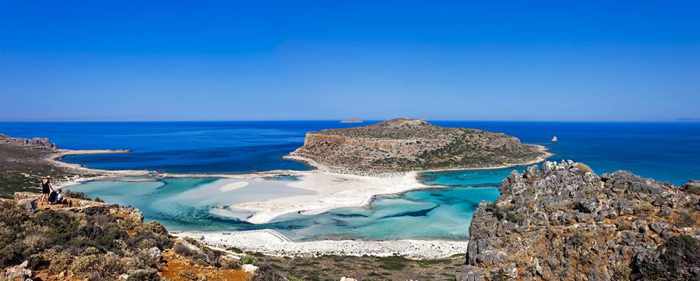 The footpath emerges at a scenic lookout point that presents walkers with tremendous views of the beach and lagoons far below.  If you search Google for Balos images, you'll find thousands that were shot from here. (This photo appeared on the Wonderful Greece Facebook page.)  
This lookout point view of the lagoons and beach was shared on Facebook by Valentine Pouvreau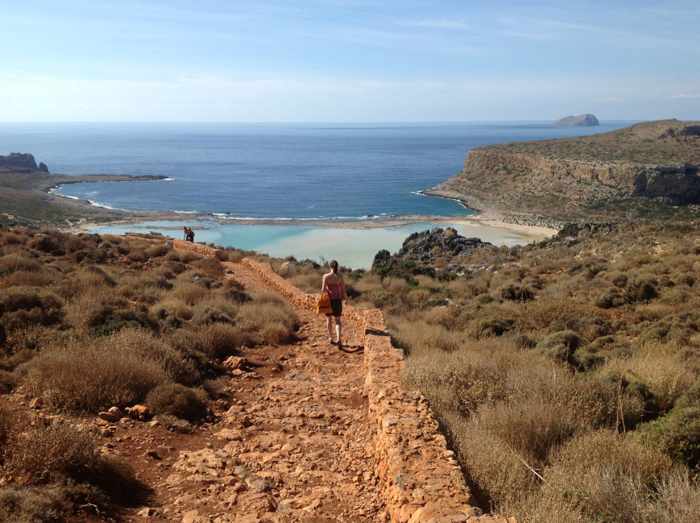 Afer the lookout point, the walk becomes even more difficult because visitors must descend a long series of steps that diagonally traverse the steep slope. If you suffer vertigo or fear of heights, you will hate every step! This image is from the Balos photo report When goats attack posted on the RizzTube blog.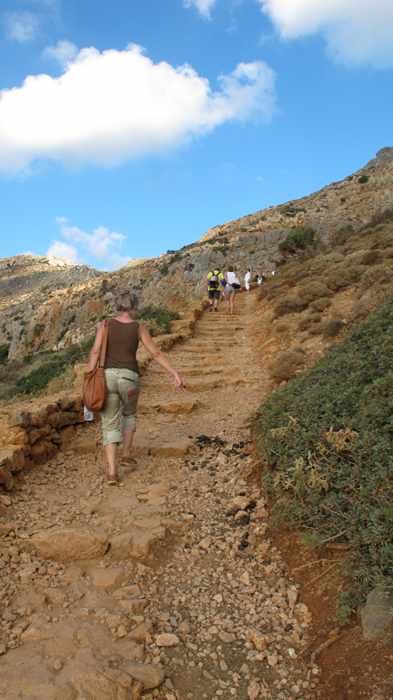 The hillside path is much steeper than it appears in photographs, and on hot sunny days many trekkers can be heard cursing and asking themselves why they didn't take the ferry instead. This photo of people climbing the steps was shot by Antoine Nikolopoulos of Odyssey Art Photography.
YouTube contributor themistoklisusa filmed the hike to the beach, starting from the car park. The Balos lagoons begin coming into view just past the 7 minute mark of this clip, which is the first of three instalments. 
This is part two of the Balos hike video by themistoklisusa. It features some of the wonderful views from the lookout point, and shows people making their way down the steps to the beach.
Part 3 shows the final steps, and arrival on the gorgeous sandy beach 
Getting to Balos by local bus
Several websites reported that, beginning in 2015, bus service was being provided between Chania, Kissamos and the Balos parking area. Apparently the route operated only during peak summer season. You can check the KTEL bus schedules online to see if buses will be operating on the dates you may be planning a visit to Balos. The site wasn't showing routes and departure times when I checked a number of dates while writing this post in February, but it did show that a ticket costs €7.80 for a ride from Chania and €2.70 from Kissamos.  
Getting to Balos on foot
It may sound crazy but it is possible to walk to Balos. In fact, it's "the most exciting way to access Balos," according to cretanbeaches.com.  However, it's an adventure only seasoned, ardent trekkers should undertake. The Balos access page on their website says the 3-hour trek, which starts at Kaliviani village, will take walkers across the dry landscape of the Gramvousa peninsula and across the Platyskinos mountain range. 
West-crete.com mentions another and much more challenging route: "a trail from Falasarna to Balos along the western side if the Gramvousa peninsula. This is a long (6-7 hours) and difficult walk."
Walking the beach access road from Kaliviani is do-able, also, but you would clog your lungs with dirt from the dust clouds churned up by passing vehicles, so it's not a good idea. This walk would be better in winter when there is scant traffic to the beach.
If you drive to Balos, you can undertake some scenic hikes from the car park. According to west-crete.com, one pleasant route takes walkers "towards the northern tip of the peninsula, all the way to Cape Vouxa and the short channel of water that separates it from the island of Agria Gramvousa. The waymarked walk offers great views of Balos and the islands of Gramvousa and you will definitely escape the crowds."
For the more adventurous and fearless trekking enthusiasts, a hike to the mountain peak above the lagoon presents the unique opportunity to survey the entire region from exhilarating vantage points few other tourists will ever attempt to reach — and will make you feel like you're the king or queen of the world. Check out the video below to see what I mean.
This 4-minute clip by YouTube contributor Kaydan Field shows the exhilarating scenery and views that trekkers can enjoy by climbing to the peak of the mountain that overlooks Balos
Getting to Balos by bicycle
This might sound insane, too, but if you're a physically fit and experienced mountain biker and you're not daunted by sun, heat and the prospect of a bumpy 11-kilometer ride that will rattle every bone in your body, why not give it a go? Travel blogger Joseph Richard Francis and a friend made the journey there and back on "a pair of rickety rental bikes," and described the invigorating experience in the article Cycling the Balos lagoon.  The ride took two hours "with plenty of watering stops along the way and countless photo breaks to capture the real majesty of the view," and left the cyclists with the satisfaction of "knowing that we at least had worked for Balos and its unrivalled beauty."
At the beaches, lagoons and peninsula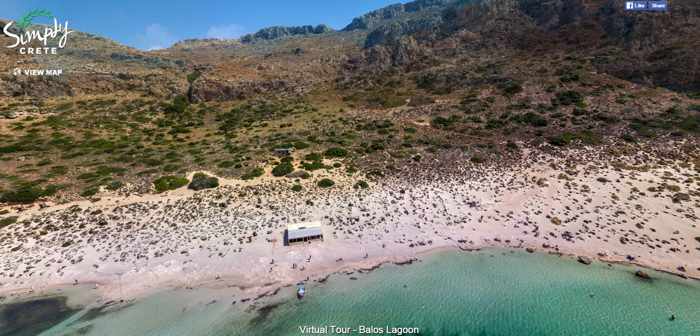 Part of the beach, and the steep hill visitors have to hike down, is seen in this screenshot from a SimplyCrete virtual tour of Balos.  Click here to open the tour and have some fun exploring 360-degree sightlines of the beaches, lagoons and coast just by clicking your mouse.
Once you have disembarked a ferry or survived the hike down the hillside, you're smack in the middle of what many people have frequently described as a "paradise." It may not be heaven for everyone, though, and you may personally prefer other beaches on Crete or elsewhere in Greece for whatever reasons, but you will still have to agree that Balos is a beautiful place and there's nothing else like it.
So what's there, besides idyllic white sand beaches and lagoons with astonishing shades of turquoise water?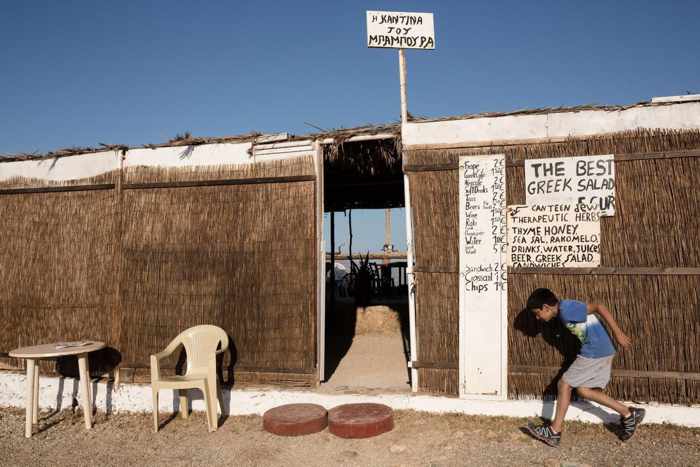 A beach canteen sells snacks & drinks. (Photo from Mantinades blog.)
Some websites say Balos has absolutely no amenities, and urge visitors to bring everything they will need — food, beverages, umbrellas, etc.  But other sites say snacks and drinks are available at a canteen on the beach, while a limited number of lounge chairs and umbrellas are available to rent.
Friends who visited Balos last October told me there is indeed a canteen where visitors can purchase food, beverages and ice cream. There also are toilets as well as some cubicles in which people can change into and out of their swimsuits.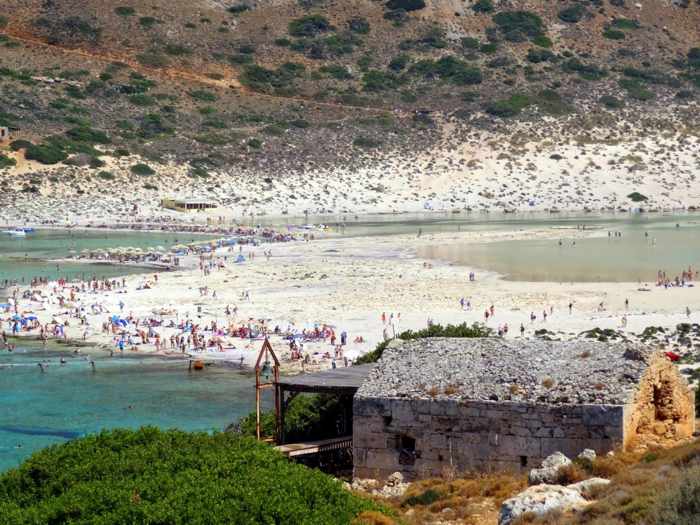 The Chapel of St George overlooks Balos beach from its hillside location on Cape Tigani (Photo from cretanbeaches.com)
If hours of sunbathing and swimming are your cup of tea, you will enjoy absolute bliss at Balos. But if you start feeling restless and want to do some sightseeing or photography, you can climb nearby hillsides or explore the Tigani peninsula. You can reach Cape Tigani by walking on the rocks at the southwest side of the lagoon. There isn't much to see on the cape apart from the Chapel of St George and a cave where women and children were killed during Turkish massacres in 1825. But if you climb to the peninsula's flat peak, you'll see wonderful, eye-popping views of the beaches, lagoons and coast.
Continue scrolling down the page or click here to see more Balos photos and videos in Part 2 of this post