~ continued from page 1 ~ 
— Best general island guides —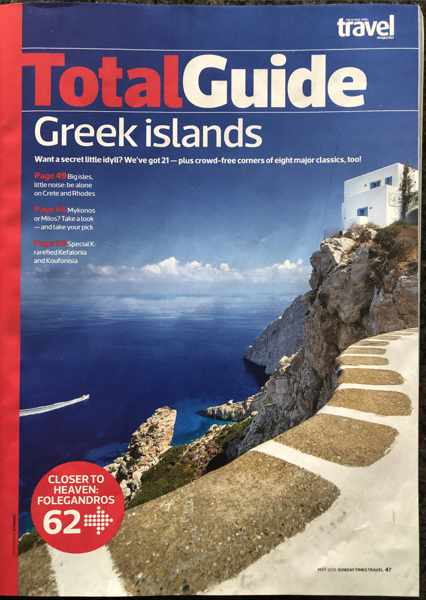 The cover page for the 26-page Total Guide to the Greek Islands, from the May 2019 edition of The Sunday Times Travel Magazine
There are more than 200 inhabited islands in Greece, a fact that surprises many travellers and adds to the complexity of holiday planning, particularly for repeat visitors looking for something new and different, as well as those hoping to avoid household-name tourist magnets like Mykonos and Santorini. In its special 2019 guide to the Greek Islands,  The Sunday Times Travel Magazine helps narrow down the options by  shining the spotlight on 21 "secret little idylls" that are often overlooked or simply passed by. It also suggests where to find quiet corners "beyond the crowds" on eight of the busiest and most popular isles.
The guide also includes an article describing one writer's "heavenly odyssey" to Naxos, Paros and Antiparos; a profile of remote Kastellorizo; and a surprising revelation about the notorious party island, Ios.
I keep this magazine close to my desk so I can leaf through the pages of mesmerizing photos on bad weather days, and daydream about being back in Greece.
Back issues are out of stock, according to the magazine website, but you might be able to read the guide at your local library or find a second-hand copy in a bookshop.
____________________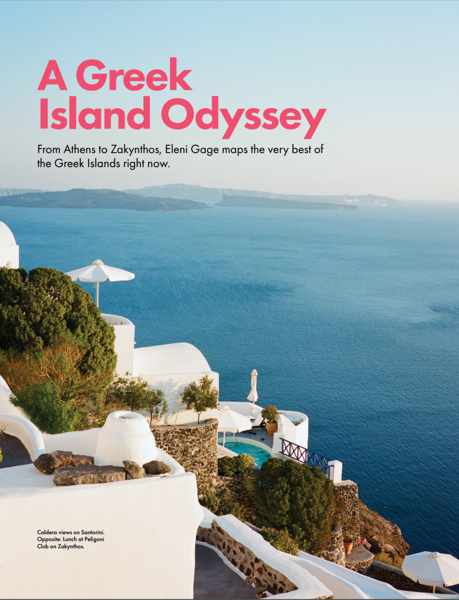 Much like The Sunday Times, the travel magazine Indagare didn't attempt to provide an exhaustive, encyclopedic guide to the hundreds of places tourists could consider visiting when it published A Greek Island Odyssey in its spring/summer 2019 edition.
Instead, it charged prominent travel journalist Eleni Gage, who regularly writes about Greece, with the task of providing a "breakdown of all the must-visit spots in each of the six major archipelagos, along with our suggestions for going off the beaten path, even on the buzziest (or busiest) islands."
It's a quick read, since Gage devotes only a sole paragraph to each island she highlights; nonetheless, it's a decent overview if you don't have time to read a comprehensive Greek Islands travel book. Each entry briefly describes one or two specific islands, and its major or must-see attractions.
The island chains and specific isles that Gage reviews are: Milos, Syros, Paros and Antiparos, Mykonos and Delos and Santorini in the Cyclades; Patmos in the Dodecanese;  Hydra and Spetses in the Saronic Gulf; Corfu and Zakynthos in the Ionian islands; Chios in the Northeast Aegean; Skiathos in the Sporades, and Crete.
____________________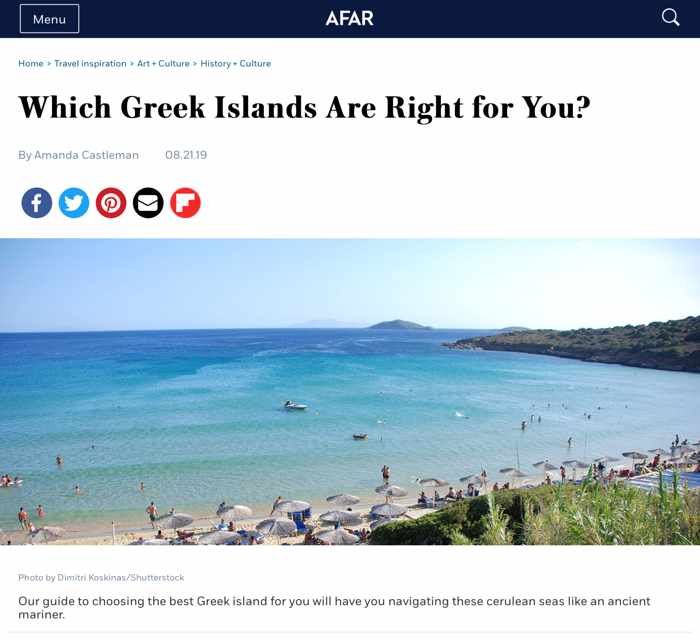 Afar magazine offered its own version of a quick-and-easy guide to help readers "locate the island paradise that suits your vacation personality."
In her August 21 2019 article Which Greek Islands are right for you?,  writer Amanda Castleman selects "18 of the most outstanding destinations the country has to offer," and provides brief descriptions of each island, lists highlight features and attractions, and notes how they can be reached.
The islands that made the cut include Andros, Kefalonia, Corfu, Crete, Folegandros, Hydra, Ikaria, Kos, Lefkada, Lesvos, Milos, Mykonos, Naxos, Paros, Patmos, Rhodes, Santorini, and Skiathos.
The article is illustrated with eight photos of idyllic island scenery.
____________________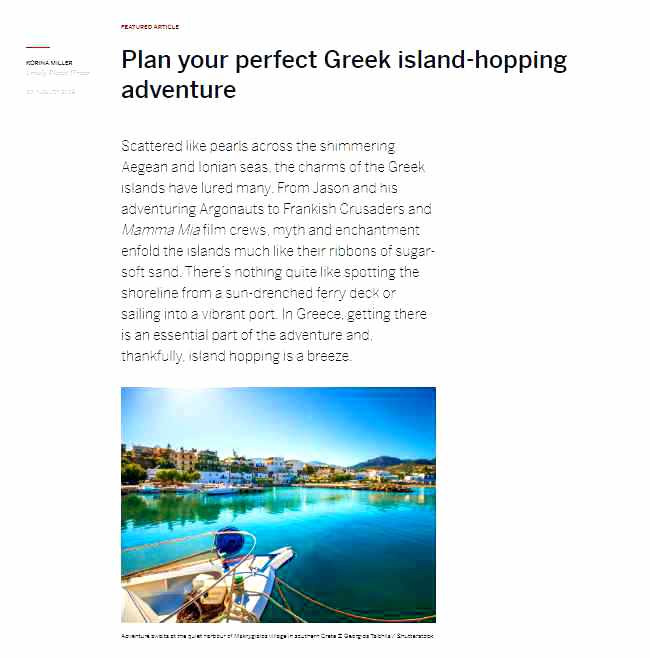 Also sharing useful suggestions and advice was Lonely Planet magazine, which published Plan your perfect Greek island-hopping adventure on August 20 2019. Another quick read, the article by Korina Miller isn't a comprehensive, detailed guide, but rather a short outline of key things travellers should consider before heading to Greece.
Topics covered by Miller's article include: when to go; whether to plan the entire trip or not; and routes to consider taking. 
There's a light overview of popular island-hopping destinations in the Cyclades, Dodecanese and Ionian island groups, along with links to major ferry information and booking sites, and tips for ferry travel.
— Best trip report series —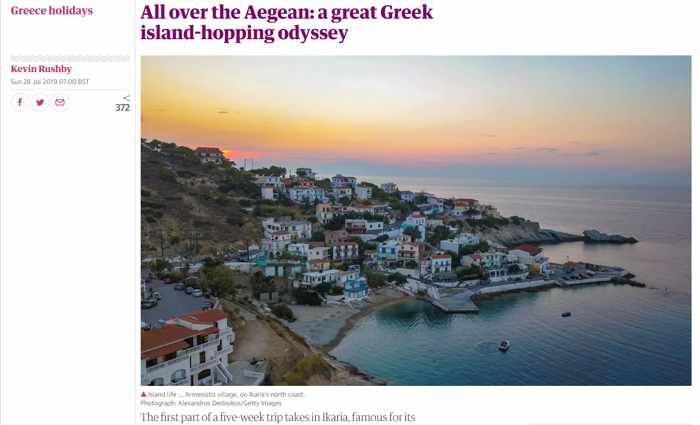 My favourite trip report collection from 2019 is All over the Aegean: a great Greek island-hopping odyssey,  a 5-part series of engaging and entertaining articles that travel author and journalist Kevin Rushby wrote for The Guardian.
The reports recount Rushby's 5-week-long trip to Ikaria, Kalymnos, Amorgos, Folegandros, Milos and Sifnos — six "out-of-the-way" islands where he hopes to discover a "unique character" on each.
Part 1 of the series (shown in the screenshot above) begins with an overnight stay in Pireaus, the main port of Athens from which Rushby will depart by ferry to his first stop, Ikaria. I found that noteworthy in and of itself, since authors of most island-hopping articles don't describe the ports where their travels began, and instead just jump to their first destination. 
Rushby's account of rugged, mountainous Ikaria — known around the world for the amazing longevity of its residents — is an interesting and fun read. In particular I enjoyed Rushby's visit to a local vineyard where he learns two very surprising facts about Ikarian wine, and his musings about conversations he struggled to hear through the loud music playing at a panegyri (festival) made me laugh out loud.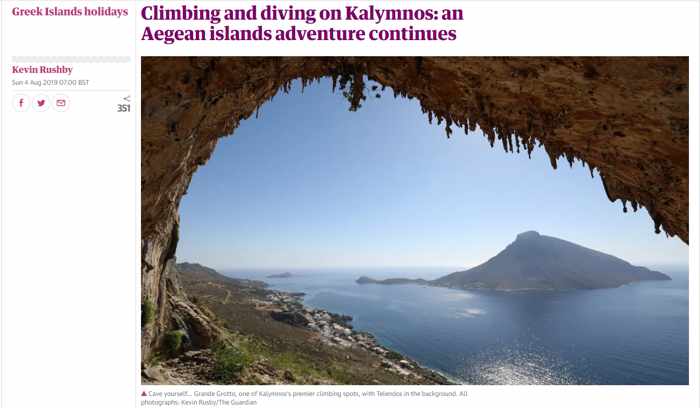 In the second instalment of his series for The Guardian, writer Ken Rushby visits Kalymnos, "an island that seems to love both the unexpected and the extreme."
Rushby's adventures there include a day spent on the sea, first on a boat tour and then on a guided kayak outing; a shore diving expedition; and a rock-climbing session.
I already knew that Kalymnos is a popular destination for rock climbing — see my previous blog posts Kalymnos Rocks and Kalymnos keeps calling if you would like to know more about that — but until I read Rushby's article I had never heard of the related sport of "deep water soloing." I'm willing to bet it will become the next big adventure sports activity for visitors to the island.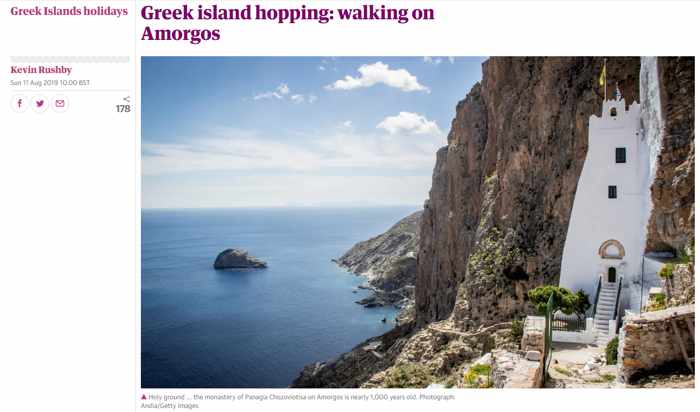 In Part 3 of the series, Ken Rushby shifts from the Dodecanese island chain to the Cyclades, where he takes readers on fascinating day hikes along some of "the ancient paths that have given Amorgos a reputation for good walking."  He also visits the island's marvellous Chozoviotissa Monastery (seen in the article screenshot I posted above). Not surprisingly, Rushby finds himself utterly enchanted with the "hauntingly beautiful" isle, and regrets that he didn't schedule more time on Amorgos. A lot more.
A visit to Folegandros is the subject of the 4th article in Ken Rushby's multi-part island-hopping report.  
On our brief visit to Folegandros more than a decade ago, what was supposed to be a light after-breakfast walk wound up as a full-day hike from Hora to Ano Meria, Agali beach, and other parts of the island. So I chuckled when Rushby described heading out for "an early morning stroll," only to find himself taking "an epic hike" instead.  His trekking adventure had many similarities to our own, though I was a tad jealous to read how he managed several refreshing swims and relaxing sunbathing breaks (a cool wind kept us out of the sea during our late September visit, and sunbathing wasn't comfortable because of the constant chilly breeze). 
Rushby's descriptions of the island scenery — stone paths descending terraced fields to scenic coves; soaring coastal cliffs; and quiet, deserted beaches — made me feel like I was wandering right behind him, and his account of discovering "the real Greece" at a traditional taverna was reminiscent of an experience of our own.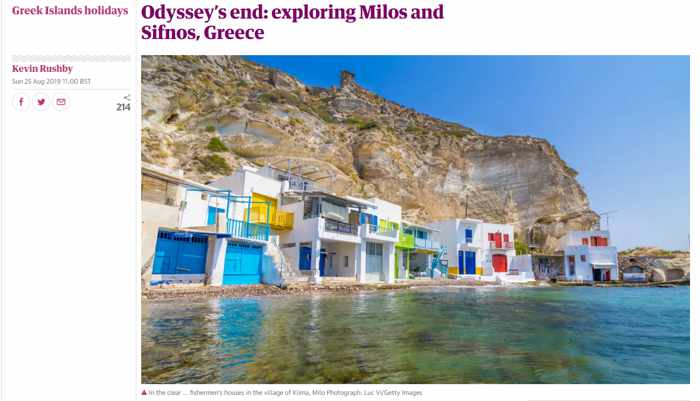 Visits to Milos and Sifnos are recounted in the concluding instalment of Ken Rushby's island-hopping article series for The Guardian.
Rushby found Milos, his fifth island, to be far different from the previous four "on a wholly different scale: starker, sharper and sometimes downright weird. There's a beach only accessible by ladder, a taverna that stands in the sea and strange rock formations everywhere." In an interesting account of an island feature I wasn't aware of before, Rushby tells of visiting caves beneath the port town of Adamas — tunnels that the Germans had bored into the hillside when they occupied Milos during the Second World War. 
On Sifnos, his sixth and final island stop, Rushby again undertakes extended walks that lead him up mountains, across the countryside, through abandoned villages and onward to coastal resorts and beaches. He pays a visit to a simple taverna where he learns why Sifnos is famous for its cuisine.
The series is a lively and compelling read, and I admit to feeling some dismay when Rushby's odyssey came to an end. I wish he had travelled much longer so he could have written tales about more islands!
— Best island hopping articles —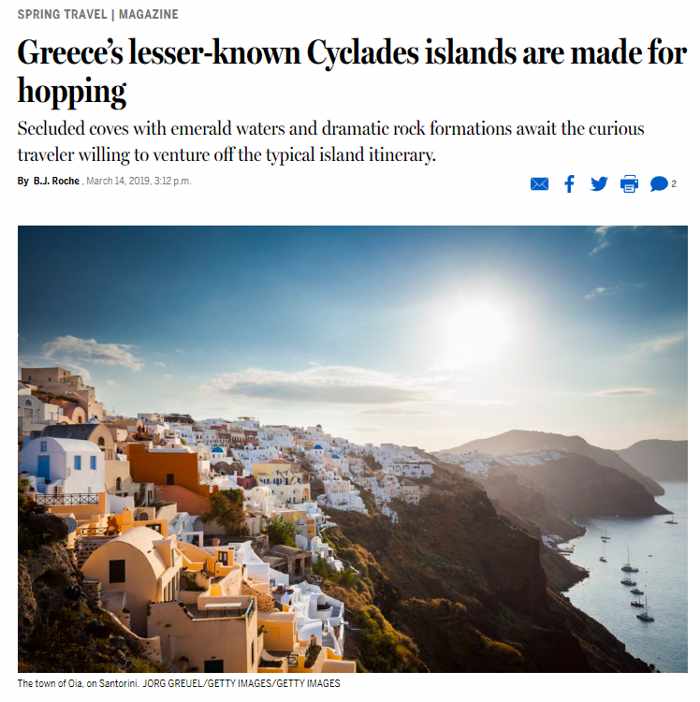 There are dozens of splendid Greek isles that can be reached by short flights or ferry rides, yet millions of travellers tend to focus their attention on Mykonos, Santorini, or a handful of other perennially-popular islands. These hotspots have become incredibly overcrowded, overbuilt and over-priced tourist traps as a result, but the crowds keep streaming through their airports and ferry ports, and there's no sign that will change anytime soon.
While this has led some repeat Greece visitors to routinely disparage Mykonos and Santorini in posts on social media travel forums, and to actively discourage visiting them altogether, I prefer the advice that writer B.J. Roche offers in her article Greece's lesser-known Cyclades islands are made for hopping, published March 14 2019 in the spring travel magazine of the Boston Globe newspaper.
"Don't skip them — they're popular for a reason — but make a visit part of a trip that includes two or three lesser-known islands," Roche recommends. "Link them with ferry rides or short flights, and you'll have a journey jammed with beaches of your dreams, small and accessible ancient sites, simple food and real hospitality."
That's what Roche discovered during a trip to Sifnos, Milos, Santorini and Naxos. Originally, she intended to avoid any islands that received cruise ship traffic (and Santorini is one of the most popular stops on the eastern Mediterranean cruise ship circuit), but a "sporadic spring ferry schedule" required her to begrudgingly spend two days there while hopping from Milos to Naxos. She was dismayed to arrive at Santorini's crowded ferry port and see two giant liners anchored in the bay, but once she got to gaze at the marvellous caldera scenery for which Santorini is renowned, she was excited to be there. "It was then that I realized how stupid I had been; sure, it's packed. But to skip Santorini and miss this incredible view would have been a big mistake."
Her accounts of delightful visits to Sifnos, Milos and Naxos — and even Santorini — will leave you wanting to pack your bags and see those islands yourself.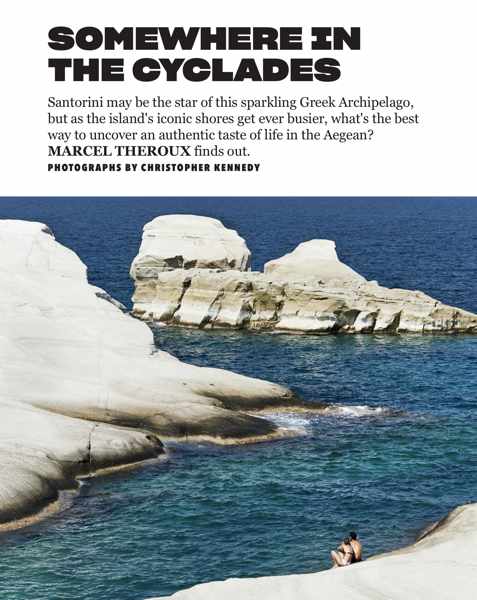 Déjà views: An island-hopping article by author, broadcaster and travel writer Marcel Theroux was published with two different headlines and cover photos in separate media versions of Travel + Leisure magazine.  Above is the lead page of the article as it appears in the May 2019 print edition as well as on Apple News, while the image below shows a completely different look for the story in its August 27 2019 posting  to the T + L website.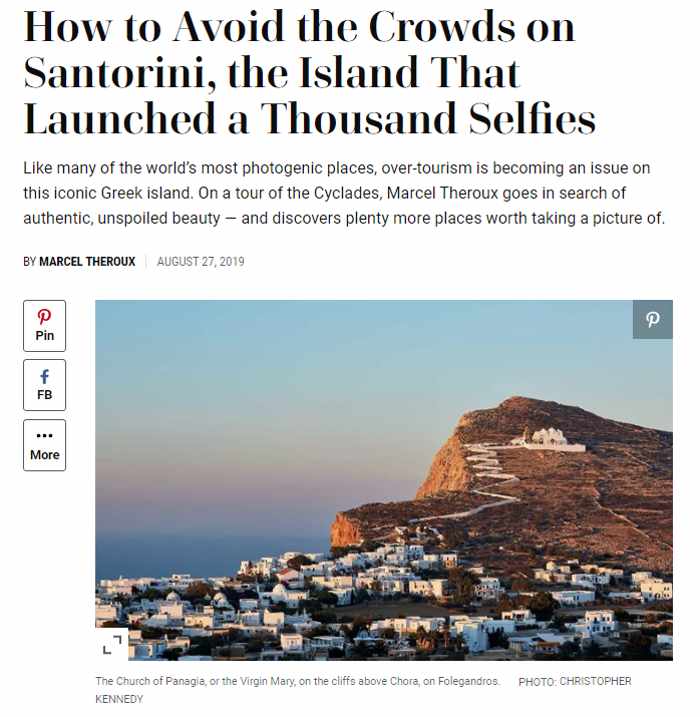 I had a strong sense of déjà-vu when I saw an island-hopping essay by Marcel Theroux on the Travel + Leisure magazine website last fall. It was entitled How to avoid the crowds on Santorini, the island that launched a thousand selfies. I was certain I had seen it before, but the headline and lead photo — a shot of Hora village on Folegandros — wasn't familiar at all. Turns out I had already read the piece — in the magazine's May 2019 print edition, where it was titled Somewhere in the Cyclades and accompanied by a photo of the coastline at Sarakiniko beach on Milos.  Same text, completely different presentation — no wonder I had been confused.
Theroux relates how he commenced his visit to the Cyclades islands in Santorini, where "one of the most dramatic landscapes in all of Greece" is now overrun by more than 2 million annual tourists, its popularity soaring thanks to Instagram and other social media.  Development of luxury hotels and resorts is rampant, roads are constantly clogged with traffic from cruise ship daytrippers, the island's infrastructure struggles to cope with the tourist crowds, and residents face skyrocketing rents as local housing units are increasingly being converted to lucrative Airbnb accommodations. Despite the over-tourism, is it possible to find unspoiled beauty on Santorini? Theroux made it his mission to find out.
"I wanted to see if it was still possible to have an authentic experience on Santorini — and if not, to see if there were islands in the Cyclades where I might find one. After all, the entire archipelago is known for that striking combination of piercingly blue water, traditional whitewashed buildings, and rugged landscapes that Santorini has done so much to popularize."
On Santorini, Theroux gets a guided tour of Oia village, the most famous sunset viewing location in Greece; samples wines at Vassaltis Vineyards near Vourvoulos and the Art Space gallery, museum and winery in Exo Gonia; takes a sunset boat trip; and tastes fabulous food at Oia Vineyart and at Elements, the restaurant at the newly-opened Canaves Oia Epitome luxury hotel, where he stayed.  Although his descriptions of these places may paint an appealing and impressive picture of Santorini for someone seeking an upscale island holiday,  none of these tour stops strike me as being all that representative of something "unspoiled" or "authentic." 
Theroux travels next to Folegandros, a tiny island with landscape that is "big on drama," yet "feels like Santorini's polar opposite: quiet, understated, almost timeless." His third stop is Milos, where the island's volcanic geology has produced "remarkable" beaches, "the interactions of fire, stone, and water evident in an amazing range of caves, cliffs, sand, shingle, and luminous white stone."
So how did Folegandros and Milos compare to super-popular and commercial Santorini? I will let you read the piece to find out. Suffice to say that Theroux's comments will probably make you consider visiting both islands, if you haven't seen them already. 
____________________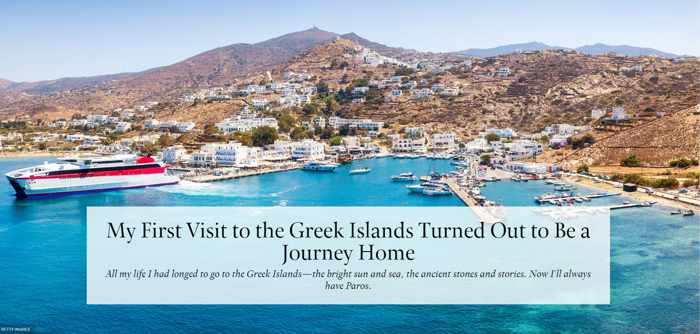 Waiting in line for ferries, ordering fish in tavernas (or watching other customers order it), and visiting Greek Orthodox churches will never be the same for me. I'm sure I will be paying rapt attention to what's happening around me on my next trip to Greece, all because of an enlightening island-hopping essay by author and New Yorker magazine staff writer Adam Gopnick. 
I can't begin to count the number of times I have stood in ferry lines, dined in fish tavernas or visited Greek churches, seeing the very same things Gopnick noticed during his own trip to Greece. But I didn't view them in the same insightful context that Gopnick observed — or appreciate how these routine, everyday actions and scenes fit into the bigger picture of Greek history, life and culture.
His thought-provoking essay, My first visit to the Greek Islands turned out to be a journey home, was published May 20 2019 in Town and Country magazine, and recounts how Gopnick fulfilled a lifelong dream of visiting the Greek islands during a 2-week trip with his wife, Martha, to Athens, Spetses, Paros, Antiparos, and Crete.
It's a remarkable and captivating read, since Gopnick weaves insights from history, politics, culture and the recent Greek economic crisis into accounts of his holiday activities and pastimes — "the pleasures of an ordinary morning on the beach" on Spetses; a tour to the archaeological site on Despotiko island, near Antiparos, "which provided the single happiest afternoon I have ever spent anywhere"; dining in Rethymno and touring the Palace of Knossos on Crete; and visiting the Panagia Ekatontapiliani church on Paros, where he experienced a powerful and profound epiphany.
Besides the essay, I enjoyed the accompanying illustrations by artist Konstantin Kakanias.  Although the article also includes beautiful island photos, the images were obtained from stock photo agencies, and two of the pictures show islands that Gopnick didn't even visit. The most glaring boo-boo is the lead photo, which shows an aerial view of the harbour at Ios island rather than a port on Paros, as an image credit states. Another picture shows the Little Venice seafront area of Mykonos. I'm sure pictures were readily available of the scenic harbourfronts at Parikia and Naoussa on Paros, which Gopnick did mention, so it's a shame the magazine editors didn't choose one of those to publish instead.
— Best articles about island hopping by sailboat, yacht or cruise ship —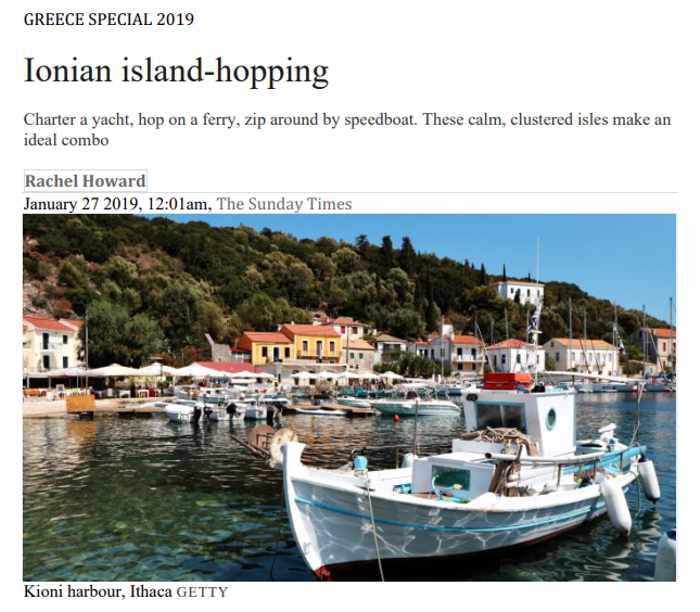 In Ionian island-hopping, published by The Sunday Times in January 2019, travel writer Rachel Howard provides an overview of options — including skippered charters and ferry rides — for visiting Greece's westernmost isles: Corfu, Zakynthos, Lefkas (aka Lefkada), Kefalonia, Ithaca, Paxos, Antipaxos, Meganisi, Kastos and Kythira.
"Huddled close to Greece's western mainland, and not far from each other, the Ionian isles are perfect for hopping between. They are greener, balmier and calmer than the other Greek islands, and there's no meltemi wind whipping the sea into queasy peaks," she writes.
"If you can't decide which island to choose, or you simply want to see as much of this enchanting archipelago as possible, chartering a boat is the way to go. The joy of cruising the Ionian under your own steam is that you can drop anchor at electric blue caves, hidden coves and drowsy harbours at your own pace, and often in blissful solitude (except in August, when sailboats and superyachts crowd the bays)," Howard says.
Her article briefly describes each island, mentions travel options for a variety of budgets, and suggests places to stay and things to see and do while exploring the Ionian isles.
____________________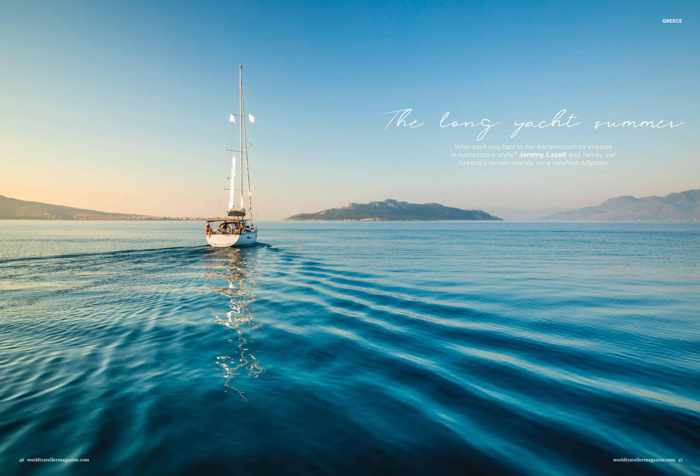 Déjà view times two: The long yacht summer, the story of an Ionian island sailing adventure by writer Jeremy Lazell, appeared in two publications — the August issue of World Traveller magazine (above), and the July edition of The Sunday Times Travel Magazine, where it had different titles and cover photos in the print copy and website version (both shown below).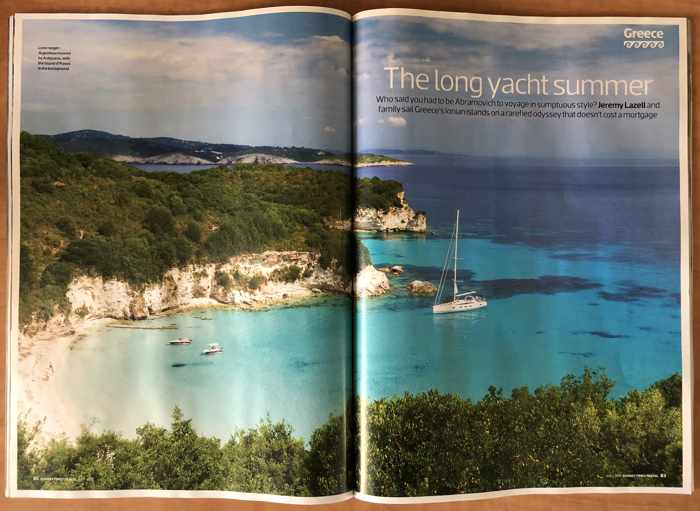 What would you do if a parent died, leaving you a sizable amount of money in their will: Reduce debt? Pay down the mortgage? Splurge on a luxurious sailing holiday in Greece that you could otherwise never afford?
Writer Jeremy Lazell had those options after his mother died. He sensibly used most of his inheritance to wipe out his overdraft debt, but saved a chunk of cash to treat himself, his wife and their two boys, aged 8 and 11, to a dream vacation on a 5-day skippered sailboat yacht charter around the Ionian islands of Corfu, Paxos and Antipaxos.
"It's long been a fantasy of mine to island-hop in private luxury, so we weigh everything up, convince ourselves it's what my mum would have wanted, and fly out en famille to Corfu," Lazell writes in The long yacht summer, first published June 16 2019 by The Sunday Times, and reproduced in the August 2019 edition of World Traveller magazine.
Lazell's vessel of choice was the Argentous, "a 4-cabin, 20-meter yacht based in the Greek Islands that bridges the gap between no-frills skippered yachts and all-frills Abramovich-level superyachts." Among its many amenities are dining areas both inside and on deck ; sunbathing spaces, sunbeds and a hammock; plus a "garage" equipped with a speedboat and oodles of fun watersports toys including inflatable floats, paddleboards, snorkel gear, wakeboards, waterskis and windsurfers. The $13,000 price the Lazells paid for the weekly charter included the services of the yacht's 2-person crew (private chef/host and skipper).
I felt a tinge of envy reading about the picturesque places the Lazells sailed to, as well as how they got to pass their time on what is essentially a floating luxury villa. Although the trip cost a tidy sum, Lazell said there were moments "we felt so so truly spoilt, so dizzyingly privileged, I knew it was worth every penny."
The article left he wishing for a lottery jackpot or other windfall since I'm now yearning to book the Argentous for an Ionian islands journey of my own.
____________________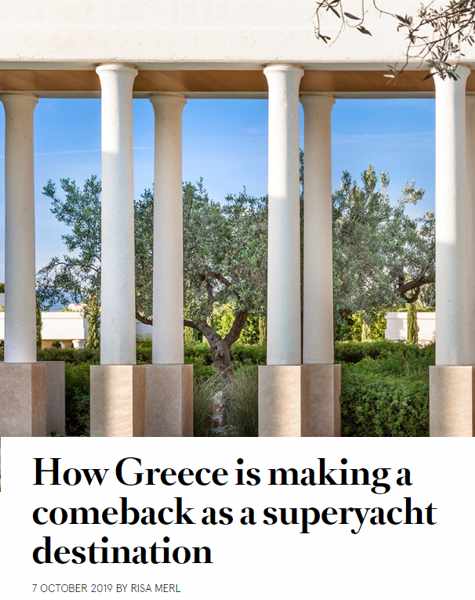 You might wonder why an article about The best islands to visit in Greece by superyacht is one of my favourites for 2019. After all, I don't own a yacht, and I've never sailed on one in Greece — or anywhere else in the world, for that matter. And most of my blog readers probably haven't, either. But I do know people who have toured Greek islands on sailboat charters, and I have long wondered what it would be like to experience Greece on a private boat. Yachts and sailboats intrigue me, and I can't help but watch when I see them cruising past, anchored off island coasts, or moored in ports and marinas.
But what really led me to read Risa Merl's report for Boat International in the first place is its focus on the area known as the Greek Riviera: "a smattering of islands and mainland harbours that dot the coast of the Argolic and Saronic Gulf, serving up picturesque towns, luxury shopping and dining, unspoiled beauty and utter tranquillity." I have holidayed at a few spots in the region, including Hydra and Poros islands, and have admired the pretty Argolic coast and Spetses island while gliding past on a tour boat I was riding from Nafplio to Hydra, so I was happy to read more about this area.
Merl's Greek Riviera tour on the 35.5-meter luxury yacht Celia begins in Nafplio, where industry insiders tell Merl that the charter yacht market in Greece is absolutely booming, just as the country begins to rebound from its decade-long economic crisis. She also learns that steadily increasing investments in Greece's hotel sector are leading to the expansion of existing luxury resorts, and the opening of new top-tier properties, like the Amanzoe Resort near Porto Heli on the Peloponnese coast. Also on the rise is the number of foreigners buying homes and property in Greece.  
To see first-hand "what's attracting this investment," and to judge its impact on the quiet pace of life along the Greek Riviera, Merl sets sail on the Celia, making a first stop on the Peloponnese coast within view of the Amanzoe Resort. Next up is Spetses island, followed by the small isle of Agios Giorgios, and then the journey concludes at Hydra.
"While it's true that Greece is gaining in popularity, by travelling here out of peak season – so May, or September to October – you'd hardly know it for the sense of solitude that abounds," Merl writes. "Greece seems to be filled with a renewed energy that is enchanting for those who sail here. But this emerald and turquoise corner of the Aegean certainly hasn't lost any of its quiet charm."
The article includes a gallery with nine photos of the Celia, Amanzoe Resort, Nafplio, Spetses, Agios Giorgios and Hydra.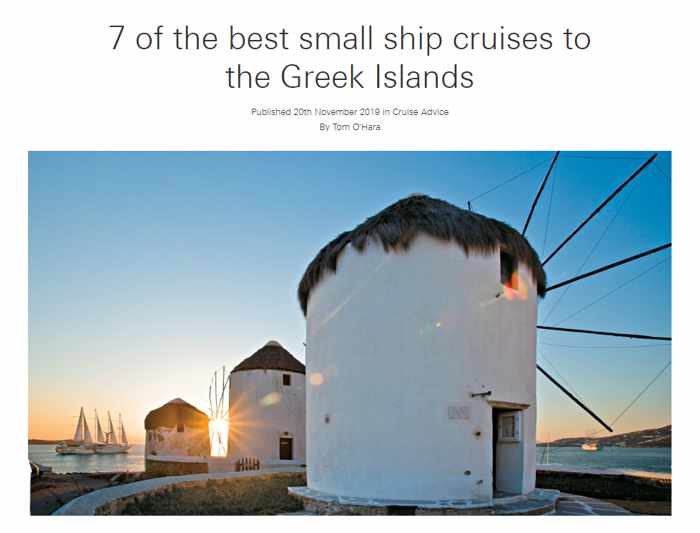 I regularly receive requests for information about island-hopping on cruise ships, but generally wind up referring my readers to sites like Cruise Critic since I have never cruised in the Greek Isles myself and don't have personal knowledge of the options for that kind of holiday.
However, in late 2019 I discovered a helpful short guide for small ship cruises in Greece, and I'm sharing it here since there seems to be considerable interest in the subject and I know it will be useful for readers who enjoy cruising and would like to see a few islands from the comfort of a well-appointed passenger ship.
7 of the best small ship cruises to the Greek Islands was written by Tom O'Hara of Mundy Cruising, and was published on the company's website on November 20 2019.  It briefly outlines the cruise season and the various destination itineraries available, then spotlights seven specific cruise operators that include Greek Islands among their ports of call.  The article includes links to additional information about each of the cruise companies that Tom mentions.
Related articles: 
♦ Skiathos, Lefkada & Paxos top Conde Nast list of best Greek Islands to visit in 2020
♦ 20 alluring, authentic and quieter alternatives to the major tourist islands in Greece