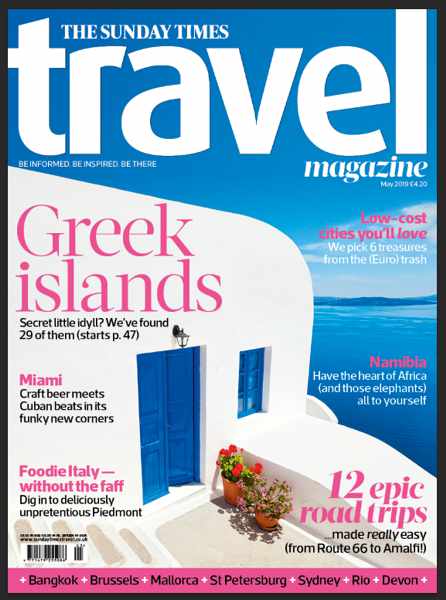 The May 2019 edition of The Sunday Times Travel Magazine featured a special Greek Islands travel guide, replete with gorgeous photos of dreamy destinations. I tell you more about the guide on page 2 of this post.
Athens is amazing, mainland Greece is marvellous, and the Peloponnese peninsula is pretty darned impressive. But for many people, it's the Greek Islands that typically come to mind when talk turns to the subject of vacations in Greece.  Indeed, if you tell someone that you're heading to the Hellenic Republic for a holiday, they'll probably ask which islands you're planning to visit. 
Since island hopping draws millions of tourists to Greece each year, many of whom are first-time visitors,  there's tremendous demand for information about where to go, how to move between places, and what to see and do.  Likewise, there is a massive amount of Greece travel material available on newsstands and on the web. A simple Google search will produce links to articles and guides galore; thousands in fact, published by major magazines, newspapers, bloggers and social media influencers. One could easily spend weeks sifting through all the self-described "best" or "ultimate" island hopping guides, along with scores of feature stories trumpeting "hidden gems,"  "undiscovered islands," or the newest trendy "paradise."
I read hundreds of them in 2019, but found the vast majority disappointing and a waste of valuable reading time since they lacked originality and didn't offer much useful  information. Most were simply puff pieces full of flowery descriptions and little else. Many were so similar, I'm sure the content was cribbed from quick online searches, then hastily rewritten and repackaged with stock photography. 
But several magazine and website guides stood out because they contain what I consider to be good, practical advice to help travellers pick the islands best suited to their personal travel preferences and lifestyles, and to plan how to get where they want to go.
Also noteworthy was a small selection of fascinating stories and engaging essays in which travel writers and even some high-profile authors recounted delightful and eye-opening personal experiences while visiting multiple islands.
This post spotlights the guides and stories that were my personal favourite reads during 2019. They're the magazines I keep on my bookshelf, or the blog posts and website articles I have bookmarked on my computer, to keep close at hand for easy future reference. They include:
♦ A superb, detailed guide by The Mediterranean Traveller blog that promises — and delivers — "everything you need to know" about island-hopping;
♦ An excellent 26-page guide by The Sunday Times Travel Magazine; 
♦ General island profiles and trip suggestions in pieces published by the travel magazines Indagare, Afar and Lonely Planet; 
♦ An insightful 5-part report by a travel writer for The Guardian on his personal odyssey to explore six out-of-the-way islands;
♦ Reports by writers for the Boston Globe newspaper and Travel + Leisure magazine on trips that combined enormously-popular Santorini with visits to lesser-known and much-less-busy islands in the Cyclades; 
♦ An intriguing essay from Town and Country magazine in which a prominent author reflects on his  holiday travels to Spetses, Paros, Antiparos and Crete;
♦ Two separate stories on travelling by charter yacht or sailboat in the Ionian islands, from The Sunday Times Travel Magazine and World Traveller magazine;
♦ An account of a superyacht island-hopping tour of the Greek Riviera and several islands in the Argo-Saronic Gulf; and
♦ An article profiling small cruise ships with itineraries that include stops at several Greek islands.
Though they were published last year, these reports will still provide an excellent reference resource for travel in 2020 and the next several years. Even if you don't need them to plan your own vacation, they're all interesting and  fun reads that will quickly put you in a blissful Greek holiday state of mind.
— Best island hopping guide —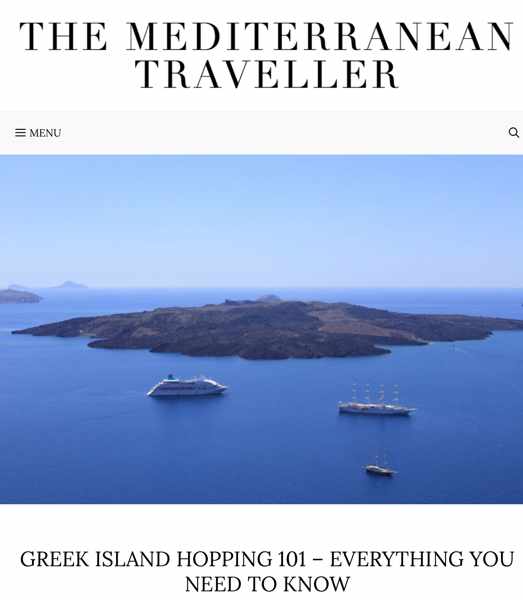 It's easy to make the decision to spend a vacation on one or more islands in Greece. The hard part is figuring out how to get to and from the island(s) you want to see. Many first-timers think it will be a breeze planning their itineraries, but quickly discover that the Greek Island ferry system isn't as straightforward as they expected. In fact, it can be a rather daunting task to plan a multi-island holiday, particularly for ferry travel in off-season or low-season periods.
However, help is just a couple of quick clicks away, thanks to a superb guide published by The Mediterranean Traveller blog on February 5, 2019.
Aptly entitled Greek Island Hopping 101 — Everything You Need To Know, it's the most comprehensive blog post I've seen on the subject, packed with tons of helpful tips, advice, information and links, and presented in a format that is super-easy to read and understand.  Topics include things travellers need to consider when initially planning their trip; flights versus ferries; an explanation of how the Greek ferry system works; ferry schedules and pricing; descriptions of the different island chains; deciding where to go and when is  best to visit; organized group tours, and plenty more. 
Please turn to page 2 to continue reading about the guides and articles that may help you determine which islands to visit, or give you inspiration for future holiday destinations.
CONTINUED ON PAGE 2