~ continued from page 1 ~ 
Athens
I have long heard that Athens practically empties out during August, when residents leave the city en masse for their summer holidays on islands or at places in the Peloponnese or mainland Greece. Since we have never travelled to Greece in August, I didn't realize exactly how quiet the city actually gets until I watched the haunting images of empty streets and public places in the video Ghost Town by Lost Athina. It's absolutely astonishing.
Corfu
Corfu is on our want-to-see list for future holidays, so I was pleased to find two videos highlighting its superb landscape and coastal scenery. At top is Corfu, a 2.5-minute video by Tim Küentzler, while the Prosto o podróżach production Corfu by drone clocks in with 5 full minutes of lovely aerial views. 
Crete
Our most recent Crete holiday was in late 2017, so it was fun to see familiar sights in AndyLiba Film's Crete 2019 road trip video.  However, AndyLiba covered vastly more ground on Crete in a 4WD than we were able to reach by public transport, so this 7-minute film features a wide array of exciting places we couldn't get to see. Makes me want to go back to do a road trip of our own!
Donoussa
This is a promotional clip for Donoussa Trail Running, an outdoor sports event that took place on the Small Cyclades island of Donoussa in mid-October.  An island hopping holiday in this area has been on my wish list since we got brief glimpses of Donoussa and several other isles in 2009, during port stops on a ferry ride from Amorgos to Naxos.  The views of Donoussa in this clip rekindled my interest in someday touring this somewhat off-the-beaten-path region of the Cyclades.
Hydra
One of our best memories of our short but sweet 2-day visit to Hydra island in 2016 was walking the long coastal path from Hydra Town to Kamini Bay and onward to Vlychos beach. It's a trek we would certainly enjoy repeating, but thanks to this video by Kelsey Edwards, owner of the excellent travel and information website HydraDirect.com, we now know where to find a different but equally interesting and scenic route we can take instead.   
Ikaria
Ikaria is yet another bucket list destination that continues to intrigue me, and this 4-minute film by George Komvokis made me wonder "Why the heck haven't we gone here yet?" Soon, I hope, soon! I know we would love Ikaria's stunning mountain and coastal scenery, beautiful beaches and picturesque villages.
Ios
After watching George Komvokis's Ikaria film, I checked out his video gallery and discovered this clip. It brought back a lot of happy memories since we have been to Ios twice and saw quite a few of the sights that George includes in his 3.5-minute clip.  It was fun to revist Ios from George's aerial points of view.
In Seaside holidays in Ios,  G- Kyriako takes you on a 2-minute flight above Chora, scenic coastal areas and several of the island's gorgeous, uncrowded beaches
Karpathos
Karpathos is an island destination we consider every time we plan a trip to Greece. Unfortunately, we haven't made it there yet, mainly because of awkwardly timed and/or expensive flights there from Athens. But I'm confident we'll  find a way to comfortably fit Karpathos into a vacation schedule within the next two to three years. In the meantime, captivating clips like Filming in beautiful Karpathos by Mitato Films (top) and Discover Karpathos flying over with a drone by  Andrea Marchisi  will keep me dreaming about this incredibly scenic island.
Kavala
We haven't managed to explore Northern Greece yet, either, but the port city of Kavala will certainly be on our itinerary when we finally do venture into this region. I became enchanted by Kavala after watching some videos last year, and in 2019 these aerial videoclips intrigued me even more. Above are Kavala, Greece in 4K by Stelios Polychronidis, and  A small aerial (drone) glimpse of my hometown, Kavala, Greece by Microfilming.
Kythira
Kythira island wasn't on our radar until 2019, when well-travelled friends urged us to give it a good look. They know what we like to see and do on holiday, so I took their advice and began a bit of preliminary research. That's how I found Seb Aroney's Kythira by Drone (top) and Lambros Malamas's Exceptional Kythera. Just as my friends had predicted, I was highly impressed with the island's attractions and scenery. Kythira is now a top contender for one of our next island vacations.
Lesvos
We visited Lesvos during late April and early May 2019, and Greg Fernandez published this 9-minute film two months later. Watching it made me feel like we were still exploring this wonderful Northeast Aegean island. Lesvos 2019 spotlights picturesque towns and villages we either stayed in or saw during day trips, including Molyvos, Mytilene, Mantamados, Petra and Skala Sikamias, along with monasteries and other places we didn't reach.  Greg's video makes me wish we could have spent more than 16 days on Lesvos, since there is so much to see.
Meteora
A visit to the most majestic place in Greece has been top of mind for years, but Meteora has always seemed too far out of the way to include in our holiday plans. Eventually we will arrange a roadtrip through Central Greece so we can spend several days exploring the other-worldly rock formations and visiting the six monasteries perched atop them. Until then, I'm content to watch breathtaking videos like this one by Rocher Bros.
Milos
We had great times on Milos during island-hopping holidays in 2007 and 2011. Since then, Milos has become a social media sensation  — it's frequently recommended and discussed on travel chat forums and Facebook groups, and my Instagram feed is regularly filled with photos of Sarakiniko, Kleftiko, Plaka, Firopotamos, Klima and other spectacular Milos landmarks. You will see those places, and more, in this tantalizing 2-minute drone video by Alex Vovolis.  
Monemvasia
In 2016 we spent three full days and nights in the medieval castle town of Monemvasia, and loved every minute.  I would go back in a heartbeat. This 3.5-minute film by Rocher Bros offers excellent aerial views of the town and the giant rock promontory on which it sits, along with a few scenes from some of the town's cobblestone passageways and lanes.  
Mykonos
There are thousands of Mykonos videos online, most of which show good-looking young influencers and Instagrammers having the times of their lives at nightclubs, beach parties, fab restaurants and super-chic luxury hotels. But Mykonos – Greece 2019 doesn't dwell on the party scene or the island's hip travel amenities. Although filmmaker Lewis J. Mowat offers glimpses of well-recognized landmarks like windmills and the boutique-lined lanes of Mykonos Town, he centers most of the camera's attention on the rugged, rocky landscapes and coastlines — the natural elements travellers will find if they steer away from the busy tourist attractions. 
This 5-minute film by likeVYO offers great aerial views of the two dramatically different sides of Mykonos — the iconic whitewashed buildings of Mykonos Town and some of the stunning beaches that tourists typically see, along with harsh coasts and landscapes in remote parts of the island that few travellers even know exist. 
Nafplio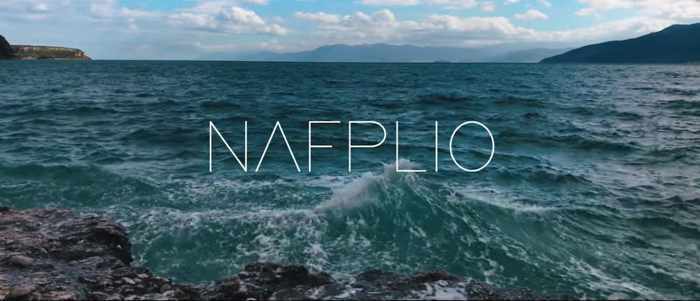 Nafplio could well be our #1 favourite place to visit in Greece, and the Andrei Dima video Ναύπλιο| Exploring Nafplio (illustrated by the title page screenshot at top) shows many of the features and attractions we never get tired of seeing: the historic Nafplio Old Town and its lanes, alleys and waterfront walkways, the Arvanitia promenade, the coast path to Karathona beach, and the Acronauplia fortress. The video has restricted viewing settings, so you can't watch it here on my blog, but you can click here to watch it on YouTube. However, many of the same sights are depicted in the Rocher Bros film Nafplio Greece, which you can watch here by clicking on the start arrow.
Patmos
I can't believe nearly 10 years have passed since we spent several days on Patmos during a holiday in the Dodecanese and East Aegean islands. It doesn't feel like it's been so long, especially when I watch  Berland Media's Patmos Greece 4K and see sights looking exactly as I remember.  I hope things stay that way until we can make it back for another in-person look at Patmos.
Samos
After our visit to Patmos, which I mentioned above, we travelled to Samos for several days. We spent most of our time in the Vathy and Kokkari areas, and enjoyed it immensely. This 3-minute film by Luigi Cavasin reminded me that there's a lot more marvellous mountain, coast and beach scenery for us to see elsewhere on Samos.  
Santorini
We were so enthralled by the superlative Santorini scenery on our first visit, in 2004, that we returned to the island on each of our next two trips to Greece. Although the crushing cruise ship crowds and high prices discouraged us from going back a fourth time, I still enjoy watching films of Santorini, especially drone videos like this one by Rocher Bros (perhaps because the aerial vantage points show scenery that you can easily miss seeing from the tourist-clogged lanes of the island's clifftop villages).  I'm sure we will return to Santorini, but only if we can travel in the off-season when the island isn't packed to the rafters.
Skopelos
The only island chain in Greece that we haven't yet seen is the Sporades, but I'm optimistic we will make it to Skiathos, Skopelos and Alonissos within the next five years. In the meantime, videos like Skopelos the greenest island in Greece, by Moses Barouh, keep me inspired and looking forward to a first-time visit.
Syros
Syros boasts one of the most beautiful main towns of any Greek island (Ermoupoli), along with alluring golden sand beaches and postcard-pretty seaside settlements like Kini, where we have vacationed twice. This video by xarismedia features aerial views of Ermoupoli as well as some of the scenic beach areas.
Vatheia
I'm fascinated by the old stone tower houses in Vatheia, a hilltop village in the Mani region of the Peloponnese, so it was a treat to find this short aerial video by DSwissK.  I'm hopeful we will get to see Vatheia if our plans to explore the Mani in 2020 do materialize.