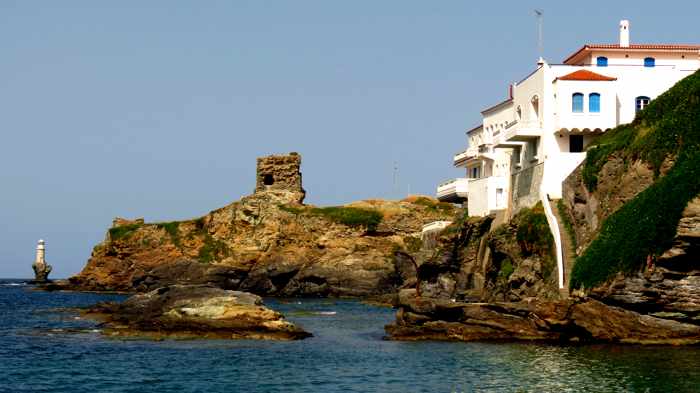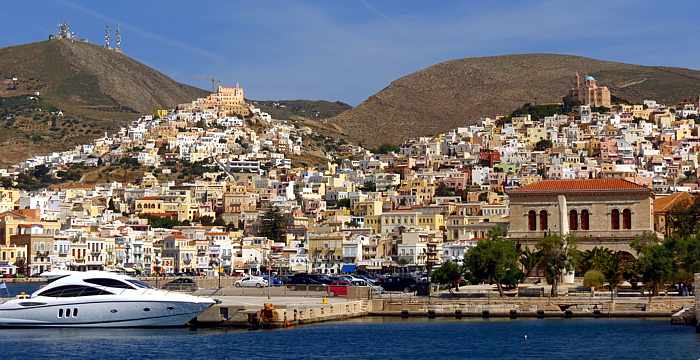 Views of the Tourlitis lighthouse, the ancient Kastro ruins, and mansions overlooking the seaside at Chora on Andros (top photo); and the stunning port city of Ermoupoli on Syros (bottom). Andros and Syros are among 20 islands Greece Is magazine recommends as alternatives to crowded mainstream places like Mykonos and Santorini.
It's understandable why many people planning a first-time trip to the Greek Islands quickly feel overwhelmed by the task of arranging their itineraries — there are so many isles to choose from, and all of them look and sound amazing based on pictures and descriptions in brochures, magazines and online travel sites.  How can you possibly tell which ones would be the best choices for what you would like to see and do during your vacation?
The dilemma of selecting ideal destinations doesn't get much easier for repeat island hoppers, either, if they're hoping to discover someplace new rather than revisit isles they have already experienced.
I had expected my bucket list of must-see islands would gradually shrink after each trip to Greece, but it keeps growing longer. Whenever we visit a dream destination, locals and fellow travellers tell us wonderful things about nearby places we haven't considered before, and those inevitably get added to the list. 
I'm resigned to the reality that I won't get to see everything I want unless I live well past 100!
But thanks to a helpful article published by the Greece Is magazine and website on January 3,  I will be able to quickly narrow down my options whenever I'm seeking islands that aren't super-commercial or bursting at the seams with thousands of tourists and cruise ship daytrippers (something we've been striving to do on recent holidays!).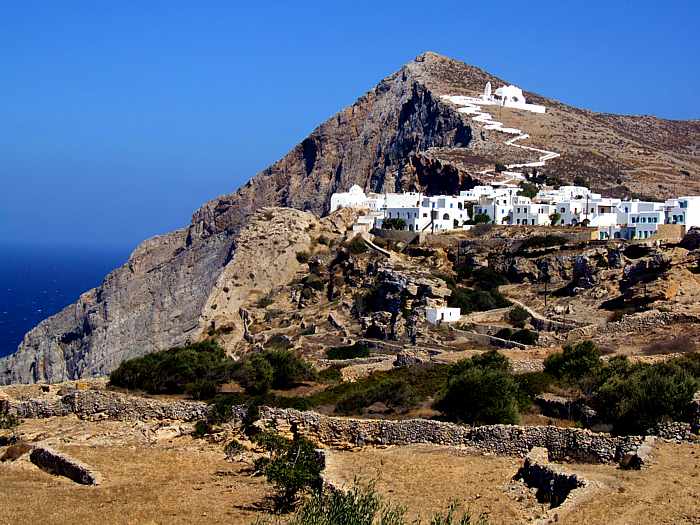 A view toward the village of Hora and the stunning clifftop Panagia Church on Folegandros, another island recommended as a great alternative to the busiest tourist isles
In the feature story 20 Alternative Islands to visit in 2020, writer Paulina Kapsali has profiled "off the tourist-beaten path" islands that will be ideal for avoiding the crushing summer crowds of perenially popular tourist magnets like Mykonos, Santorini, Rhodes, Kos and Corfu.
Each of her selected destinations will offer a quieter, less busy and more authentically Greek island experience than any of the mainstream tourist draws, "whether you're looking for a typical Cycladic island to enjoy without the hordes of tourists, a historically significant location that none of your cultured coworkers have heard of, or a remote place to spend days on the beach without the pressure of any human interaction" she says. 
The 20 islands that Kapsali singles out can be found in five distinct regions of Greece:
♦  the Lasithi area of eastern Crete, and Gavdos island south of Crete;
♦   the Northeastern Aegean islands of Limnos, Psara, Samothraki and Skyros;
♦ the Dodecanese islands Astypalea, Halki, Karpathos, Kastellorizo and Kasos;
♦  Kythira island south of the Peloponnese; and
♦ the Cyclades islands Andros, Folegandros, Kea, Kimolos, Kythnos, Sikinos, Syros and Tinos.
The article includes a photo and brief description of each island, transport options to reach them, and links to any feature stories that Greece Is has published on that particular place. 
We have been to five of the spots Kapsali recommends  — Andros, Astypalea, Folegandros, Syros and Tinos — and I have illustrated this blog post with photos that we took on each of those islands.  Most of the other islands she suggests are already on our list for future travel.
Click here to read the full write-up of what Kapsali calls "20 island destinations you'll be the first of your friends to visit in 2020."
And if you haven't already done so, be sure to bookmark the Greece Is website while you're reading the article. I find it's a superb resource for information about travel, culture and gastronomy in Greece, and I check it regularly for ideas, inspiration and advice.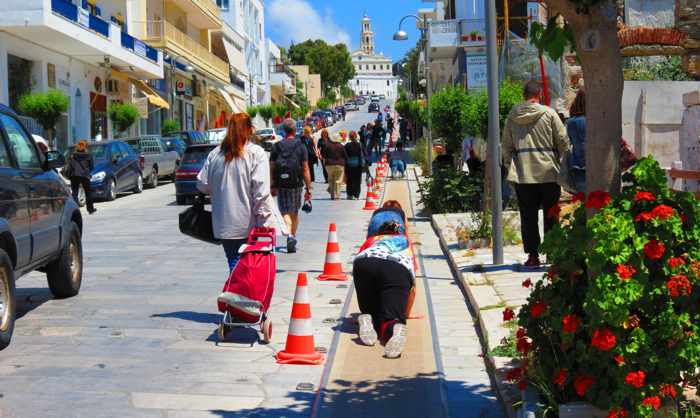 Pilgrims crawl a long uphill road to the Holy Church of Panaga Evaggelistria (visible at the top of the picture) on Tinos island
Chora and the imposing castle on Astypalea island